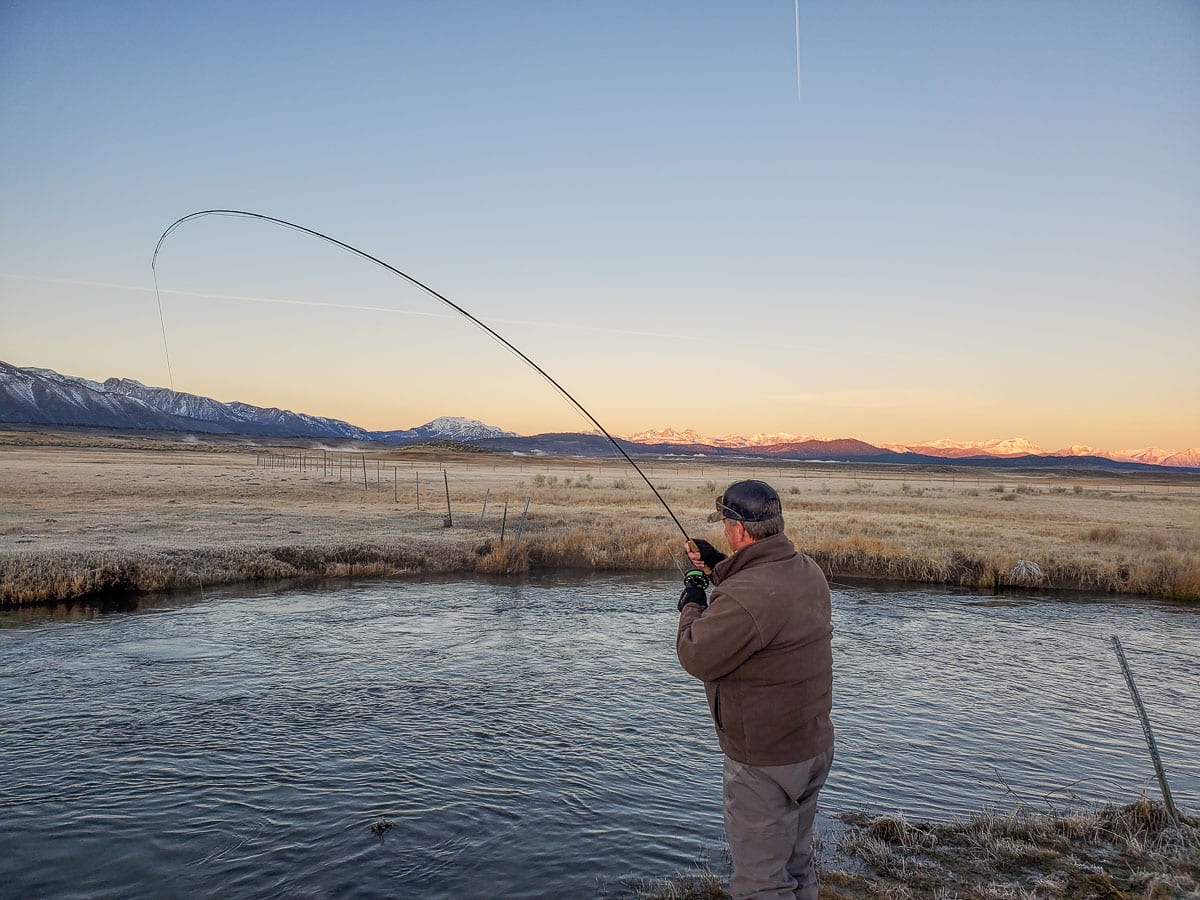 A good start to the season with some snowfall a little while back got things started. Mild weather has graced the eastern sierra since then, and another light system is slated to hit the area in the coming days, but will be isolated to the higher and more northern regions. The Upper Owens River has been very good with a nice mix of male and female rainbow trout from Crowley Lake and the occasional brown trout mixed in. Hot Creek has also been fishing good in the mornings and afternoons with small midge patterns and eggs. Flows on the Lower Owens River have dropped a bit since last report and water is getting low but drift boating continues with the Wild Trout section still fishing well from shore. Pyramid Lake has been getting some weather the last few weeks but some big cutthroat are still being pulled out from the usual spots.
Hot Creek's browns and rainbow trout are really showing some stunning fall colors. The fish will feed on the surface during certain times of the day. If you are there during these dry fly windows of opportunity, you can get into some great fishing when you can match the hatch. Smaller nymphs and egg patterns. San Juan Worms, #18-20 Flashback Pheasant tails, Bead Poxyback Brassie, Serendipity Red and Black, and Tangerine Opaque and Flamingo Otter Eggs are doing the trick.
The Upper Owens River fish are moving in daily with some standout brown and rainbow trout. You will have to cover some water to get into these fish as they are scattered and moving quickly in the river now. Egg patterns (all of our Otter Egg colors), #14-18 Light and Dark Assassins, #14 – 18 Flashback Pheasant Tails, midges, and squirmy worms in pink and San Juan Worms in Red and Brown will work well now and through the winter months.
Lower Owens River flows now down to 85 cfs and we have started our drift boat trips here. There have been some trico, PMD, and BWO hatches occurring late morning and the streamer bite has been really good. Smaller nymphs in the Wild Trout sections have also got the fish stirred up. Water is getting clear, so careful not to spook the fish with your fly line or presence.
Pyramid Lake the cutthroat are now taking their attention away from the bait balls and slowly making their feeding zones closer to the shoreline. Look for more fish to move in here as the fall and winter goes on. Larger nymphs like Pheasant Tails, Midge patterns, and streamers are doing well and bringing some nice fish to the net. Most of our November is booked, but we will resume trips by boat here starting in March and going through to May.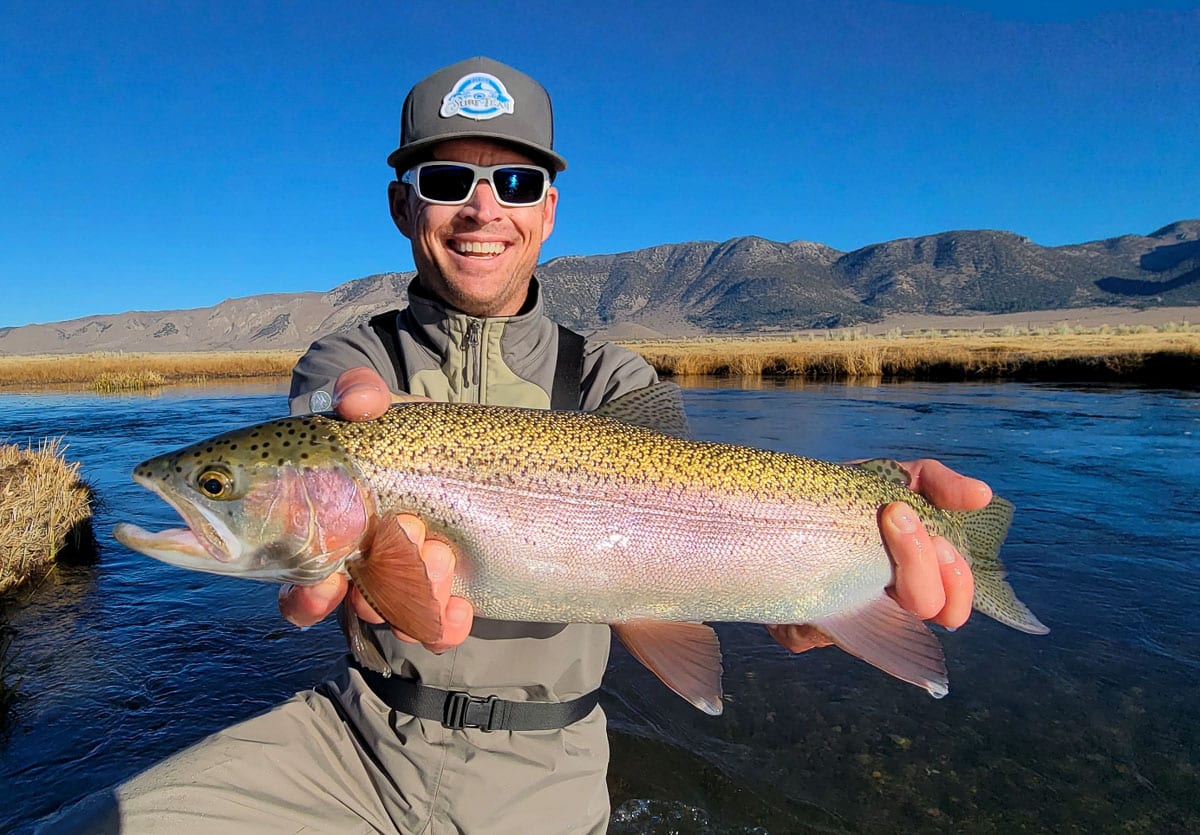 Jeff fished with Two Bug Doug and got into some great fish like this rainbow trout.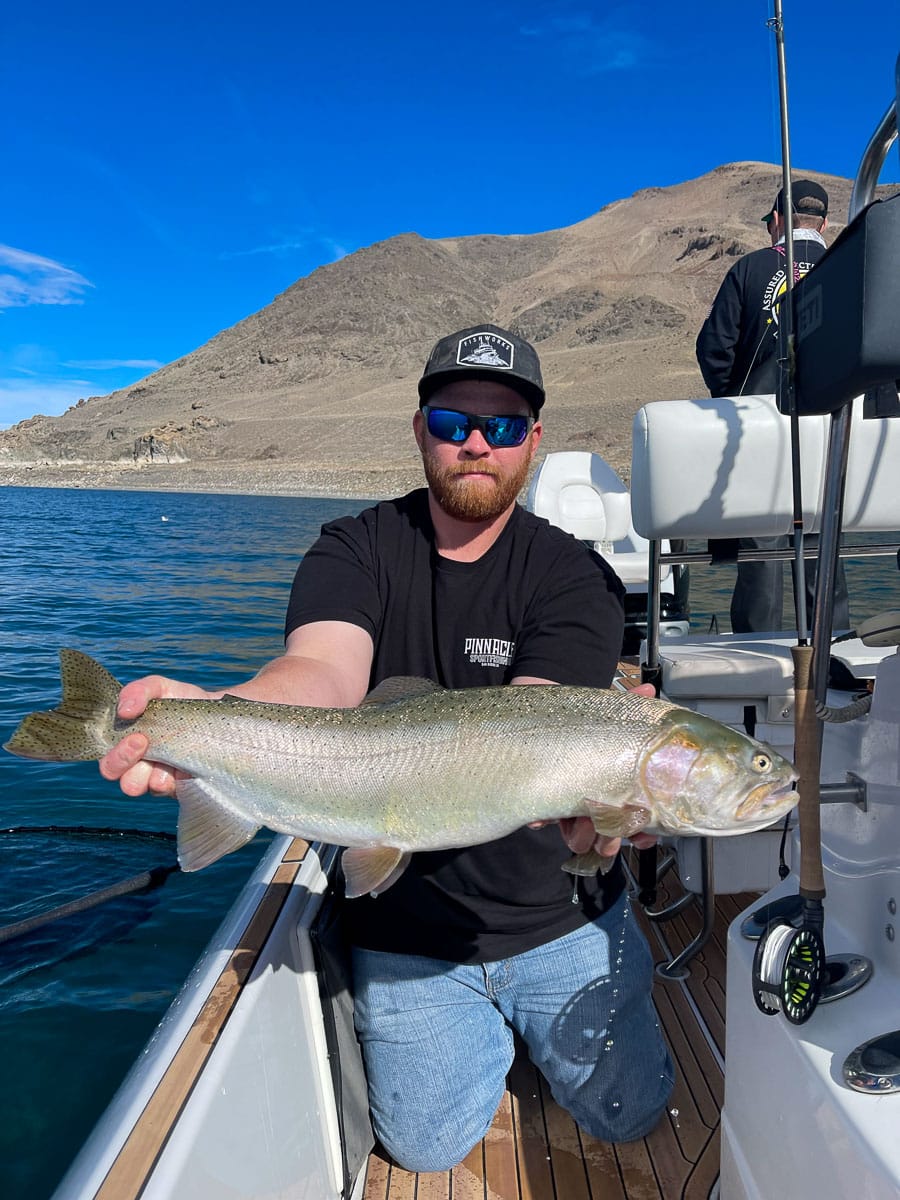 Hans put Taylor on some hogs at Pyramid Lake like this giant cutthroat trout.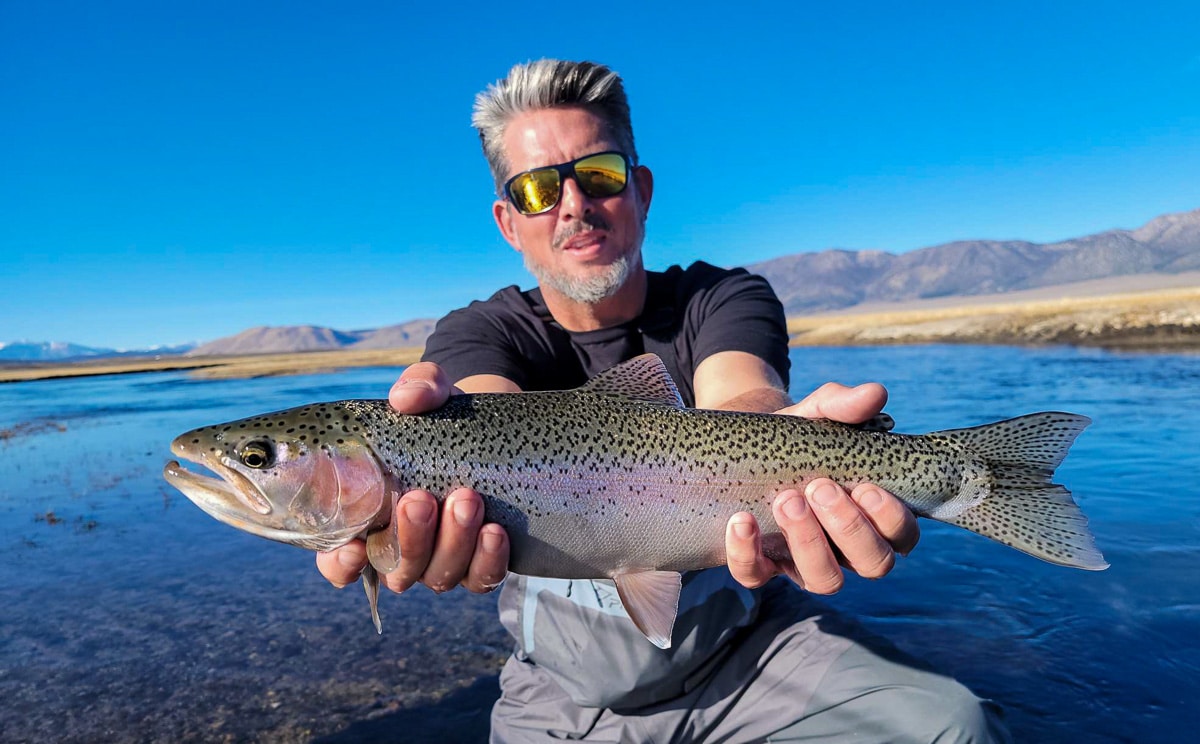 Ben fished with Two Bug Doug and whacked the big rainbow trout like this one on the Upper Owens River.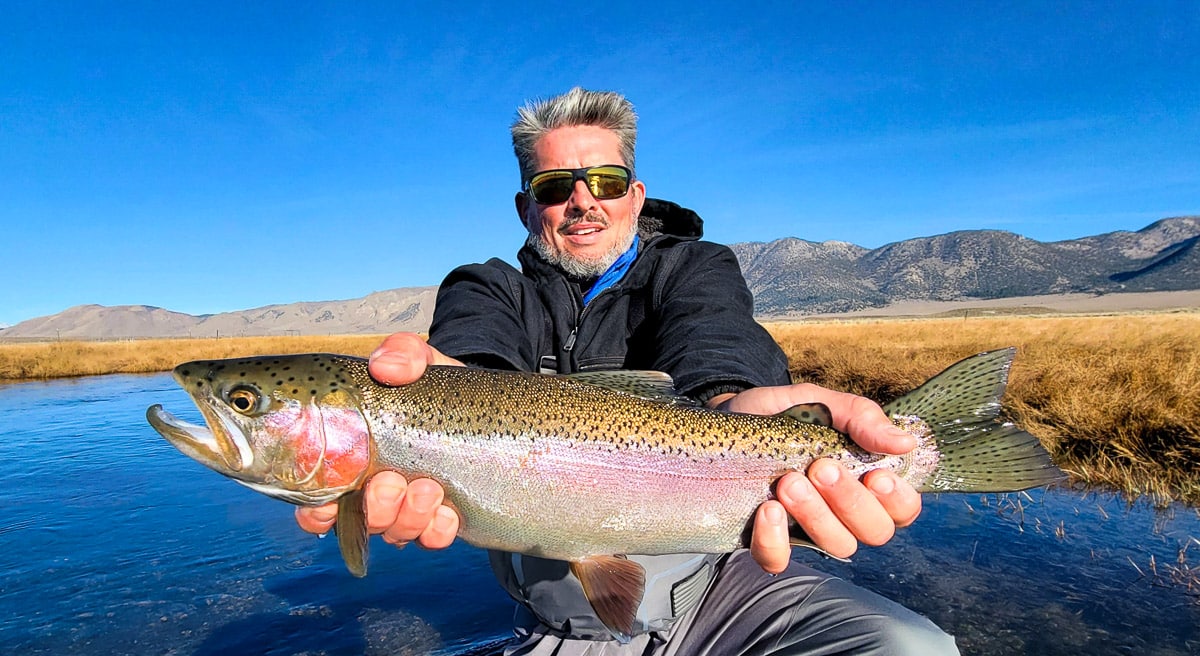 Ben with another solid rainbow trout.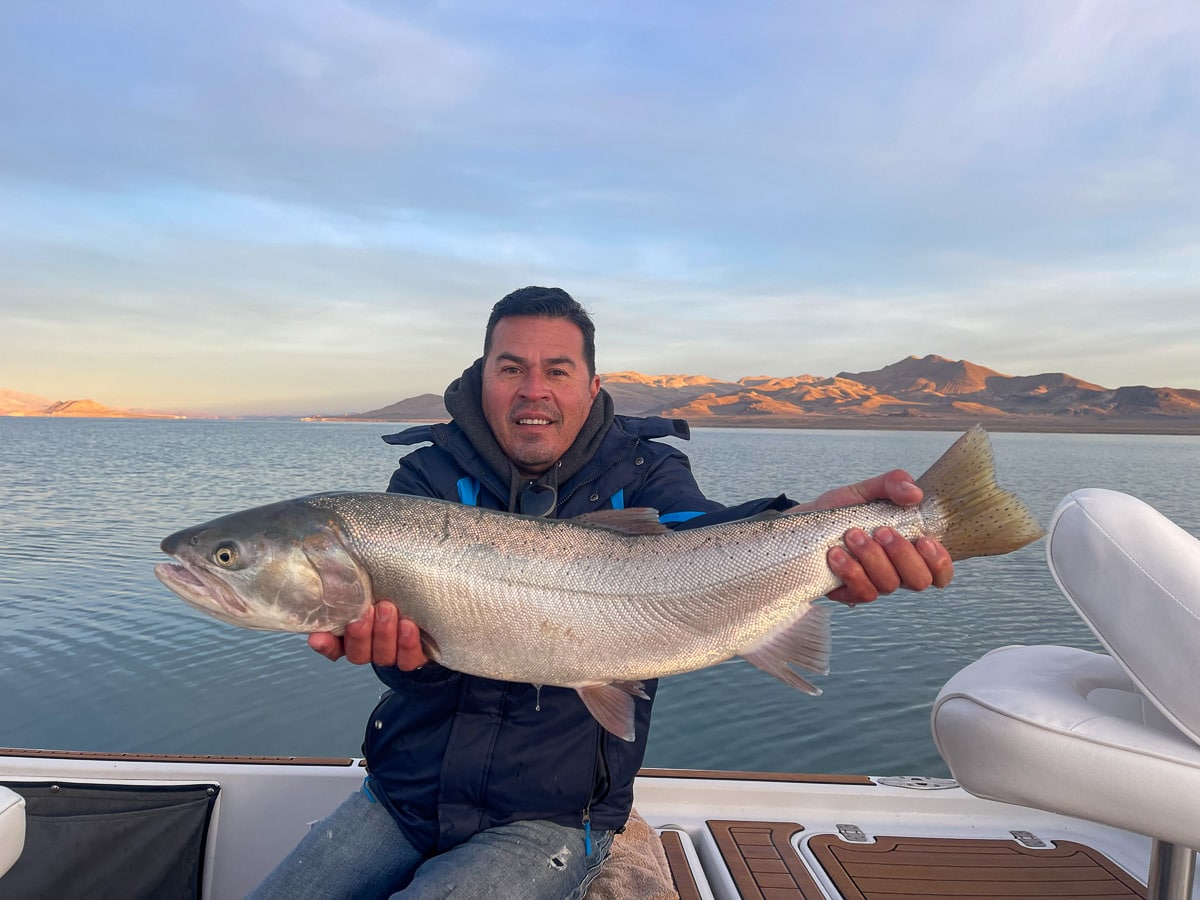 Joe got into some monster cutthroat trout like this with Hans on Pyramid Lake.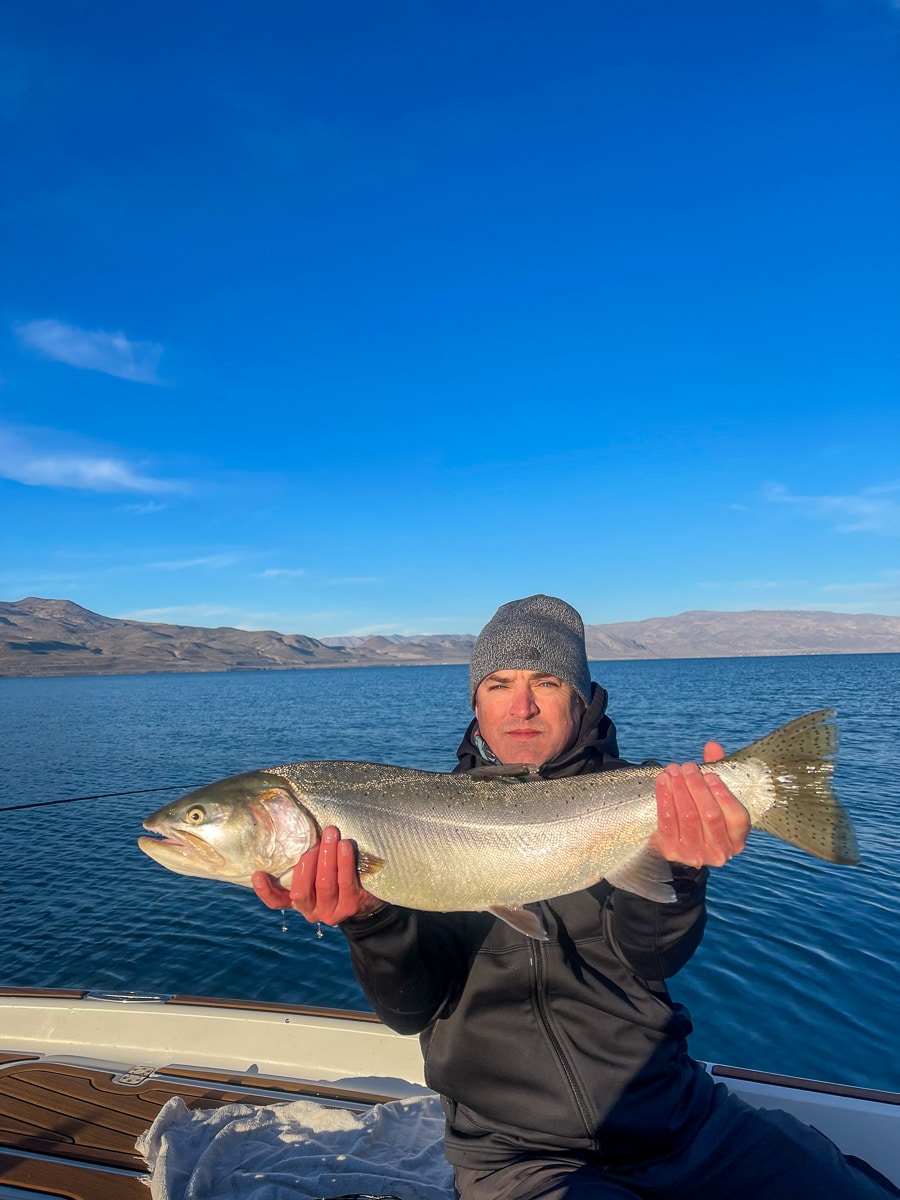 Chris fished with Hans on Pyramid Lake and nailed some giant cutthroat trout like this.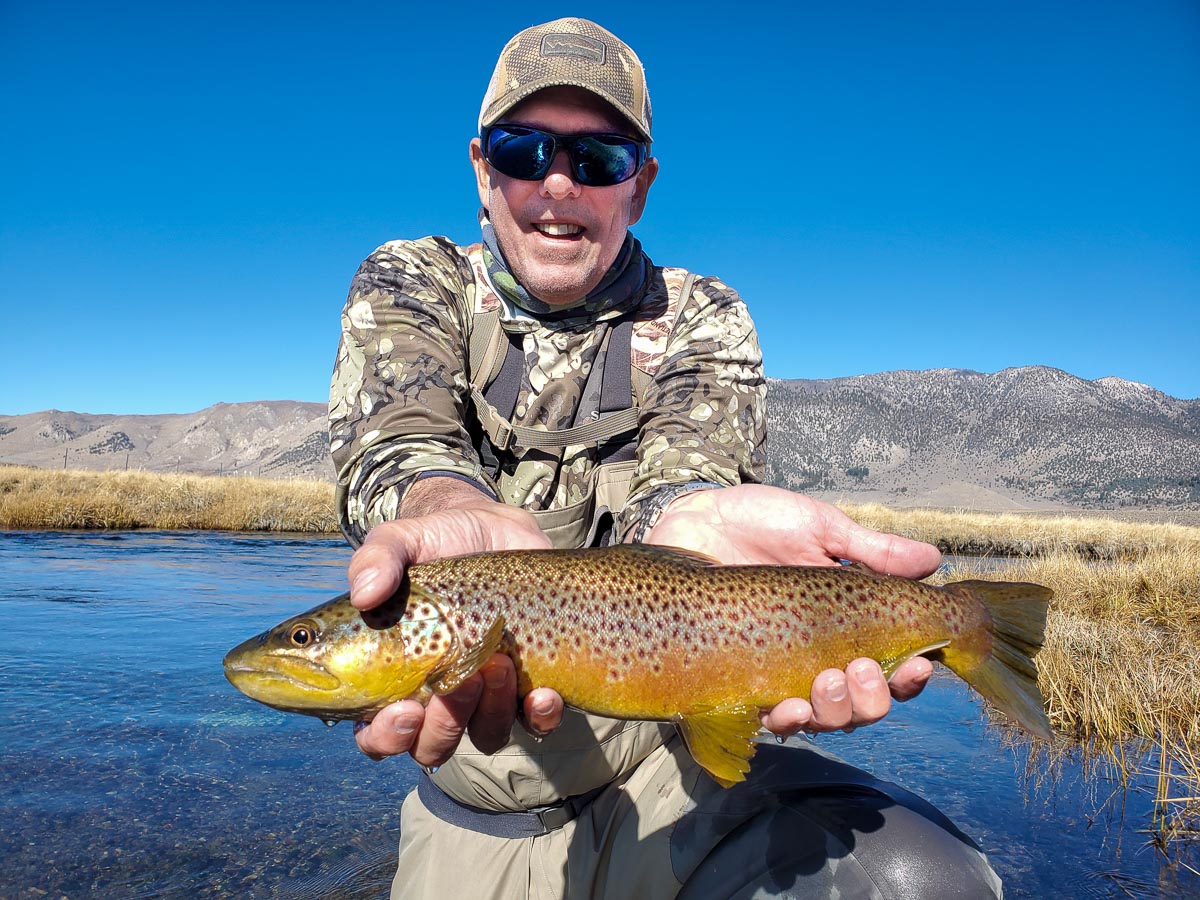 Bill got out with Seth on the Upper Owens River and got this hot brown trout.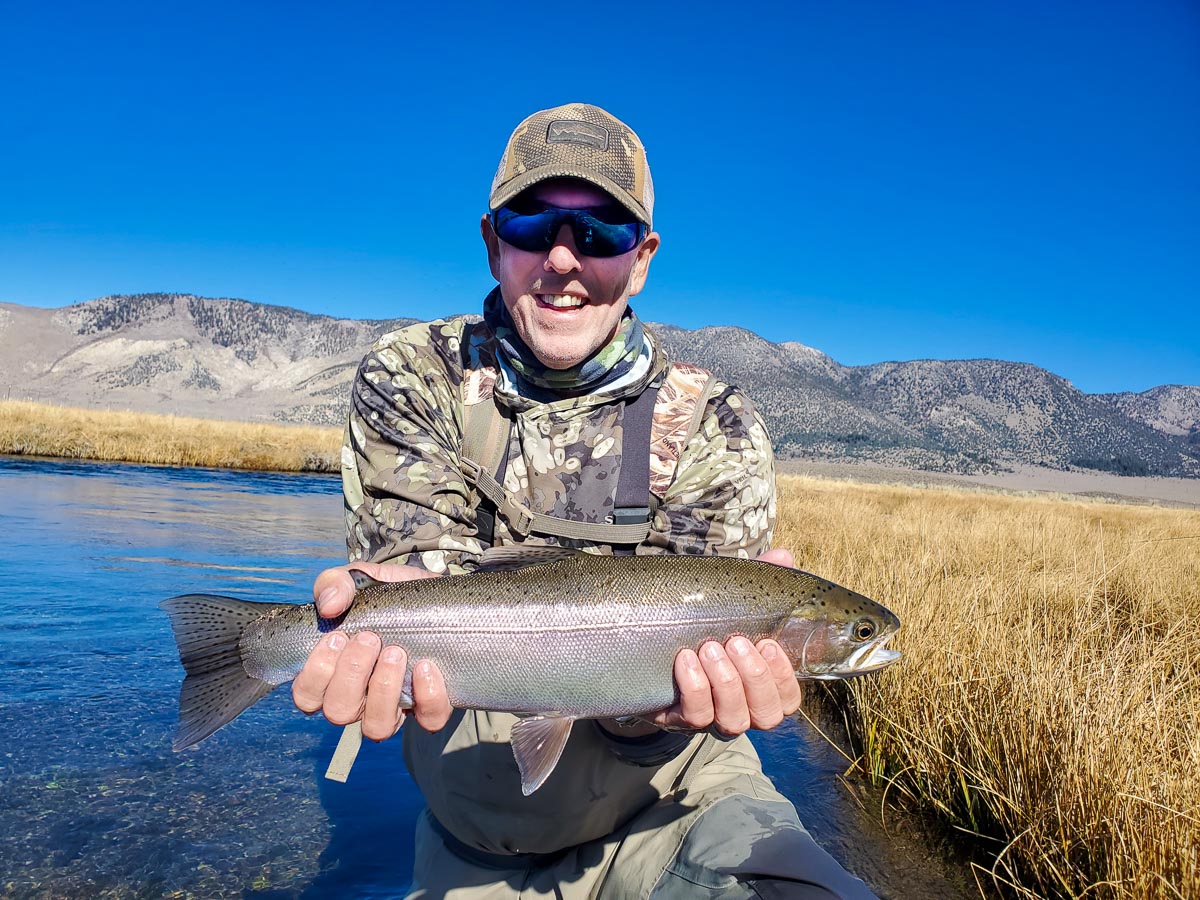 Bill with another nice trout.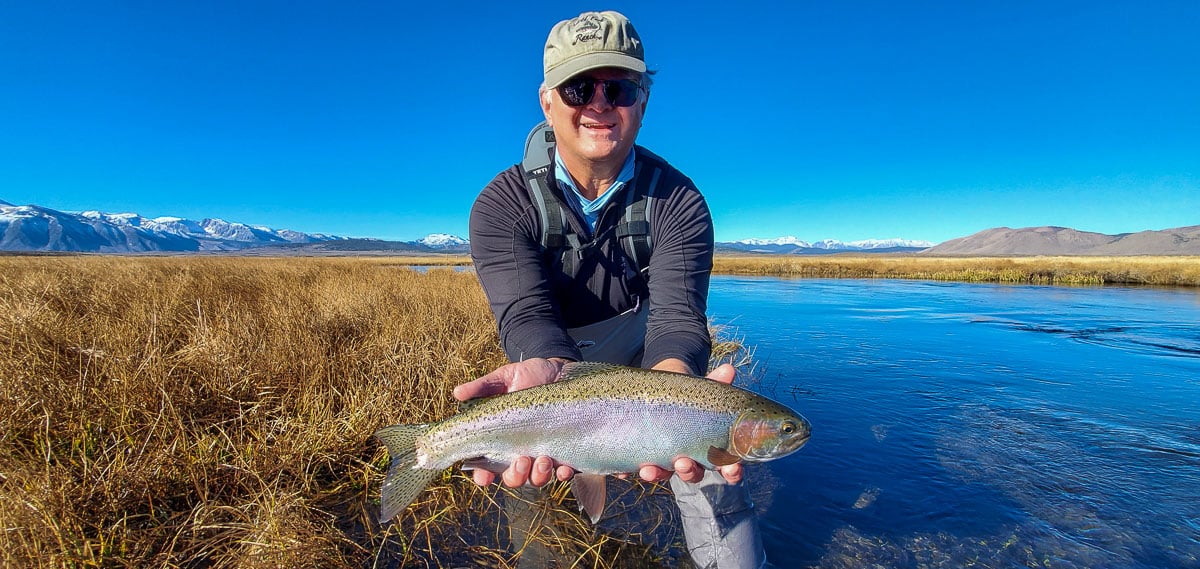 Mike whacked this nice rainbow trout on the Upper Owens River while fishing with Doug R.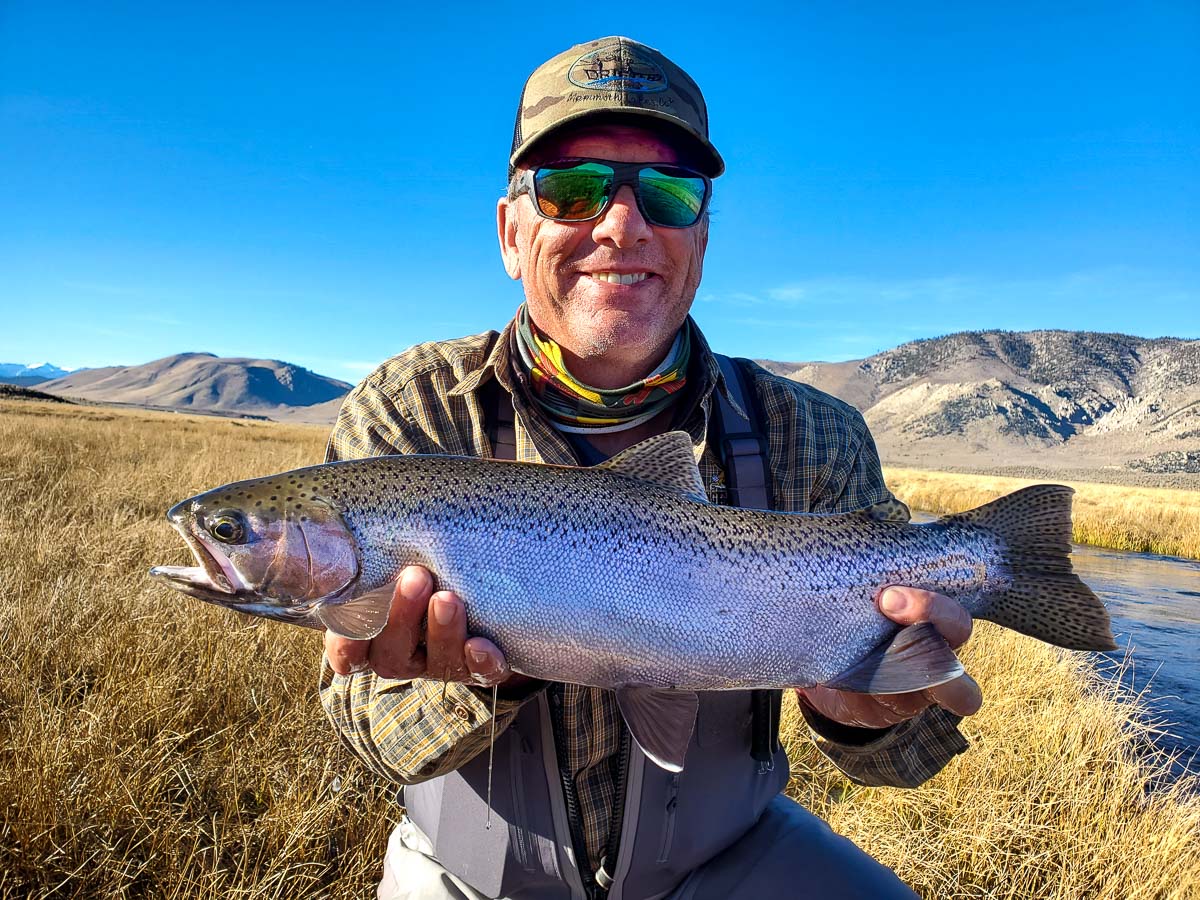 Jeff fished with Doug R on the Upper Owens River and displays a hefty rainbow trout.
SD guide Cory did some scouting and found some nice rainbow trout.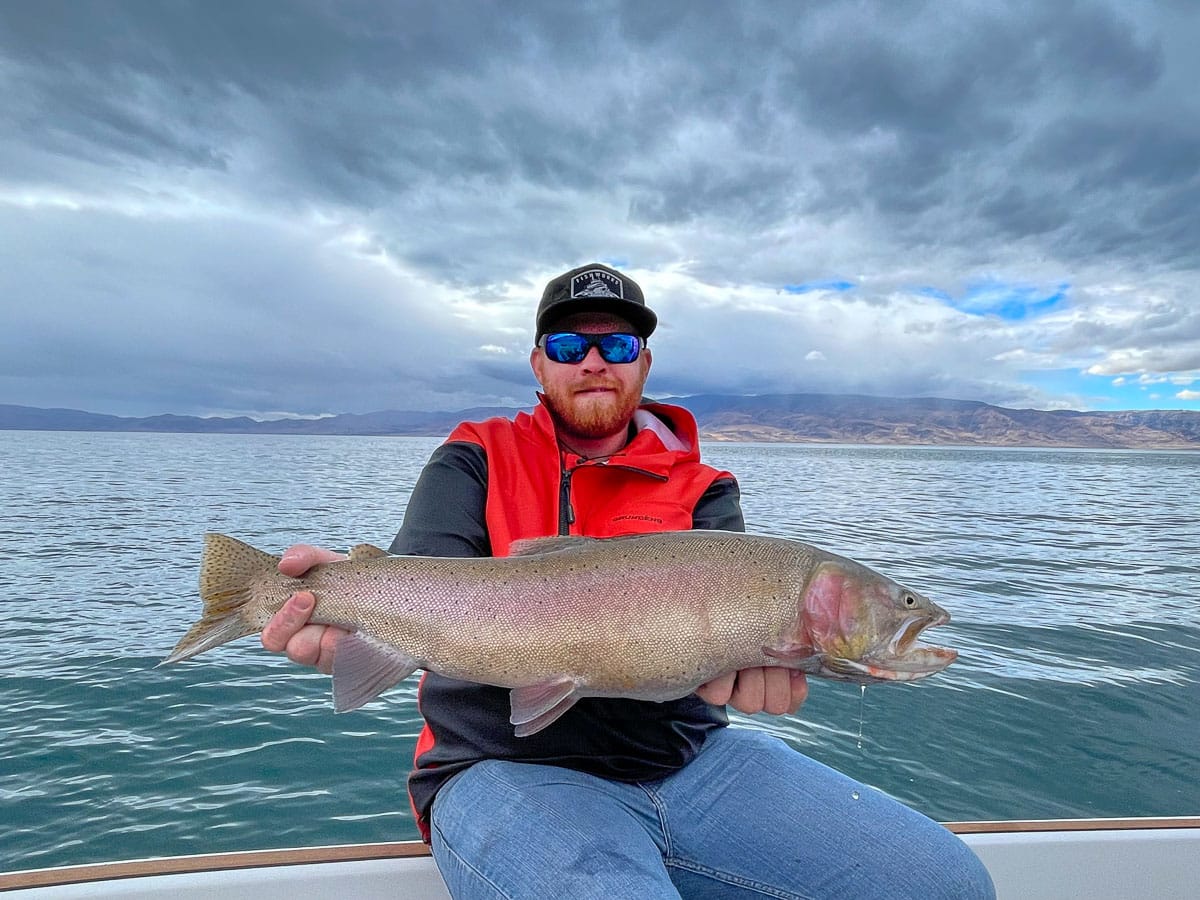 Taylor with another giant from the depths.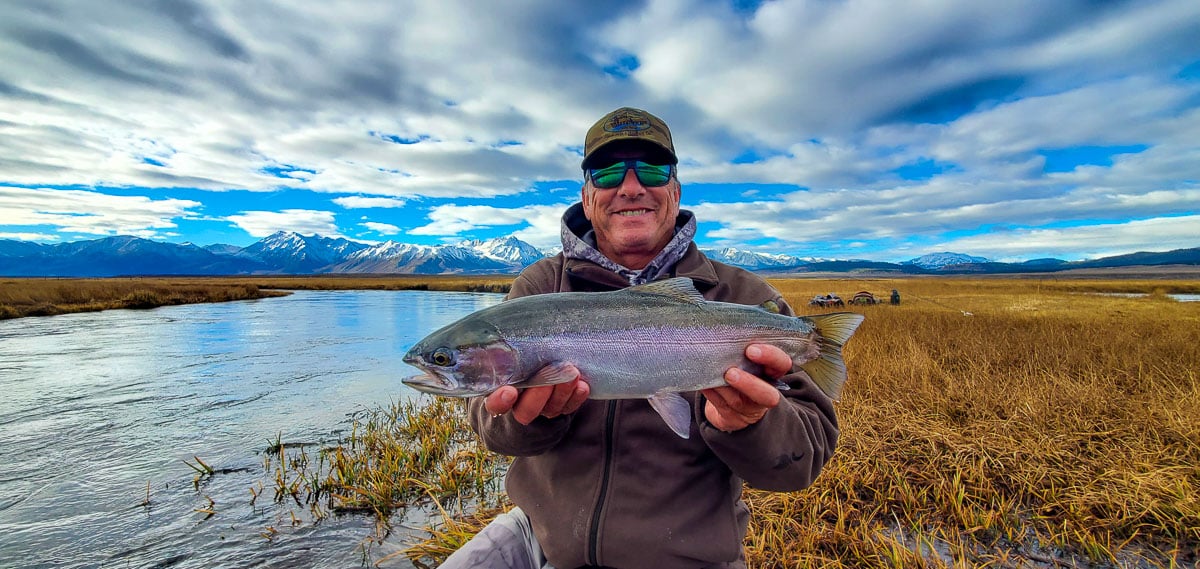 Jeff with another great rainbow trout.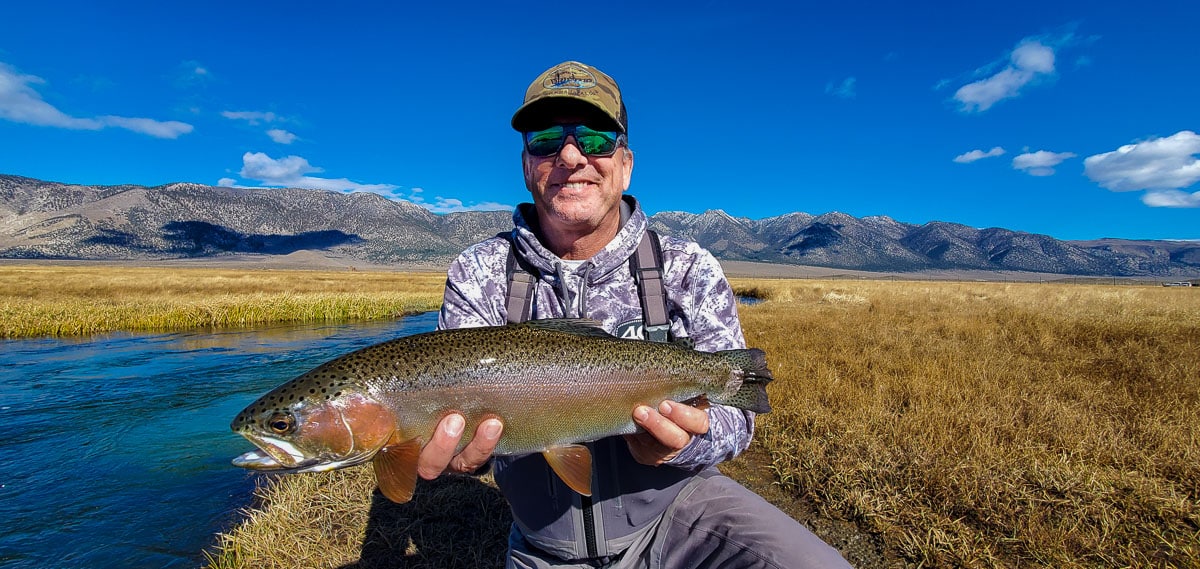 Jeff with another big rainbow trout.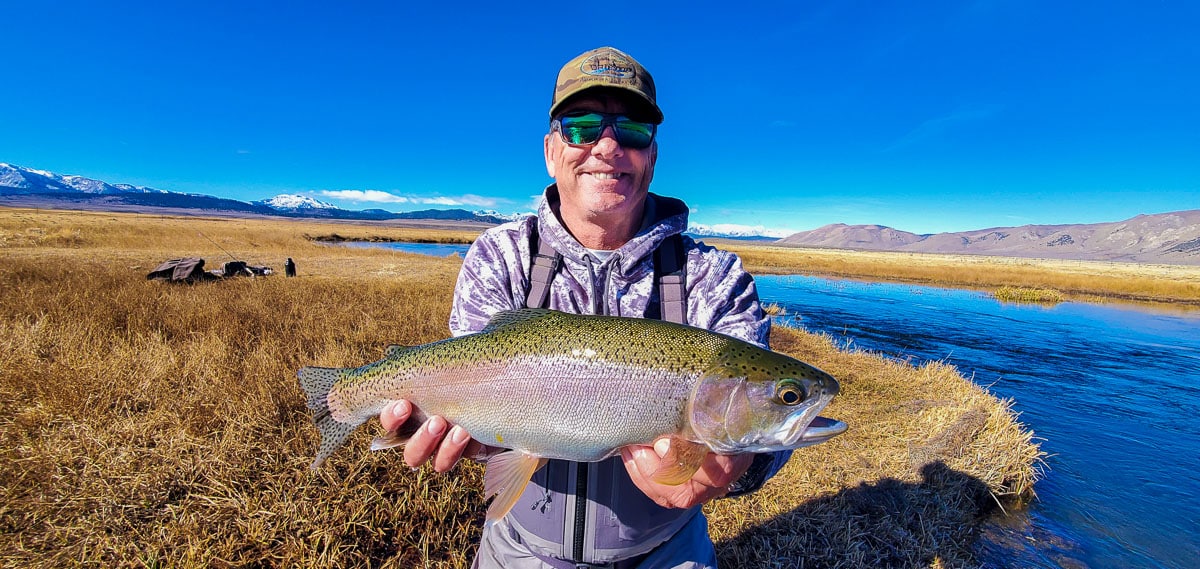 Jeff really got into the rainbow trout on the Upper Owens River.
Here are our flies which are working on the Upper and Lower Owens River, Crowley Lake, Hot Creek, and East Walker in addition to the above patterns listed in our report:
SD Chironomidge
#16,
Para Midge
#20, 22,
Puff O' Smoke
#16,
Broken Back Copper Tiger Midge
#18, 20;
Assassin Light
#18;
Assassin Dark
#18;
Crystal Hi-Vis Parachute Blue Wing Olive
#18;
Crystal Tiger Midge Long
#18, 20;
Crystal Midge Pupa Copper
#18, 20;
Gillie Chironomid Pupa Dark and Light
#18, 20, 22,
Otter Eggs
in all colors,
Bead Head San Juan Worm Red And Brown
#14, 16;
Squirmy Worm Tungsten purple, pink, and red; Parallel Assassin Light #14-16, Parallel Assassin Dark #16; Loeberg Mallard Silver Badger; Spruce a Bu Dark and Light
Click HERE to purchase.
Click HERE to check out our great summer Sierra Drifters T-shirts and Hats.