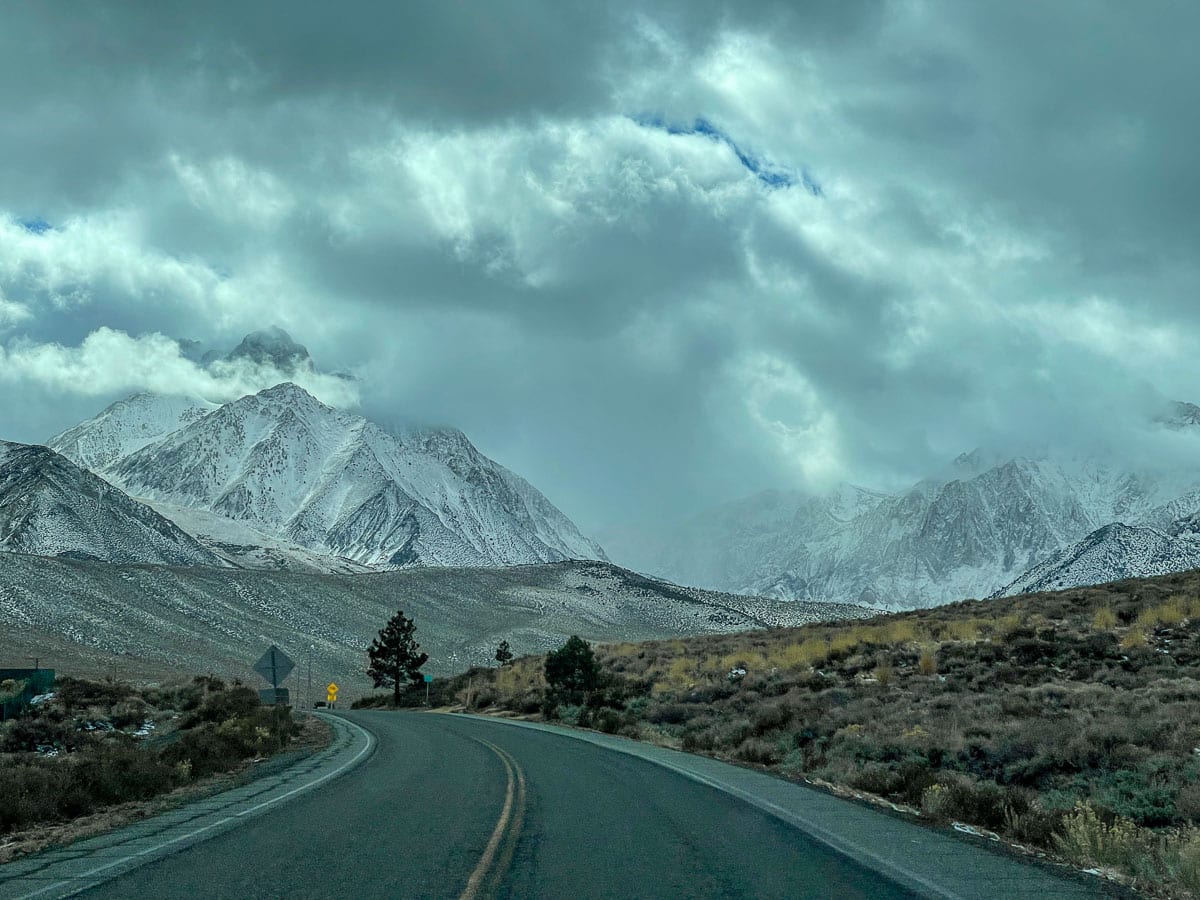 We closed out the boat fishing season on Crowley Lake as winter prepared itself to arrive. The temperature change has arrived with nights in 20's and our first snow to fall for the winter.Accumulation was very light from the past storm, but the coming week may bring a decent amount of snow to the area. Fishing on the Upper Owens has been good when you find the large browns and rainbows. Hot Creek is transitioning to winter mode with fish moving back into the deeper pools. Lower Owens River flows have come down to winter levels and fishing has been good in the Wild Trout area.
Hot Creek has been fun in the canyon and the Interpretive Site. With colder weather, the fish are settling into the pools again. Some of the deeper weed channels and depressions in the creek bed are also holding fish. #18 Crystal Scud, #16 SJ Worm in Red and Brown, #18 Flashback Hare's Ear, SD Crawler Red or Brown, and #18 -20 Flashback Pheasant Tails have been working well.
Lower Owens River flows are now around 88 cfs. Wading is easier now and the cooler water will have the fish in a more comfortable state and ready to feed. Temps have dropped down here some and warmer days are still producing a surface bite. Otherwise, smaller nymphs like #18 – 20 Flashback Pheasant Tails, #20 Serendipity Black and Red, #18 – 20 Tungsten Zebra Midge, #20 – 22 Crystal Chironomid Emerger Copper, #20 Red Rib Midge Glass and Dark Head, #18 -20 Crystal Caddis Olive Dubbed Black and Crystal Caddis Olive Larva Black have been catching trout here.
Upper Owens River some larger fish are in the river now. Browns and rainbows have been in the mix and with a second round of snow coming, we can expect more fish to be moving in daily. The deeper pools are best with some fish hanging along the cut banks also. Eggs, Pheasant tails, worms, midges, and leeches have been getting takes.
Pyramid Lake has been going strong. Numerous giant fish have been caught in great quantity. Chub patterns fished at various depths have been doing the trick. We have November and March – June open for booking.
Nishant display a bright colored brown trout.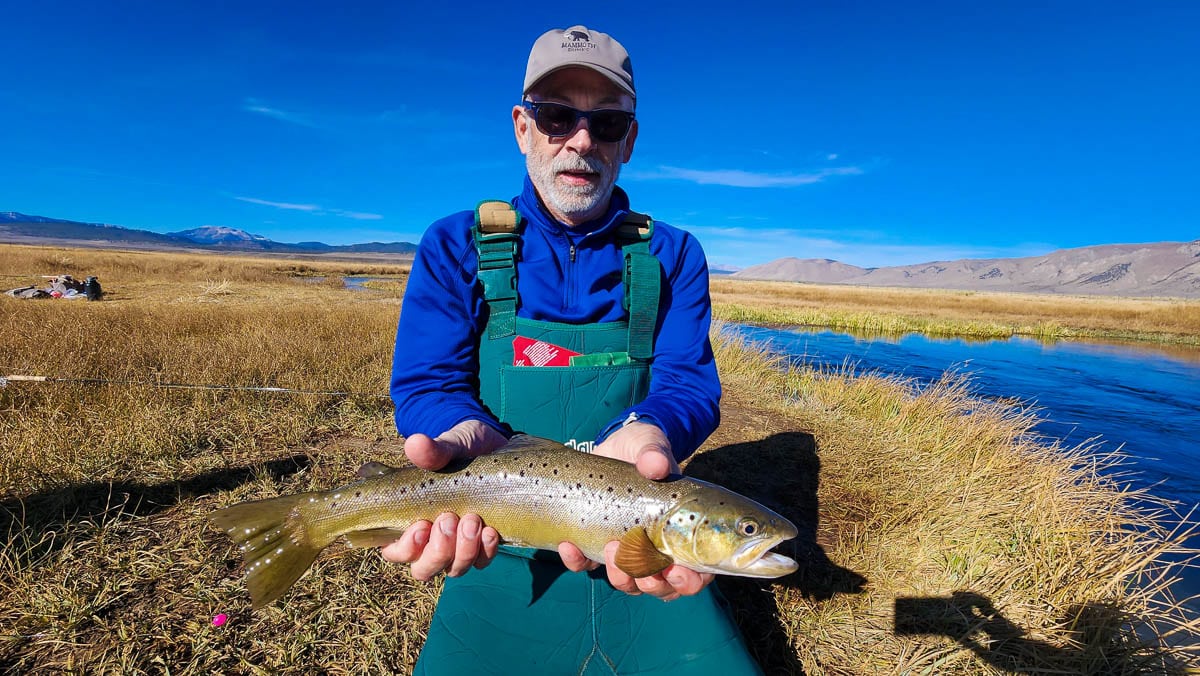 Brian displays a nice brown trout.
Here are our flies which are working on the Upper Owens, Lower Owens River, East Walker River and Hot Creek in addition to the above patterns listed in our report:
SD Chironomidge
#16,
Para Midge
#20, 22,
Puff O' Smoke
#16,
Broken Back Copper Tiger Midge
#18, 20;
Assassin Light
#18;
Assassin Dark
#18;
Crystal Hi-Vis Parachute Blue Wing Olive
#18;
Crystal Tiger Midge Long
#18, 20;
Crystal Midge Pupa Copper
#18, 20;
Gillie Chironomid Pupa Dark and Light
#18, 20, 22,
Otter Eggs
in all colors,
Bead Head San Juan Worm Red And Brown
#14, 16;
Squirmy Worm Tungsten purple, pink, and red; Parallel Assassin Light #14-16, Parallel Assassin Dark #16; Loeberg Mallard Silver Badger; Spruce a Bu Dark and Light
Click HERE to purchase.
Click HERE to check out our great summer Sierra Drifters T-shirts and Hats.