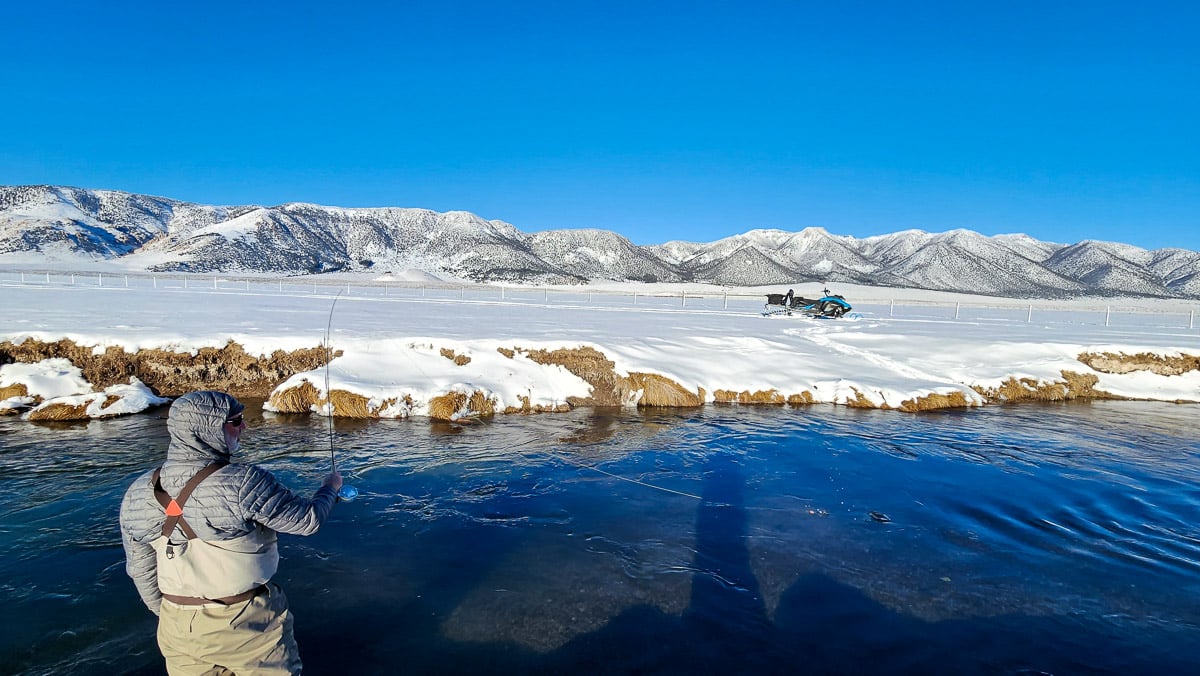 "HOLIDAY SALE"

"Take 20% off out entire product line of flies and apparel for the entire month of December."

Enter Coupon Code
"DECFLIES20" at checkout for your discount.
Click here to browse our sale items
A real winter storm made its way through the area bringing feet of snow to elevations over 7000′. The storm systems started very wet with rain in most areas gradually turning into a drier snow. The combination of high winds and rain during the storms left some solid ice behind which made snow clean up quite challenging for most. We are not due for anything significant in the way of snow for a few weeks now, so it will be a cold but pleasant and enjoyable Christmas week in the high country. The Upper Owens and Hot Creek are accessible now by foot. We are snowmobiling in to get to the fish on the Upper O. The Lower Owens River continues to fish well with a good mix of rainbows and browns ranging from 10 – 17″ in length. The milder weather will have the BWO mayflies coming off strong in the next few weeks. The Lower Owens remains perfect for drift boat trips and the fishing has been good on our usual runs. Hot Creek fishing has really picked up recently with decent fishing at the Interpretive Site and even better fishing in the canyon. We are taking bookings now for Pyramid Lake boat trips in March, April, May, and June. Give us a call, text, or email for more info.
Hot Creek's access is now walk in only since the last shot of snow fell. Smaller nymphs and midges in the mornings have been getting takes from resident browns and rainbows. The canyon section is worth the work to get in there currently with the trout eagerly taking properly presented flies. Egg patterns have also been getting looks as the fish are now in full winter mode. You will find pods of fish in the pools now, which makes the competition among them greater. The flow is slow here, so smaller indicators have been working well with nymphs in the #18 – 22 range. You can purchase our line of High and Dry floatants here. We find this brand to be some of the best we have used. Flies to use: Egg patterns, SJ worms #14 – 16, #18 Blood Midge, #18 – 20 Tungsten Zebra, #20 Bead Prince Nymph Tungsten, Broken Black and Blue Midge, #18 -20 Crystal Caddis Larva Green Black, #18 – 20 Crystal Copper Zebra Midge, #18 Flashback Hare's Ear, #22 -24 Griffith's Gnat, #20 Serendipity Black.
Lower Owens River flows are great for wading currently. All the burn areas of last winter have grown in with fresh growth. The gauging station is still not reporting the correct flows, but they are sitting around the 75 – 80 cfs level. Look for plenty of aggressive fish that are feeding heavily right now as the cold weather has snapped them into winter mode. We have been drifting in the lower sections and targeting the deep pools along the river with good success. The Blue Wing Olive hatches have started in the early afternoons, and this is one of the best bite windows on the river. It usually lasts about an hour or so depending on the weather, but you can get high numbers of fish at this time. A lighter weight rod in the 3 and 4 size is perfect for these fish. Water is clear and the river is in great shape currently. Smaller nymphs like #18 – 20 Flashback Pheasant Tails, #20 Serendipity Black and Red, #18 – 20 Tungsten Zebra Midge, #20 – 22 Crystal Chironomid Emerger Copper, #20 Red Rib Midge Glass and Dark Head, #18 -20 Crystal Caddis Olive Dubbed Black and Crystal Caddis Olive Larva Black have been catching trout here.
Upper Owens River New snow has covered up the mud here once again and we have been running the snowmobiles to get in. The inversion layer has made it frigid on the river and we have been seeing morning temperatures in the minus zero to low teens. The larger rainbows are in the river currently, but covering some ground to find them is crucial. A few large browns are still in the mix. We should start to see the next run of fish start moving up river from below the bridge with the approachment of the month of January. Some smaller resident fish are in the mix as well, so don't be surprised when you a hook a few of them while fishing for larger rainbows. Mixing it up right now with a variety of fly patterns has been the key along with a good presentation.
In the spirit of the holidays, we are having a "20% OFF SALE" which starts now and is available through December 31st. Take 20% off our entire product line including apparel. Just enter the coupon code: DECFLIES20 at checkout and your discount will be applied to your cart total. Click here to visit our store.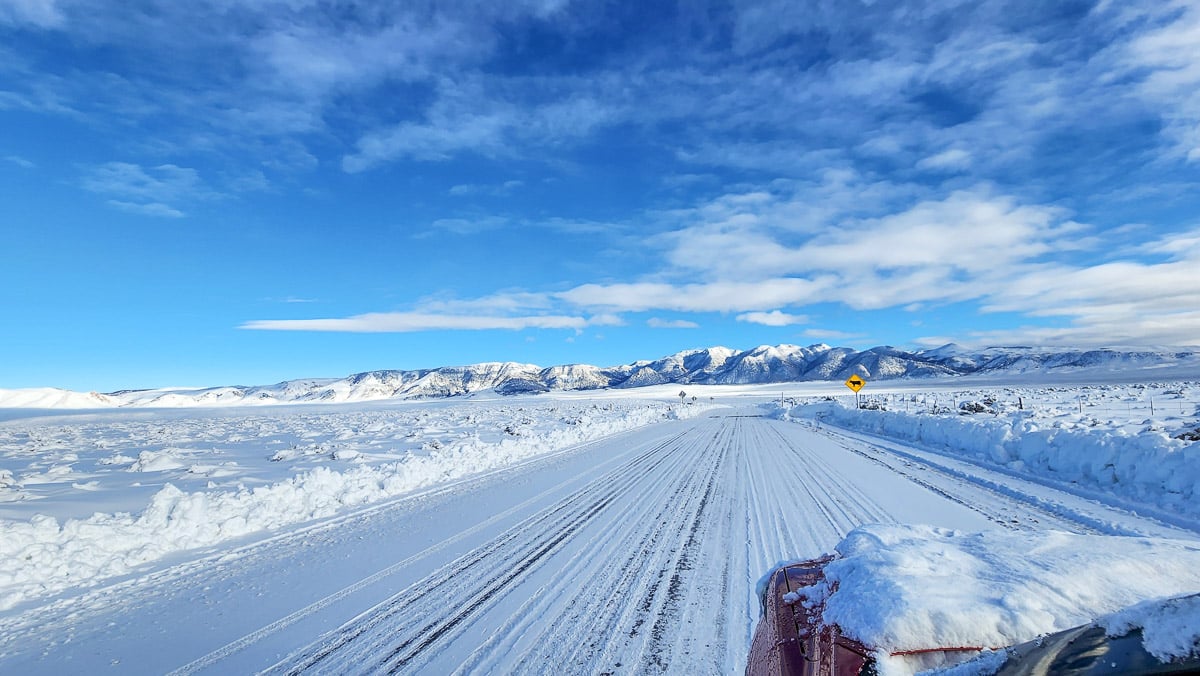 A snow covered Benton Crossing Road.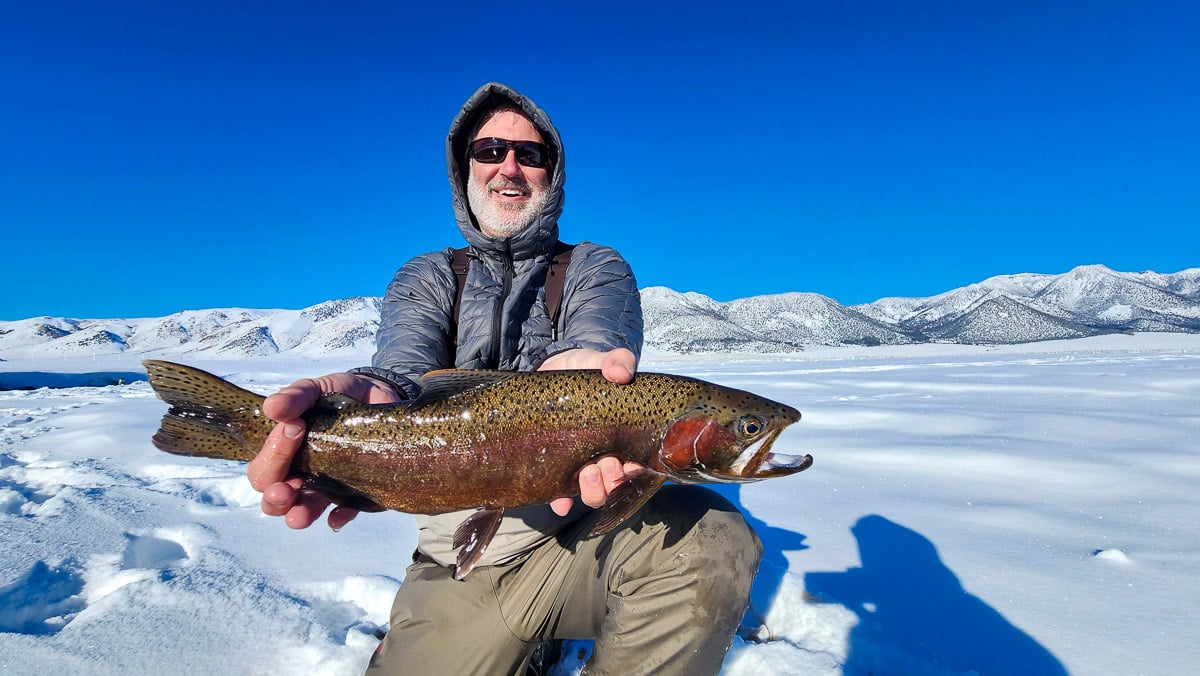 Steve worked hard for some nice rainbow trout like this beast while fishing with Doug R.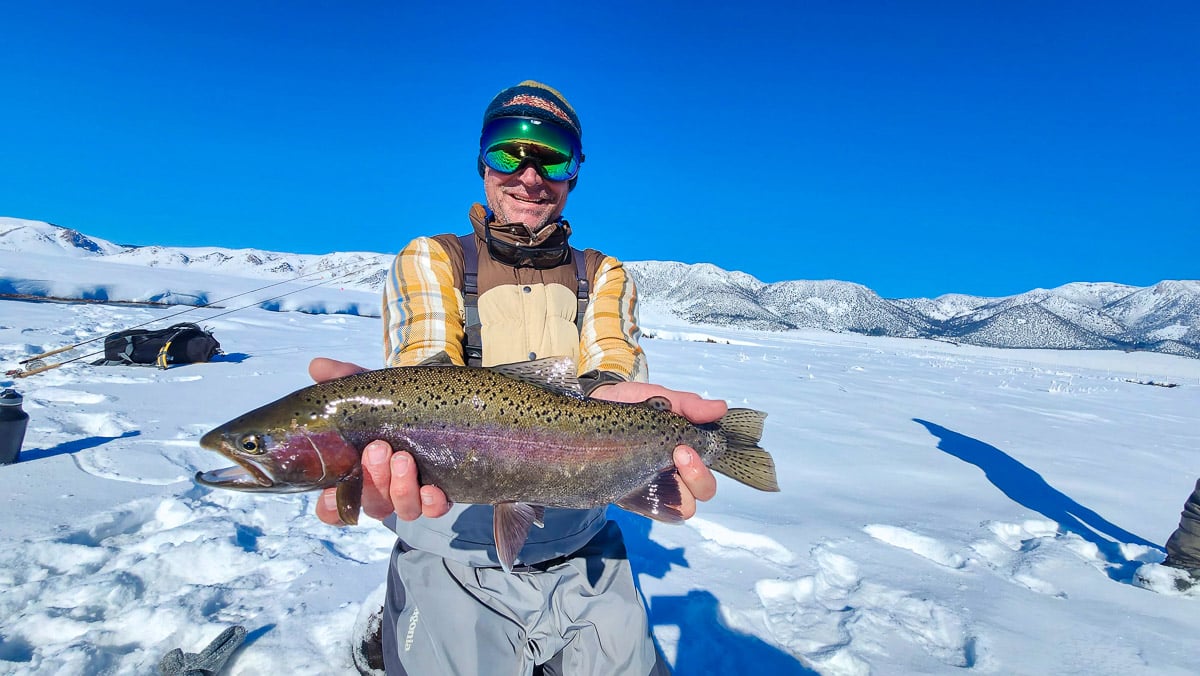 Jonathon got into some brute rainbow trout while fishing with Doug R.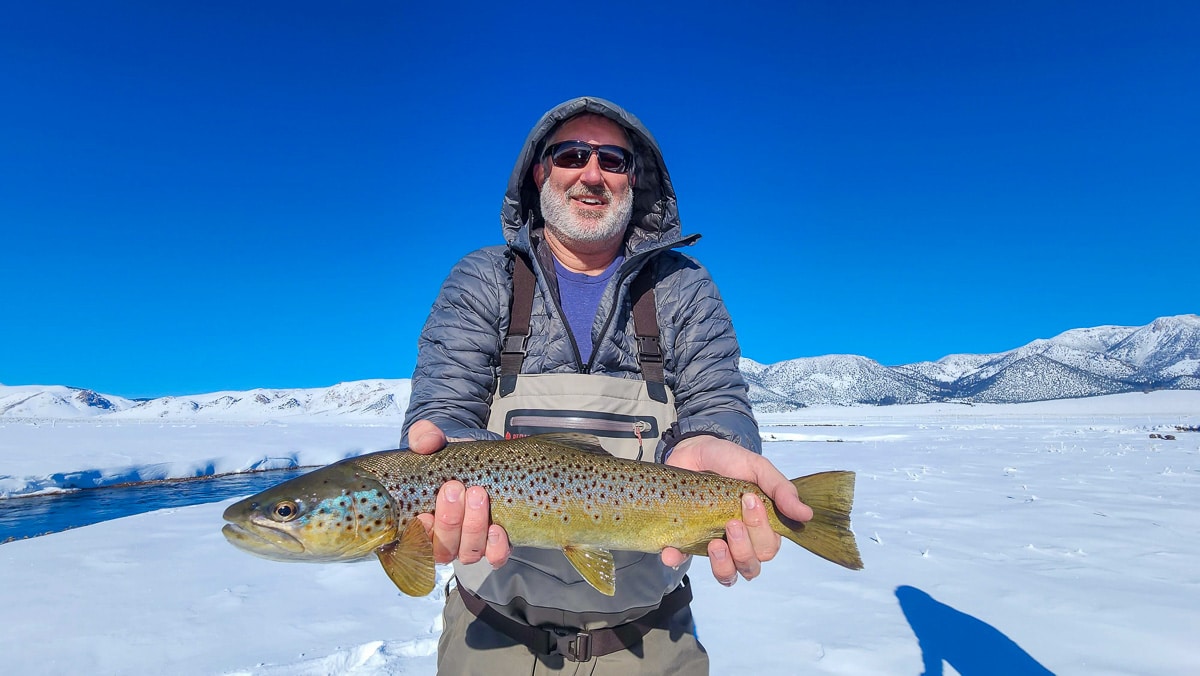 Steve with another solid fish, this time a brown trout.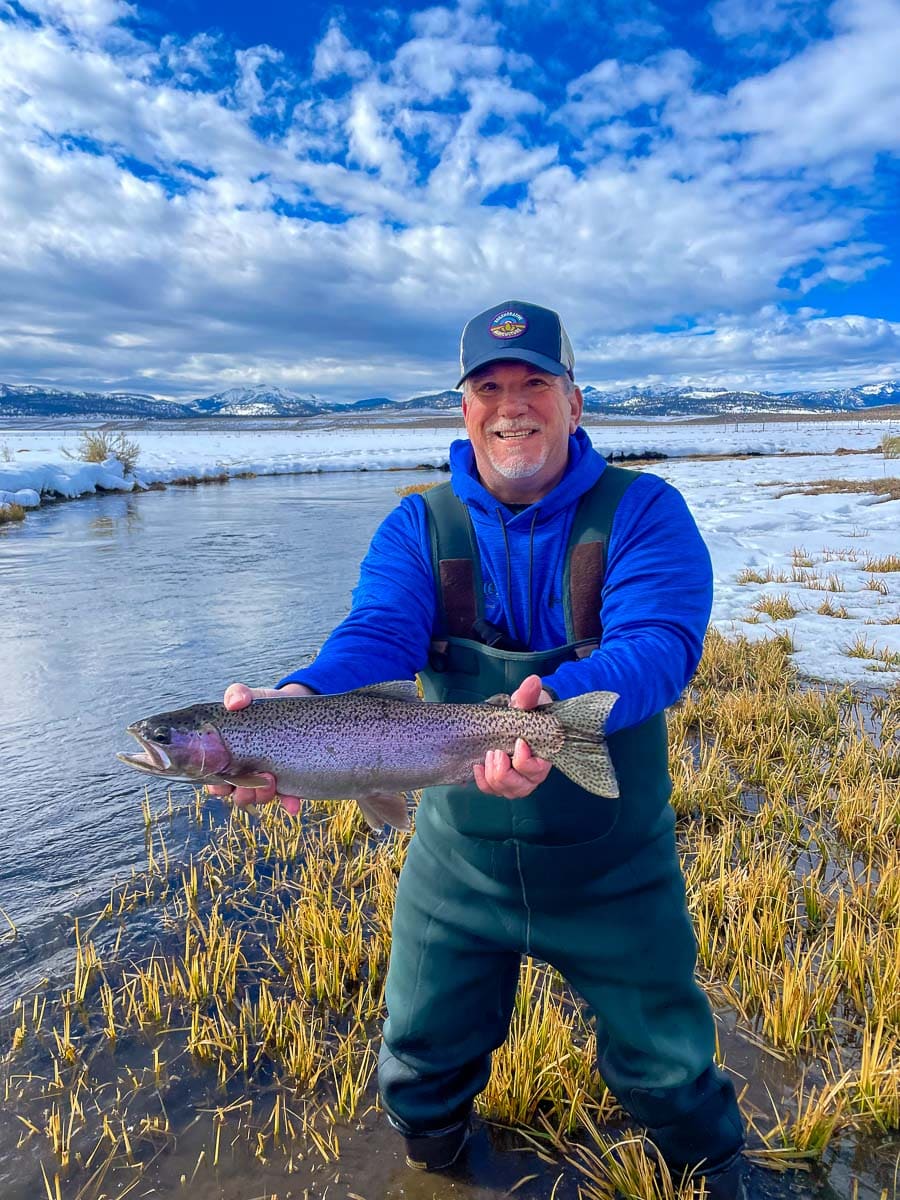 Will fished with Devin and got this giant rainbow trout.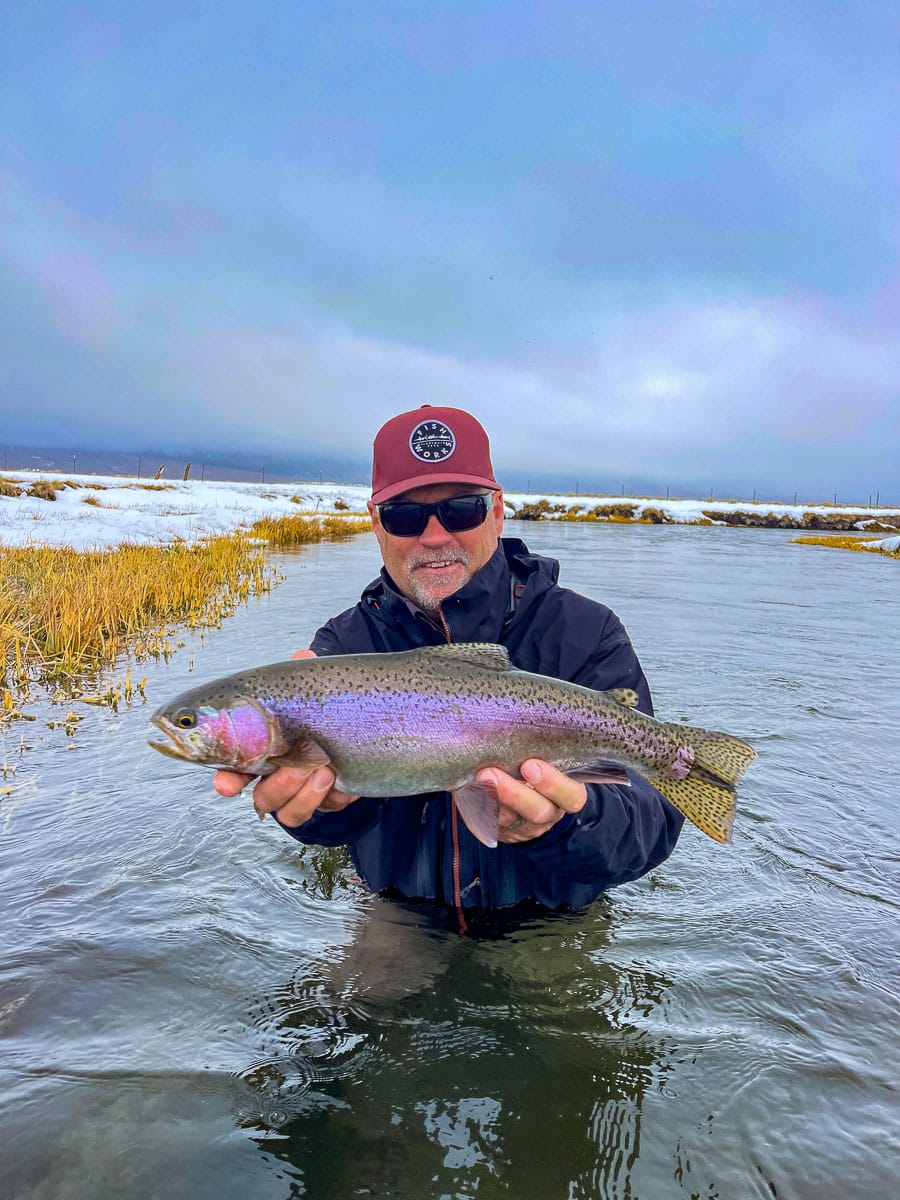 Jay got into some nice ones on the river.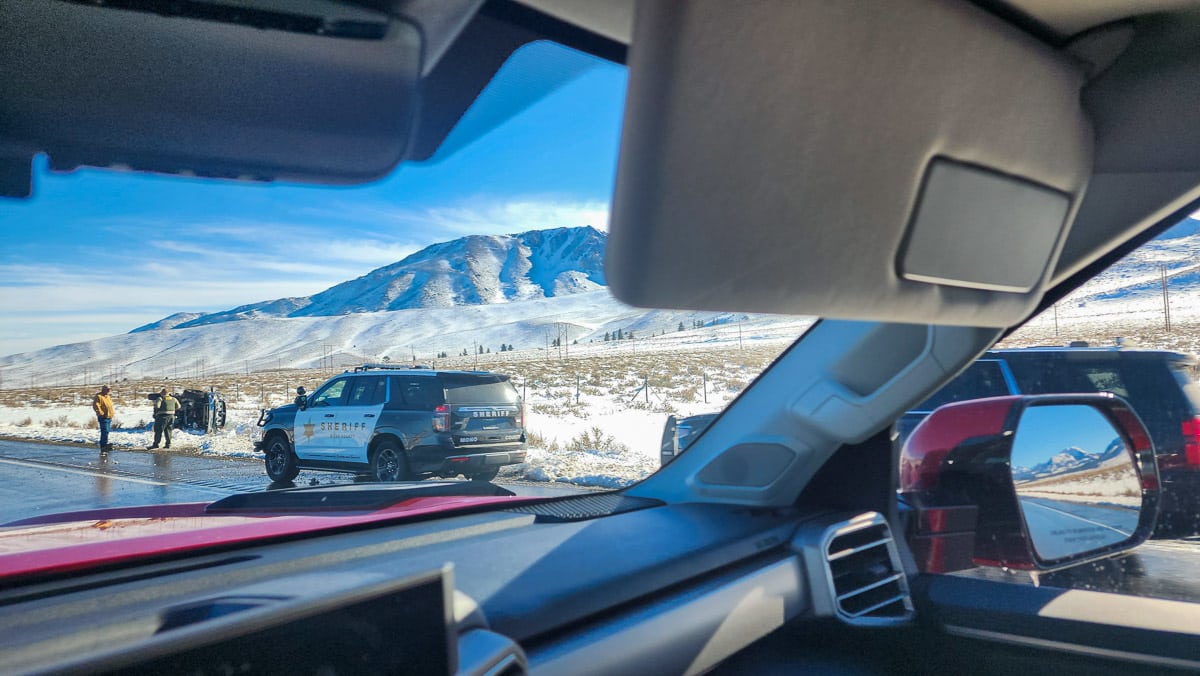 Take some time to go slower during the storms and keep the rubber side down.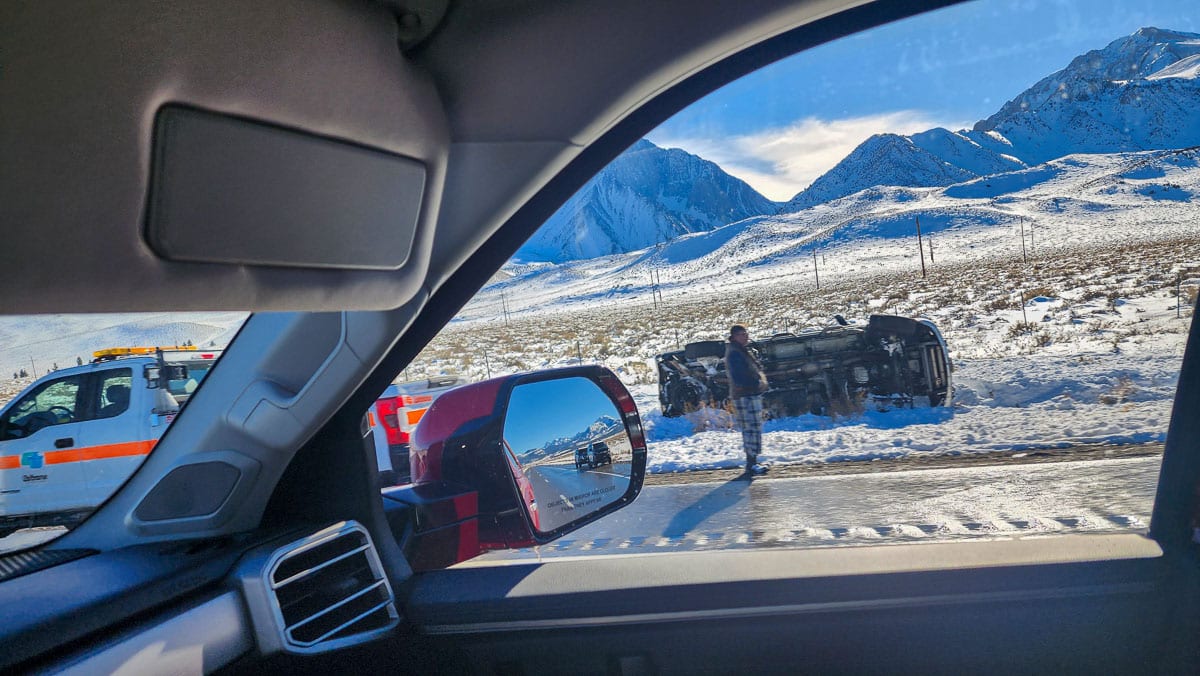 A closer look.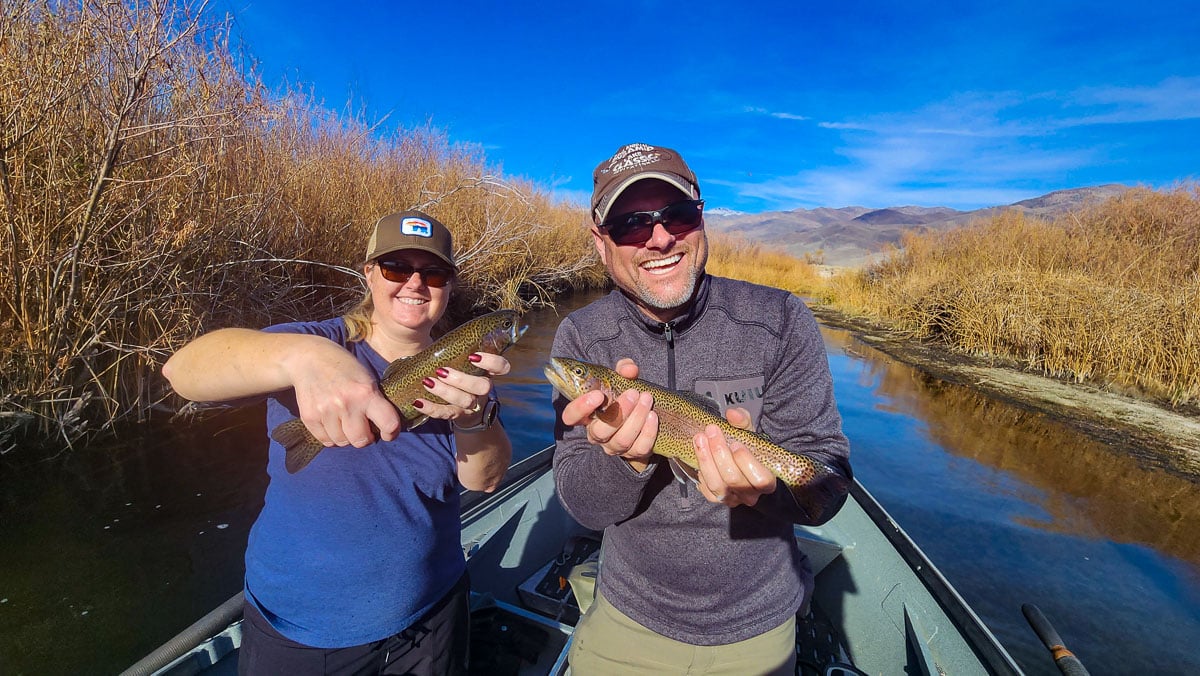 Rene and Daren had a great day drifting with Doug R. on the Lower Owens River catching rainbow trout like these.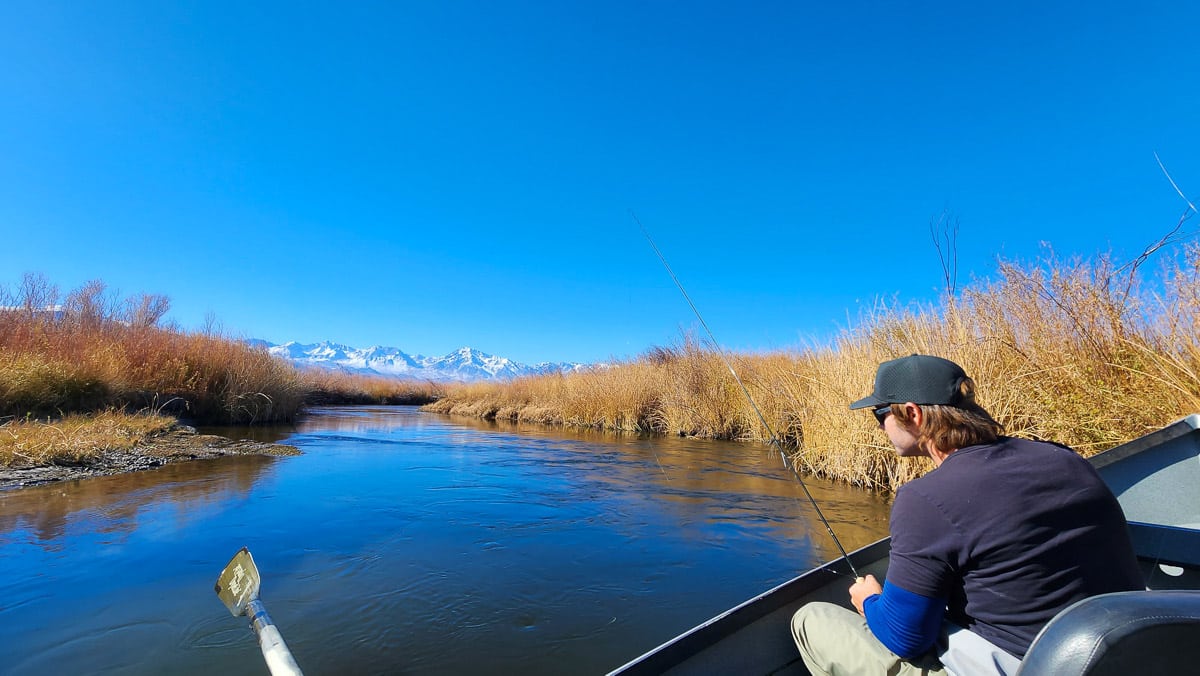 An afternoon view from the river looking towards the eastern sierra escarpment.
Chad and son Hudson fished with Doug R. and put the wood to the rainbow and brown trout.
Hudson with another healthy rainbow trout.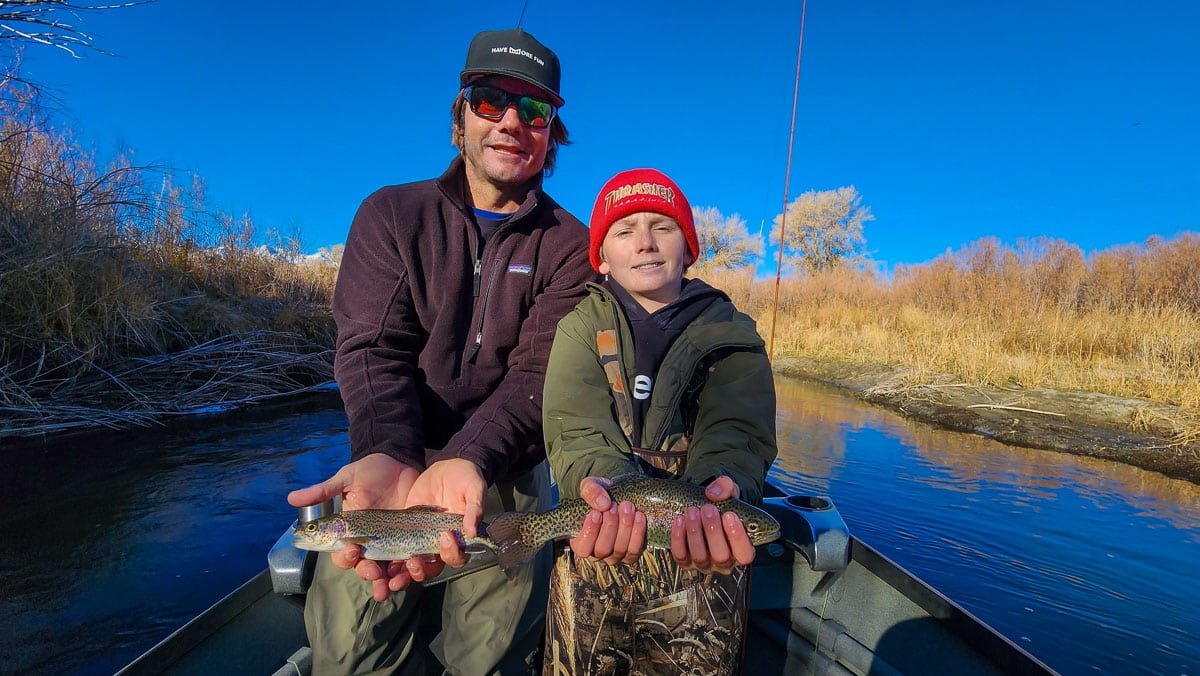 The duo with another double on rainbow trout.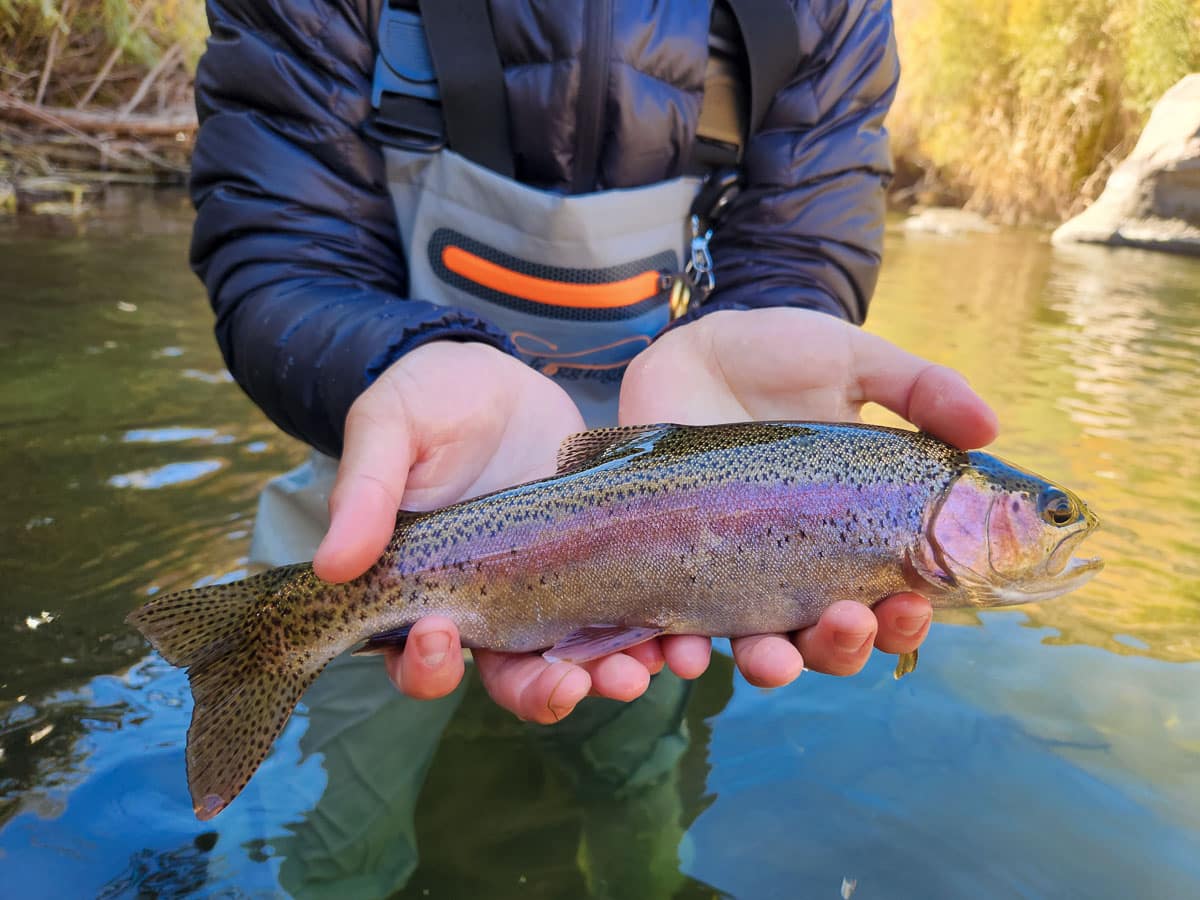 A close look at the Lower Owens rainbow trout.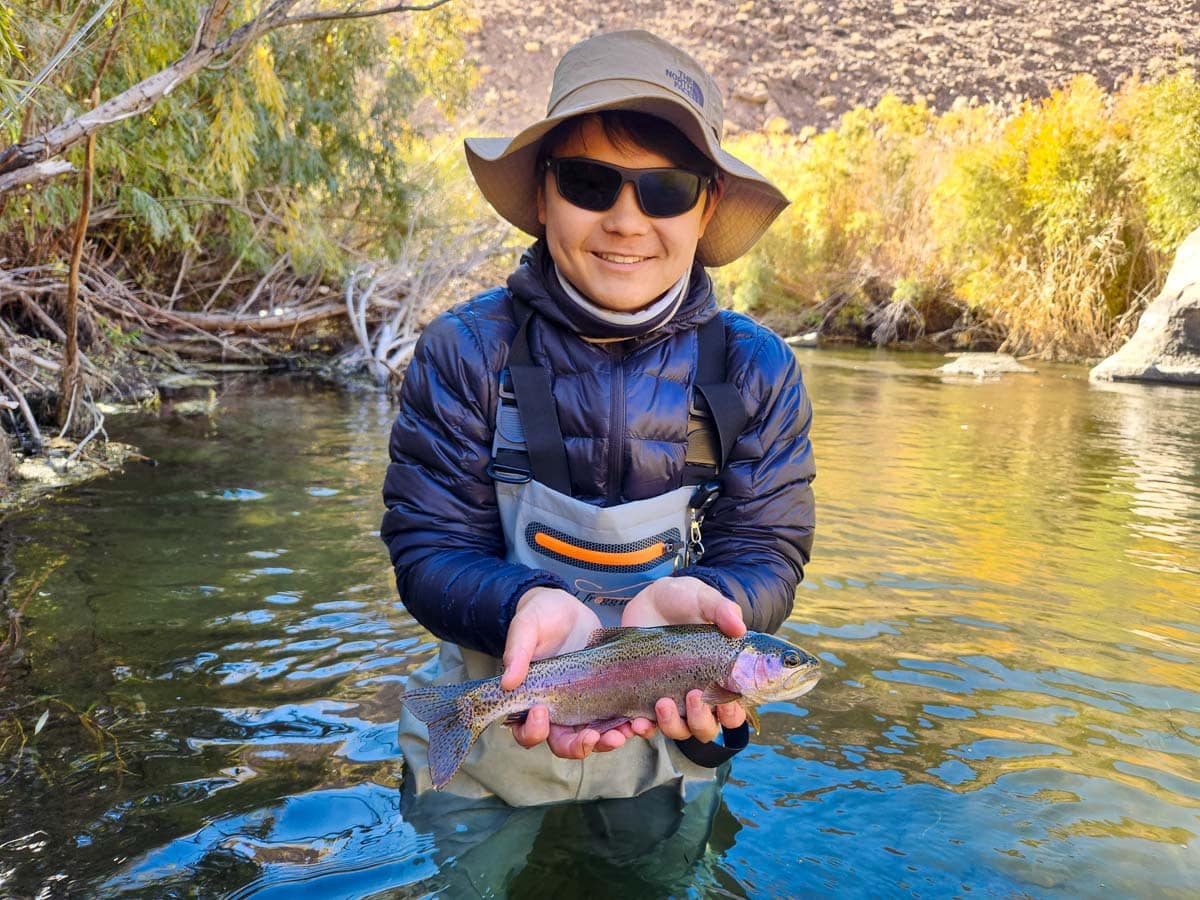 Seth guided Calvin to many rainbows and browns while wading the Lower Owens River.