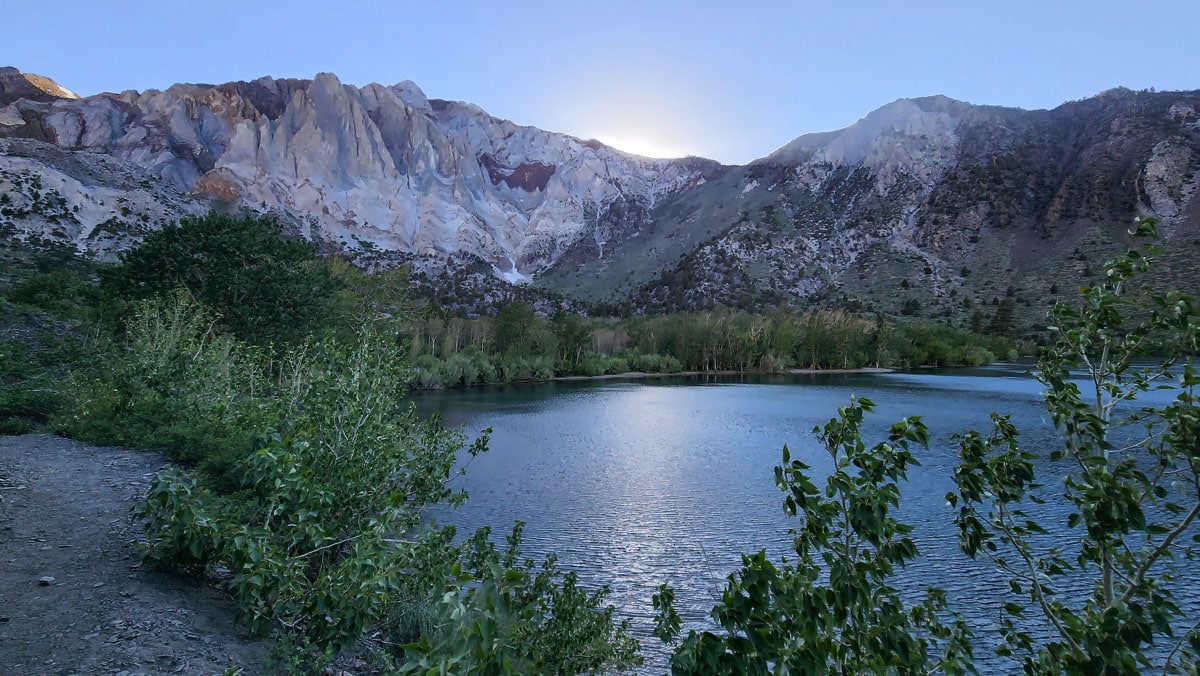 Some wind here and there from some dry fronts has had the fish a little on the up and down. Some days have been producing some good fishing on Crowley Lake, while others have been on the slow side. The fish we are catching are high quality Crowley trout though. Looks like a little wind with a cold front without precipitation is scheduled for the weekend. Water levels in most of the creeks and rivers are running low and warming temperatures will put some stress on the fish in certain areas. The perch on Crowley Lake are clustering up or tight schooling in preparation for the spawn. The alpine lakes may be a good option when things get slow. The Mammoth Lakes have been producing some fish in the 3-5 lb range. We are hoping for a nice hopper hatch this year to turn on things at the Upper Owens River. The Red's Meadow campground road should be opening any day now. The San Joaquin River is running at 175cfs currently, but we can expect this to drop quickly as the snowpack melts off. The East Walker River has been on the slower side with mornings producing the best bite. The Upper Owens River has been ok for smaller fish and the Lower Owens River is stable at 230 cfs with most anglers finding early mornings and late evenings best with the high heat.
Crowley Lake is changing as the month of June goes on. It definitely takes some moving and looking around right now, as the fish are scattered and no big concentrations have been found around the lake. A quality sonar is very important right now to locate these fish. Some fish have been going very deep while some do remain in the 18 – 20′ range. Our sliding undercator rigs are perfect for deep water and are easy to reset. The perch are getting into tight schools right now as they get ready for the big spawn. A few damselflies are making an appearance and we should see more of these in the coming weeks. Best patterns have been #16 -20 SD Chironomidge, #16 – 18 Puff O' Smoke, Dark Assassin # 14 -16 in parallel and regular, #14 – 18 Mud Candy, #16 -18 Blood Midge, #16 -18 Copper Tiger Midge, #16 -18 Crystal Tiger Midge Long, #18 -20 Gillie Dark and Light, and Tungsten Zebra Midge # 16 – 20.
Hot Creek flows are in low mode with lots of weeds now in the canyon. Dry flies have been productive along with smaller flies hung as a dropper. A straight dry fly will keep weeds off your line and will be easier to cast. Terrestrials like small hoppers and ants are good flies to throw in both the Interpretive Site and canyon stretches. Scuds are great this time of year, along with annelids and midges. #18 Crystal Scud, #16 SJ Worm in Red and Brown, #18 Flashback Hare's Ear, SD Crawler Red or Brown, and #18 -20 Flashback Pheasant Tails have been working well.
Lower Owens River flows jumped to 230 cfs. Wading will be tougher now, but the same patterns are still working well when you find the right sections of water. Smaller nymphs like #18 – 20 Flashback Pheasant Tails, #20 Serendipity Black and Red, #18 – 20 Tungsten Zebra Midge, #20 – 22 Crystal Chironomid Emerger Copper, #20 Red Rib Midge Glass and Dark Head, #18 -20 Crystal Caddis Olive Dubbed Black and Crystal Caddis Olive Larva Black have been catching trout here.
The East Walker River flows have now come down to 146 cfs which is allowing the fish to spread out. The river temp is rising fast and the algae from the Reservoir is starting to affect the water quality. You'll now find fish throughout the deeper river sections which are more numerous. It's different day to day so what works well one day, will not necessarily be the best fly on the next. Crawdad Brown or Olive have been responsible for some large fish here, and these bigger model fish have no problem picking them off. Parallel Assassins in Dark and Light # 14 -16, #18 Copper Poxy Back Brassie, #16 – 18 Copper Tiger Midge, Bead Prince Nymph Tungsten # 16 – 18, Squirmy Worm Purple and Red, Killer Baetis #12 -14, and SD Crawler Brown or Red are effective this time of year. For streamers go with Spruce-a Bu Light and Dark, Loeberg Mallard, Loeberg Guinea Fowl Golden Badger, Krystal Bugger Claret, and Crystal Leech # 12 – 14.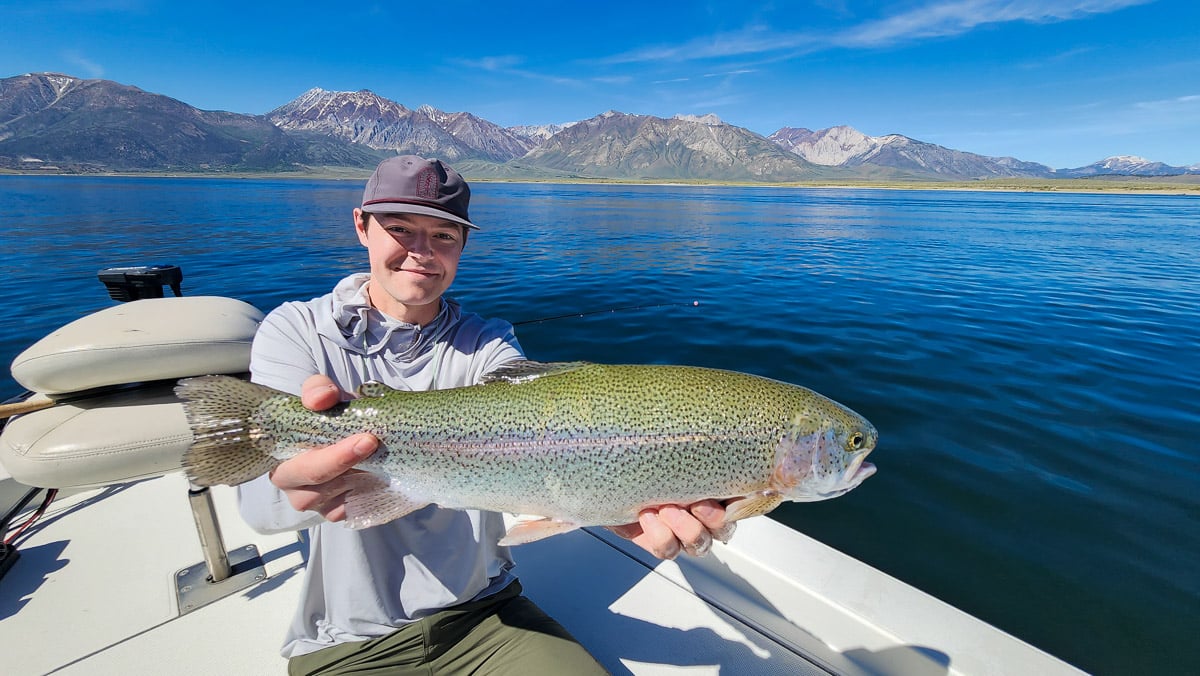 Doug R. guided James to some nice ones like this hefty rainbow trout.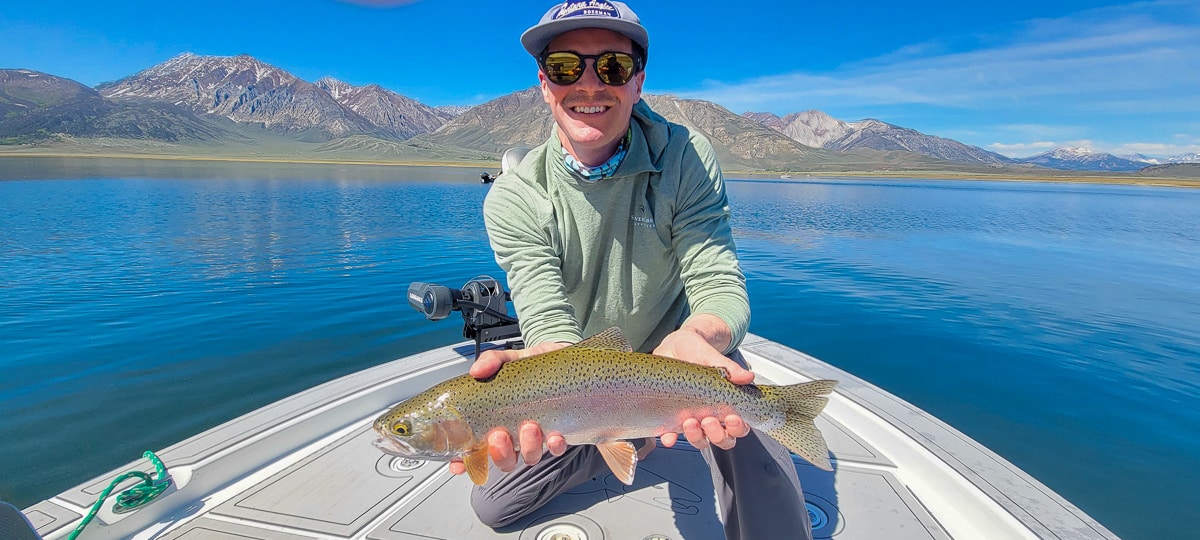 Two Bug Doug guided Chris to this healthy rainbow trout.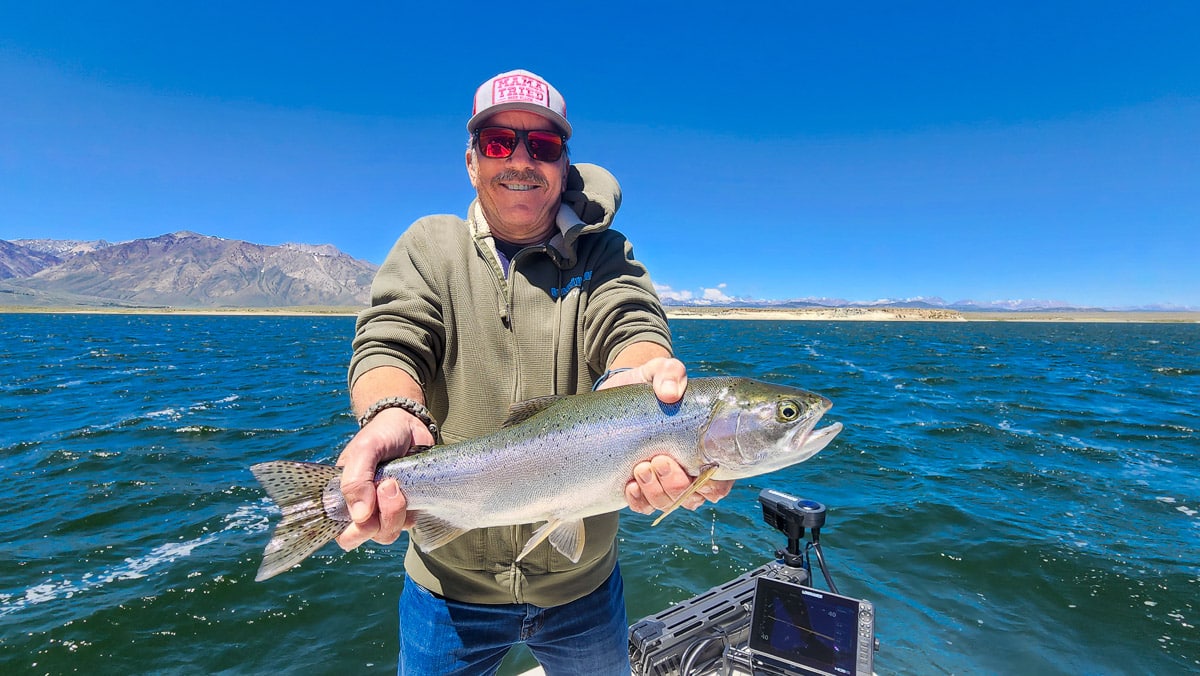 Doug R. guided Brian to this nice rainbow trout.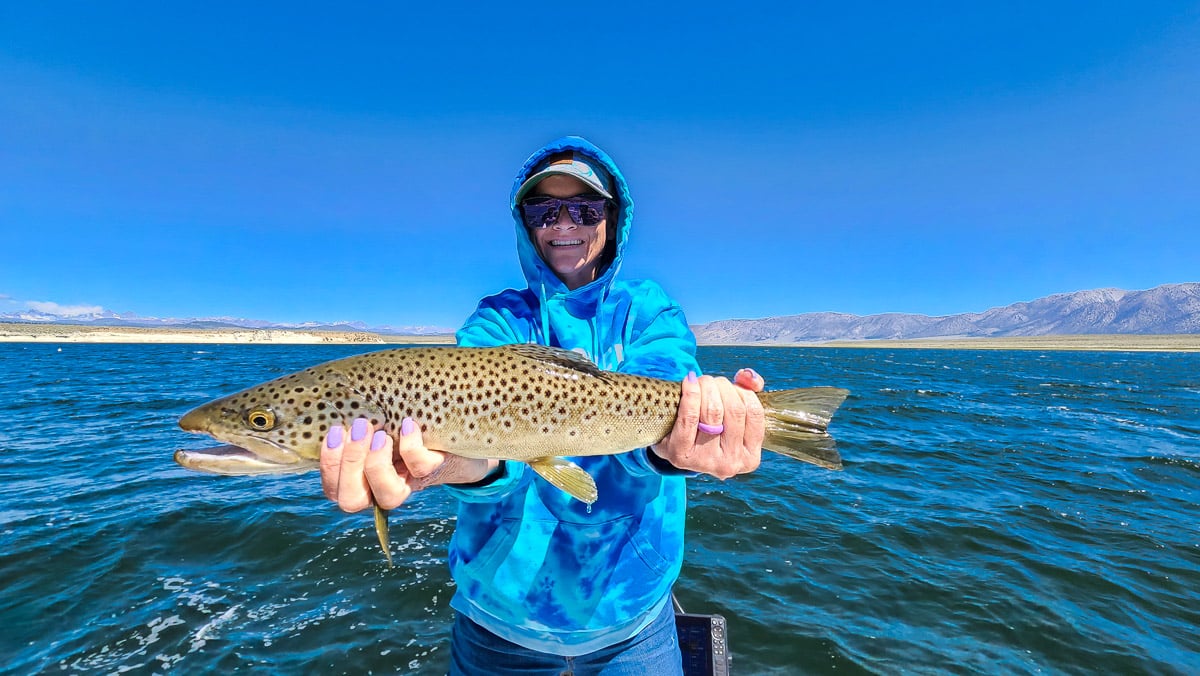 Christine got into some good ones like this brown trout while fishing with Doug R.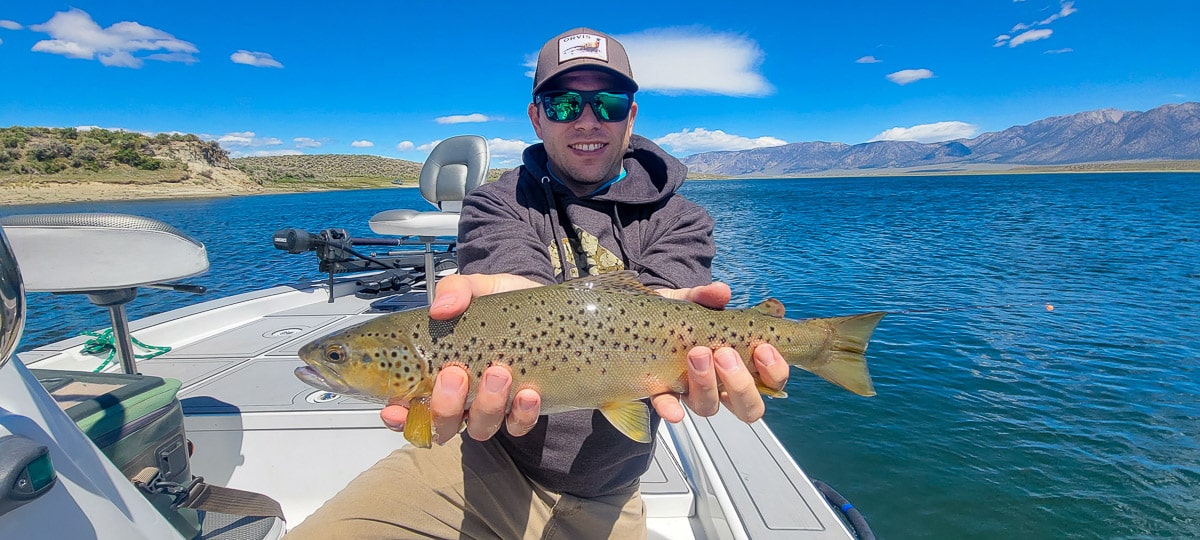 Doug Dolan got Kris into some chunky fish like this brown trout.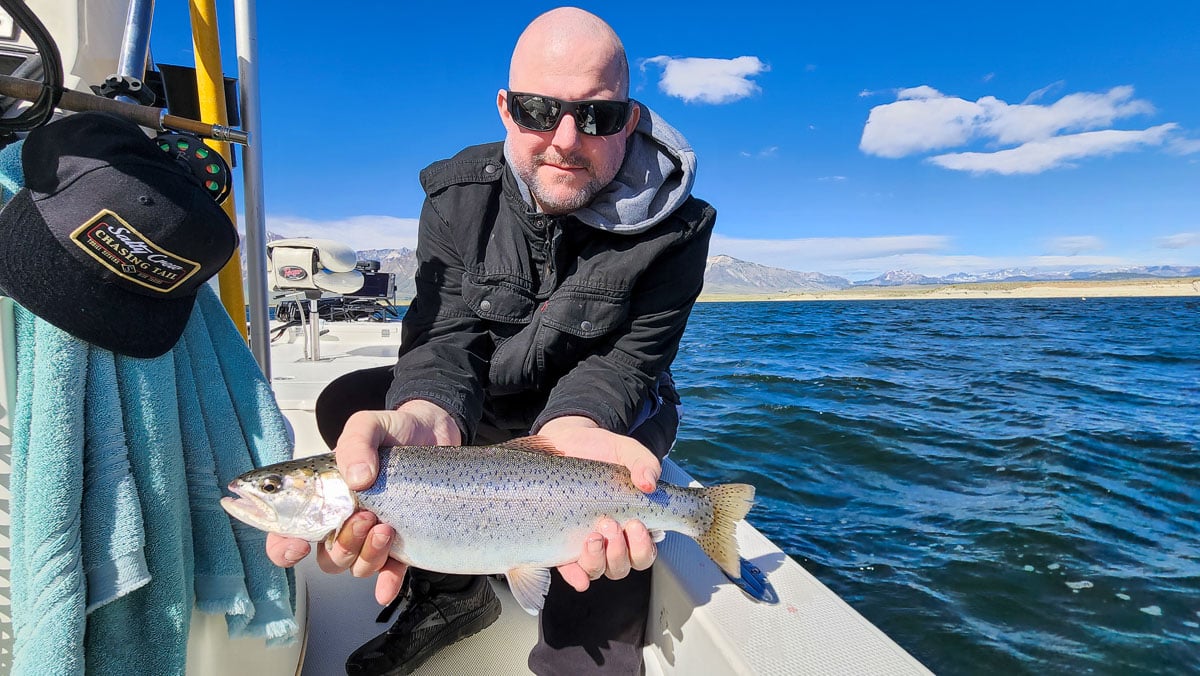 Steve fished with Doug R for this nice rainbow trout.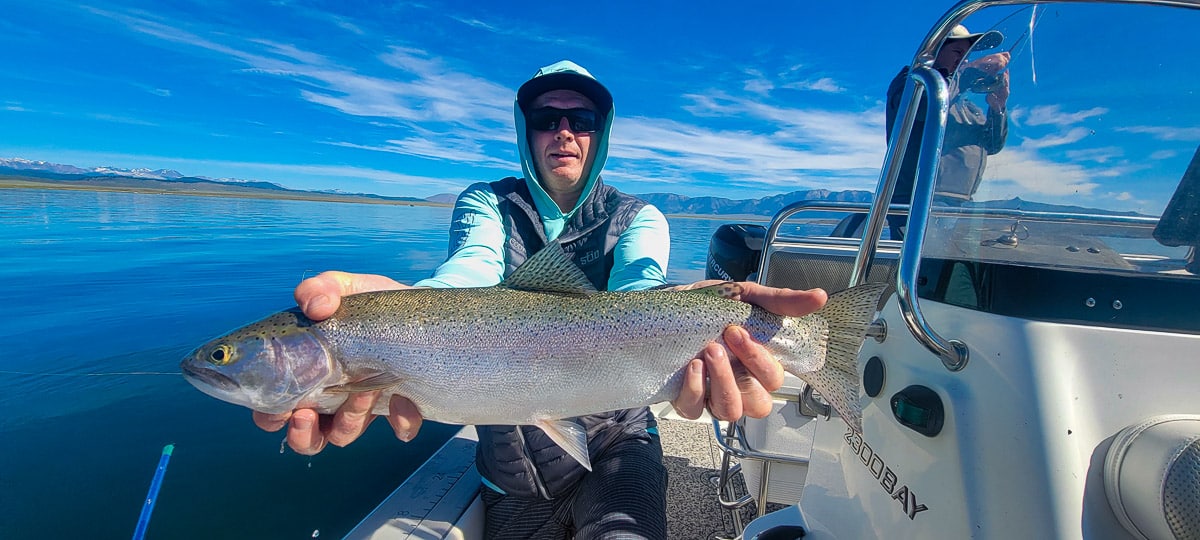 JP whacked some big ones like this huge rainbow trout while fishing with Two Bug Doug.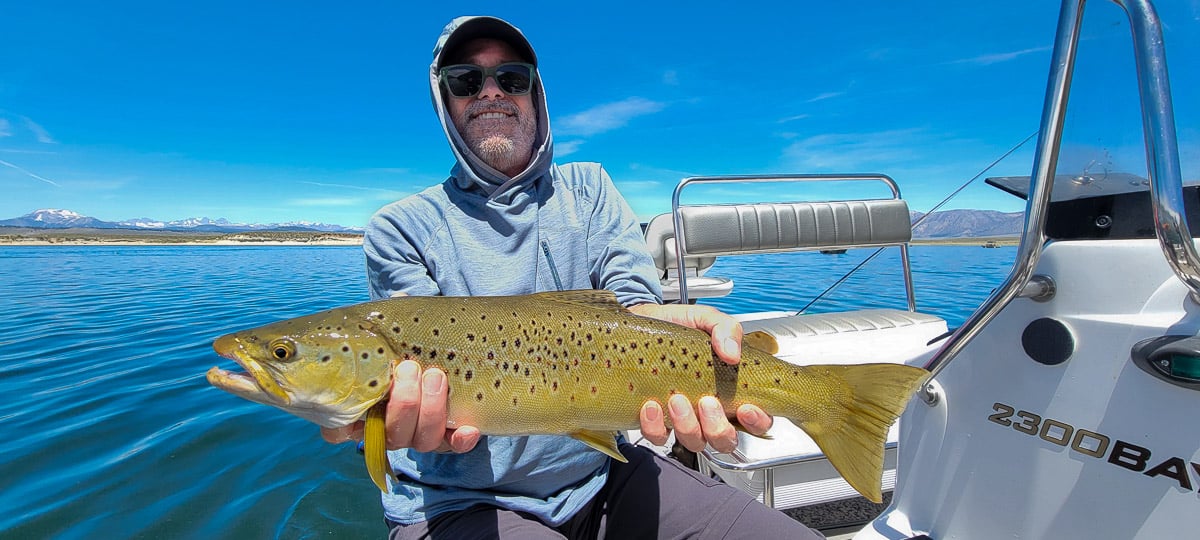 Robert fished with Two Bug Doug and slammed this hell of a brown trout.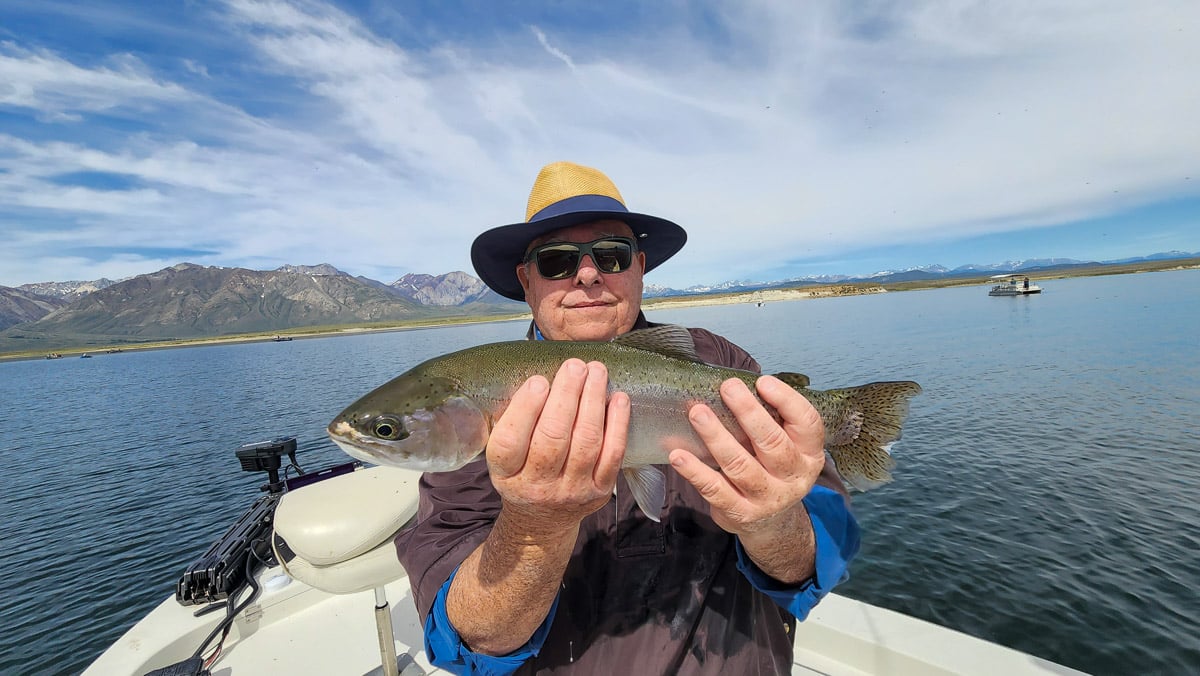 Steve fished with Doug R and got into some acrobatic rainbow trout.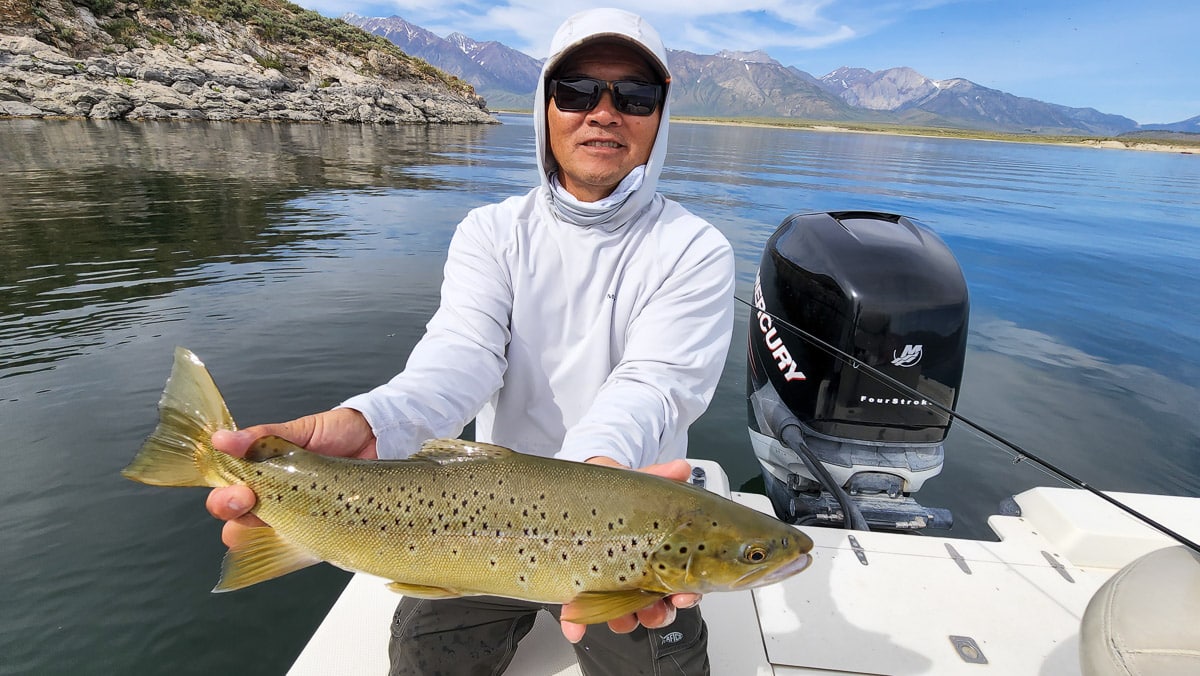 Doug R. guided Randy to some jumbo fish like this brown trout.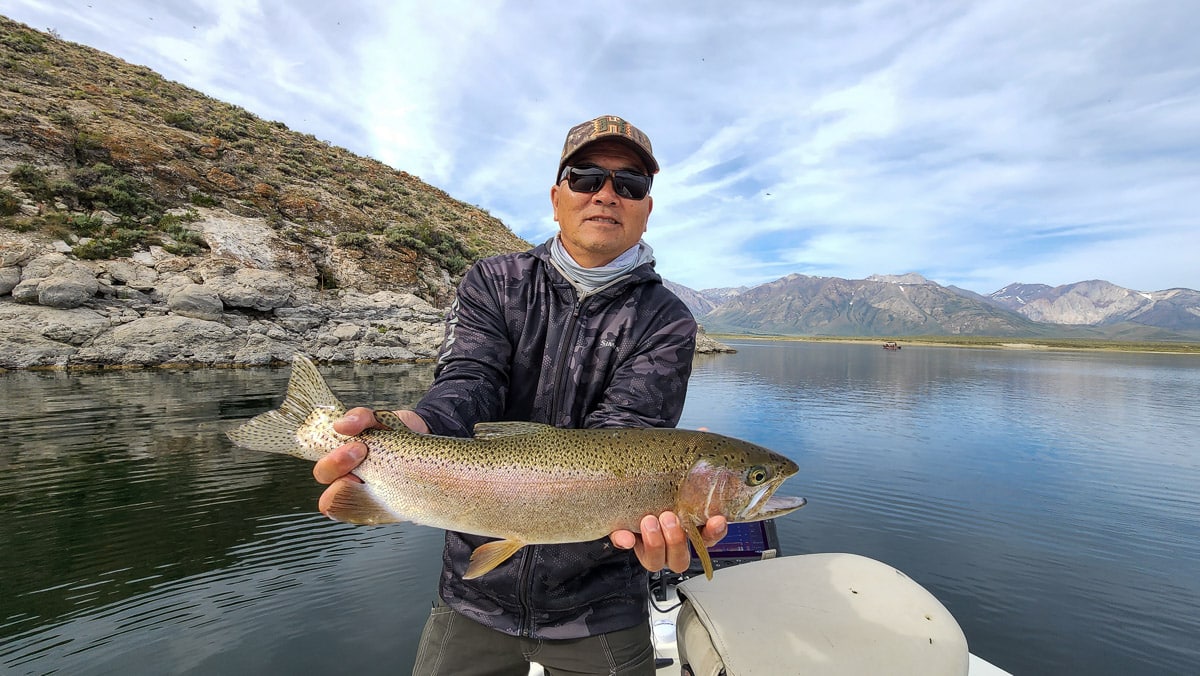 Another large rainbow trout for Randy.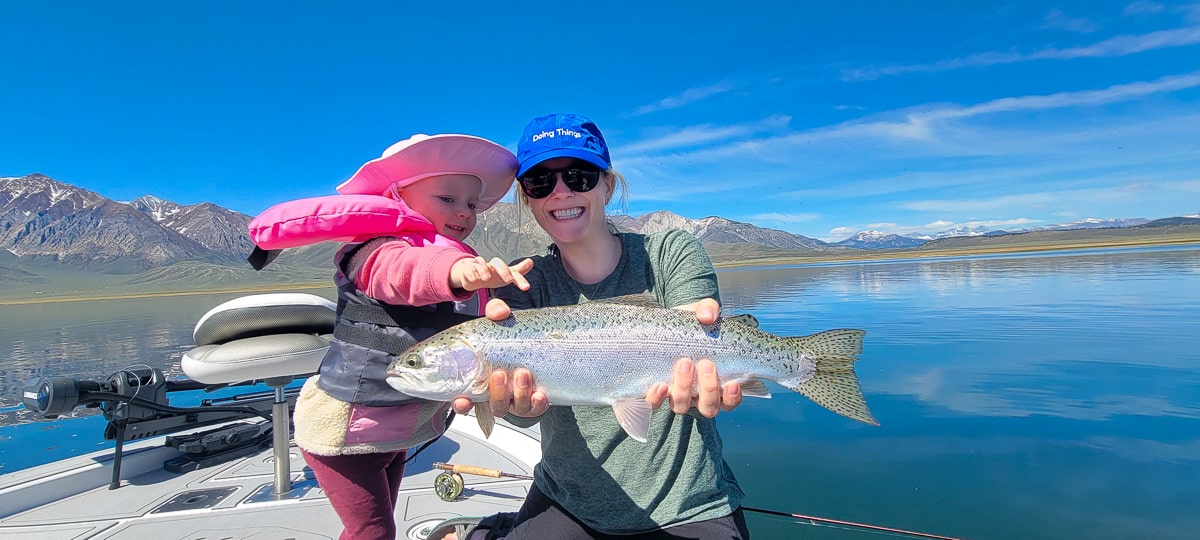 Mau and her daughter with a solid rainbow trout under the guidance of Two Bug Doug.
Here are our flies which are working on the Upper Owens, Lower Owens River, East Walker River and Hot Creek in addition to the above patterns listed in our report:
SD Chironomidge
#16,
Para Midge
#20, 22,
Puff O' Smoke
#16,
Broken Back Copper Tiger Midge
#18, 20;
Assassin Light
#18;
Assassin Dark
#18;
Crystal Hi-Vis Parachute Blue Wing Olive
#18;
Crystal Tiger Midge Long
#18, 20;
Crystal Midge Pupa Copper
#18, 20;
Gillie Chironomid Pupa Dark and Light
#18, 20, 22,
Otter Eggs
in all colors,
Bead Head San Juan Worm Red And Brown
#14, 16;
Squirmy Worm Tungsten purple, pink, and red; Parallel Assassin Light #14-16, Parallel Assassin Dark #16; Loeberg Mallard Silver Badger; Spruce a Bu Dark and Light
Click HERE to purchase.
Click HERE to check out our great summer Sierra Drifters T-shirts and Hats.