Kids are back in school and the crowds have really lightened up around the eastern sierra. Just in time for the midges to emerge again in big numbers, and the fish are really responding to them. Hot weather during the day has returned for a short while, and the incoming month of September should see a nice change in daytime temperatures. We have really dodged the smoke bullet this season with minimal days of thick smoke in the area, as most days have a slight haze or are very clear. The Inyo National Forest just announced a closure of the forest and all recreational activities through September 17th. Fortunately, we are unaffected by this and are able to still fish the Owens Rivers and Crowley Lake, where the best fishing has been taking place. If big fish or just pure numbers are what you are looking for, now is the time to come up and fish with us. Hot Creek will close today at midnight under this order but the Upper Owens is doing ok with smaller rainbow trout. Lower Owens levels are holding at 223 cfs, but air temps are still hot down in Bishop.
Hot Creek will be closed to fishing and land use until September 17th.
The Upper Owens River is now flowing at 58 cfs. Some fish have been observed moving in from Crowley Lake already, but far and few between. Most of the fish here are smaller rainbows that are eager to hit dry flies and nymphs. Some of the larger pools are holding some decent numbers of trout. Caddis, hoppers, mayflies, and smaller stimulators are getting fish on top, while pheasant tails, midges, assassins, and sj worms are taking care of the fish that are feeding below the surface.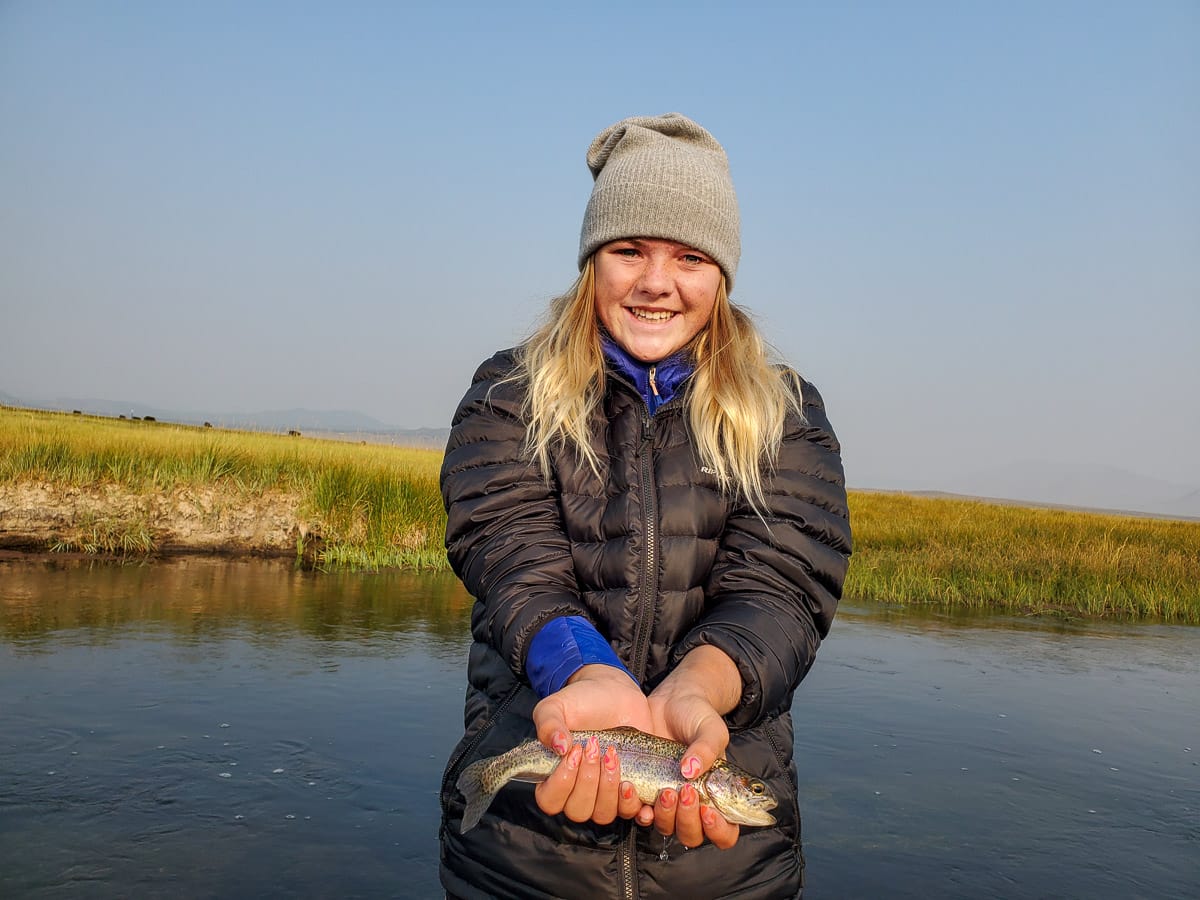 Seth guided young Lily to some fun rainbow trout on the Upper Owens River.
Crowley Lake has really been going off! Some amazing fish catching has been happening this past week and a continuous amount of large fish have been in the mix. Acrobatic rainbows, deep running browns and large cutthroat have been feeding like crazy in many areas of the lake. Midges are definitely producing the best bite currently, as the next generation of chironomids continue to emerge. Being on the right spots can count now as certain areas will hold higher concentrations of fish. Use your sonar to find the best bottom or weed structure and look for fish on them. With lighter fishing pressure now and the whole month of September to go, there are a lot of big fish to be had. Our best flies as of late have been Dark and Light Assassins #14, 16 and Parallel Assassins Dark and Light #14, 16, Punk Perch Dark and Light #12, 14, 16 and Parallel Punk Perch in the same size and color. Click here for a look at some new flies, (terrestrials, nymphs, dry flies, stream side tools, split shot, leaders, etc) Best midege patterns to have on hand are #16 – #20 SD Chironomidge, #16 – 20 Tungsten Zebra, #16 Midge Larva, #12 -18 Blood Midge, #14 -18 Grey Water, #16 – 20 Red Butt Midge Dark Head and Glass Head, #16 -20 Red Rib Midge Glass Head, #18 Gillie Light and Dark, #16 – 20 Copper Tiger midge, #16 Broken Back Copper Tiger Midge, #14 – 16 Blood Midge, and #16 -18 Mud Candy.
Lower Owens River flows are hanging around 225cfs which is still tough for wading. Temps are still in the 90's down here, so fishing the mornings and evenings are best. Caddis patterns can be productive as nymphs and dry flies. Try streamers on sink tip lines in the deeper pools.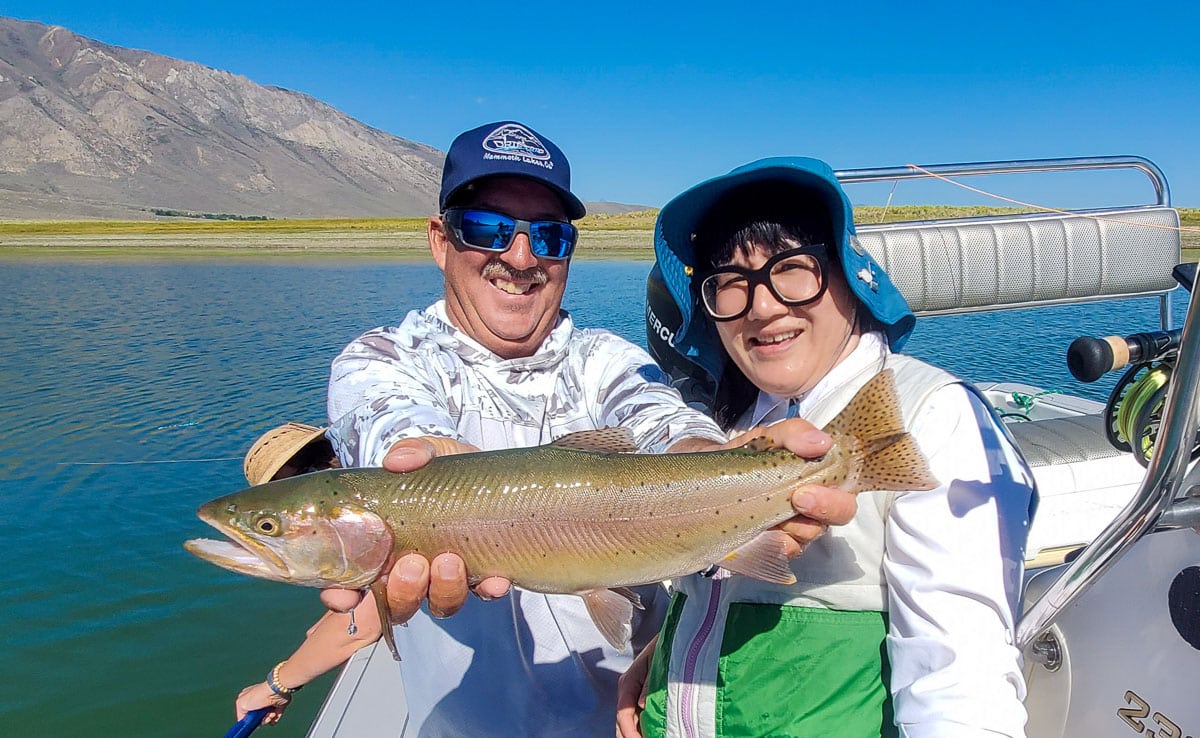 Two Bug Doug guided Mariko to this sweet cutthroat trout.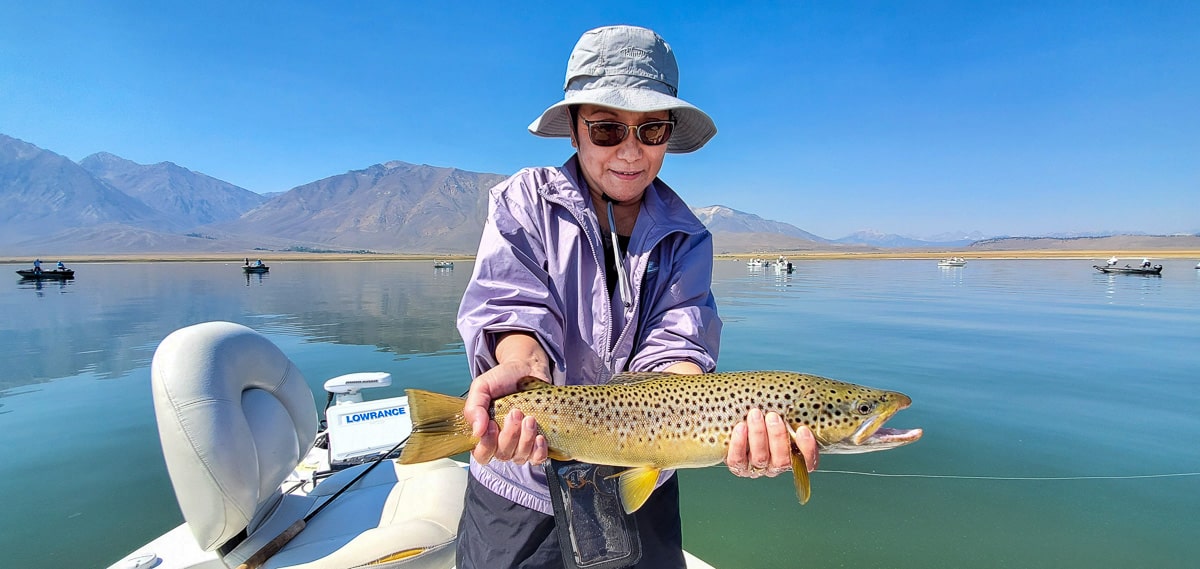 Doug R. guided Thea to some good ones like this brown trout.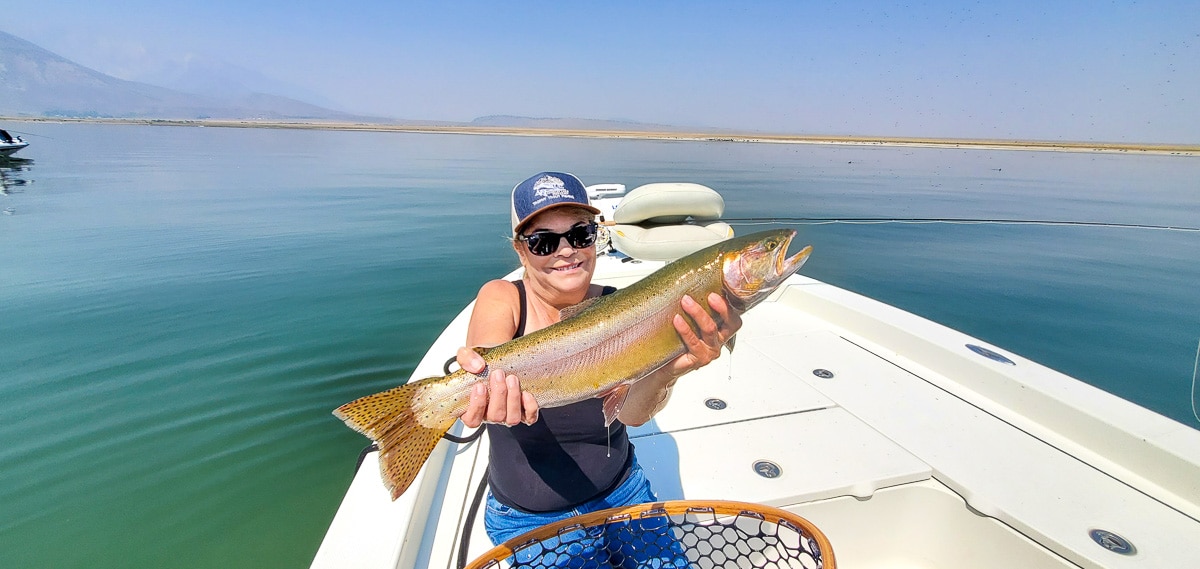 Doug R. got Terry on some nice ones like this lengthy cutthroat trout.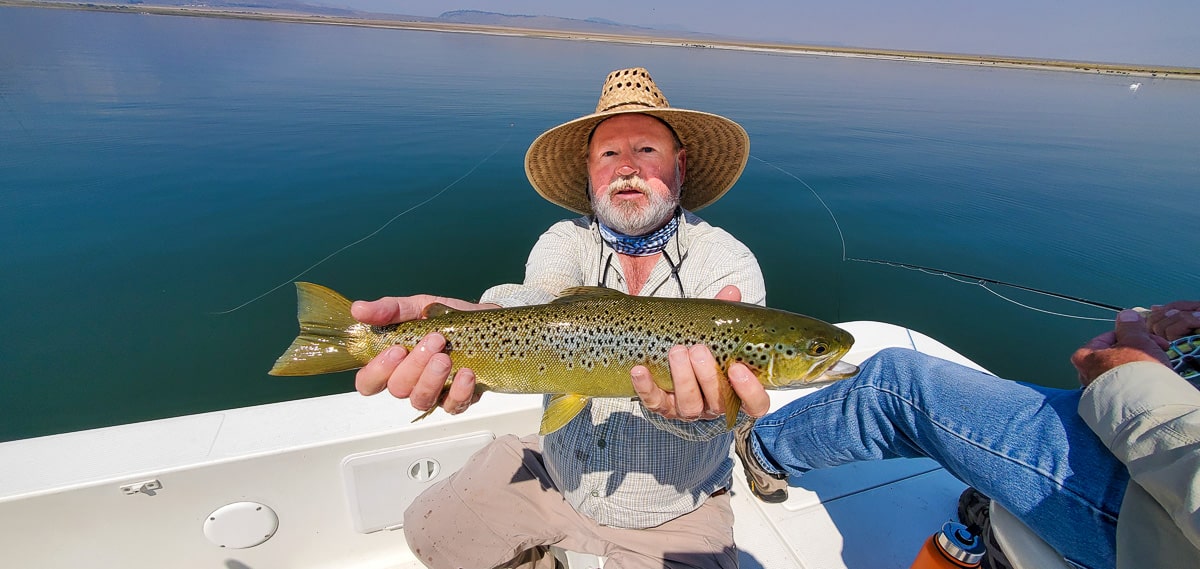 Stan whacked the big ones with Doug R. like this beautiful brown trout.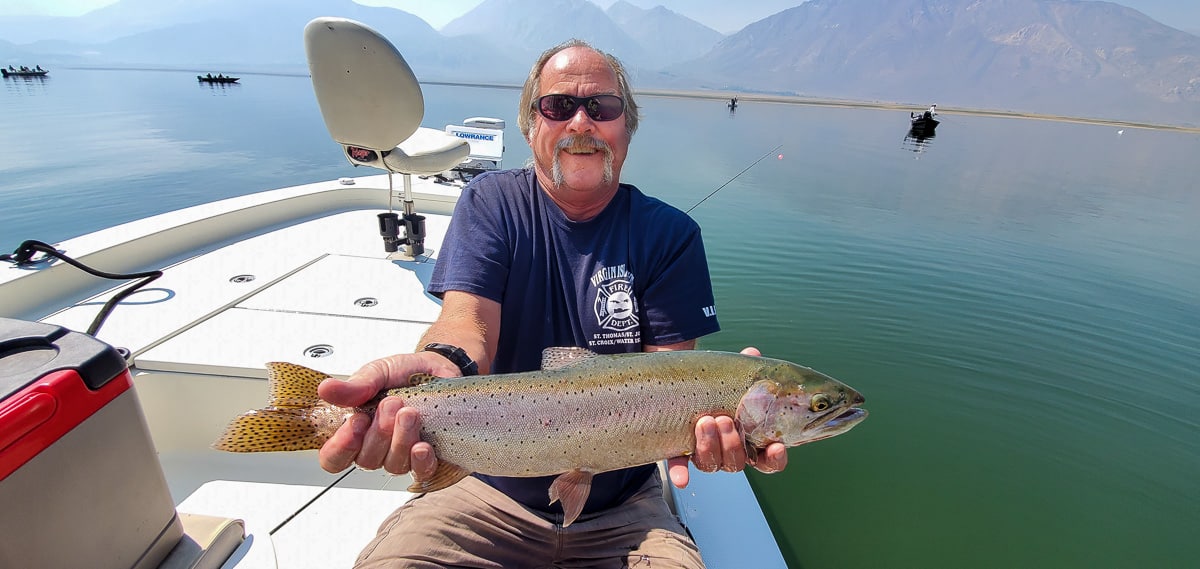 Rick also had an insane amount of hook ups including this nice cutthroat trout.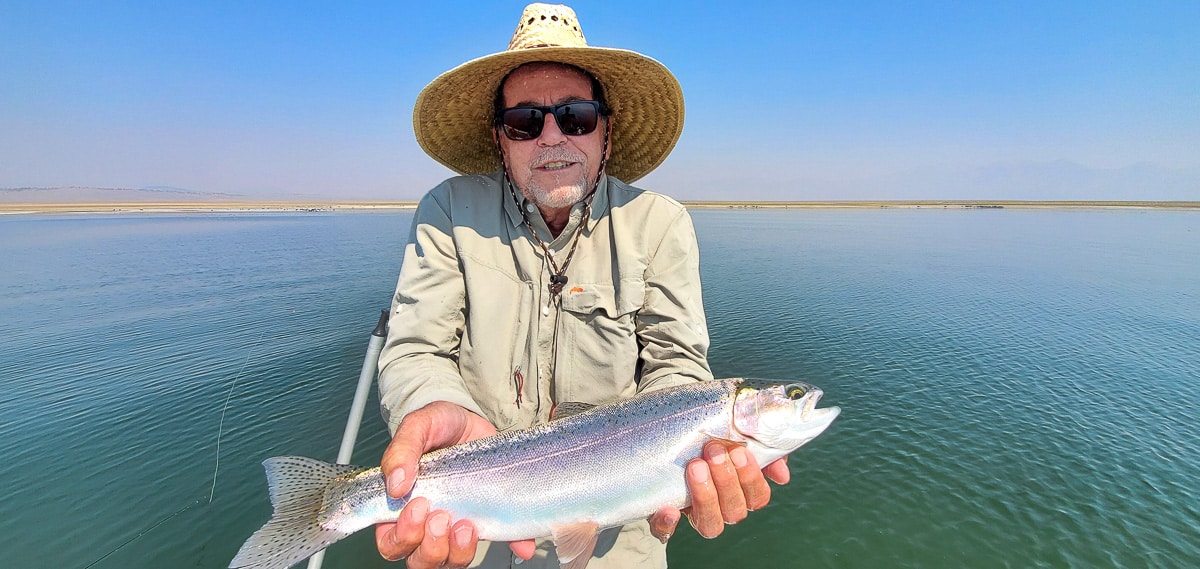 Tom got some large rainbow trout to jump and said "Hello" to many.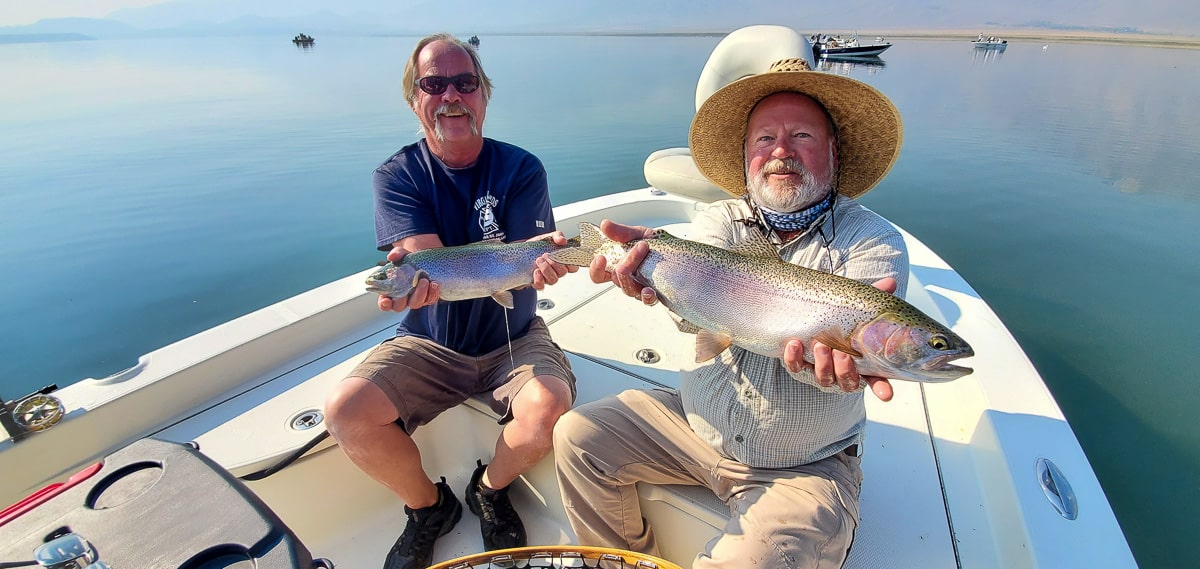 Doubles like this pair of rainbow trout are common on Crowley Lake.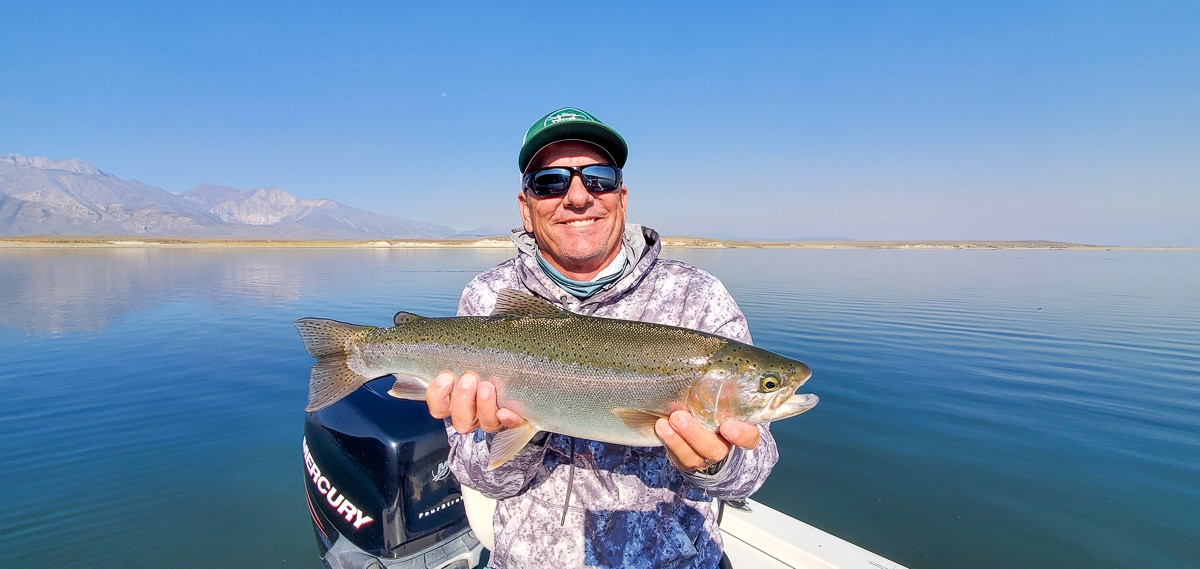 Jeff got out with Doug R. for some nice fish like this hefty rainbow trout.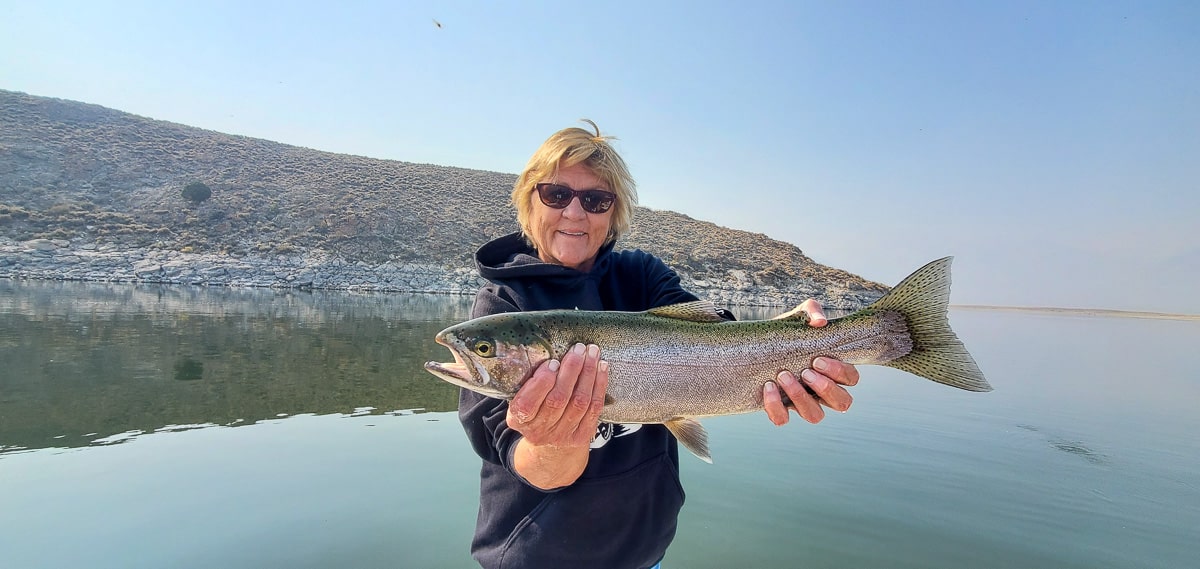 Bobbie and husband Rod (pictured at top of report) got out for a great day with Doug R.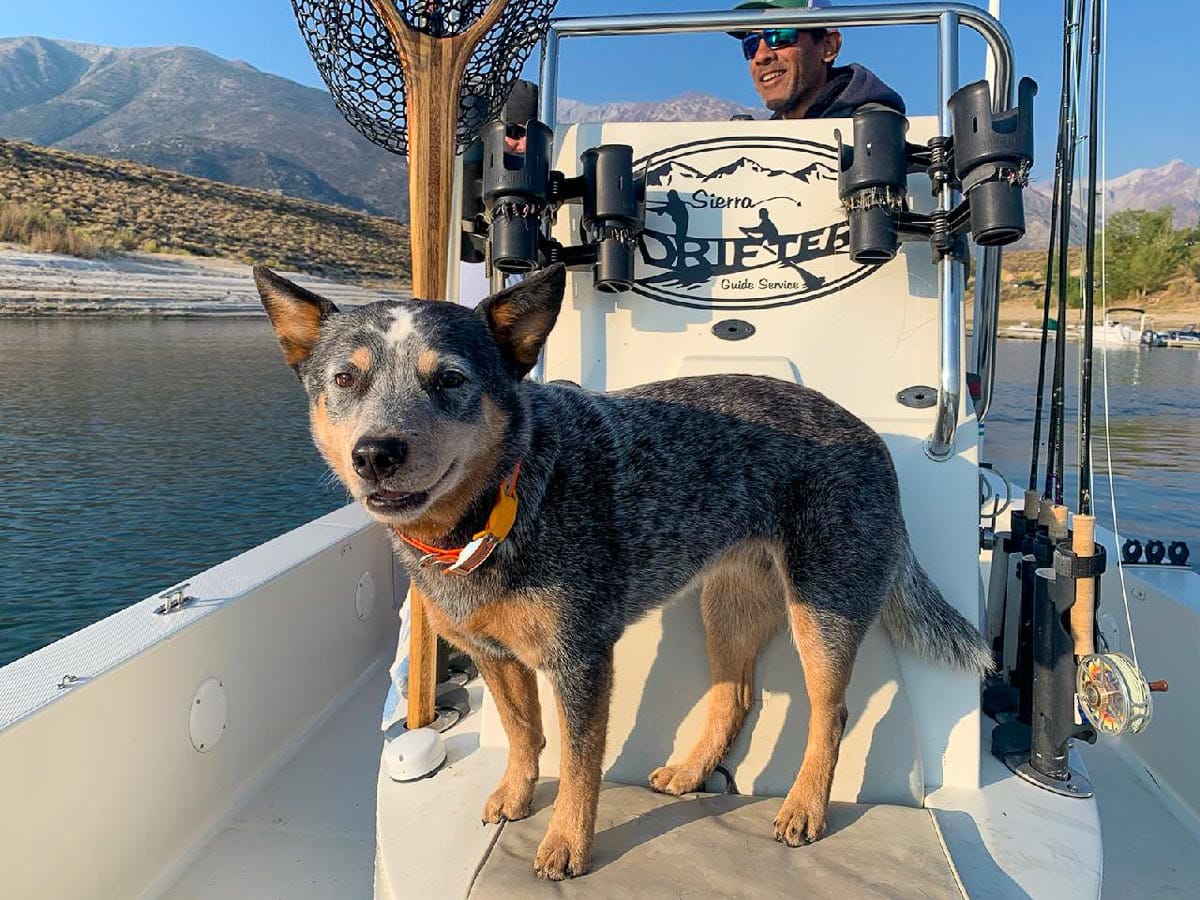 We are dog friendly if your dog is too. Dogs absolutely love center console bay boats.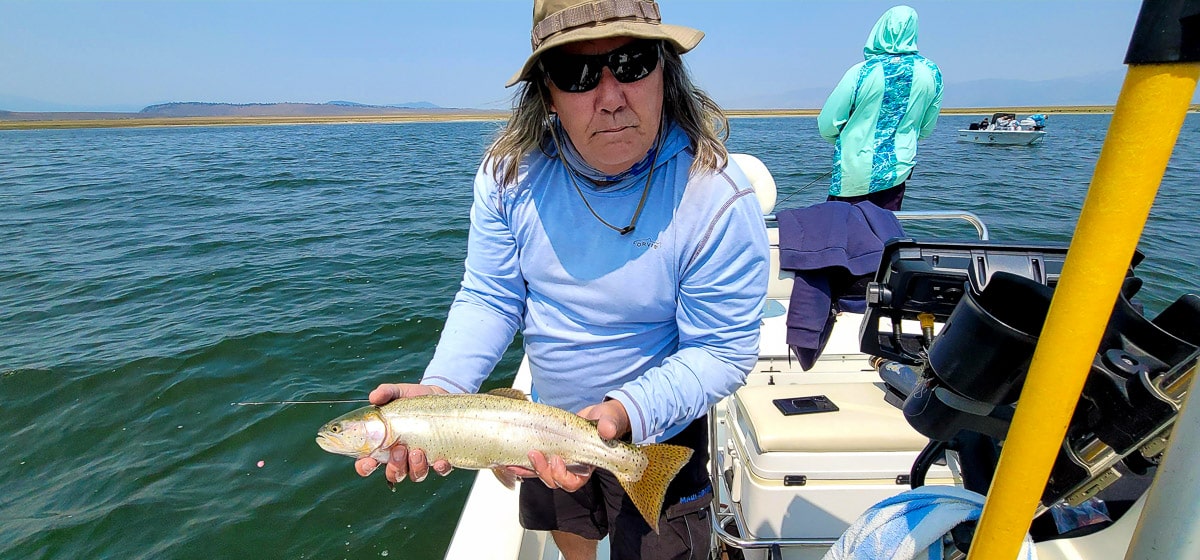 Donald is displaying a nice cutthroat trout while fishing with Doug R.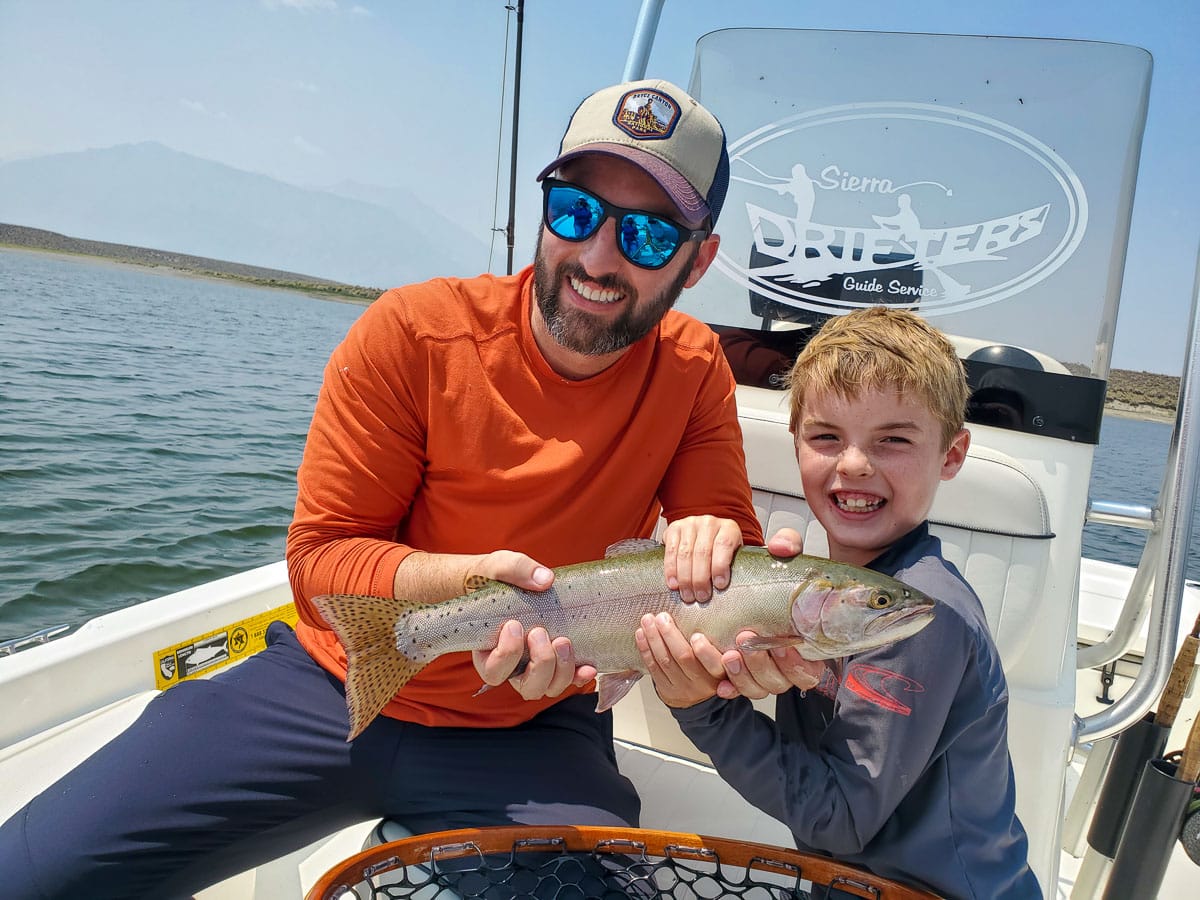 Scott and Bennett fished with Seth for one of many fish like this sweet cutthroat trout.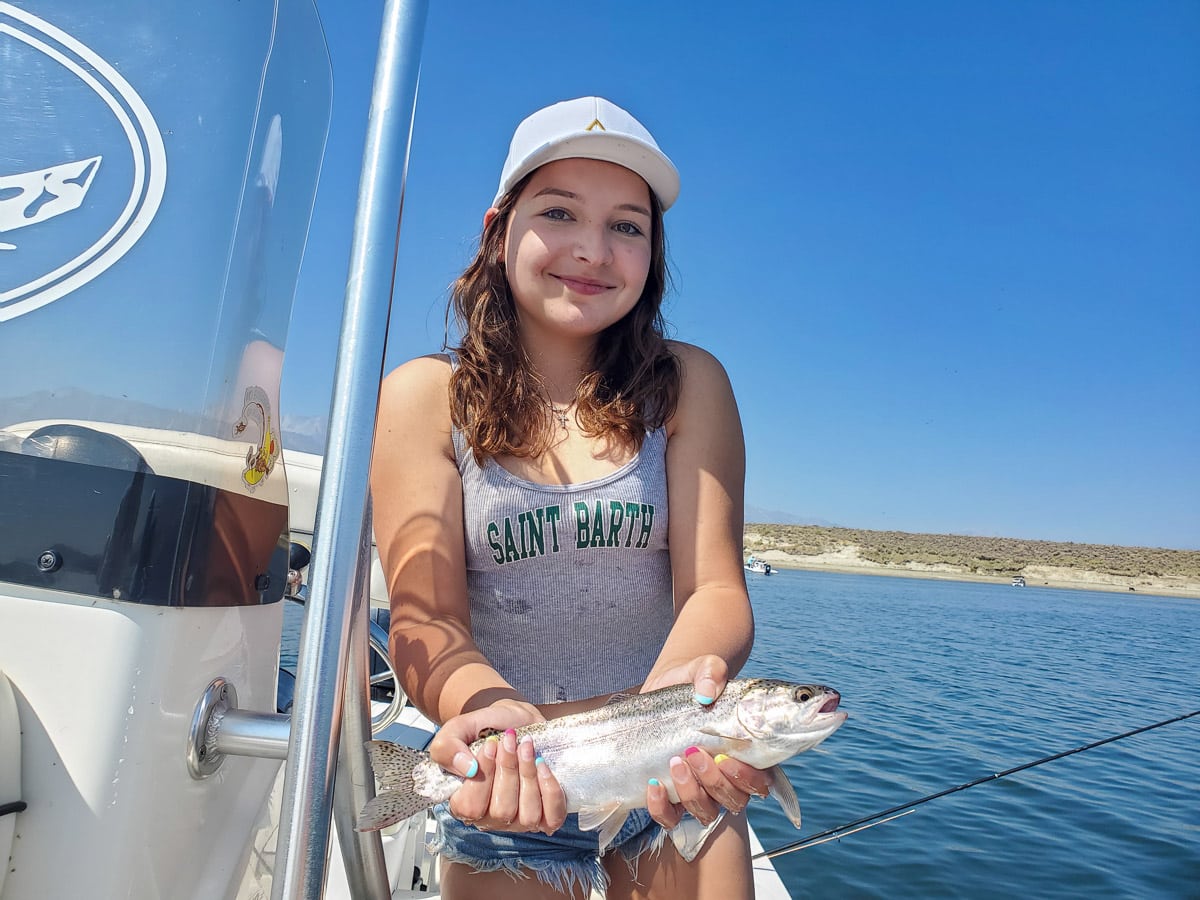 Sophia got into some nice ones like this rainbow trout while fishing with Seth.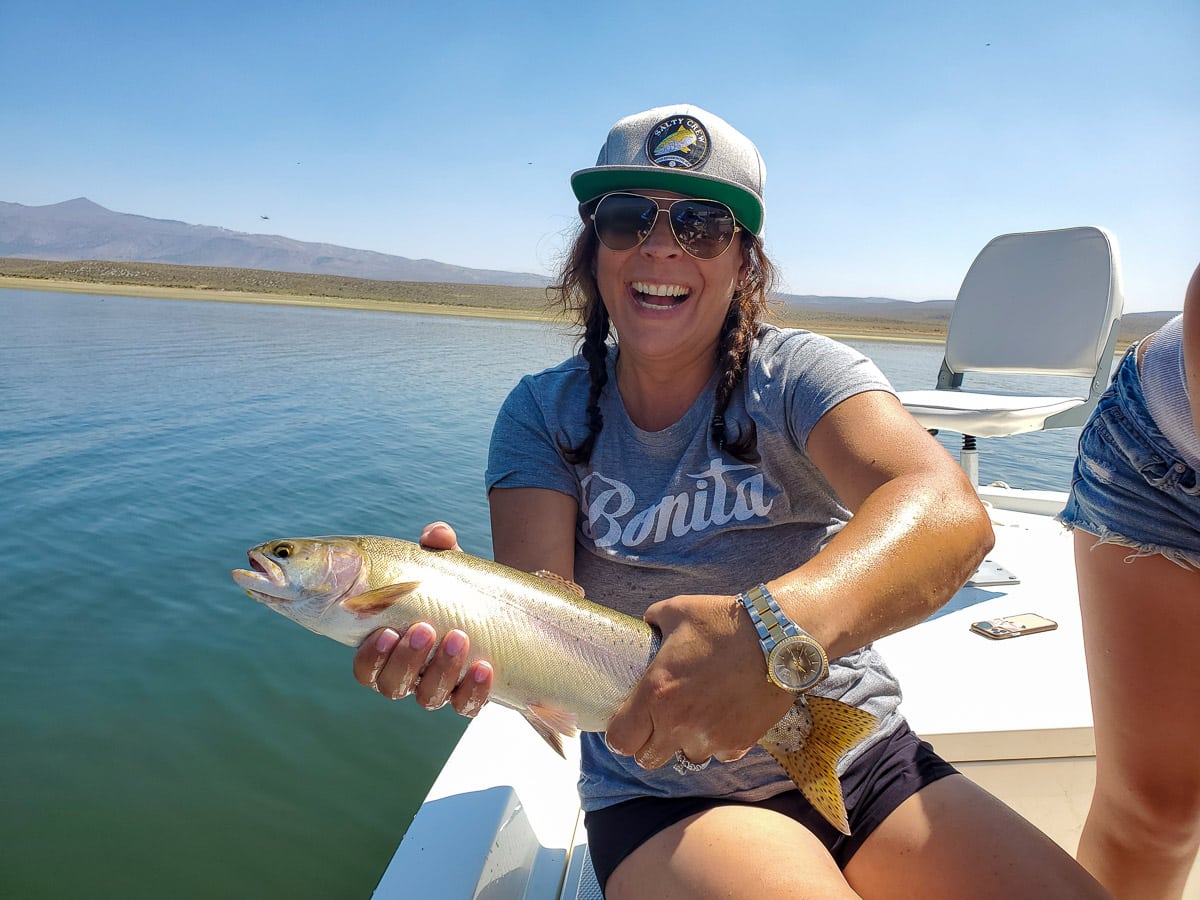 Melissa also fished with Seth and landed this cool cutthroat trout.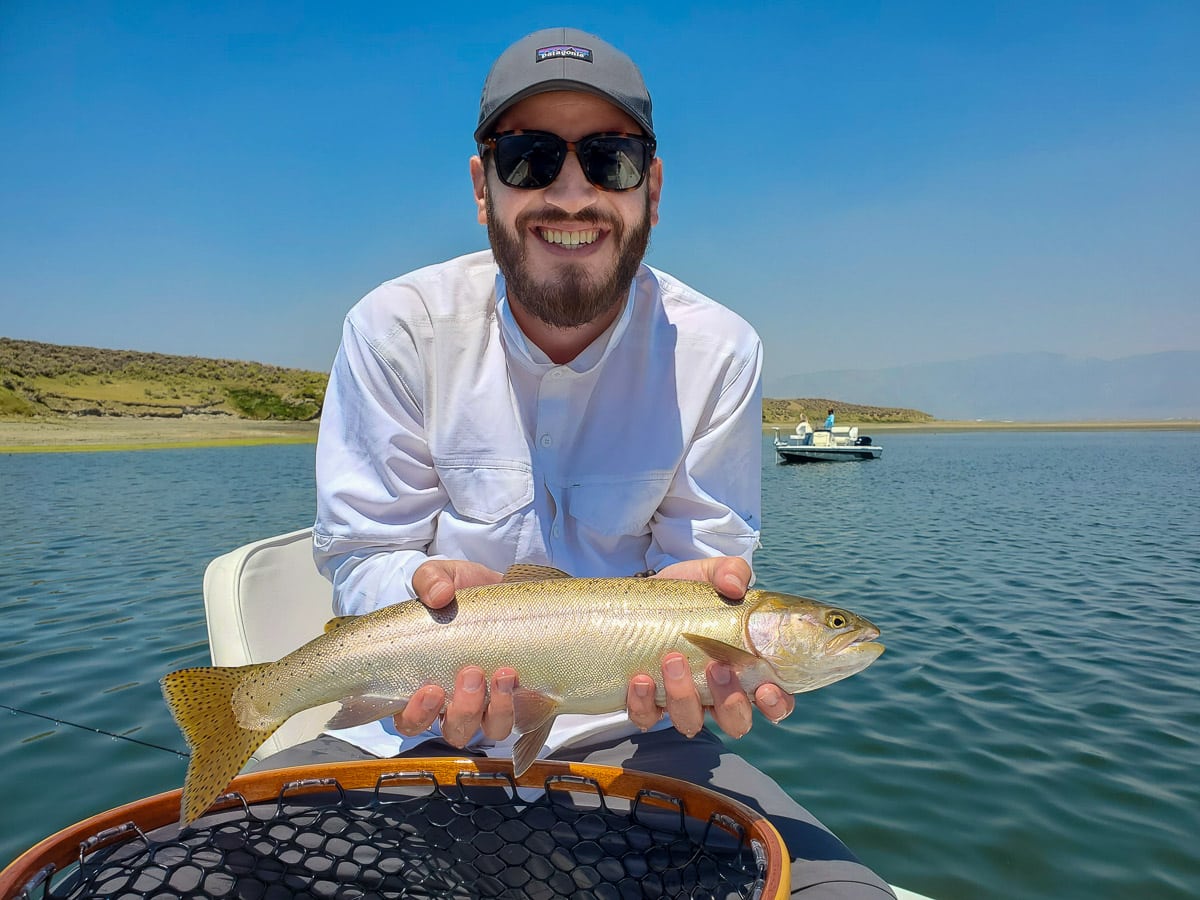 Arty got into some good ones with Seth including this fat cutthroat trout.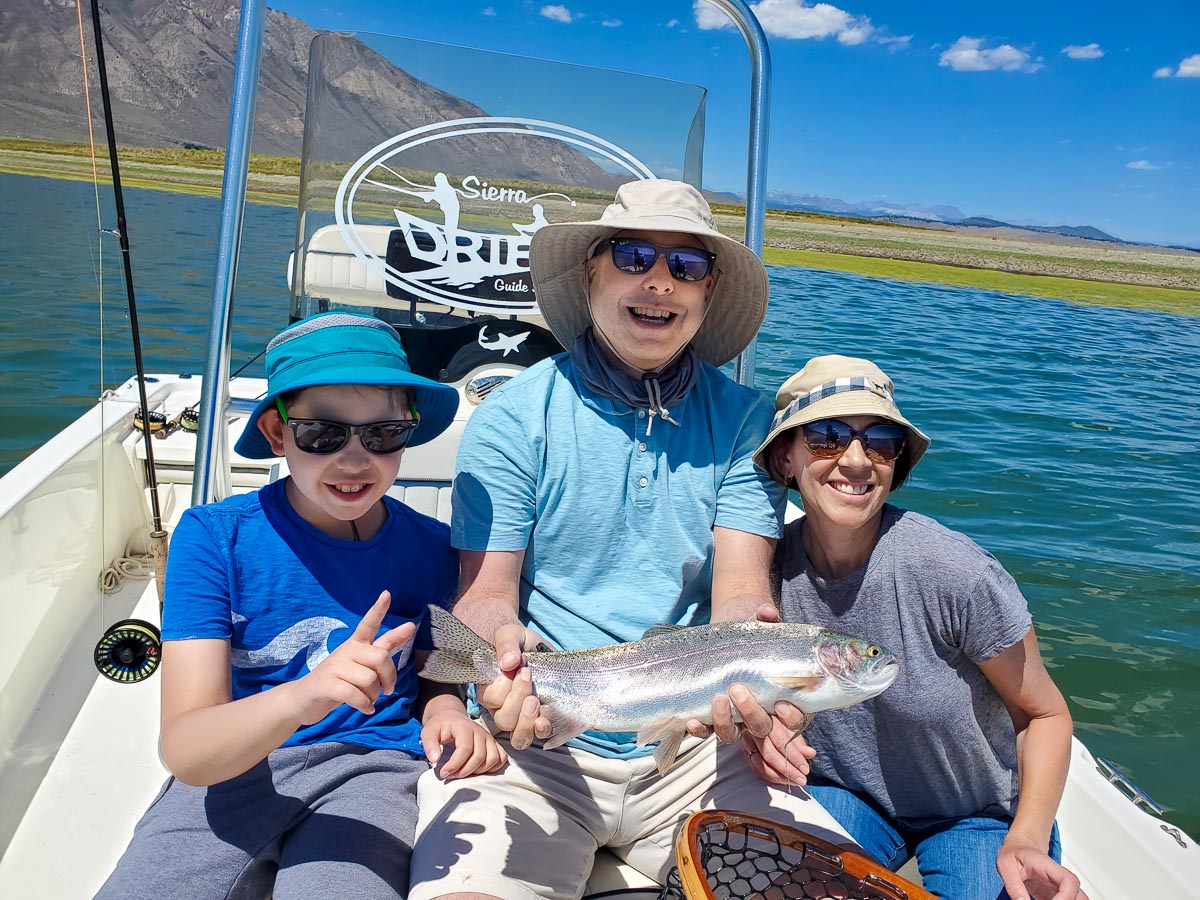 The Bourne family had a stellar day while fishing with Seth and caught fish like this nice rainbow trout.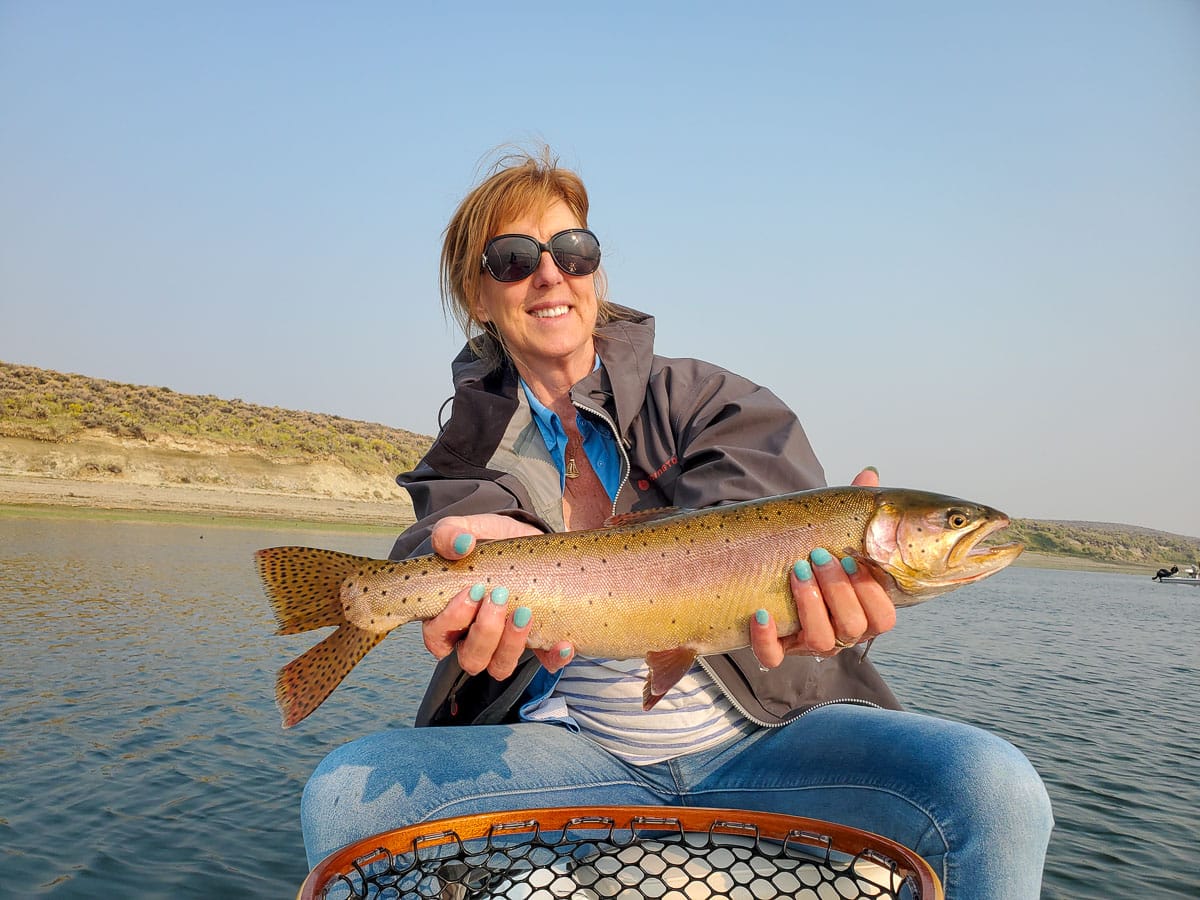 Seth guided Kathy to this solid cutthroat trout.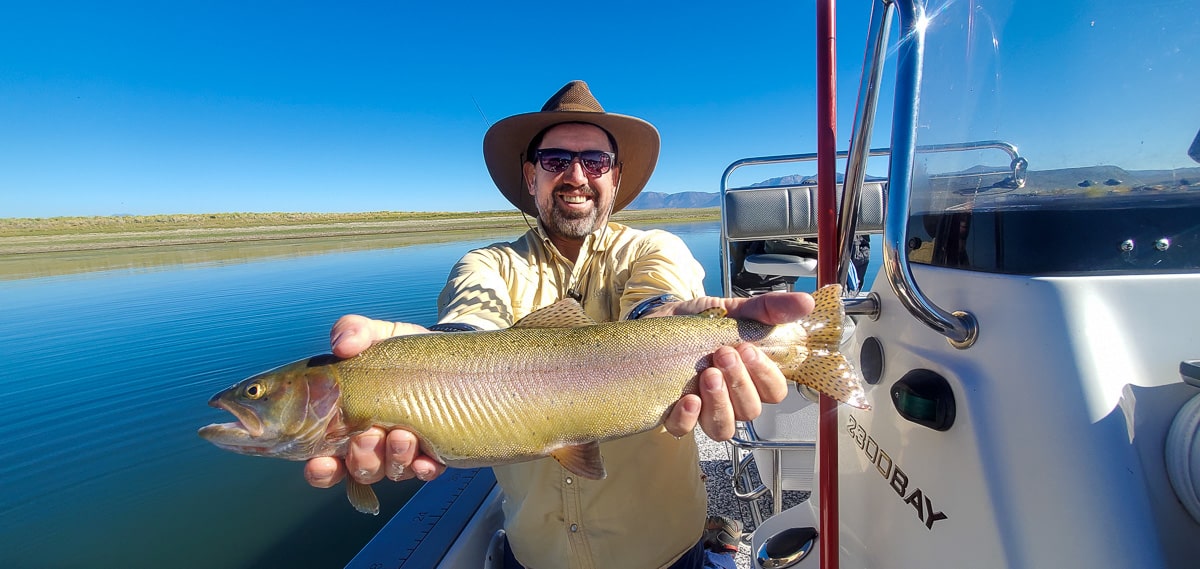 Two Bug Doug guided Brigham to some quality fish like this cutthroat trout.
Here are our flies which are working on the Upper and Lower Owens River, Crowley Lake, Hot Creek, and East Walker in addition to the above patterns listed in our report:
SD Chironomidge
#16,
Para Midge
#20, 22,
Puff O' Smoke
#16,
Broken Back Copper Tiger Midge
#18, 20;
Assassin Light
#18;
Assassin Dark
#18;
Crystal Hi-Vis Parachute Blue Wing Olive
#18;
Crystal Tiger Midge Long
#18, 20;
Crystal Midge Pupa Copper
#18, 20;
Gillie Chironomid Pupa Dark and Light
#18, 20, 22,
Otter Eggs
in all colors,
Bead Head San Juan Worm Red And Brown
#14, 16;
Squirmy Worm Tungsten purple, pink, and red; Parallel Assassin Light #14-16, Parallel Assassin Dark #16; Loeberg Mallard Silver Badger; Spuce a Bu Dark and Light
Click HERE to purchase.
Click HERE to check out our great summer Sierra Drifters T-shirts and Hats.