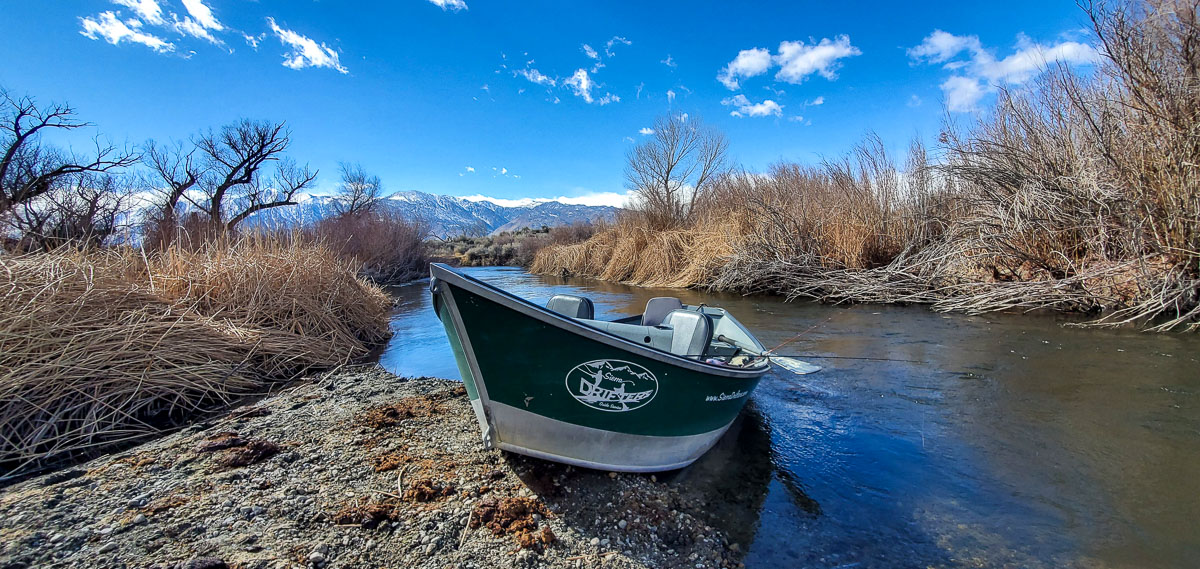 Another small snow storm has given us a little more snow on the Upper Owens River to still navigate around with the snowmobiles. It is starting to melt quickly and leaving mud puddles and soft ground behind. Most vehicles that have been driven to the river on the snow have had some type of trouble and had to turn back. We still do not advise driving in to any areas along the river that still have snow on the ground. Fishing overall has been great. A good amount of winter rainbow trout are being picked off on the Upper Owens River. The Lower Owens River has been experiencing an excellent mid-day hatch on Blue Wing Olives. Lots of beautiful wild brown trout are turning out for this daily event, and the best days are overcast for a steady bite on the surface. Hot Creek entry areas are becoming a little easier now by foot, as the snow has hardened especially with the cold nighttime temperatures. The mid-day BWO hatch is also starting to build up strong here. The East Walker River is flowing low still, and starting March 1st, there will be new fishing regulations going into effect for area. You can view the new changes here:
https://nrm.dfg.ca.gov/FileHandler.ashx?DocumentID=175721&inline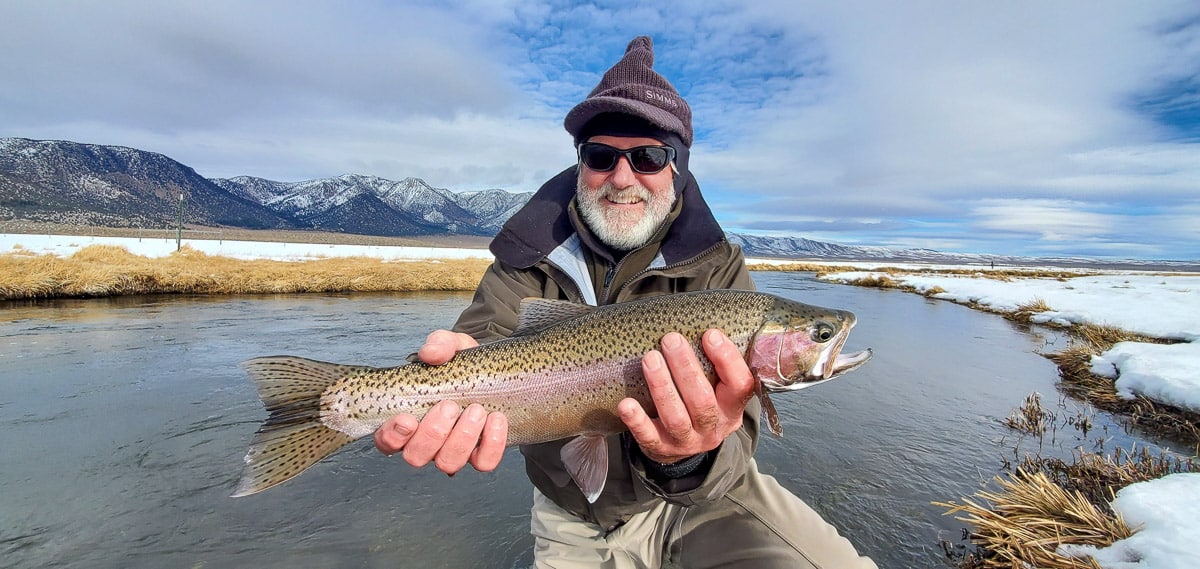 The snow mobiles are ready to go and get you to the fish like this one.
The
Lower Owens River
has been getting really good, especially in the early afternoons when the Blue Wing Olive mayflies start emerging. There have been some nice 1 to 2 hour windows of mayfly hatches that are insanely fun on a 3 weight fly rod. You will find the fish rising in the slower sections of water and in the eddies. Most of the fish we have been catching during this time of the hatch are beautiful wild brown trout with vibrant winter coloration. Prior to the hatches the fish are keying in on the nymph stage as these bugs start swimming to the surface. Small streamers in size 14 – 16 work very well during this period. Also, getting deep down with larger streamers in the deeper pools and undercut banks will attract the larger fish to bite.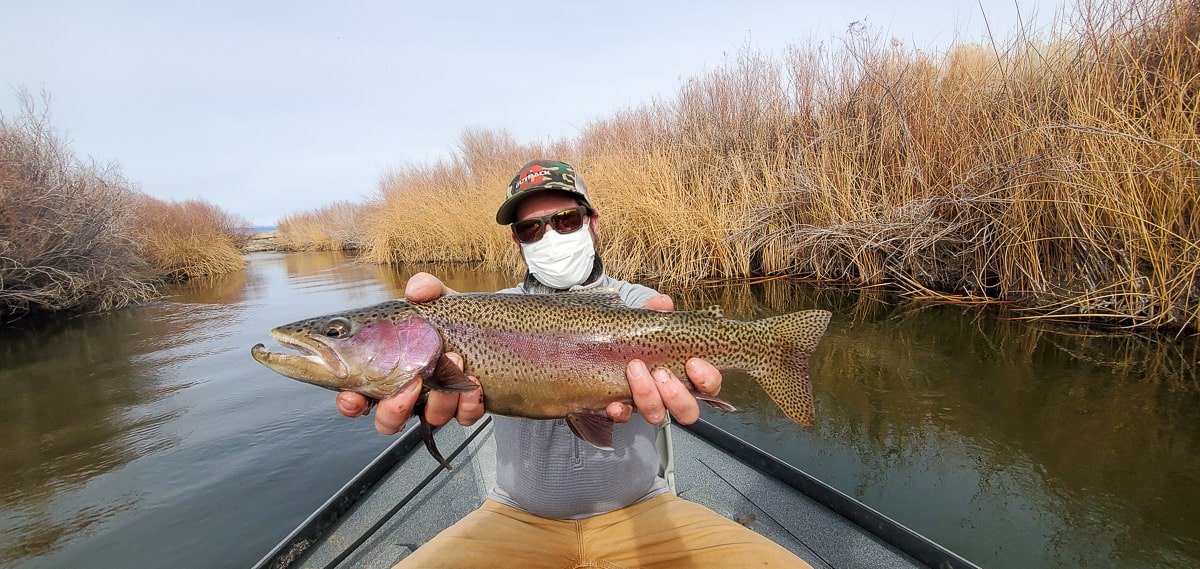 Ryan fished with Two Bug Doug and had a great day on the drift boat. He got this standout rainbow trout.
The
Upper Owens River
has been fishing solid through this month. The snow that had fallen last week is now melted off, but patches and deep snow still remain in the areas that receive less sunlight. Park before the snow starts to meet the mud and you can walk in to your favorite spots on the river. The snow and mud will be frozen in the mornings, but will soften during the day. Be mindful of this when you park your vehicle. Most of the big fish have been found throughout the river. The fish can be anywhere this time of year, so you want to methodically fish any areas that look deep enough to hold fish. Smaller nymphs, San Juan Worms, Assassins in dark and Light, and egg imitations have been working well. If you would like to be guided to some of these awesome fish
click here.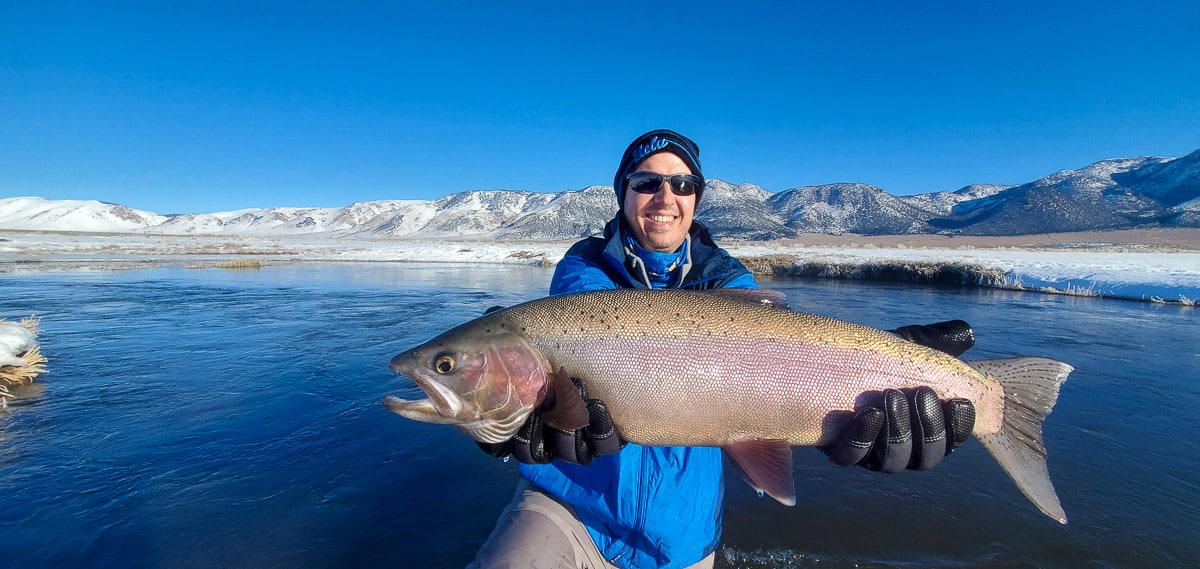 Hamed fished with Two Bug Doug and got this super rainbow trout after the snow.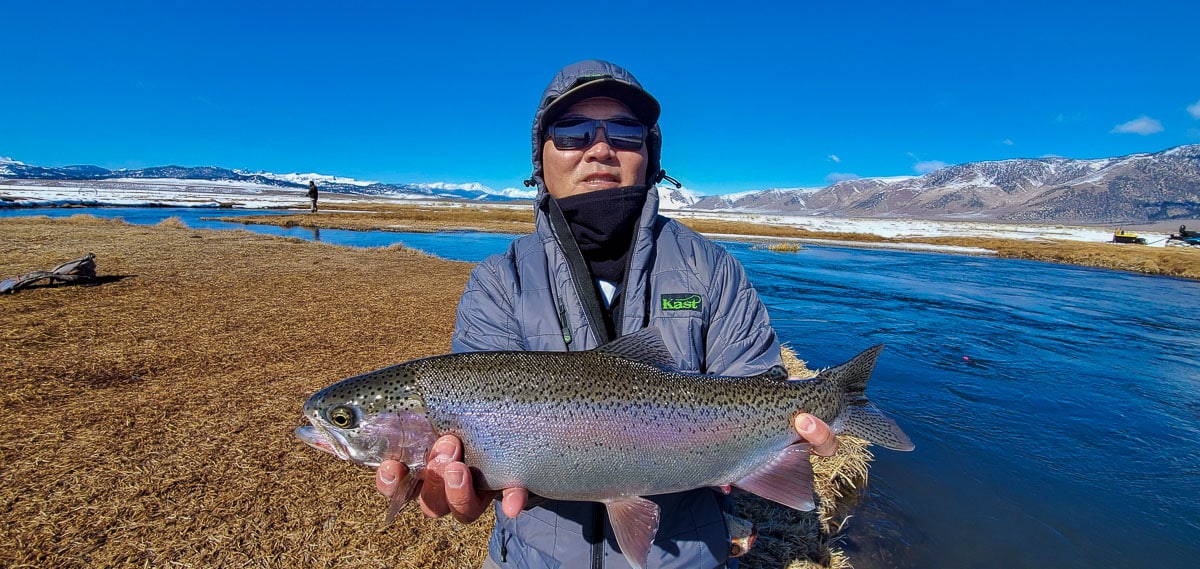 Doug Rodricks got Randy on some nice rainbow trout like this sweet fish.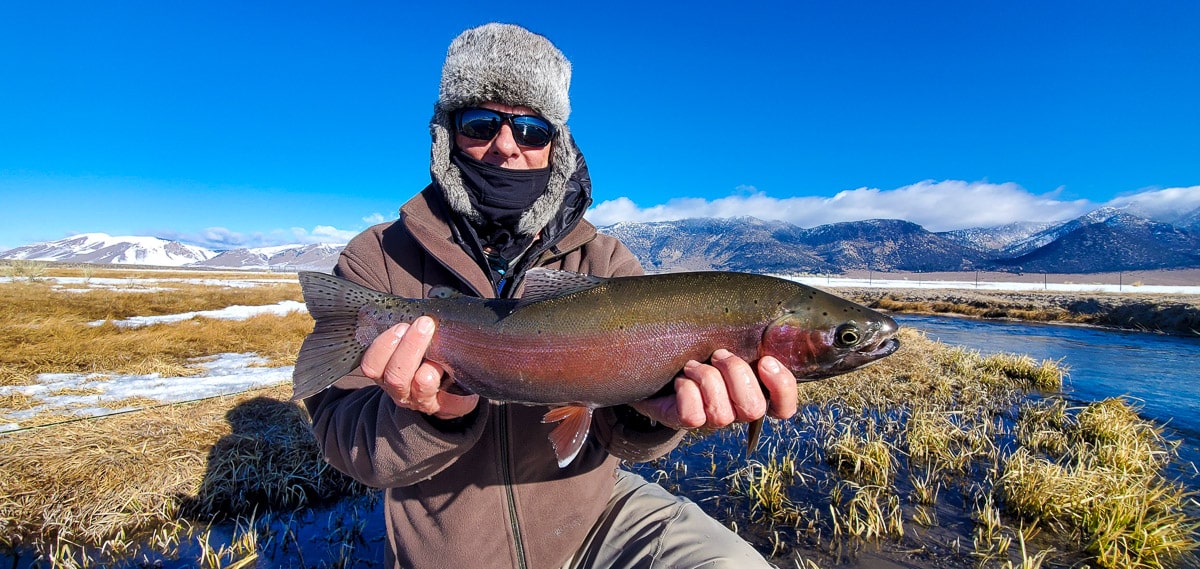 Jeff fished with Doug R. and banged up some nice rainbow trout.
Hans doing the honors for Steve with this colorful rainbow trout.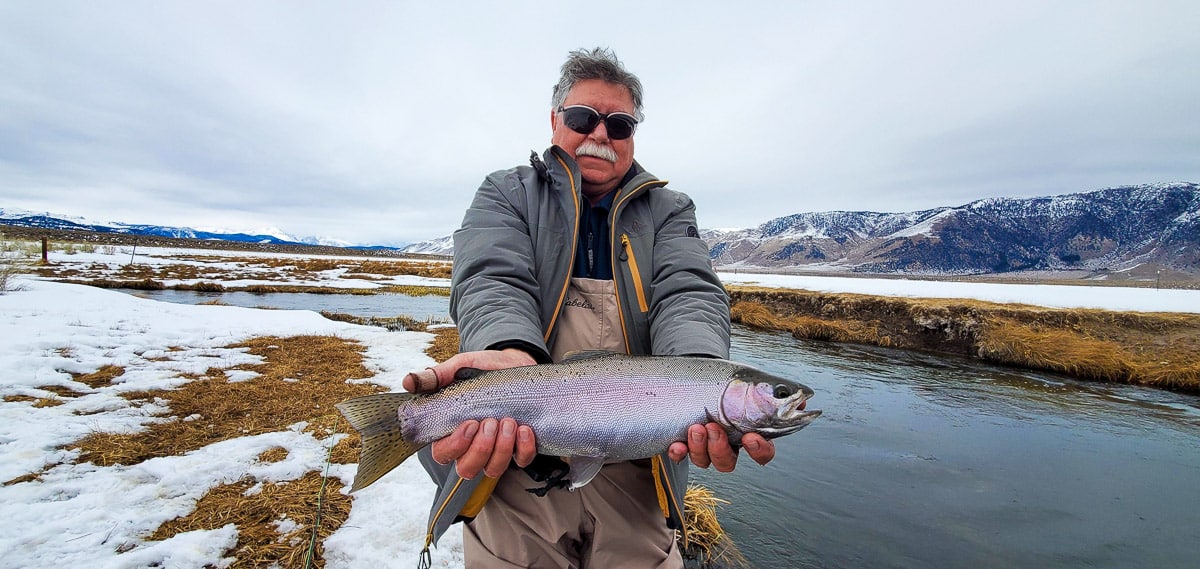 Dave got into some great rainbow trout while fishing with Doug R.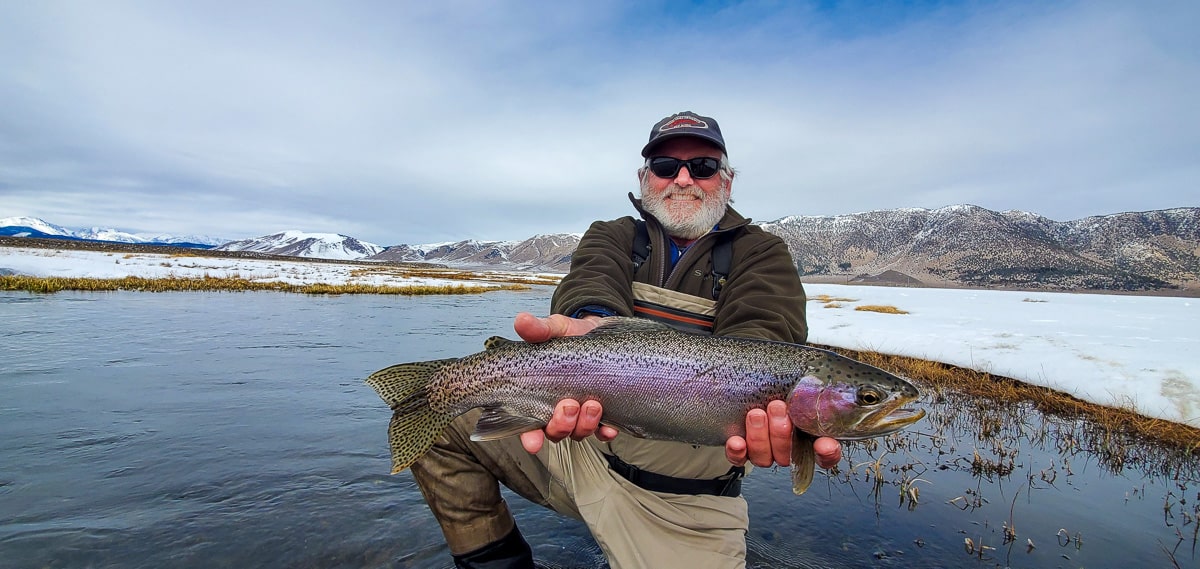 Bob fished with Doug Rodricks and hit a perfect hook set on this rainbow trout.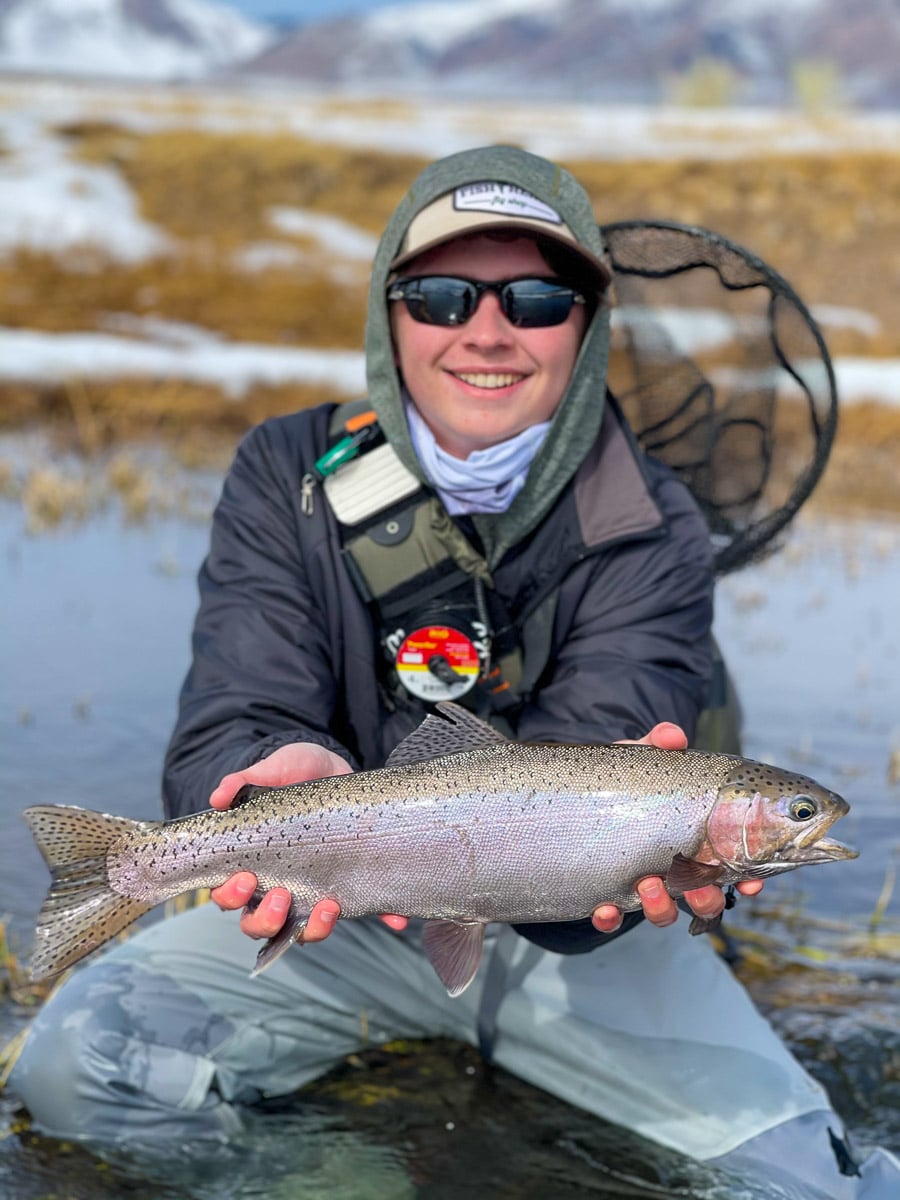 Hans showed Jaron some killer fishing to fish like this rainbow trout.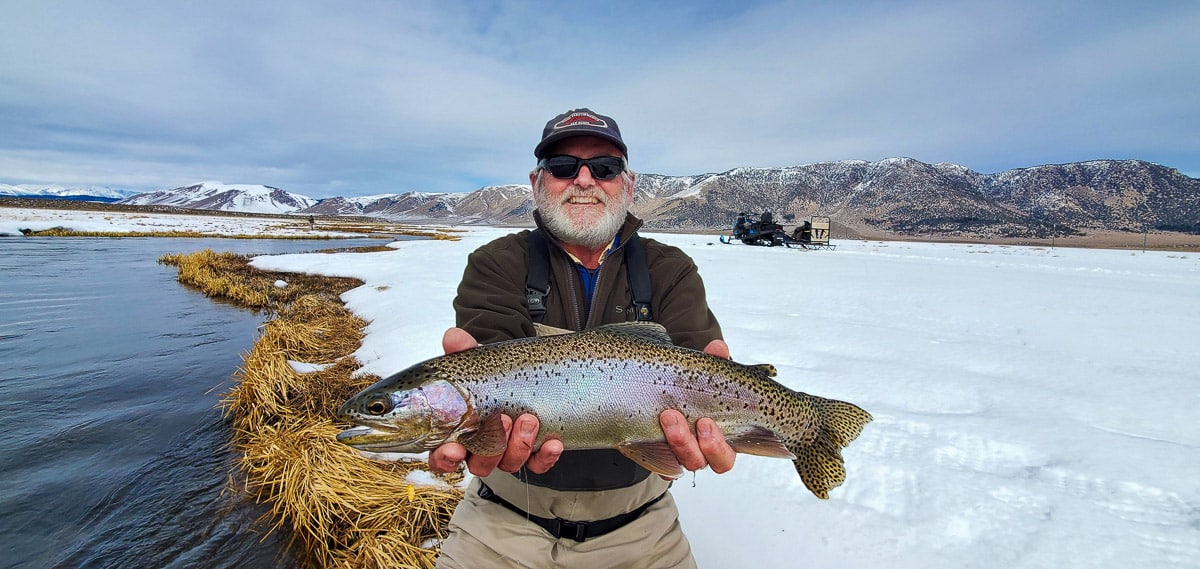 Here's Bob with another nice rainbow trout.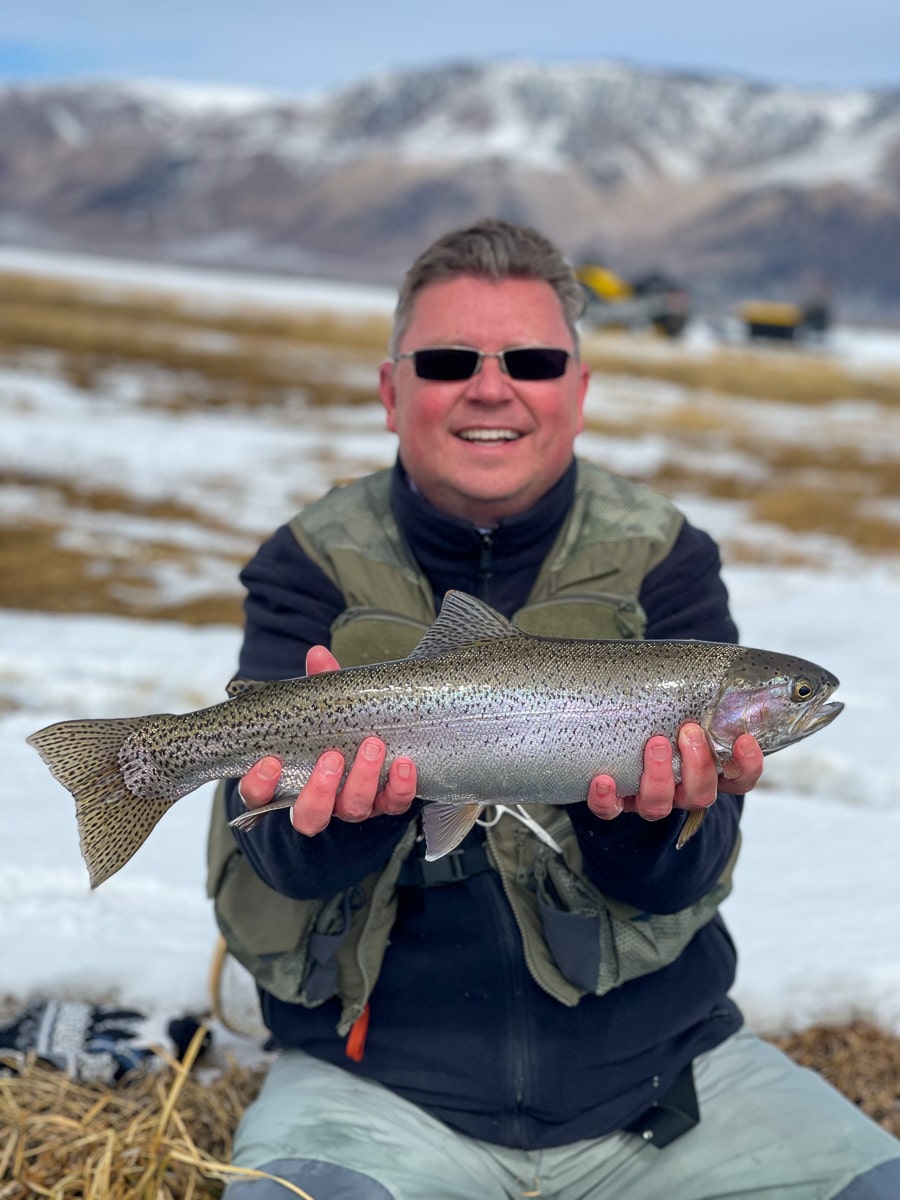 Steve with another solid rainbow trout.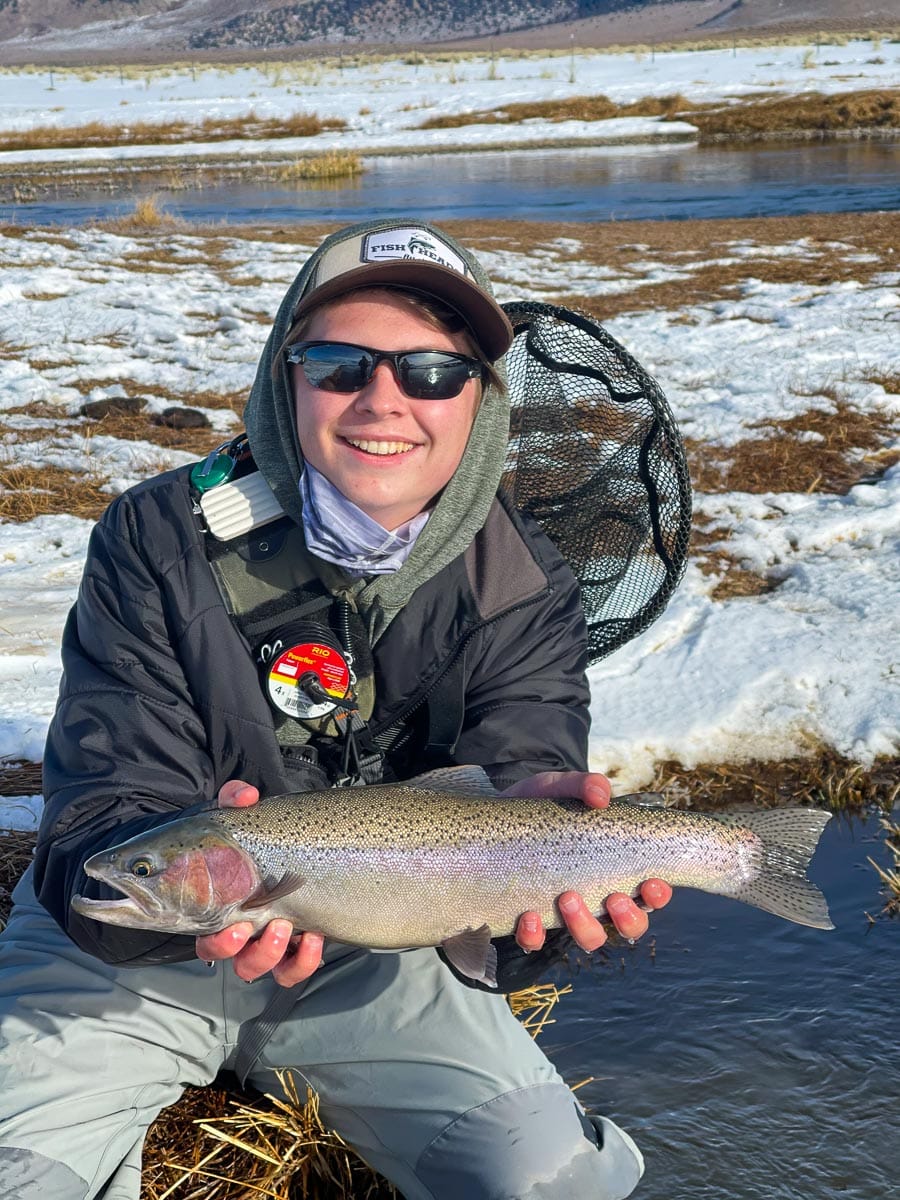 Jaron with another nice rainbow trout.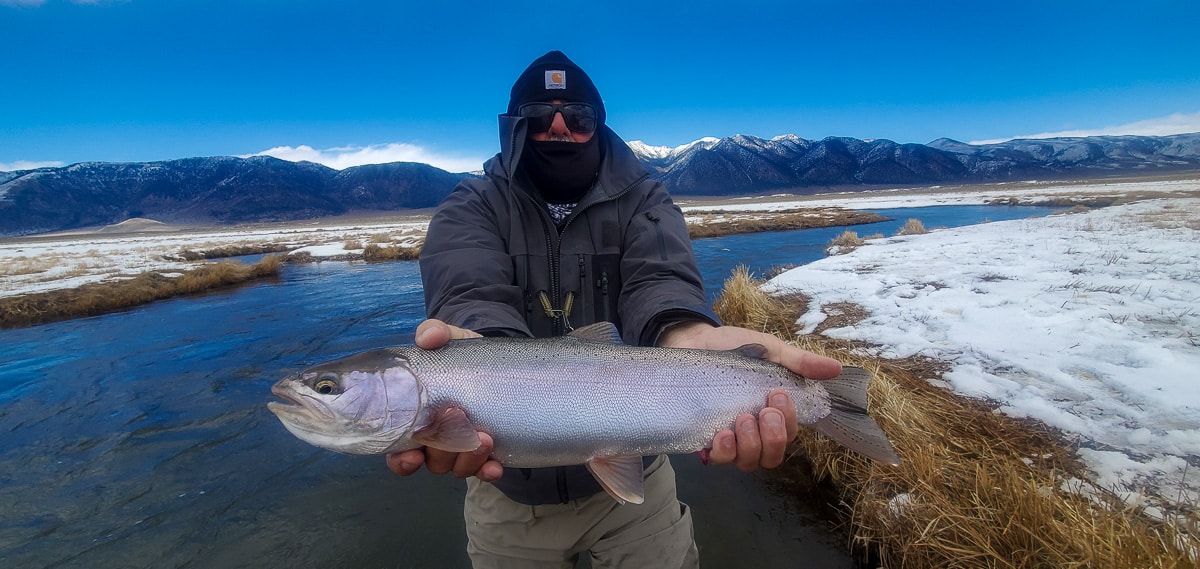 John fished with Two Bug Doug and scored this stellar rainbow trout.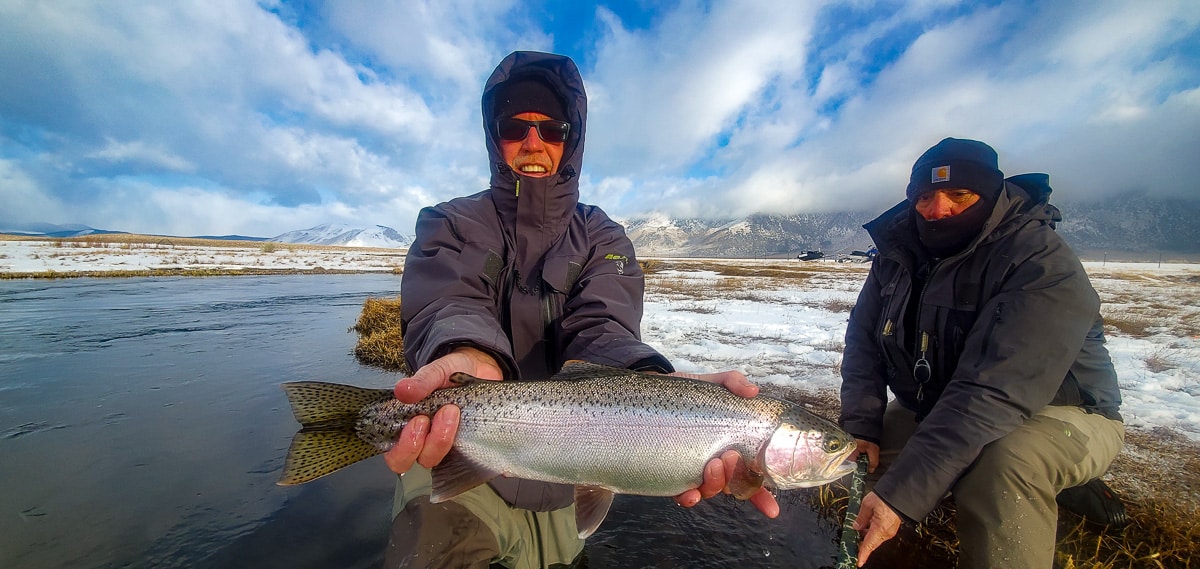 Two Bug Doug put Tim on some good fish like this large rainbow trout.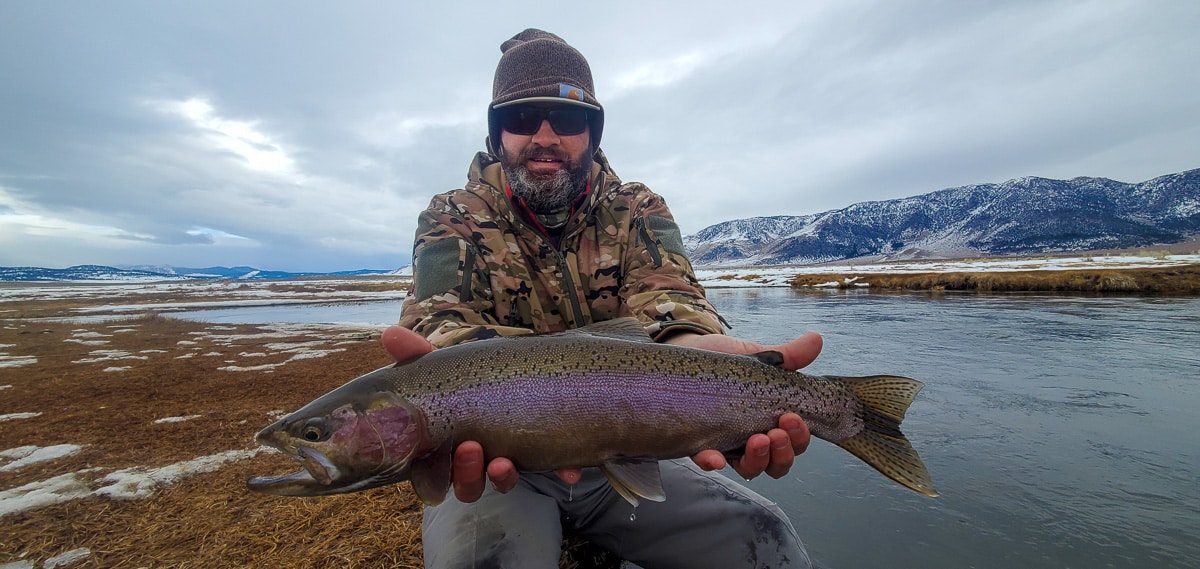 Check out this fish Two Bug Doug put Ryan on.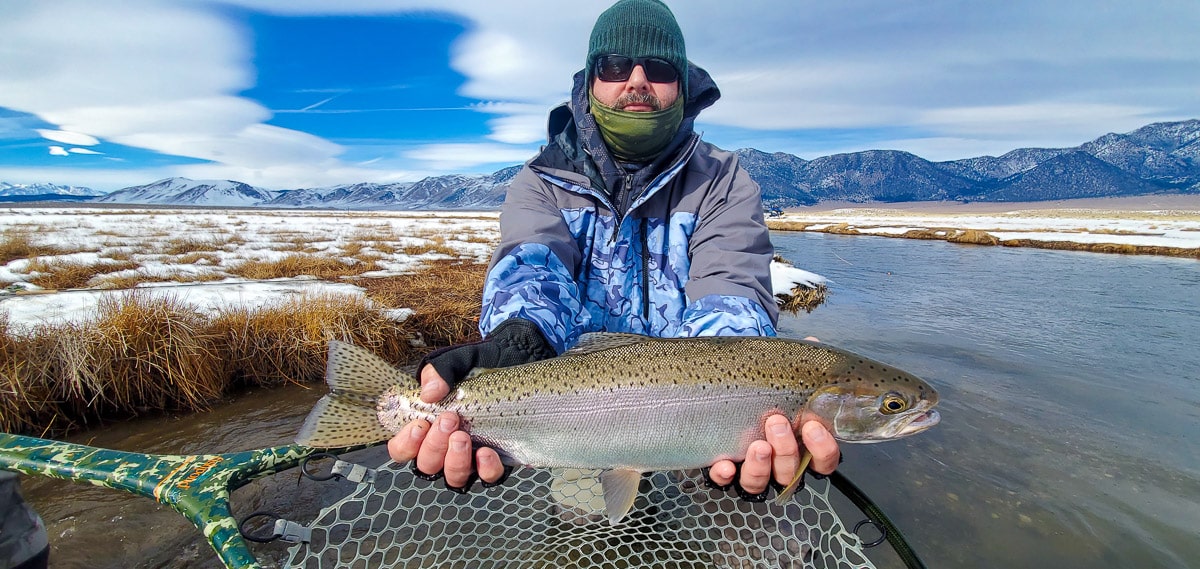 Patrick stung this nice rainbow trout with Doug Dolan.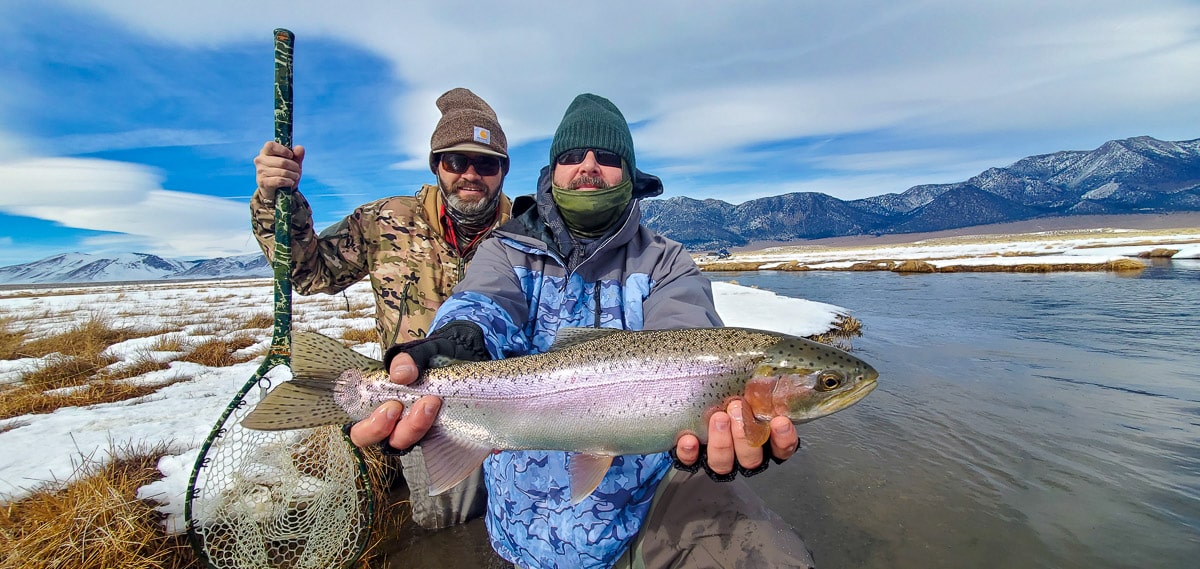 Pat with another excellent rainbow trout.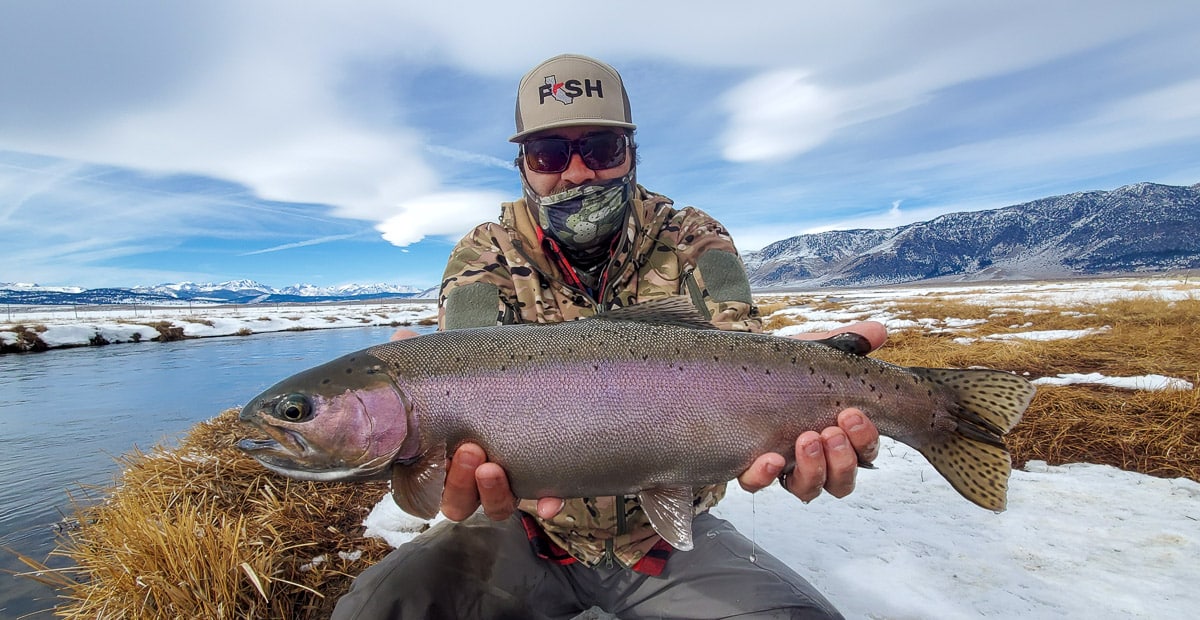 Ryan with another stunning rainbow trout.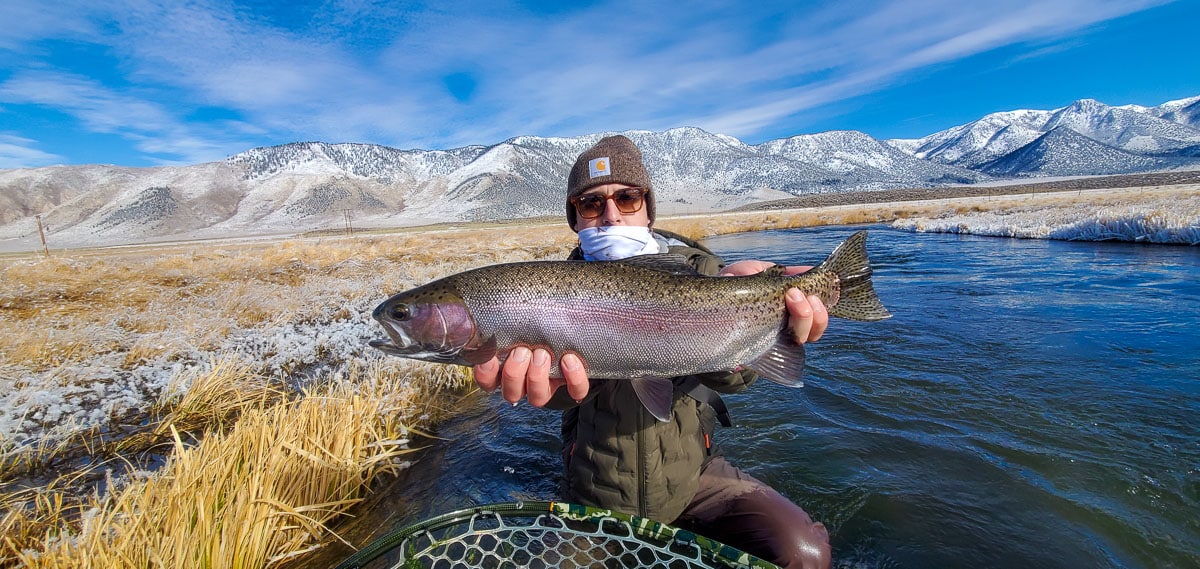 Pat with a hog rainbow trout.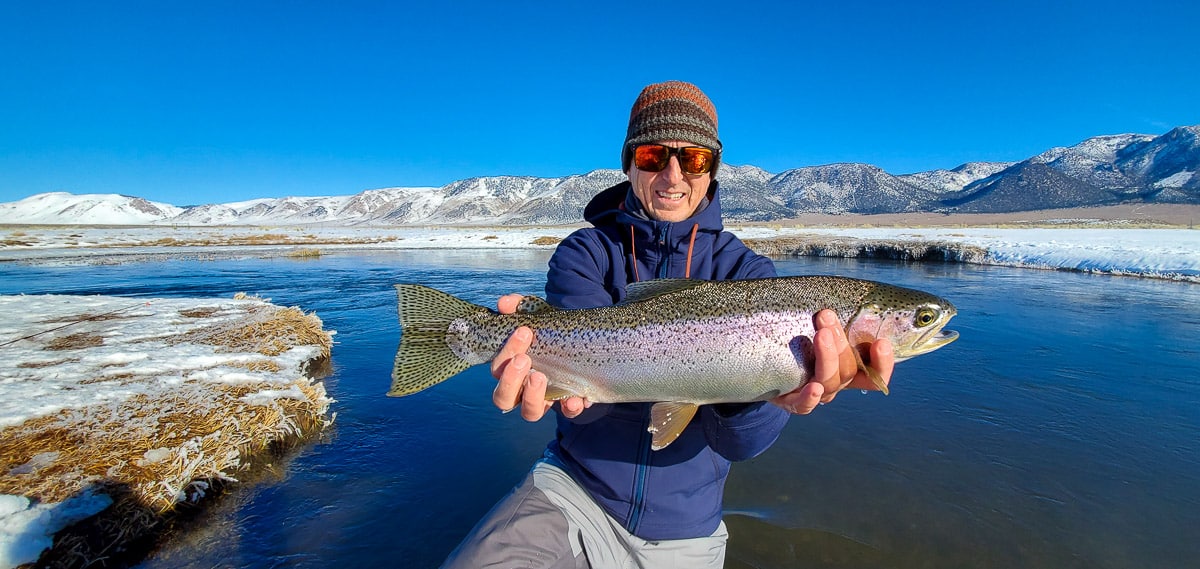 Here's Patrick who fished with Two Bug Doug and caught this gigantic rainbow trout.
Hot Creek
access is good now in both sections by foot only. Snow is melting but it has formed a solid layer leading into the Interpretive Site and the canyon section. Much easier to walk on than in previous weeks, and the fish have been receiving much less pressure with the snow shutting off vehicle access. Egg patterns and smaller nymphs and dry flies are on the daily menu here. Dry dropper setups can be a good way to narrow down what they are taking during the day. The browns and rainbows are really showing their true spawning colors now. The
East Walker River
is flowing low at 21 cfs. There are not a lot of areas to fish with the low flows, but the deeper pools can hold some very nice fish this time of year. Nymphs and eggs of all sized can be effective here along with some larger streamer patterns. This area will close to fishing starting on March 1st, so this may be your last chance to get it during the winter.
Here are our flies which are working on the Upper, Lower Owens River and Hot Creek in addition to the above patterns listed in our report:
SD Chironomidge
#16,
Para Midge
#20, 22,
Puff O' Smoke
#16,
Broken Back Copper Tiger Midge
#18, 20;
Assassin Light
#18;
Assassin Dark
#18;
Crystal Hi-Vis Parachute Blue Wing Olive
#18;
Crystal Tiger Midge Long
#18, 20;
Crystal Midge Pupa Copper
#18, 20;
Gillie Chironomid Pupa Dark and Light
#18, 20, 22,
Otter Eggs
in all colors,
Bead Head San Juan Worm Red And Brown
#14, 16;
Parallel Assassin Light
#16,
Parallel Assassin Dark
#16;
Loeberg Mallard Silver Badger;
Spuce a Bu Dark and Light
Click HERE to purchase.
Click HERE to check out our apparel line up.