At Sierra Drifters Guide Service, our mission is to provide our customers with the best eastern sierra fly fishing quality experience the outdoors has to offer. Although fly fishing is very popular today, it still remains one of the least understood methods of fishing. We believe in simplifying the sport for everyone, no matter what age or experience level. We do this by using a friendly, patient, and un-intimidating approach to instructing and guiding that is fun for beginners, families, and of course, the most experienced fly anglers.
History
Sierra Drifters began in 1997, when founder Tom Loe had a vision of forming the best eastern sierra fly fishing guide service in the region. Already an avid fly fisherman for most of his life, Tom had extensive experience in commercial ocean fishing as a career, and transferred much of his knowledge of boating and navigation over to freshwater fly fishing. This allowed Tom to popularize center console bay boats which are in wide use today in the still water fly fishing industry and the use of drift boats for fly fishing on the Lower Owens River.
Lots of work went into the marketing of Sierra Drifters during the early years, as the area of Crowley and Mammoth Lakes had limited internet service which consisted of dial-up internet connections. In those days it took hours to get a one page fishing report posted online with photos, let alone update an entire website weekly. With the help of his wife Michele, the two of them kept on persevering over the years to make the company what it is today.
Tom started Sierra Drifters by pioneering drift boat fly fishing on the Lower Owens River. This had never been done before, and Tom took a chance with this new business venture. In addition to drift boat trips, Tom also offered walk and wade river and still water fly fishing on Crowley Lake and Bridgeport Reservoir by boat.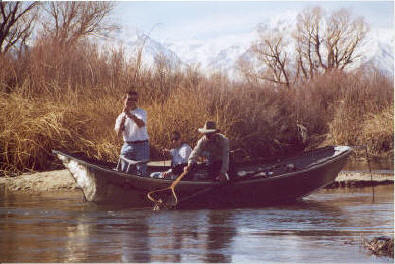 Tom in the early days of drifting the Lower Owens River.
Though many businesses do not rise to success overnight, Sierra Drifters was the exception. Within the first year of operation, Tom found himself having to expand the guide service by bringing in additional guides to build his team. He hand selected the best of the best to comprise this exceptional group. The guide service and the trips which were offered, were in high demand in very little time thanks to word of mouth recommendations, client testimonials and one of the most informative and appealing websites in the area. Numerous southern California publications also played a large roll in the success of Tom Loe and Sierra Drifters during these early years. It had become apparent by the popularity of Sierra Drifters among our customers that Tom had achieved his dream and established an organization that helps make unforgettable memories for thousands of people.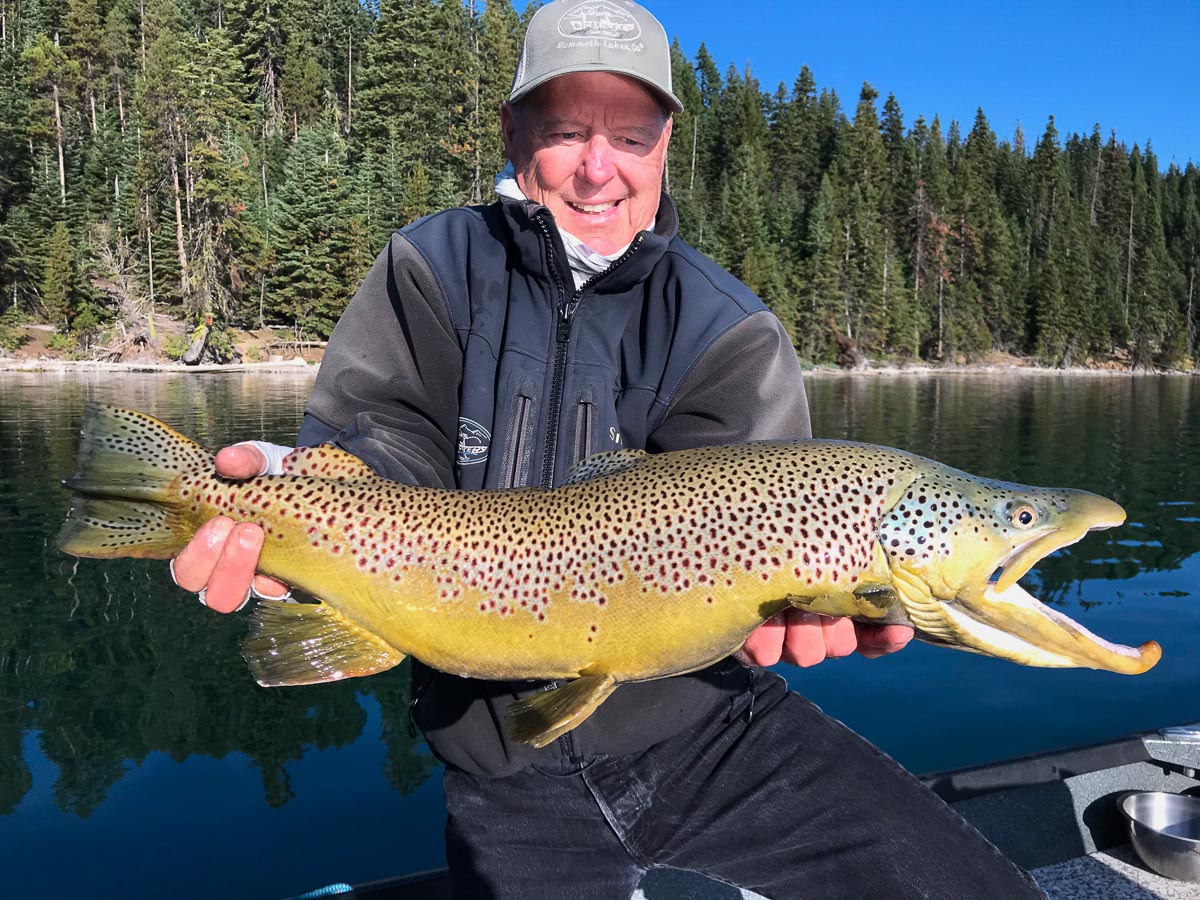 Tom enjoying his retirement days.
In 2007, Tom hired me, Doug Rodricks, as an addition to the guide team. Being the youngest guide at the time and growing up in an age of major technological advances, I had a hand in making the transition over to smartphones, having an online presence in social media, and some new ways of advertising in an ever changing industry. I had some basic fly fishing skills under my belt at the time, and Tom quickly brought me up to speed and taught me the ins and outs of not only how to be a great fly fisherman and guide, but how to be one of the best teachers to every customer that hires us. He taught his entire team this way, but was also a firm believer in the idea that each individual guide should develop their own teaching and guiding style which would make them unique.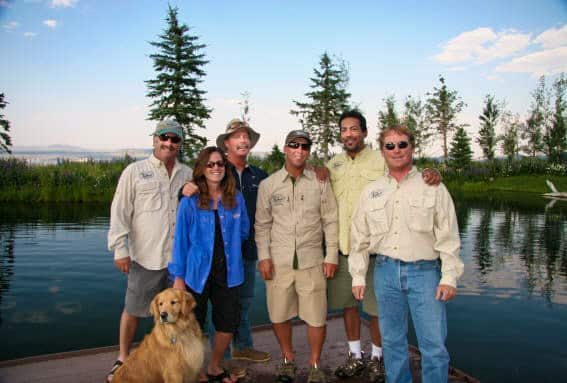 The Sierra Drifters team circa 2007.
Many years later, in 2019, Tom and Michele made the move to Oregon to retire and I took over the guide service with my wife Jenny. My goal was to not only retain the same excellent group of guides, but continue to provide the same quality of service that the Loe's guaranteed to our clients, while innovating with new ideas and methods of fly fishing that would be easy for everyone to absorb. I wanted to break through the barrier of introducing beginners and spin fisherman to the wonderful world of fly fishing and take away the mysteries and intimidation of the sport. Additionally, I wanted to run a guide service that is family friendly and a firm believer that everyone can learn to fly fish no matter their experience level.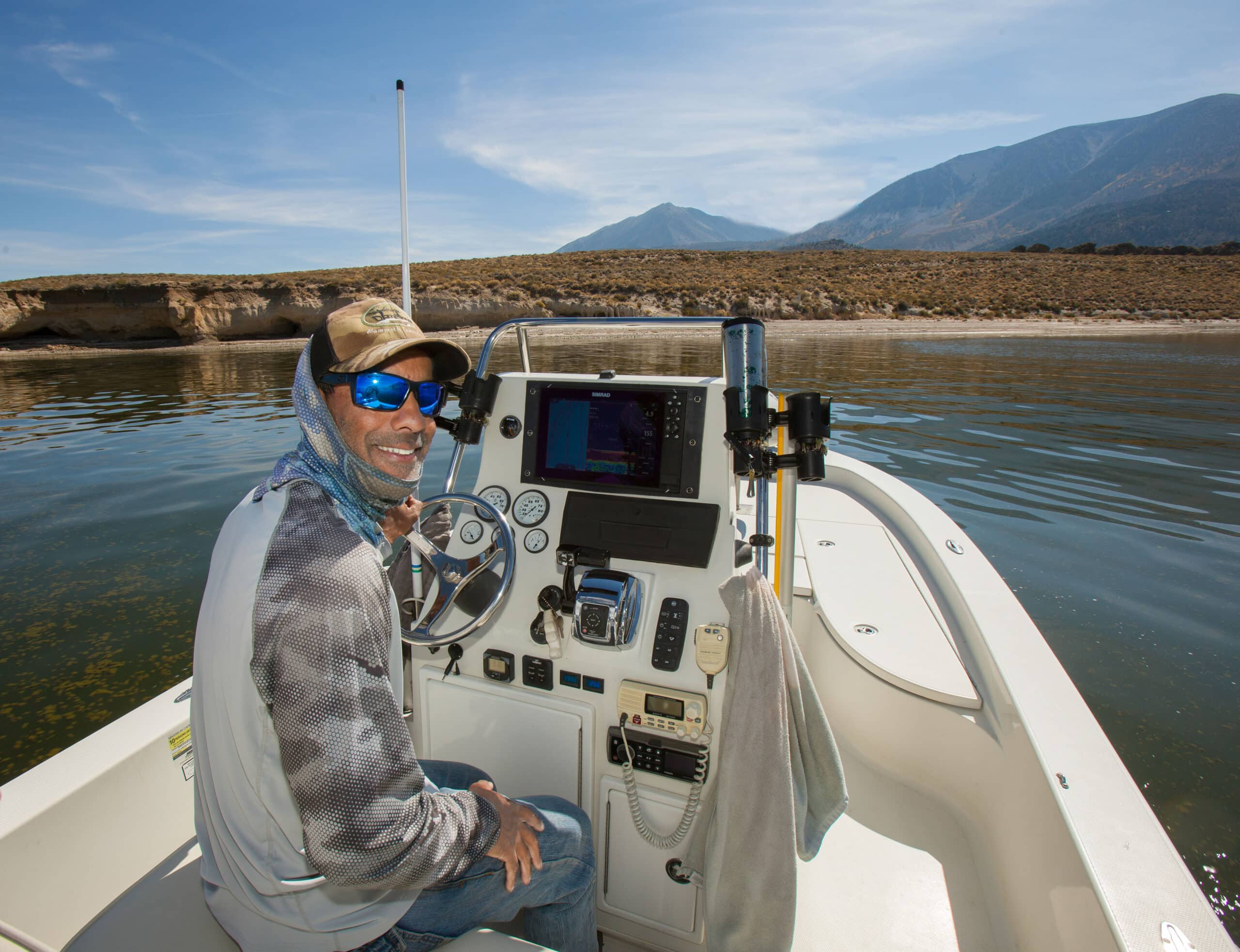 Doug Rodricks coming in from a day of fishing on Crowley Lake. Photo © Mike McIntire Photography
Our team of guides are extremely patient and excel at their jobs. We know that fly fishing is part of your vacation, and it should always feel like one. We want you to have fun and enjoy your experience with us. Our guides love what they do, and meeting new people and teaching them what they have spent years mastering is very fun and rewarding for them. Fly fishing is our passion, and we love sharing the joy of this sport with people. We change the way you see fishing.
Eastern Sierra Fly Fishing