California DFW Guide License #: 10443, Liability Insured and Bonded
Phil grew up in southern California and is one of our senior guides who has been around since the start of Sierra Drifters. If you have had the pleasure of spending the day with him, you are familiar with how he keeps the whole day fun and full of laughs.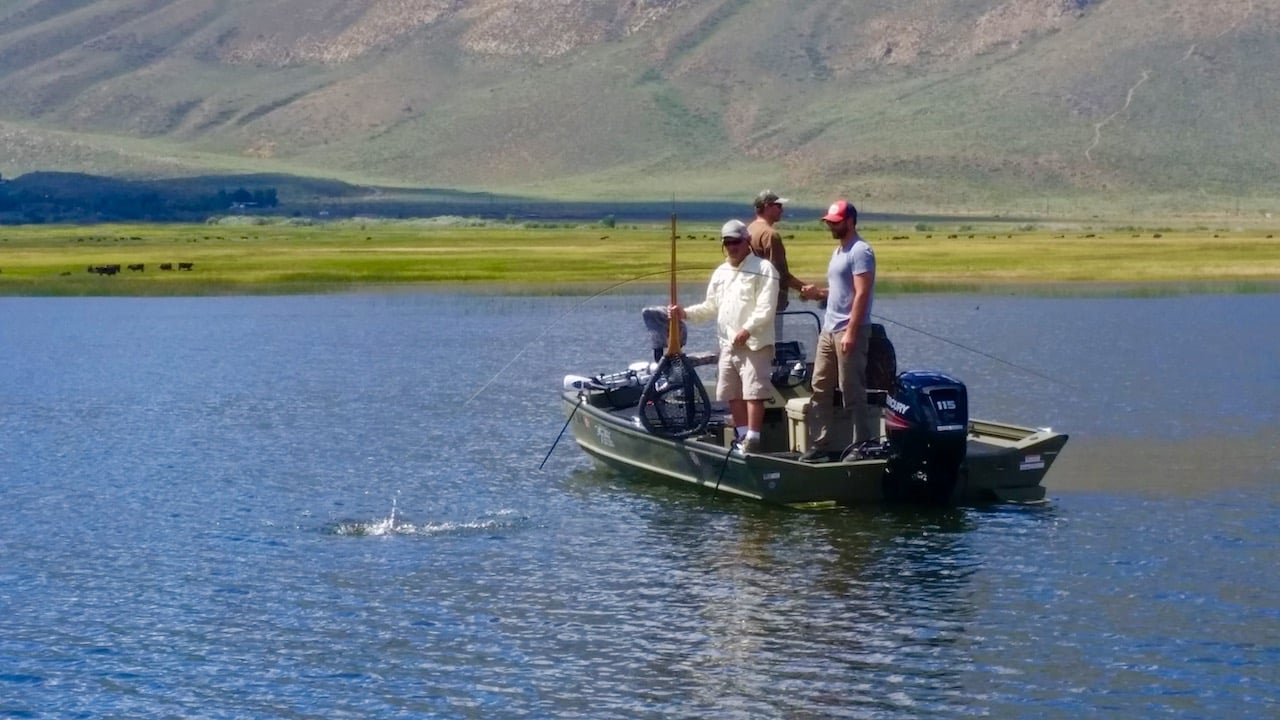 He is very easy going and patient when it comes to guiding our customers, and he is FFF(Federation of Fly Fishers) certified. Phil enjoys tying new patterns of flies for trout and he is deadly on Crowley Lake with his Ranger Bay Boat. Spending a day with Phil makes for an enjoyable and memorable experience.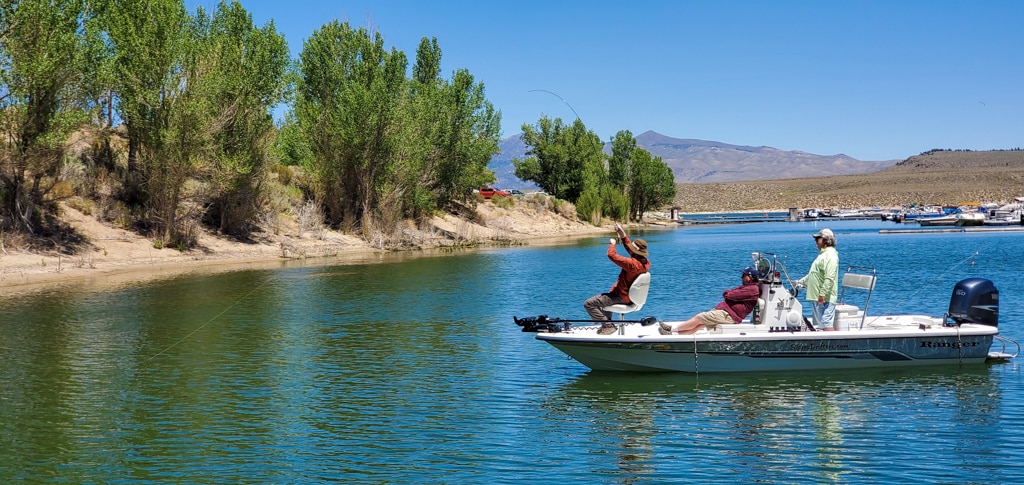 ---
We Let Our Clients do the talking…Here's What Some Have Said About Spending their day with Fill:
Lyndsey and I had a great time yesterday.  Your patience with us, and your teaching and mentoring Lyndsey was a priceless thing to watch.  Your hosting us like family; your cheering us on; your graciousness when we missed a good one; your sense of humor added friendly spice for the day.
Wish we could do it all over again; sooner than later.
A great big thank you.  You are a true "trowt" professional.
Hope to see you on the water again next year.
Peace,
Buzz
---
Tom Loe,
Today my son and I had a full day guided trip with Phillip (fill) Therrien.   I wanted let you know that "Fill" was great!    He took really good care of us and made the whole day fun and productive. The day exceeded my expectations! Thanks, Bob Smith
---
The first thing I need to say if you have not gone on a guided drift boat trip your missing out on one of life's wonderful pleasures. Now I would like to thank all of the people at Sierra Drifters for offering a service of this caliber. Guide Phil Therrien "Fill" as they call him was exceptional. On November 28th  my wife and I went on an unbelievable Guided drift boat trip with "Fill", Friday the 27th was a beautiful sunny day on the other hand Saturday the 28th we woke up to SNOW the temperature dropped at least 30 degrease high winds and clouds, Most people would have stayed in there hotel room but not my wife and myself we put our trust in the fine people at Sierra Drifters. I would have thought with that much of a change the weather the chance of catching any fish would be very slim. That's where "Fill" and his Expert knowledge came into play he put me on the fish. I will soon be enjoying some of the other Guide services that they offer and so should you.
Thank you,
Tom & Josie Gibson
---
We had another amazing week of trout fishing on Lake Crowley with Phil Therrien and Doug Dolan. My 10 and 12 year old boys have become fly fishing fans due to the awesome fishing these experts have shown us. We caught 30 – 45 fish each of the three days and many were 17 – 22 inches! Its the kind of fishing I would expect to have to travel to far away places to experience. Both Phil and Doug are not only very expert fly fishermen, but show great patience with my two active boys. Jim Maguire Prestige Solutions, Inc
---
~What a trip! You guys are a class outfit…Of course I am still on a "caught a big one" high, but I am writing this to you not just out of gratitude for our success. My dad and I really enjoyed our day on the river. Phil is an outstanding guide. From the minute we loaded up in Phil's truck we knew it was going to be a great day. He is very easy going and I could have listened to him and my dad swap jokes all day! Oh wait a minute I did! 🙂 He genuinely loves his profession and the sport/art of fly-fishing. His passion for the outdoors is very contagious and while anxious to begin catching fish, we began by just listening and enjoying the river and nature that surrounds it. With Phil's knowledge of the river and the elusive trout that inhabit it, we got into some fish. My dad and I lost two large trout early on and were kicking the can. Phil assured us that they were just scrappy six inch browns!! Ha-Ha As we pulled into a spot where Phil knew big fish swam we became pretty excited. In our anxiety, I was able to see Phil was serious about this spot and prepared us in case we got lucky. We landed a couple beautiful 18-19 inchers….and then it was strip, strip, hang on boys it's "wally the whale". After an attempt at ramming our boat, I was able to catch up to the creature from the deep. Although excited, Phil was a cool character and instructed me perfectly. This was a task considering the expletives we were listening to from my dad when he saw the fish! Estimated at over 8 lbs and 25 inches, fish of a lifetime.. But when it comes down to it what made the day was the company…I look forward to fishing with Phil again. I believe half the Bakersfield Police Department might be calling you to book some trips.. I have been sharing the photos and the story with my coworkers. Bill Darbee Jr.
---
~Tom , just wanted to drop a line and say my son and I had a fantastic trip….again. Phil was a great guide and got one of us on some big fish…story of my life ..Bill Jr. always seems to nail the big ones…maybe I should go solo next time?? Seriously though, we had a great time, caught fish, had beautiful weather and surroundings…doesn't much better than that. Extend our appreciation and thanks to Phil. Looking forward to the next time.. Bill Darbee Sr.
---
~Just a quick note to say thanks for a fun day last Wednesday the 24th. Phil was really a great guy to fish with and helped me a lot with my novice level casting and fishing technique. I'd highly recommend Sierra Drifters to anyone and hope to be able to fish with you again. Thanks again…Best fishes to you both and hi to Phil. Jim Etheridge
---
~Hey, this is Jeff Smith.  My buddy Jeff and I just drifted about 2 weeks ago (mid week).  I would like to plan another trip up there, but would love to come up there when the weather is having a positive affect on the fish.  Phil was our guide and he WAS AWESOME!!!!!!!!!  Can I get him again? Thanks.
---
~Dave and I had a great time fishing!! Phil did an excellent job!! Thanks again…..I will be in contact with you guys for a Crowley trip this summer!
---
~Ray Labadie convinced me to go on a float trip Wednesday and I had a great time.  Phil was our guide and both Ray and I thoroughly enjoyed both the fishing and the guiding.  If not for our own "LOFT" issues (ask Phil)  we would have landed far more than the 20 trout that made it to the net.  I have fished the lower Owens with Ray on foot a few times and that number of trout probably represents 10 foot trips worth of fish landed for us!  Just to put into perspective how serious we were about this trip – We left Newport Beach Tuesday night after 9:00 PM and crashed in the Holiday Inn in Bishop sometime after 2 AM.  Met Phil at 8 AM, fished until 3 PM and I had a conference call for work at 4 PM.  Left Bishop at 5 PM and made it to Newport Beach about 10:30 or so.  I had a 6:45 AM flight the next day and I was petty tired, but one happy fisherman.  Thanks for setting up the trip on short notice.  I'm definitely going to come back and do it again, or perhaps Crowley.  Phil took a couple of pictures of fish and if you could email those whenever, that would be greatly appreciated. Thanks again, Mike Ziehl
---
~Dear Tom: I want to thank you for all your help in booking my trip. I had a great time AND caught fish!!! My comments about Phil are the following, First he was on time and prepared. Second he was extremely helpful and as an instructor he was super!! Third and most important "It was like fishing with a good friend" Kudos to you and Phil. I will be seeing you again soon with my cousin. Sincerely, Lee Ambrosini
---
~Hi Tom: Just wanted to thank you for another great fly fishing experience. Phil was a terrific guide and worked his tail off to make sure we had ample opportunities to "bring fish to the net." My buddy had a hard time figuring out the mechanics but succeeded eventually. I caught my first brown and it was a hoot. What a difference in the fight they offer. My wife wants to give it a shot. She doesn't want to try any other type of fishing so we're searching for a date in September. I'll give a call when we figure it out. Thanks again. Bruce
---
Thanks for a memorable day Wednesday, and for giving us such an excellent, witty and self-deprecating guide in "Fill". It was a great way for me to spend a day with my son.
(Other, More) Fishing Guides