Trout fishing in the eastern sierra is fantastic on the East Walker River. This river is home to the largest river trout in the region. Historically it is arguably the finest moving water trout fishery we have here. The prime section is located below the dam of Bridgeport Reservoir making it a tailwater fishery.  The EW has posted ridiculous trout growth rates and has special angling restrictions to allow prolonged growth and keep the population of wild fish in good numbers. It is currently open year round.  The EW can be more "technical" than other local waters and most guides do not suggest taking novice fly fishers here.
Aquatic insects flourish here,  and you will find a healthy population of midges, caddis flies, and several species of mayflies.  There is also a significant stone fly hatch along with a plethora of terrestrial insects including a large migration of hoppers along the grassy banks during the summer and fall.  Another unique feature of the EW is a substantial population of Sacramento Perch, Carp, Mountain Whitefish, and Tui Chubs.  These forage bait fish supply larger sources of protein for the huge predatory browns that lurk in the large bends and pools that are plentiful on this classic tailwater.  The EW has a well earned reputation for huge browns.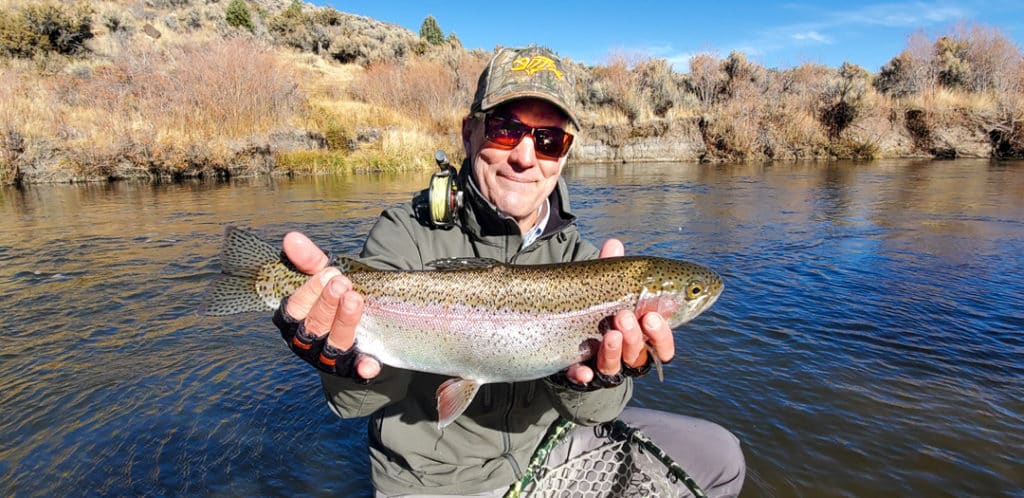 The "miracle mile" is a slower moving section located immediately below the dam and is the most consistent area for numbers and large fish.  There are several more miles of river below this section in California that are far less fished and at times can be as good or better.  This river is heavily guided and fished and some exploration will pay-off.
Flows can vary here depending on the season and this will dictate how your day will go.  Ideal releases are around 175-225cfs.  You can see flows as high as 1000cfs
and as low as 15cfs during the winter.  The river is not safe to cross or deep wade at flows above 350cfs but skilled nymphers and steamer fisherman can still have a fine day at these releases.
Dry dropper bead head combos are excellent choices for the lower flows.  You will need several BB shot and a long leader to get down when the flows get high.  There will be great opportunities to fish caddis and may fly patterns all year.  The EW runs along the base of a canyon and when the sun gets below the rim the "hogs" come out to play!
To get to the EW head to Bridgeport CA on Hwy 395 and take the Hwy 182 exit immediately east of town and head towards Hawthorne Nevada.  You will drive along Bridgeport Reservoir eventually seeing the obvious dam. After passing the dam look for the numerous turnouts that take you to the rivers edge.  The EW runs along Hwy 182 and access is very good with few spots you can't get into under ideal flow rates. Have fun experiencing some of the best trout fishing in the eastern sierra.
View our videos here.
Check out our photo gallery here.