Perhaps the most popular fly fishing area we have in the Eastern Sierra. This small spring fed creek has the perfect habitat for hosting large numbers of subsidized, and wild rainbow, brown, and cutthroat trout. The Hot Creek Hatchery is located at the headwaters of where the creek emanates. The confluence of Mammoth Creek(a freestone creek), flows into Hot Creek just below the hatchery boundaries providing additional flow with cool oxygenated water that improves habitat.
There is a small section of private land called the ("the ranch") which lies between the canyon, & Interpretive Site. This section is closed to the general angling public. The majority of the open public section is located in a gorgeous canyon that has excellent; however steep trails leading down to the creek. There is a small section of Hot Creek that is open to the public just downstream from the hatchery, and upstream from a well marked fence line to the ranch. A gazebo with a CDFW fishing regulation sign marks the "Interpretive Site".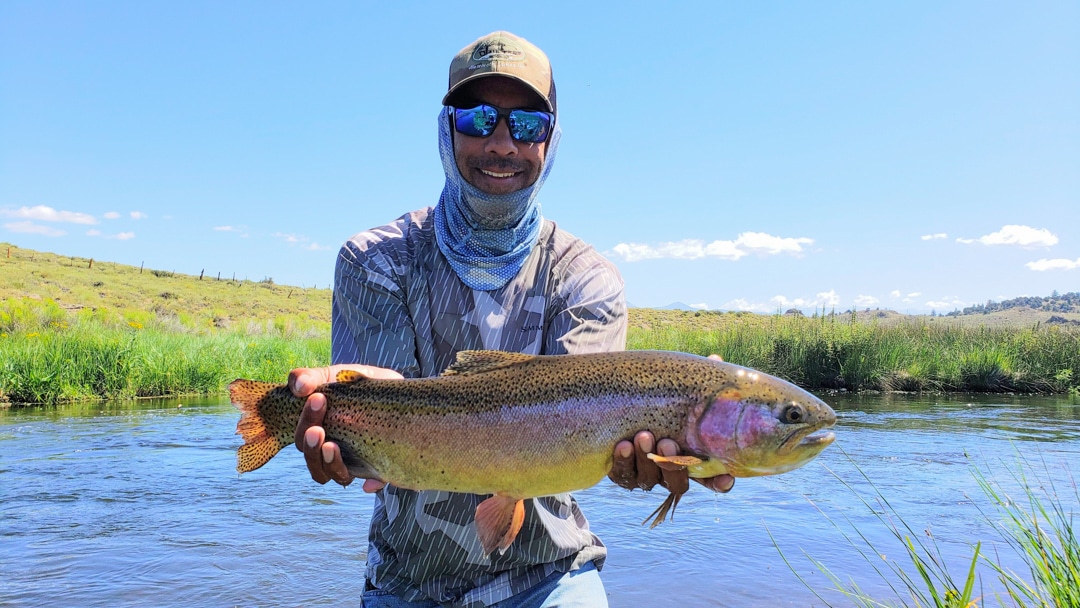 Hot Creek has a zero limit barbless hook regulation and is currently open year round.
Blanket hatches of caddis flies, mayflies, and midges are common. Water temperatures can remain much warmer than air temps due to geo- thermal heating of the water. The trout feed all year, and the bugs come off even during winter months.
The majority of the fish in Hot Creek are in the 9-12 inch range but the larger pools will hold huge fish you would not believe could exist in such a small creek. Under ideal conditions the "crick" is a great place for novice and expert fly fishers alike. It has a reputation of being a "difficult" place to fish due to heavy angling pressure. The spring and early summer months are best here especially during average snow pack seasons. The fall and winter months can be extremely challenging to even the most skilled of fly fishers.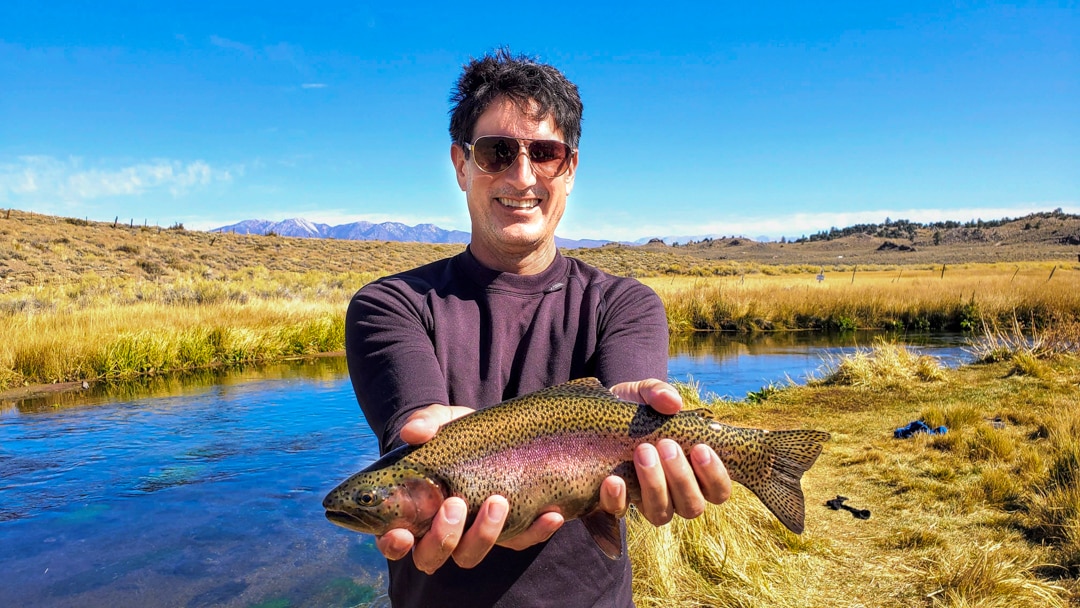 The fly patterns and techniques vary greatly with the seasonal flows from Mammoth Creek. You can experience great streamer fishing at times when the flows are higher, and struggle to get a decent presentation with a 12 foot 6X leader during the late summer months. Hot Creek rates as one of the top fly fisheries in the west, and is well worth the time to check it out if you are visiting the east side of the Sierra's.
Take the Hot Creek Airport/Hatchery road exit off Hwy 395 which is a few miles south of the Hwy 203 junction to the town of Mammoth Lakes. Follow the well marked signs. You will have a combination of paved and improved dirt roads after passing the ranch and they are not plowed for snow in the winter. The Inyo Forest Service gate closes when snow accumulates on the road. There are several good parking areas located on the top of the "rim". You may also wish to visit the geologic site which is a major attraction.