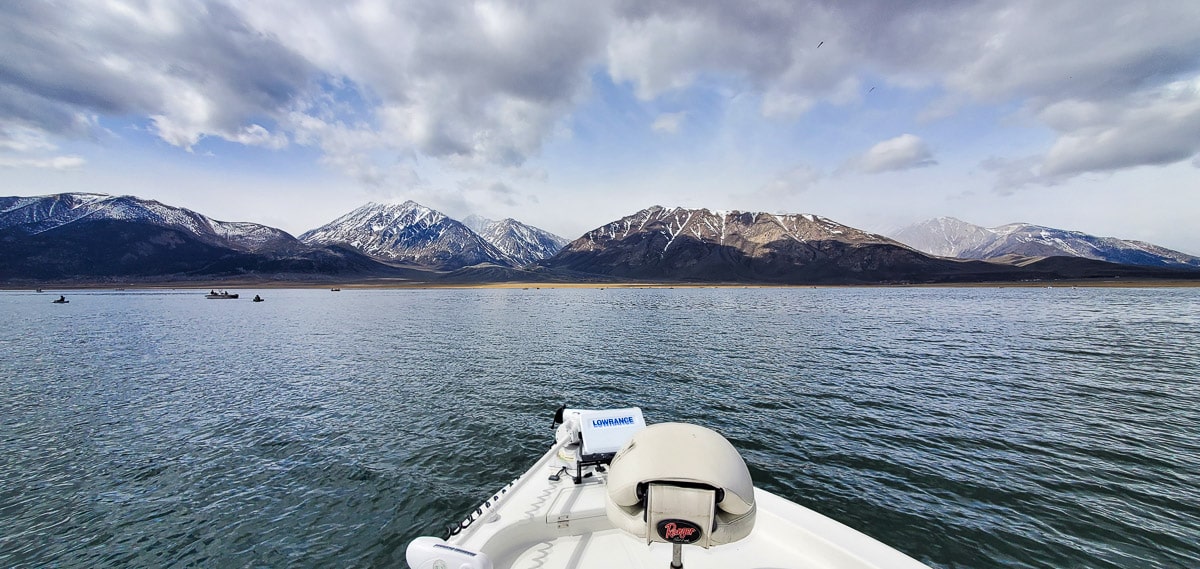 Opening day arrived with a late winter storm accompanying it. After a week of warmer weather, the general trout season opener was greeted with high winds which left boats stranded and created dangerous situations for many boaters. The further north you fished in Mono County, the windier it was for the weekend. Bridgeport Reservoir saw a lot of fish to the net that were willing to bite despite the inclement weather. Crowley Lake gave up a slower bite for fly fisherman opening day, but Sunday produced much better with various flies. The upcoming week will bring very warm temperatures by mid-week through Friday, and access is still limited to certain lakes due to leftover snowpack.
The East Walker is running at 45 cfs. These flows are still considered low for spring and once they increase, the fish will start to spread out and open up the river to more productive fishing areas. The deep pools are holding most of the fish for now, and drag free drifts with common mayfly and caddis nymphs are working. Smaller midges have also been productive along with egg patterns.
Hot Creek continues to fish well in both the canyon and Interpretive Site locations. SJ worms and Drifters's Crawlers along with midges, pheasant tails and caddis larvae are working well. Dry fly hatches have been very fun with BWO's being the main protein source and some caddis now showing up. Finding pockets of fish is the key to success.
The Upper Owens River has not shown any cutthroat moving in yet from the lake. Resident browns and rainbows are beginning to move around the river now as they transition to spring feeding patterns. Dry droppers and smaller nymphs have been working well in the riffles and deeper pools. Look for some exciting afternoon mayfly hatches that yield fun fishing with lighter weight rods.
Crowley Lake
started off on the slower side for opening day for fly fishers. Sunday was a complete turn around as periods of high of pressure brought on some midge hatches and with it biting fish. Most of the fish coming to the net were rainbow and cutthroat trout in various sizes. Water is colder than usual for this time of year, so the fish are spread all over the lake at various depths. The coming warm weather this week should bring on some good hatches and we are finding fish as shallow as 10′. Hilton, Six Bays, and McGee have been producing during different times of the day. Best flies have been Dark Assassins #16-18, SD Chironomidges #16, Mud Candy #16, Copper Tiger #14 – 18, and Zebra Midges #16-18.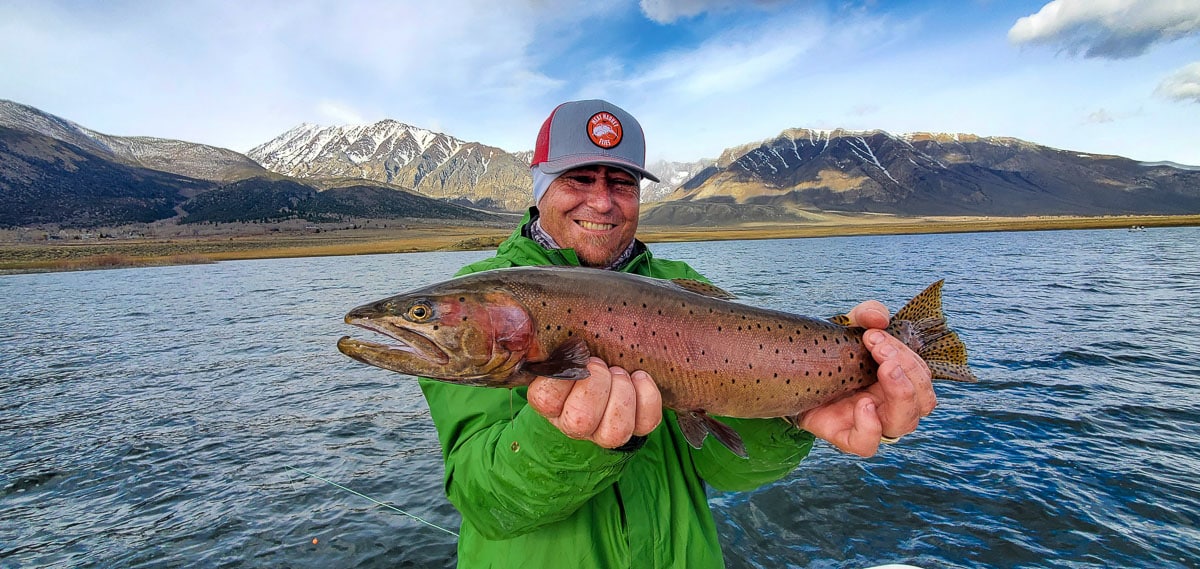 Stuart fished with Doug Rodricks and scored this large cutthroat trout on Crowley Lake.
Stuart and Dan with a nice double on cutthroat and rainbow trout on Crowley Lake.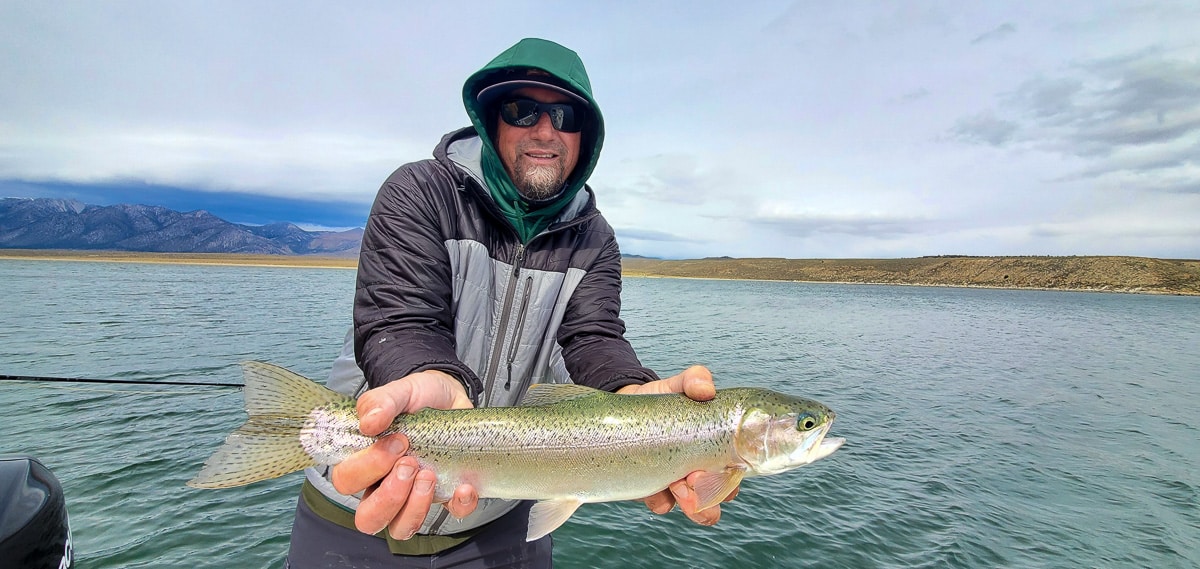 Doug Rodricks guided Brian to this healthy rainbow trout from Crowley Lake.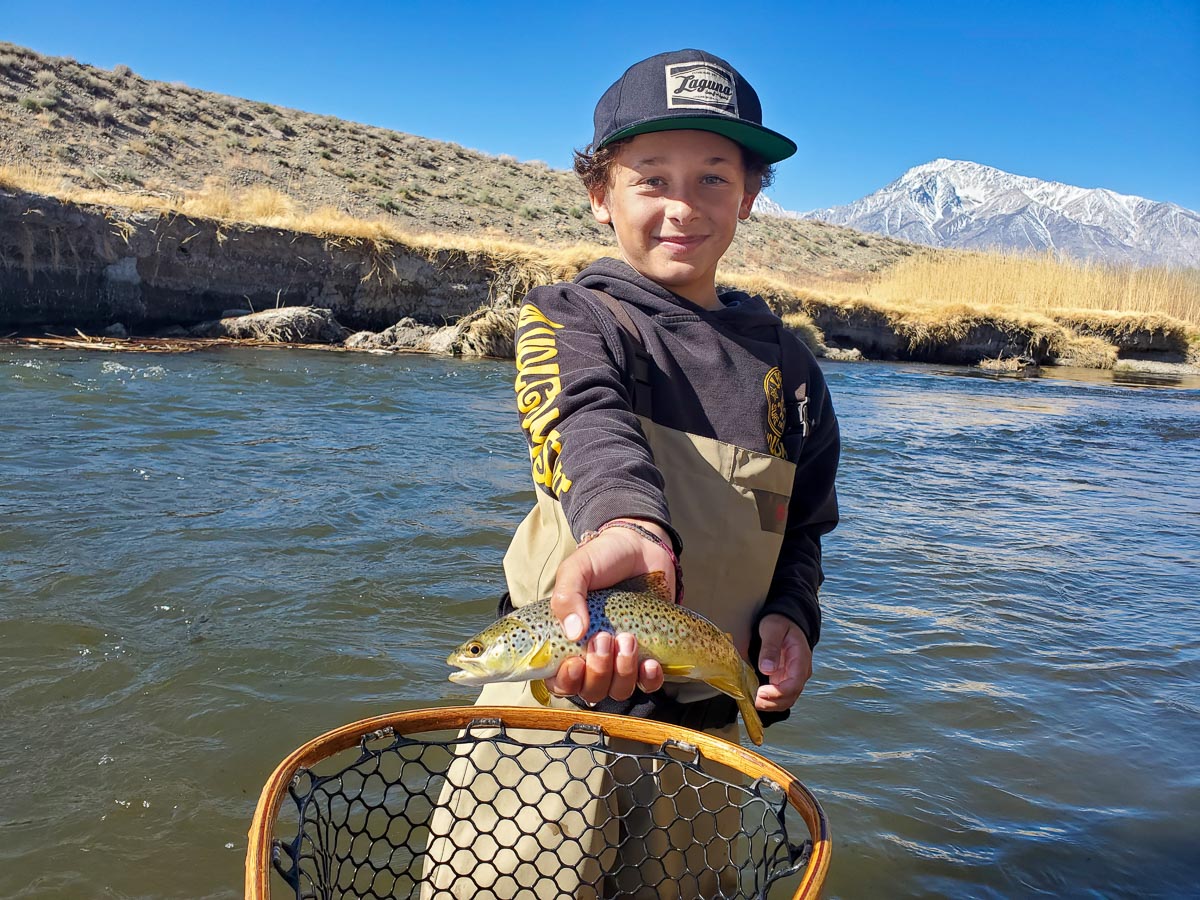 Seth guided young Reef on the Lower Owens River to this nice brown trout.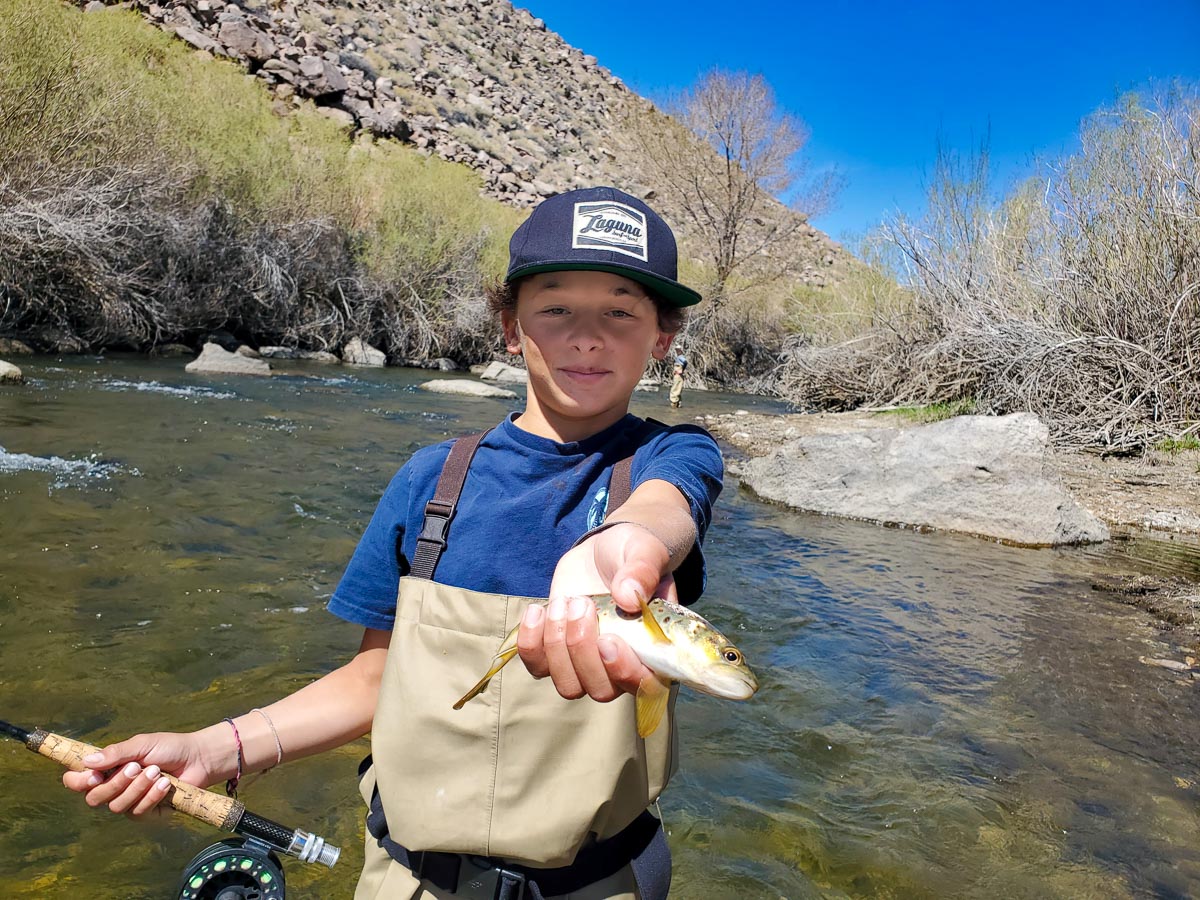 Reef with another nice brown trout on the Lower O with Seth.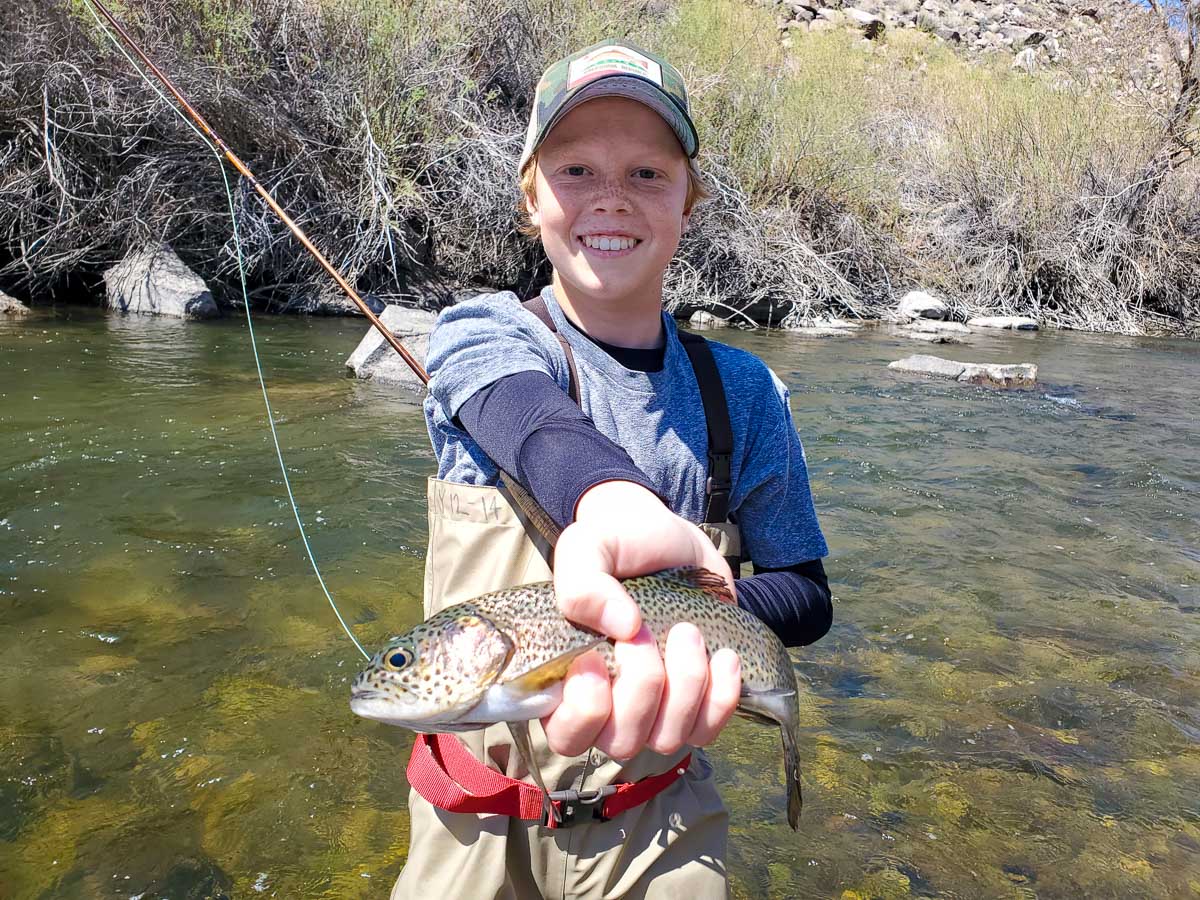 Grant also fished with Seth and got this nice rainbow trout on the Lower Owens River.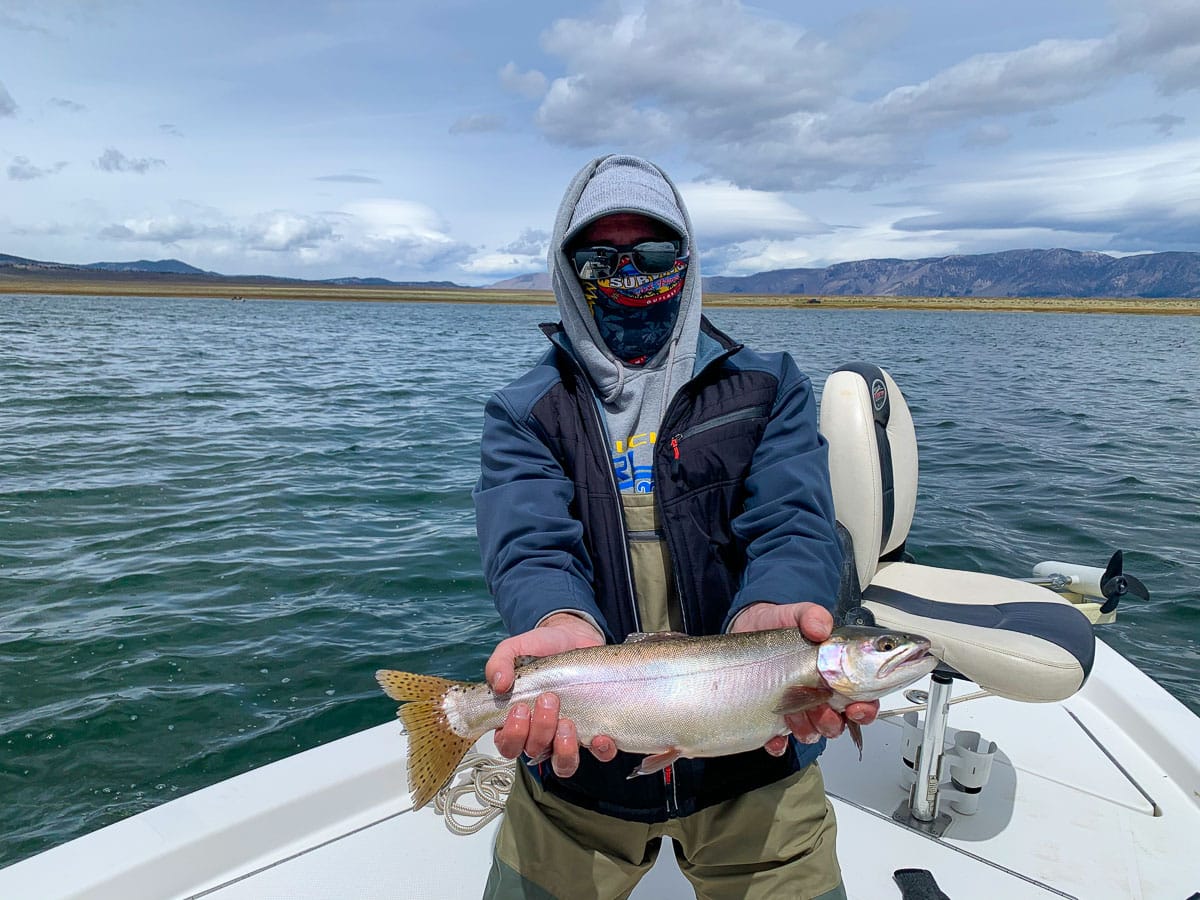 Jerry Gilpin guided Patrick to this nice cutthroat on Crowley Lake.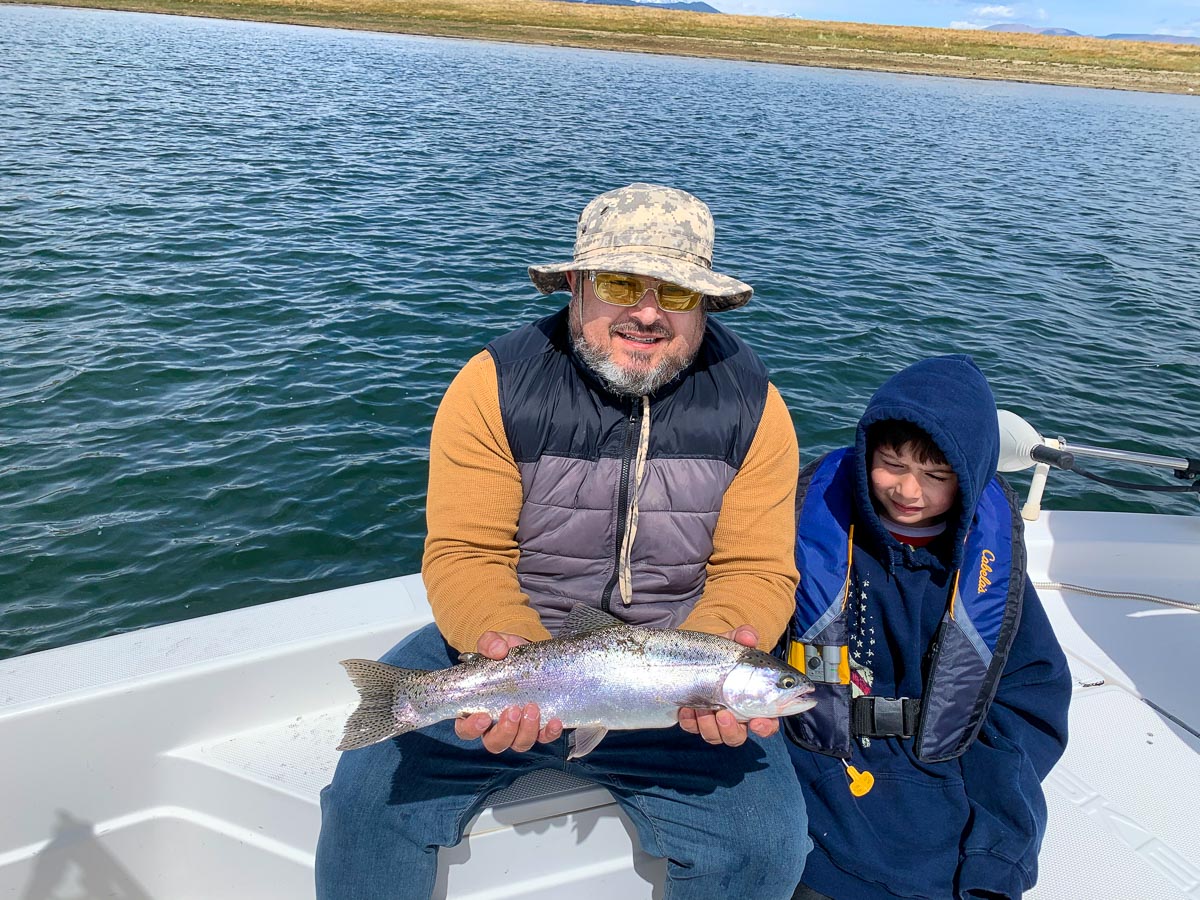 Jerry guided Alex and his son Gregory to some nice ones like this large rainbow trout on Crowley Lake.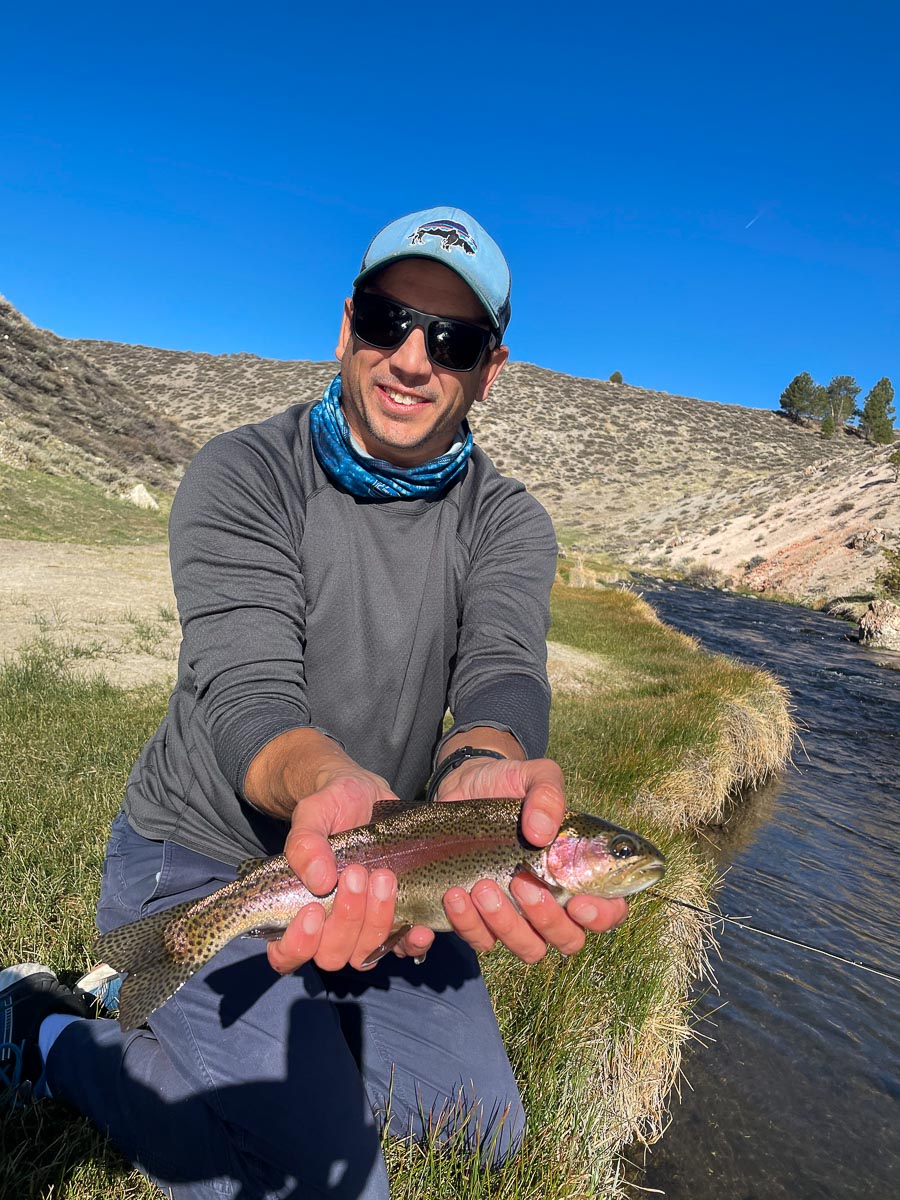 Devin Preston guided Erik to this nice rainbow trout from Hot Creek.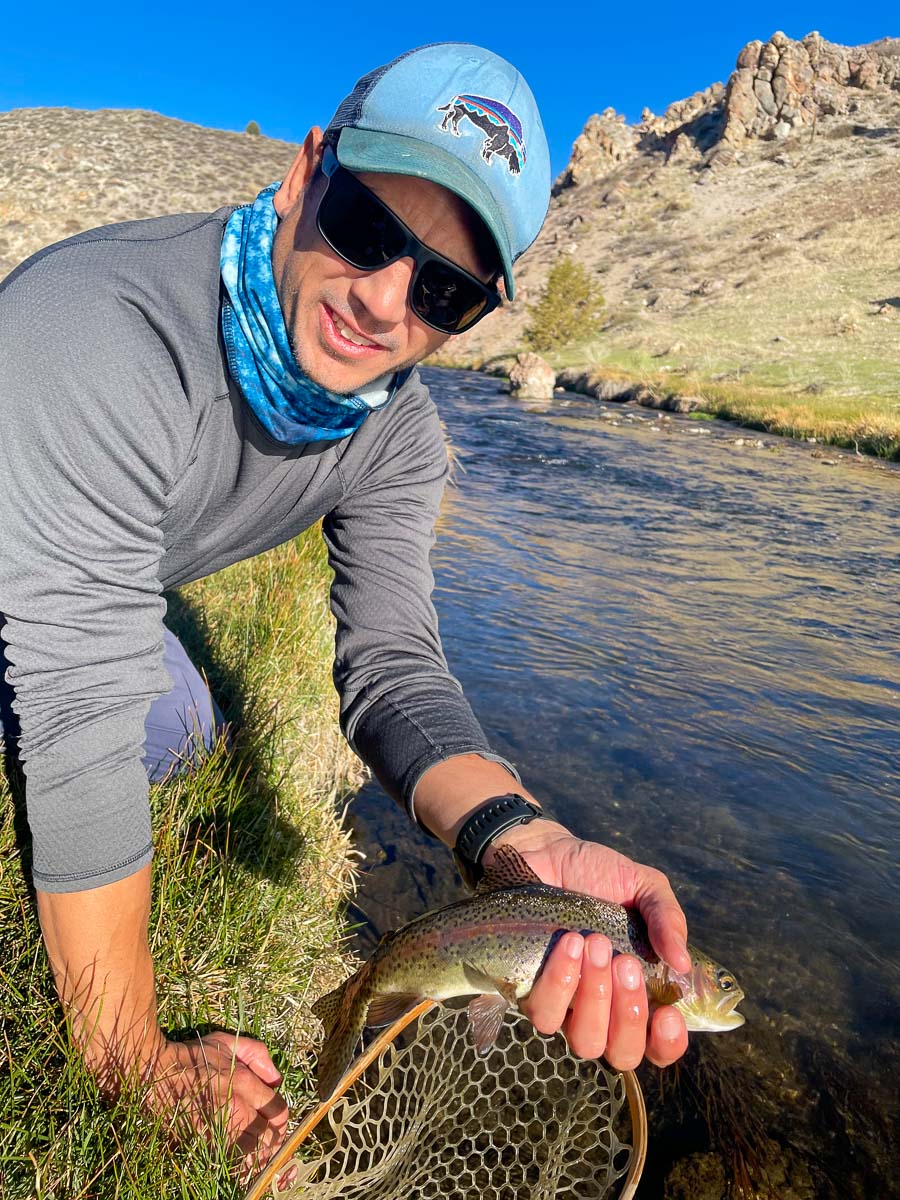 Patrick with another nice rainbow trout from Hot Creek.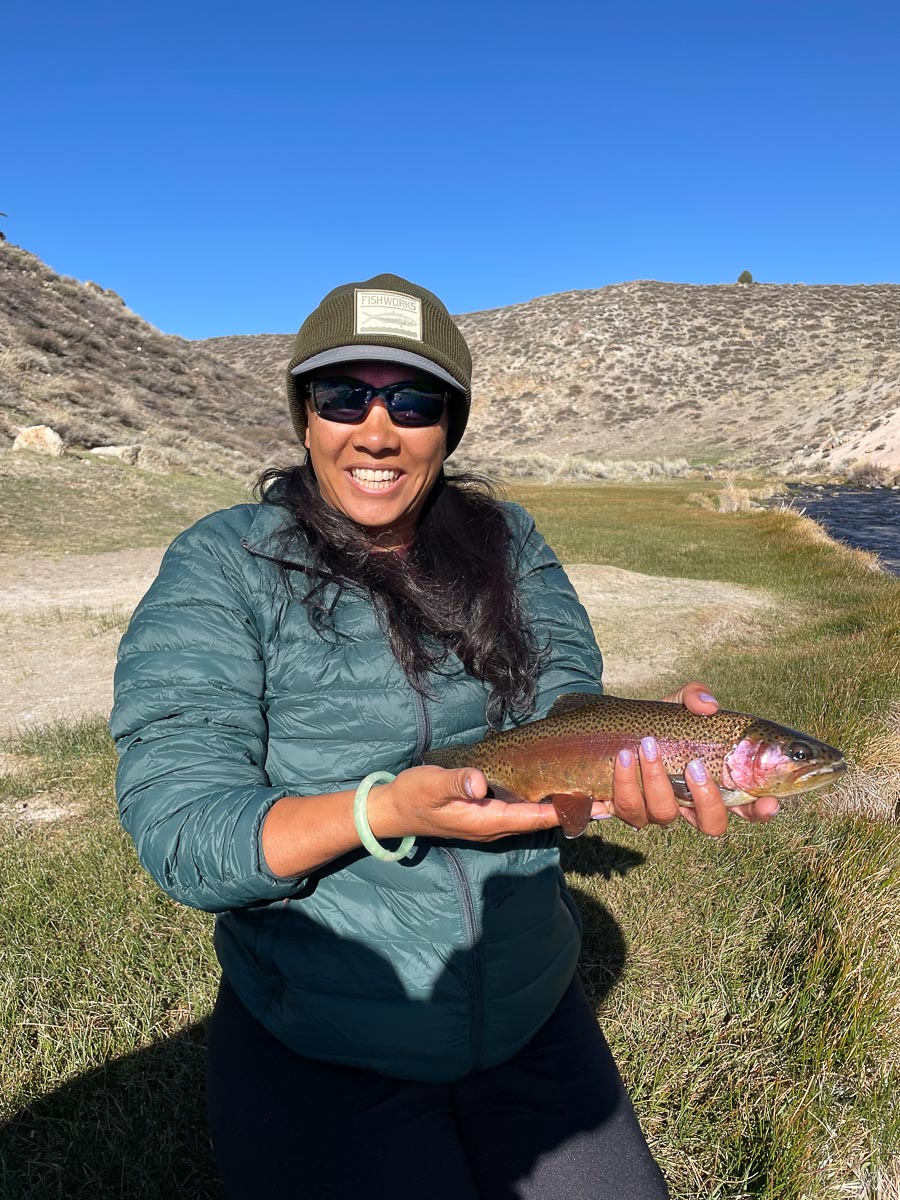 Sophia fished Hot Creek with Devin and had a fun day catching rainbow trout like this one.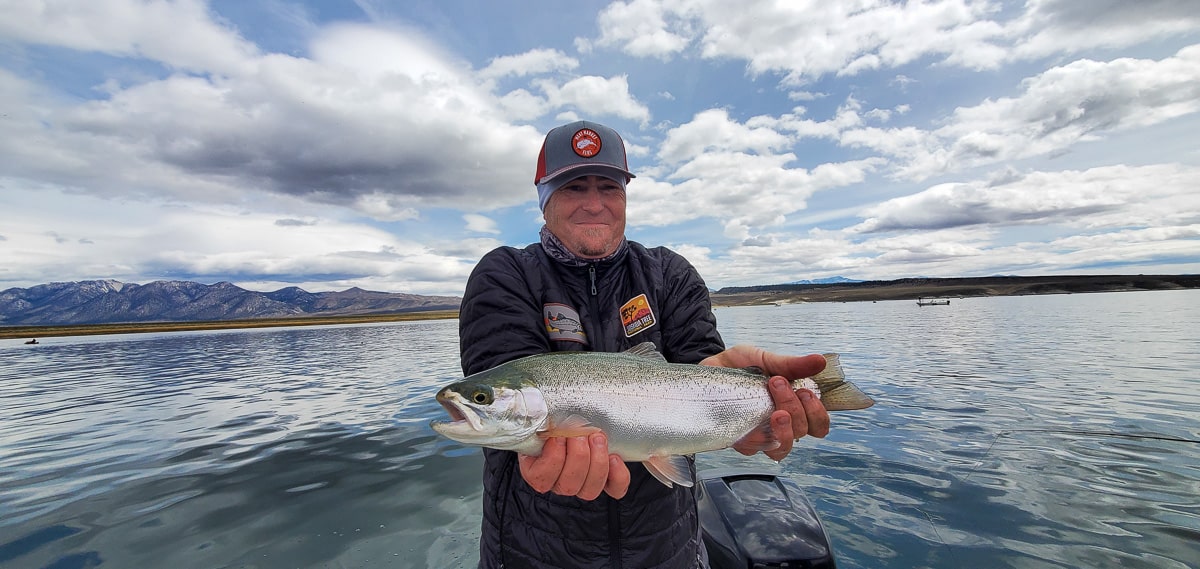 Check out Stuart's fat rainbow trout from Crowley Lake.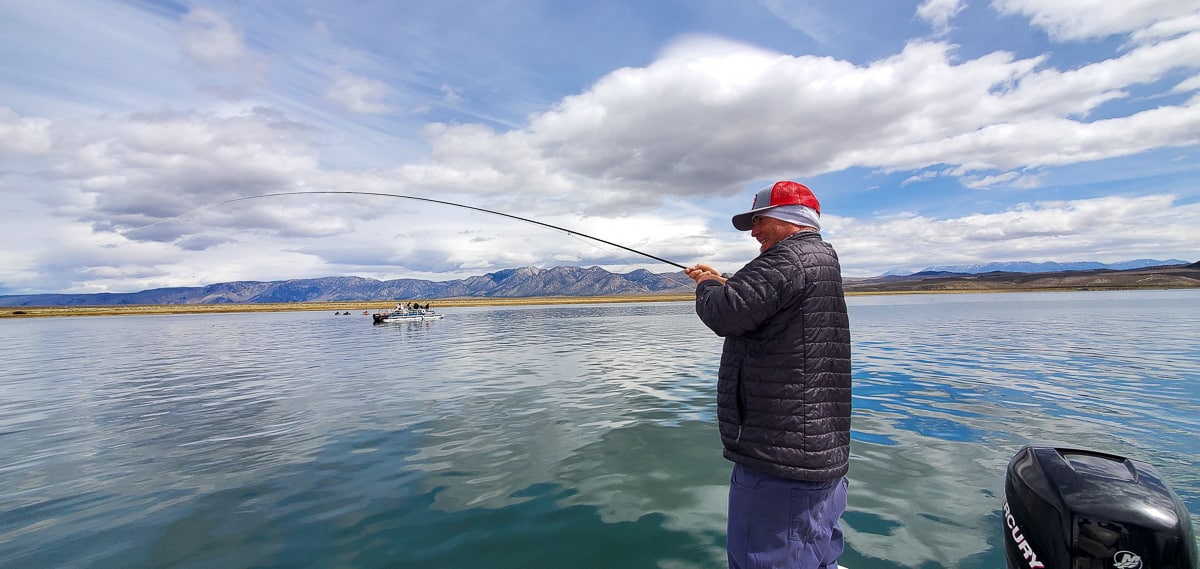 Stu in action hooked up on Crowley Lake.
Here are our flies which are working on the Upper, Lower Owens River, Crowley Lake, Hot Creek in addition to the above patterns listed in our report:
SD Chironomidge
#16,
Para Midge
#20, 22,
Puff O' Smoke
#16,
Broken Back Copper Tiger Midge
#18, 20;
Assassin Light
#18;
Assassin Dark
#18;
Crystal Hi-Vis Parachute Blue Wing Olive
#18;
Crystal Tiger Midge Long
#18, 20;
Crystal Midge Pupa Copper
#18, 20;
Gillie Chironomid Pupa Dark and Light
#18, 20, 22,
Otter Eggs
in all colors,
Bead Head San Juan Worm Red And Brown
#14, 16;
Parallel Assassin Light
#14-16,
Parallel Assassin Dark
#16;
Loeberg Mallard Silver Badger;
Spuce a Bu Dark and Light
Click HERE to purchase.
Click HERE to check out our apparel line up.