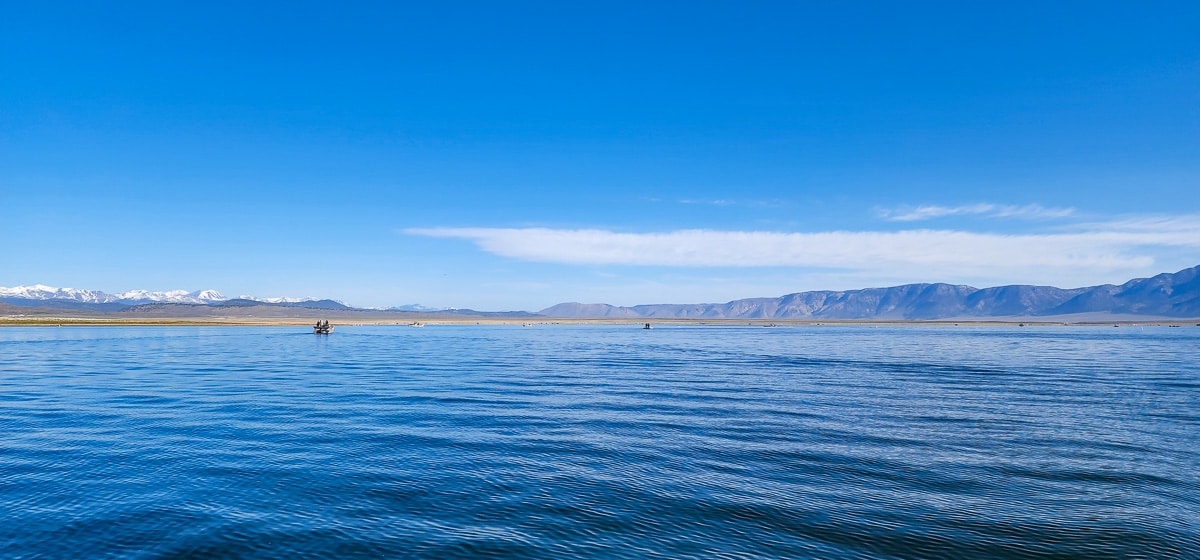 It was an opening day to remember as warm weather graced the eastern sierra which was in stark contrast to last year at this time where it was snowing, blowing, and cold. Sunday did bring some strong winds to the area, but fishing remained solid, at least on Crowley Lake, which continued to produce good fishing through the week. This past weekend seemed to return to very gusty winds and even some snow in the higher elevations. The following few days will see some unsettled weather with chances of snow and windy days, but will be giving way to much more seasonable conditions as high pressure sets in again by late week. The Upper Owens and other Crowley Lake tributaries are seeing some cutthroat trout in the area. Hot Creek water levels are low, and unstable weather conditions have made the hatches sporadic. The Lower Owens River has risen to 175 cfs, but some of the slower water areas are producing fish. The alpine lakes gave up some decent fish last weekend, but most reports have been thin due to windy conditions the past week.
Hot Creek's lower water levels and fickle weather conditions have had the fish feeding differently each day. Figuring out the puzzle can be a challenge in conditions like these, but micro midges always seem to get looks from the trout when it seems like nothing is really going on in the water. The canyon section is pretty thin for water levels, but conditions should pick up here with a little run off.
The Upper Owens River has a few cutthroat trout doing their thing this spring. It was a later run for the fish this year, but kind of typical as each year seems to be different. There are some fish in McGee Creek now, but fishing won't open here until Memorial weekend. Please refrain from fishing to pairs of fish in shallow water, as these fish have established their spawning redds and should be left alone. The larger pods of fish that are grouped together are the ones that are territorial and more aggressive as they fight for dominance and the right to spawn. Egg patterns, crystal leeches, san juan and squirmy worms, are working well.
Lower Owens River flows jumped to 175 cfs. Wading will be tougher now, but the same patterns are still working well when you find the right sections of water. Smaller nymphs like #18 – 20 Flashback Pheasant Tails, #20 Serendipity Black and Red, #18 – 20 Tungsten Zebra Midge, #20 – 22 Crystal Chironomid Emerger Copper, #20 Red Rib Midge Glass and Dark Head, #18 -20 Crystal Caddis Olive Dubbed Black and Crystal Caddis Olive Larva Black have been catching trout here.
TheEast Walker River is still at low flows at 40 cfs which is limiting the amount of fishable areas. Deeper pools are still the best bet and will hold the majority of fish in the river. Spend some time finding the right fly, and the rewards can be huge. It's different day to day so what works well one day, will not necessarily be the best fly on the next.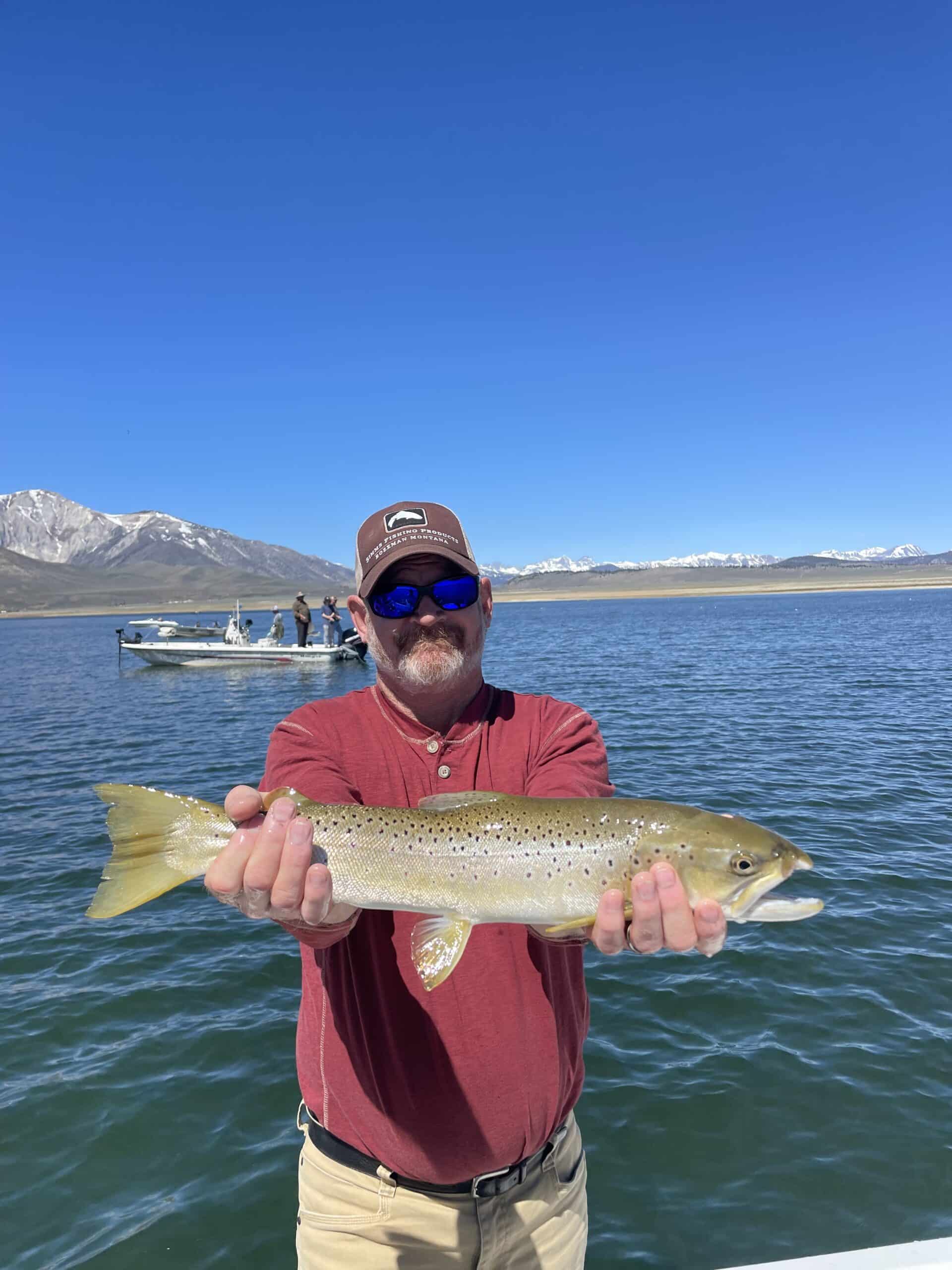 Cory fished with Devin and got some great fish like this hefty brown trout.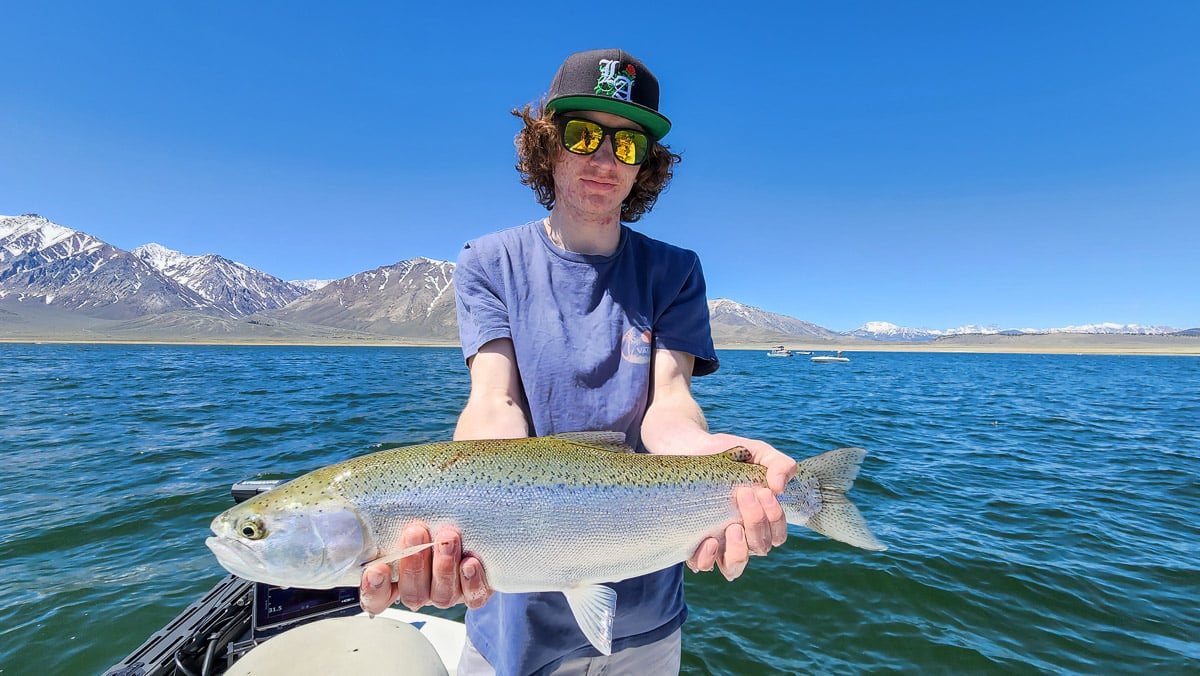 Tommy slammed some good rainbow trout out on Crowley Lake while fishing with Doug R.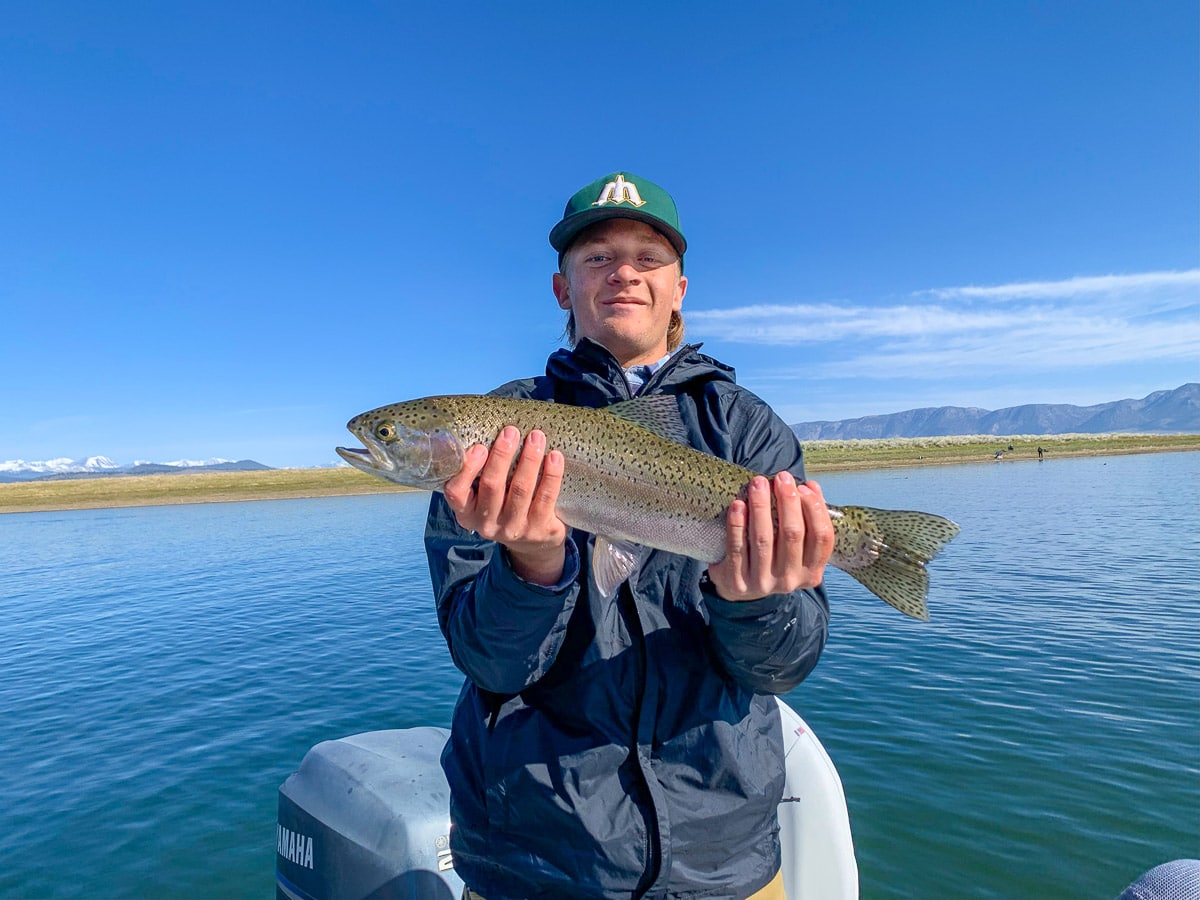 Kian got out with Jerry for some awesome trout like this rainbow.
Josh guided David to some real nice fish like this rainbow trout from Crowley Lake.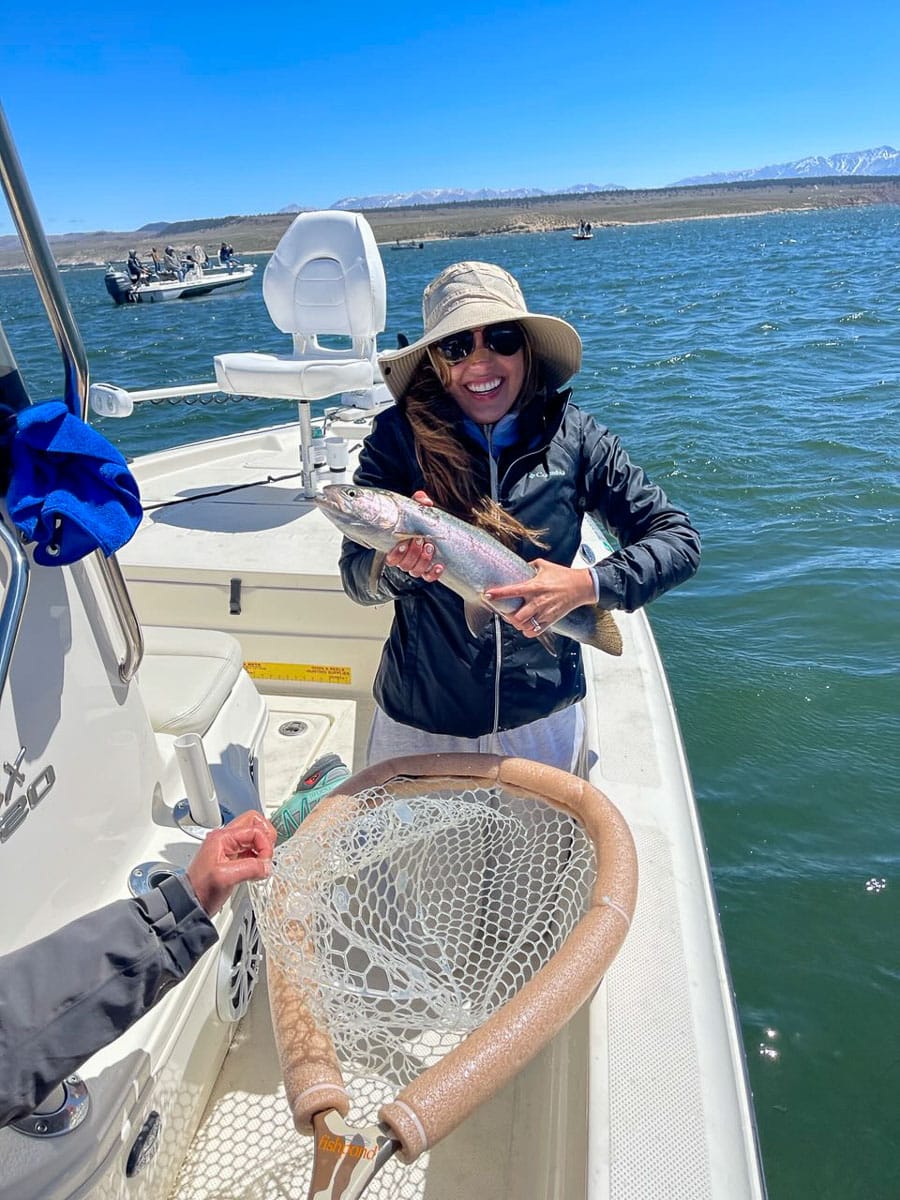 Brittany fished with Josh and scored this fat rainbow trout.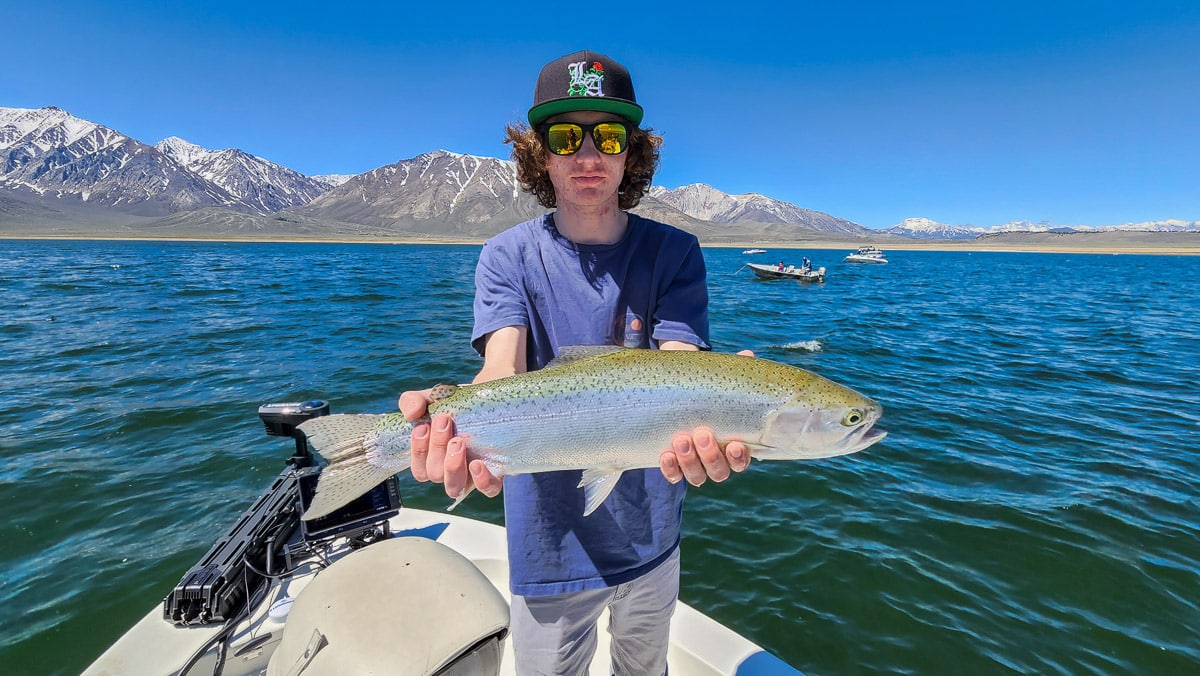 Tommy with another nice rainbow trout.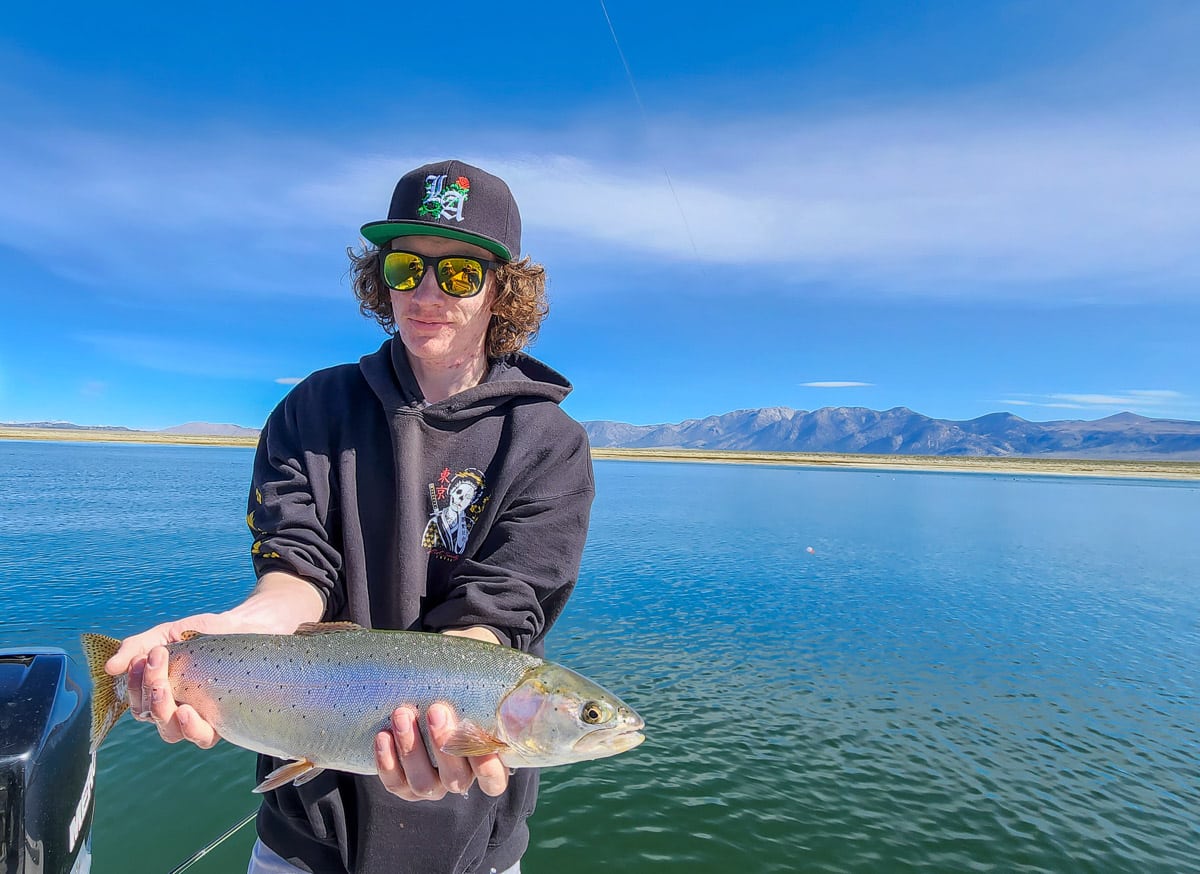 Tommy with another nice cutthroat trout.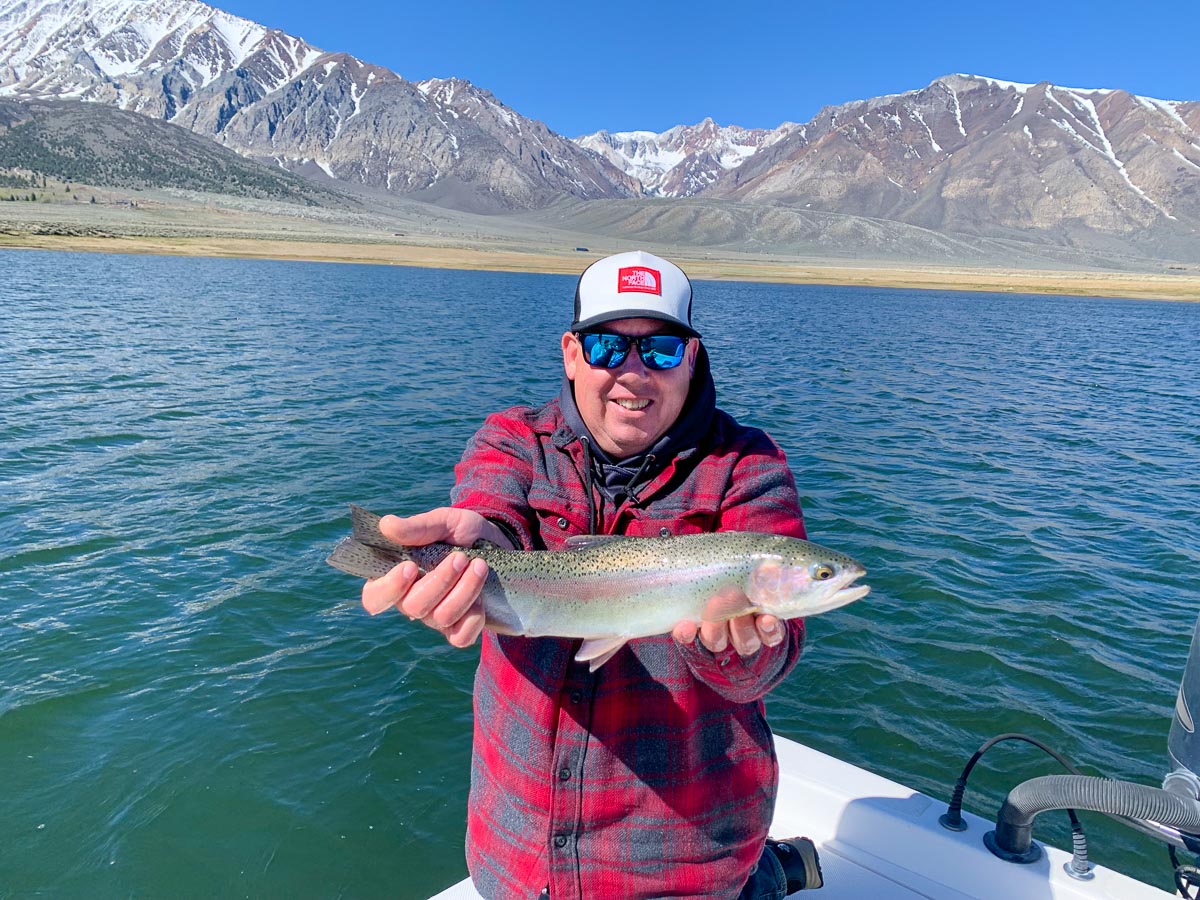 Robert fished with Jerry for this nice rainbow trout.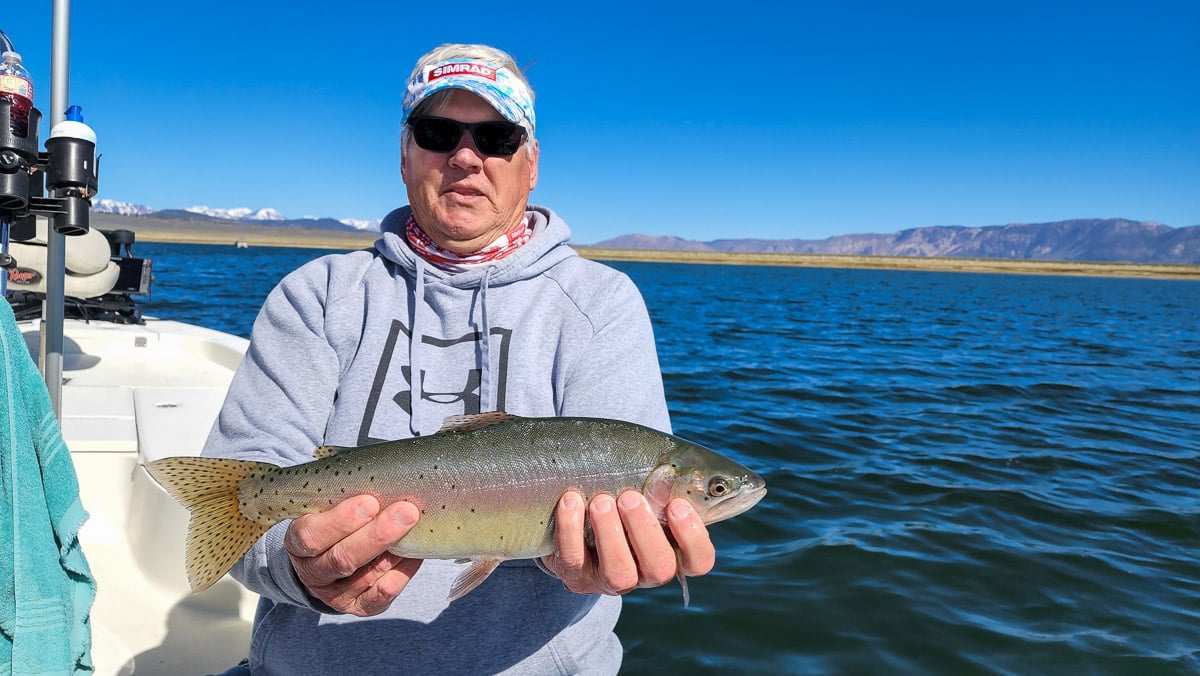 Sam got out with Doug R. for this fat cutthroat trout.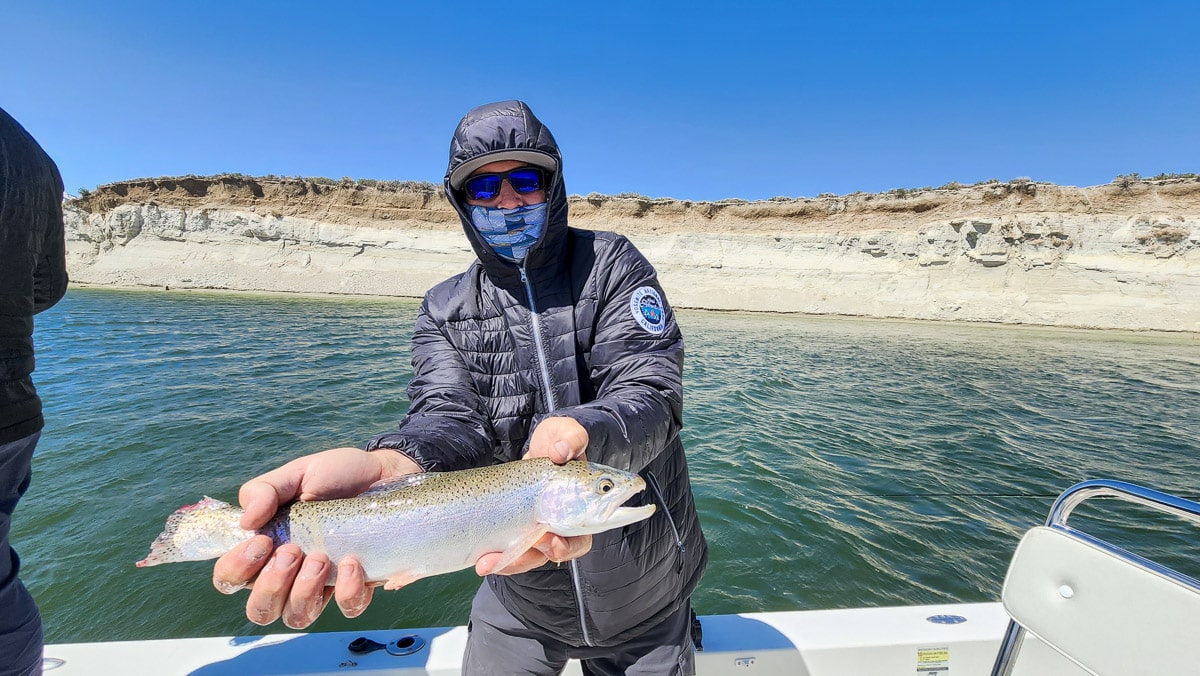 Brian pinned some good ones while fishing with Doug R. like this nice rainbow trout.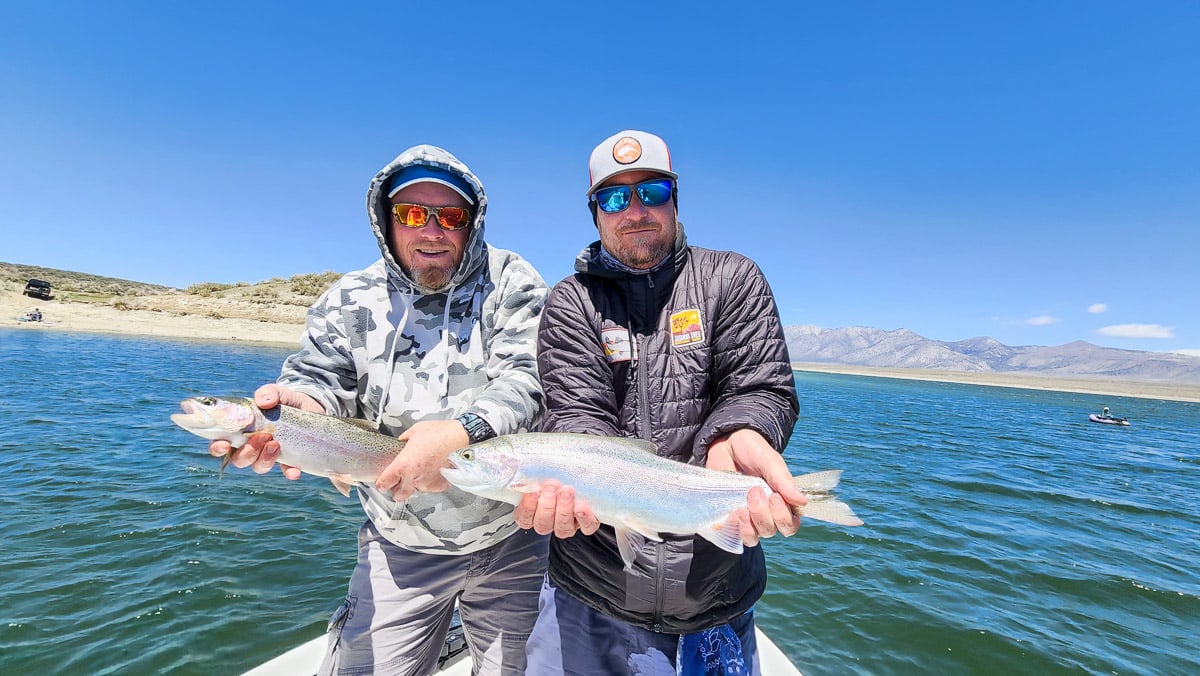 Stu and Dan nailed a nice double with Doug R.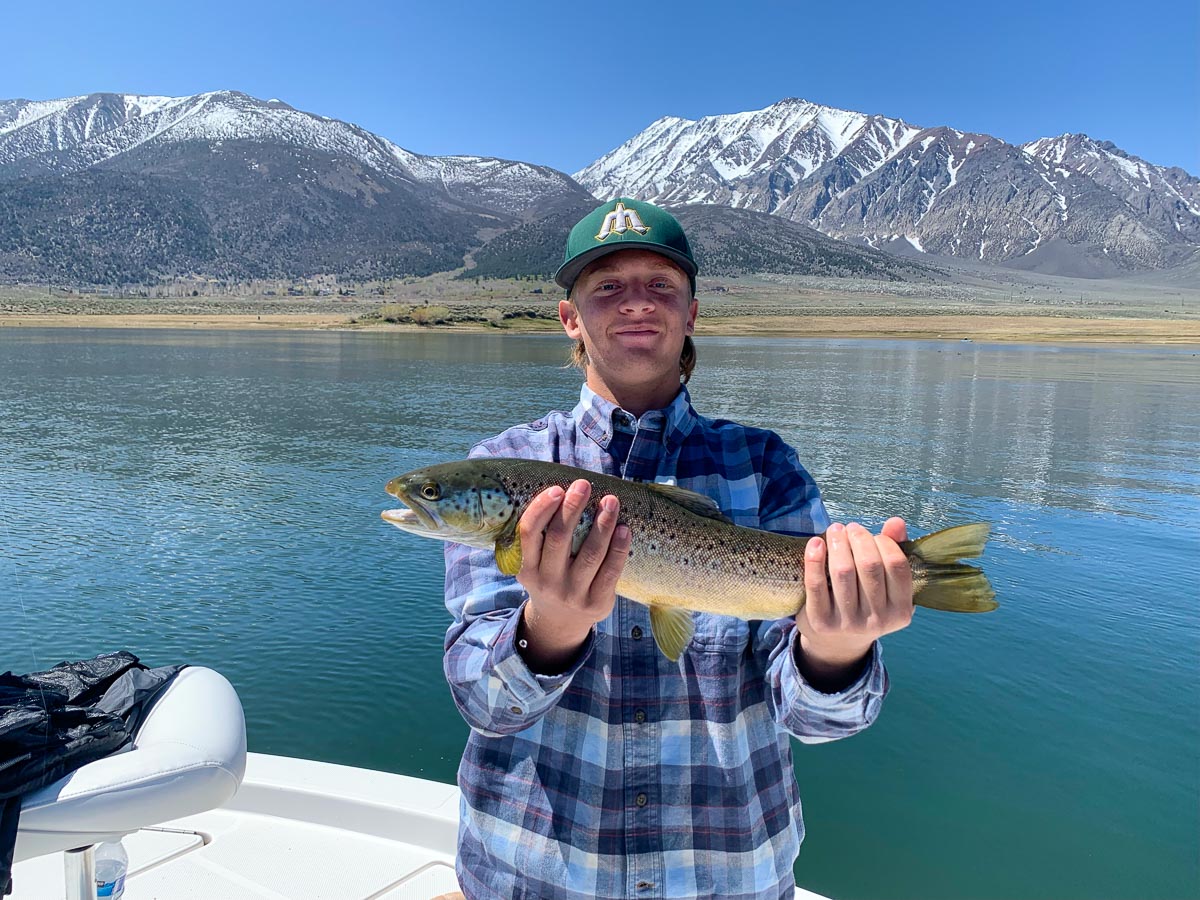 Kian with a nice brown trout while guided by Jerry.
Here are our flies which are working on the Upper Owens, Lower Owens River and Hot Creek in addition to the above patterns listed in our report:
SD Chironomidge
#16,
Para Midge
#20, 22,
Puff O' Smoke
#16,
Broken Back Copper Tiger Midge
#18, 20;
Assassin Light
#18;
Assassin Dark
#18;
Crystal Hi-Vis Parachute Blue Wing Olive
#18;
Crystal Tiger Midge Long
#18, 20;
Crystal Midge Pupa Copper
#18, 20;
Gillie Chironomid Pupa Dark and Light
#18, 20, 22,
Otter Eggs
in all colors,
Bead Head San Juan Worm Red And Brown
#14, 16;
Squirmy Worm Tungsten purple, pink, and red; Parallel Assassin Light #14-16, Parallel Assassin Dark #16; Loeberg Mallard Silver Badger; Spruce a Bu Dark and Light
Click HERE to purchase.
Click HERE to check out our great summer Sierra Drifters T-shirts and Hats.