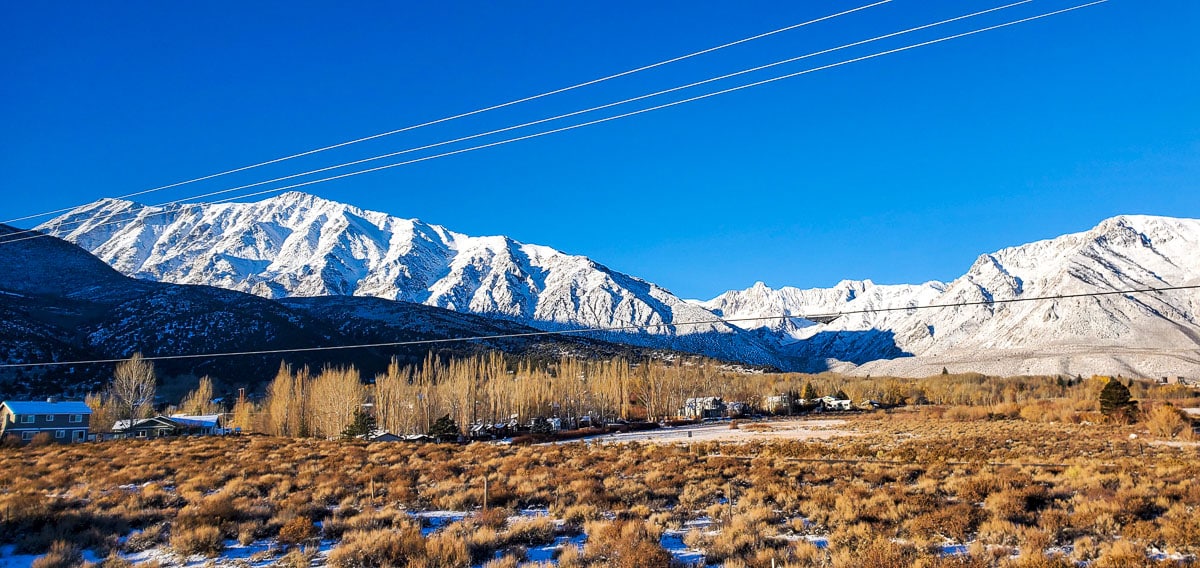 Fall fishing is in full swing and we have been experiencing some great fishing for the month of November. Weather has been exceptionally mild for most days with warm sunny days and good insect hatches. There is some winter weather in the forecast for tomorrow and Wednesday with a decent amount of rain and some snowfall. This storm will not bring any significant lower elevation snow to the Upper Owens River, so drive in access will still be good. The general trout season has now officially ended, and our year around waters are now being fished with great success.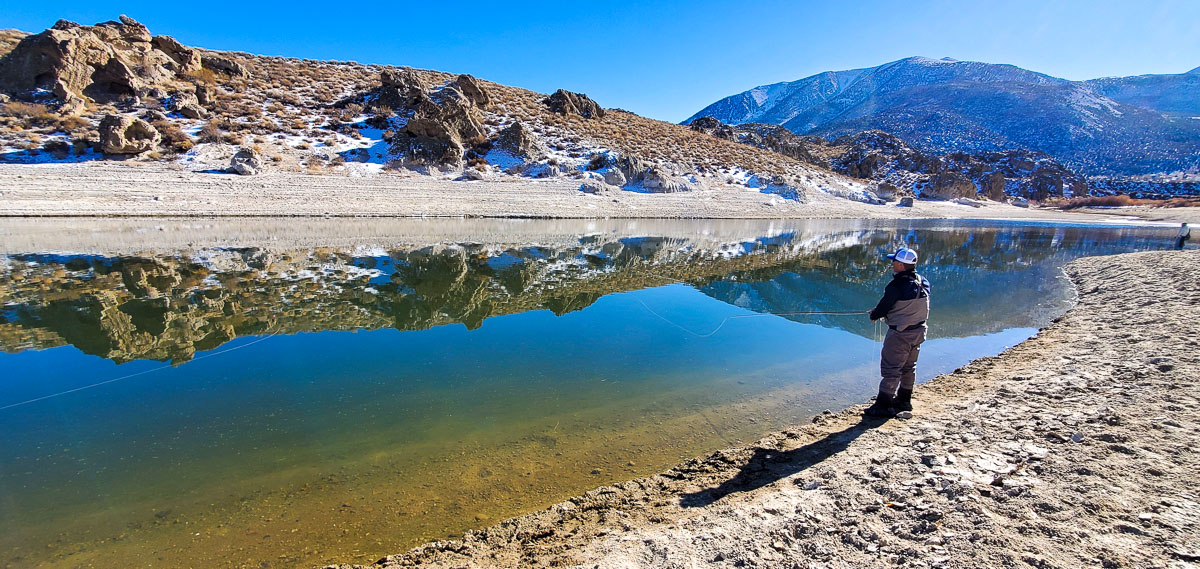 Crowley Lake in the fall.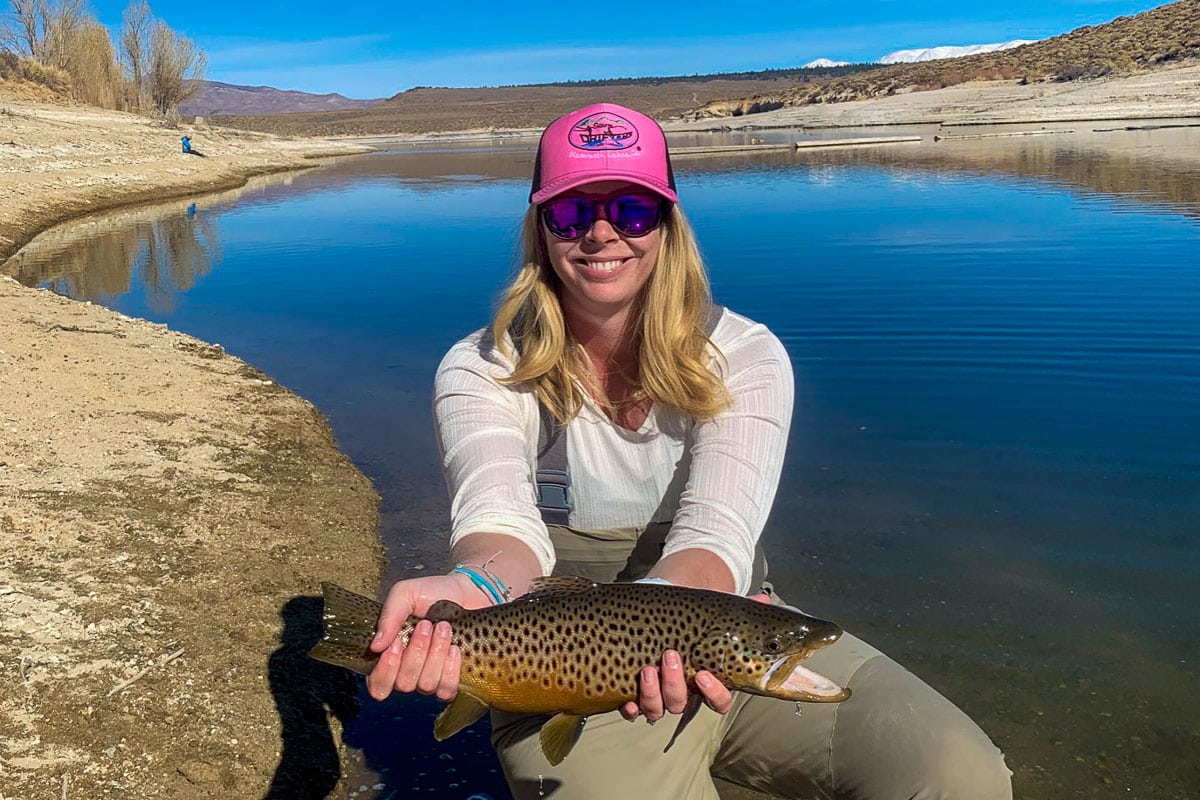 Christy with a nice brown trout.
The Upper Owens River has been fishing well with migratory browns and rainbows in the river from Crowley Lake. We finished strong on Crowley Lake this season, and even got some shots in at the late season browns in the Whiskey Bay area from shore.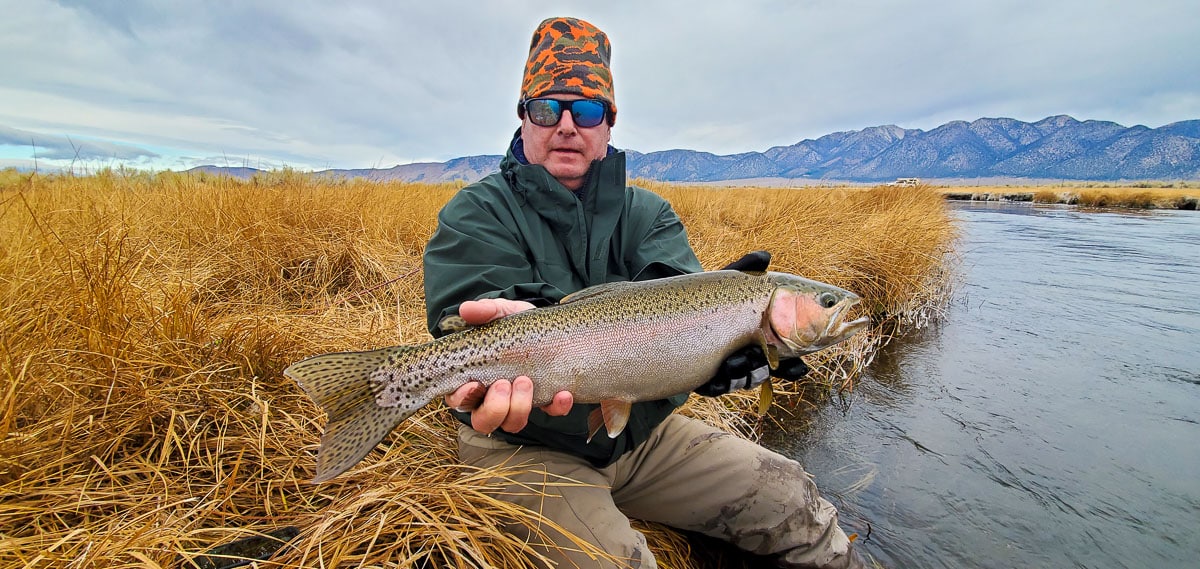 Matt fished with Doug Dolan and scored this big rainbow trout.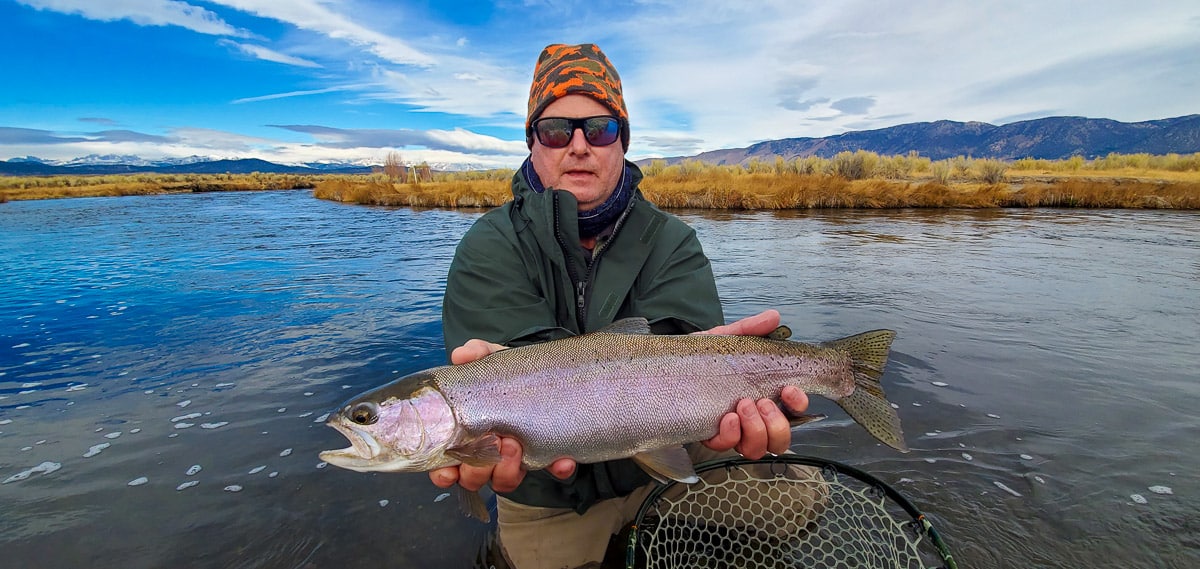 Matt with another fine rainbow trout.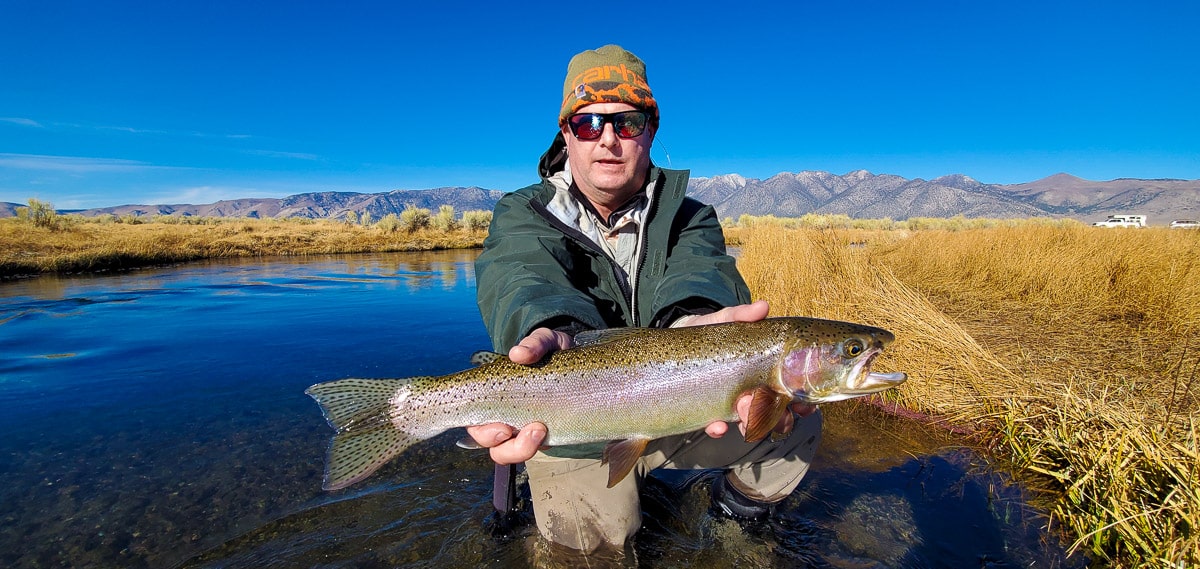 And another giant rainbow trout for Matt.
Otis fished with Doug Dolan and landed this monster rainbow trout.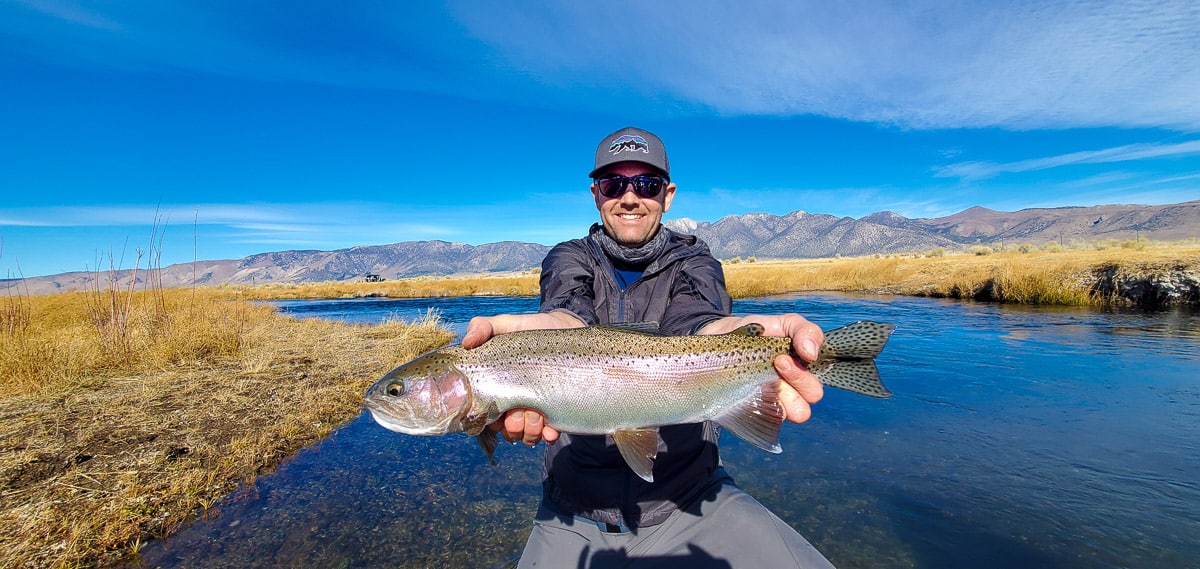 Kevin holds a massive rainbow trout while fishing with Doug Dolan.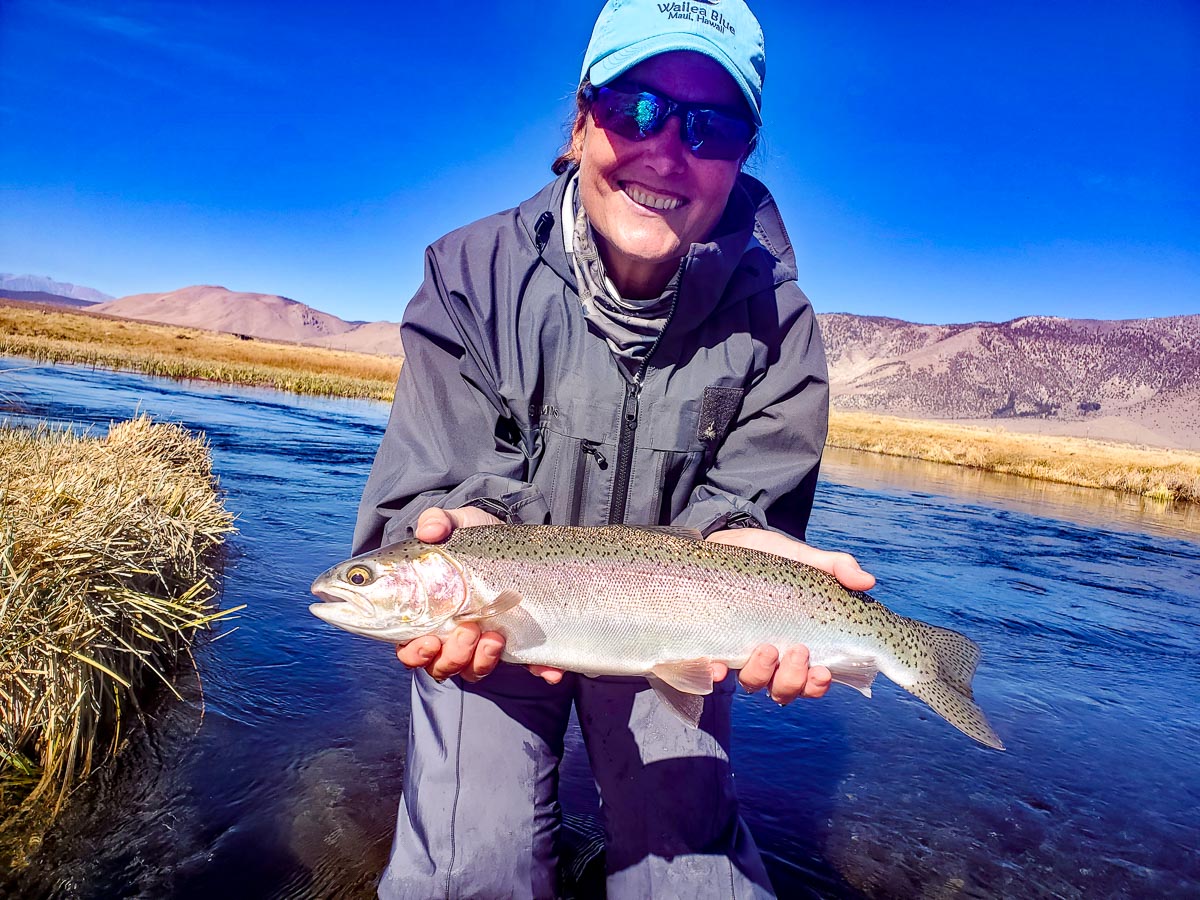 Michelle holds a beautiful rainbow trout. Seth Cline was her guide.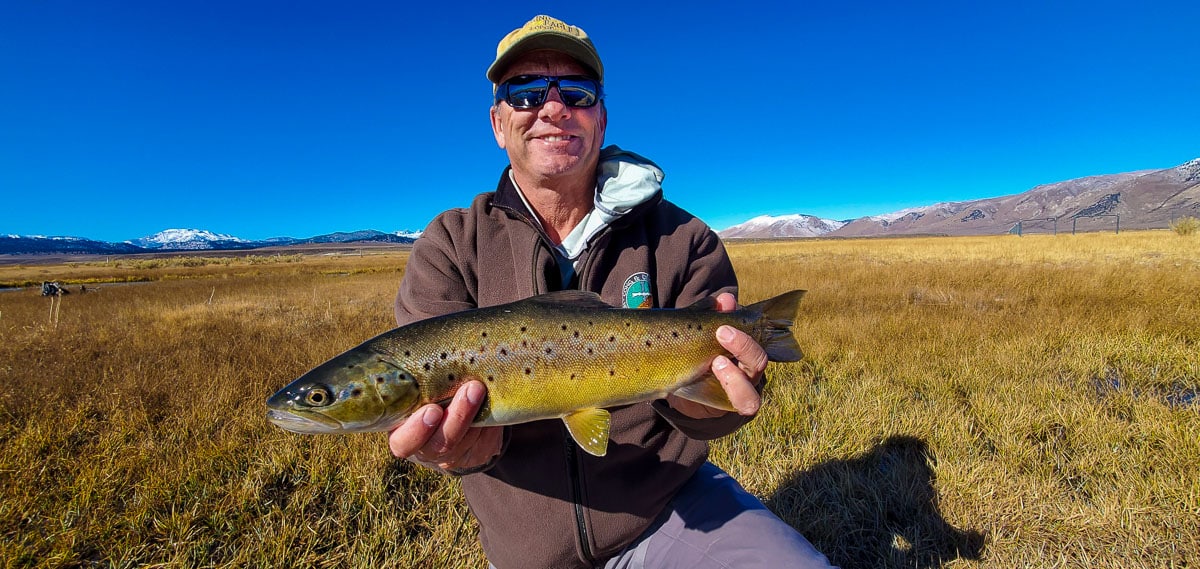 Jeff with a nice brown trout.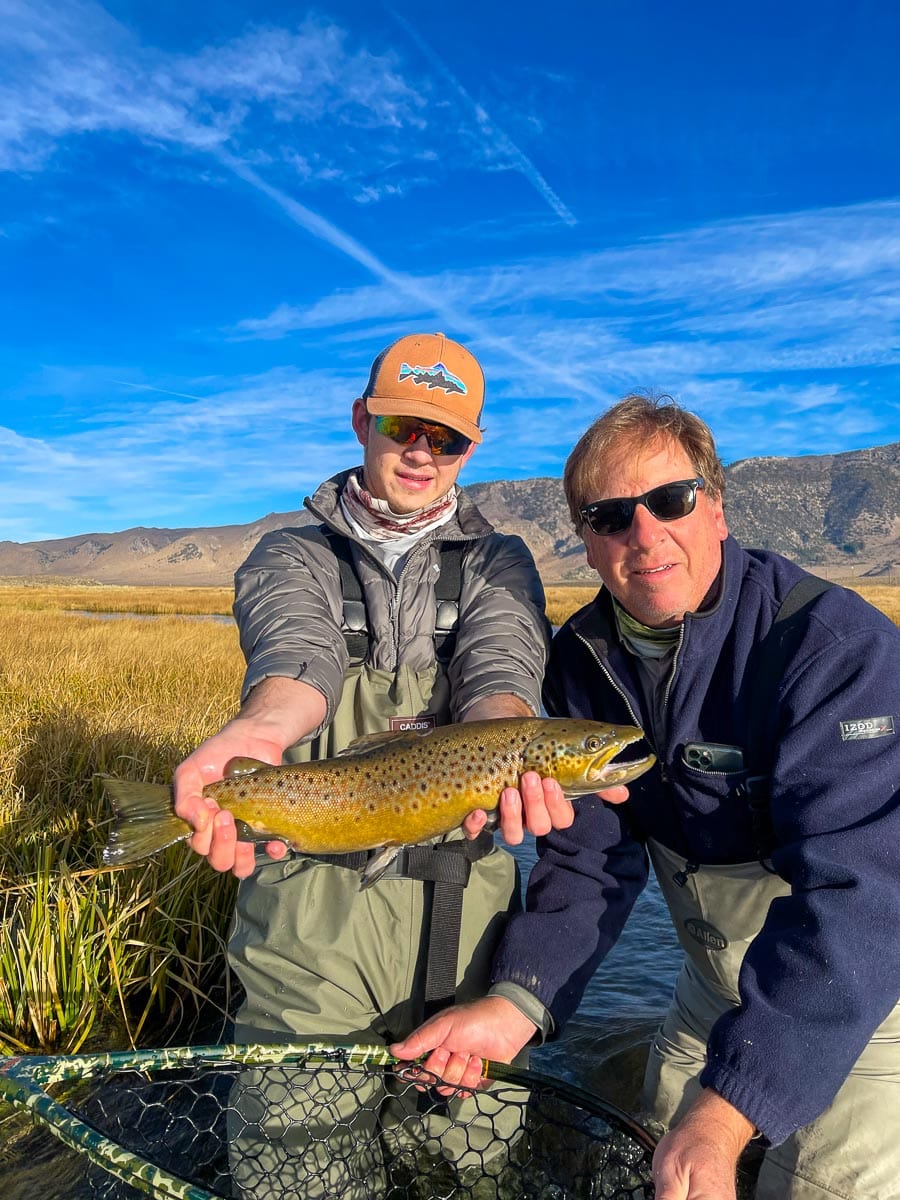 Drew was guided by Hans for this nice brown trout with his dad John assisting.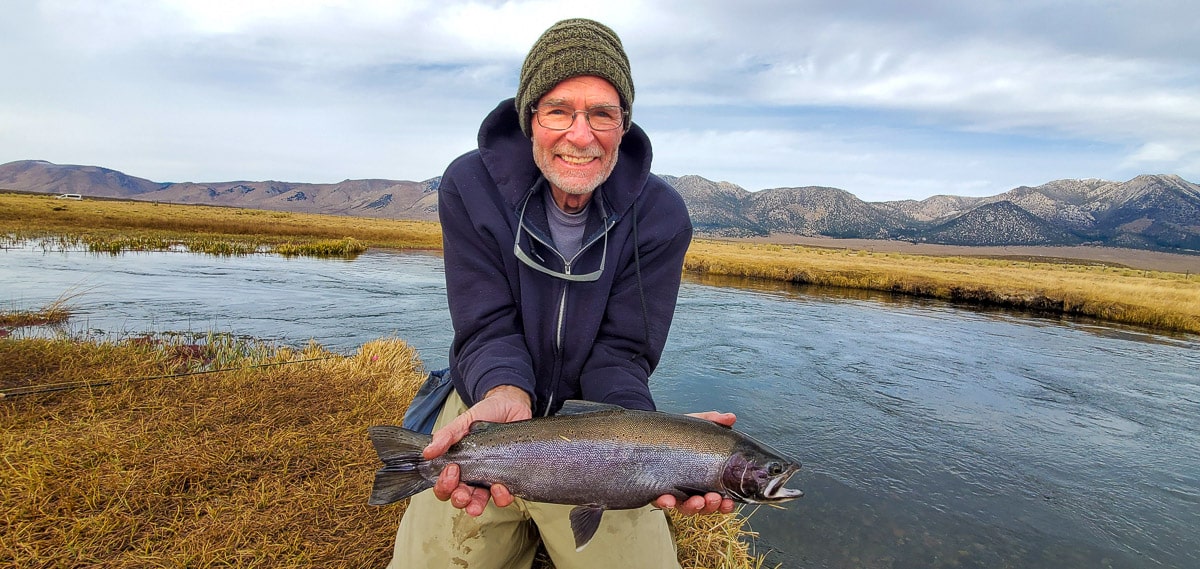 Marv with a nice rainbow trout.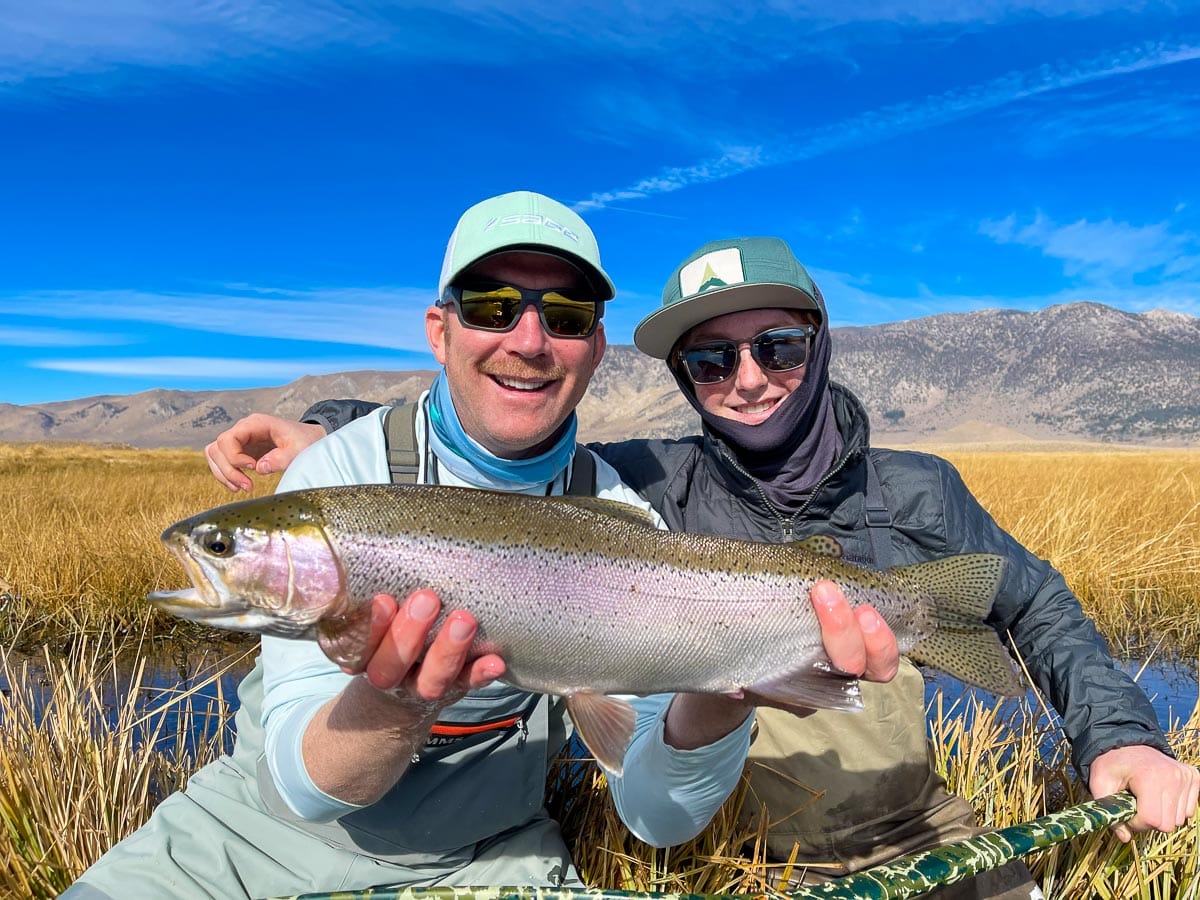 Kelly fished with Hans and got this nice rainbow trout.
Dane got a monster rainbow trout while fishing with Hans too.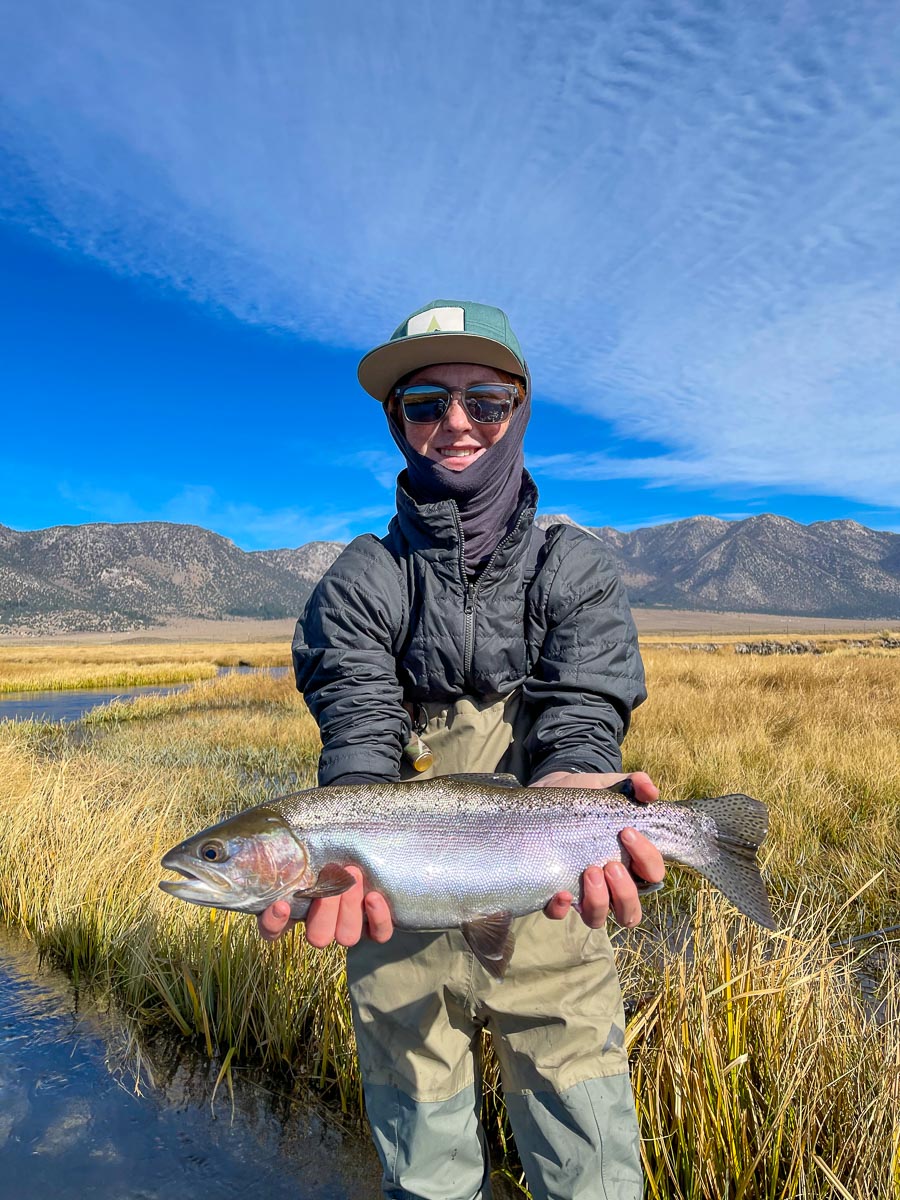 Dane with another nice rainbow trout.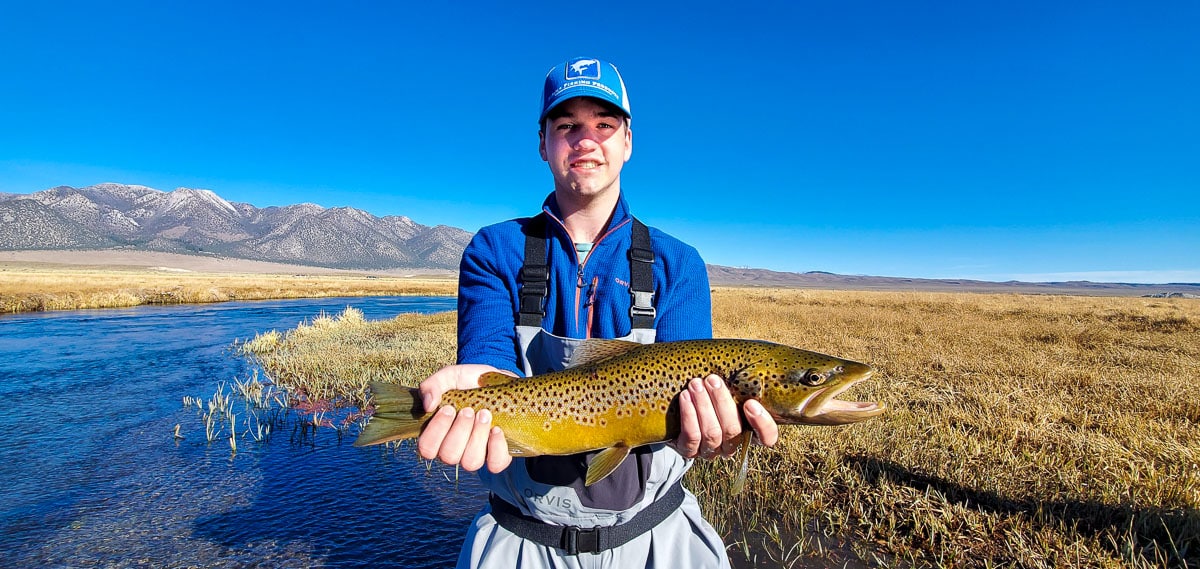 Jake displays a fat brown trout in fall colors.
The fish in the river are moving around daily and looking and moving for these fish is a good strategy for getting hooked up. Egg patterns, Pheasant Tails, Leeches, San Juan Worms, Drifters Crawlers, and midges are accounting for most of our trophy catches. Looks like the remainder of the month and going into December this year will provide for some excellent fishing here.
The drift boat fishing on the Lower Owens River has also been coming to life. We have seen some great Blue Wing Olive hatches with rising trout in the afternoons.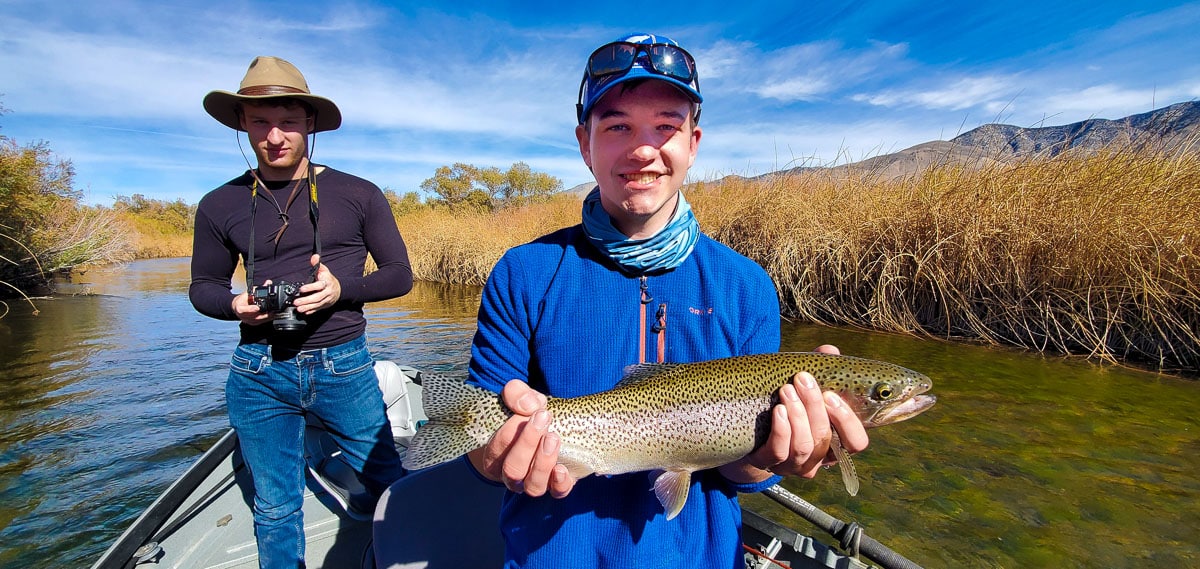 Jake displays a beautiful rainbow trout.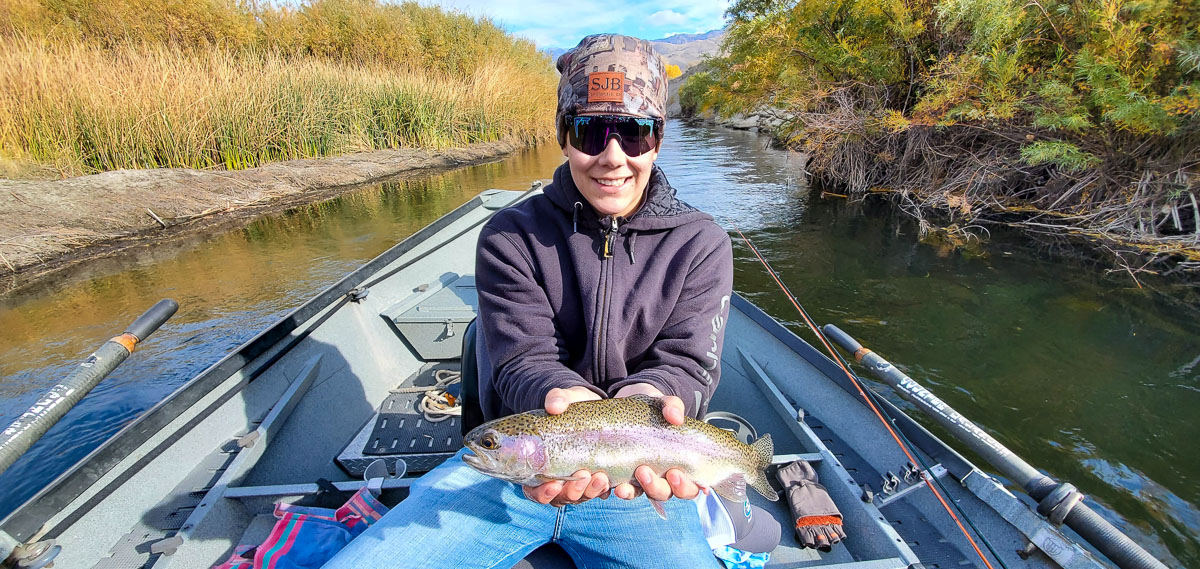 Jake displays a beautiful rainbow trout.
The streamer fishing has been decent with a few better size fish in the mix. The flows are at 85 cfs on the river and the
Wild Trout Section
has also been fishing well with small nymphs and dry/dropper combos.
Hot Creek has also been producing well throughout the day in both the canyon section and the Interpretive Site. Most of the fish are pooled up in the deeper holes, but you will find a handful of trout sitting in the shallower riffle sections.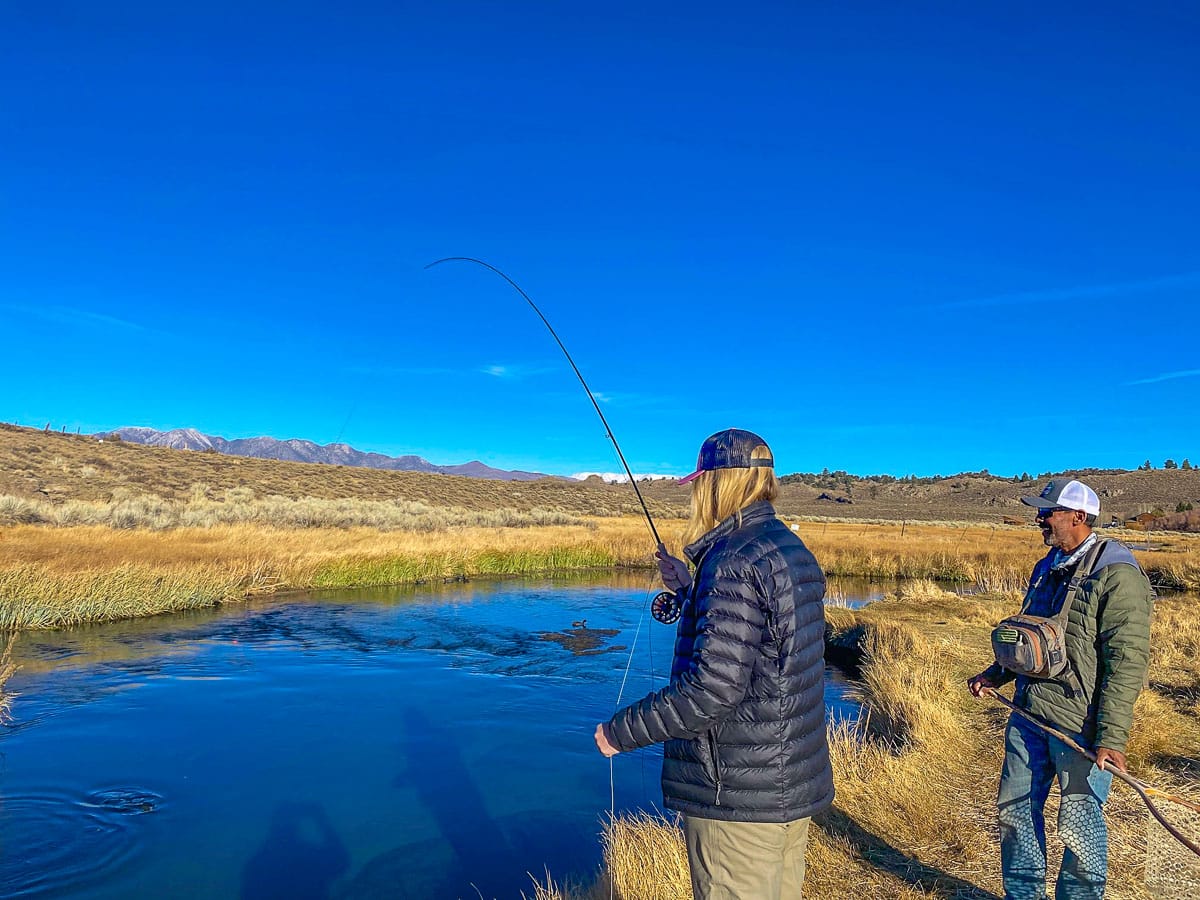 Christy hooked up to a rainbow trout.
These fish have been feeding on tiny midges for most of the day, and start to notice the BWO's around mid-day. If you get here during the right window for casting dry flies, you can have an hour or two of some "every cast" takes.
The East Walker River continues to remain at its winter flows of 20 cfs, so it is very low for fishing. This really limits the amount of area for fishing on the river during the winter months. Most of the fish will be holding up in the deepest stretches of water as we get closer to winter and the water starts to get cold. Egg patterns are great this time of year as the fish get ready for spawning. You can still get at some really nice fish this time of year.
Flies working on the Upper, Lower Owens River and Hot Creek:
SD Chironomidge
#16,
Para Midge
#20, 22,
Puff O' Smoke
#16,
Broken Back Copper Tiger Midge
#18, 20;
Assassin Light
#18;
Assassin Dark
#18;
Crystal Hi-Vis Parachute Blue Wing Olive
#18;
Crystal Tiger Midge Long
#18, 20;
Crystal Midge Pupa Copper
#18, 20;
Gillie Chironomid Pupa Dark and Light
#18, 20, 22,
Otter Eggs
(Flamingo, Tangerine Opaque, Dead Egg, Kiwi Silver Flash, Tangerine Silver Flash),
Bead Head San Juan Worm Red And Brown
#14, 16;
Parallel Assassin Light
#16,
Parallel Assassin Dark
#16;
Loeberg Mallard Silver Badger;
Spuce a Bu Dark and Light
Click HERE to purchase.
We just got in our new selection of trucker hats and t-shirts in various colors.
Check them out HERE