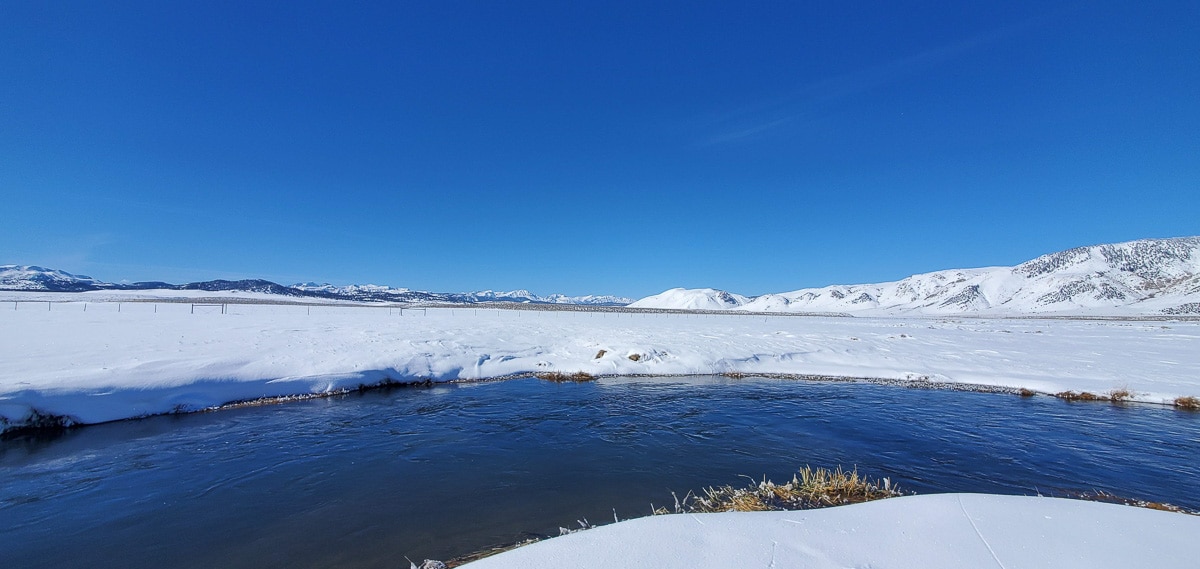 Wow! What a storm to finally hit the eastern sierra. Better late than never I guess. We will need a few more of these to bring our snow level up to normal though. The weather pattern is going to return to dry again, and hopefully we will get some more snow down the line. Meanwhile, we have been getting some nice weather for fishing during the day with average winter temperatures mixed in with some fairly cold nights.
Fishing has been good in the usual spots with bug hatches starting to become larger as the winter progresses. The Upper Owens got a couple of feet of snow along with plenty of wind from the recent storm which created some good snow drifts. Some vehicles have attempted to drive in, but it is very iffy guessing what lies underneath the snow and getting stuck is not hard to do. Our snowmobiles have been running the river with clients and accessing the river as usual. Please be careful this time of year as you head up to the area. The latest storm has unfortunately taken a couple of lives and we need to remember the mountains are an amazing place to recreate, but we must always be aware of the danger that is present. Avalanches, slick roads, and sub-freezing temperatures can turn a fun day into a nightmare quickly!
The snow mobiles are ready to go and get you to the fish.
The Lower Owens River in Bishop is remaining steady with chunky rainbow and brown trout showing up and flows that have stabilized around 86 cfs. The fish have now moved into deeper water with the water temperatures holding colder with the recent storms. The mayflies BWO's have been coming off well in the late mornings and early afternoons. Smaller streamer patterns like our #16 Punk Perch Dark and Light have been great flies prior to and during this hatch. Around those times in the mornings and evenings an assortment of Loebergs, #14 Agent Orange, and Spruce-a-Bu Dark and Light have been doing the trick.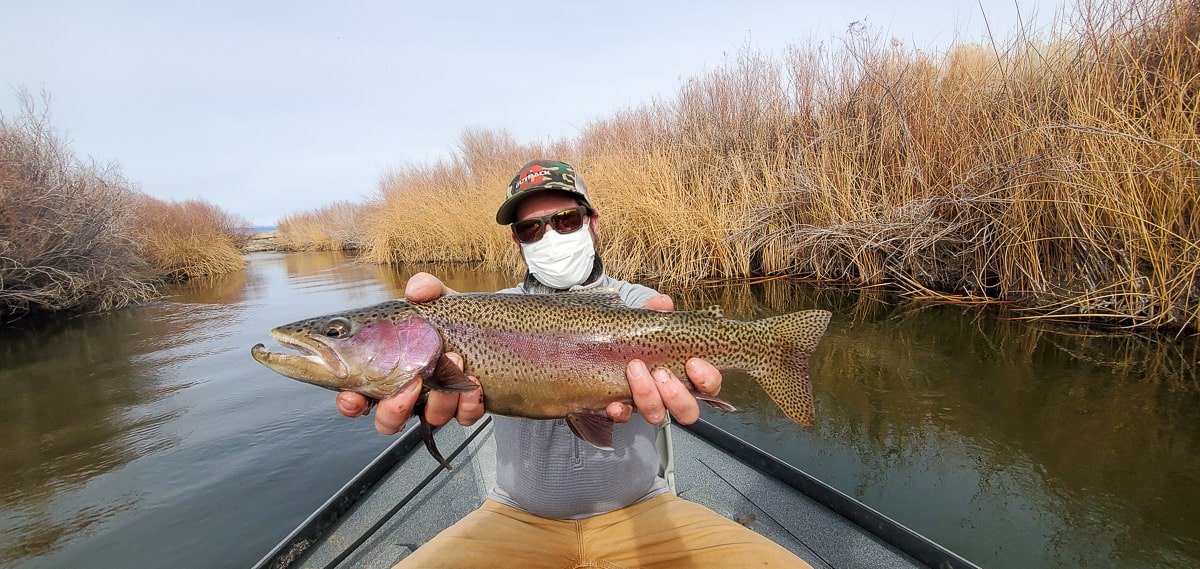 Ryan fished with Two Bug Doug and had a great day on the drift boat. He got this standout rainbow trout.
The Upper Owens River has a fresh layer of snow on it now. I wouldn't recommend driving in with your vehicle, as the snow can be deceiving. What may look like a couple of inches of snow for a long way may quickly become deep and hard to spot ruts and traps for your tires. If we don't get any more snow down here, the current snow on the ground will be disappearing fast. When that takes place, this place will turn into a mud trap for vehicles, and yes even us guides have been stuck in this stuff in the past. The fish are in the deep pools and in the shallower water at times. The weather seems to determine where they hold on any given day. The eggs, worms, pheasant tails, assassins, and prince nymphs are all working well. When the weather gets warmer during the day you will see smaller and medium sized fish feeding on midges and BWO mayflies. If you would like to be guided to some of these awesome fish click here.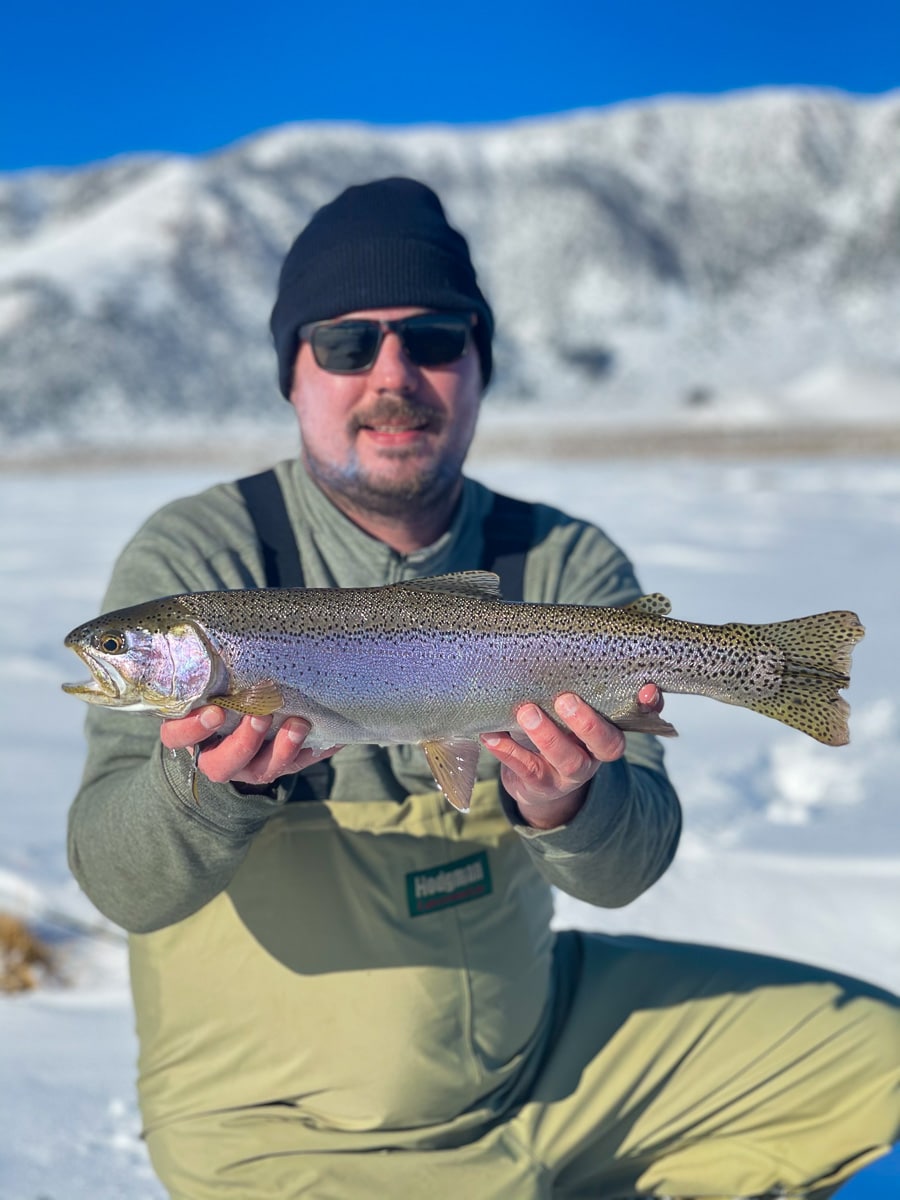 Dan fished with Hans and got this super rainbow trout after the snow.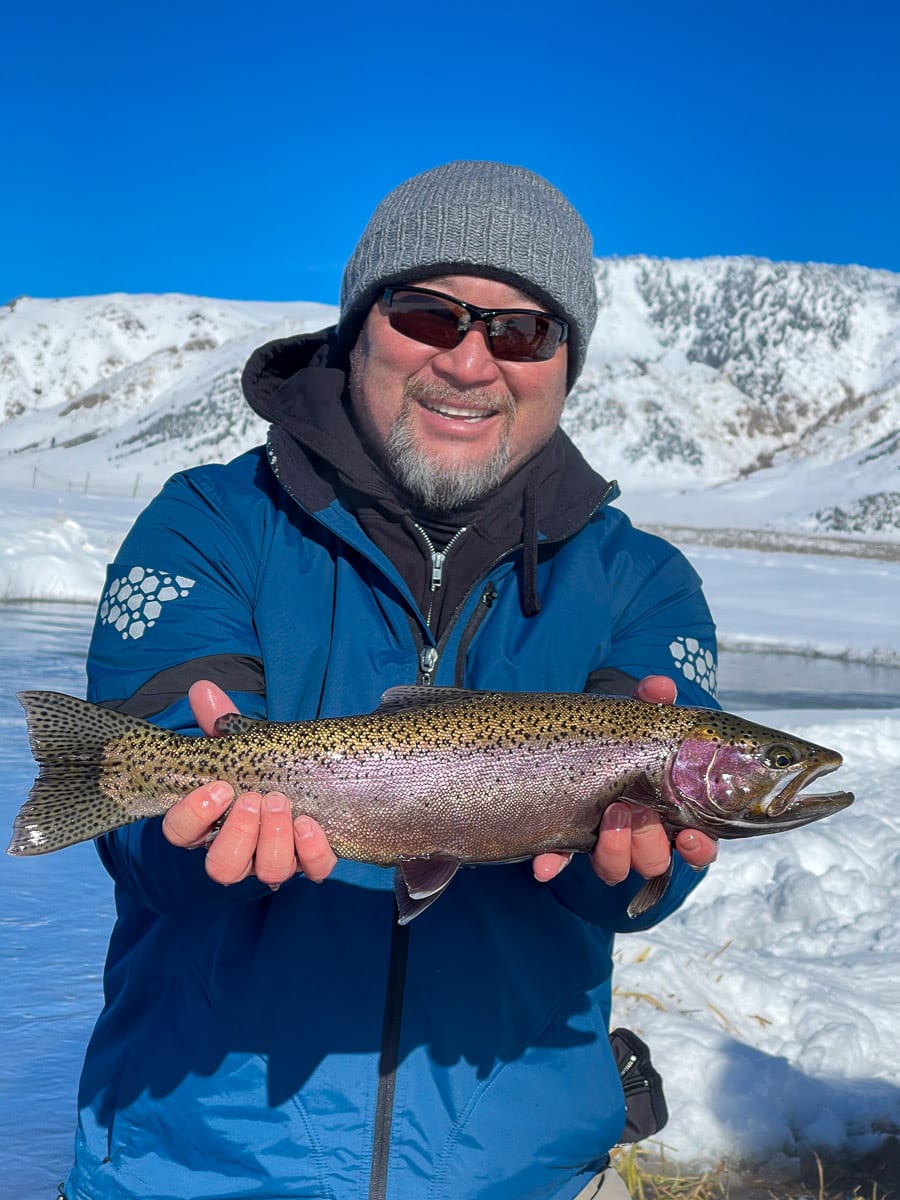 Hans got Yong on some nice rainbow trout like this sweet fish.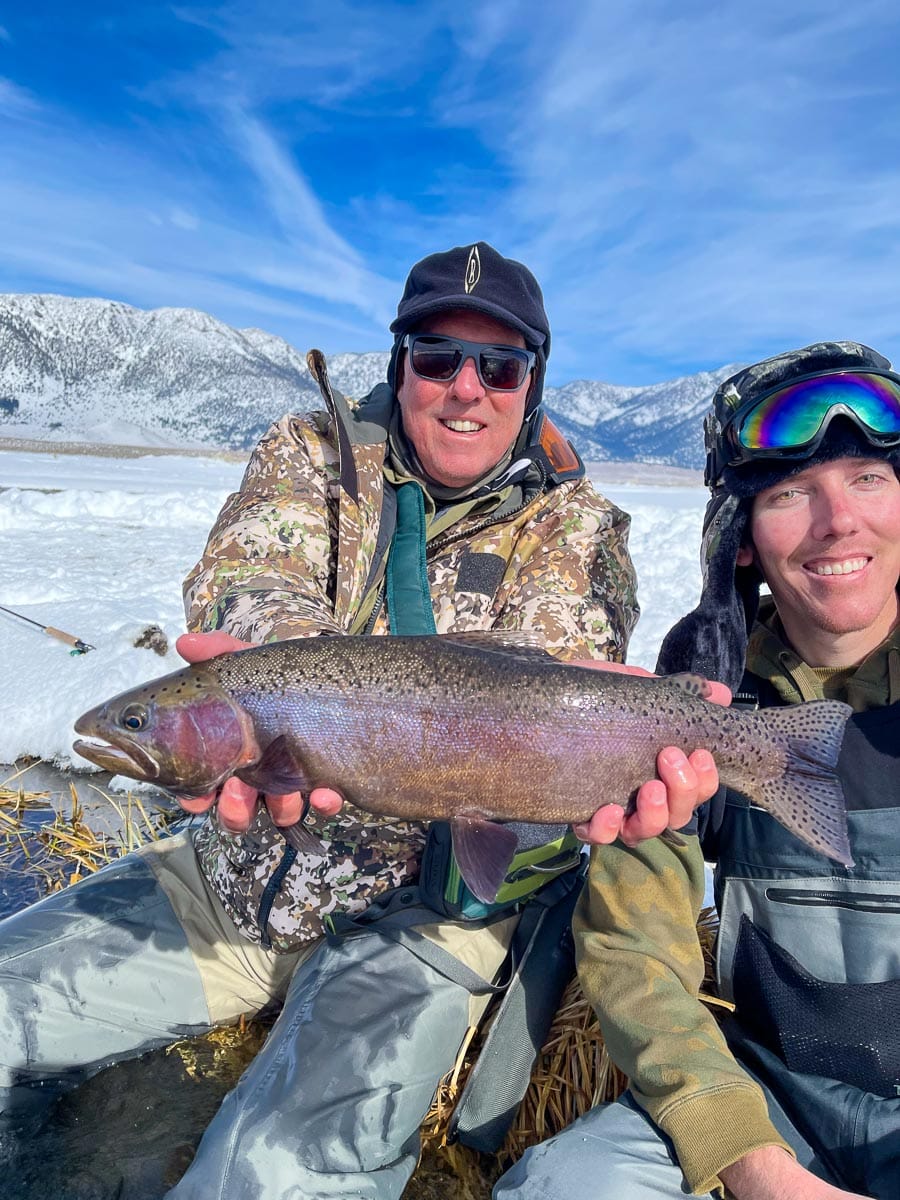 Bill and Will fished with Hans and banged up some nice rainbow trout.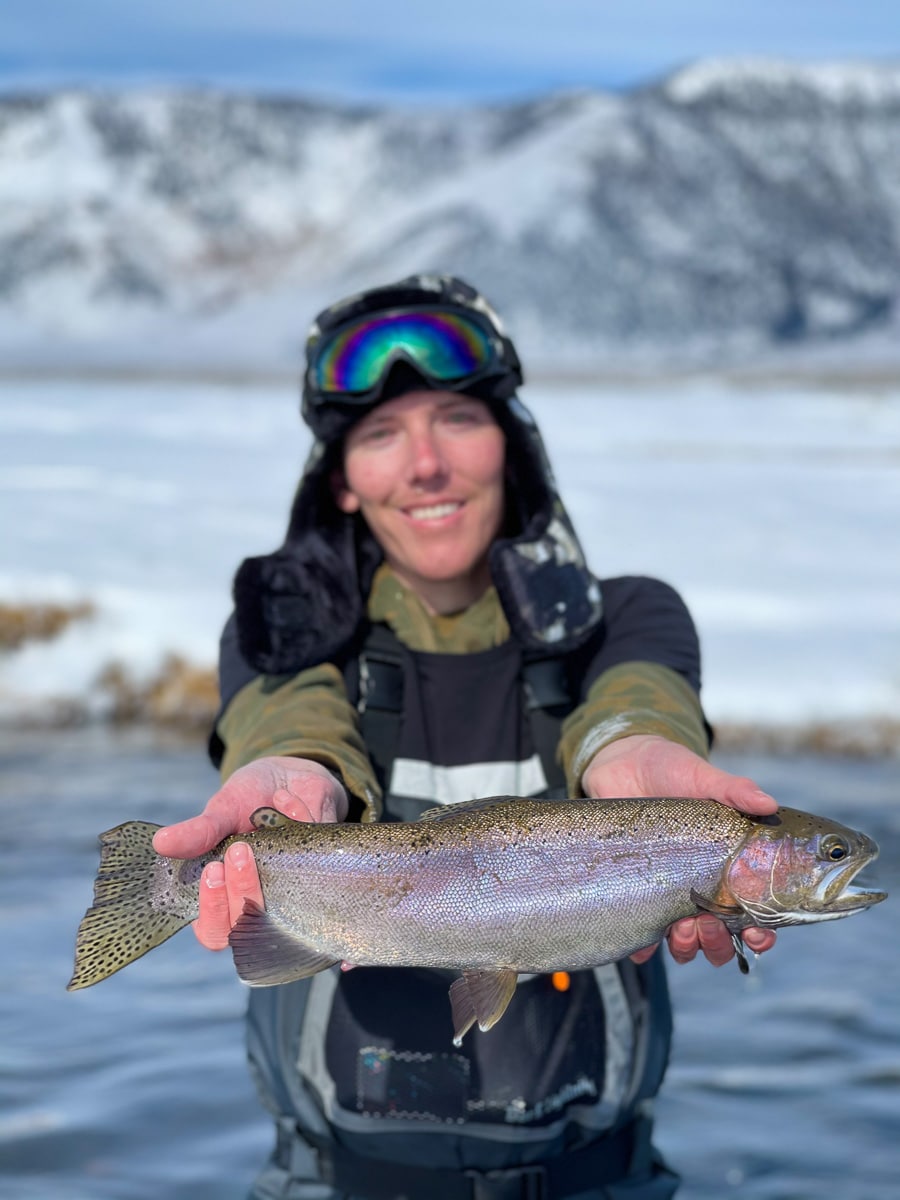 Here's Will with a great rainbow trout.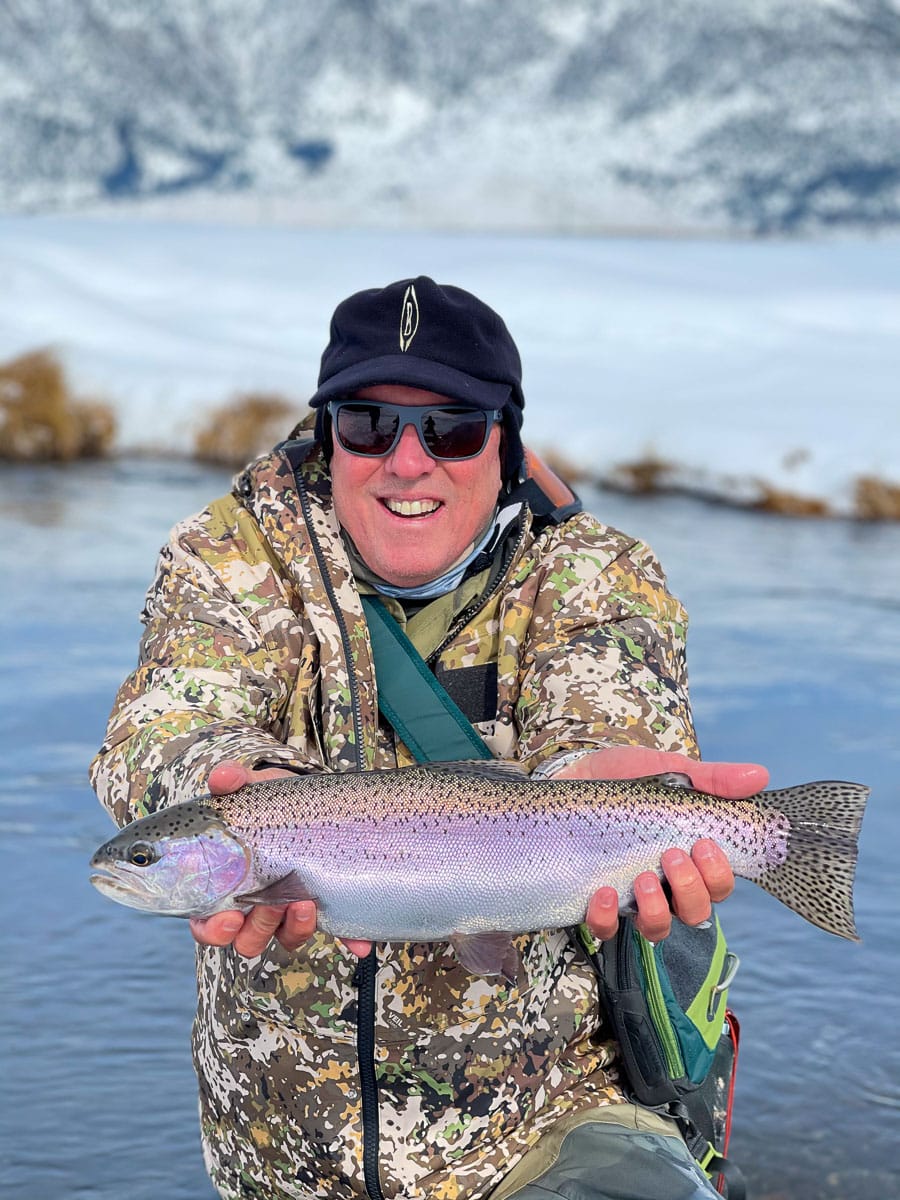 And Bill with another fine winter rainbow trout.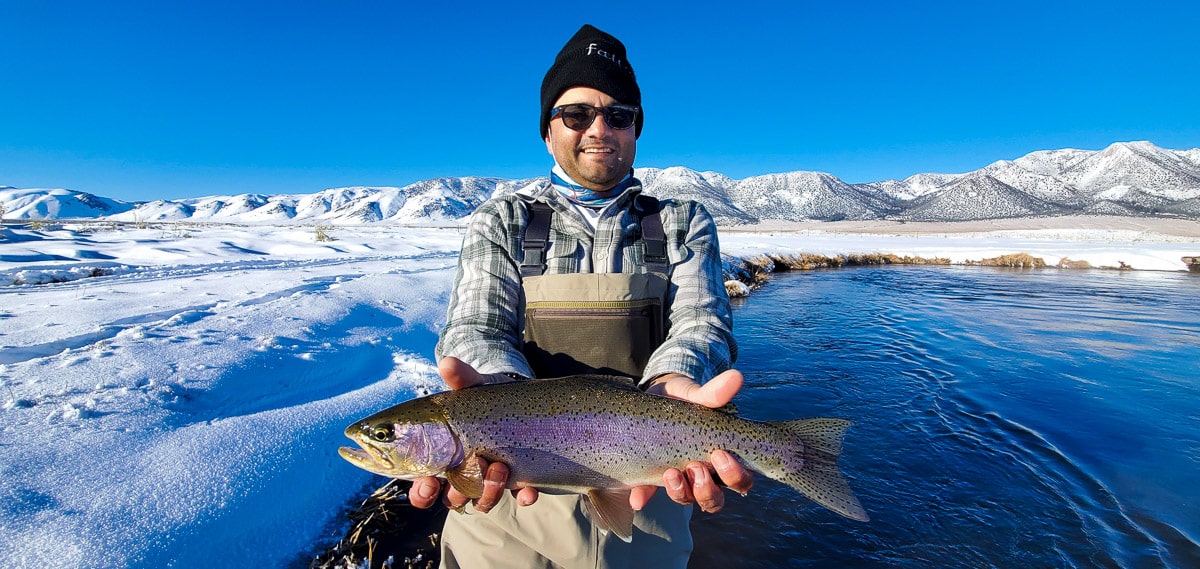 Ray fished with Doug Rodricks and hit a perfect hook set on this rainbow trout.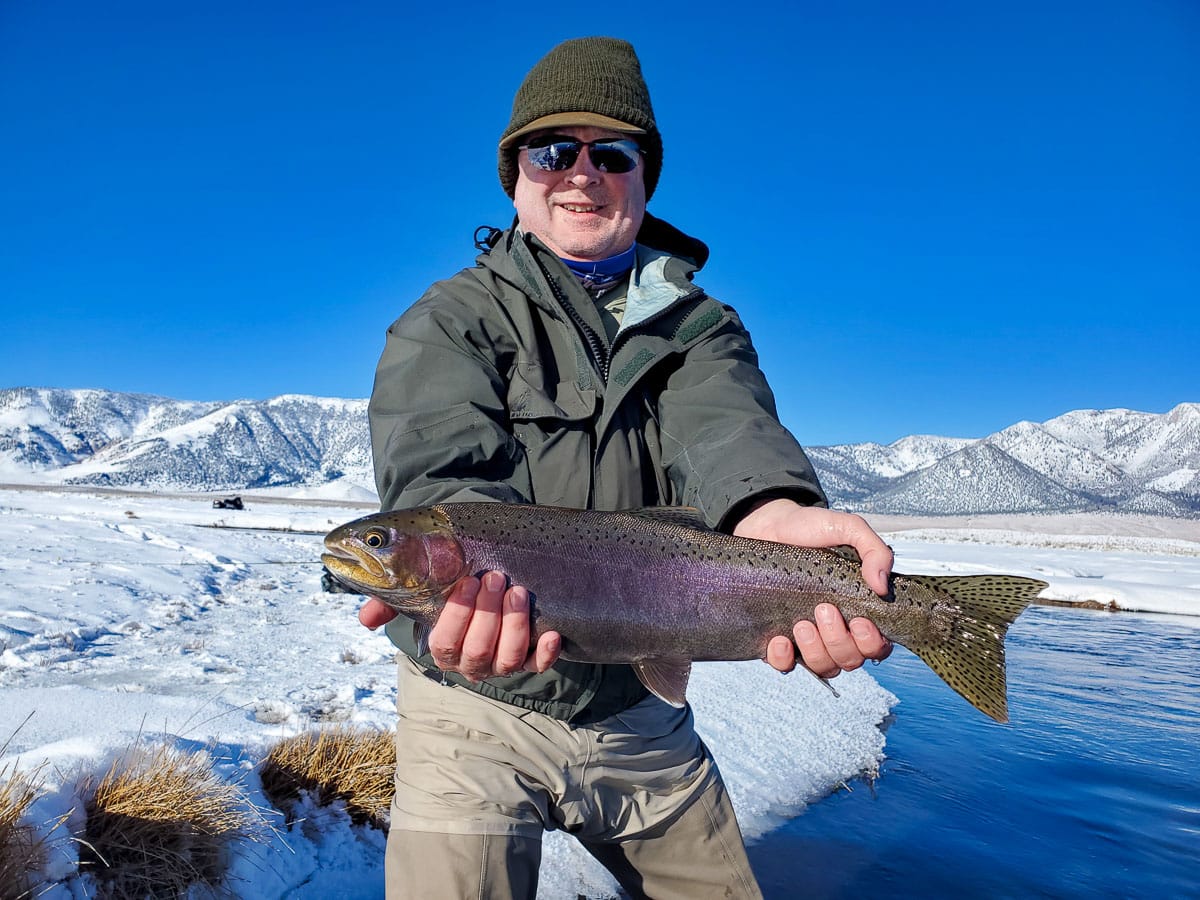 Seth got Len on some good rainbow trout like this one.
Here's Ray with a fat rainbow trout.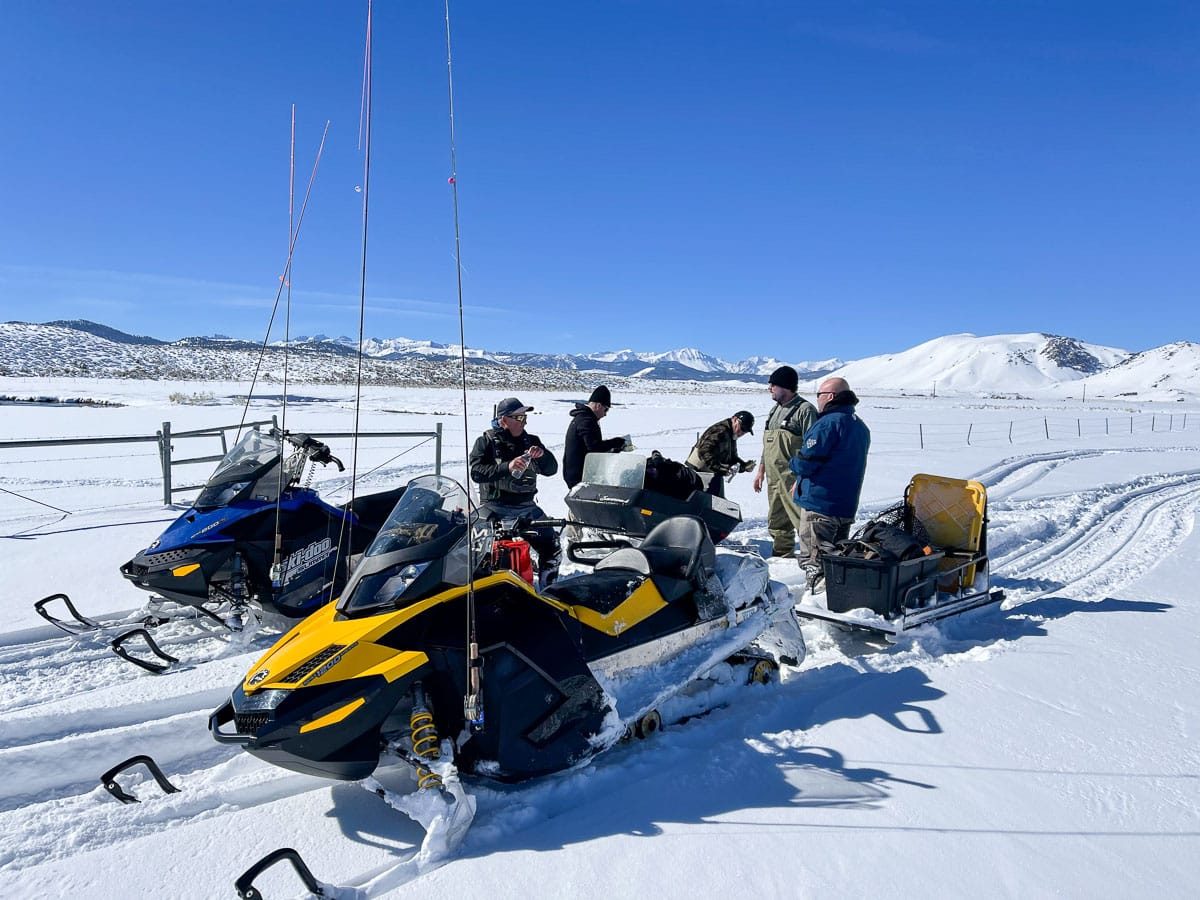 Guides and clients having an afternoon lunch break between fish.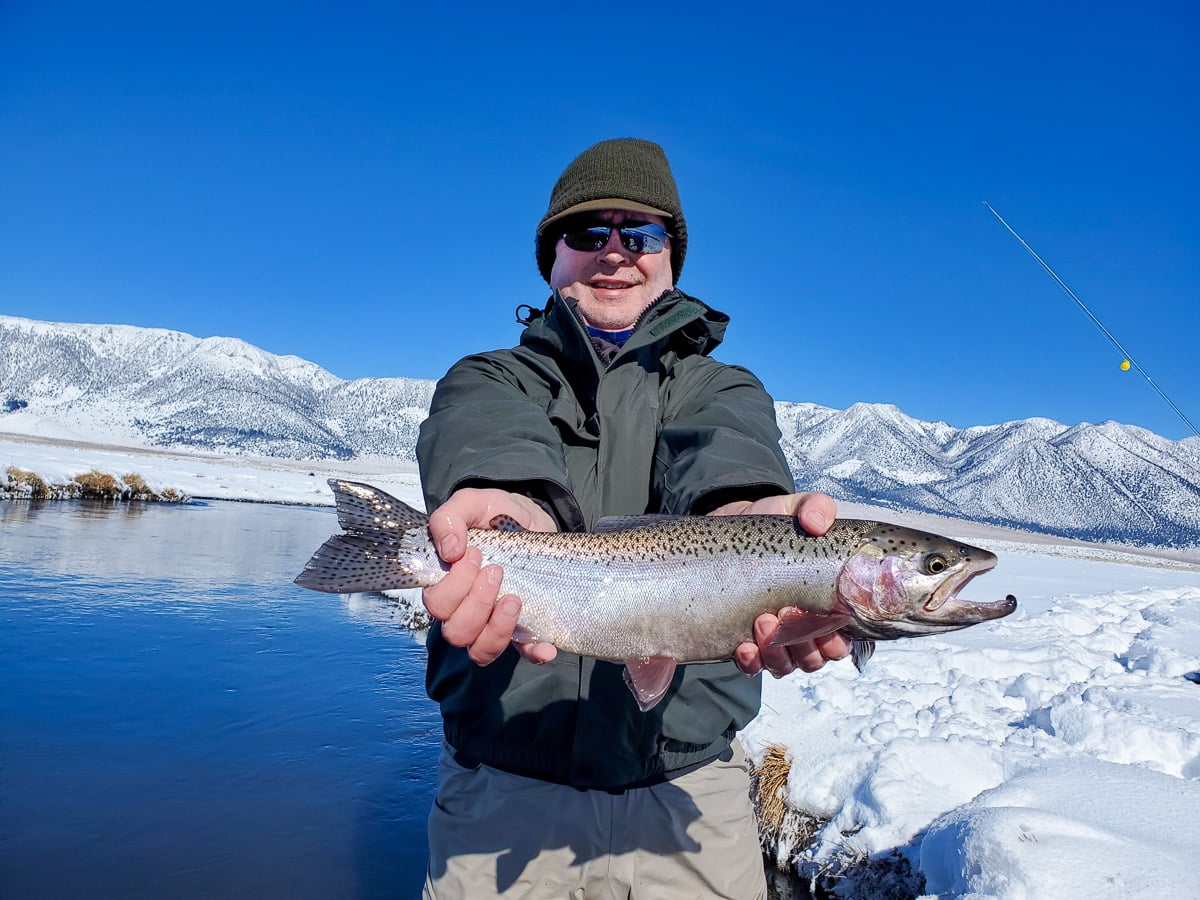 Len with another nice rainbow trout.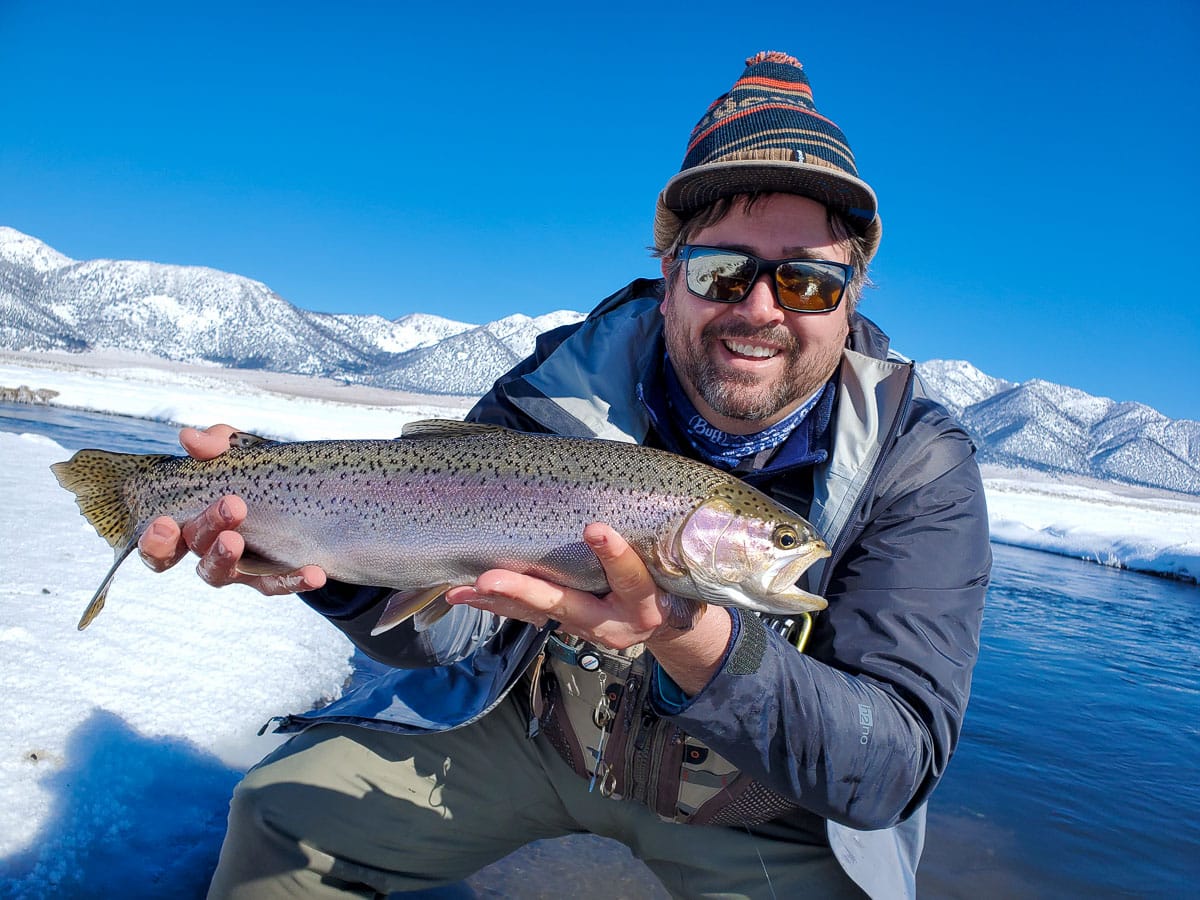 Ryan also fished with Seth and got some large rainbow trout like this.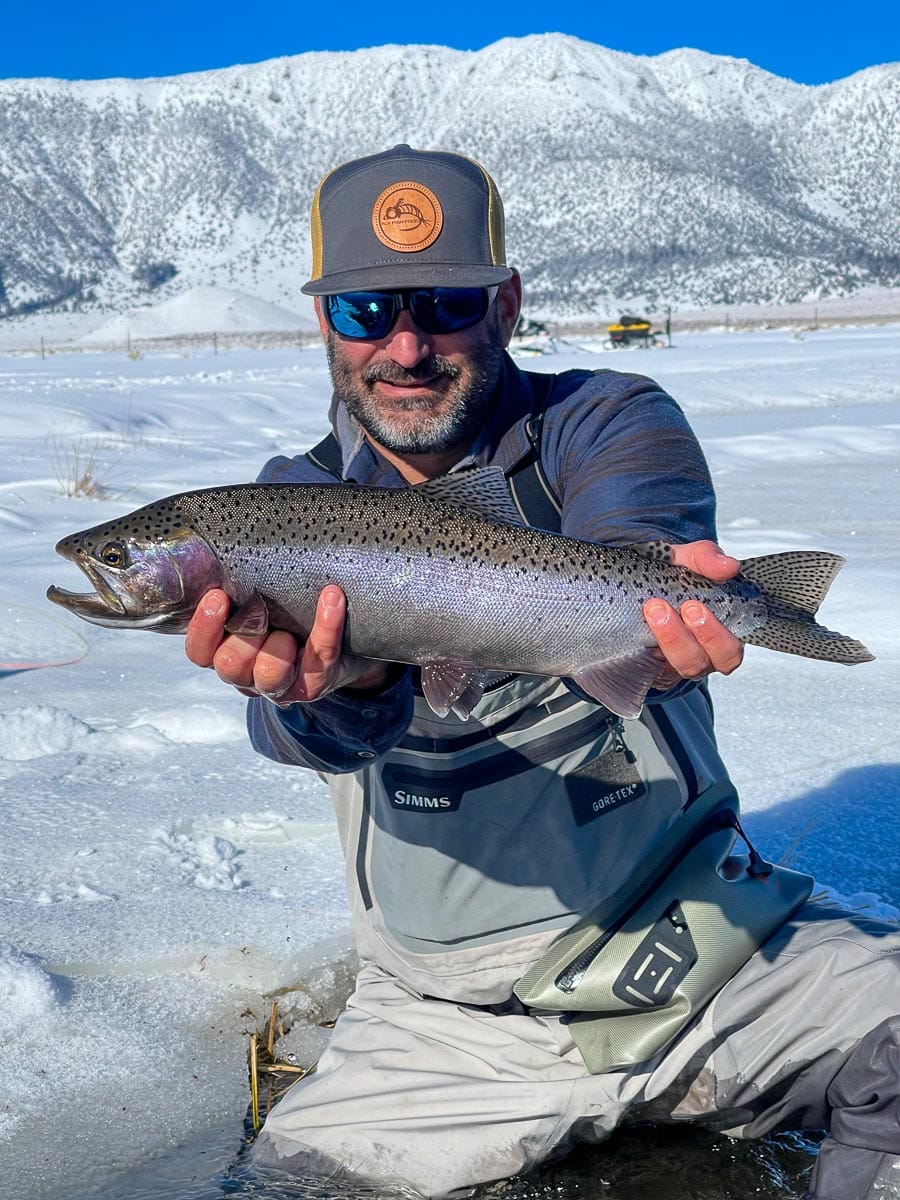 Hans got Backus on this stellar rainbow trout.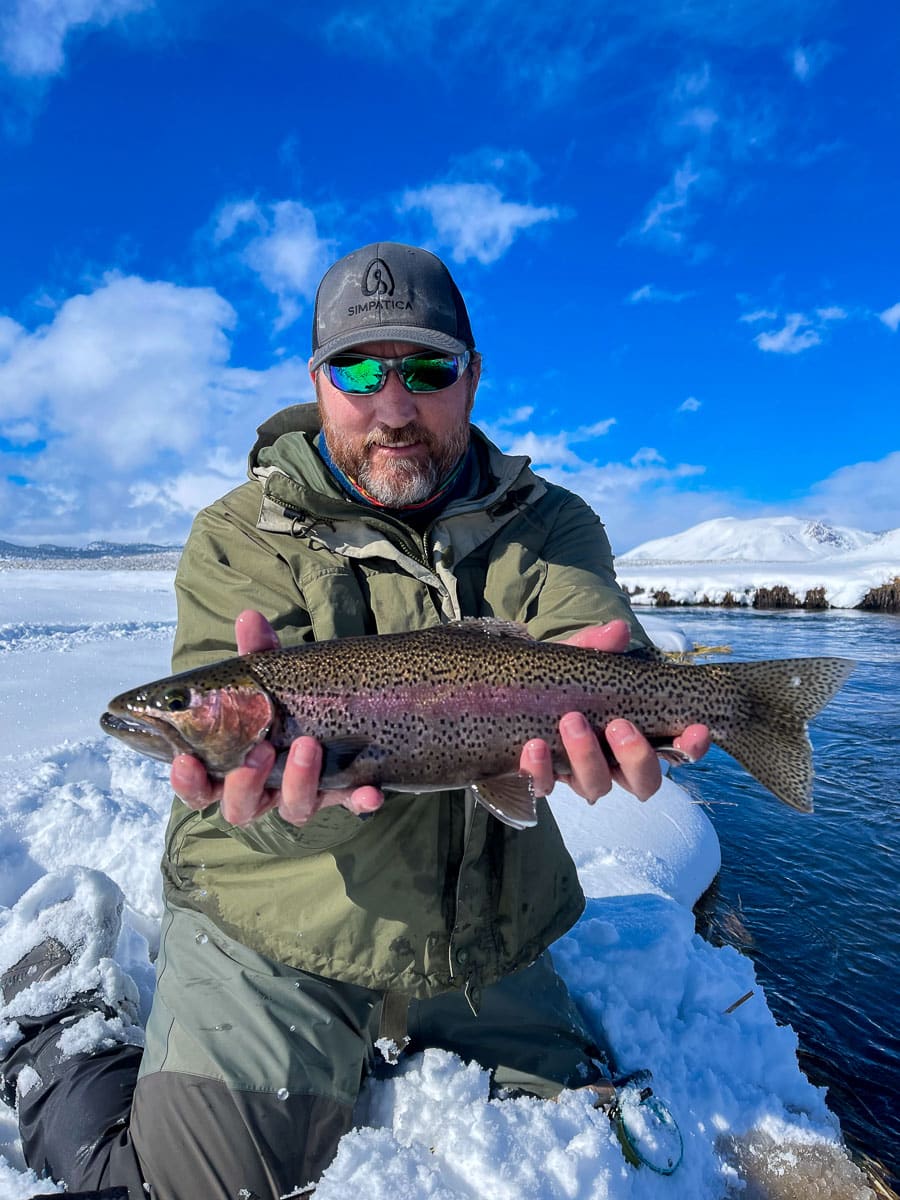 Chris also fished with Hans and got this awesome rainbow trout.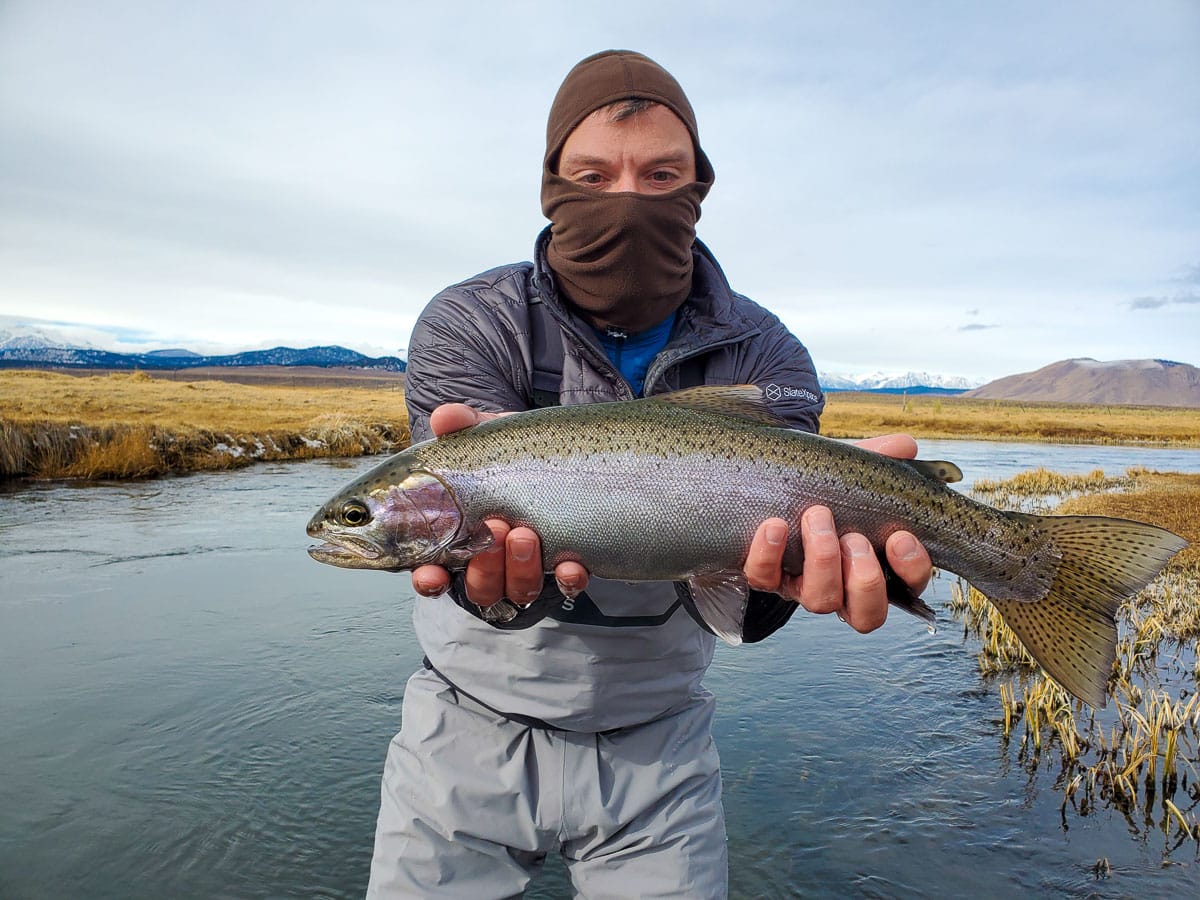 Noel fished with Seth and got this super rainbow trout.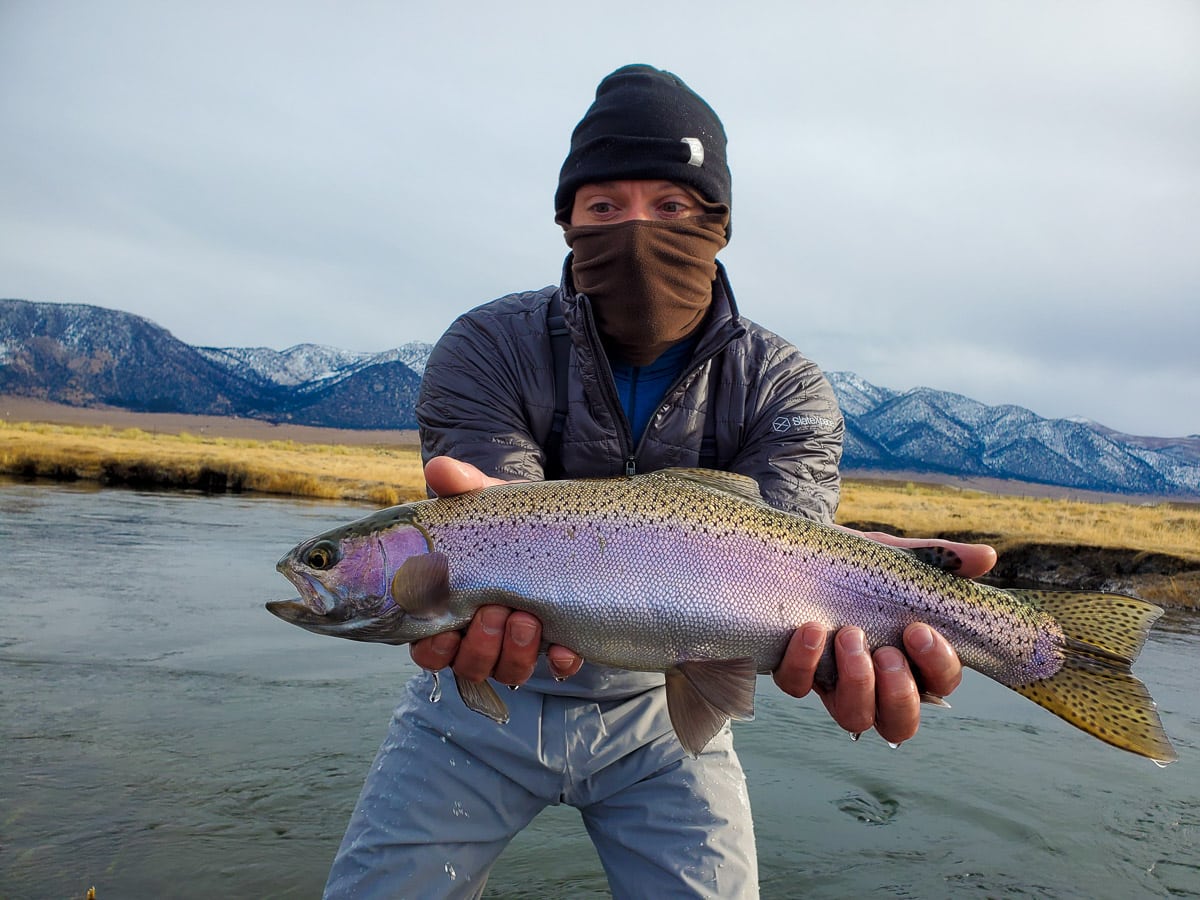 Noel with another excellent rainbow trout.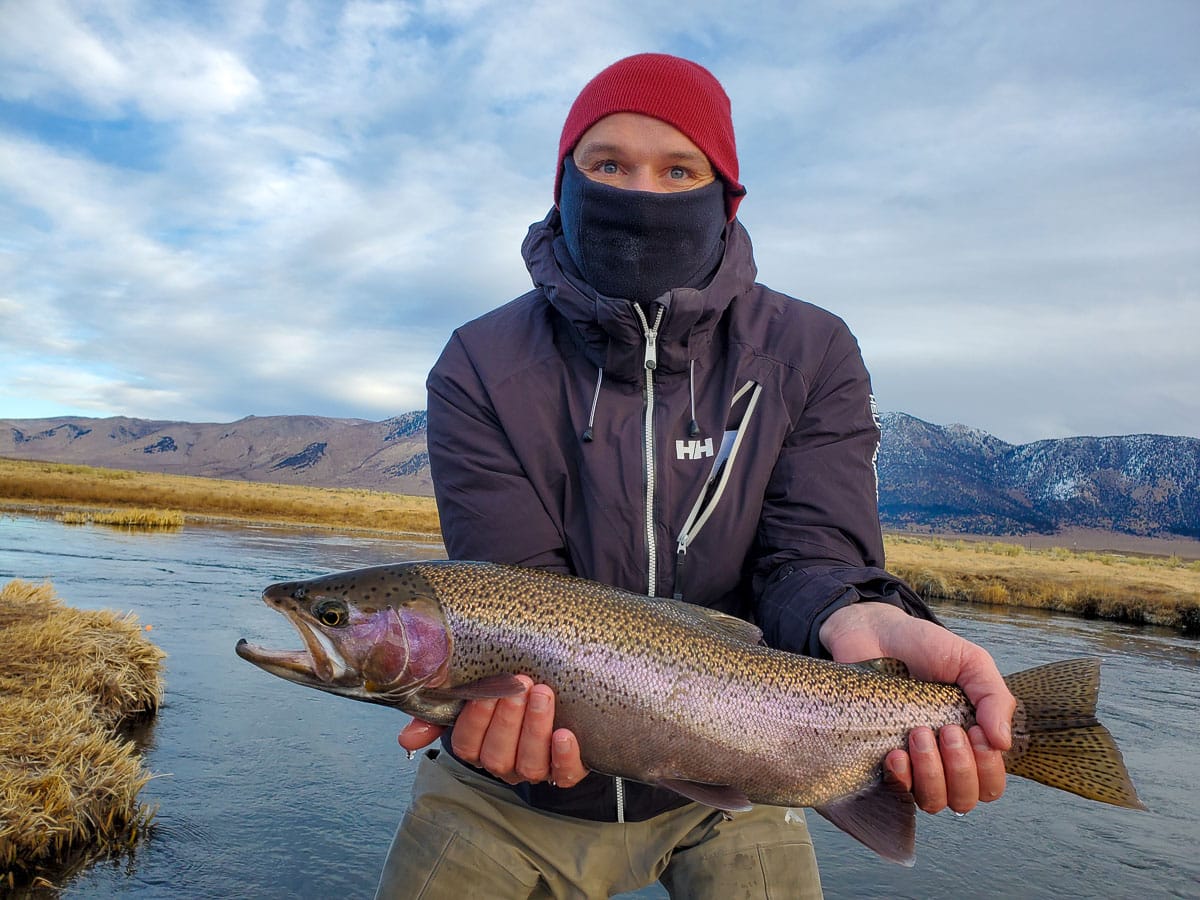 Mike scored this amazing painted rainbow trout with Seth.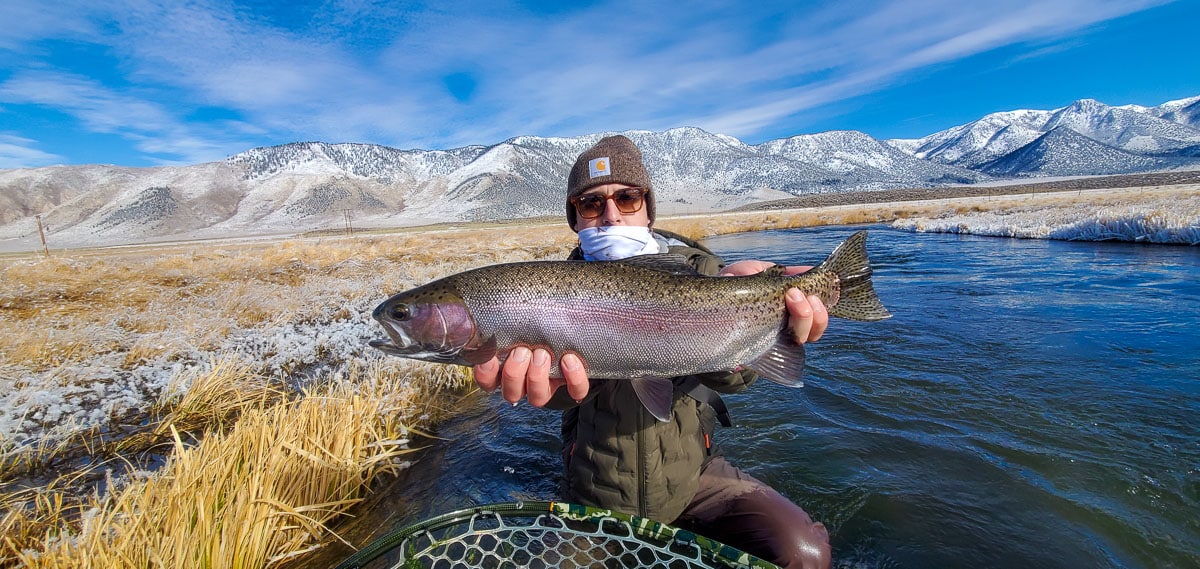 Two Bug Doug guided Cruse to some hog rainbow trout.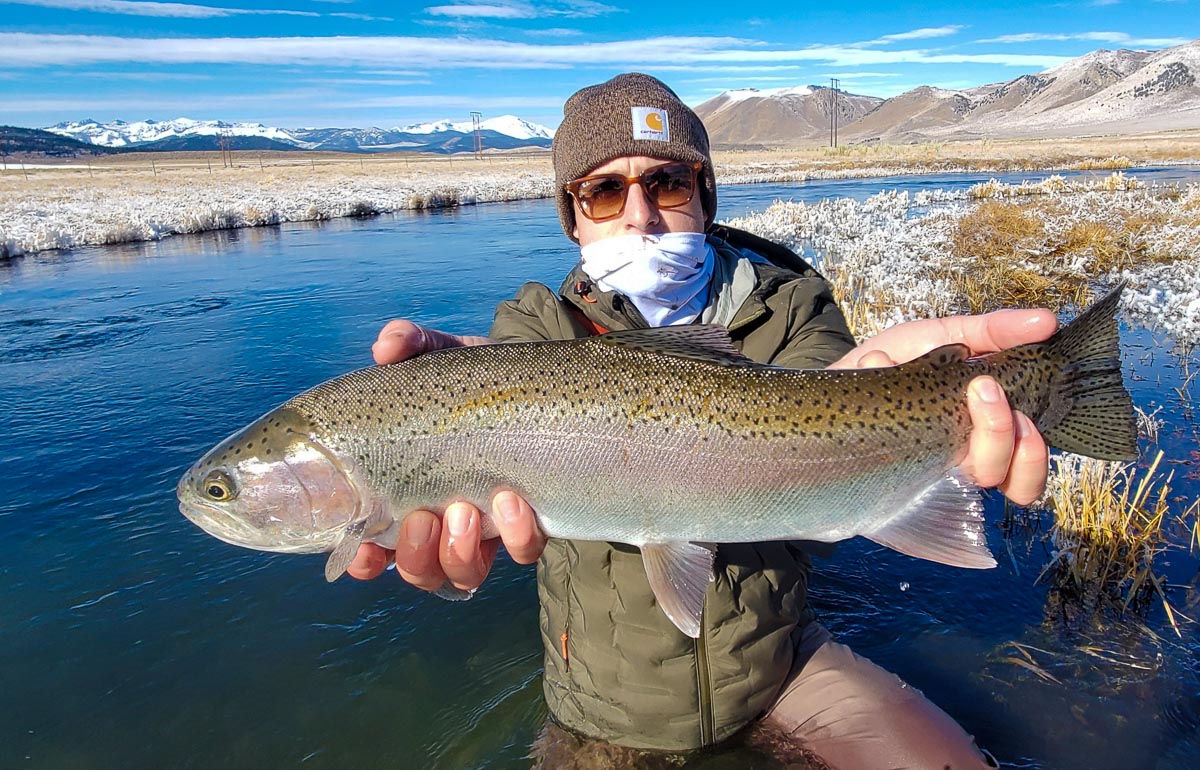 And another awesome rainbow for Cruse.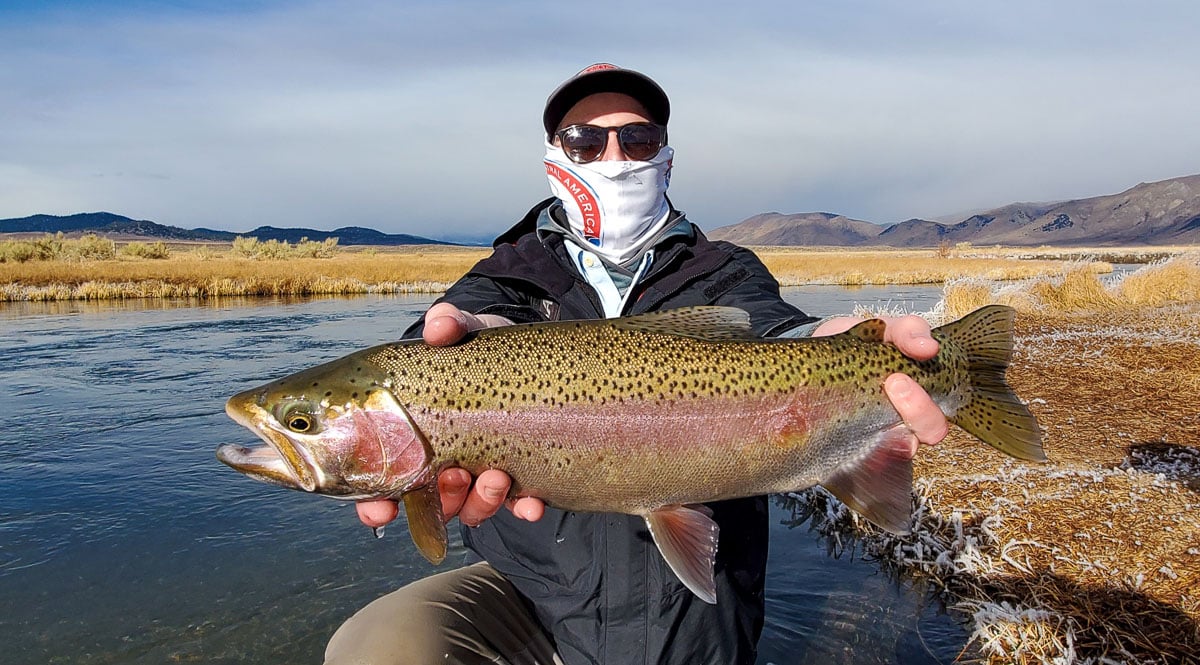 Justin hit this fat rainbow trout with Two Bug Doug.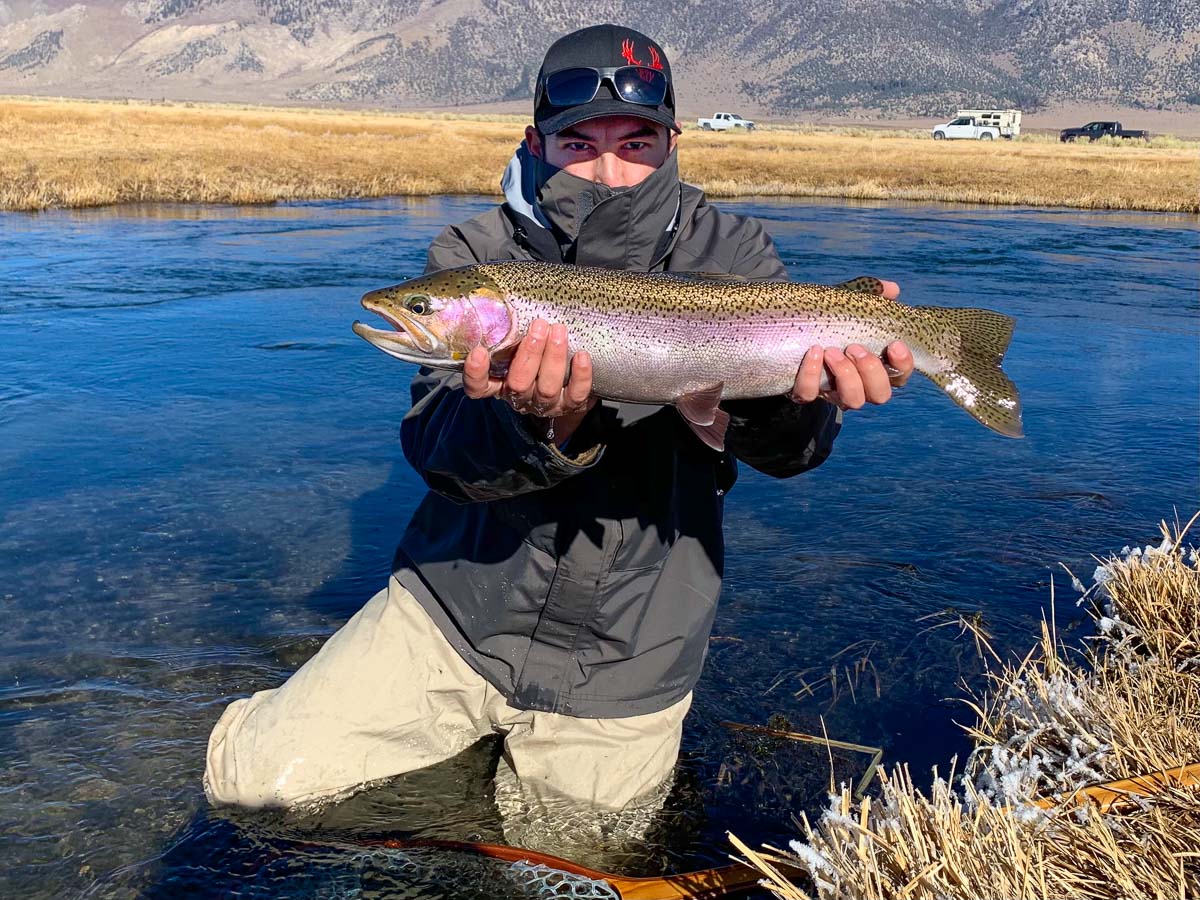 Jerry got his son Josh out to some big rainbows like this.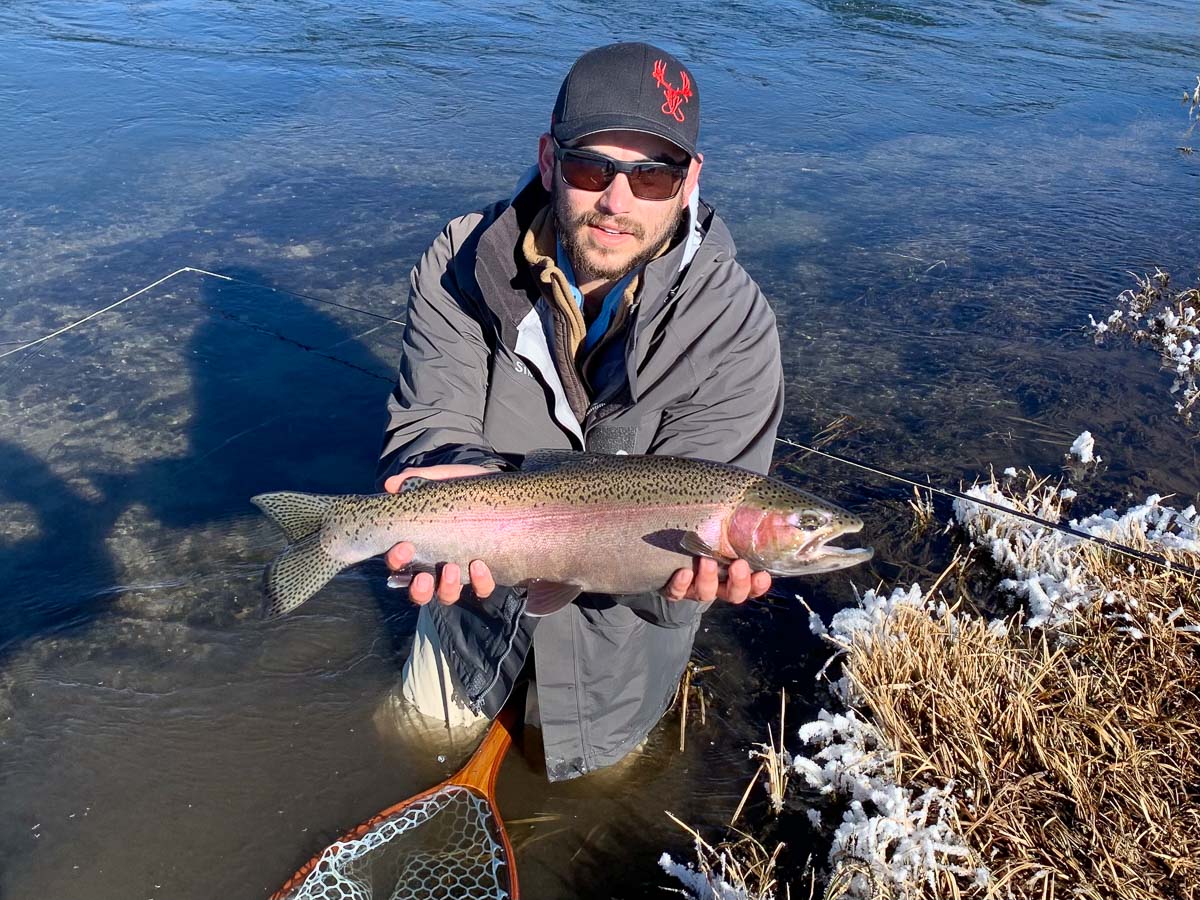 Josh with another nice rainbow trout.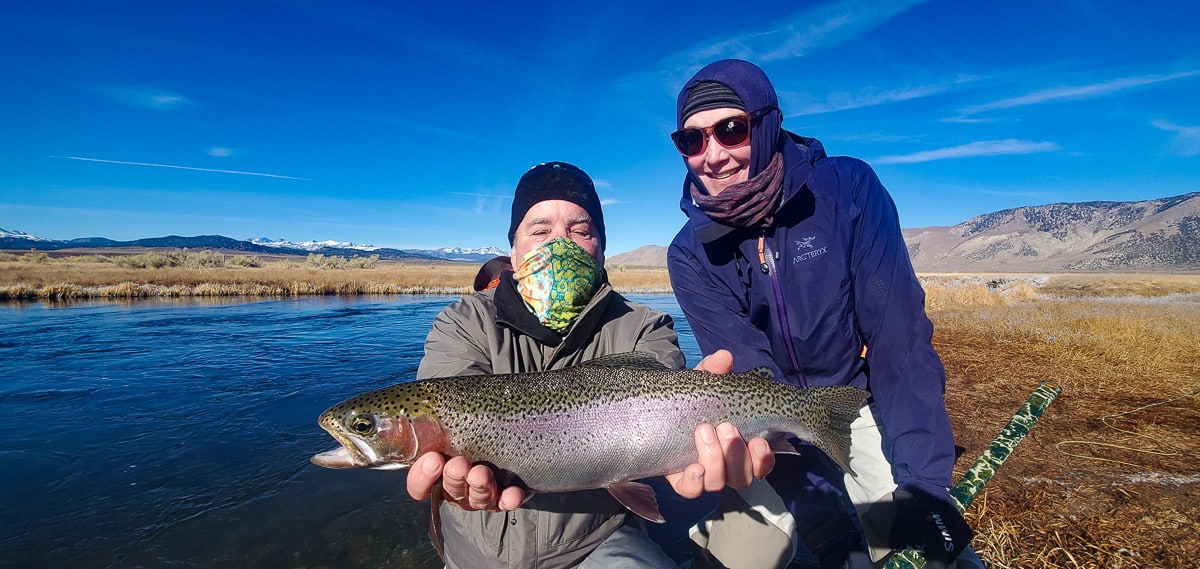 Jeff and Nancy fished with Two Bug Doug and managed this extra jumbo rainbow trout.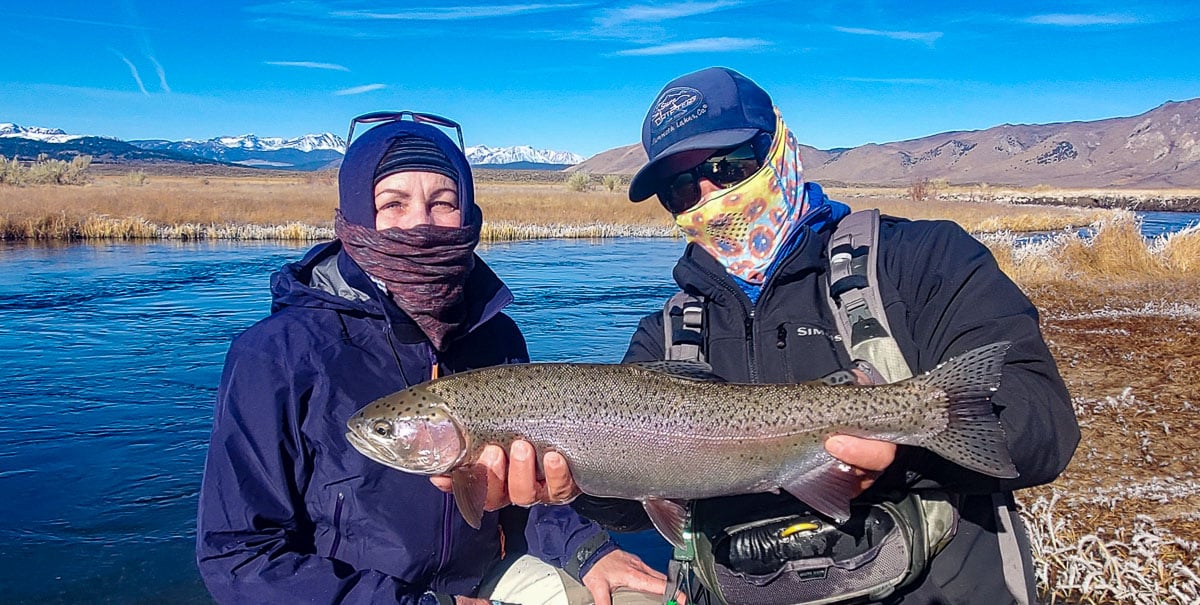 Two Bug Doug doing the holding for Nancy with this killer rainbow trout.
Hot Creek is full of snow now, so it is walk in only. Snow shoes can help when the snow is soft, which it still will be for a few more days. Once it gets firmer it should be easier to walk on. The mayfly and midge hatches here are solid. Look for them to come off strong daily now in the afternoons. Egg patterns, pheasant tails, SJ worms and small midges are very effective now. Experiment with different depths as the fish tend to switch it up throughout the day.
The East Walker River is flowing low at 25 cfs. Pretty hard to fish in this winter condition and not much area either. Best to fish it later towards the spring when the flows come up again.
Here are our flies which are working on the Upper, Lower Owens River and Hot Creek in addition to the above patterns listed in our report:
SD Chironomidge
#16,
Para Midge
#20, 22,
Puff O' Smoke
#16,
Broken Back Copper Tiger Midge
#18, 20;
Assassin Light
#18;
Assassin Dark
#18;
Crystal Hi-Vis Parachute Blue Wing Olive
#18;
Crystal Tiger Midge Long
#18, 20;
Crystal Midge Pupa Copper
#18, 20;
Gillie Chironomid Pupa Dark and Light
#18, 20, 22,
Otter Eggs
in all colors,
Bead Head San Juan Worm Red And Brown
#14, 16;
Parallel Assassin Light
#16,
Parallel Assassin Dark
#16;
Loeberg Mallard Silver Badger;
Spuce a Bu Dark and Light
Click HERE to purchase.
Click HERE to check out our apparel line up.