Two Bug Doug
California DFW Guide License #: 10748, Liability Insured and Bonded
Inyo & Lassen National Forest Service Permitted
"Two Bug" Doug Dolan has been frequenting the waters of the Eastern and Western Sierra for most of his 45 years. He made the full time move to Mammoth Lakes almost a decade ago to fulfill his maniacal desire to catch trout on the fly and his passion to snow ski during the winter. If you have fished this area for more than a few times, no doubt you have seen Two Bug bendo on more than one occasion. Doug spends 250 days a year fly fishing (he is single ladies) and spends his evenings tying custom patterns (we are attempting to get him to release his secret streamers and go public).Doug has taken the second place in the prestigious Double Haul in the Fall float tube event. He has successfully completed the Clearwater guide school program.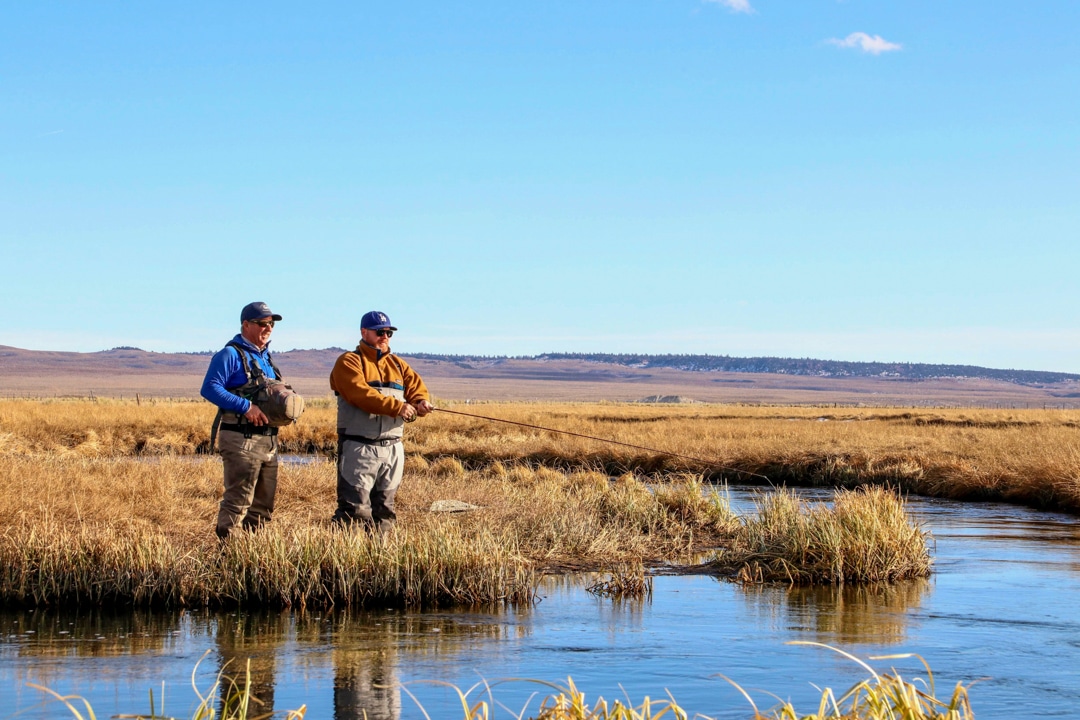 There is no mere mortal past or present that can keep a day-long pace while trolling from a float tube or kick boat with Two Bug. He has perfected trolling and stripping tactics that have earned him the well-deserved reputation of being in the upper echelon of tubers in the float tube capital of the world. He is the strongest kick boat or float tube guide we know of and we can all get pointers from him in this area for sure.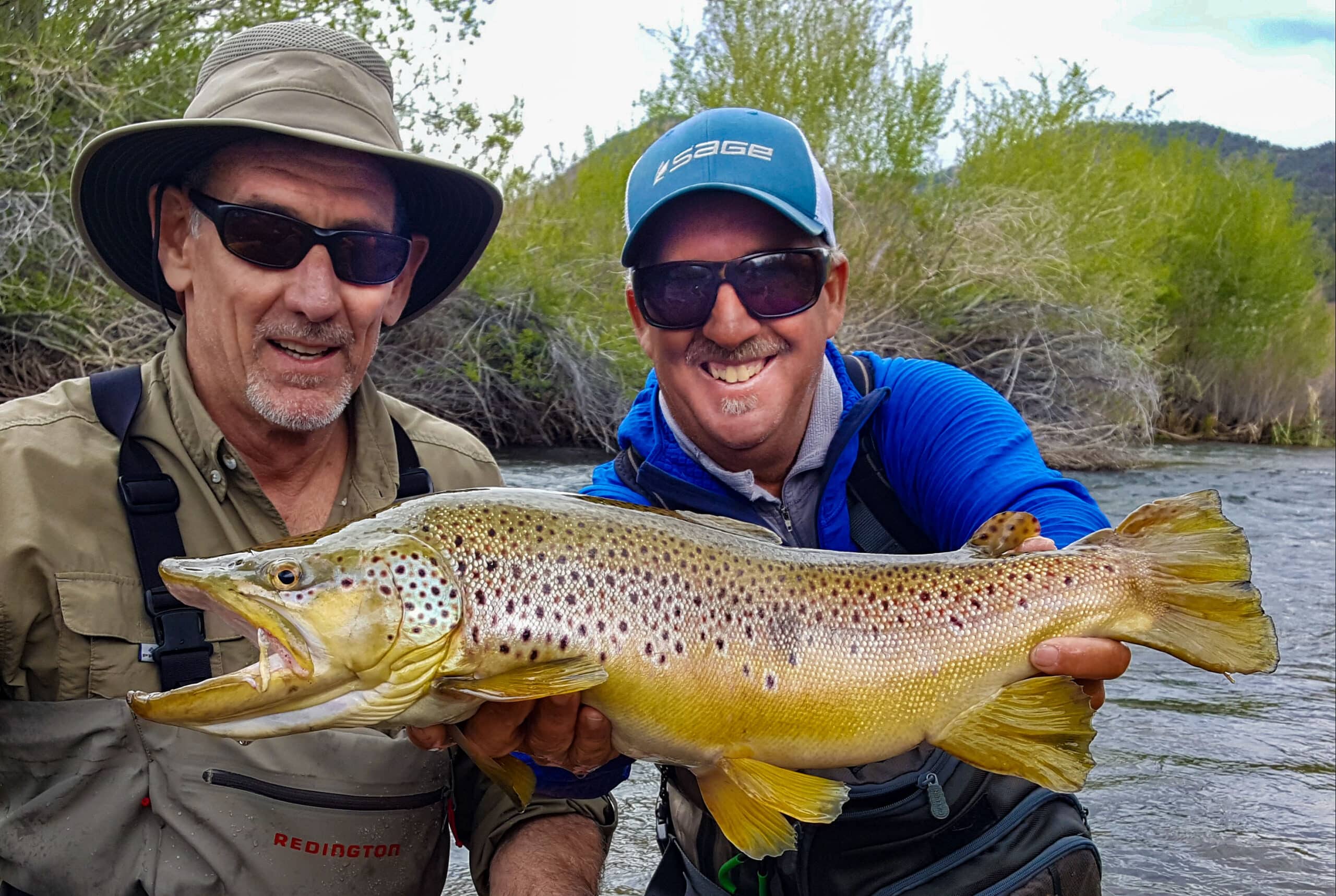 He is a moving water specialist with extensive local knowledge of all the blue ribbon waters in the Eastern Sierra. The Upper and Lower Owens Rivers, and East Walker River are his favorites.Two Bug also has a 2005 23 foot Ranger bay boat for trips on Crowley and Bridgeport reservoirs. This state of the art rig can accommodate up to four anglers.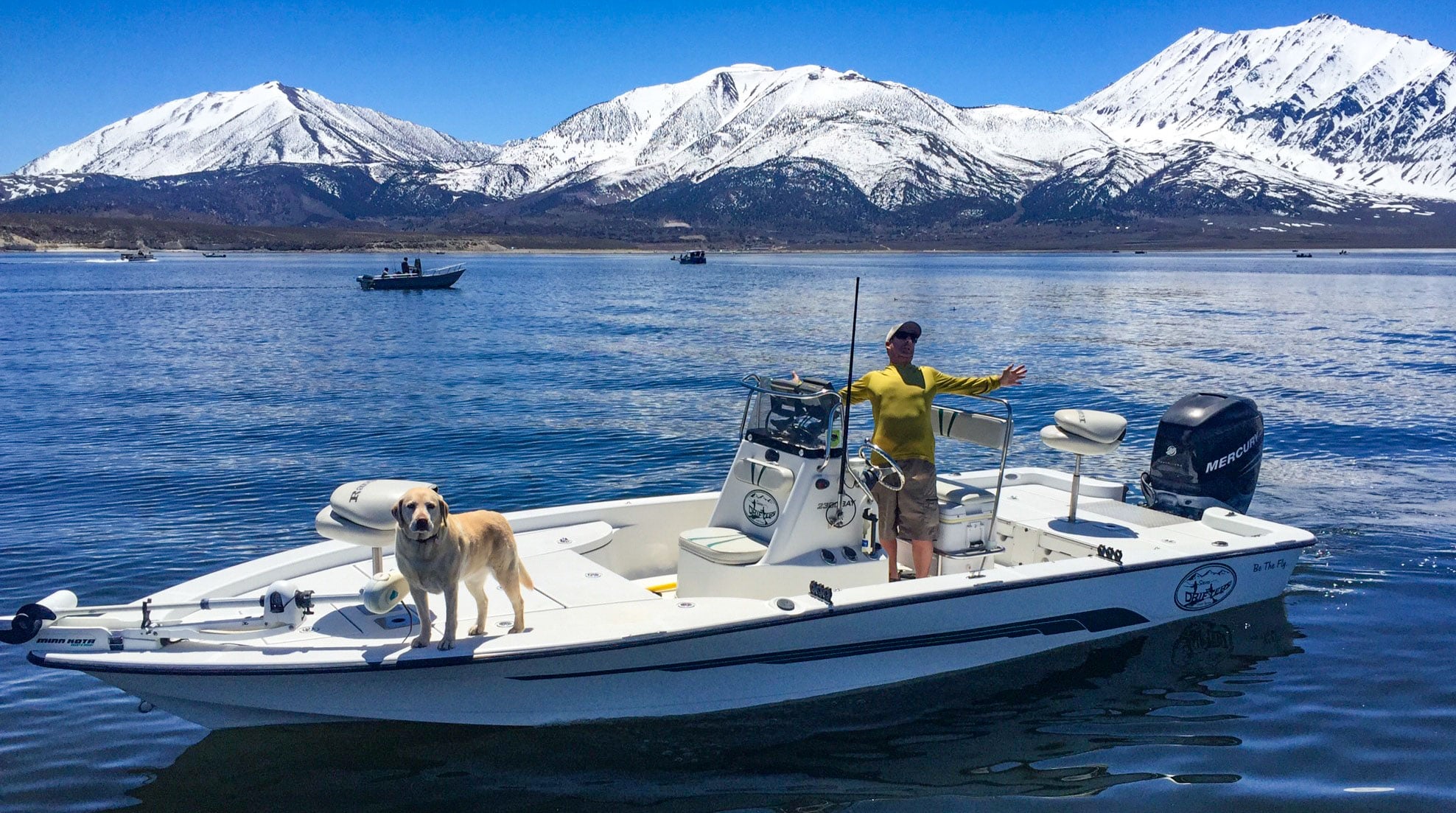 In the winter Doug pilots a 2005 17 foot Willie drift boat for clients wishing to fish the secluded sections of the Lower Owens River. He can guide three anglers on this custom drift boat.Doug is super easy going and extremely patient. He enjoys being around people and his people and teaching skills are very strong. Doug has extensive experience with the public after dealing with clients from previously owning a landscape construction firm based in So-Cal.

---
We Let Our Clients do the talking…Here's What Some Have Said About Spending their day with Doug:
Doug,
I just wanted to tell you what a great time I had fished the Upper Owens with you on Saturday. I will definitely be up there every January for either the drift on the middle Owens or again on the Upper Owens.
I will be wanting to try the East Walker sometime also. Excited to get the pictures from the trip, definitely a memory maker. Thanks Rick Radtke
---
Tom & Michele,Just a quick note to remind you what a great guide TwobugDoug is. My buddy and I fished the East Walker with him last Wednesday and had a great time. Doug had his work cut out for him with a couple of neophyte fly fishermen on what I've always heard is a challenging river. He worked hard all day to keep us in fish, and with his guidance, we both managed to land some nice fish (and we each had a couple of monsters on our lines for heart-pounding thrills before they got off). He taught me a lot about nymphing (which I've tried several times in the past without success) but most importantly, Doug is just plain fun to spend the day with. I look forward to booking another trip with him (he tells me Lake Crowley is killer in September).Kurt Popke
---
Chris and I just wanted to thank Doug for the trip we took on may 17th down the lower Owens. It was very fun. Doug's local knowledge of the Eastern Sierra's was extremely helpful. As was his personality in general. He must have gotten that from his customer service days in the grocery business…Not! We really enjoyed picking Doug's brain on fishing tips for the intermediate anglers that we are. Thanks Doug! Hopefully in the fall we will be back and look forward for Doug to take us on our next guided trip. Lake Crowley? Thank you Mike GillhamI wanted to touch base and let you know that my friend and I went out with "Two Bug" Doug Dolan this last Friday and had a great time. We have walked and driven the lower Owens but never experienced the Owens on a drift boat. What a great way to see and fish the river. Doug was the best, he put us on the fish, took his time and gave us great tips. What a great asset to your company. I am thinking of coming back in Oct with my 17yr old son to fish it and do another trip with Doug again. Hats off to both of you for putting him on your team. I will make sure that my friends know about your Company and Doug's service. Thanks AgainMy Best Regards, Douglas Ogden
---
After having one of the best days in recent memory, I found it necessary to compliment your companies staff and service. I booked a late March drift boat trip for my brother's birthday, with Doug Dolan assigned as our guide. Being our first truly guided trip, our expectations were to learn more about the sport, while enjoying a day on the river and hooking some fish. Doug was more than accommodating, introducing us to the equipment and techniques we would be using throughout the day. It wasn't long before my brother had hooked and released four rainbow trout. As fishing slowed in the late morning, old stories were exchanged as new ones were born. Having met only hours earlier it was as if we were all old friends. Helping to relieve the slump after lunch, Ryan, my brother brought a seventeen-inch rainbow to the boat. In the afternoon as fishing picked up, mostly wild browns were now coming to the boat. As our scheduled time was nearing an end on the river, our gracious guide "Two Bug Doug" kept us on the river to hook a few more fish [we won't tell them how long Doug]. I truly believe he wanted us to catch more fish to fulfill our experience. We got off the river with about twenty fish to the boat, and another ten given a friendly L.D.R.. At the end of the day, Doug's professionalism and hospitality far exceeded any expectations. You can guarantee another trip to be booked with Sierra Drifters Guide Service.Gratefully, Rob Buhler
---
Tom, I just wanted to send you a note to tell you what a GREAT time my brother Mike and I had on a recent drift trip. Mike and I went out with 'Two Bug' Doug on Saturday, Feb 17th. I have to admit that we should have booked a trip a lot sooner as we have attended a couple of your seminars and we have fished Crowley and other lakes using the midge technique you teach. We had no idea what to expect on the Owens but needless to say, Sierra Drifters exceeded all of our expectations. Doug is an excellent guide and worked very hard to make our day an experience to remember. Saturday had record-breaking high temperatures and the weather change made the fishing a little slow starting out but throughout the day Doug put us on to fish, including big fish bragging rights for me. Enough cannot be said about Doug he made our day simple all we had to do was fish where he said and we brought the fish to the net. My brother and I are very competitive when it comes to fishing but in a fun way, if Mike farms a fish I won't let him get away with a little verbal jab, Doug picked up on this and added a little to the fun. Doug has a great sense of humor and incredible stories and expert advice, his tips provided us with a great day 'freeze' tubing Pleasant Valley Reservoir on Sunday where on Friday we were skunked. We appreciate very much you and Doug sharing with us some of the incredible fishing you get to experience every day and we look forward to the next trip.
Thanks John Shattles
---
I was fishing on the Owens with two friends and had the pleasure of meeting Doug. He was doing what others should have done, picking up trash along the river left behind by a less caring public. My hat is off to Doug and to you Sierra Drifters. By the way, we caught some nice size trout at the Rope.
Larry Castorena
---
Doug,
Thank you for a great day of fishing with my 2 sons. We all learned a lot from you and appreciate your patience and skill in helping us achieve what we set out to do… Catching some trout! I know that the time spent will be a great memory for the three of us. I am looking forward to coming back up with the wife and spending some more time in the areas we fished with maybe the exception of the trek to McGee Creek. Don't think she would like that march out to the inlet and back. If I can plan it far enough in advance, maybe we can book you for a day on Crowley. I know I would like that and think she would enjoy it as well. This time on a boat and no wading or dunking, at least with waders on… J
Again, Thank you for a great day of fishing.
Roger LeBrun
(Other, More) Fishing Guides