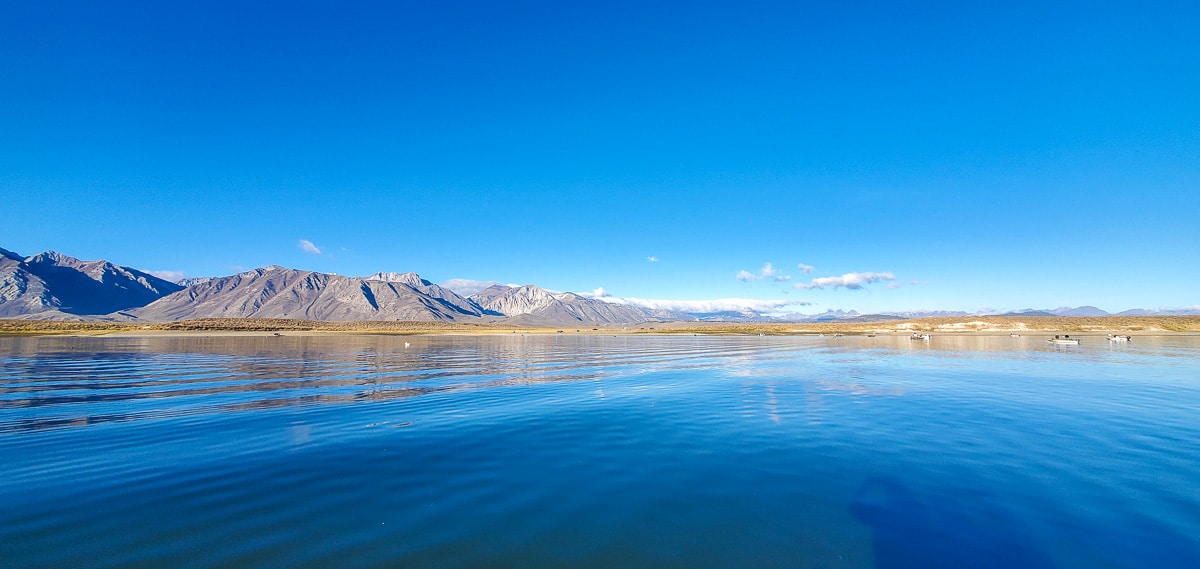 Fall has arrived and with it, changing colors of the aspen tree leaves and the first light snowfall may be coming late in the week with some cooler weather in store for the weekend and possibly more snow by early next week. Fishing on Crowley Lake has been more about quality now then big numbers, and large browns, rainbows and cutthroat trout are all fattening up for the coming months. Hot Creek has been fishing well as usual with some nice bite windows for dry fly fishing. The Upper Owens River is starting to turn over to fall mode as some of the larger migratory rainbows begin to enter the river. The East Walker River continues at low winter flows and the Lower Owens River flows have increased to around 400 cfs or so.
Crowley Lake mornings are very cold now, but the daytime temperatures have been warming into the 70's and high 60's making for pleasant fall weather. Most fish are still keying on midges, and after the sun warms up the water a bit the bugs get active along with the fish. Common depths have been in the 11 – 16′ range with fish even deeper too. Blood midges during the low pressure periods have been producing well along with Mud Candies. Copper Tigers, Zebras, and SD Chironomidges have also been hot this week. Vary you depths and flies this time of year to stay on the best bite.Click here for a look at some new flies, (terrestrials, nymphs, dry flies, stream side tools, split shot, leaders, etc) Best midege patterns to have on hand are #16 – #20 SD Chironomidge, #16 – 20 Tungsten Zebra, #16 Midge Larva, #12 -18 Blood Midge, #14 -18 Grey Water, #16 – 20 Red Butt Midge Dark Head and Glass Head, #16 -20 Red Rib Midge Glass Head, #18 Gillie Light and Dark, #16 – 20 Copper Tiger midge, #16 Broken Back Copper Tiger Midge, #14 – 16 Blood Midge, and #16 -18 Mud Candy.
Hot Creekhas some great hatch windows which have been providing some solid dry fly action. With some changing conditions this weekend, the dry fly bite will most probably slow down, but nymphing will be a good producer. Look for the deeper pools which will hold more fish than the flats.
The Upper Owens River is now entering fall mode. Look for some larger rainbows and browns to start making their way into the river. Egg patterns, assassins, Pheasant Tails, midges, and squirmy worms will work well now and through the winter months.
Lower Owens River flows have now jumped up to 400cfs. If flows stay stable or decrease, we will start looking around here with our drift boats. This is usually the month where we start our drift boating trips. Streamer chucking from the boat will be the primary method of fishing here.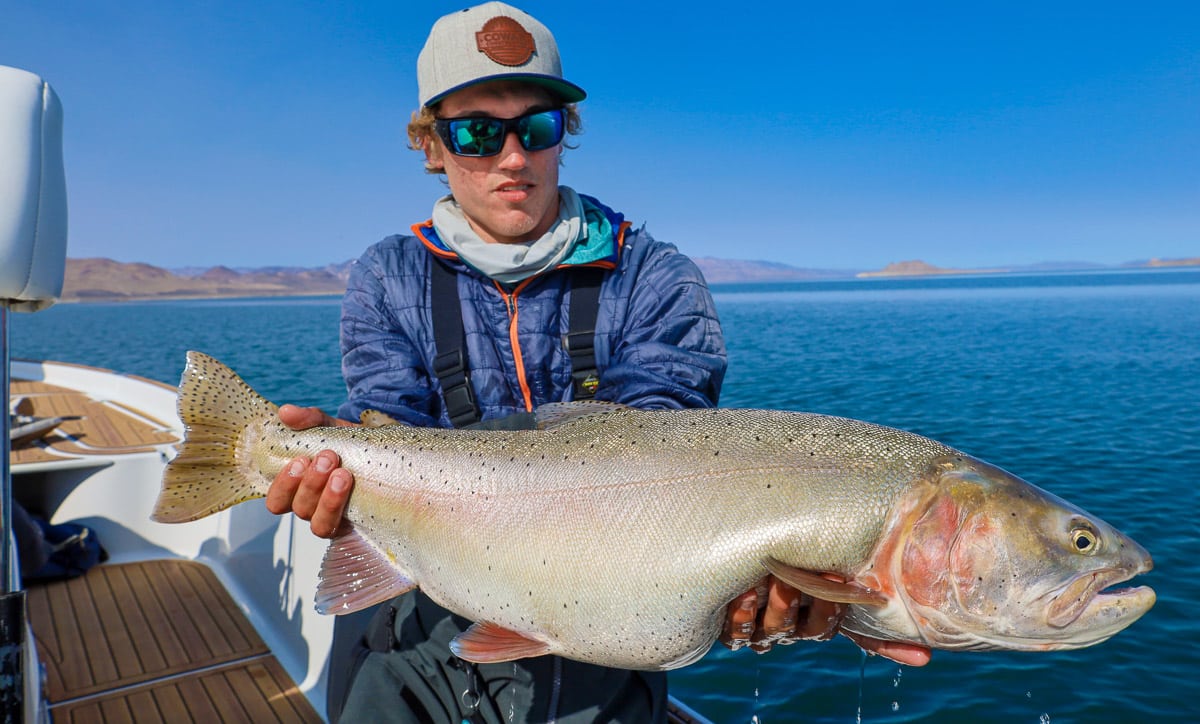 Capt. Hans did some scouting at Pyramid Lake and found the monster cutthroat trout.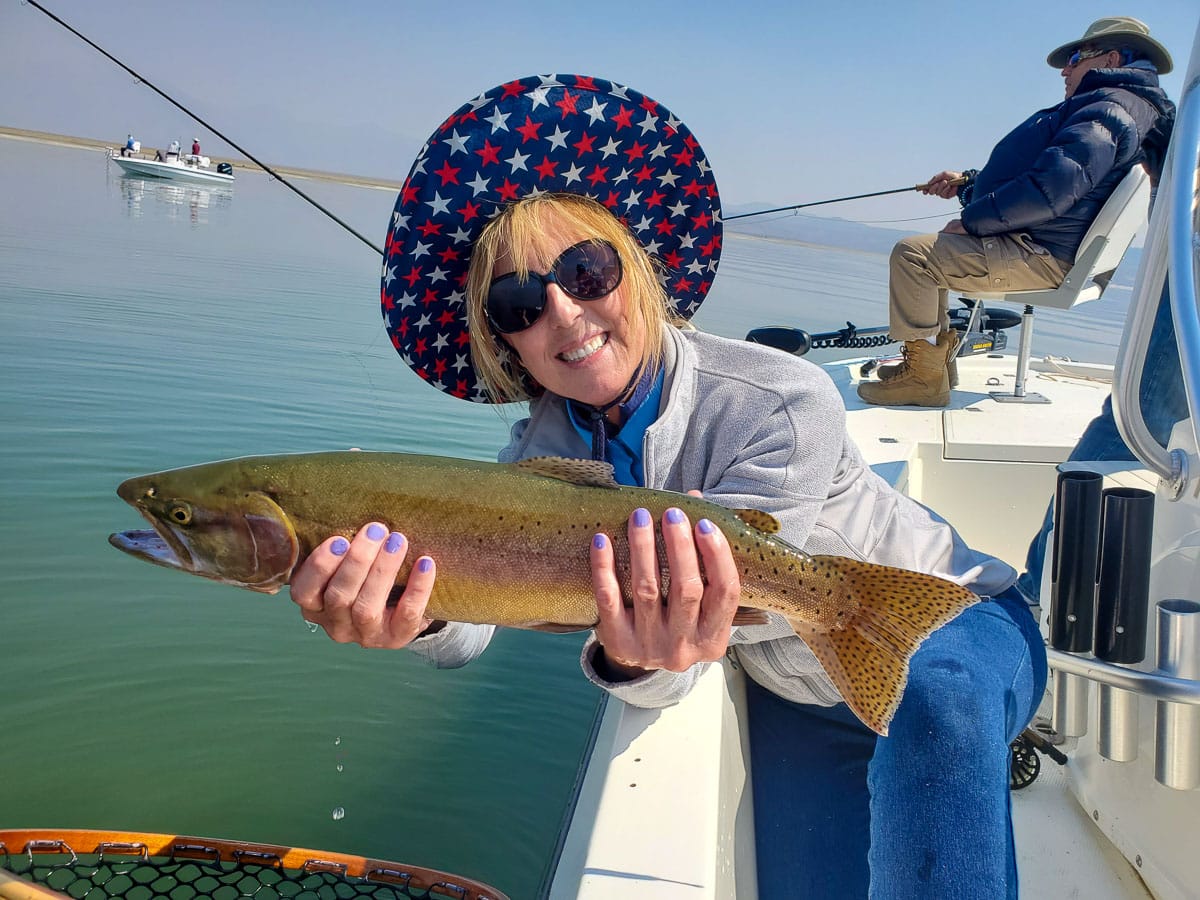 Kathy fished with Seth and hooked this nice cutthroat trout.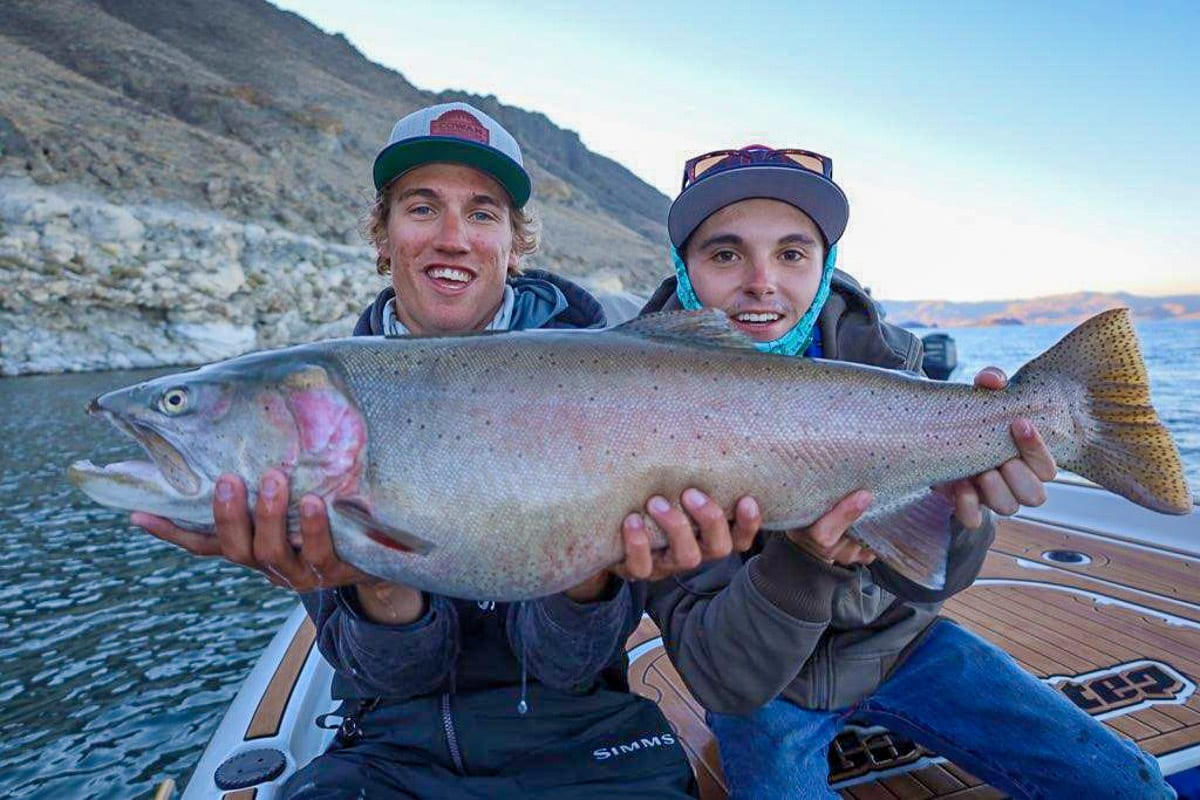 Hans with another monster cutthroat trout from Pyramid Lake.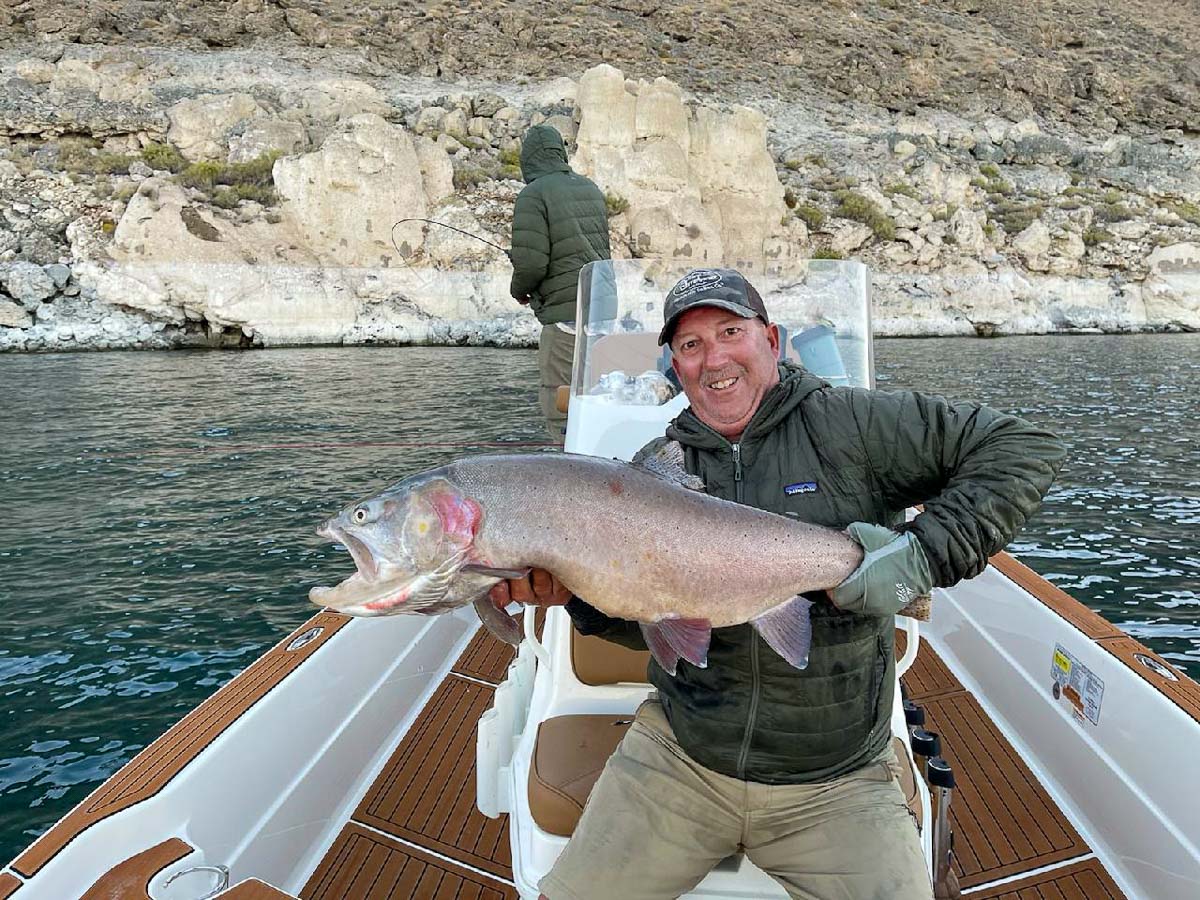 Two Bug Doug got into some big cutthroat trout on Pyramid Lake too.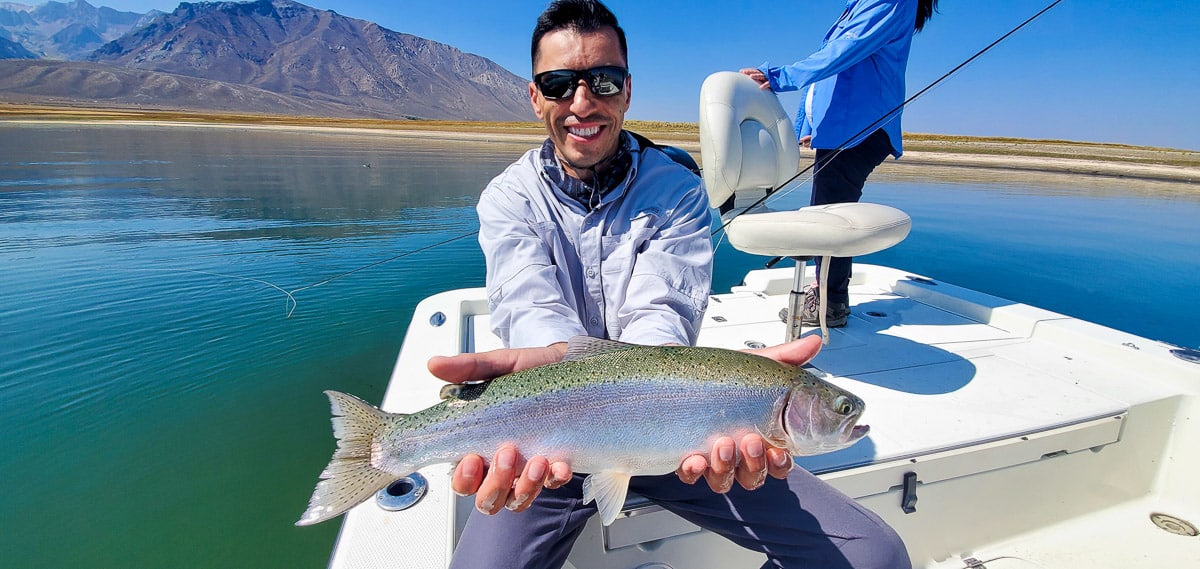 Hector fished with Doug R and got this nice rainbow trout.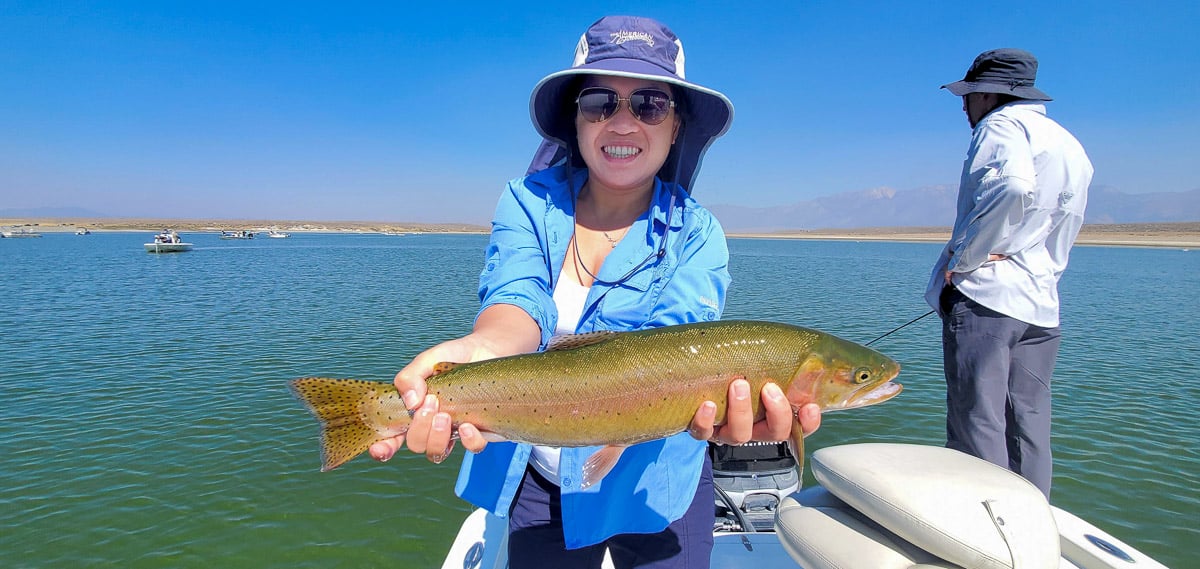 Doug R. guided Aimee to this cutthroat trout.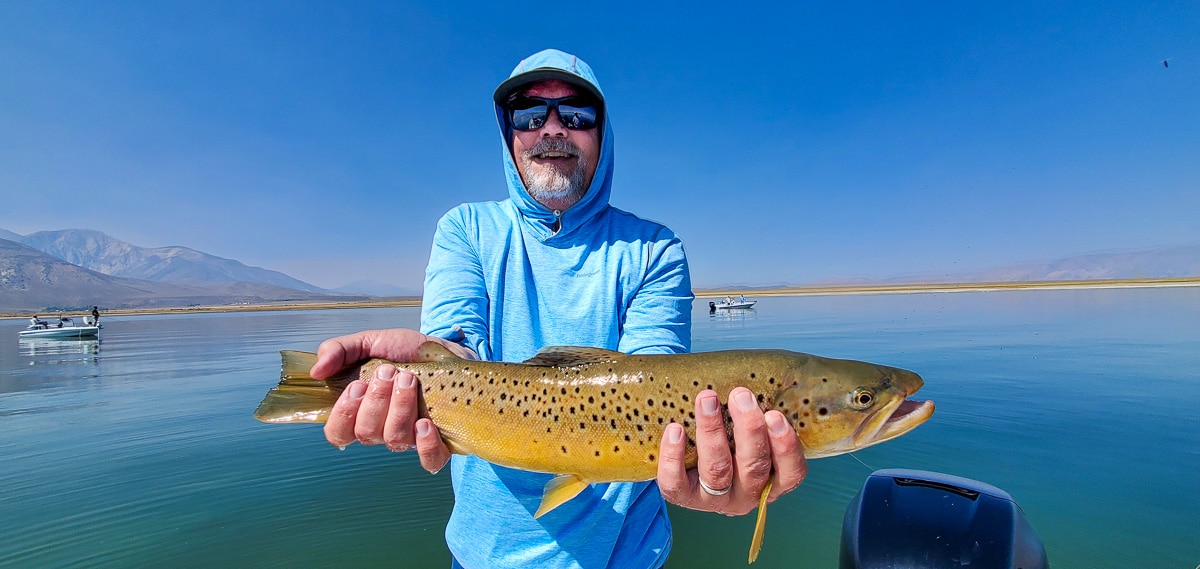 Rob displays a fine brown trout he caught fishing with Doug R.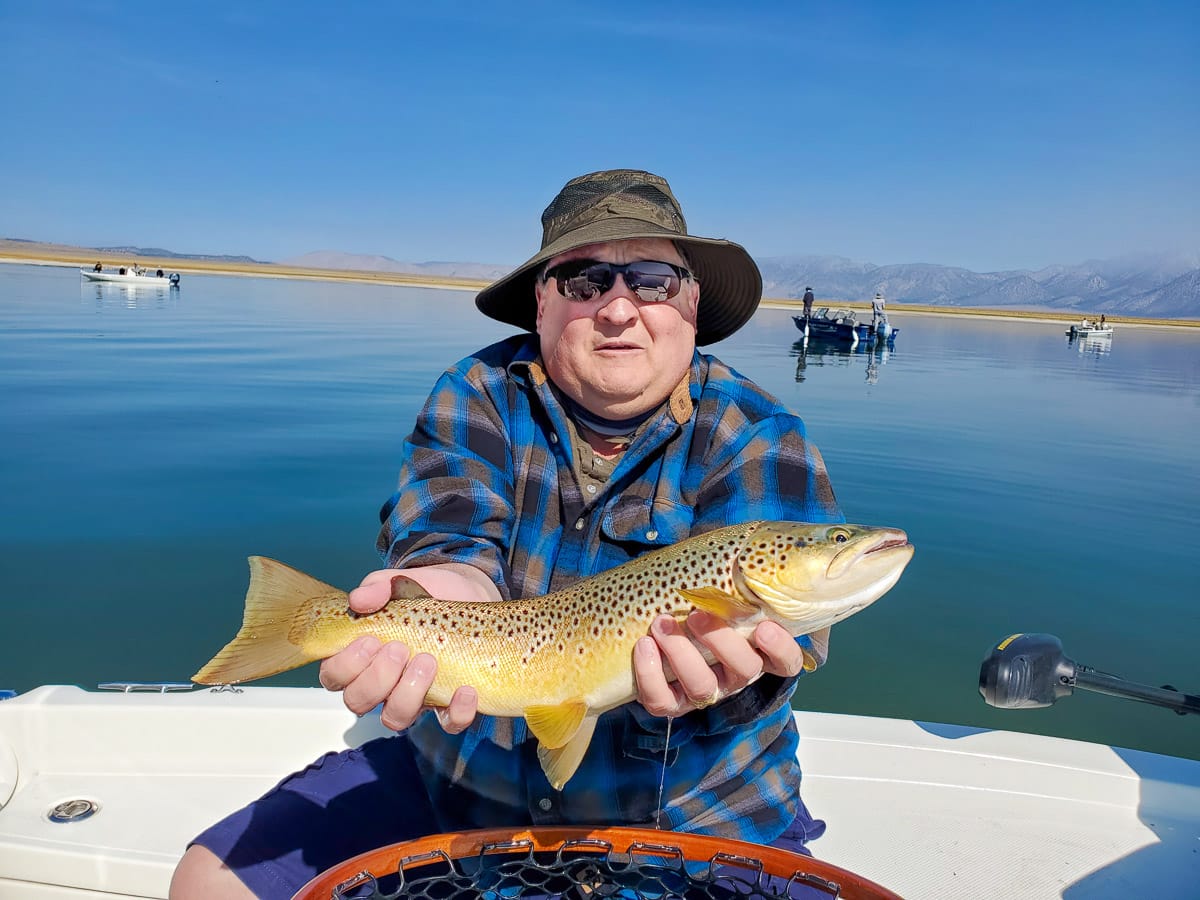 Seth guided Frank to this sweet brown trout.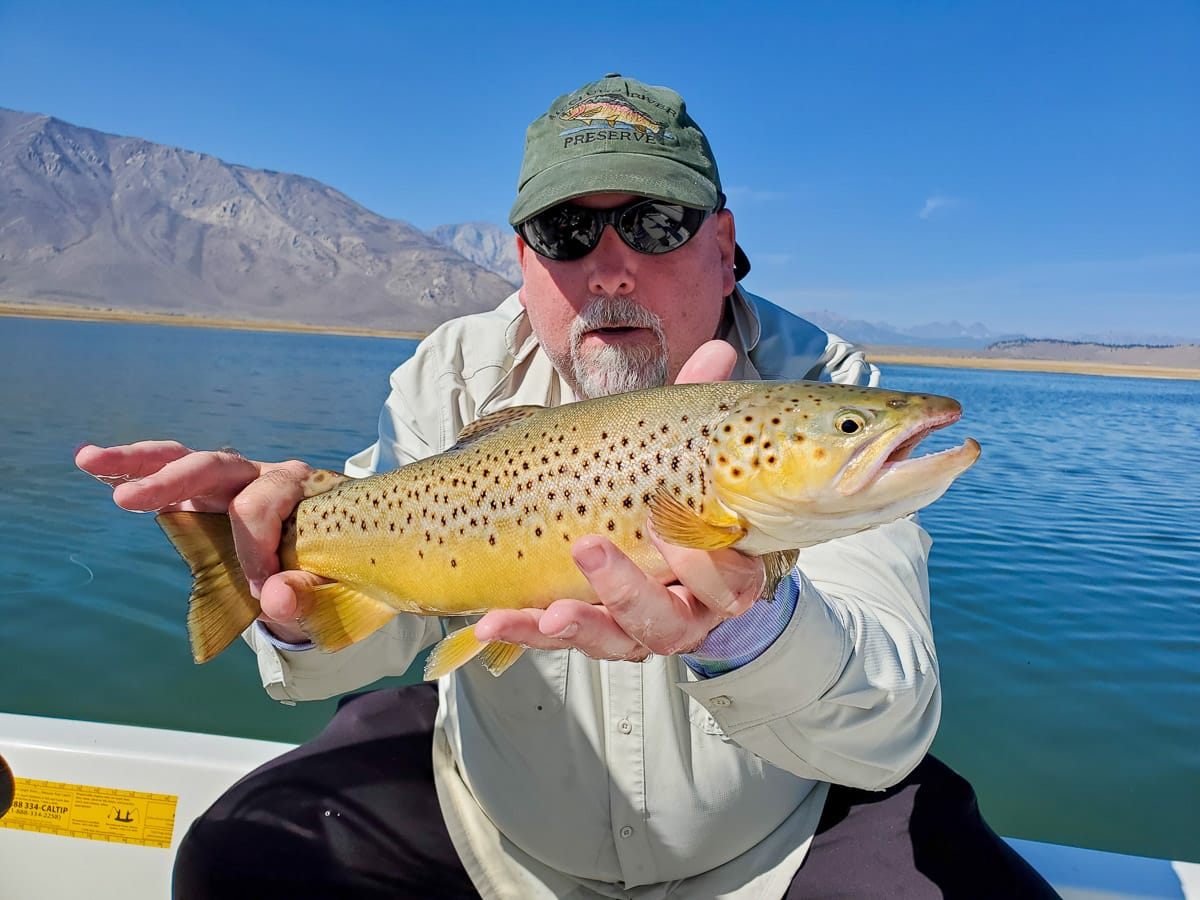 Seth guided John to some good ones like this brown trout.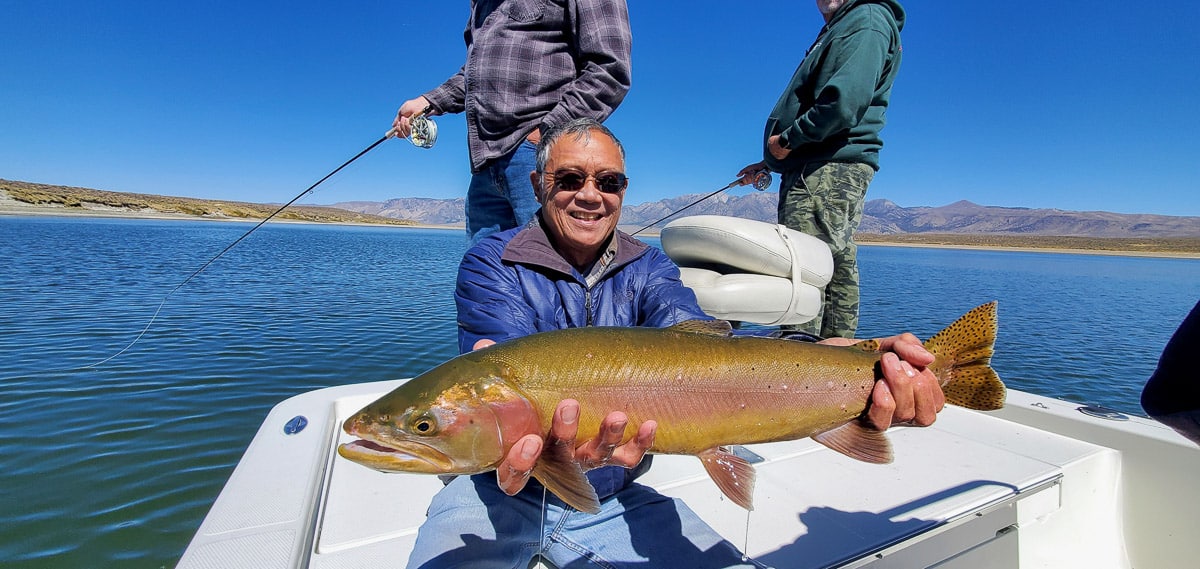 Butch fished with Doug R and nailed this massive cutthroat trout.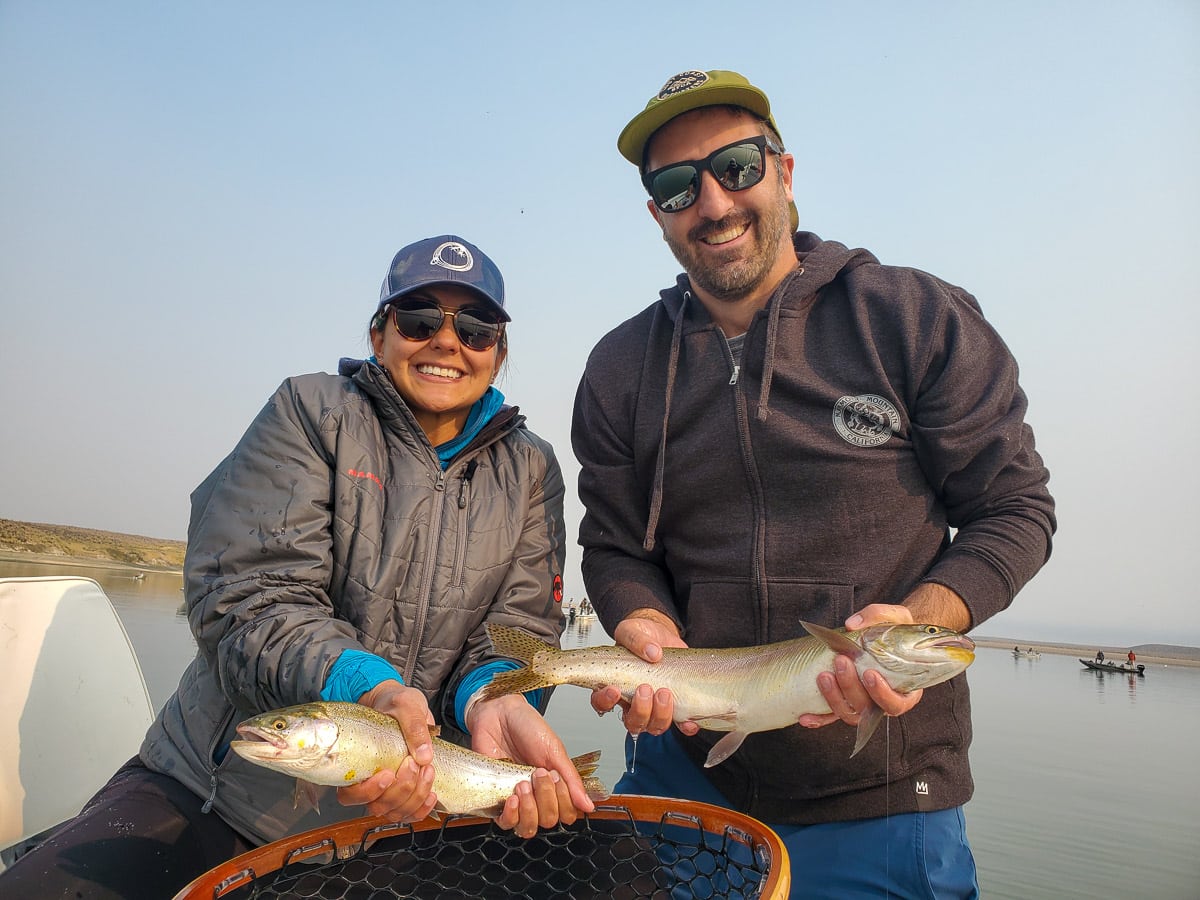 Ravi and Derek fished with Seth and got these nice cutthroat trout.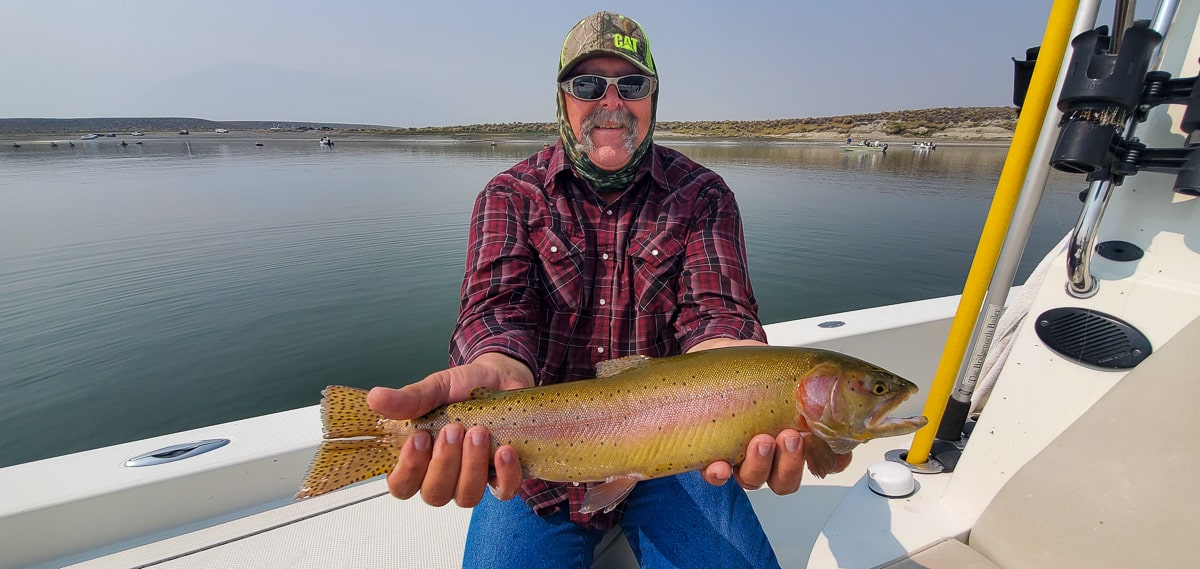 Joe whacked some good ones including this nice cutthroat trout.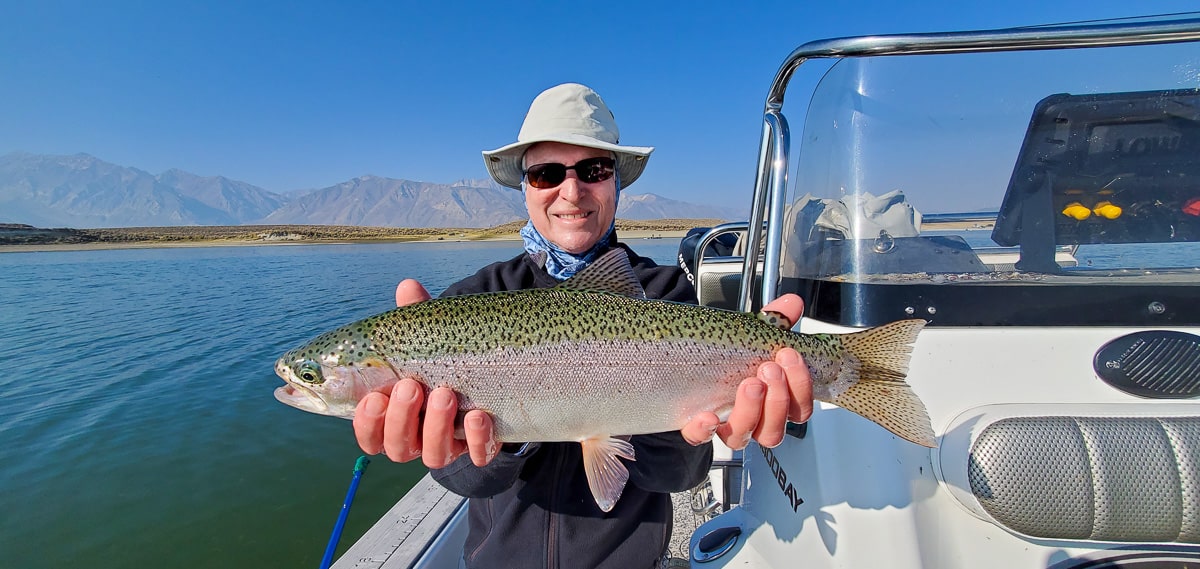 Two Bug Doug guided Art to some solid rainbow trout.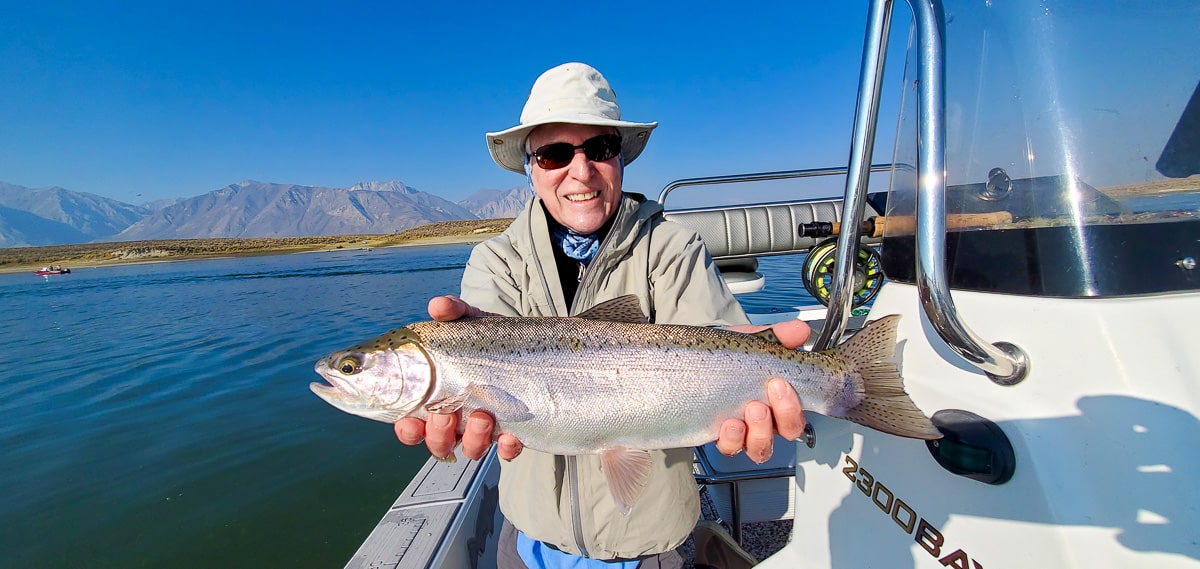 Art with another large rainbow trout.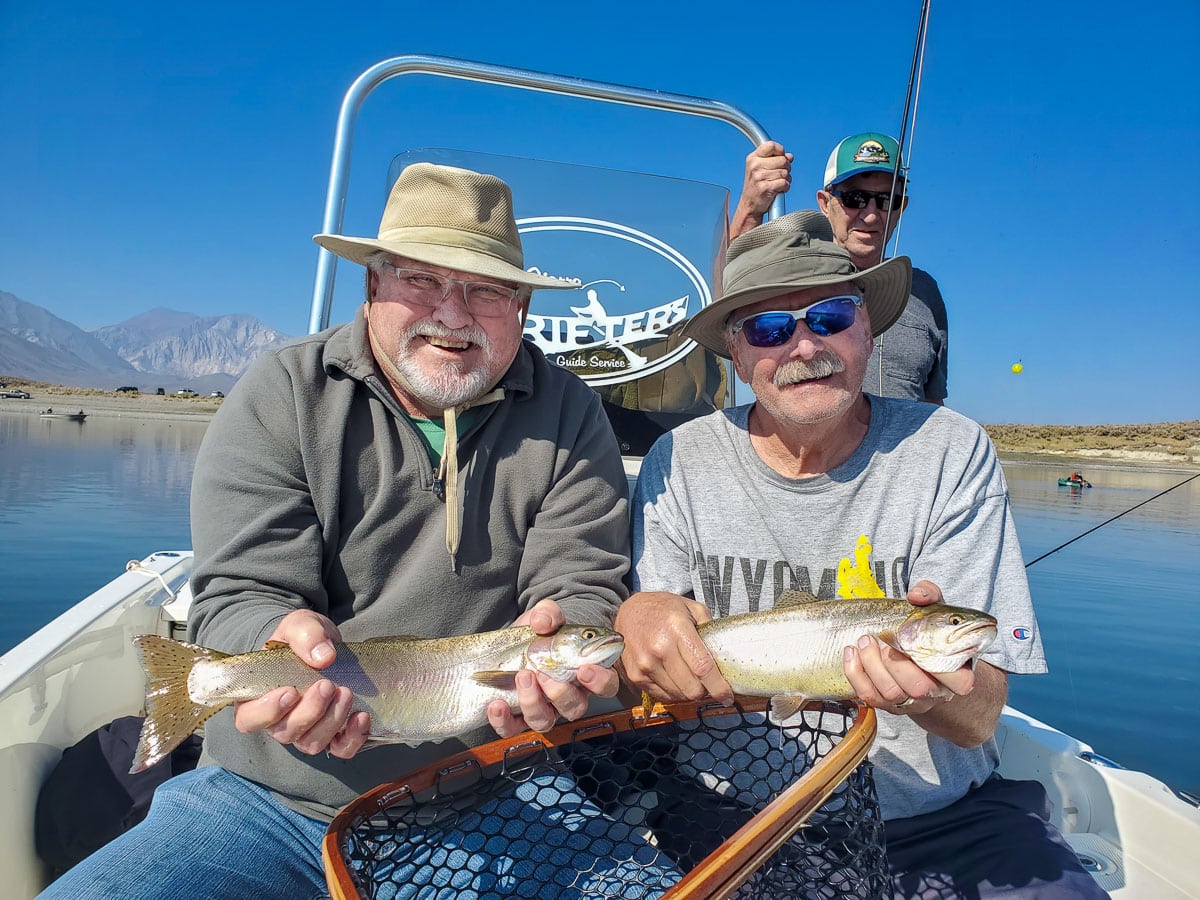 Seth got Tom and Dave on some nice ones like these 2 cutthroat trout.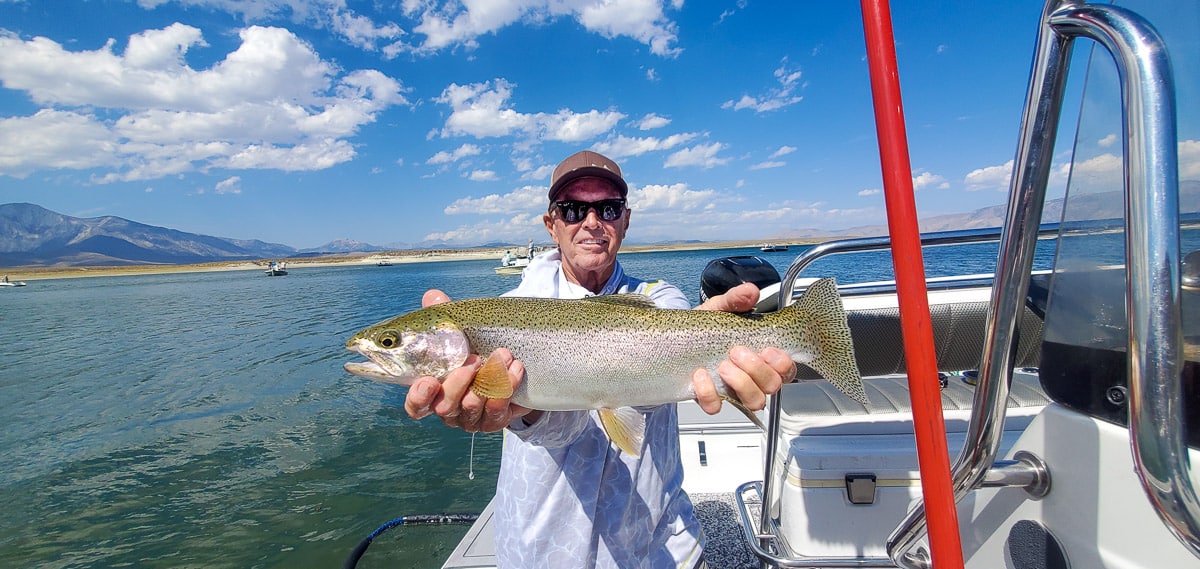 Greg fished with Two Bug and got this nice rainbow trout.
Here are our flies which are working on the Upper and Lower Owens River, Crowley Lake, Hot Creek, and East Walker in addition to the above patterns listed in our report:
SD Chironomidge
#16,
Para Midge
#20, 22,
Puff O' Smoke
#16,
Broken Back Copper Tiger Midge
#18, 20;
Assassin Light
#18;
Assassin Dark
#18;
Crystal Hi-Vis Parachute Blue Wing Olive
#18;
Crystal Tiger Midge Long
#18, 20;
Crystal Midge Pupa Copper
#18, 20;
Gillie Chironomid Pupa Dark and Light
#18, 20, 22,
Otter Eggs
in all colors,
Bead Head San Juan Worm Red And Brown
#14, 16;
Squirmy Worm Tungsten purple, pink, and red; Parallel Assassin Light #14-16, Parallel Assassin Dark #16; Loeberg Mallard Silver Badger; Spuce a Bu Dark and Light
Click HERE to purchase.
Click HERE to check out our great summer Sierra Drifters T-shirts and Hats.