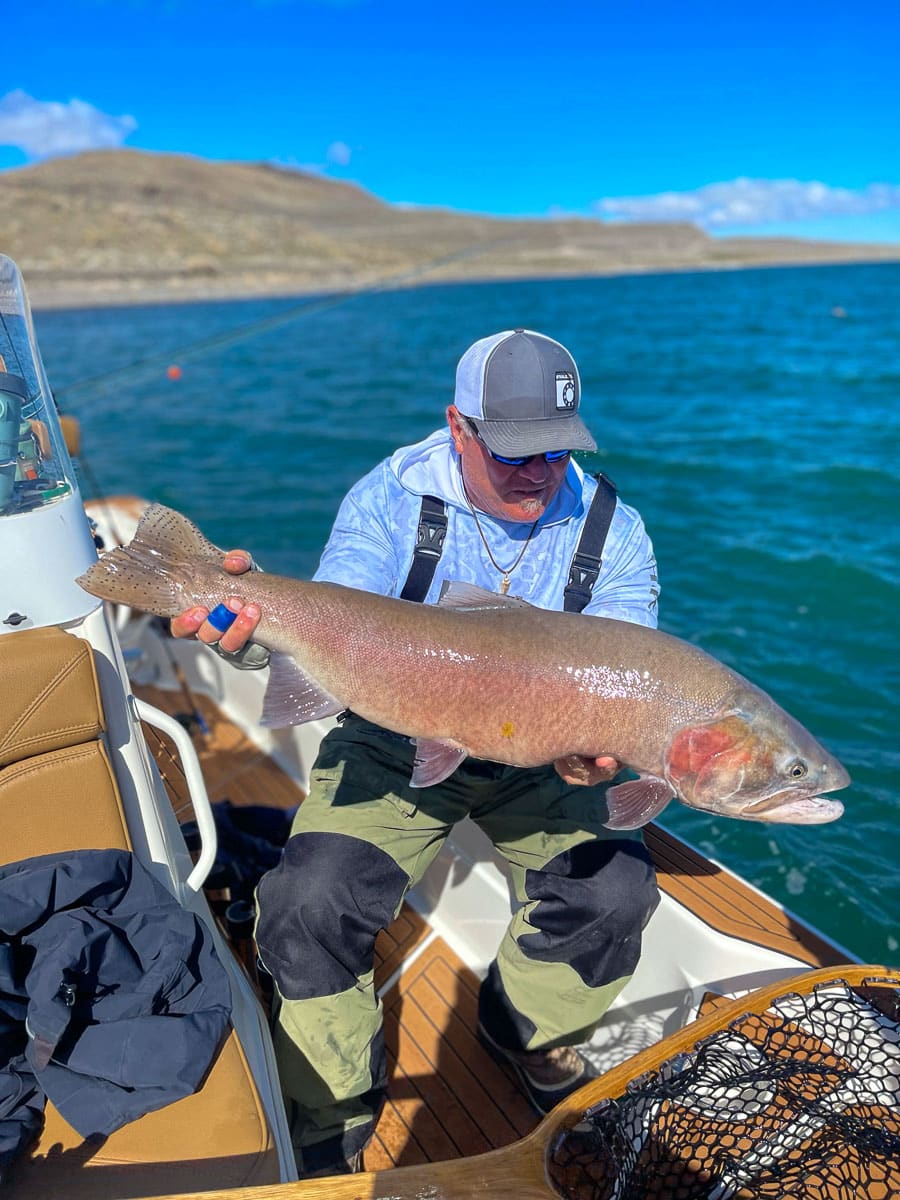 Lots of changes to report that are happening or have happened in the eastern sierra as we close out the month of March. As spring is officially underway, we will start to see some warmer weather and melting off of the remainder of the high elevation snow. A few storms here and there are not uncommon still, but any snow that falls will not stick around with the sun angle much higher now. All of the open to fishing sections, with the exception of higher elevation areas are completely snow free now and access is quite easy. There are still some soft mud spots on the Upper Owens River, but the flows here have dropped significantly, sending the bulk of the large rainbows back to Crowley Lake. A few cutthroat trout have already been seen in the river, and in the coming weeks we should start to see a larger push of fish moving in. I wouldn't be surprised if there are good numbers below the Benton Crossing Bridge currently, but this section is closed to fishing until the general season opener. The major river fire on the Lower Owens seemed to hug the river through its path of destruction and unfortunately burnt up all the brush and the riparian vegetation has been scorched to the ground. There is already some new growth coming through though, and with warmer temps and a little more moisture, we should see this area bounce back fairly soon. The Wild Trout sections has been very consistent for browns and rainbows on most days. Pyramid Lake is also firing up with some big fish coming to the net. We are fishing here from a 24′ center console bay boat, which gives us great access to the entire lake in comfort. We have April booked but plenty of May dates available through the end of that month. Hot Creek is starting to fire up in the afternoons especially on the surface with building bug activity daily. Both the canyon and Interpretive Site are starting to turn on. We are just over a month away now for the general trout season opener and Crowley Lake is ice free. We are already booking trips for May, June, and July and fishing here until the end of October.
Hot Creek The road to the canyon parking lots is completely clear and both sections of the creek are fishing best in the late morning and early afternoons. Good bug hatches are making for plenty of surface activity on most days. BWO's, Caddis, and midge imitations on the surface have been responsible for fish catches. When fishing nymphs, unweighted midge patterns, scuds, SD Crawlers, #20 Flashback Pheasant Tails, and Caddis larva and pupa patterns have been good. Look for open runs and pockets along the weed lines and fish any water that looks deeper than the surrounding river bed as they tend to hold more fish.
The Upper Owens River Flows have crashed here and are now down to 50 cfs, which has sent the majority of large rainbows on their way back to Crowley Lake. You may find a few stragglers still left in the deepest of pools. The BWO hatch is coming off pretty good in the afternoons, and the resident wild rainbows and browns who stay in the river all year are taking advantage of this hatch. The cutthroat trout should be getting ready to make their run up from Crowley Lake very soon. We will keep a close eye on conditions here in the coming weeks.
Lower Owens River flows now down to 83 cfs. The wade fishing has been very consistent here all winter and continues to produce. With warmer weather than Mono County, the aquatic insects get a big head start on activity and hatches. Nymphing down here has been very good with small midges in sizes #18-20 and Flashback PT's in #18-20. Most of our midge patterns are getting takes down here. It can get busy down here on the weekends, so weekday fishing is always better if you can swing it. Expect some great surface action for 1 to 2 hours late morning and early afternoons. The drift boat sections have really been affected by the fire as it burned all of the brush away from the shorelines. This will no doubt increase fishing pressure throughout the river in this section and degrade the fishing quality and quantity. If conditions pick up in the drift boat sections, it's possible we may drift here again by May.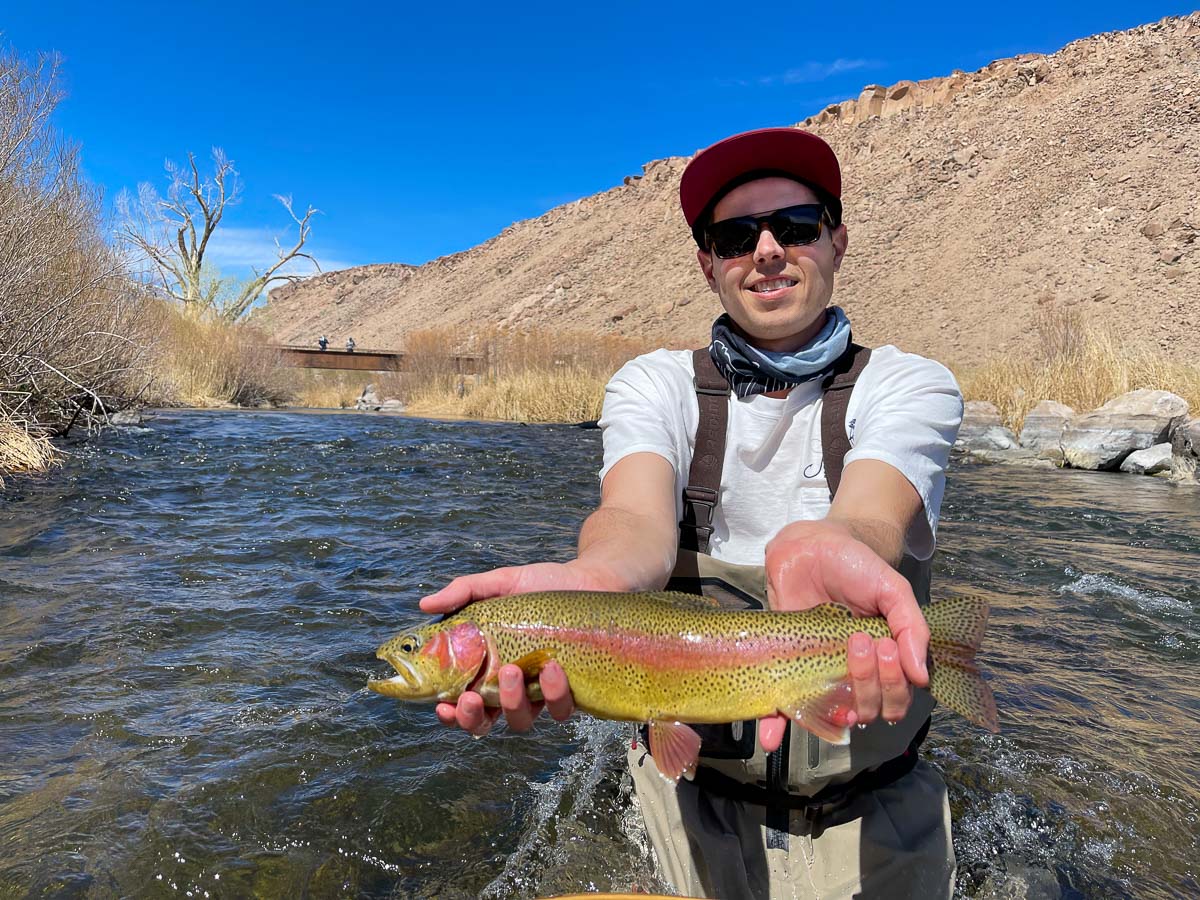 Cory guided Ryan to a beautiful Lower Owens River rainbow trout. We have been seeing some larger models here this year.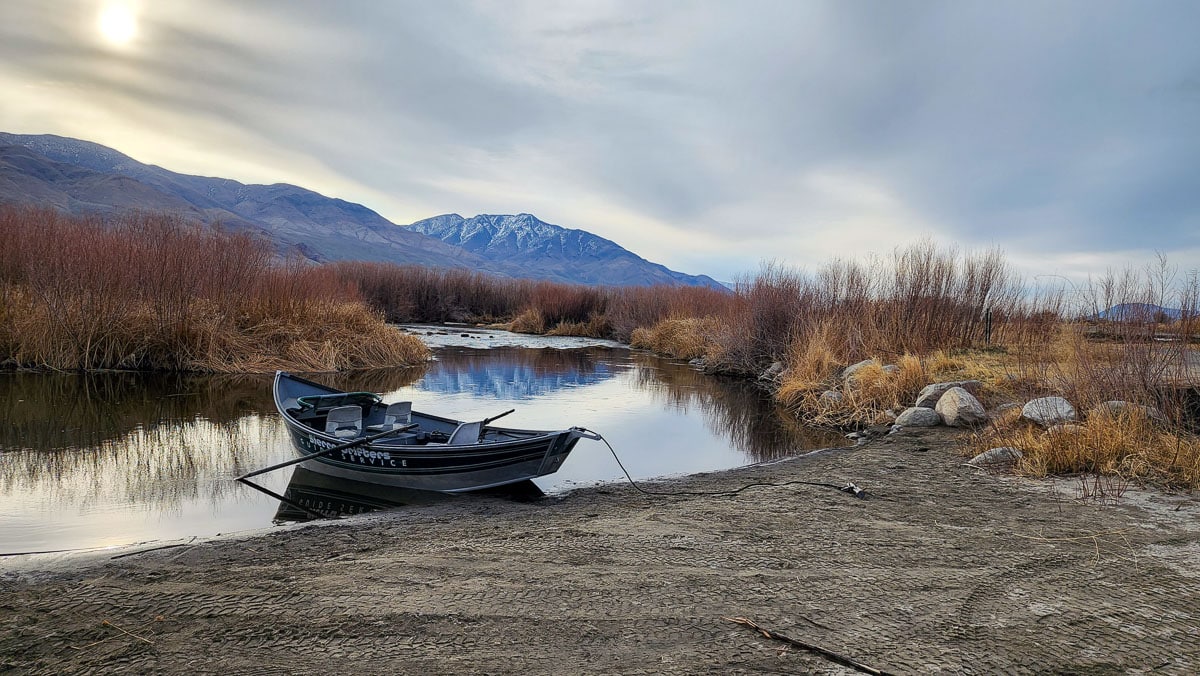 Some sections of the Lower Owens River are still intact and untouched by the flames.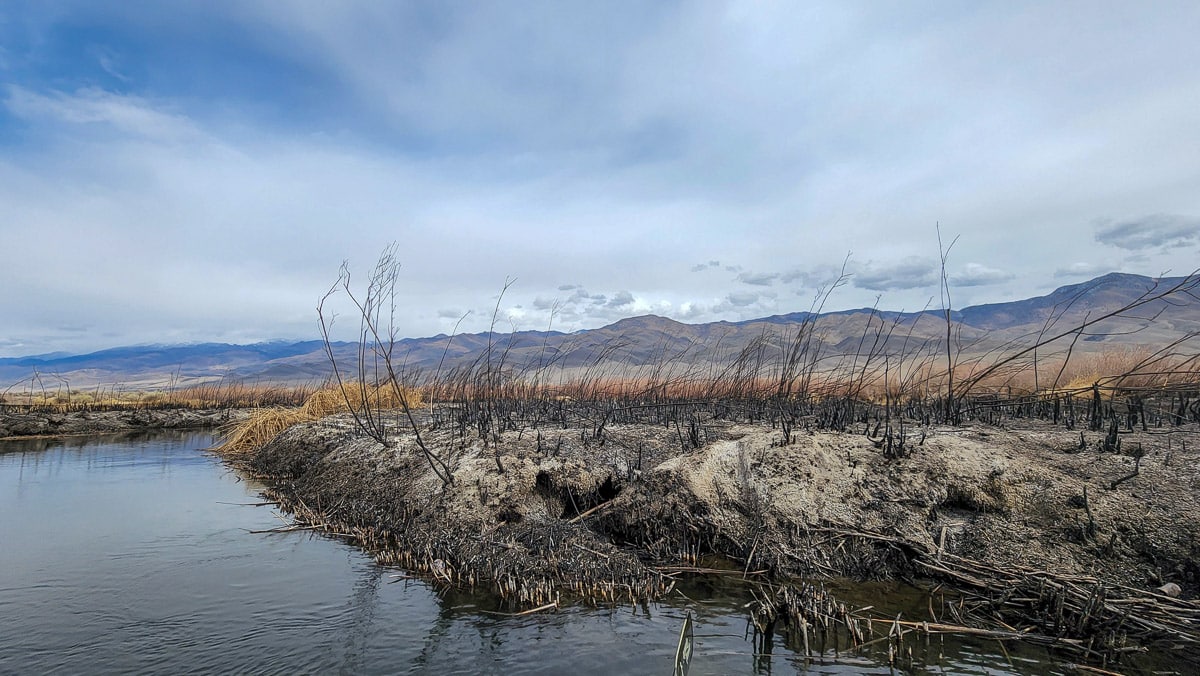 A good portion of the river was burnt all the way to the banks for a few river miles.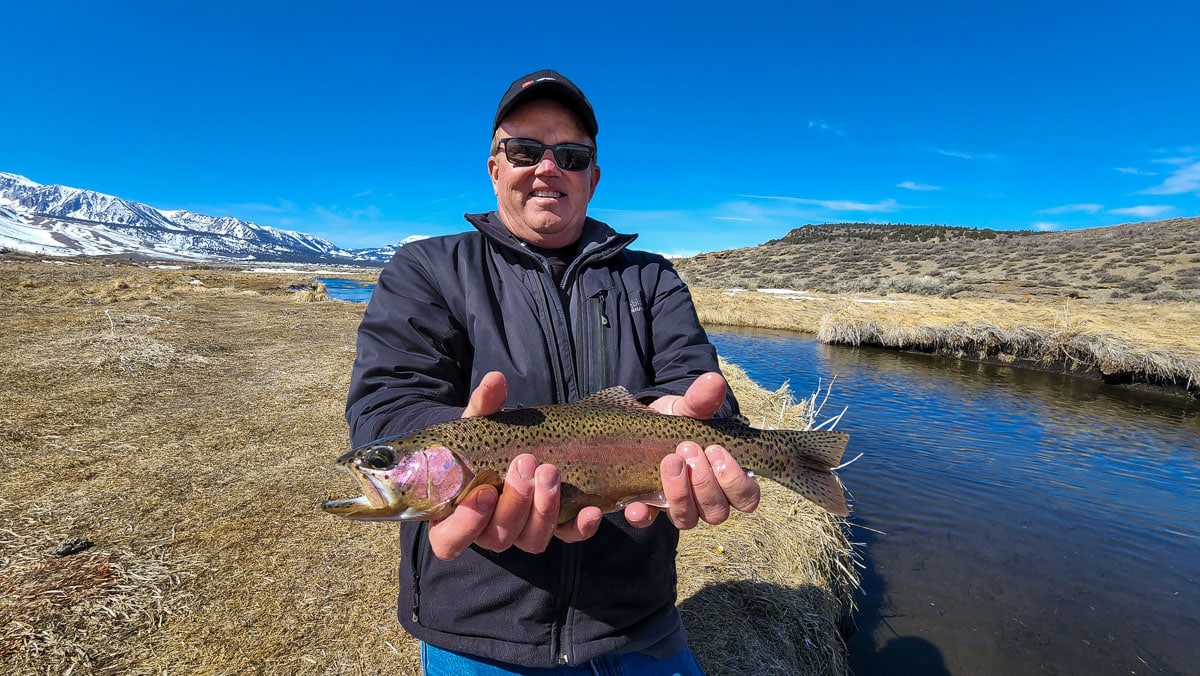 Craig had a fun day fishing with Doug R. on Hot Creek. Here's a typical rainbow trout from the creek.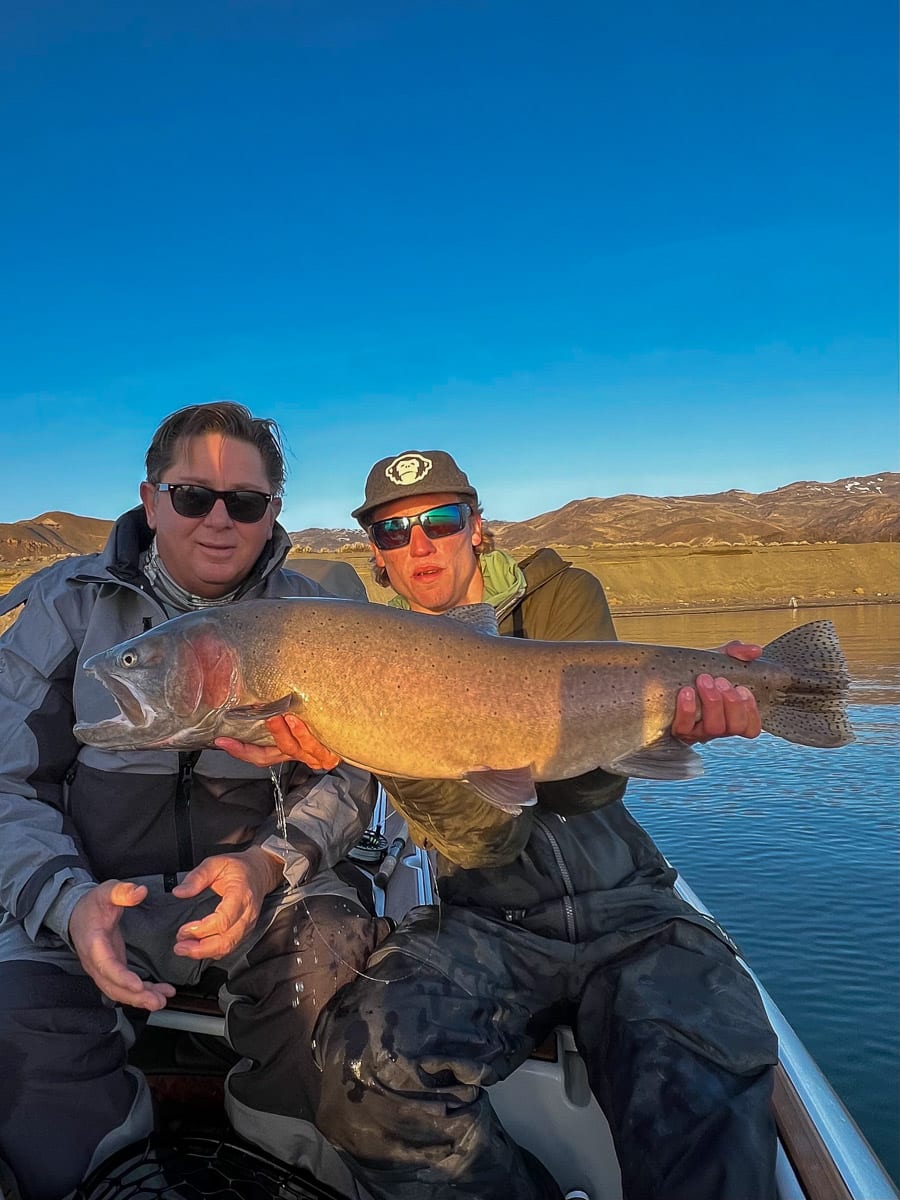 Hans put Mike on some giant cutthroat trout like this at Pyramid Lake.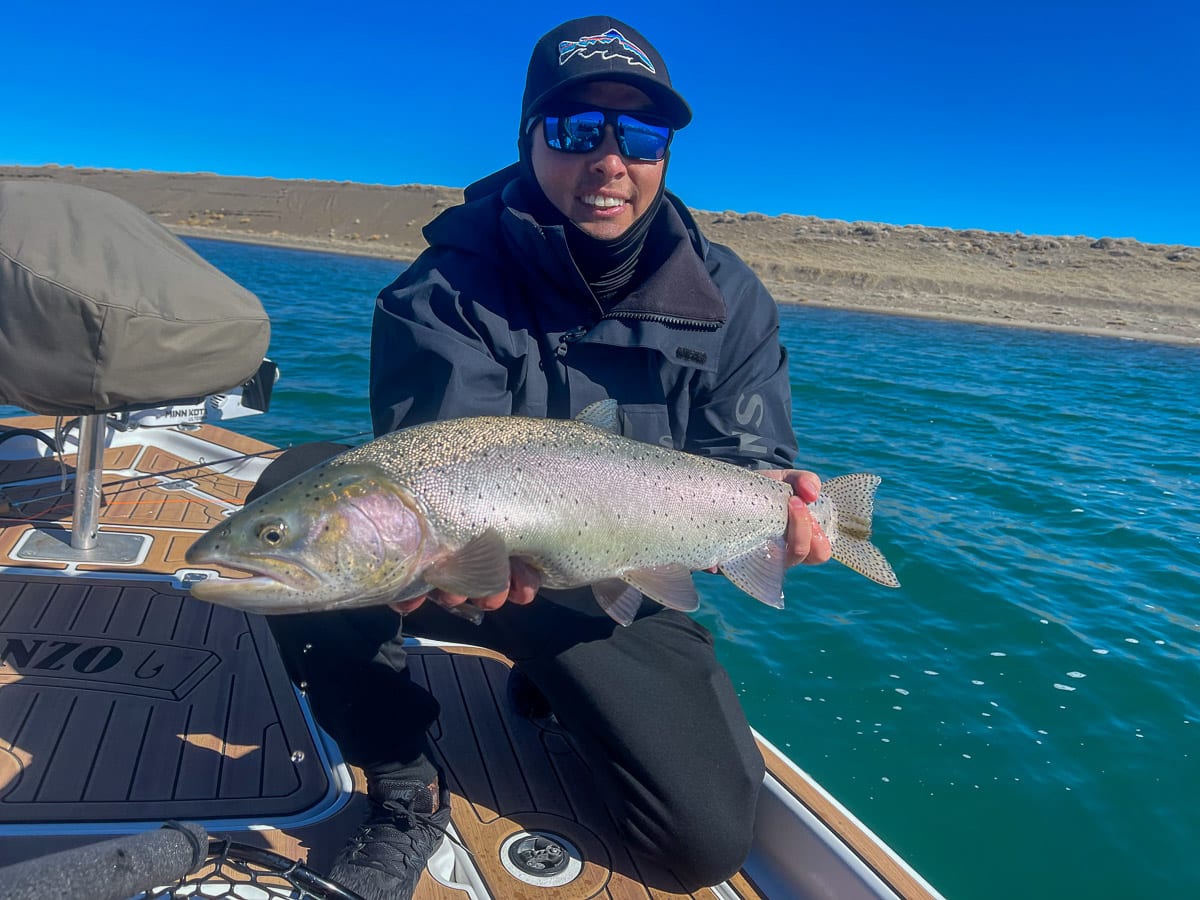 Nate is no stranger to the fish report and he scored this nice cutthroat trout while fishing with Hans.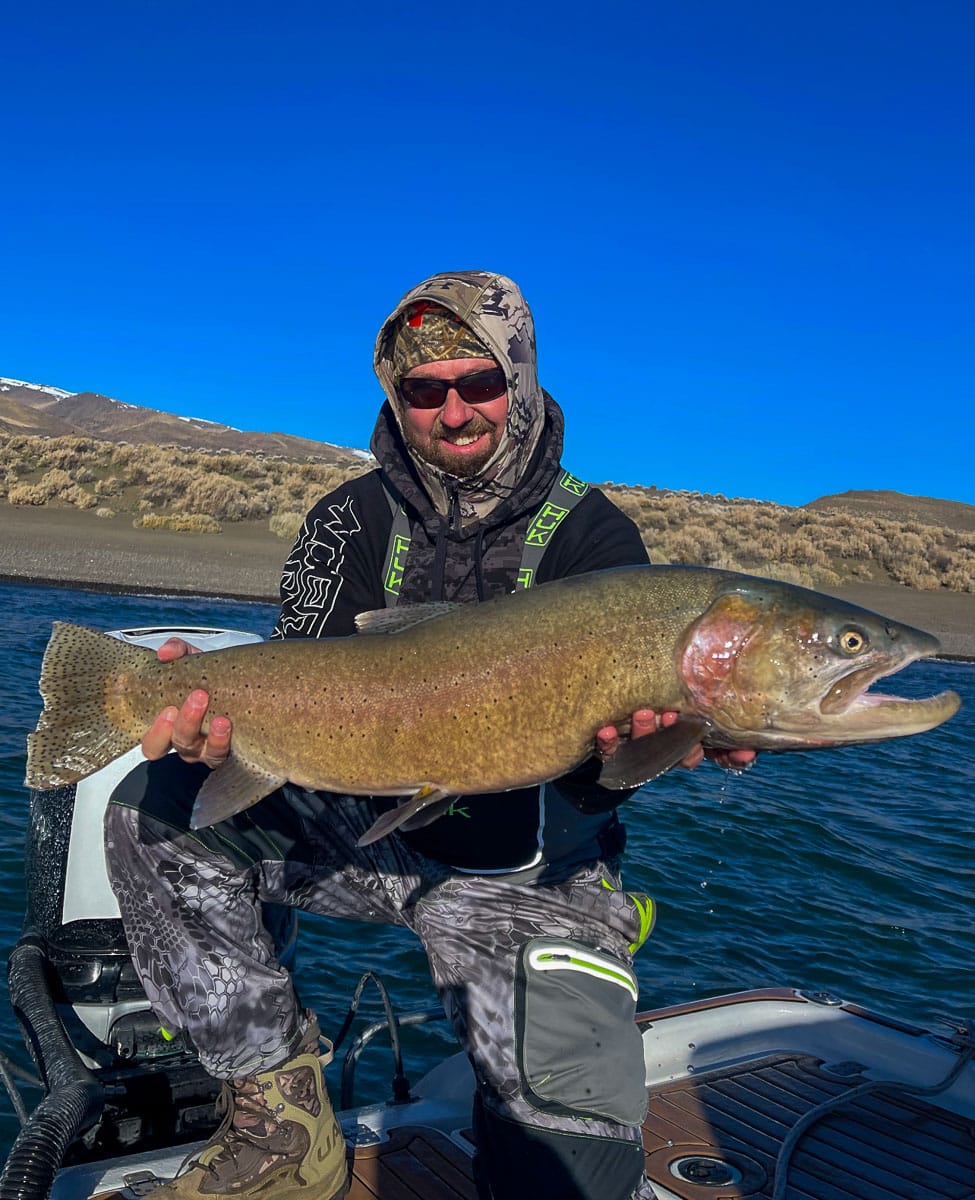 Judd also fished with Hans and scored this massive cutthroat trout.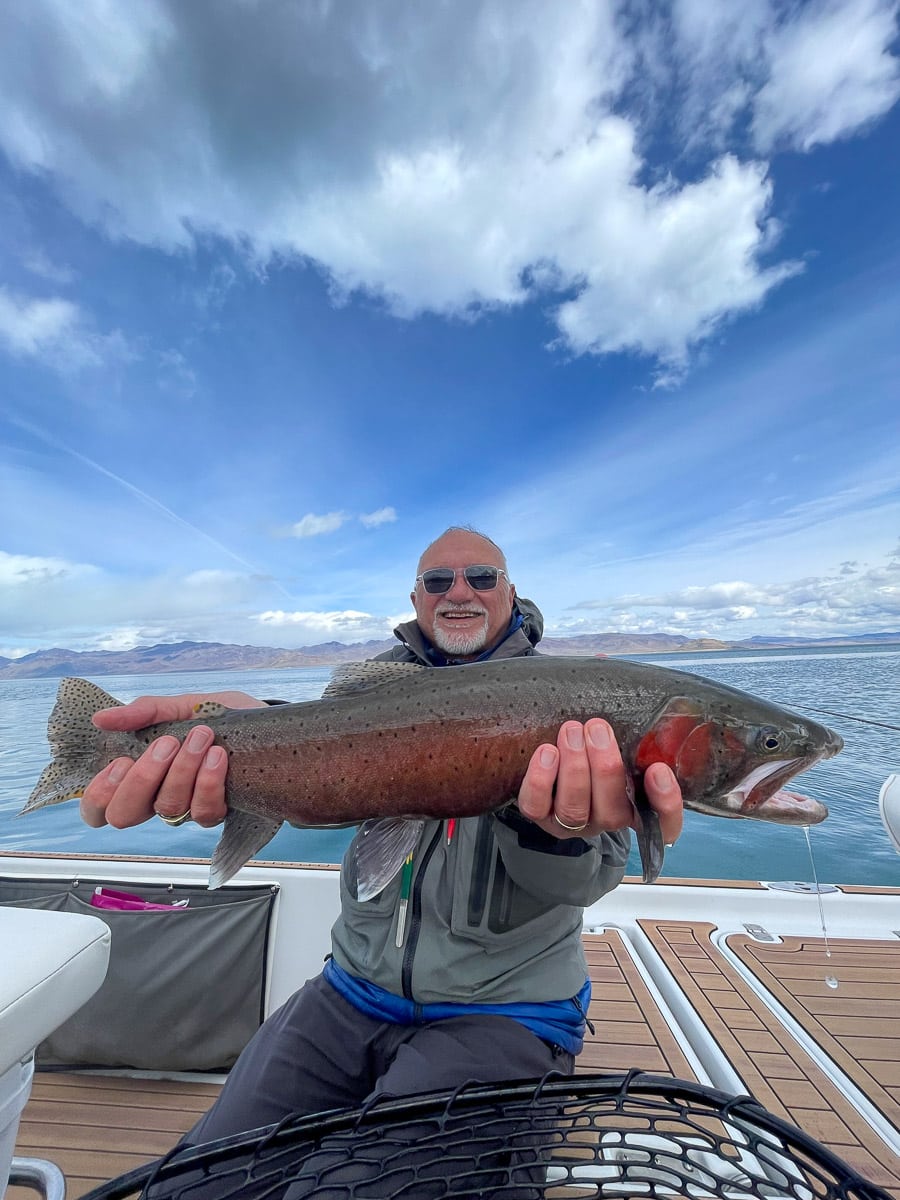 It's been awhile since Don has been in the report, but he is back and got this colorful cutthroat trout with Hans.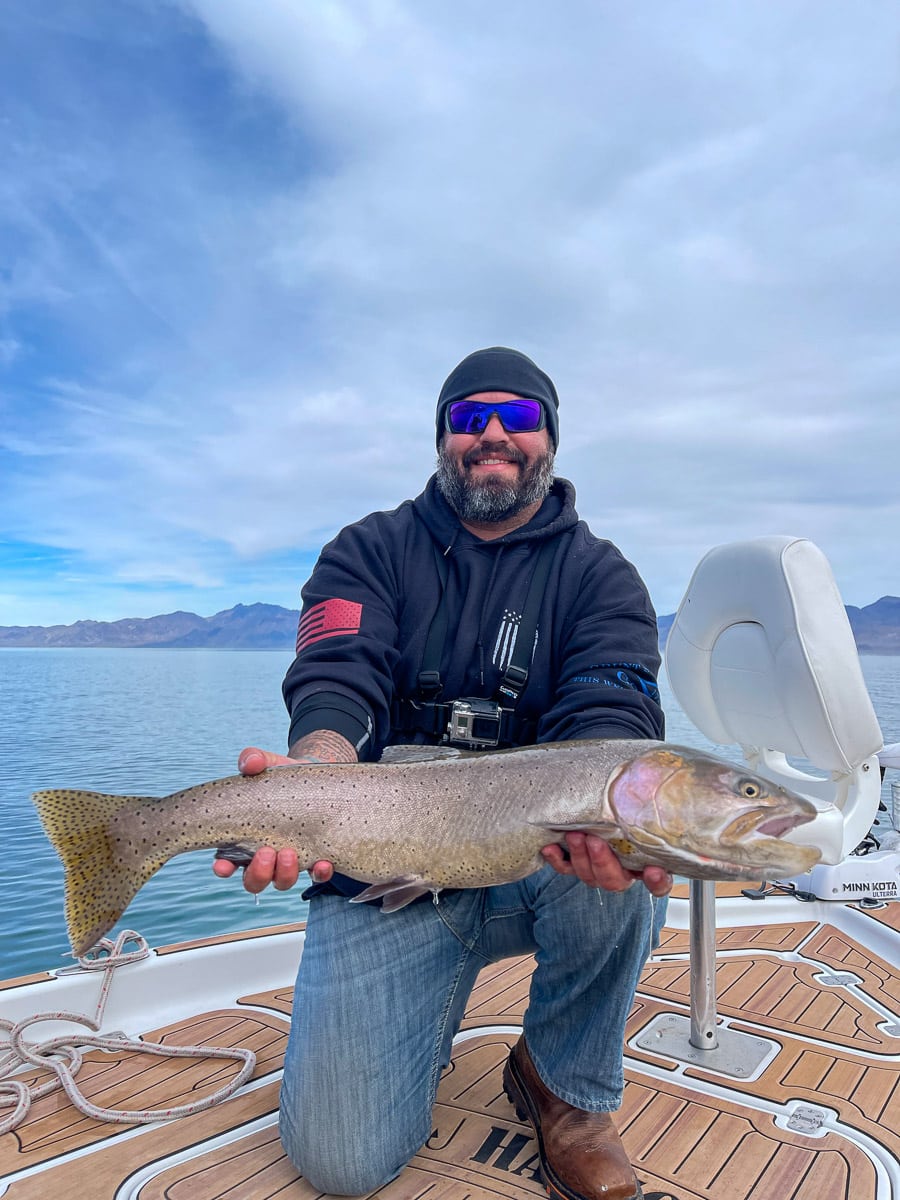 Craig got into some nice cutthroat trout while fishing with Hans on Pyramid Lake.
Here are our flies which are working on the Upper Owens, Lower Owens River and Hot Creek in addition to the above patterns listed in our report:
SD Chironomidge
#16,
Para Midge
#20, 22,
Puff O' Smoke
#16,
Broken Back Copper Tiger Midge
#18, 20;
Assassin Light
#18;
Assassin Dark
#18;
Crystal Hi-Vis Parachute Blue Wing Olive
#18;
Crystal Tiger Midge Long
#18, 20;
Crystal Midge Pupa Copper
#18, 20;
Gillie Chironomid Pupa Dark and Light
#18, 20, 22,
Otter Eggs
in all colors,
Bead Head San Juan Worm Red And Brown
#14, 16;
Squirmy Worm Tungsten purple, pink, and red; Parallel Assassin Light #14-16, Parallel Assassin Dark #16; Loeberg Mallard Silver Badger; Spruce a Bu Dark and Light
Click HERE to purchase.
Click HERE to check out our great summer Sierra Drifters T-shirts and Hats.