Here's your Eastern Sierra Fishing Report 4-21-23. The long awaited fishing opener is fast approaching and we are one week away from the annual influx of crowds that flock to the rivers and streams in the eastern sierra. Each year this happens like clockwork, but this year will be vastly different. This is the first spring where most lakes are still covered in ice, as winter has refused to release its cold grip on the area and streams are flowing at high and fast rates making fishing conditions tougher than usual. The combination of nights dropping below freezing and temperatures just reaching levels warm enough to melt snow has been an alternating cycle. This next week will bring warmer temperatures which will activate snow melt, but it does not look promising for the melt to be fast enough to clear waters by opening day. We can expect a one to two week delay for open water access this year. The Lower Owens River is now flowing at 750 cfs and the East Walker is at 1100 cfs. We may see higher flows in both of these locations in the coming weeks. The BWO hatch at Hot Creek is happening now, and most mild afternoons are seeing decent action. We got our summer wear back in stock. Check out our fine selection of Sierra Drifters Hats.
Upper Owens River The migratory rainbow trout have made their way back into Crowley Lake. Next up in the river will be the cutthroat trout as they migrate from the lake into McGee Creek and the Upper Owens. Water levels are remaining stable at 52 cfs, and lots of snow still covers the entries to access points..
Hot Creek BWO's and small nymphs like #18 – 20 PT's are good bets right now. Not a lot of pressure here for the majority of the winter, so the trout are eager to take flies presented properly. You will need snow shoes as the day gets later and the snow softens to walk in and parking is limited still due to the snow level. The BWO hatch is still the highlight of the day, so #18 – 22's will get the job done. You can purchase our line of High and Dry floatants here. We find this brand to be some of the best we have used. Flies to use: Egg patterns, SJ worms #14 – 16, #18 Blood Midge, #18 – 20 Tungsten Zebra, #20 Bead Prince Nymph Tungsten, Broken Black and Blue Midge, #18 -20 Crystal Caddis Larva Green Black, #18 – 20 Crystal Copper Zebra Midge, #18 Flashback Hare's Ear, #22 -24 Griffith's Gnat, #20 Serendipity Black.
Lower Owens River is blown out at 730cfs. We will not driftboat it at this flow nor will we wade it. This flow will continue or even increase as the spring progresses. We are writing it off here until the fall or the river stabilizes at a consistent flow rate.
East Walker River flows are high at 1100 cfs. Going to be a tough go if you fish here, but it can be done. Lots of weight to get those flies down is the key and be mindful of your safety. As we get into spring heavier flies like Crawdads and Rubber Legs are good choices.
Pyramid Lake has been fishing well this month. Most of the fish are being caught in 5 to 10′ of water. A combination of stripping streamers and indicator fishing has been the most productive. Smaller midges fished under the indicator in the #16 – 18 range have been best.
Eagle Lake is getting the water now and the lake is rising. Pine Creek has been flowing stronger than it has in years, which is good news for the lake and the fish. We still have dates available for those wanting to fish the incredible fishery for the month of June. We are now taking bookings for May 31st – July 1st. Check out our Eagle Lake page for more information. For some moving picture action of Eagle Lake take a look at our videos.
Thanks for reading our Eastern Sierra Fishing Report 4-21-23.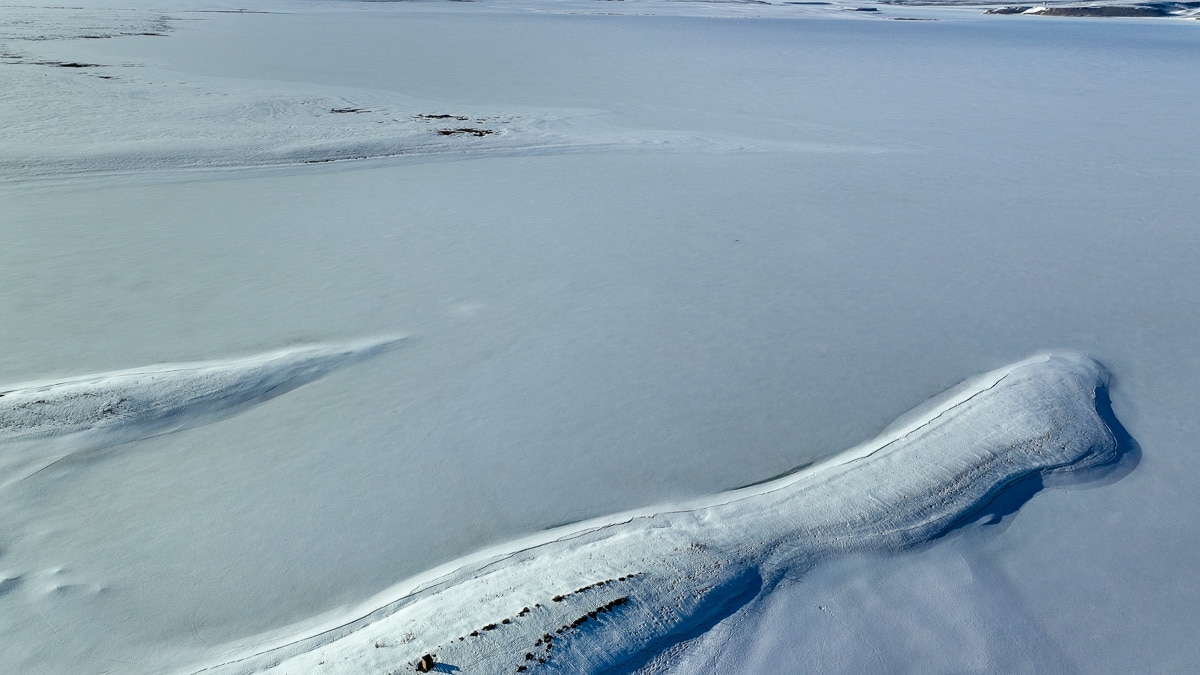 Hilton Bays are still locked up in ice at this time.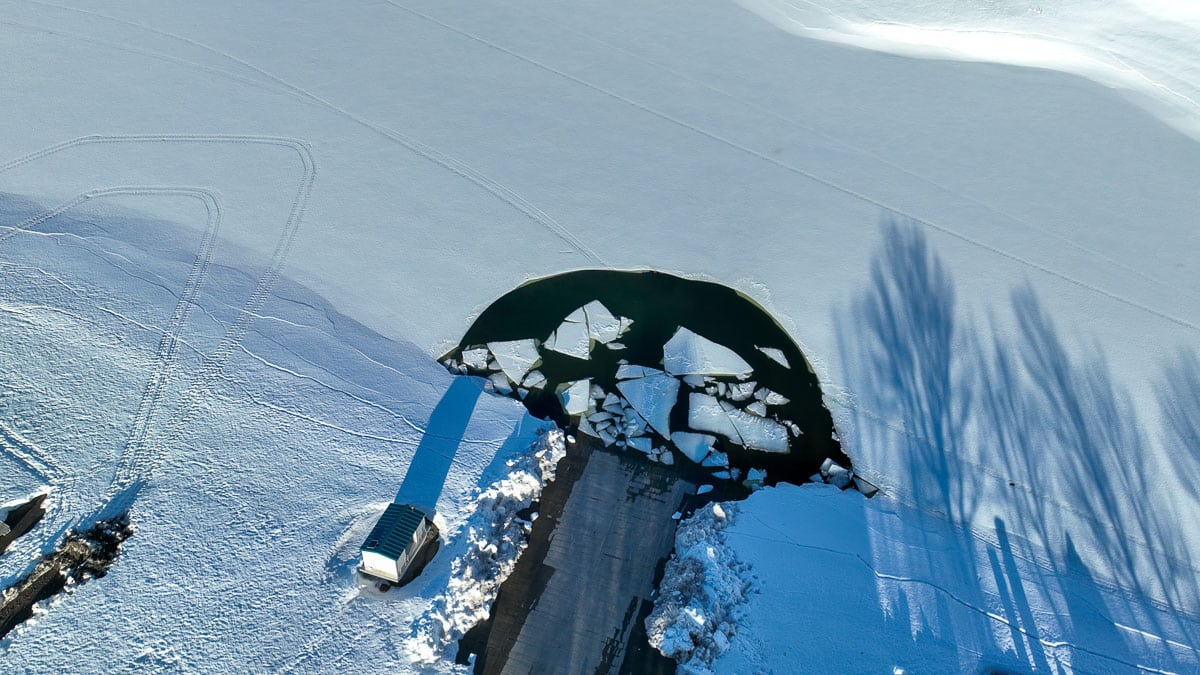 There is some water starting to show at the Crowley Lake launch ramp.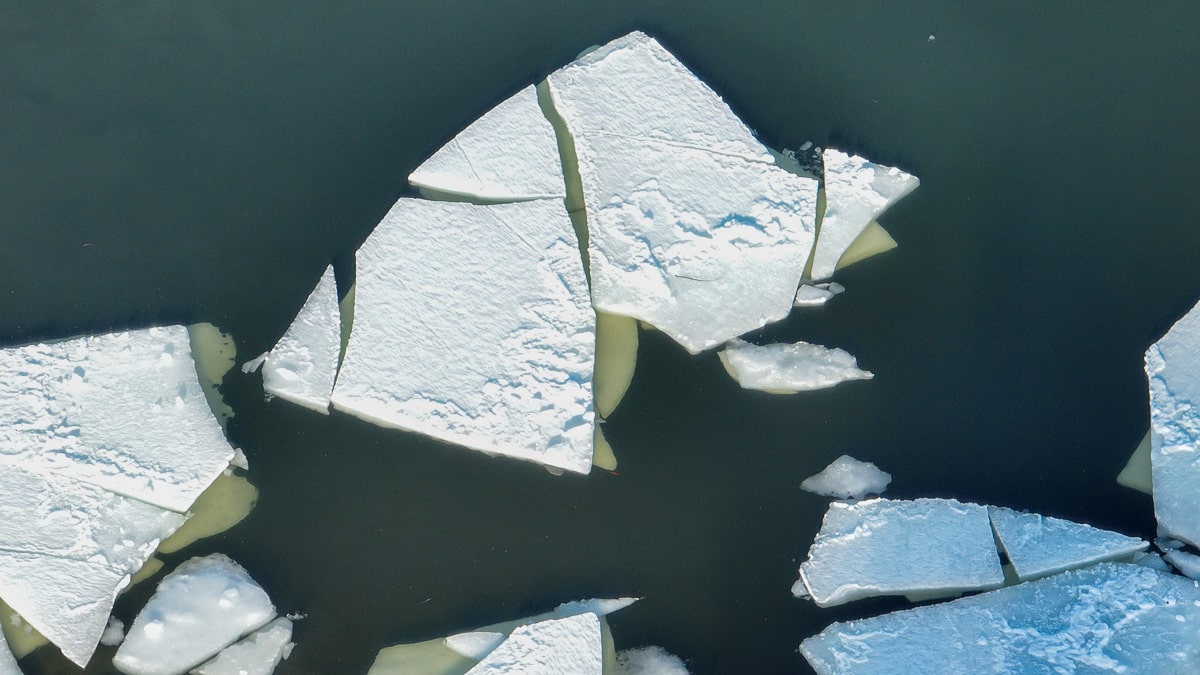 The breakaway ice is still thick on the lake.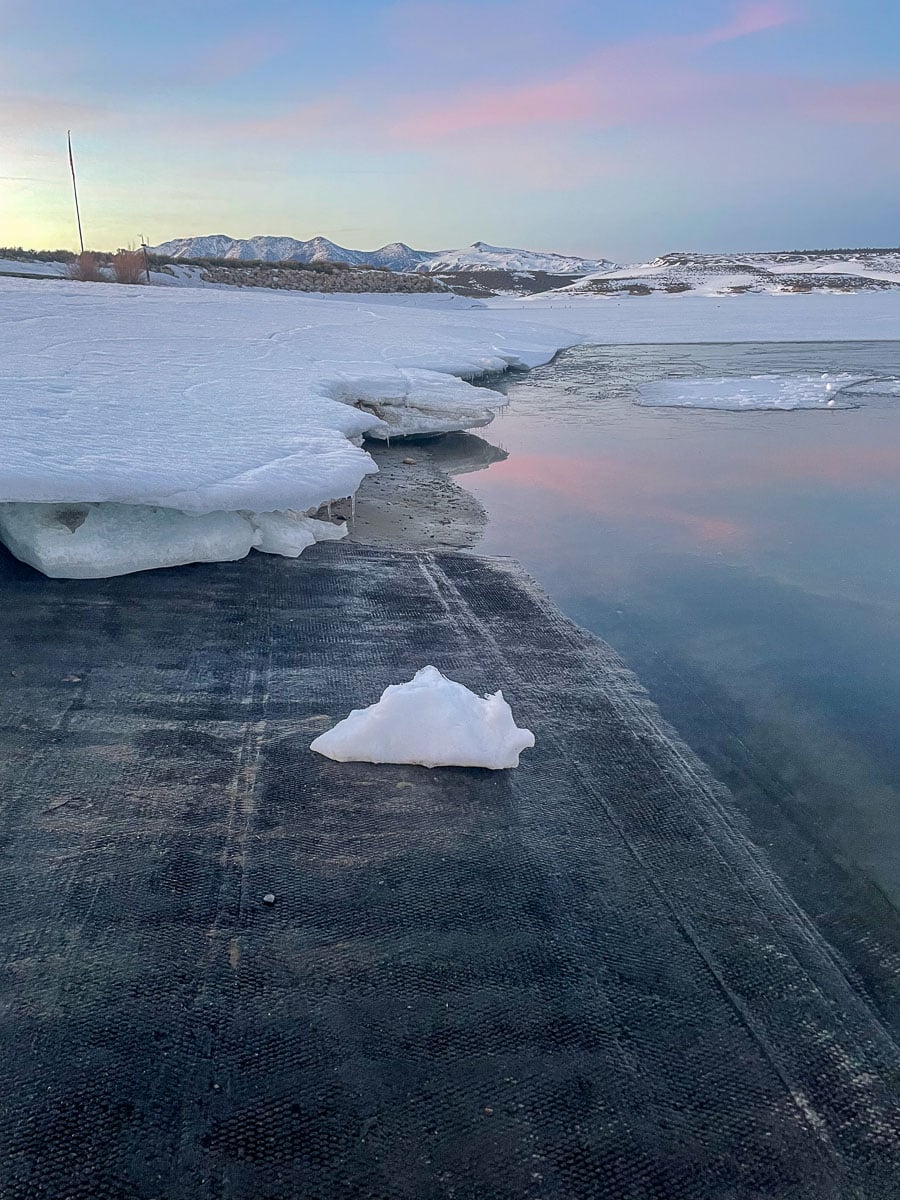 A view from ground level at the launch ramp.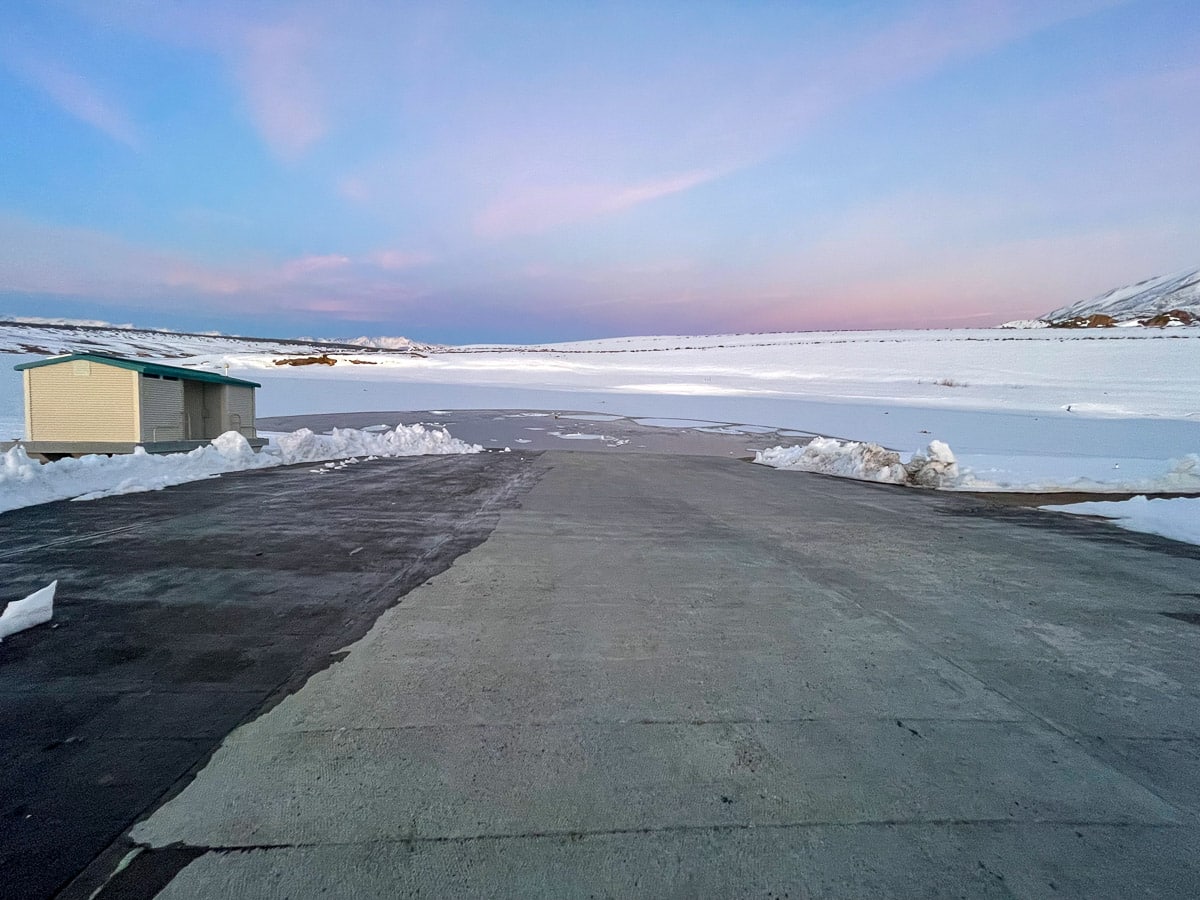 The launch ramp at Crowley Lake in April of 2023 with the lake frozen.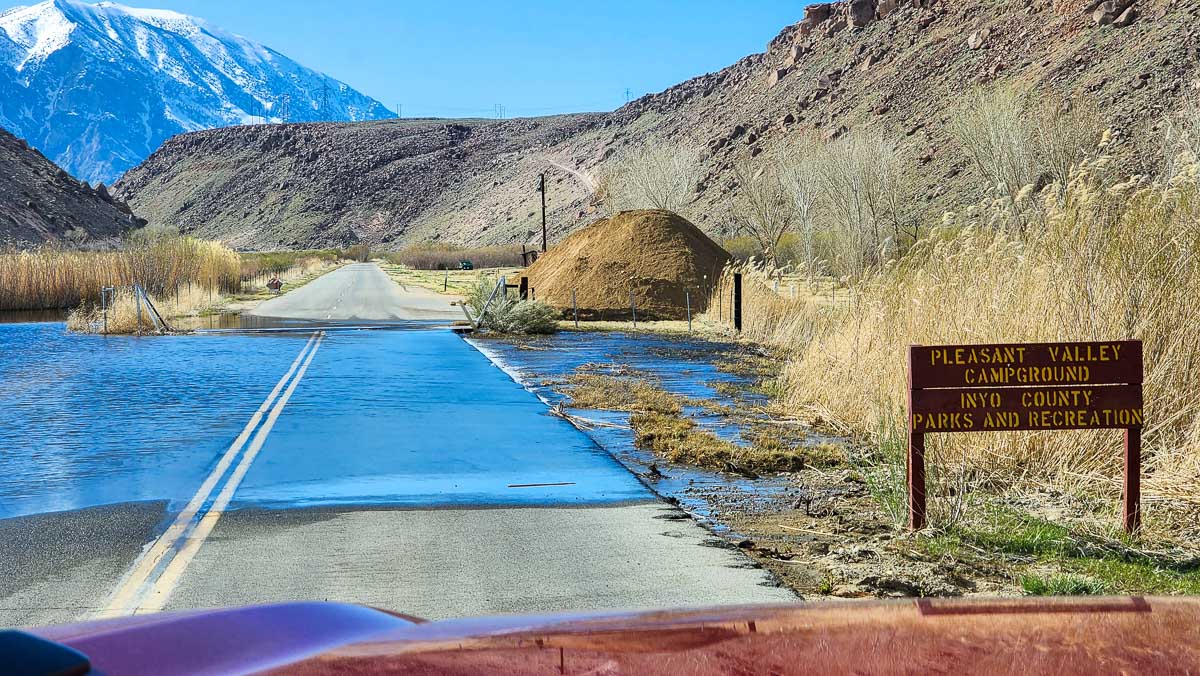 Pleasant Valley campground remains closed as water flows over the road.
High flows are now the norm for the Lower Owens River.
Here are our flies which are working on the Upper Owens, Lower Owens River, East Walker River and Hot Creek in addition to the above patterns listed in our Eastern Sierra Fishing Report 4-7-23:
SD Chironomidge
#16,
Para Midge
#20, 22,
Puff O' Smoke
#16,
Broken Back Copper Tiger Midge
#18, 20;
Assassin Light
#18;
Assassin Dark
#18;
Crystal Hi-Vis Parachute Blue Wing Olive
#18;
Crystal Tiger Midge Long
#18, 20;
Crystal Midge Pupa Copper
#18, 20;
Gillie Chironomid Pupa Dark and Light
#18, 20, 22,
Otter Eggs
in all colors,
Bead Head San Juan Worm Red And Brown
#14, 16;
Squirmy Worm Tungsten purple, pink, and red; Parallel Assassin Light #14-16, Parallel Assassin Dark #16; Loeberg Mallard Silver Badger; Spruce a Bu Dark and Light