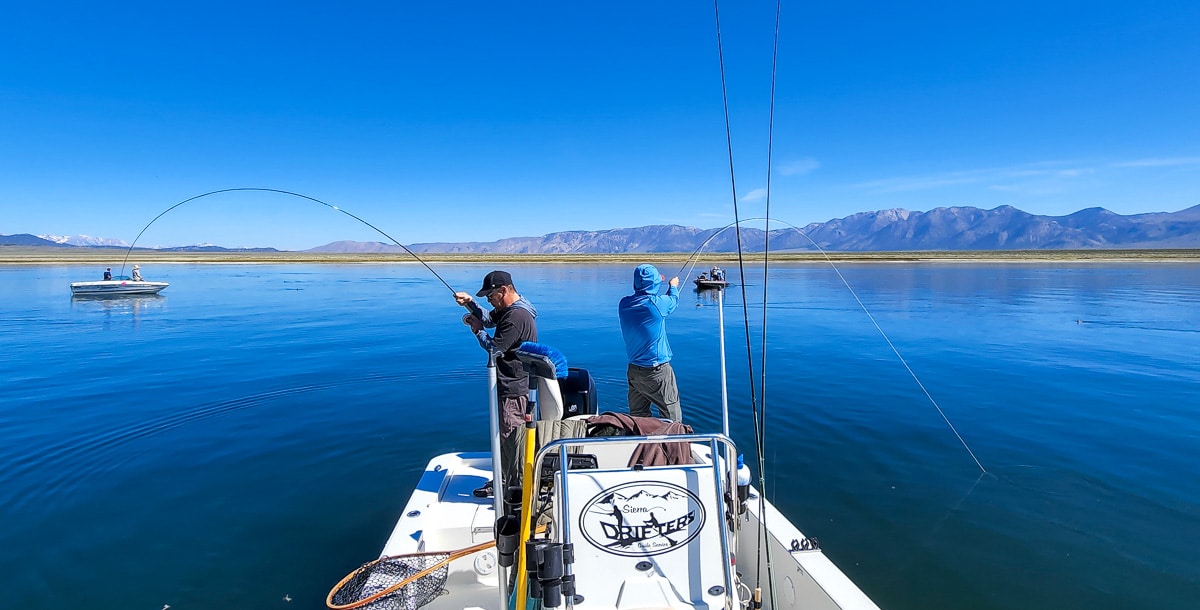 We have had a fantastic last few weeks of the month fishing on Crowley Lake this season. Fish, fish, and more fish have made their presence known in our boat and river nets. It has been a massive amount of cutthroat trout, with some rainbows and a few browns mixed in that have been dominating the scene along the stormy flats shoreline, but the fish are starting to spread out more along McGee Bay. The Upper Owens River held some beautiful cutthroat, which are making their way back to the lake now. Flows have come up on the East Walker River for now, which has created more fishable zones along the river. The road to the Mammoth Lakes Basin is now open, but the San Joaquin River access road remains closed and flows are dropping at a steady rate and now holding closer to 200 cfs. Runoff is going strong with the little snow that is left which is slightly swelling some creeks and rivers. Most of the alpine lakes have been fishing well and we just got through another cold snap that slowed down fishing some over the weekend with high winds. Weather is returning to warm temperatures again for the coming week. Campgrounds are open, graduations and summer breaks are just about here, and it's the perfect time to start planning for those summer fishing trips in the eastern sierra.
Crowley Lake is continuing to produce some big number days for fish. Mix in some real standout sized trout and solid midge hatches, and you have the makings of a perfect trout fishery. Most days have seen the bite stay consistent in the mornings and afternoons. Windy days have surfaced here and there, but moving around can keep you on the fish. 16 – 20 feet has been the magic depth around Sandy Pt, Hilton Bays, McGee, Alligator and Six Bays. Fish have been holding at all levels of the water column with large fish tailing on the surface at times. Vary your depth with your flies for best results. Best patterns have been #16 -20 SD Chironomidge, #16 – 18 Puff O' Smoke, Dark Assassin # 14 -16 in parallel and regular, #14 – 18 Mud Candy, #16 -18 Blood Midge, #16 -18 Copper Tiger Midge, #16 -18 Crystal Tiger Midge Long, #18 -20 Gillie Dark and Light, and Tungsten Zebra Midge # 16 – 20.
Hot Creek's higher water levels and stable weather conditions have moved a few fish around. Look along the edges and pockets of slower water for feeding trout. Runoff swelling is starting to subside now. Scuds are great this time of year, along with annelids and midges. Hatches will resume once the water levels stabilize and get warmer. #18 Crystal Scud, #16 SJ Worm in Red and Brown, #18 Flashback Hare's Ear, SD Crawler Red or Brown, and #18 -20 Flashback Pheasant Tails have been working well.
The Upper Owens River has a few cutthroat trout doing their thing this spring. It was a later run for the fish this year, but kind of typical as each year seems to be different. There are some fish in McGee Creek now with some rainbow trout close behind feeding on the eggs of the cutthroat. Please refrain from fishing to pairs of fish in shallow water, as these fish have established their spawning redds and should be left alone. The larger pods of fish that are grouped together are the ones that are territorial and more aggressive as they fight for dominance and the right to spawn. Egg patterns, crystal leeches, san juan and squirmy worms, are working well.
Lower Owens River flows jumped to 175 cfs. Wading will be tougher now, but the same patterns are still working well when you find the right sections of water. Smaller nymphs like #18 – 20 Flashback Pheasant Tails, #20 Serendipity Black and Red, #18 – 20 Tungsten Zebra Midge, #20 – 22 Crystal Chironomid Emerger Copper, #20 Red Rib Midge Glass and Dark Head, #18 -20 Crystal Caddis Olive Dubbed Black and Crystal Caddis Olive Larva Black have been catching trout here.
The East Walker River flows have now bumped up to 130 cfs which is allowing the fish to spread out. You'll now find fish throughout the deeper river sections which are more numerous. It's different day to day so what works well one day, will not necessarily be the best fly on the next. Crawdad Brown or Olive have been responsible for some large fish here, and these bigger model fish have no problem picking them off. Parallel Assassins in Dark and Light # 14 -16, #18 Copper Poxy Back Brassie, #16 – 18 Copper Tiger Midge, Bead Prince Nymph Tungsten # 16 – 18, Squirmy Worm Purple and Red, Killer Baetis #12 -14, and SD Crawler Brown or Red are effective this time of year. For streamers go with Spruce-a Bu Light and Dark, Loeberg Mallard, Loeberg Guinea Fowl Golden Badger, Krystal Bugger Claret, and Crystal Leech # 12 – 14.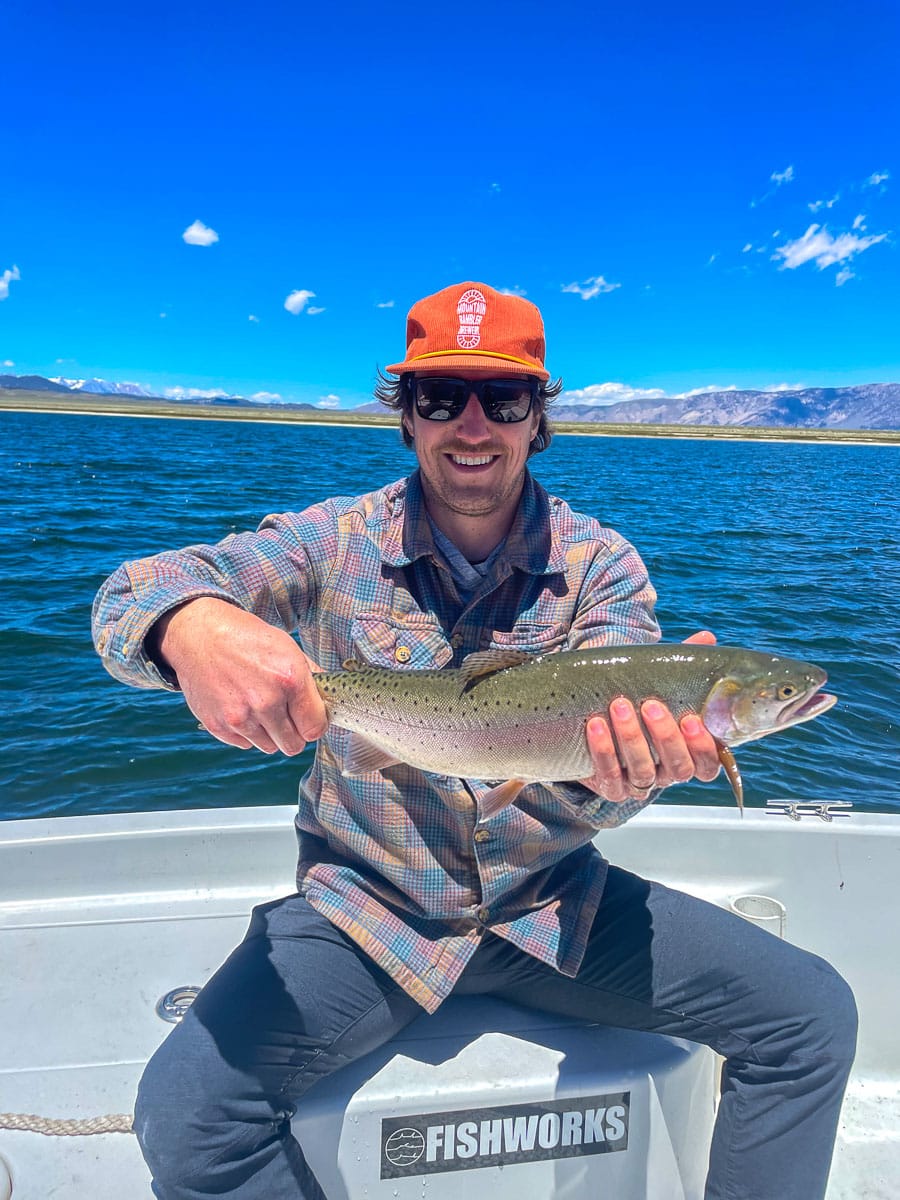 Devin guided Max to this large cutthroat trout.
Devin also guided Megan to this giant cutthroat trout.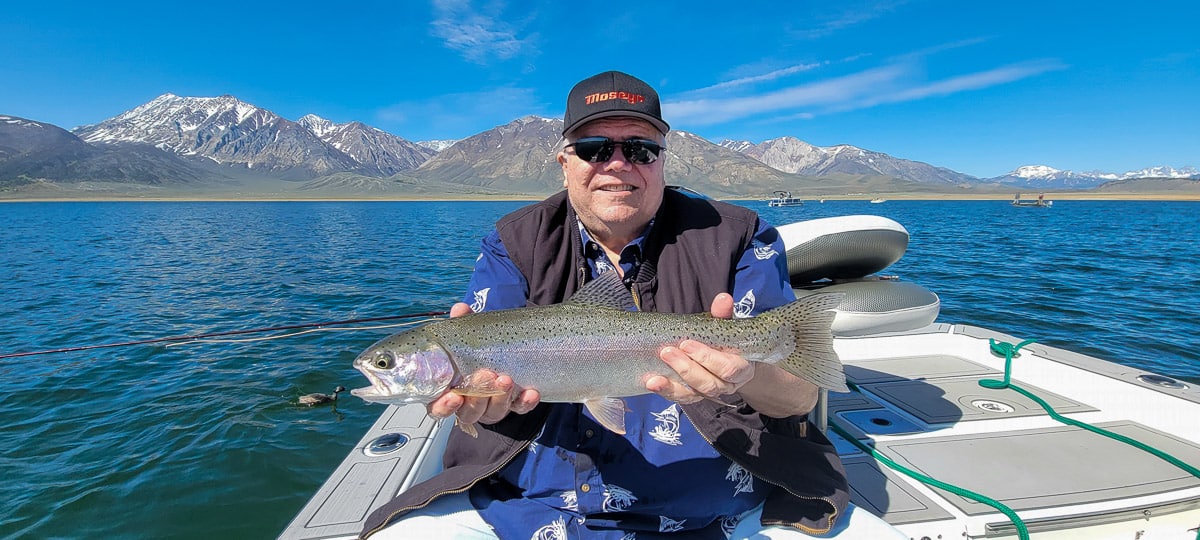 Two Bug Doug guided Michael to this hefty rainbow trout.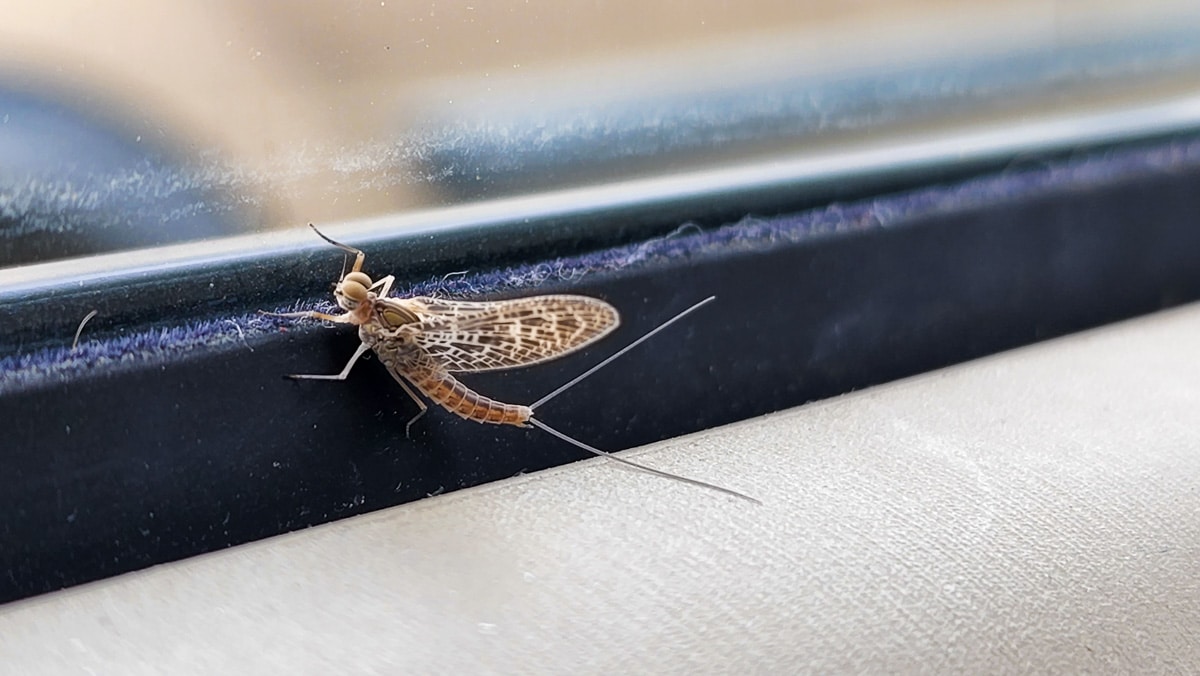 A callibaetis mayfly makes an appearance.
Doug R got Jeff on some nice healthy rainbow trout.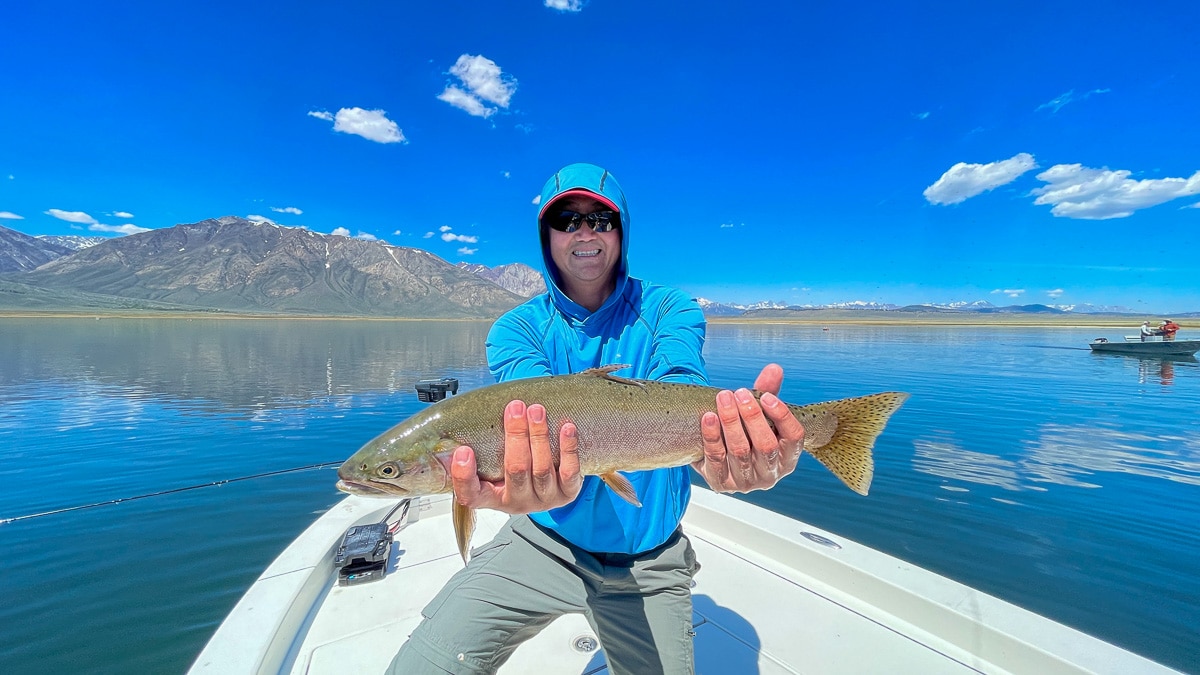 Mike fished with Doug R for this nice cutthroat trout.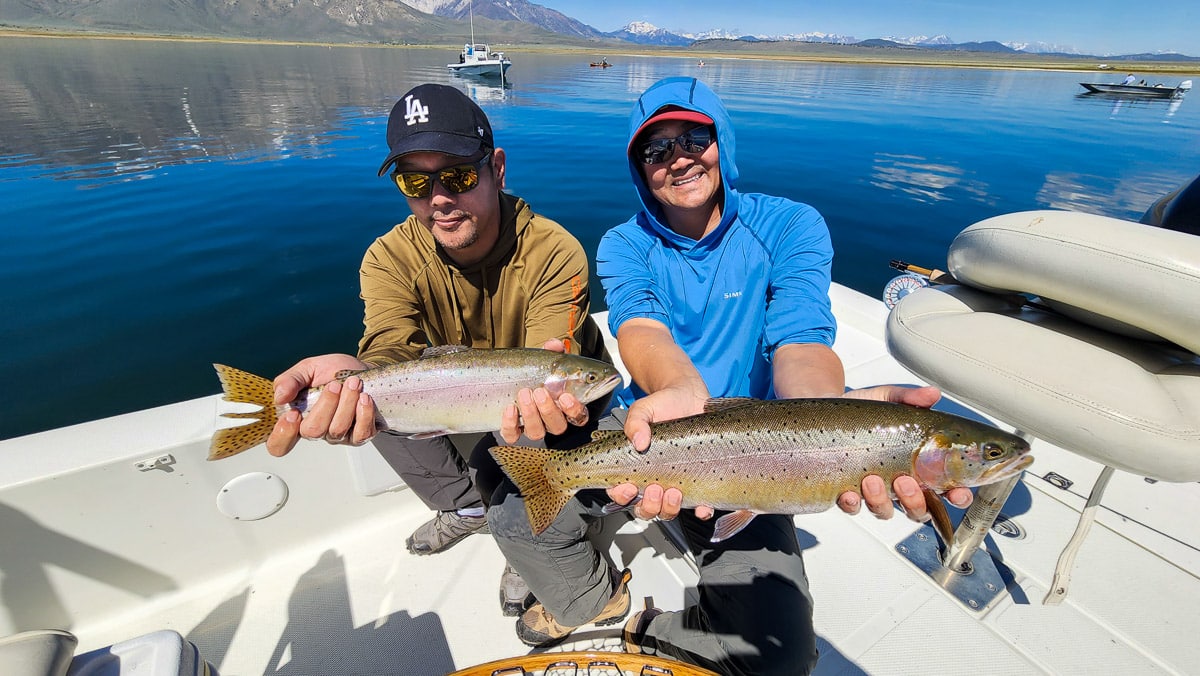 Jeff and Mike with a double on cutthroat trout.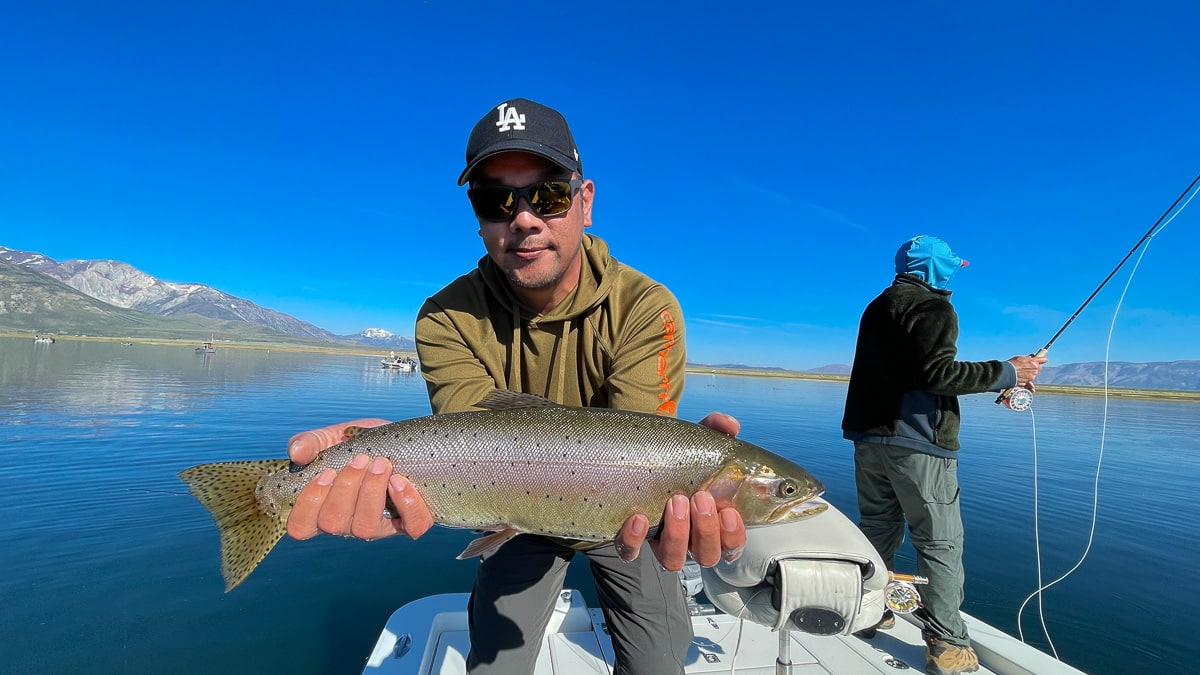 Jeff displaying a solid cutthroat trout.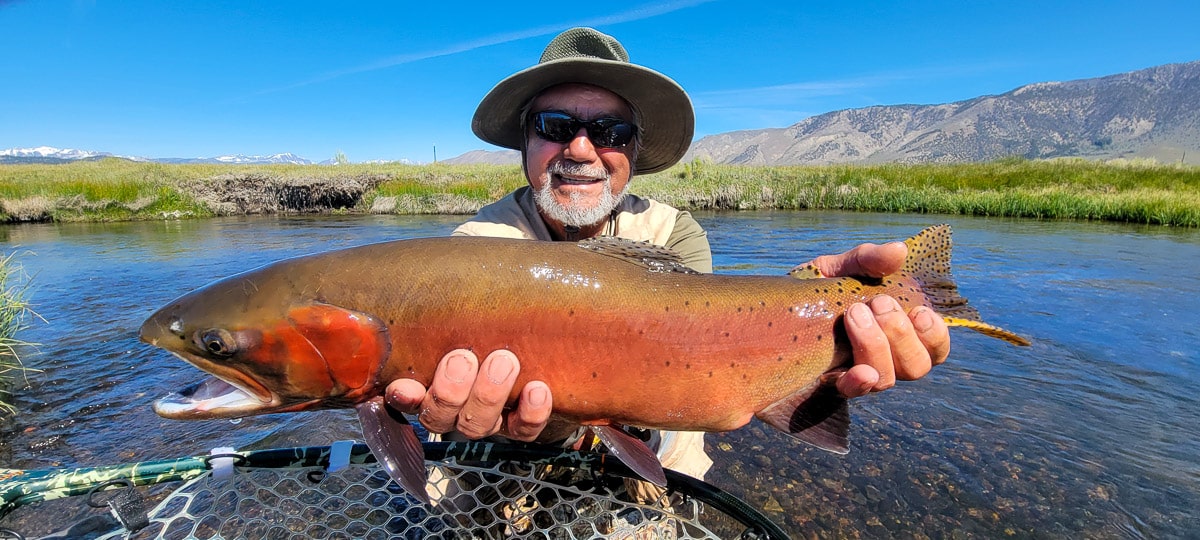 Two Bug Doug got Victor on some deep color with this cutthroat trout from the Upper Owens River.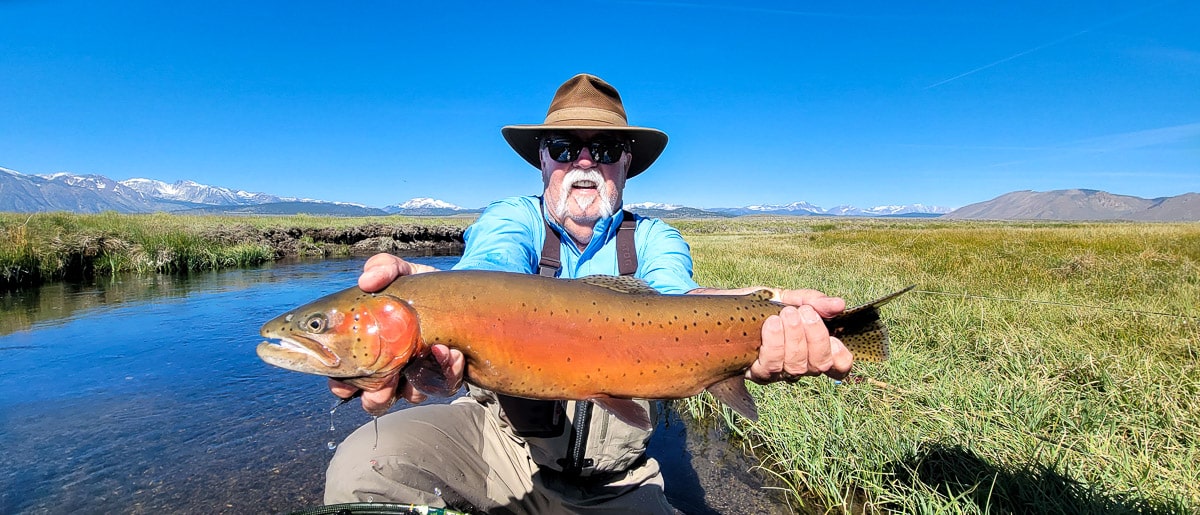 Michael fished with Two Bug Doug and bested this awesome cutthroat trout.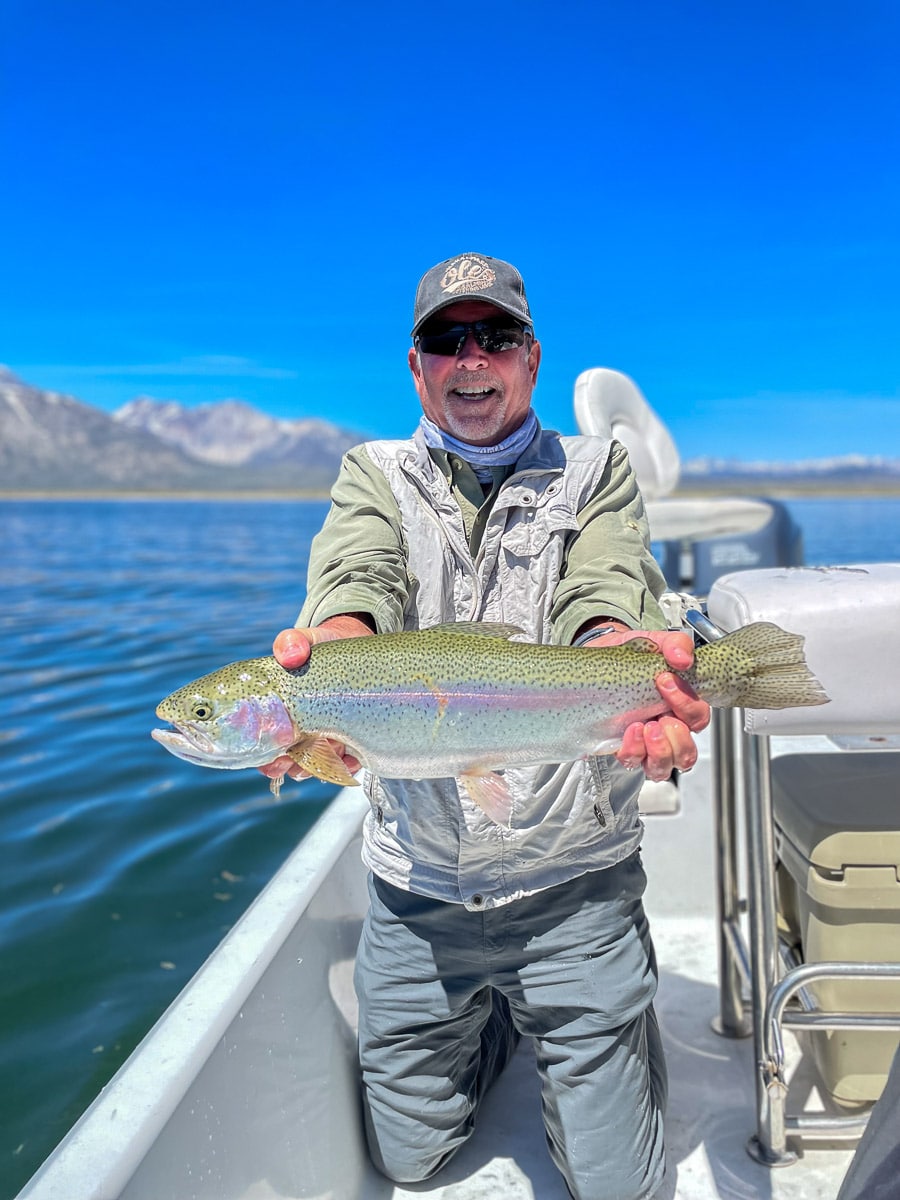 Devin got Mark on some giants like this healthy rainbow trout.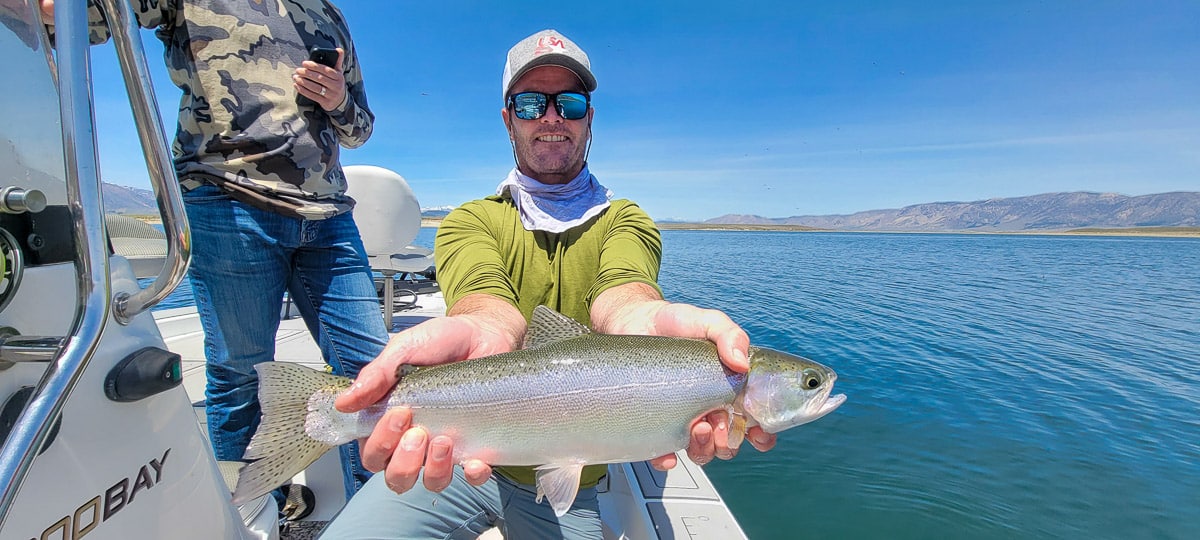 Chad fished with Two Bug Doug for this nice rainbow trout.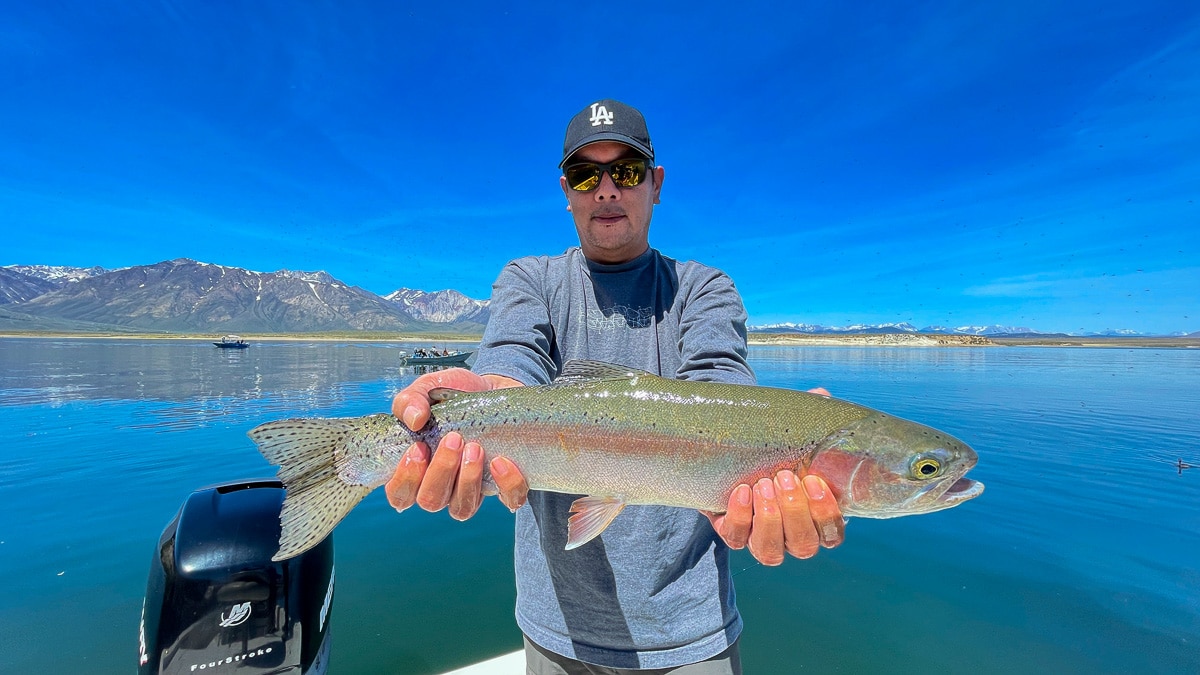 Chuck with a stellar cutthroat trout while guided by Devin.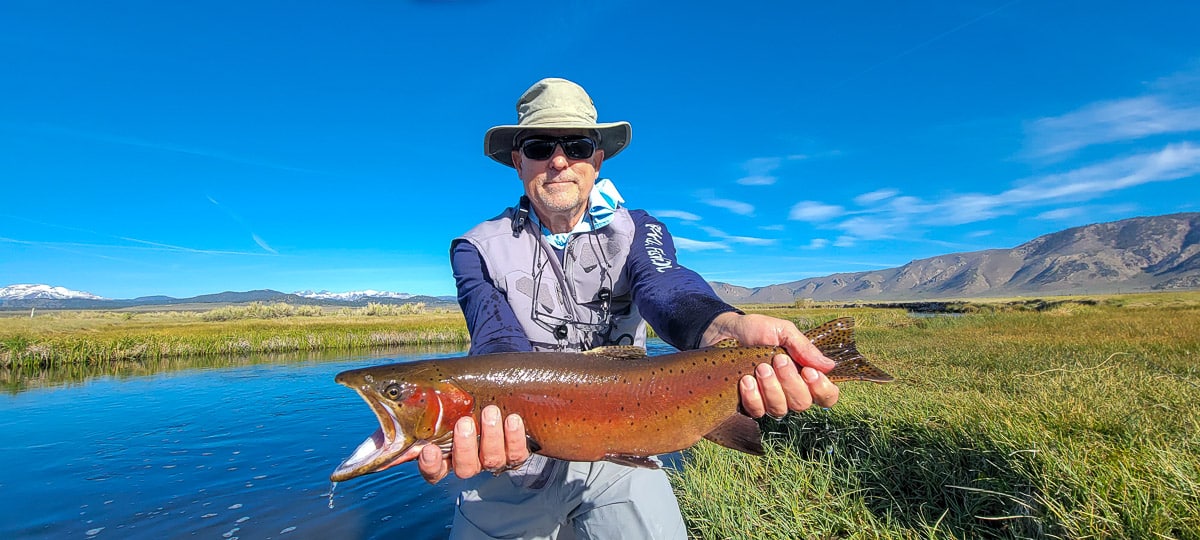 Two Bug guided Gary to some stunning and massive cutthroat trout.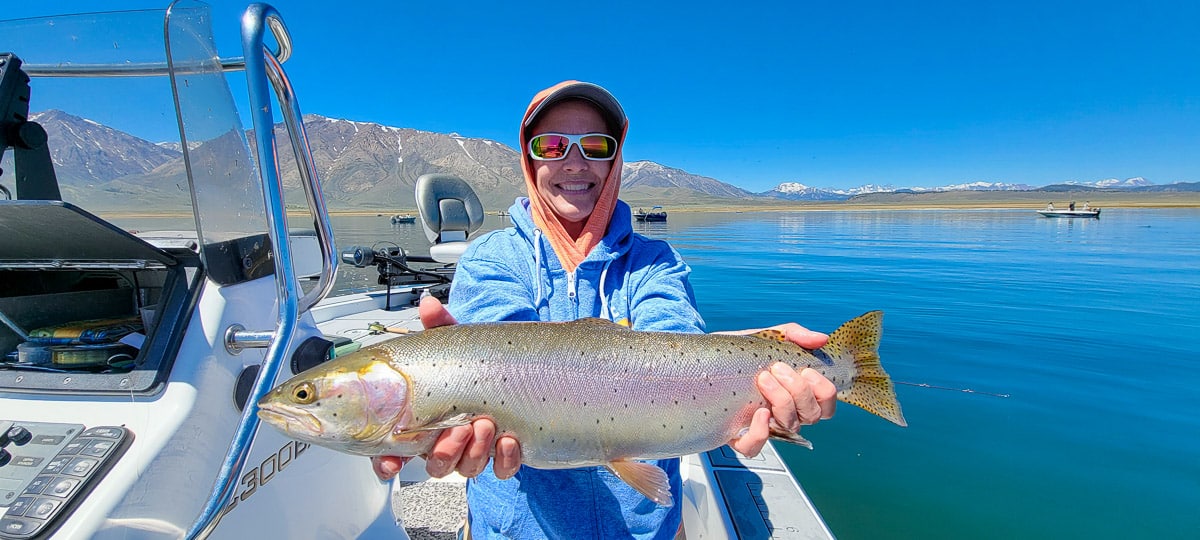 Vicki fished with Two Bug Doug and got some great ones like this fat cutthroat trout.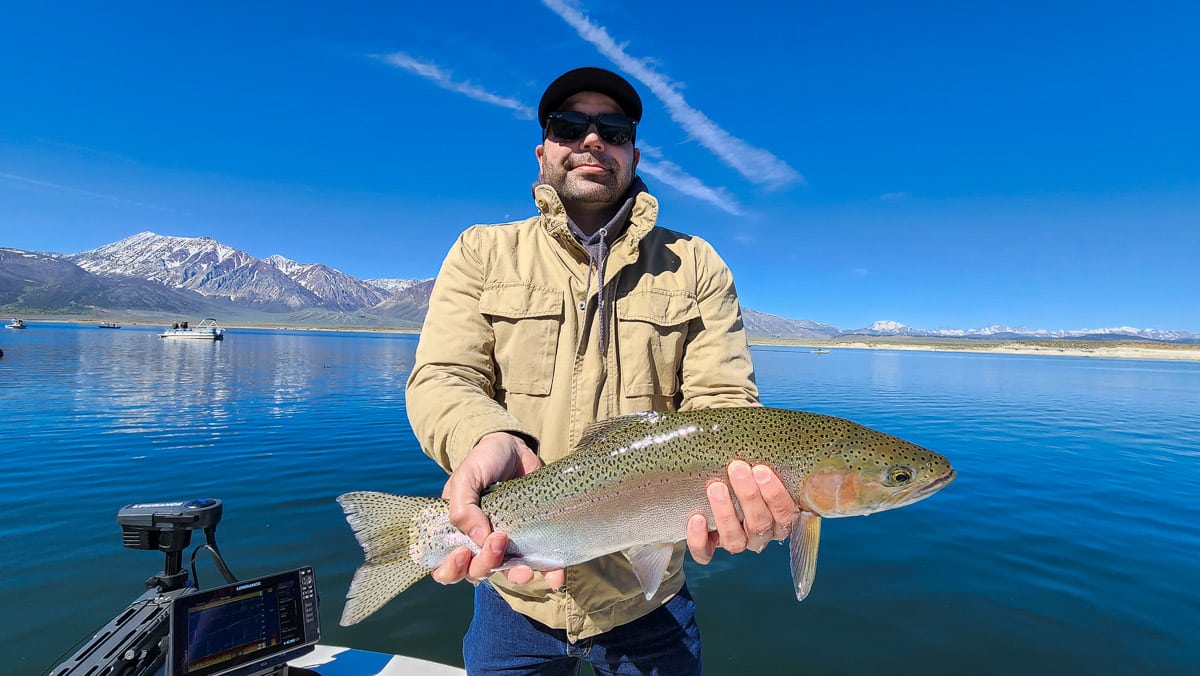 Stephen got into some nice ones like this rainbow trout while fishing with Doug R.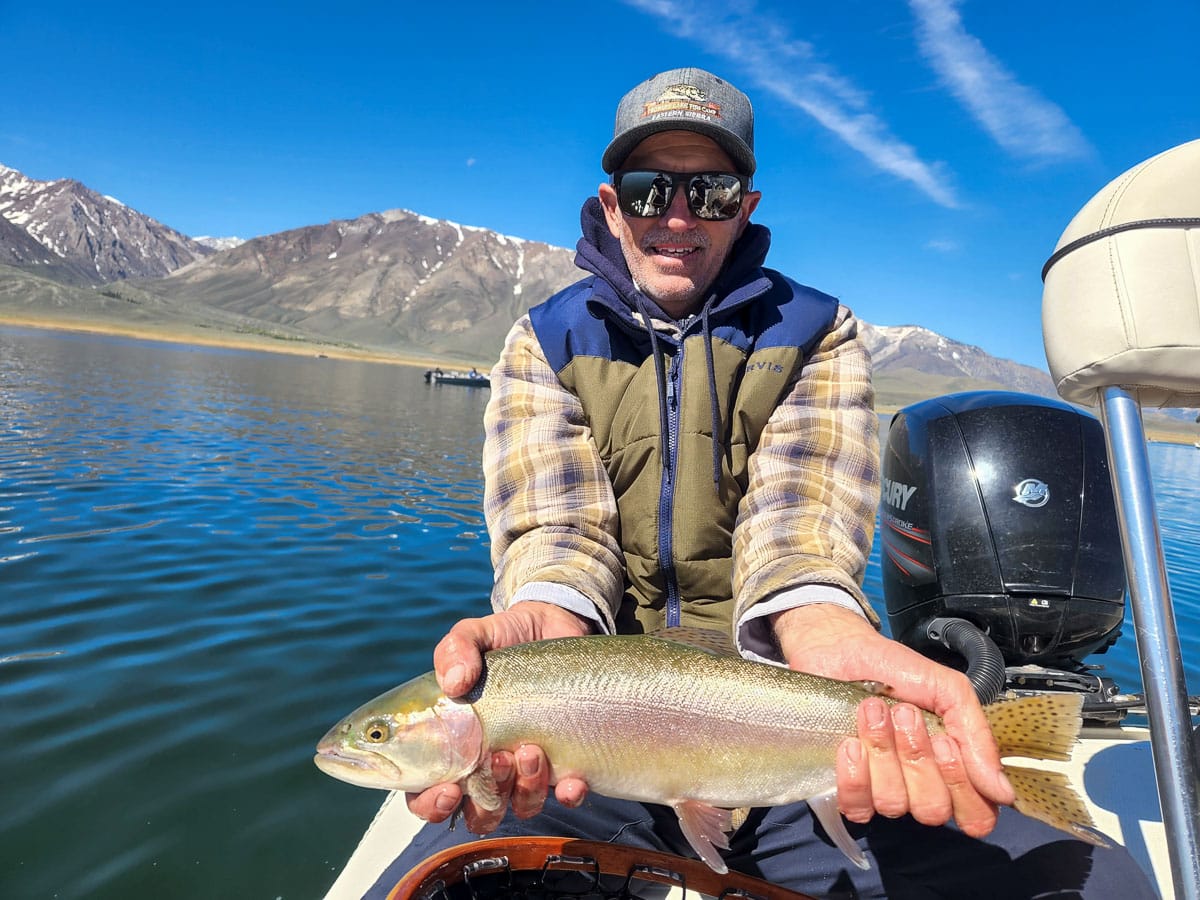 Seth had Brad into an all day bite with fish like this cutthroat trout.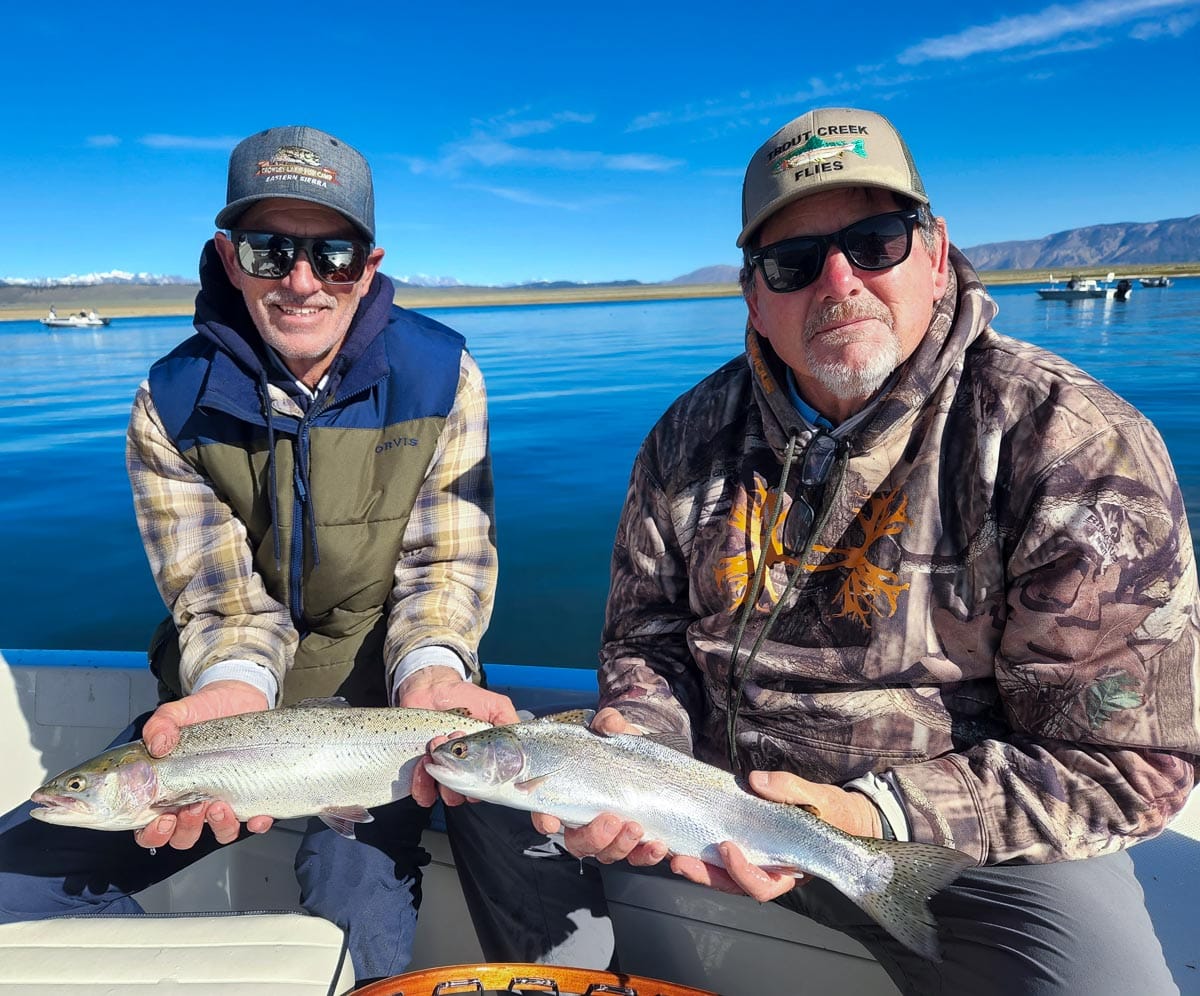 Brad and Bob with a double hookup on cutthroat and rainbow trout .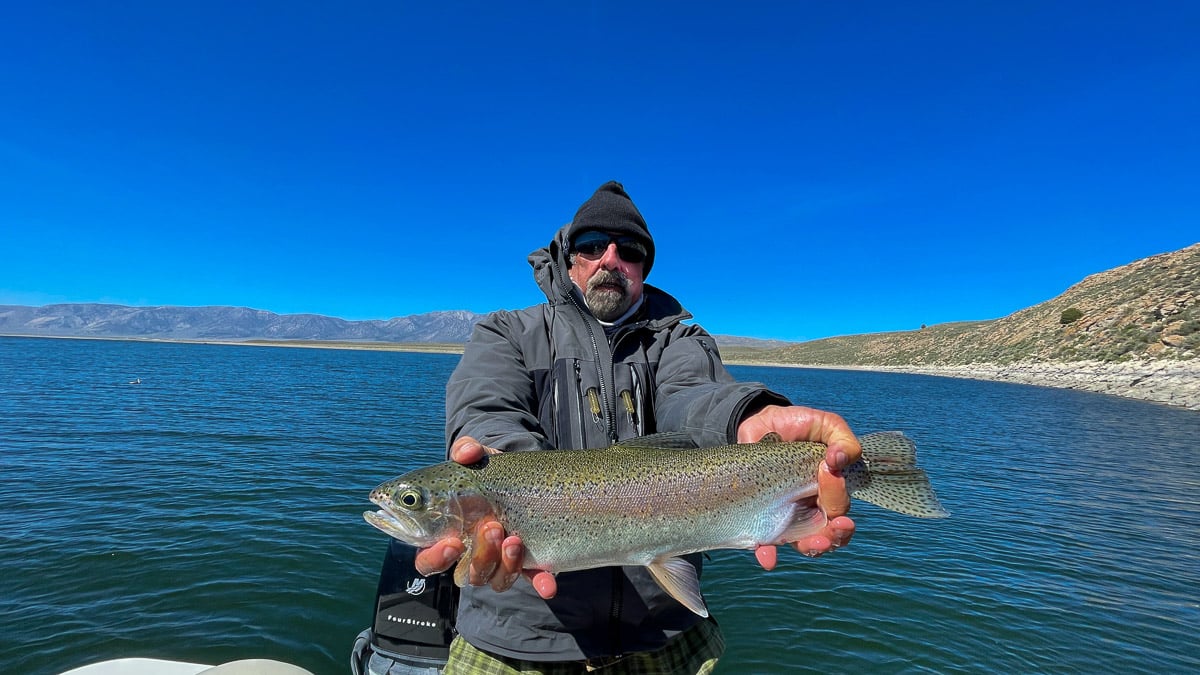 John fished with Doug R and got this nice rainbow trout on a high wind day.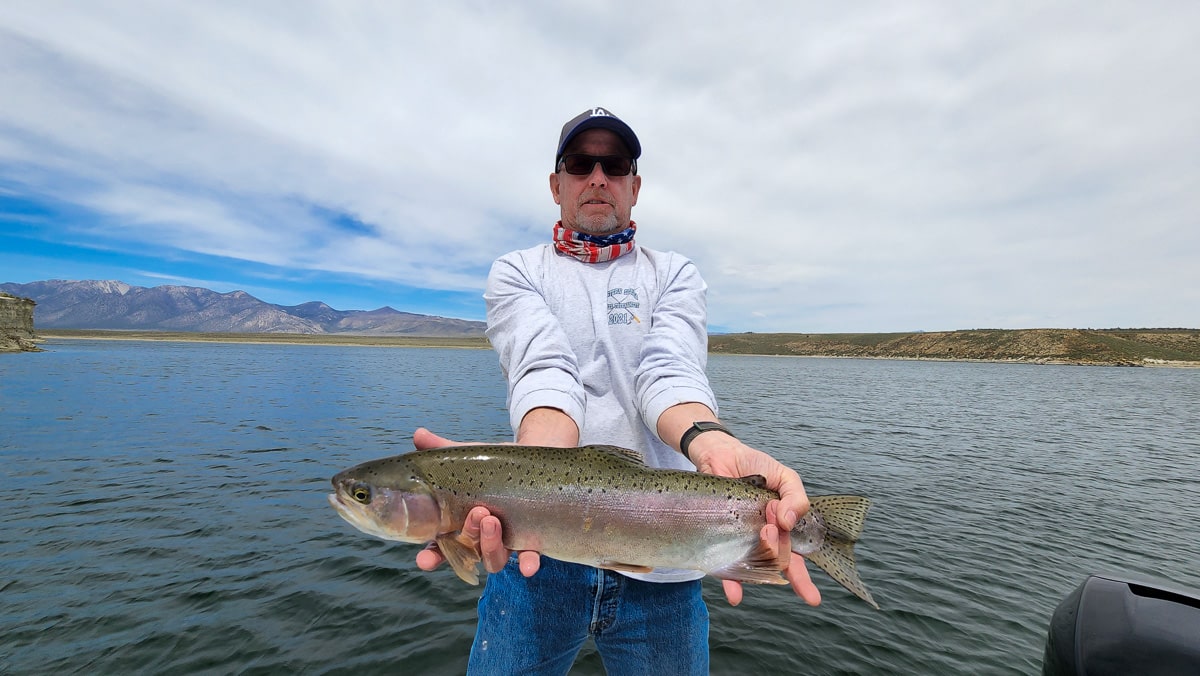 Tim also got some good ones with Doug R like this hefty rainbow trout.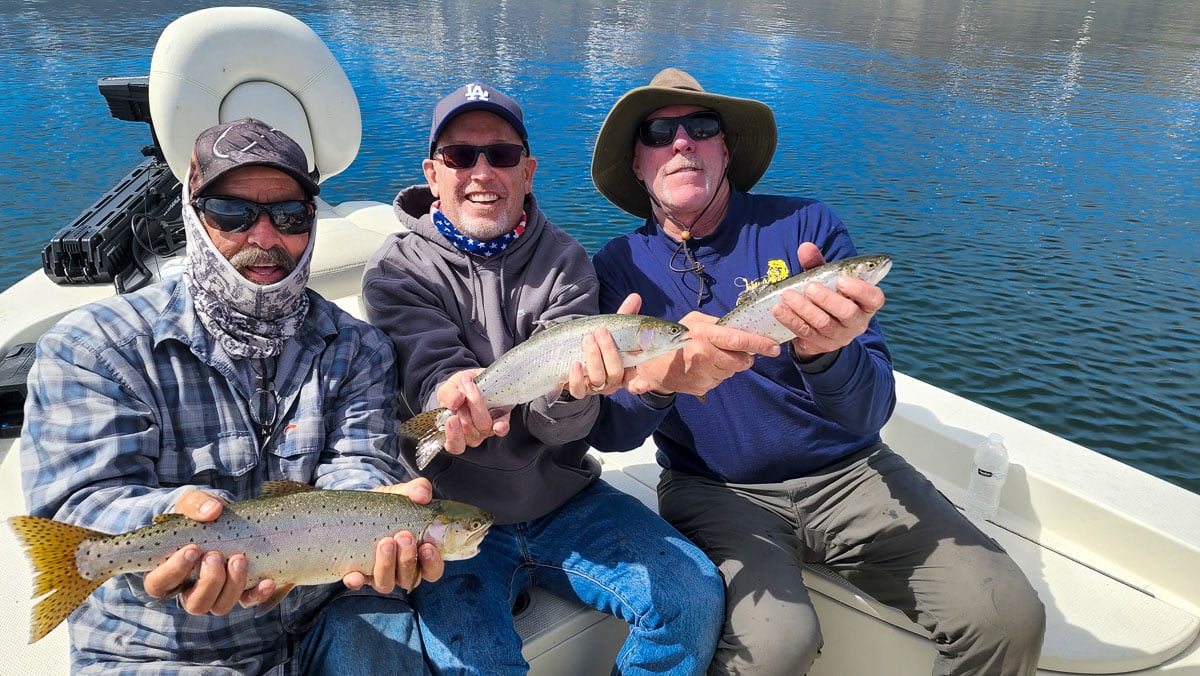 John, Tim, and Hugh display a nice trio of cutthroat trout.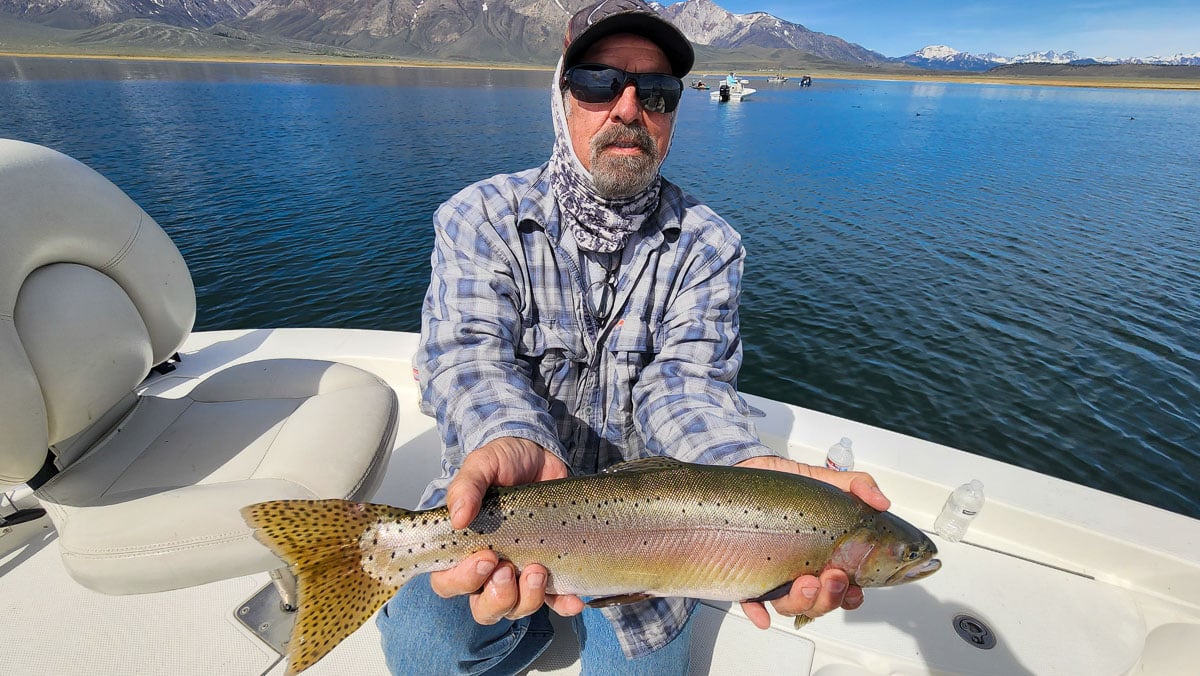 John with a solid cutthroat trout.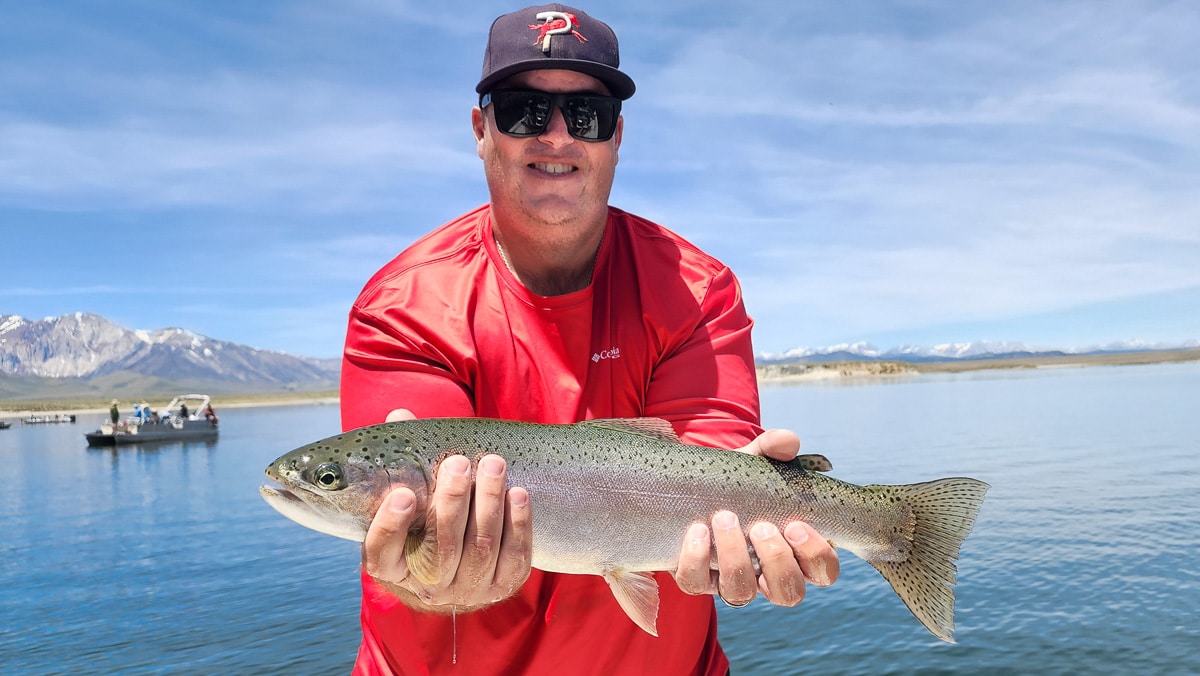 Aaron hit some real nice fish like this blimpy rainbow trout with Doug R.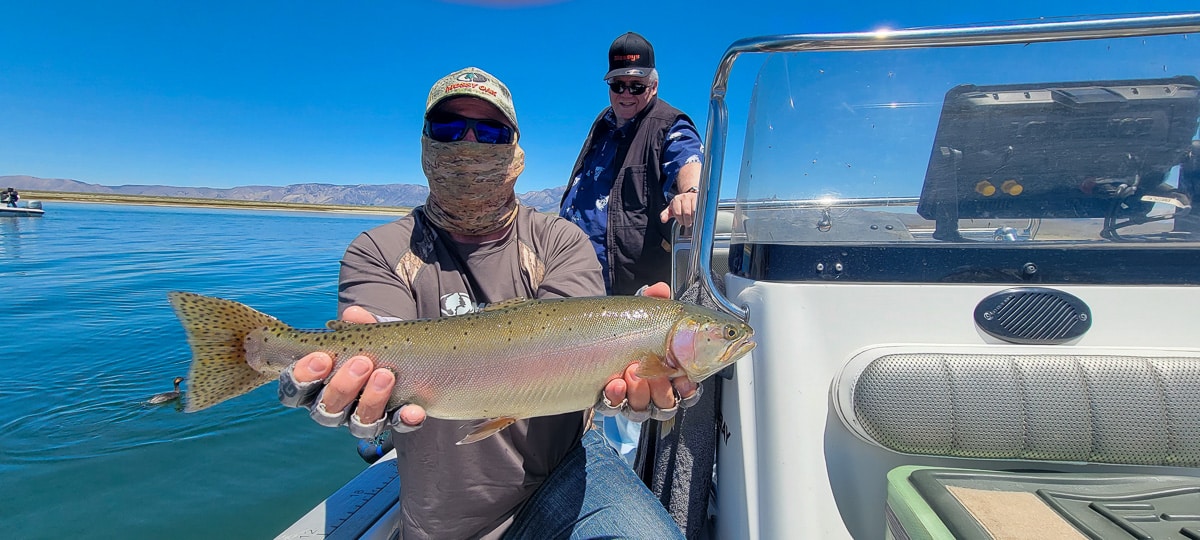 Brad displays a nice cutthroat trout he caught while fishing with Two Bug Doug.
Here are our flies which are working on the Upper Owens, Lower Owens River, East Walker River and Hot Creek in addition to the above patterns listed in our report:
SD Chironomidge
#16,
Para Midge
#20, 22,
Puff O' Smoke
#16,
Broken Back Copper Tiger Midge
#18, 20;
Assassin Light
#18;
Assassin Dark
#18;
Crystal Hi-Vis Parachute Blue Wing Olive
#18;
Crystal Tiger Midge Long
#18, 20;
Crystal Midge Pupa Copper
#18, 20;
Gillie Chironomid Pupa Dark and Light
#18, 20, 22,
Otter Eggs
in all colors,
Bead Head San Juan Worm Red And Brown
#14, 16;
Squirmy Worm Tungsten purple, pink, and red; Parallel Assassin Light #14-16, Parallel Assassin Dark #16; Loeberg Mallard Silver Badger; Spruce a Bu Dark and Light
Click HERE to purchase.
Click HERE to check out our great summer Sierra Drifters T-shirts and Hats.