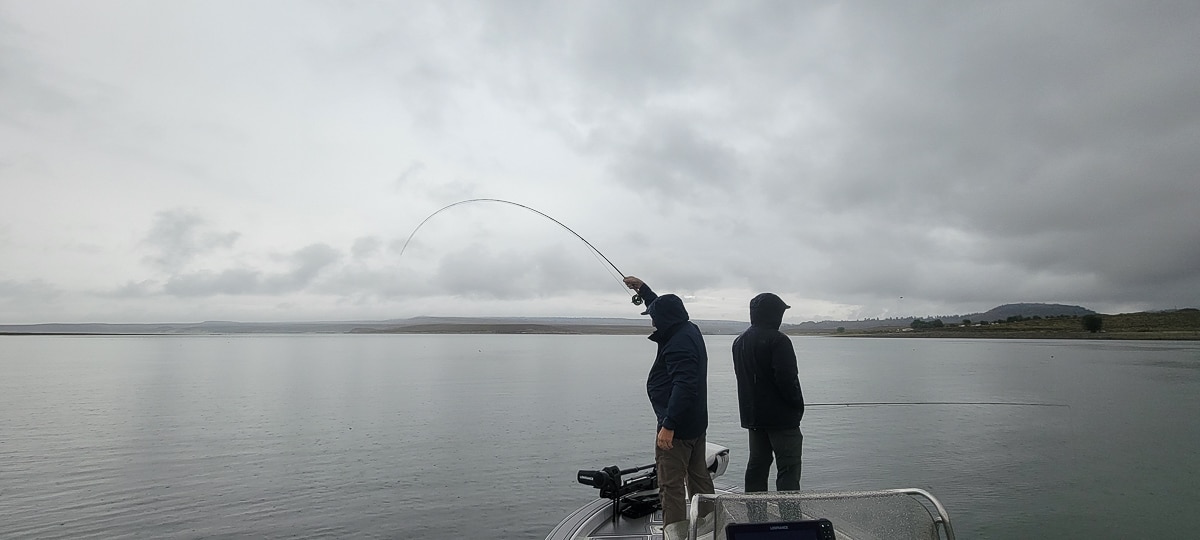 Afternoon thundershowers have been coming through regularly and giving us some good moisture. This season has been a strange one with a delay in the typical behavior of the fish, especially on Crowley Lake. The fish have finally moved into the shallow water and are feeding on the defenseless perch fry. The bite is definitely starting to reach its full potential now. The Upper Owens never really saw any good concentrations of grasshoppers this year, but there are some larger fish lurking in the river now, with the standard residents feeding on the usual food sources. Hot Creek can be tough depending on the time of day you are fishing as most of the fish are feeding steadily on micro midges under the surface. Look for good trico hatches in the mornings. The San Joaquin is still fishable but dropping quickly.
Crowley Lake's perch fry buffet is now alive and kicking for the trout. Most of the fish we are getting are all excellent quality ranging from 18 – 23″ in length. All species are taking advantage of the high protein available to them in the shallow water. Best patterns have been #16 -20 SD Chironomidge, #16 – 18 Puff O' Smoke, Dark Assassin # 14 -16 in parallel and regular, #14 – 18 Mud Candy, #16 -18 Blood Midge, #16 -18 Copper Tiger Midge, #16 -18 Crystal Tiger Midge Long, #18 -20 Gillie Dark and Light, and Tungsten Zebra Midge # 16 – 20.
Hot Creek flows are in low mode with lots of weeds now in the canyon. Dry flies have been productive along with smaller flies hung as a dropper. A straight dry fly will keep weeds off your line and will be easier to cast. If you can imitate extremely small midge emergers you can fool some of the subsurface feeders. Scuds are great this time of year, along with annelids and midges. #18 Crystal Scud, #16 SJ Worm in Red and Brown, #18 Flashback Hare's Ear, SD Crawler Red or Brown, and #18 -20 Flashback Pheasant Tails have been working well.
Lower Owens River flows dropped to 154 cfs. Wading is now easier, and the early and late parts of the day are still the best fishing times. Smaller nymphs like #18 – 20 Flashback Pheasant Tails, #20 Serendipity Black and Red, #18 – 20 Tungsten Zebra Midge, #20 – 22 Crystal Chironomid Emerger Copper, #20 Red Rib Midge Glass and Dark Head, #18 -20 Crystal Caddis Olive Dubbed Black and Crystal Caddis Olive Larva Black have been catching trout here.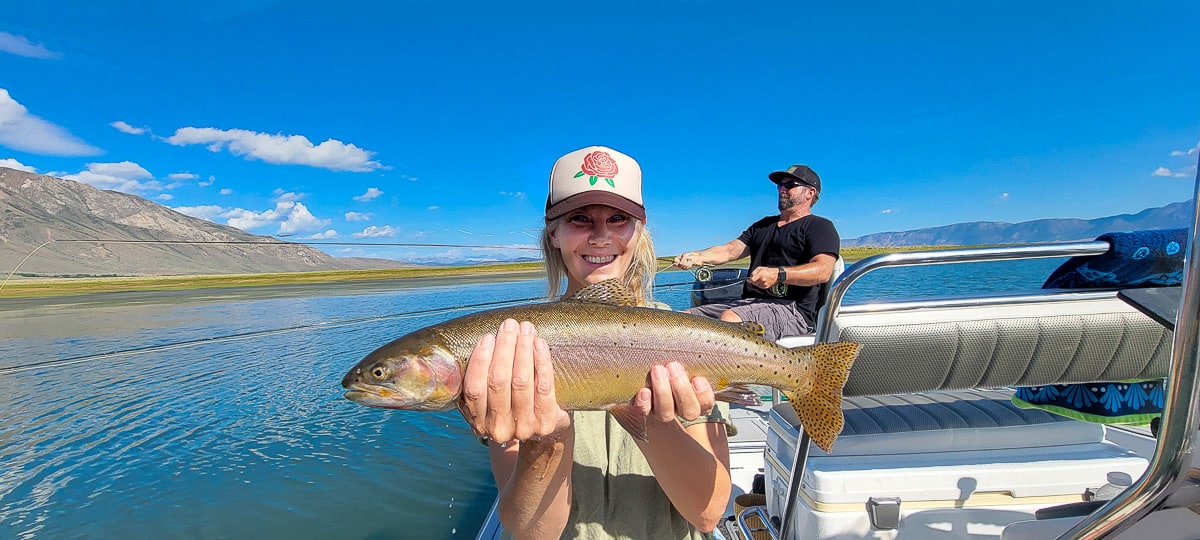 Two Bug Doug guided Alison to some nice ones like this hefty cutthroat trout.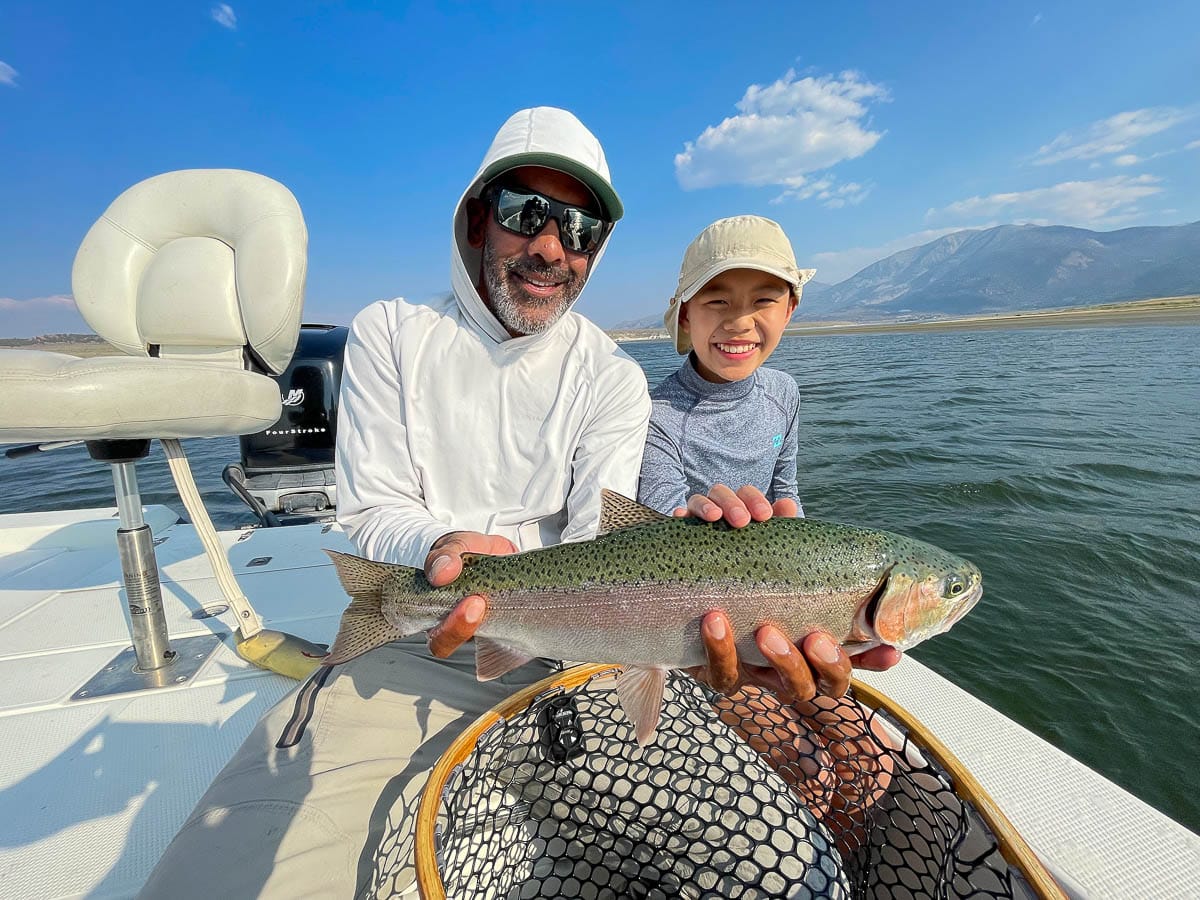 Doug R. guided Dominic to this healthy rainbow trout.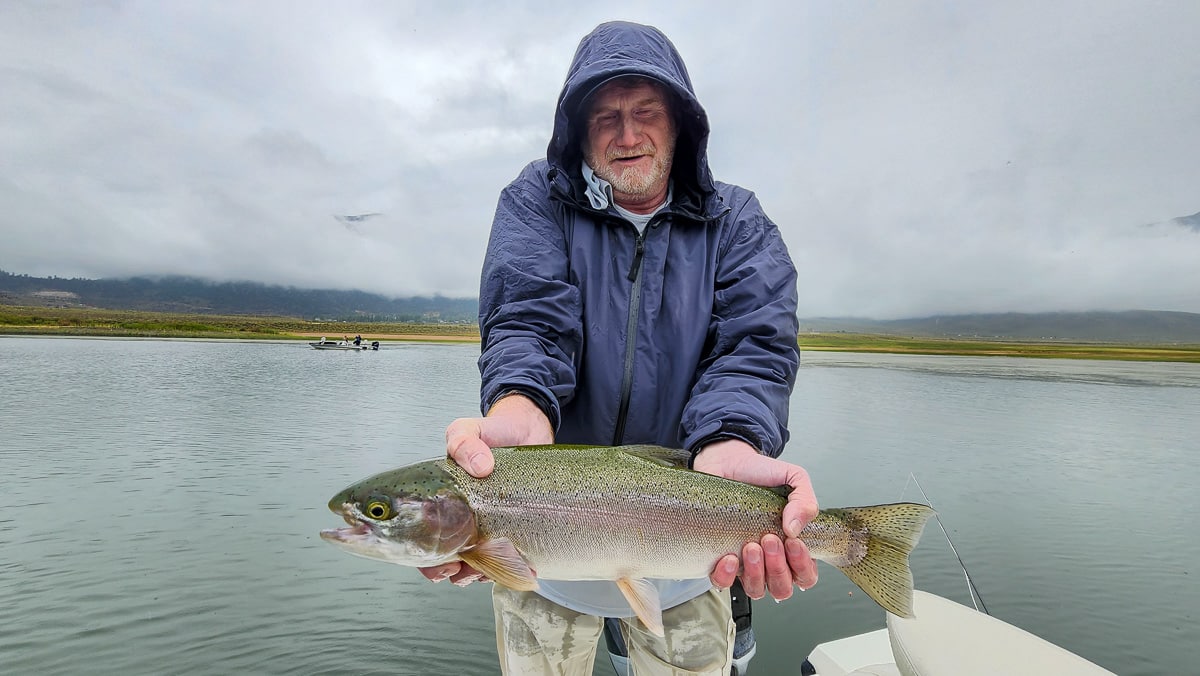 Larry had a knock 'em dead style day with multiple large model trout while fishing with Doug R.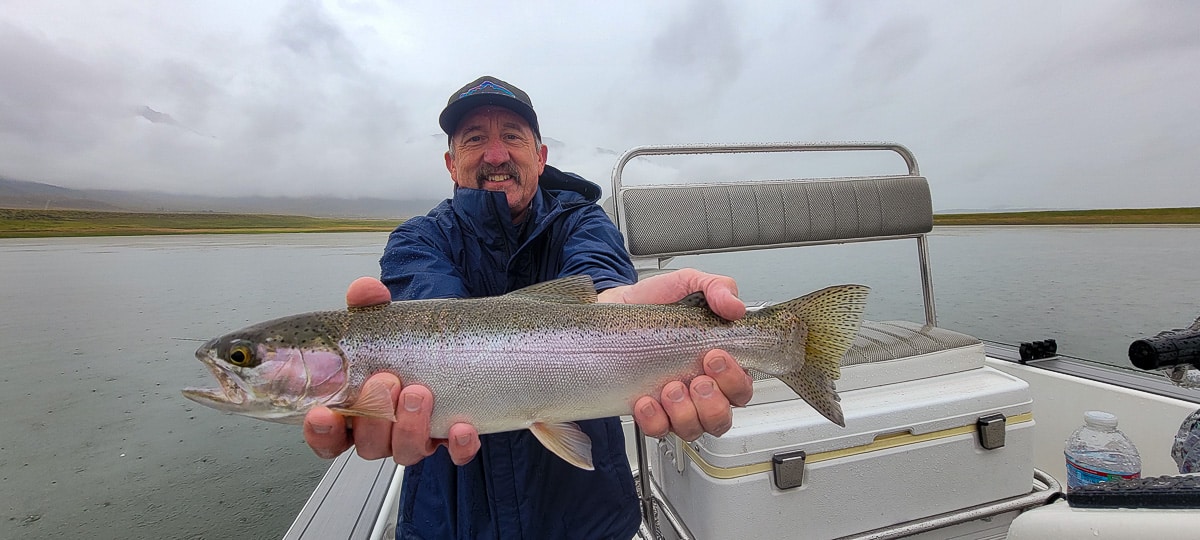 Todd also got into some major fish while fishing with Two Bug Doug like this fat rainbow trout.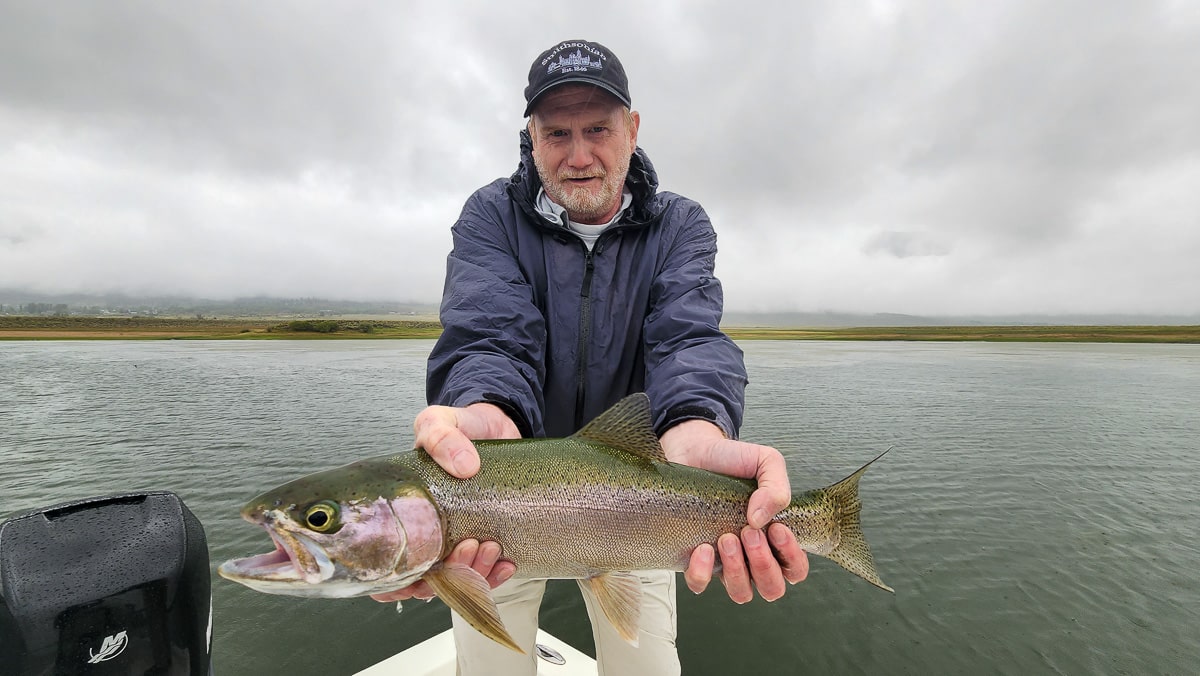 Larry with another great rainbow trout.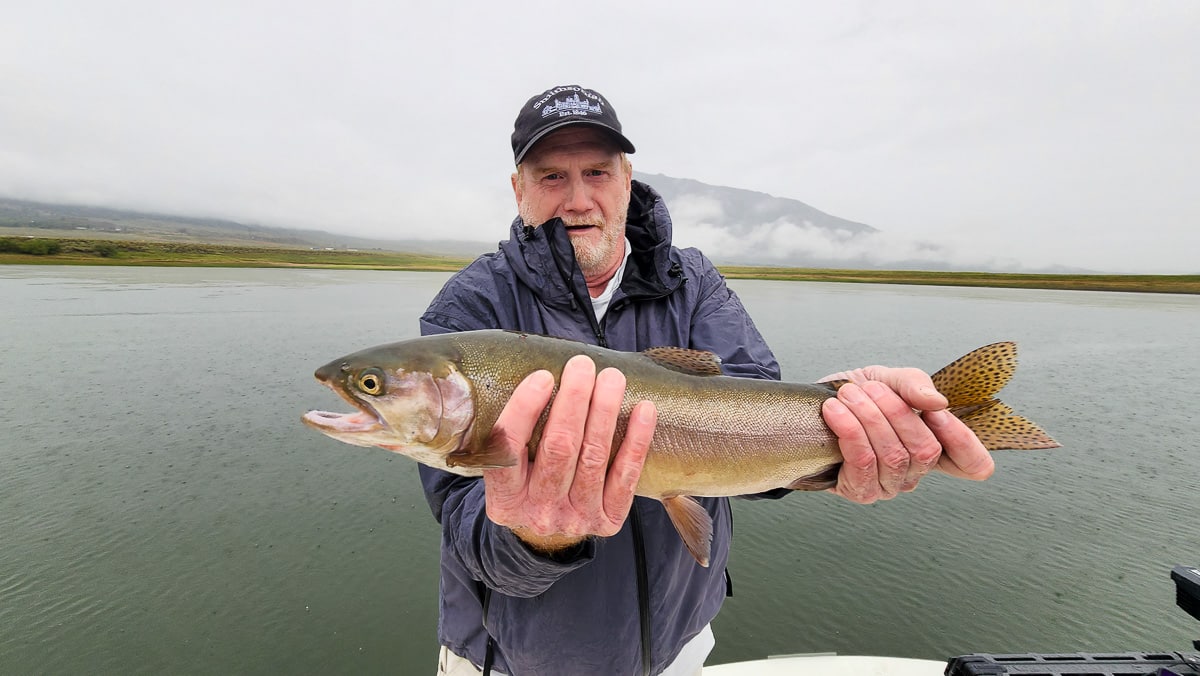 A larger cutthroat trout for Larry.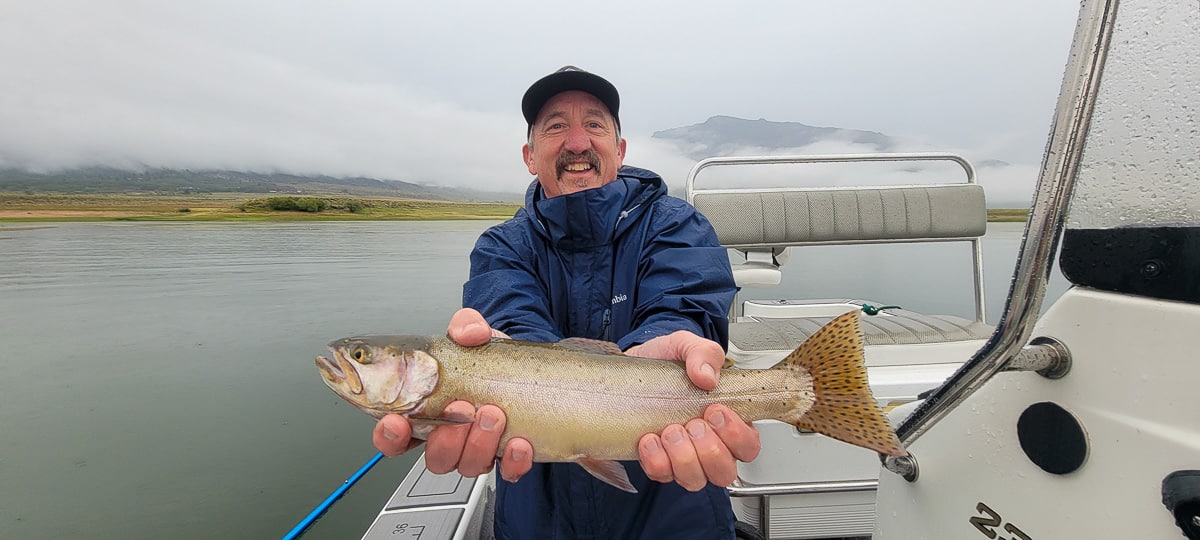 Todd with another hefty rainbow trout.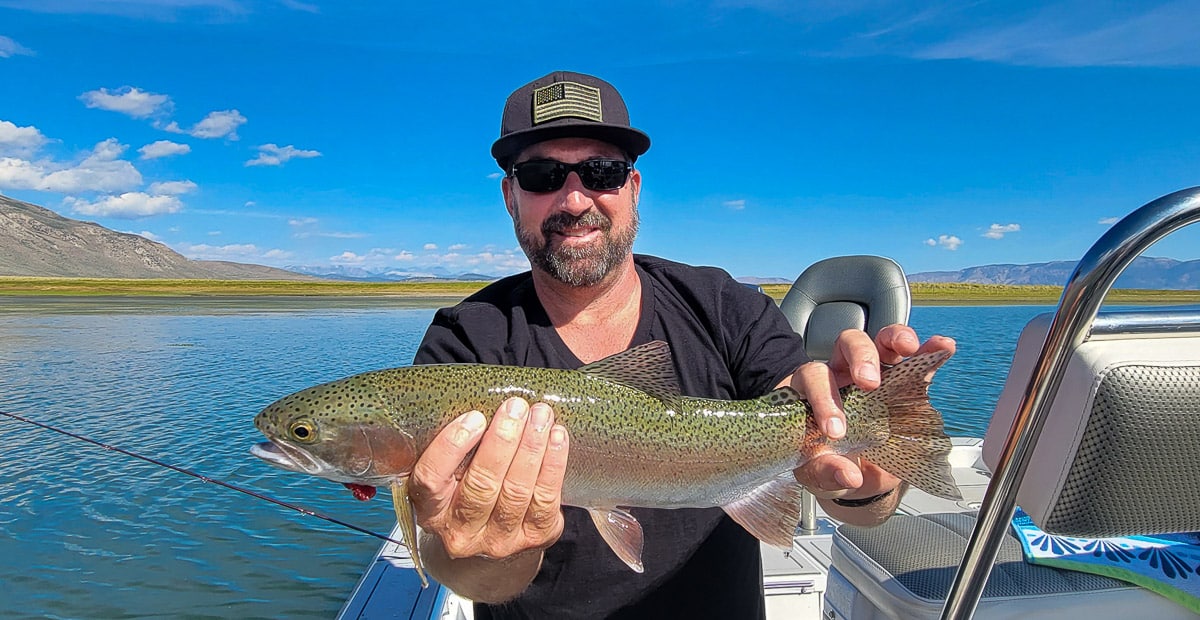 Jamie shows of a nice rainbow trout while fishing with Doug Dolan.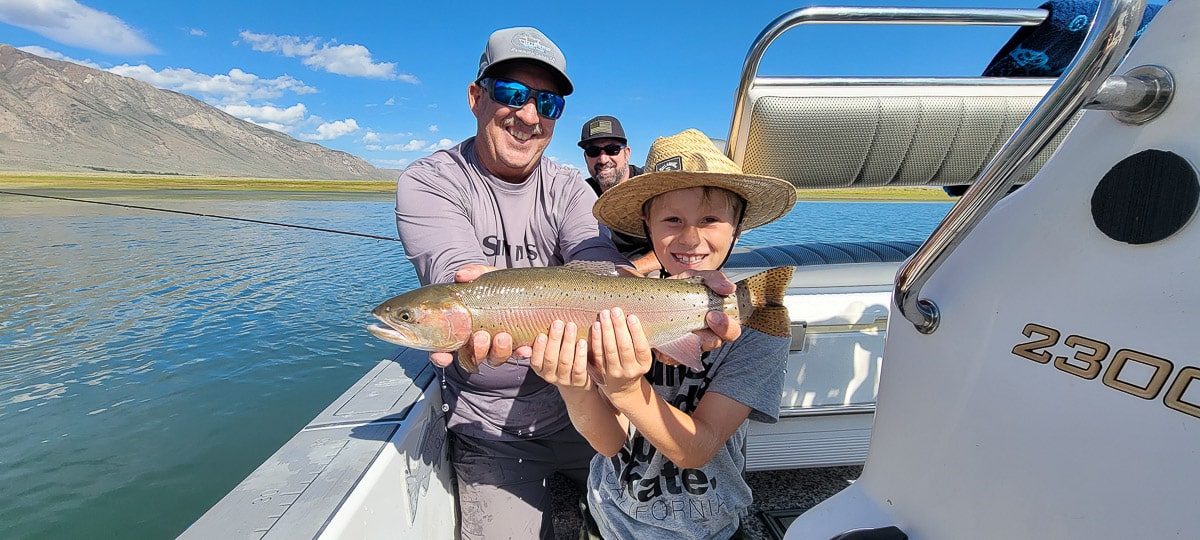 Baron also fished with Two Bug for this sweet cutthroat trout.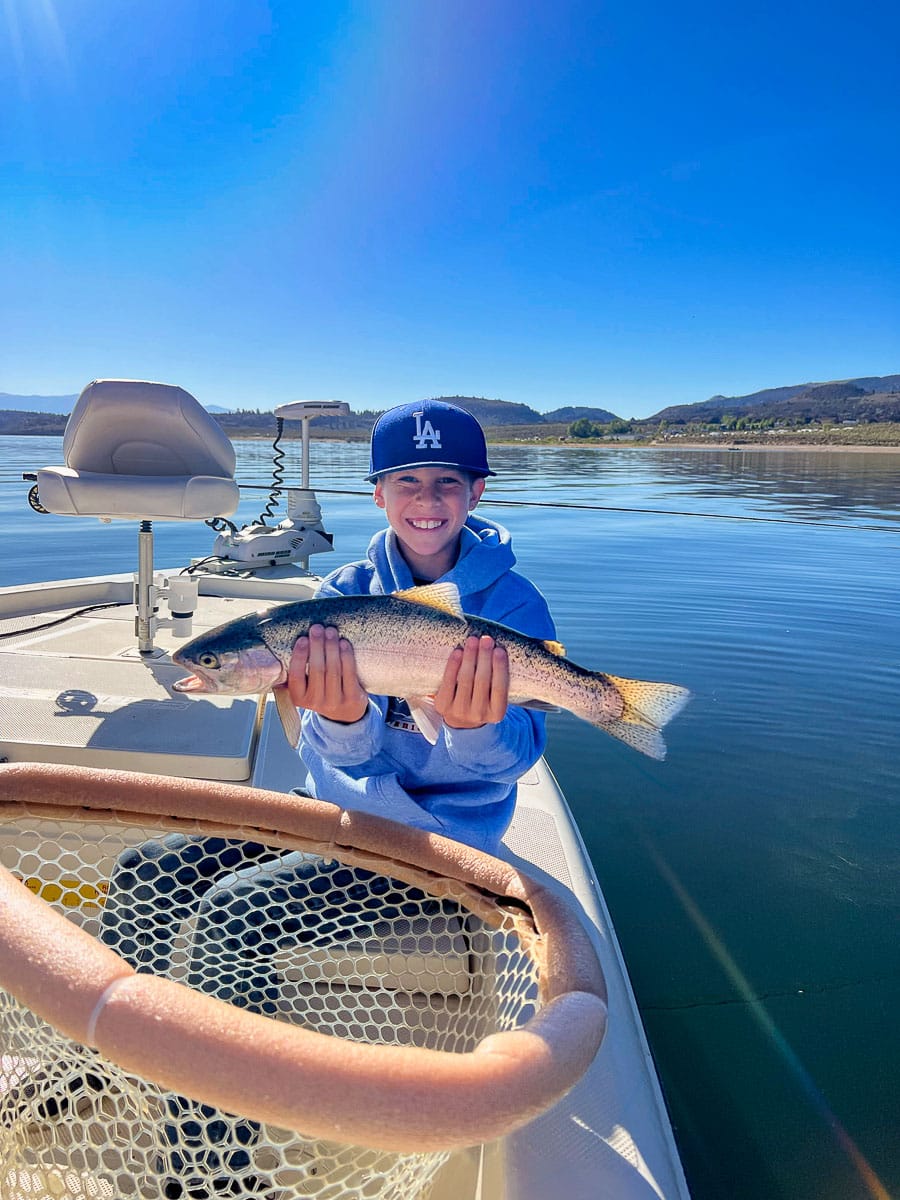 Josh put young Cru on some good ones like this hog rainbow trout.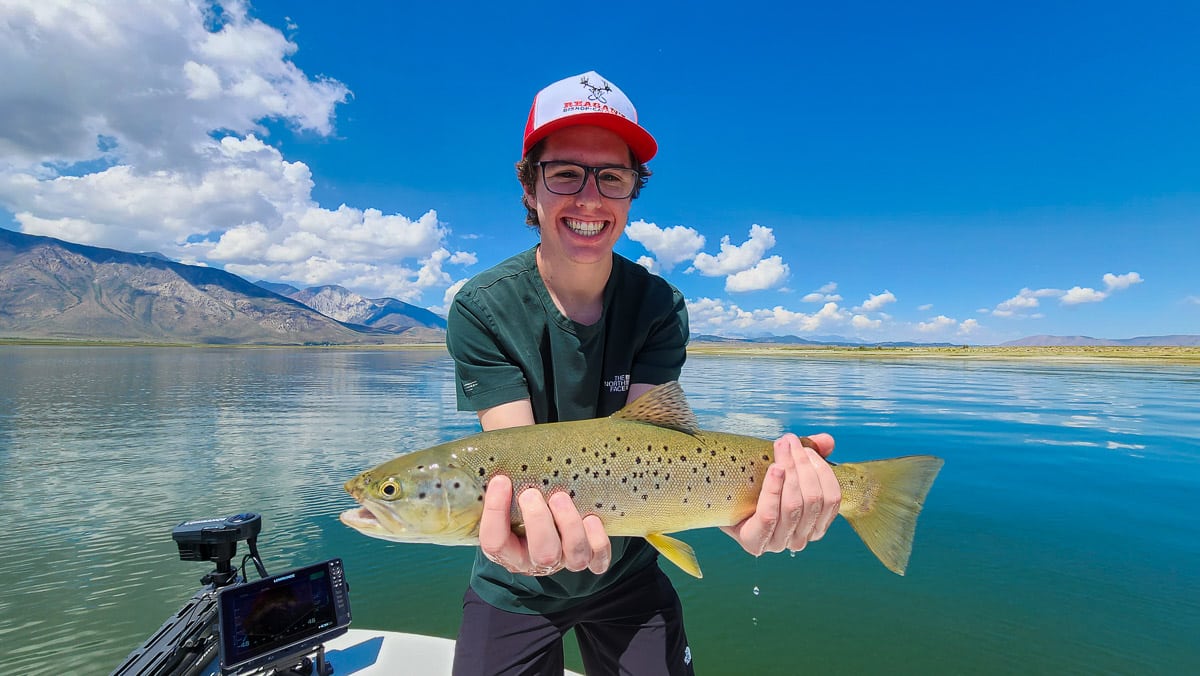 Liam put the hurt on this brown trout while fishing with Doug R.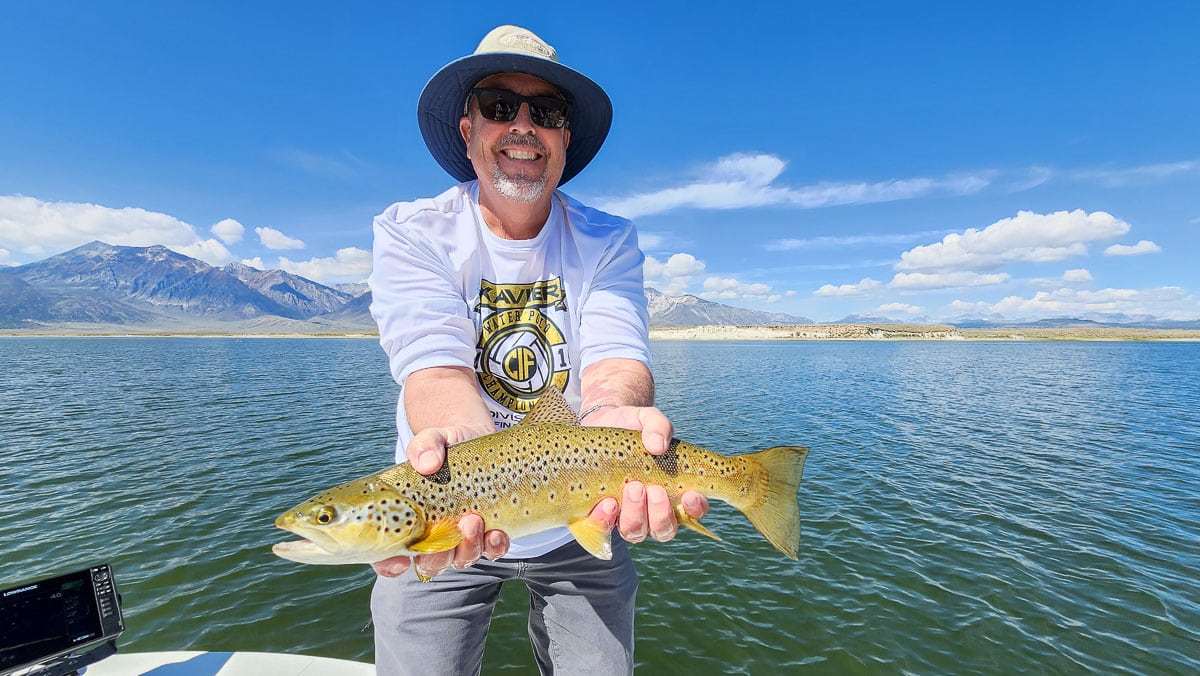 Darin hit some nice ones with Doug R. like this fat brown trout.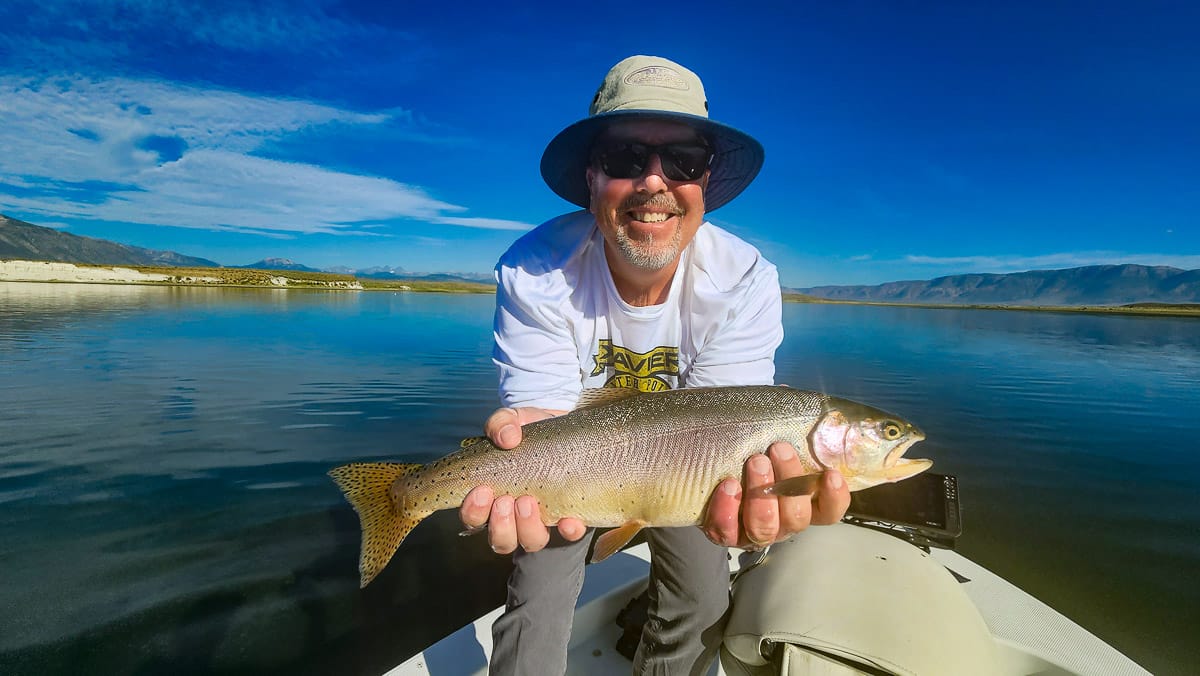 Darin displays a fatty cutthroat trout.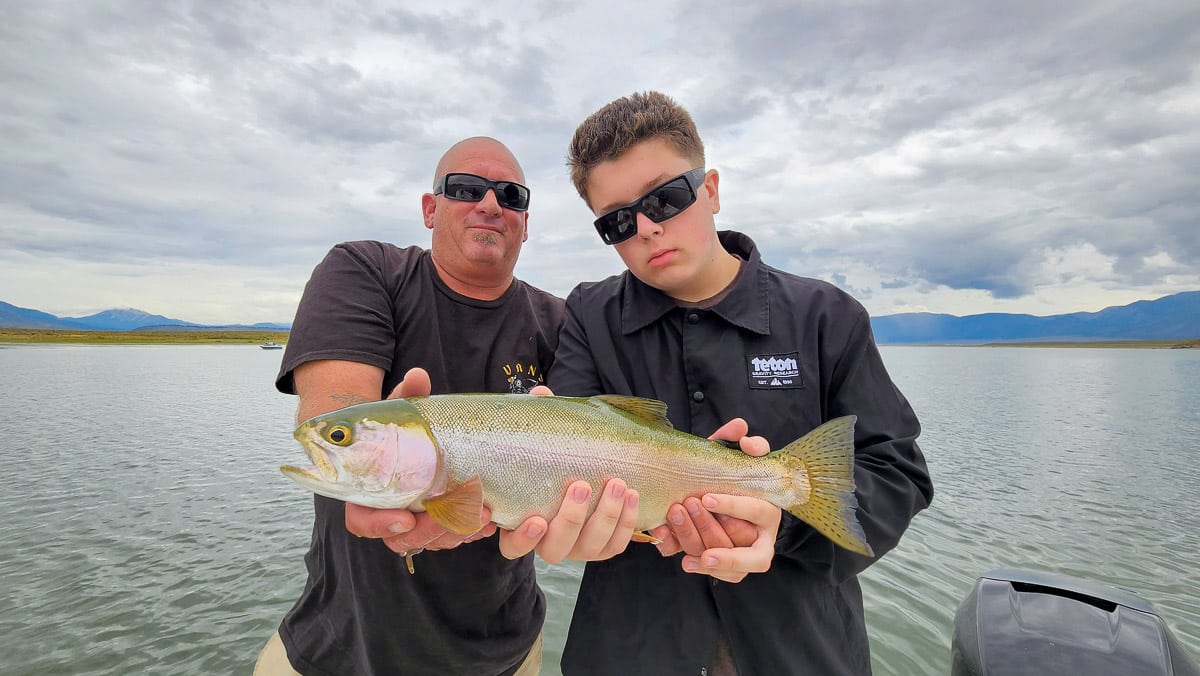 Doug R. guided the Eliasons to some jumbos like this rainbow trout.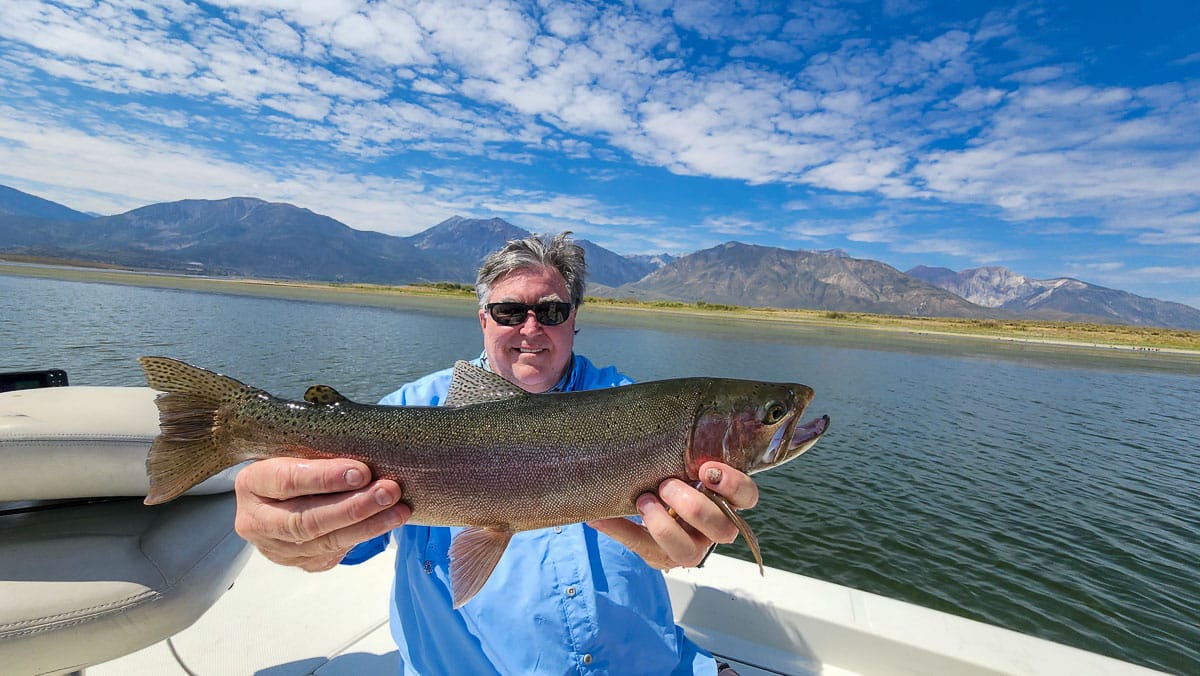 Gary was guided by Doug R. to this beast of a rainbow trout.
Dave scored some monster rainbow trout like this with Doug Dolan.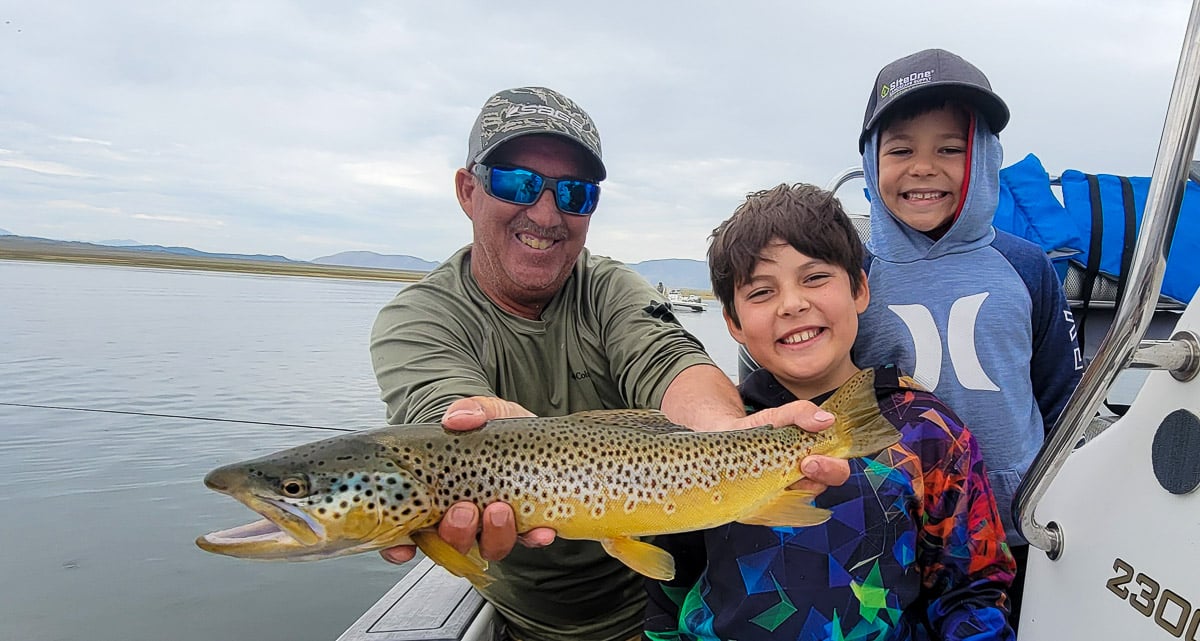 Dolan guided Anthony to nothing but color with this stunning brown trout.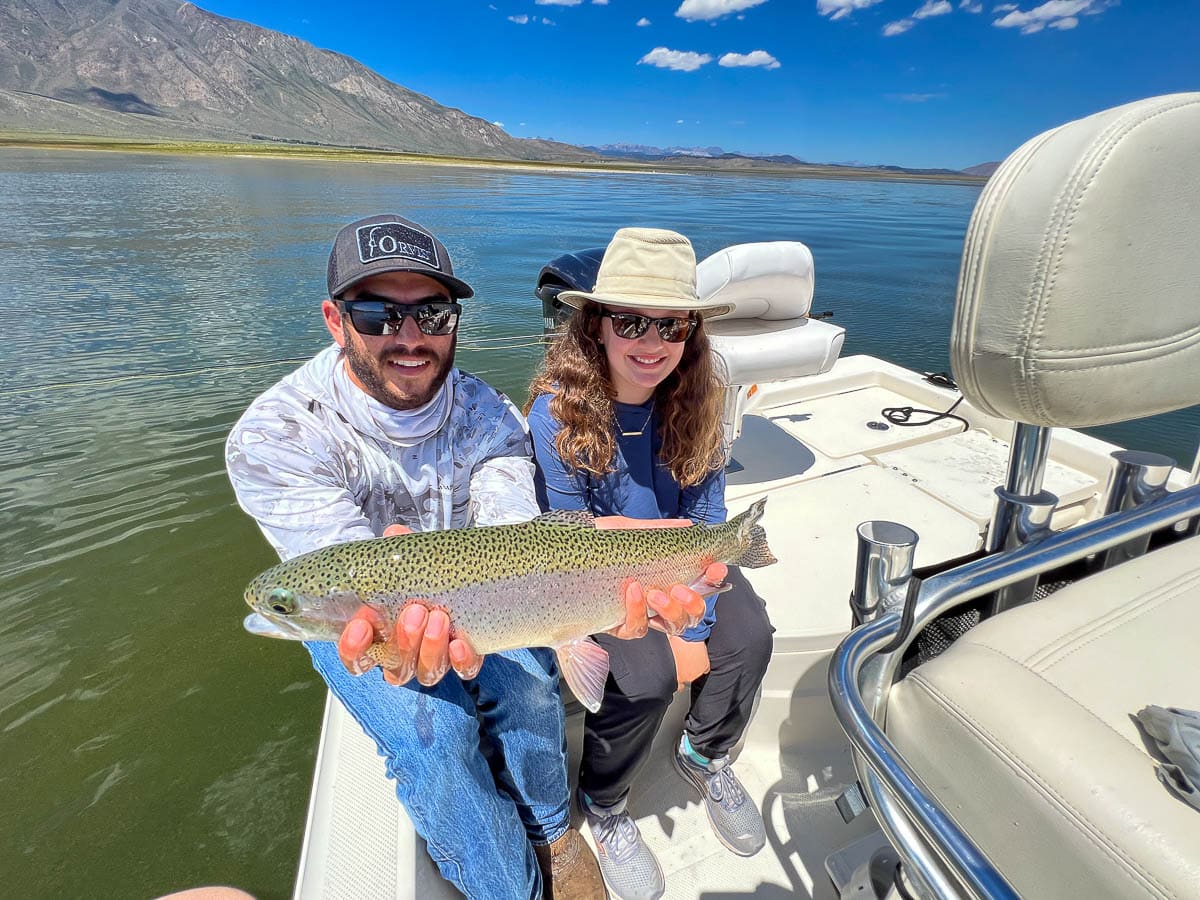 Young Mara knocked the fish dead, (they were released alive) while fishing with Josh.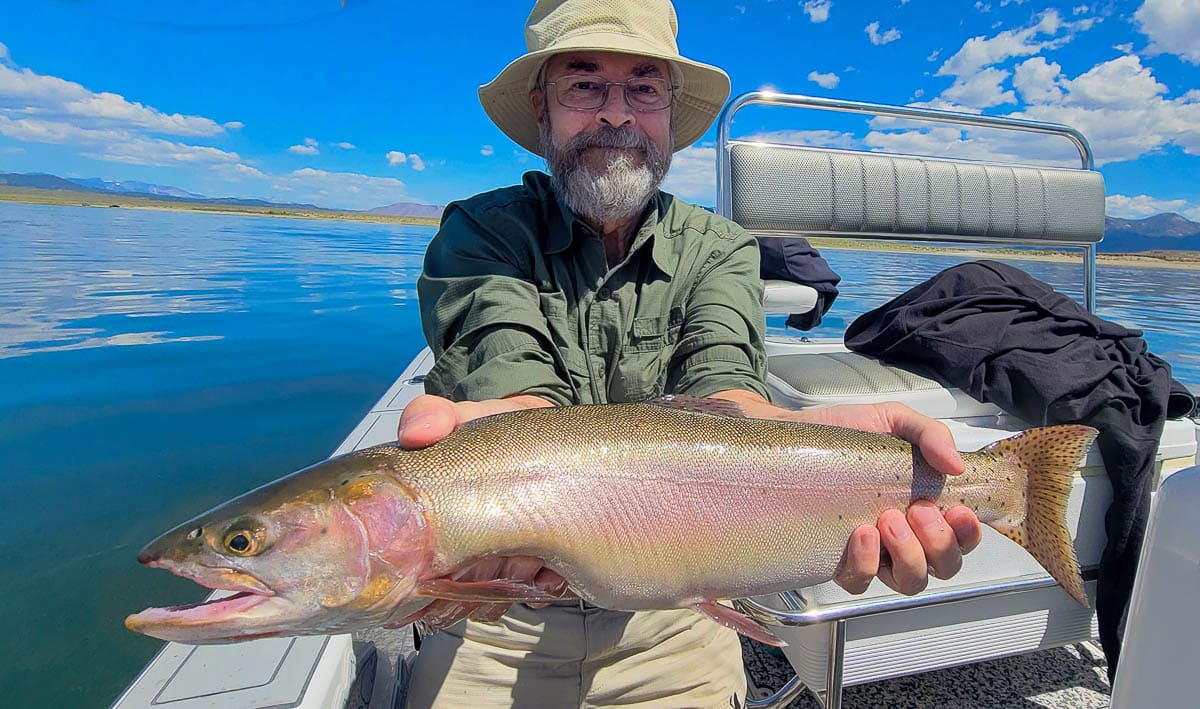 Josh got Josh on some big ones like this huge cutthroat trout.
Here are our flies which are working on the Upper Owens, Lower Owens River, East Walker River and Hot Creek in addition to the above patterns listed in our report:
SD Chironomidge
#16,
Para Midge
#20, 22,
Puff O' Smoke
#16,
Broken Back Copper Tiger Midge
#18, 20;
Assassin Light
#18;
Assassin Dark
#18;
Crystal Hi-Vis Parachute Blue Wing Olive
#18;
Crystal Tiger Midge Long
#18, 20;
Crystal Midge Pupa Copper
#18, 20;
Gillie Chironomid Pupa Dark and Light
#18, 20, 22,
Otter Eggs
in all colors,
Bead Head San Juan Worm Red And Brown
#14, 16;
Squirmy Worm Tungsten purple, pink, and red; Parallel Assassin Light #14-16, Parallel Assassin Dark #16; Loeberg Mallard Silver Badger; Spruce a Bu Dark and Light
Click HERE to purchase.
Click HERE to check out our great summer Sierra Drifters T-shirts and Hats.