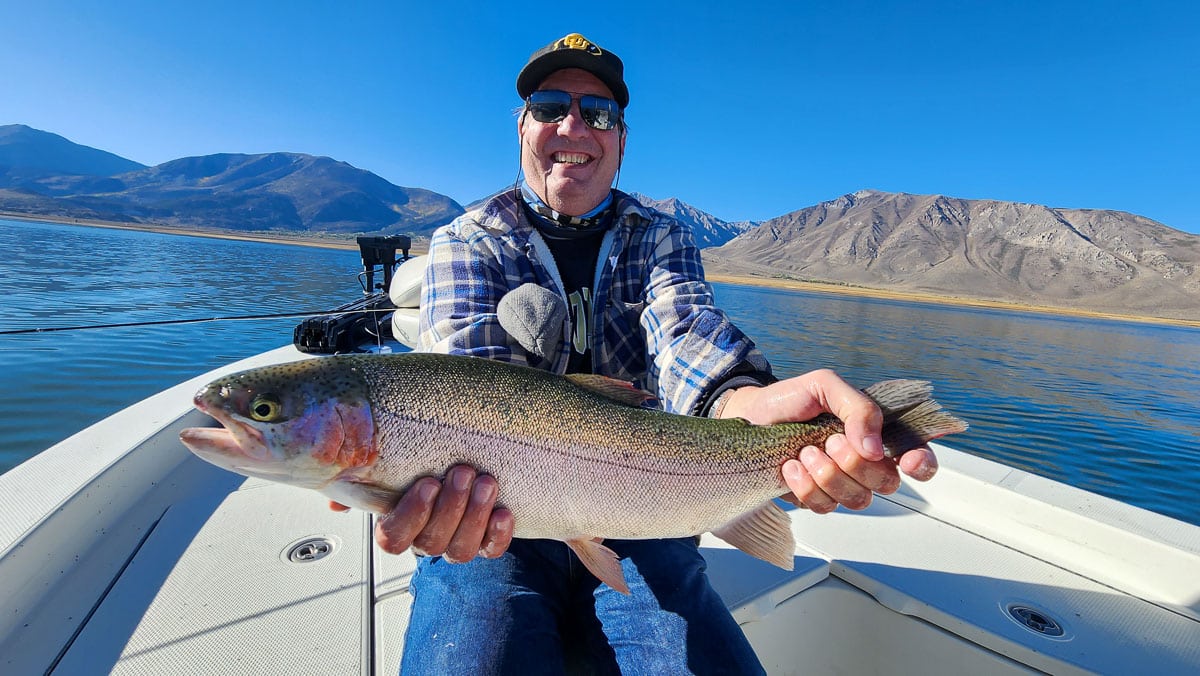 We are now starting to get into fall mode with the weather cooling down. As cold nights set into the 30's and cool the water, the fish are transitioning into their fall feeding patterns. Daytime temperatures have been very nice in the mid 70's and fishing has been good on most days. We have the whole month of October still remaining for good fishing on Crowley Lake. Crowley Lake's last day for boat launching will be October 30th this year instead of the traditional 31st. The lake will remain open to fishing though until November 15th. Some fish have started their migration into the rivers and creeks already. It's a great time to be in the eastern sierra, as crowds have been light and less pressure has been put on the fish. A lot of the lake resorts have been getting ready to wrap up their season and have been pulling docks and boats in preparation for the coming winter. Hot Creek and the Upper Owens have been fun and will only get better as the fall pushes on. Pyramid Lake opener was off to a great start with huge cutthroat trout being caught from the boat.
Crowley Lake's fall fishing has been very good for large trophy fish. Most nights will leave a layer of frost on the ground but once the sun rises, it melts off fairly quickly. Typical depth for fishing this time of year has been from 16 – 20′. Midges have still been the best producers, especially the Blood Midge #14 – 18. Pulling streamers with a sinking or sink tip line have also been good strategies for connecting with some real brutes. We will continue to fish the lake by boat until October 30th. Best patterns have been #16 -20 SD Chironomidge, #16 – 18 Puff O' Smoke, Dark Assassin # 14 -16 in parallel and regular, #14 – 18 Mud Candy, #16 -18 Blood Midge, #16 -18 Copper Tiger Midge, #16 -18 Crystal Tiger Midge Long, #18 -20 Gillie Dark and Light, and Tungsten Zebra Midge # 16 – 20.
Hot Creek flows are in low mode with lots of weeds now in the canyon. Dry flies have been productive along with smaller flies hung as a dropper. A straight dry fly will keep weeds off your line and will be easier to cast. If you can imitate extremely small midge emergers you can fool some of the subsurface feeders. Scuds are great this time of year, along with annelids and midges. #18 Crystal Scud, #16 SJ Worm in Red and Brown, #18 Flashback Hare's Ear, SD Crawler Red or Brown, and #18 -20 Flashback Pheasant Tails have been working well.
Lower Owens River flows are now around 120 cfs. Wading is easier now and the cooler water will have the fish in a more comfortable state and ready to feed. Temperatures down here are still hitting the mid to low 80's, but a cool down for the end of the week is in store. Smaller nymphs like #18 – 20 Flashback Pheasant Tails, #20 Serendipity Black and Red, #18 – 20 Tungsten Zebra Midge, #20 – 22 Crystal Chironomid Emerger Copper, #20 Red Rib Midge Glass and Dark Head, #18 -20 Crystal Caddis Olive Dubbed Black and Crystal Caddis Olive Larva Black have been catching trout here.
Upper Owens River is starting to pick up some with the cooler night temperatures. Around this time we start to see an early migration of brown and rainbow trout entering the river. It's a good time to cover a lot of water to find some of the nicer fish holding in the deeper sections. Small streamer patterns can be effective for getting to the hard to nymph areas where the fish are holding.
Pyramid Lake is off to a great start. Huge fish to 20lbs have been hitting our nets. This month we are full with bookings, but we have November and March – June open for booking.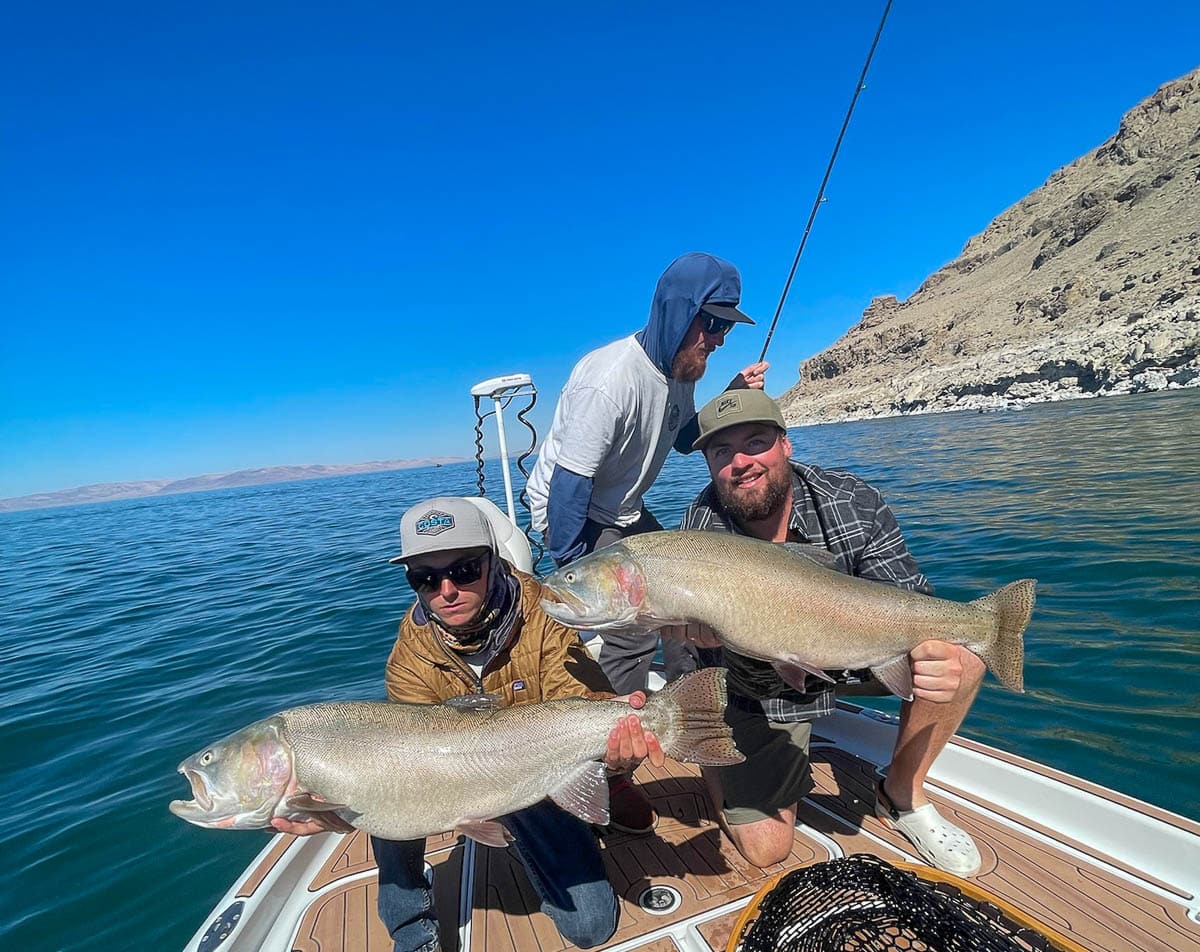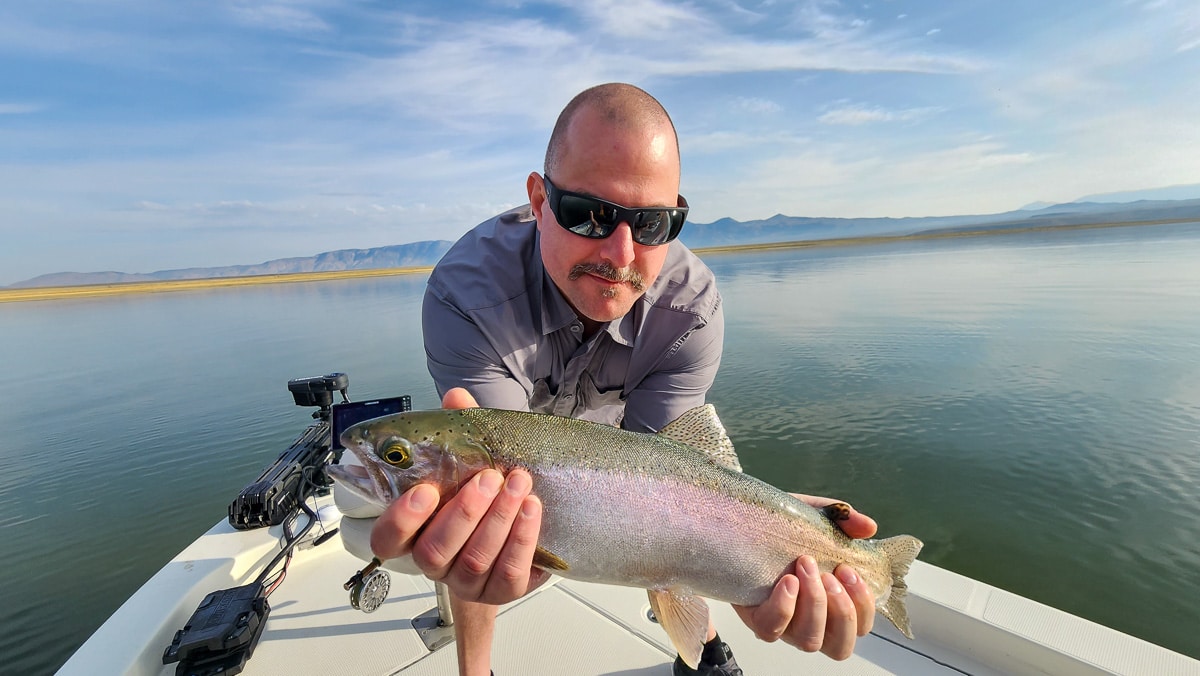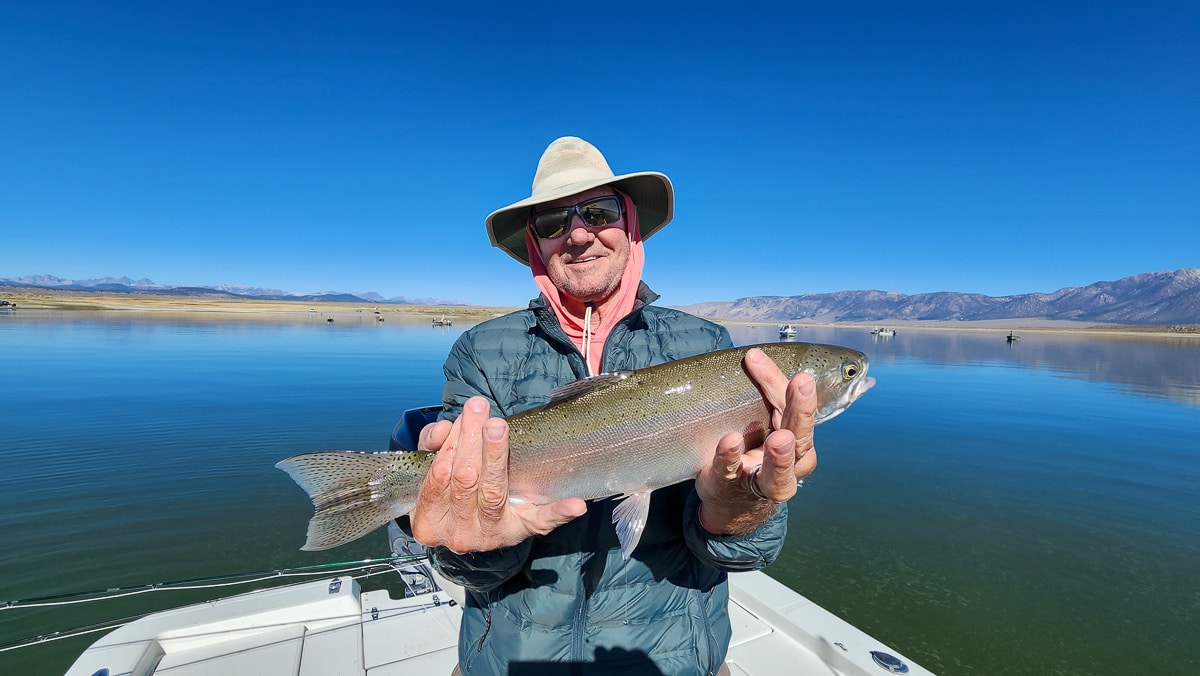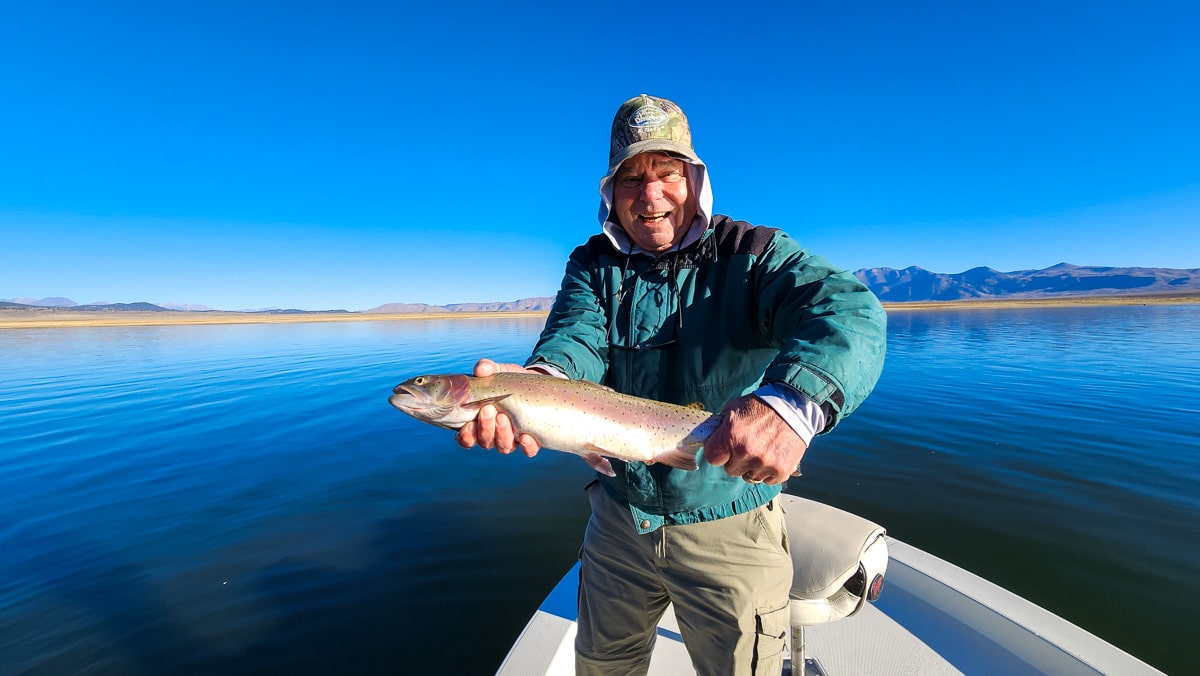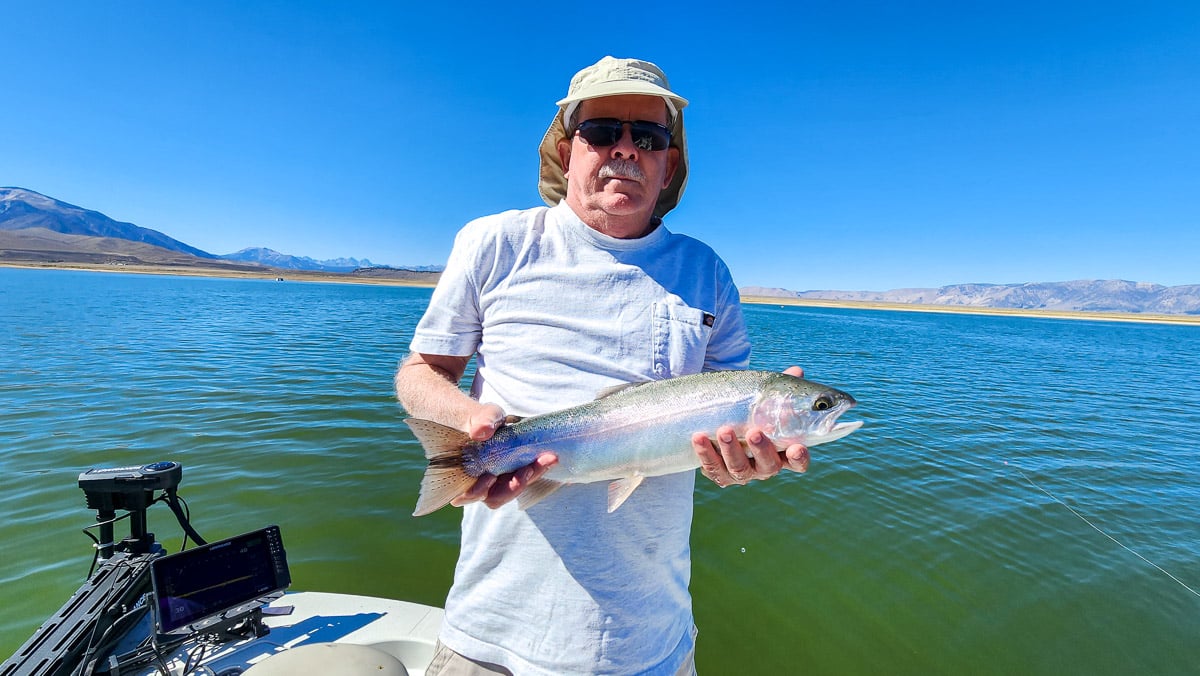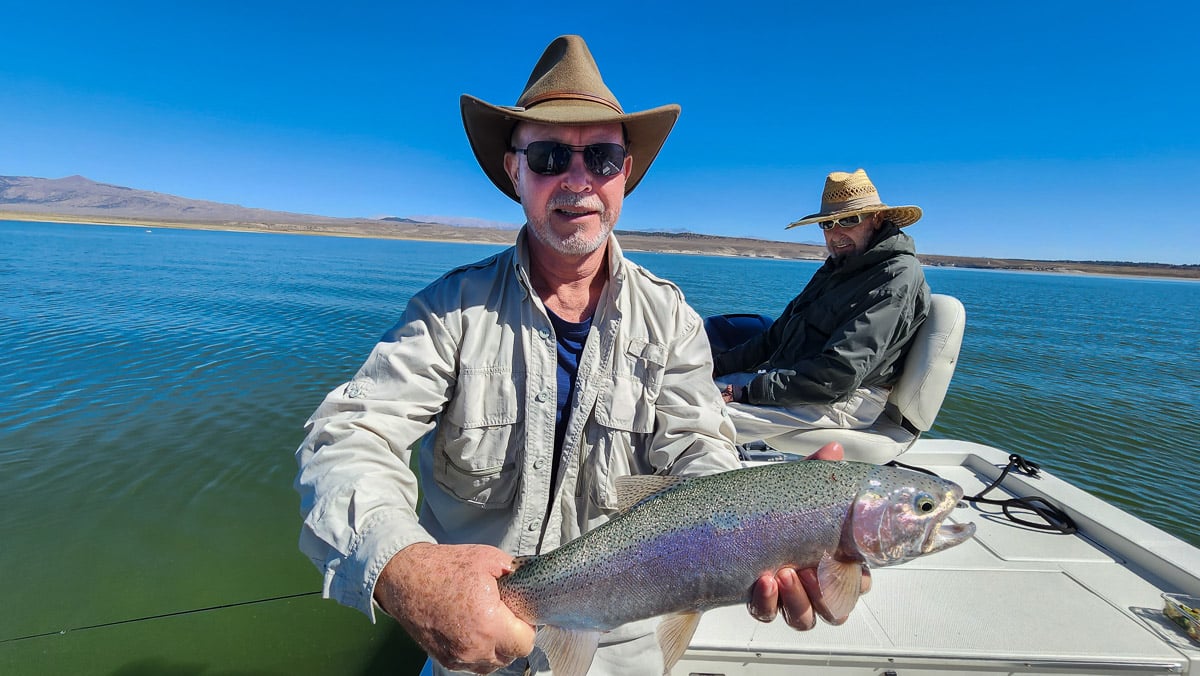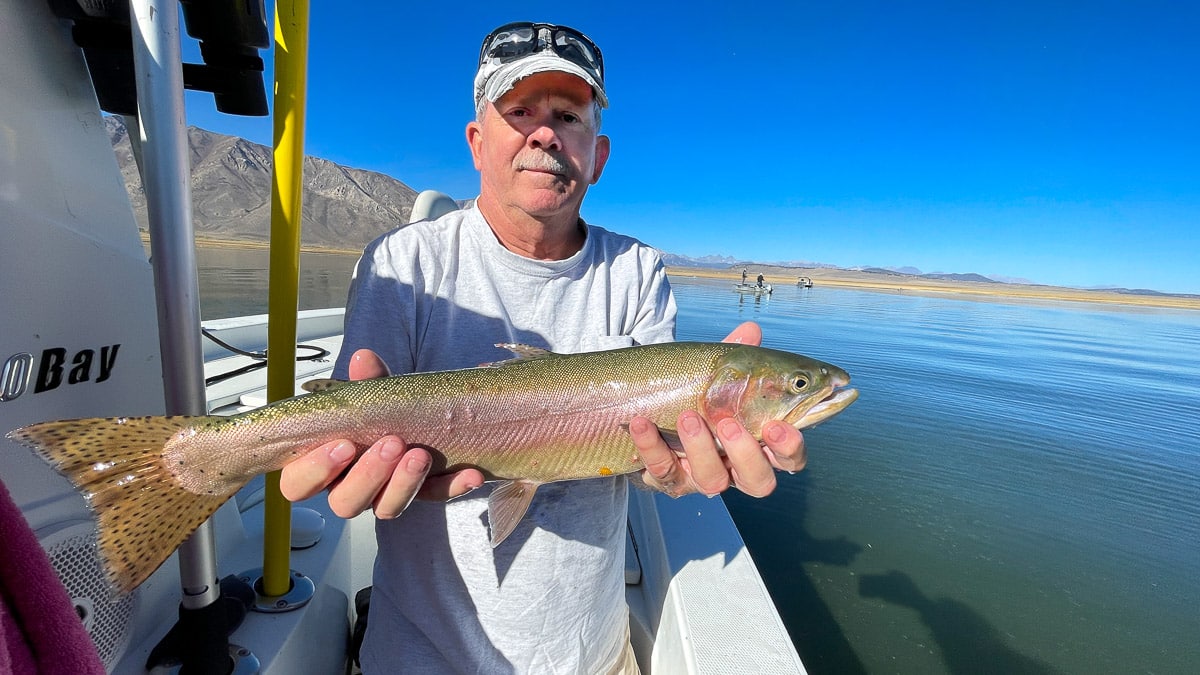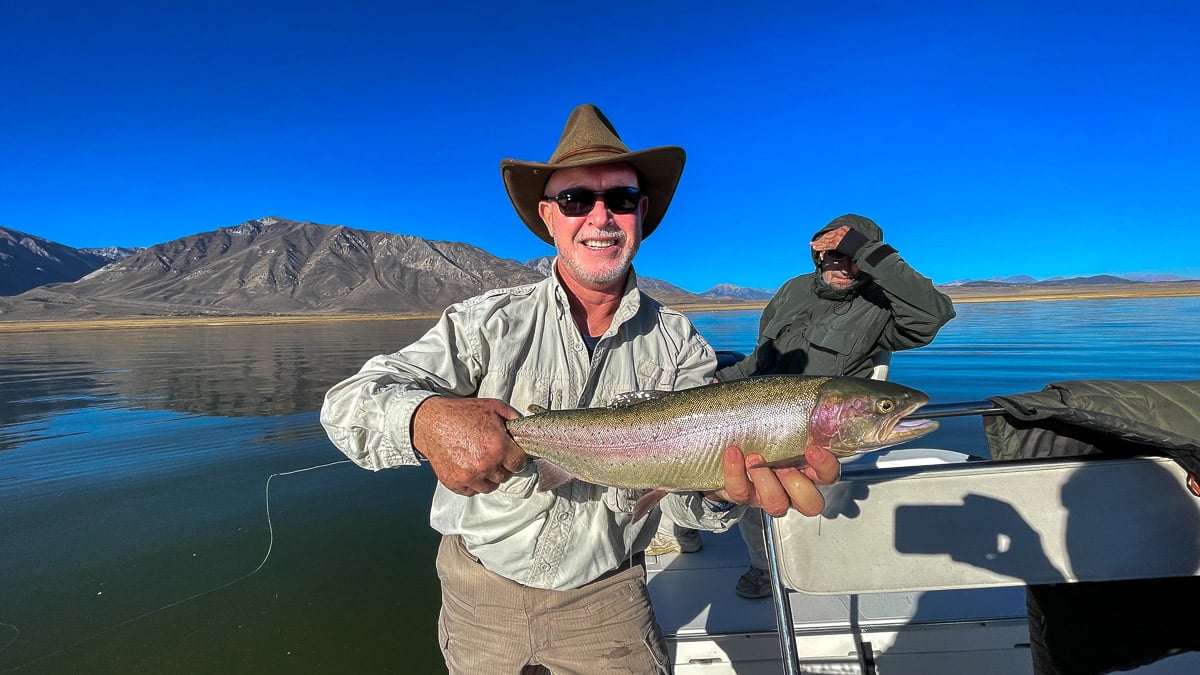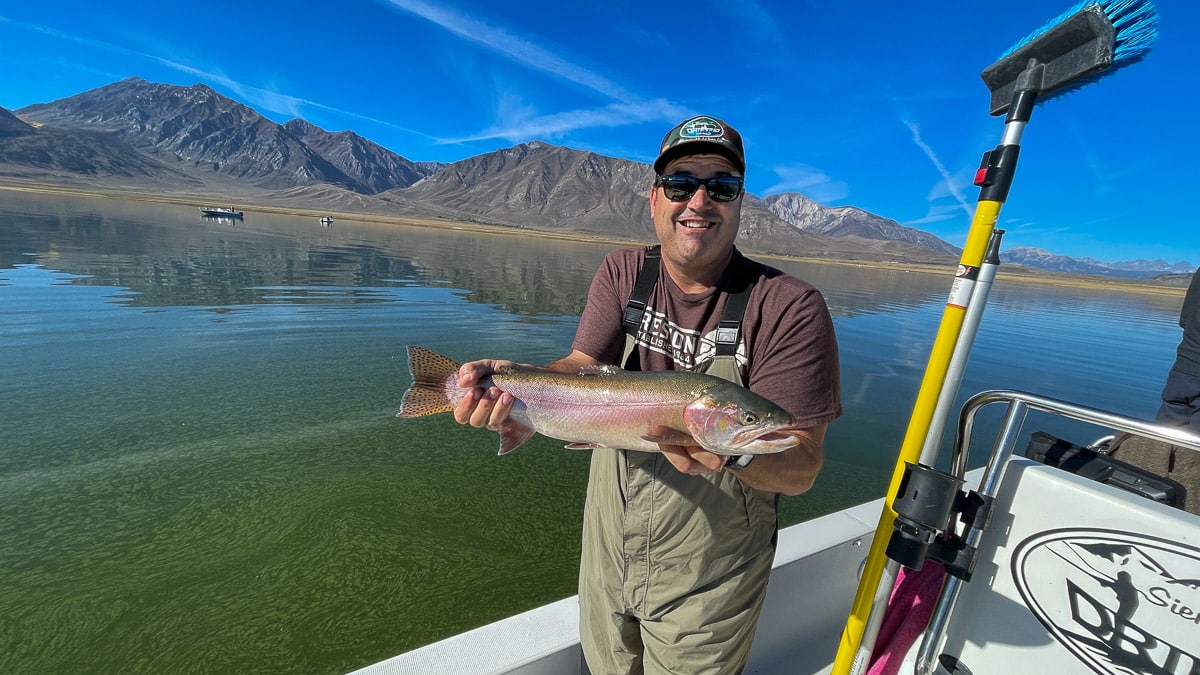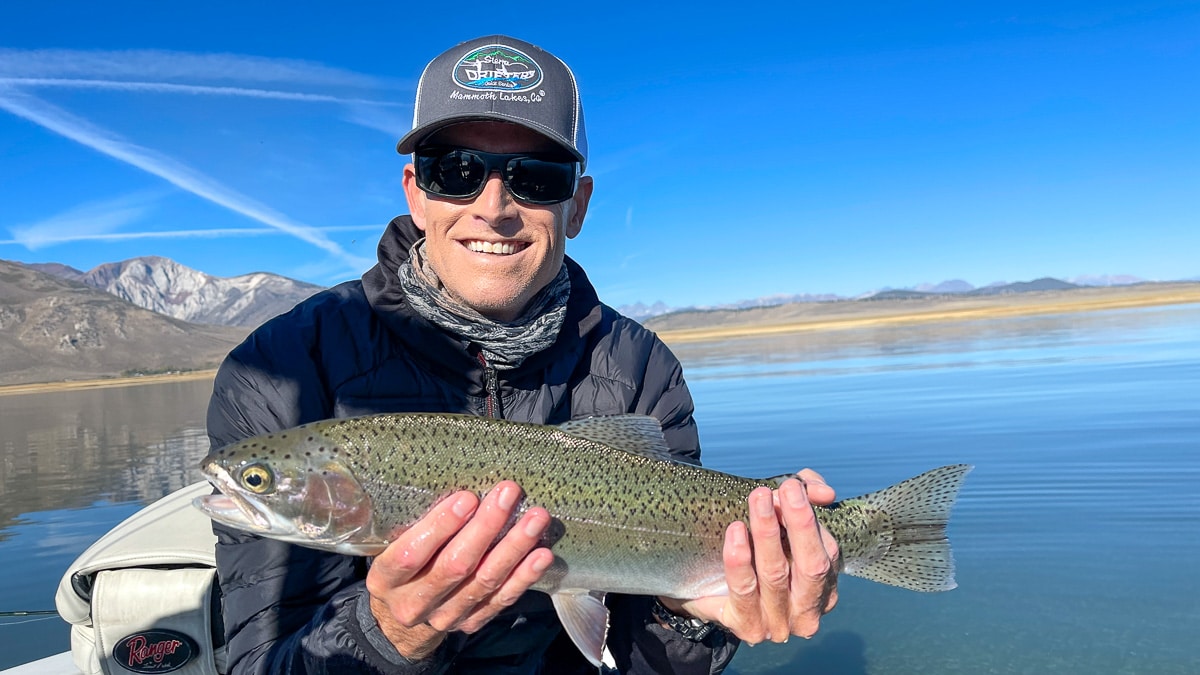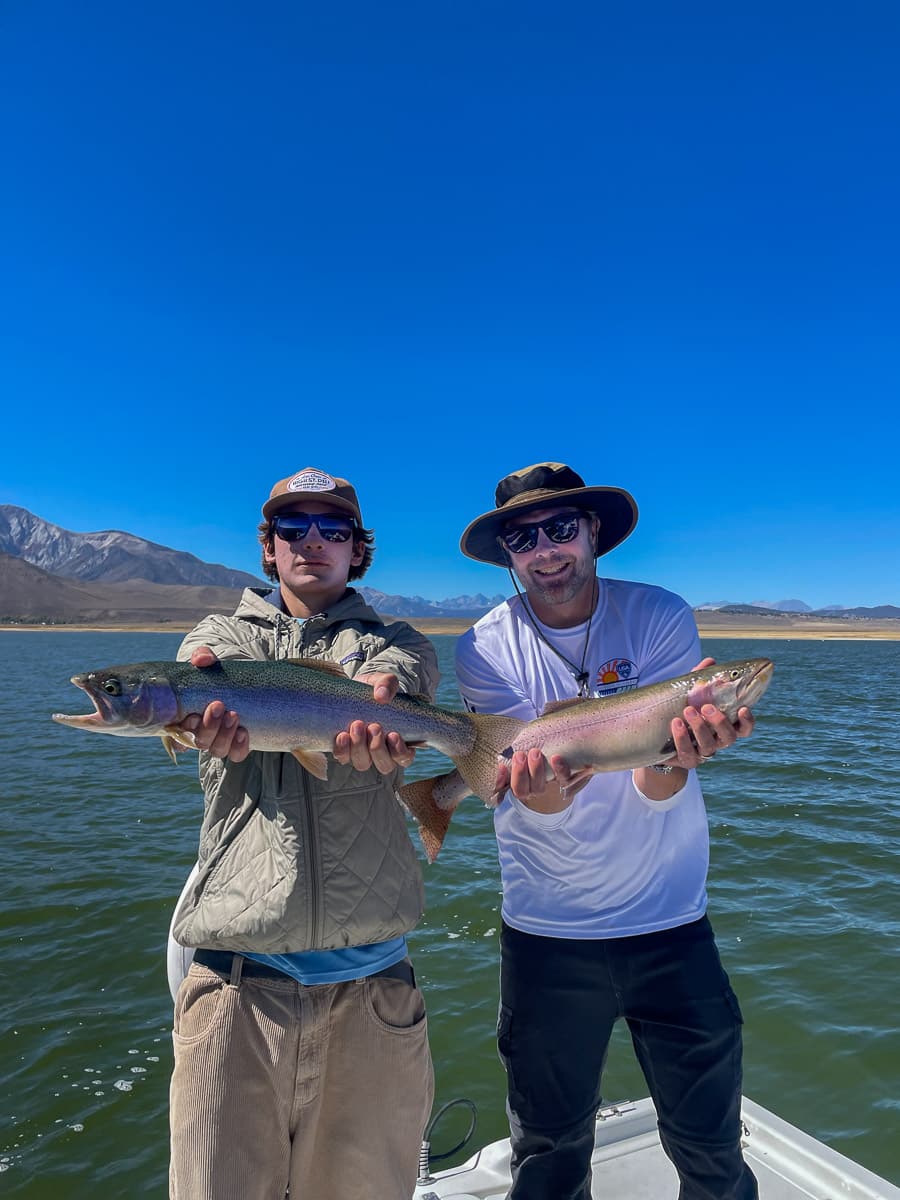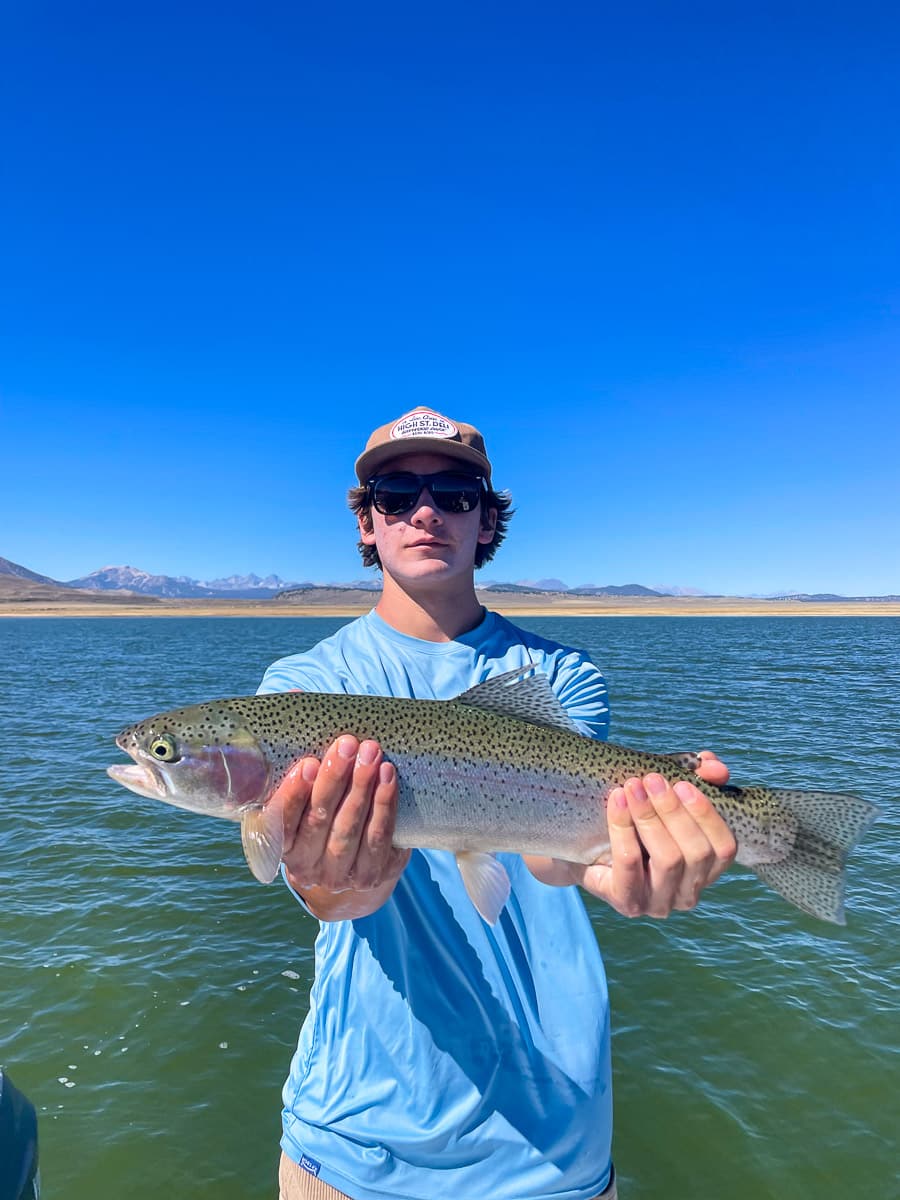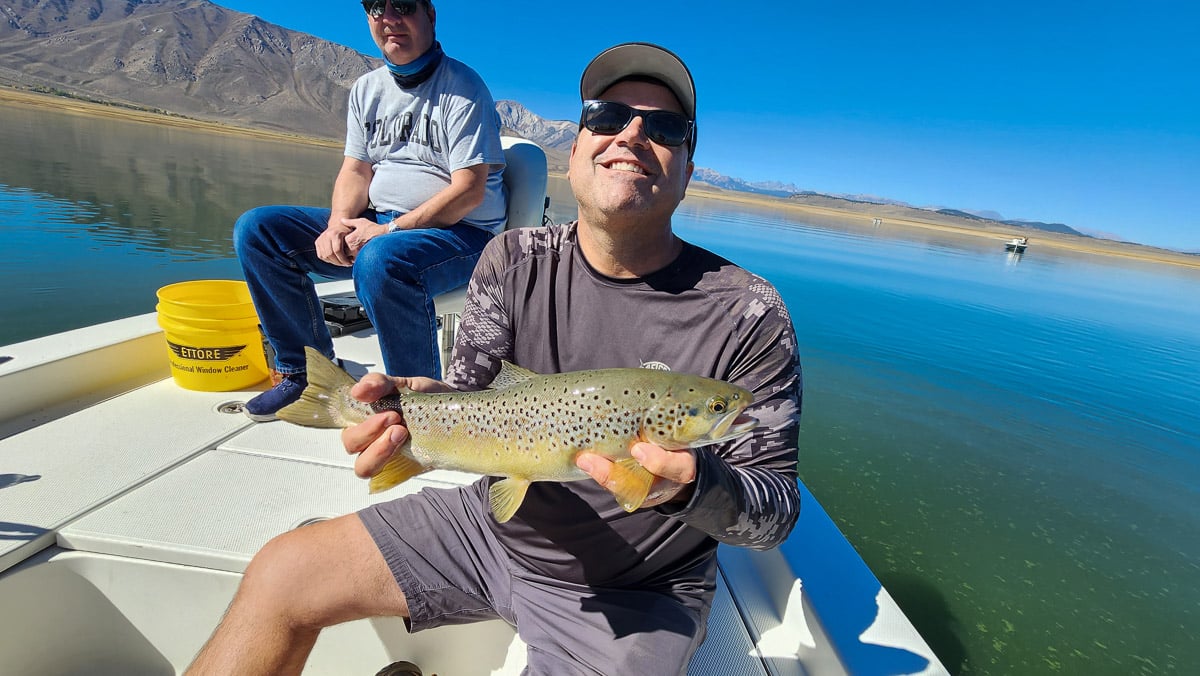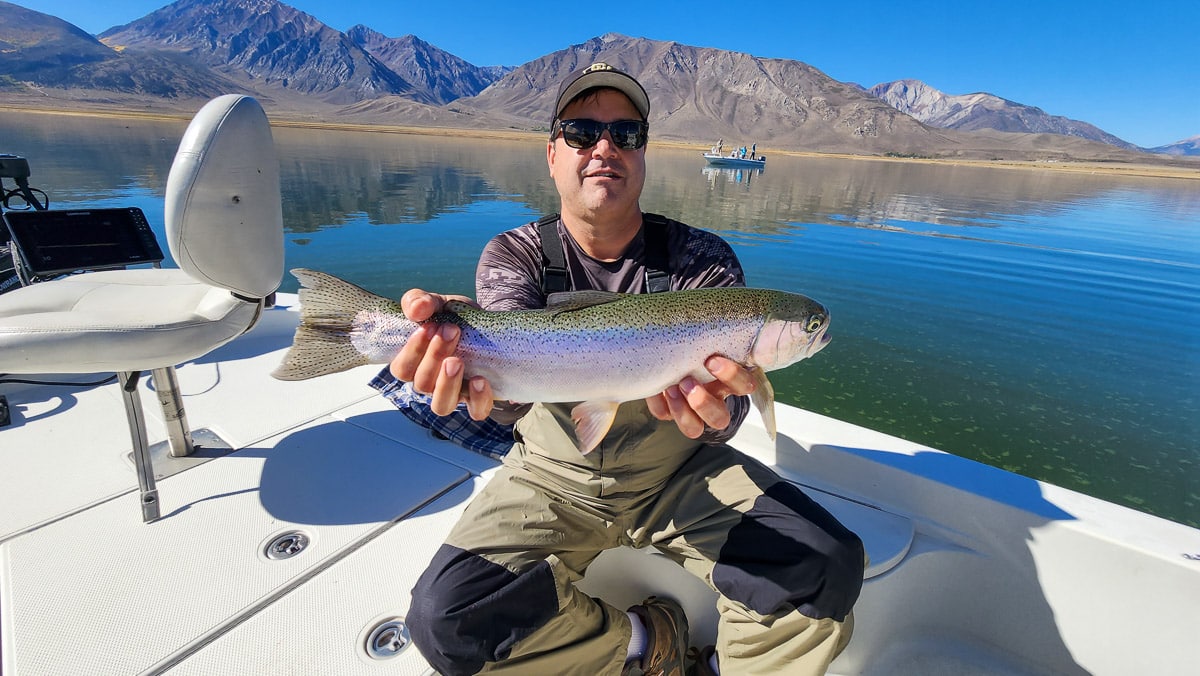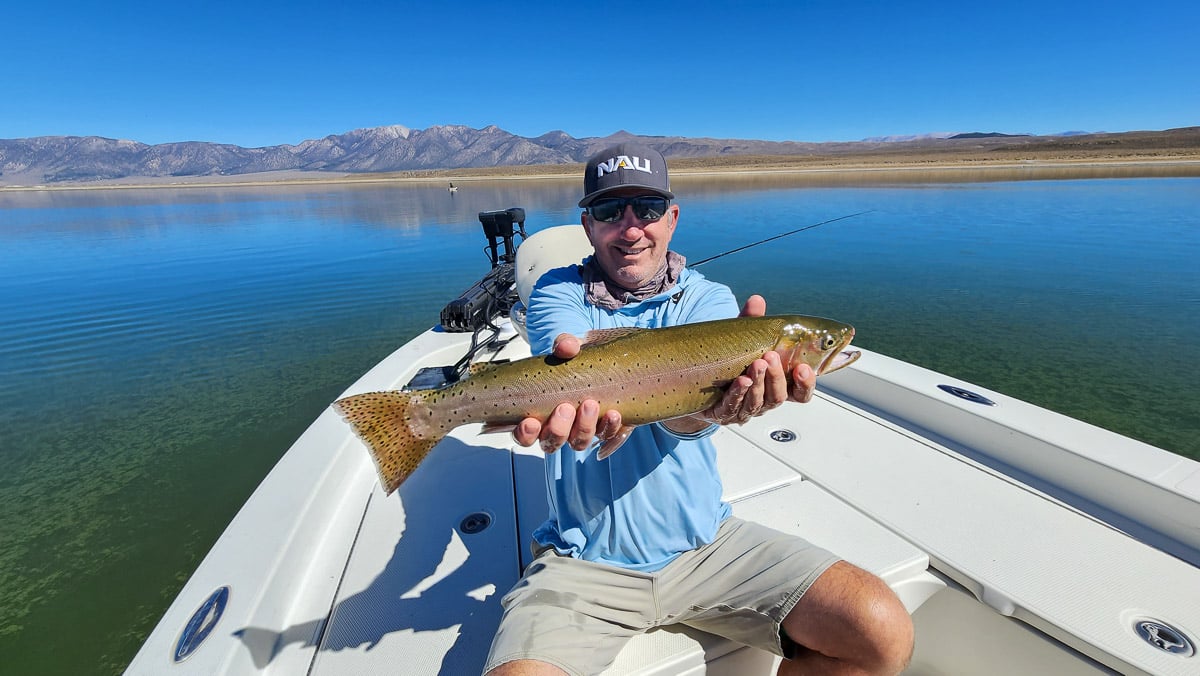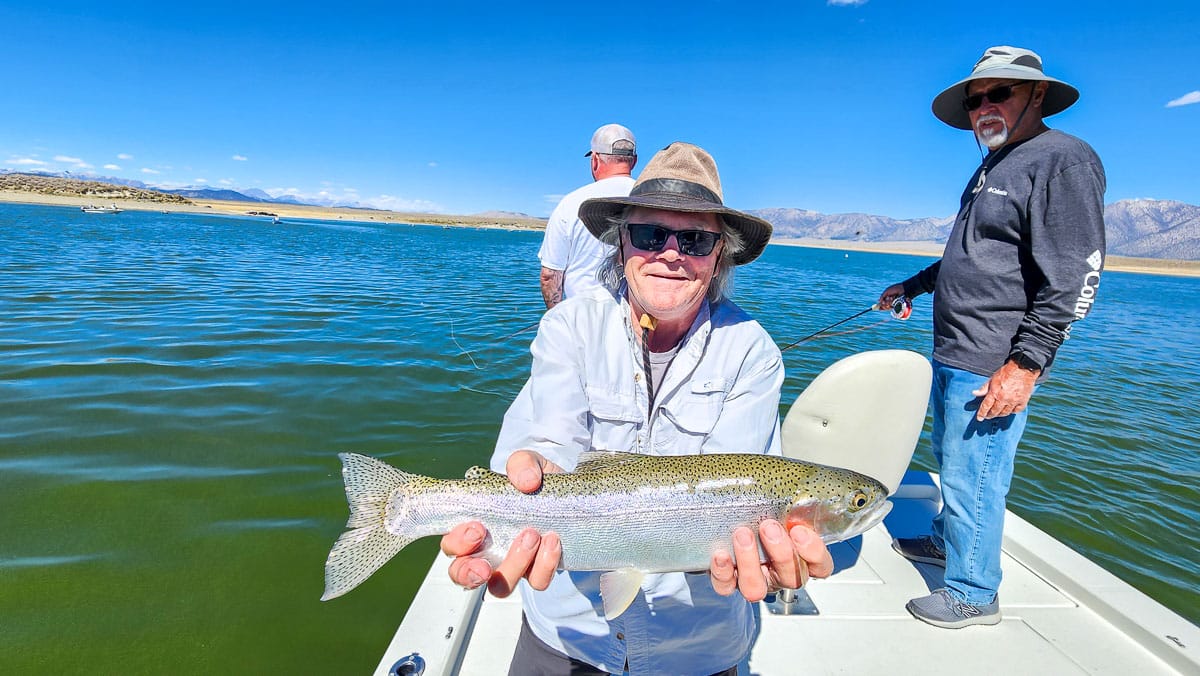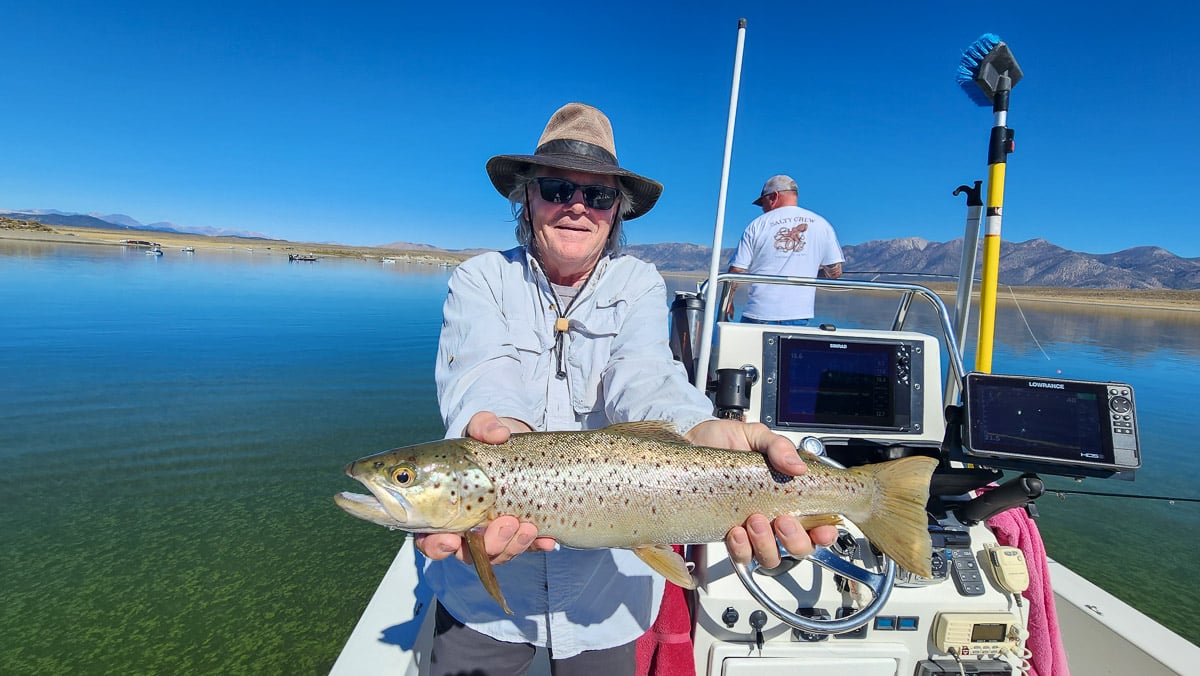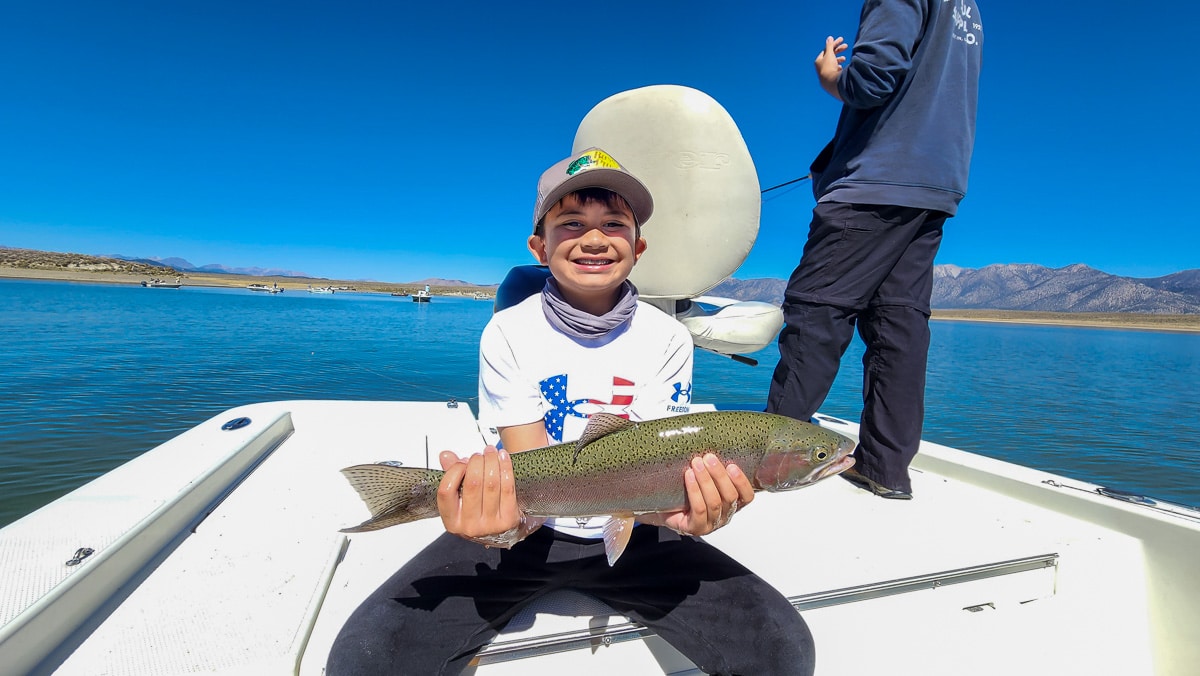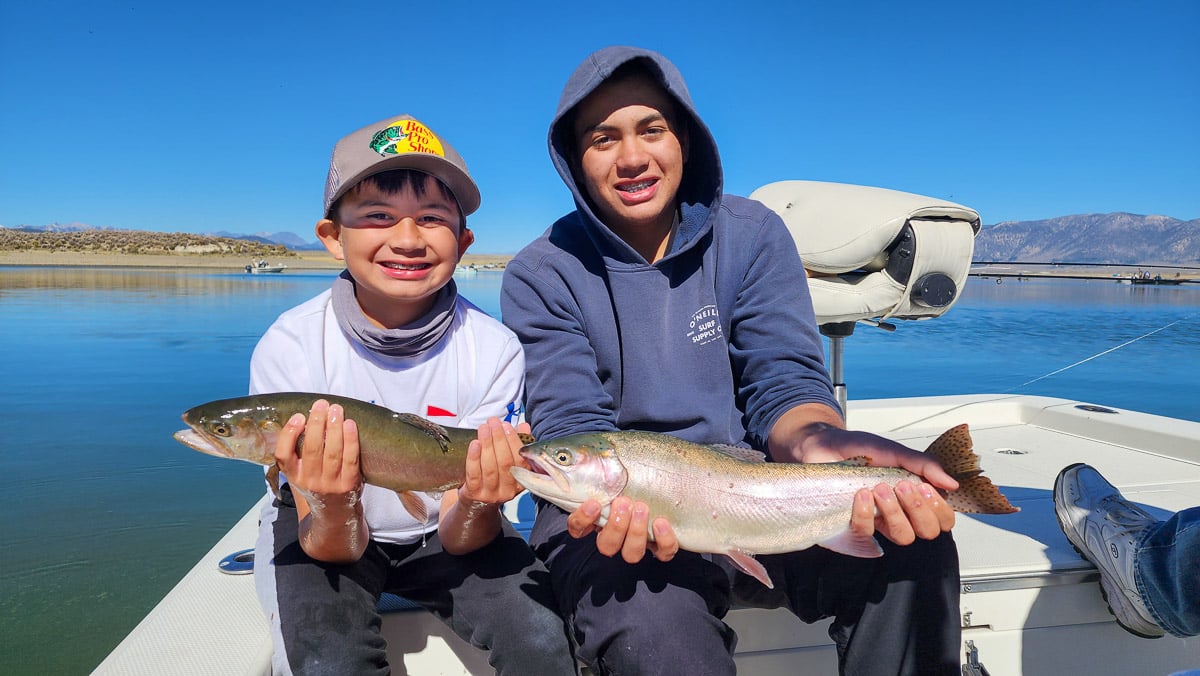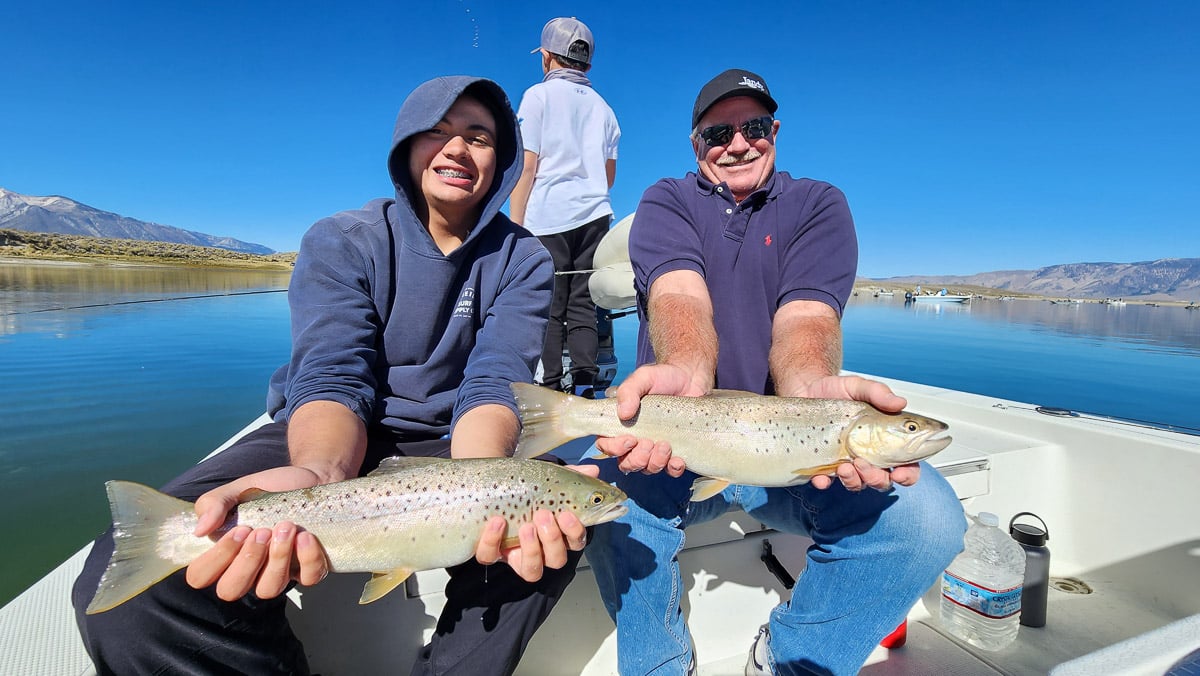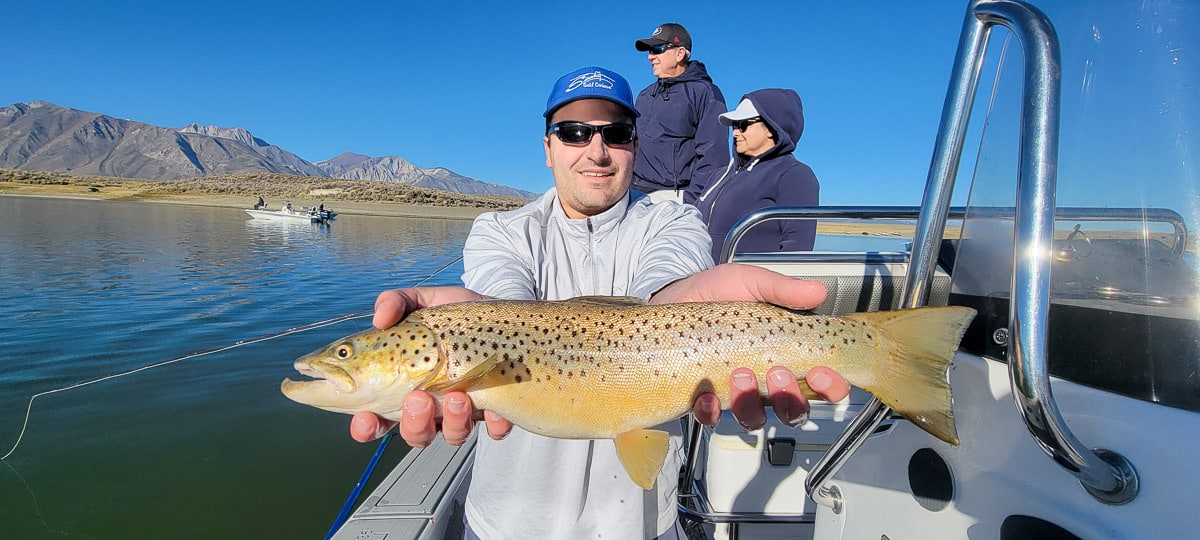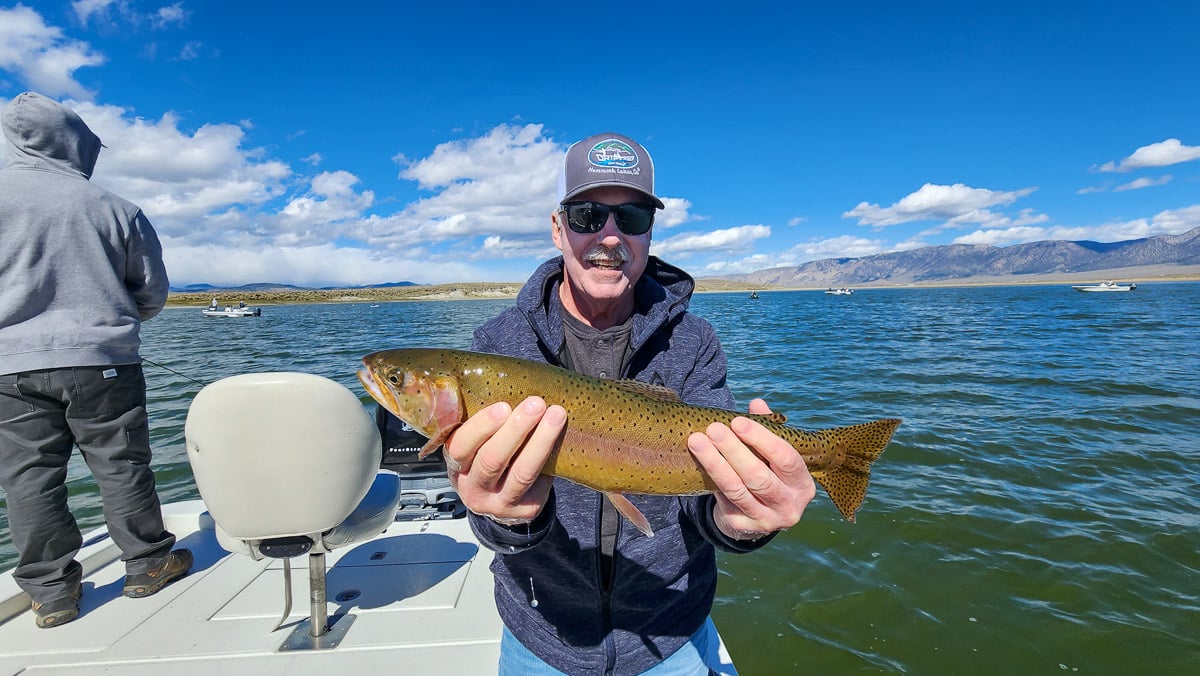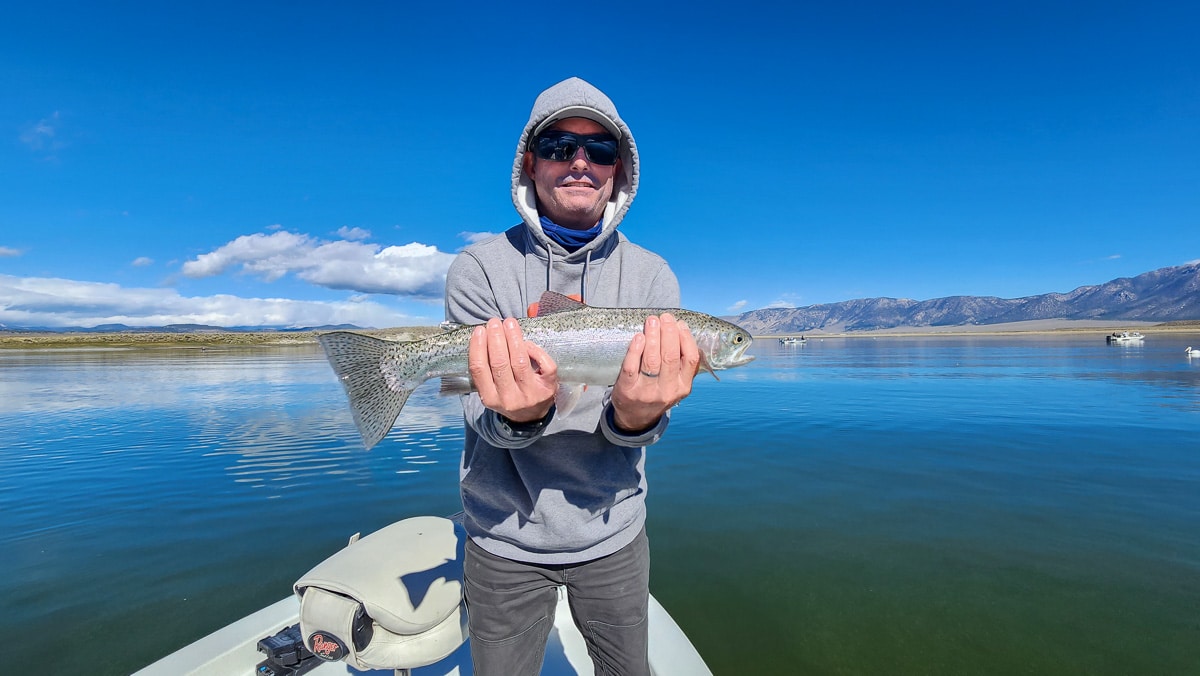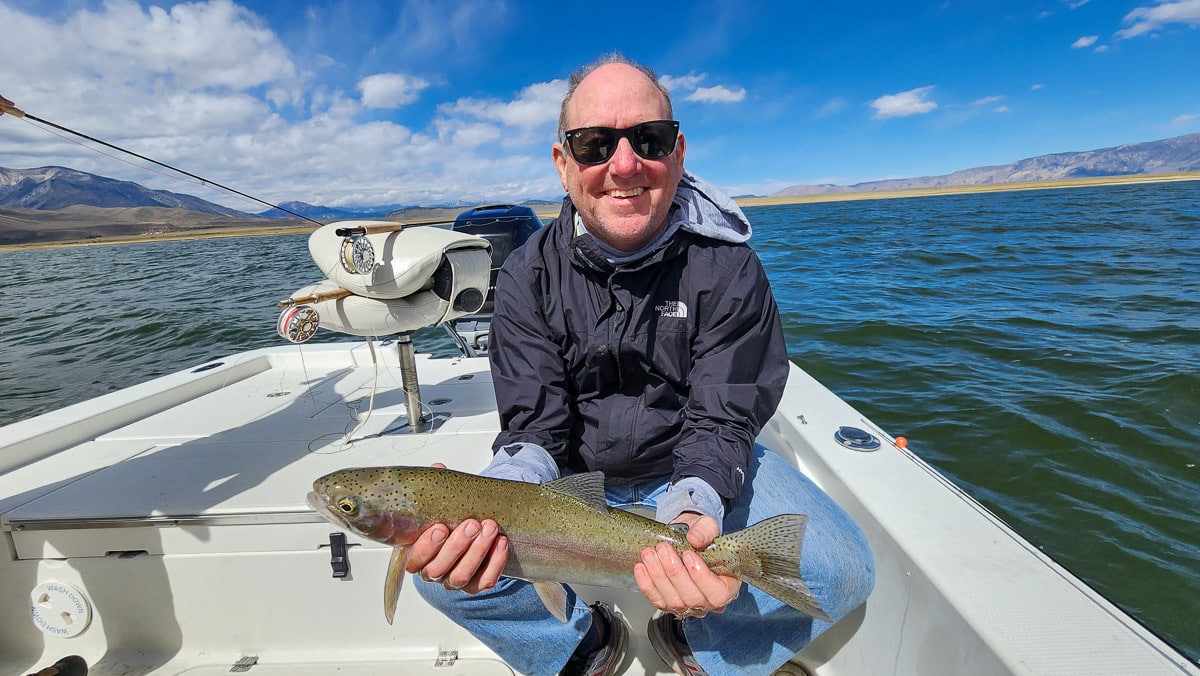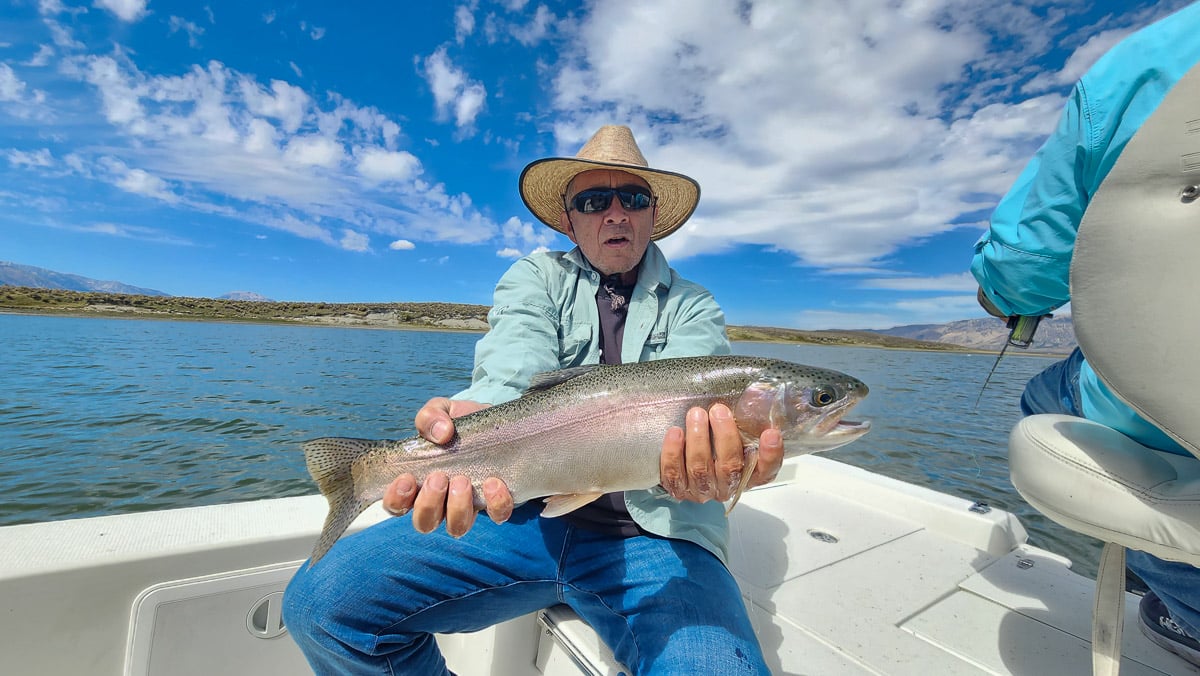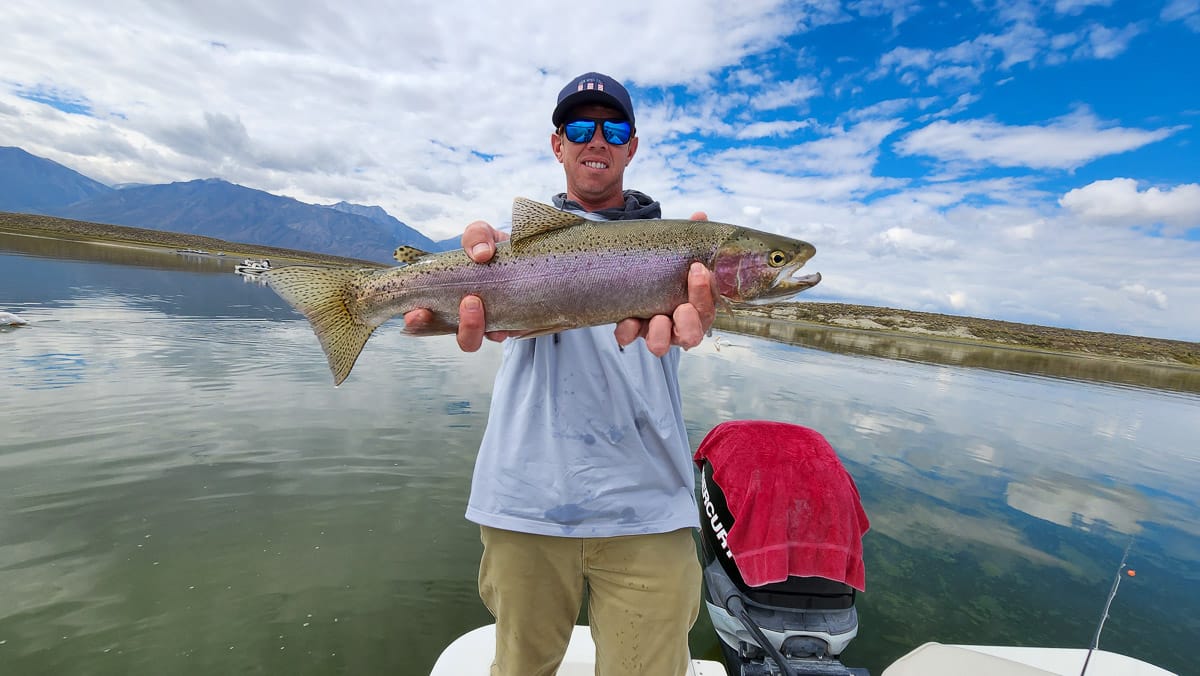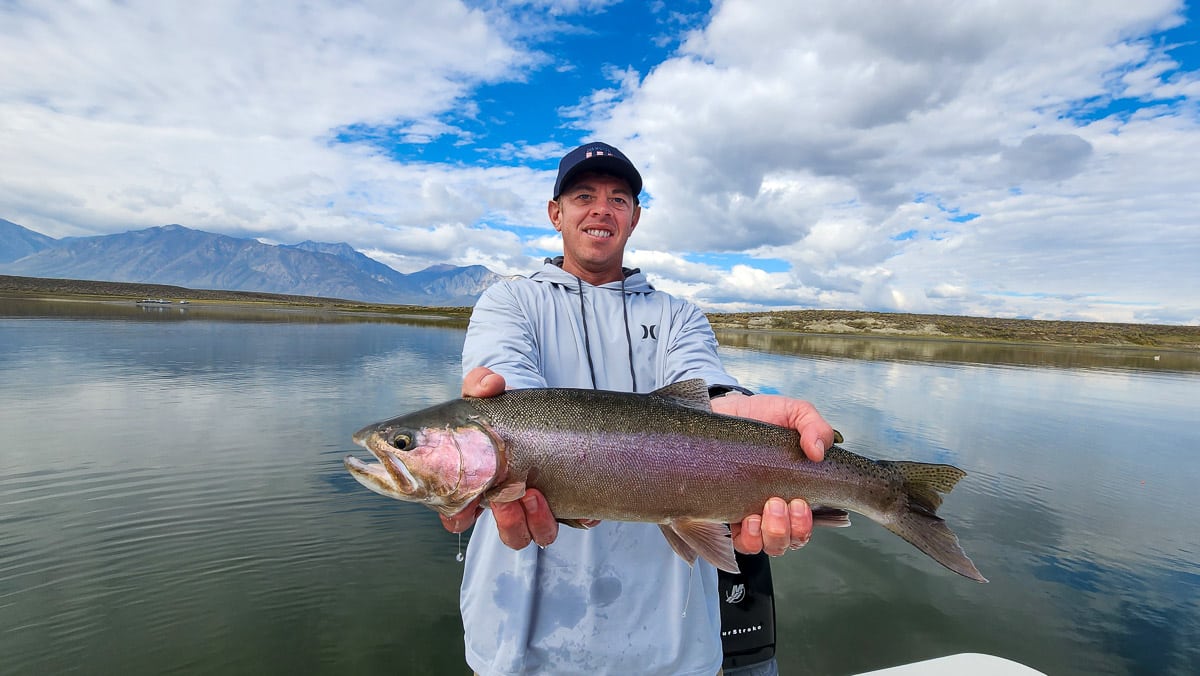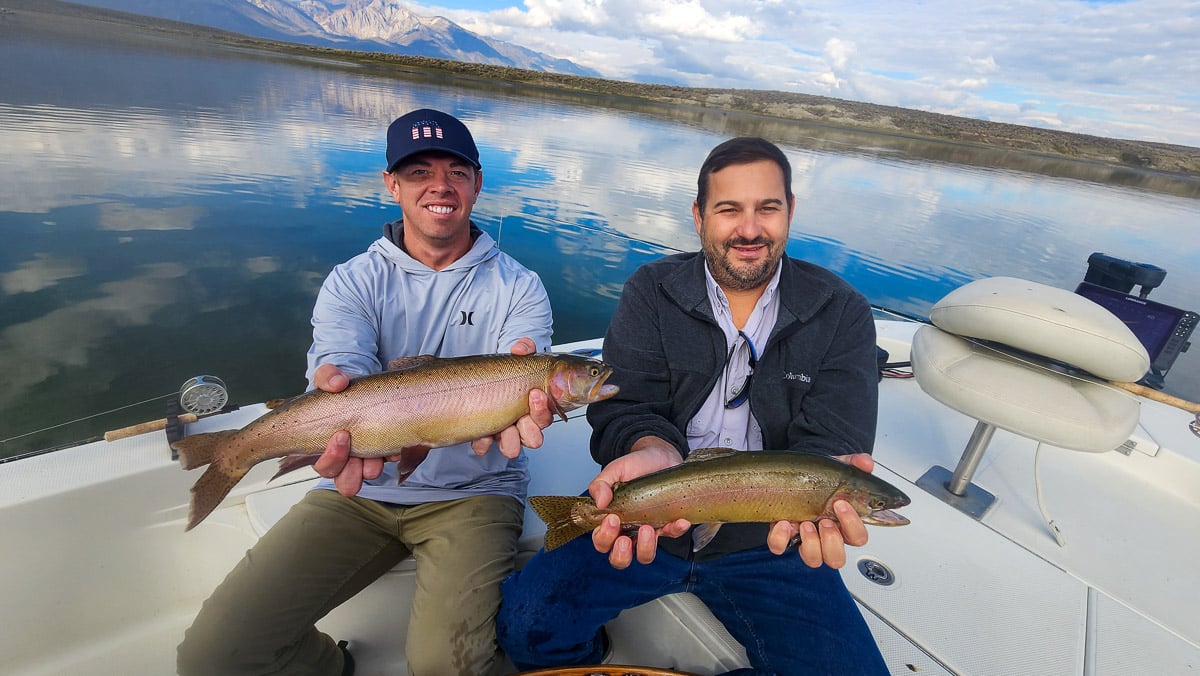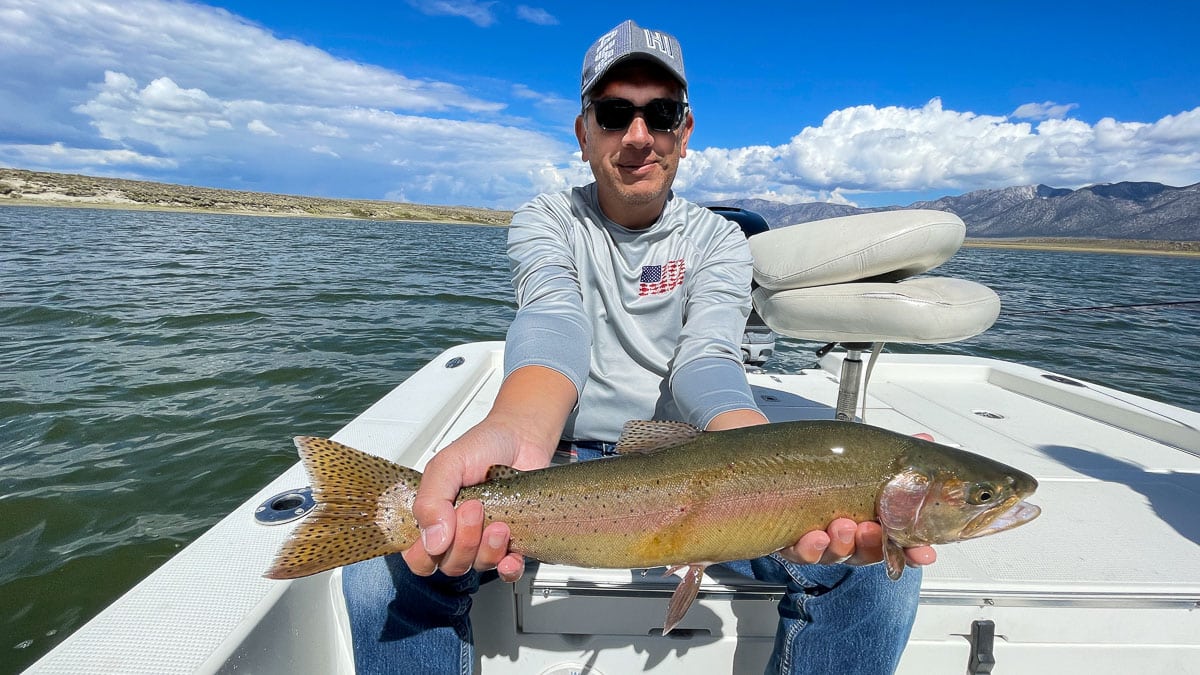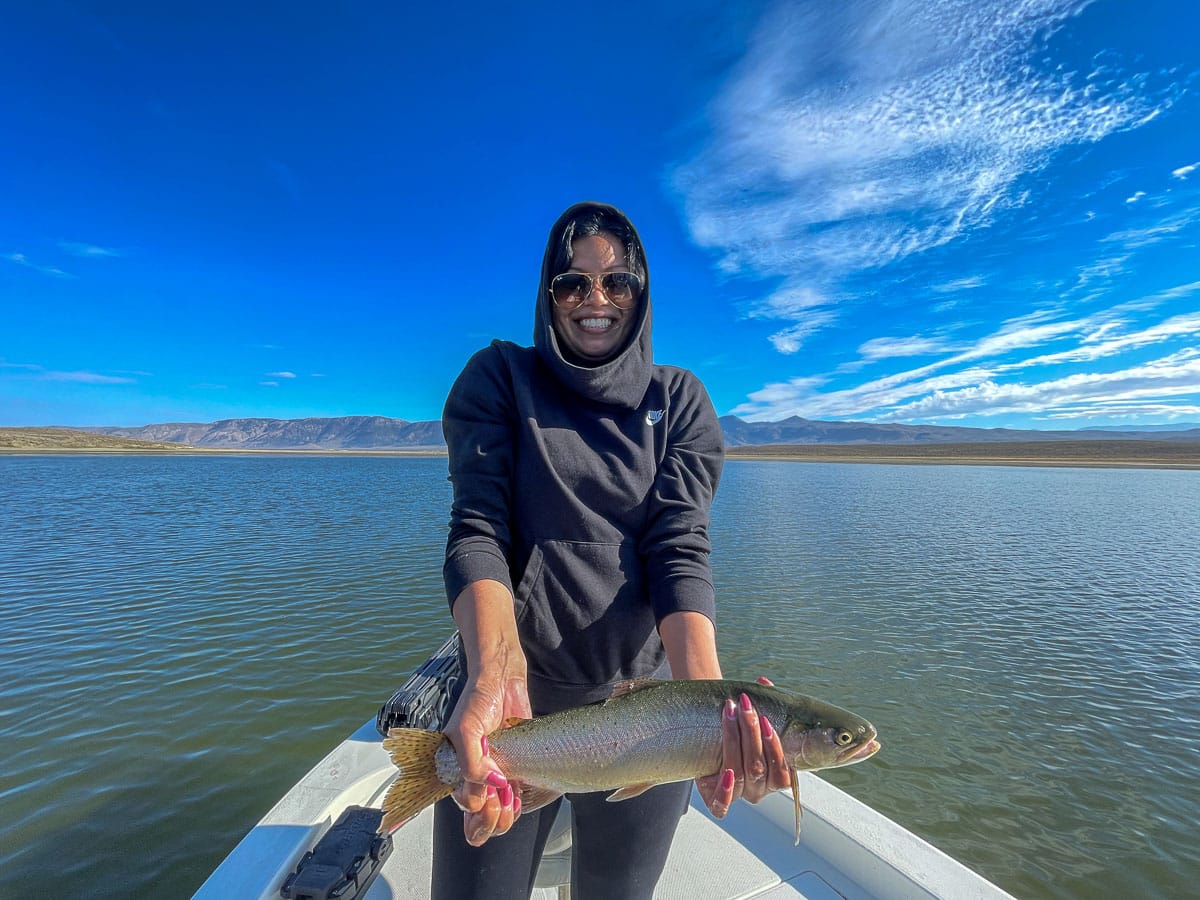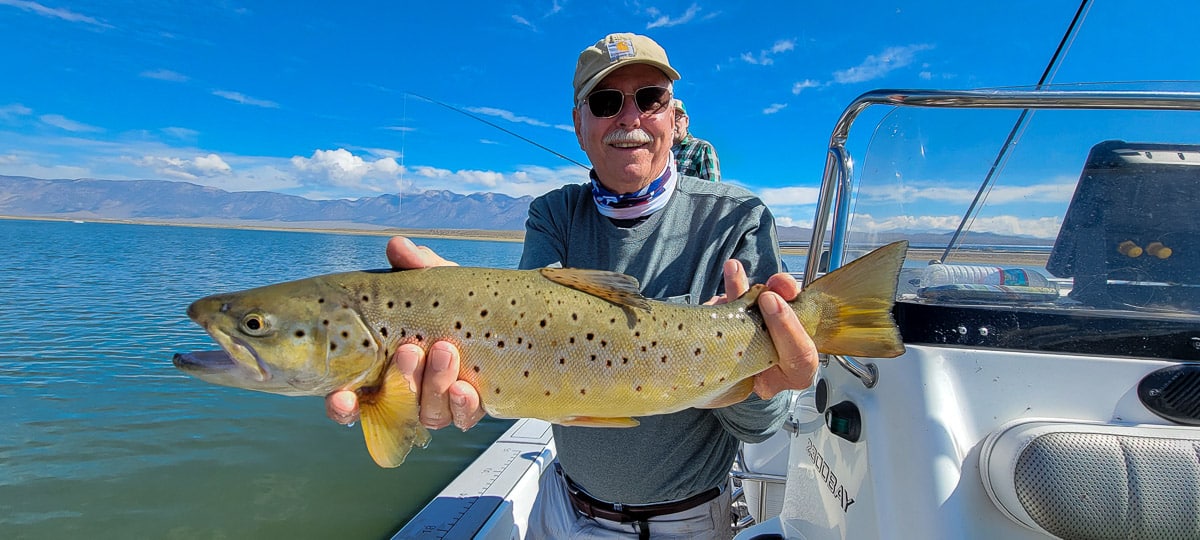 Here are our flies which are working on the Upper Owens, Lower Owens River, East Walker River and Hot Creek in addition to the above patterns listed in our report:
SD Chironomidge
#16,
Para Midge
#20, 22,
Puff O' Smoke
#16,
Broken Back Copper Tiger Midge
#18, 20;
Assassin Light
#18;
Assassin Dark
#18;
Crystal Hi-Vis Parachute Blue Wing Olive
#18;
Crystal Tiger Midge Long
#18, 20;
Crystal Midge Pupa Copper
#18, 20;
Gillie Chironomid Pupa Dark and Light
#18, 20, 22,
Otter Eggs
in all colors,
Bead Head San Juan Worm Red And Brown
#14, 16;
Squirmy Worm Tungsten purple, pink, and red; Parallel Assassin Light #14-16, Parallel Assassin Dark #16; Loeberg Mallard Silver Badger; Spruce a Bu Dark and Light
Click HERE to purchase.
Click HERE to check out our great summer Sierra Drifters T-shirts and Hats.