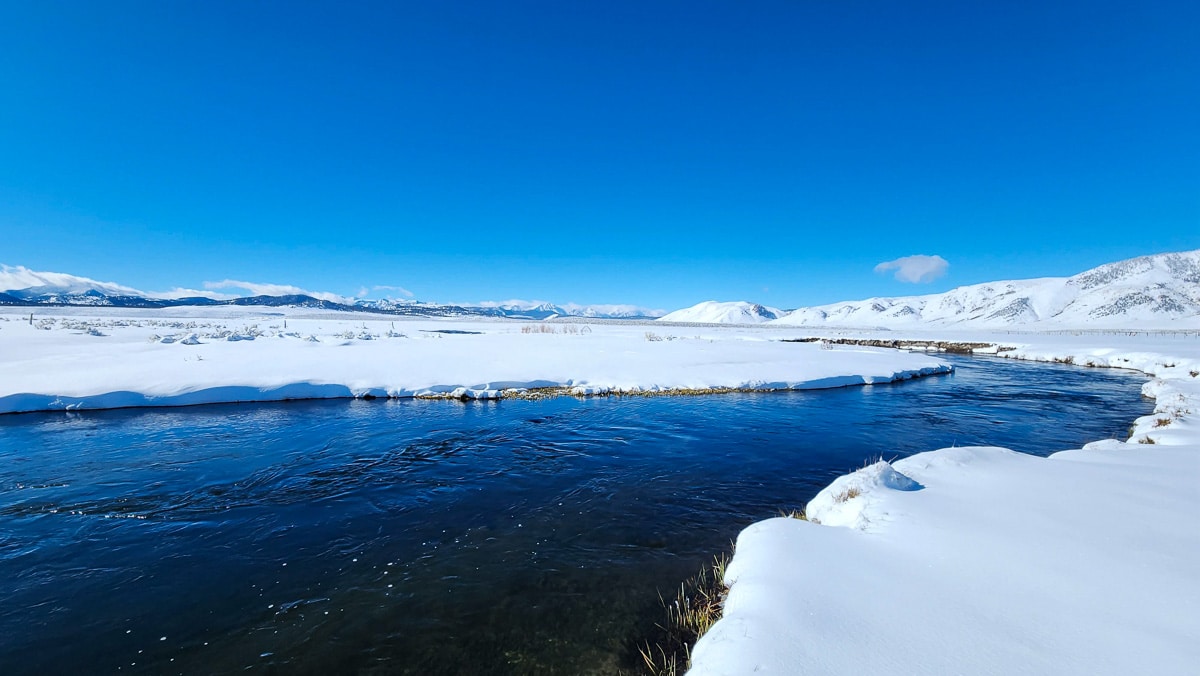 A huge winter storm hit the area last week bringing a great start to the winter. It was a fast transition from fall to winter temperatures, as the highs are now struggling to reach the high 30's during the day, with single digit temperatures along the Upper Owens River. Freezing fog has been making an appearance in the mornings, leaving behind a picturesque frosty coating on the bare tree branches. Rainbows and browns have moved into the river with more on their way. It's now walk in only to access Hot Creek, which will greatly reduce the amount of fisherman on the creek. The Lower Owens has been fishing very well in the Wild Trout and drift boat sections and Pyramid Lake is continuing to produce the monster cutthroat trout this lake in known for.
Hot Creek's driving access is now a thing of the past as the last storm buried the roads in. You will have to walk in to a cess both the Interpretive Site and the canyon sections. Mornings have been icy cold, so 6am starts are not necessary here. Remember that smaller dry flies that we tend to fish in the winter months are usually small patterns which require a good dry fly floatant to keep your presentations looking real to the fish. You can purchase our line of High and Dry floatants here. We find this brand to be some of the best we have used. Flies to use: Egg patterns, SJ worms #14 – 16, #18 Blood Midge, #18 – 20 Tungsten Zebra, #20 Bead Prince Nymph Tungsten, Broken Black and Blue Midge, #18 -20 Crystal Caddis Larva Green Black, #18 – 20 Crystal Copper Zebra Midge, #18 Flashback Hare's Ear, #22 -24 Griffith's Gnat, #20 Serendipity Black.
Lower Owens River flows are great for wading currently. At last check, they were sitting around 75cfs, but the LADWP gauge is not working correctly as of report time. Look for plenty of aggressive fish that are feeding heavily right now as the cold weather has snapped them into winter mode. We have been drifting in the lower sections and targeting the deep pools along the river with good success. Smaller nymphs like #18 – 20 Flashback Pheasant Tails, #20 Serendipity Black and Red, #18 – 20 Tungsten Zebra Midge, #20 – 22 Crystal Chironomid Emerger Copper, #20 Red Rib Midge Glass and Dark Head, #18 -20 Crystal Caddis Olive Dubbed Black and Crystal Caddis Olive Larva Black have been catching trout here.
Upper Owens River Be careful with vehicles in here. New snow has fallen and filled in many of the ruts which can look safe but be very deceiving to the unsuspecting off-roader. Large browns and rainbows have been in the mix but it will take some covering ground to stay on the fish. We can expect more fish to fill in the gaps here as the winter progresses. The deeper pools are best with some fish hanging along the cut banks also. Eggs, Pheasant tails, worms, midges, and leeches have been getting takes.
Pyramid Lake has been going strong. Numerous giant fish have been caught in great quantity. Fish are now moving into shallower water. We have November and March – June open for booking.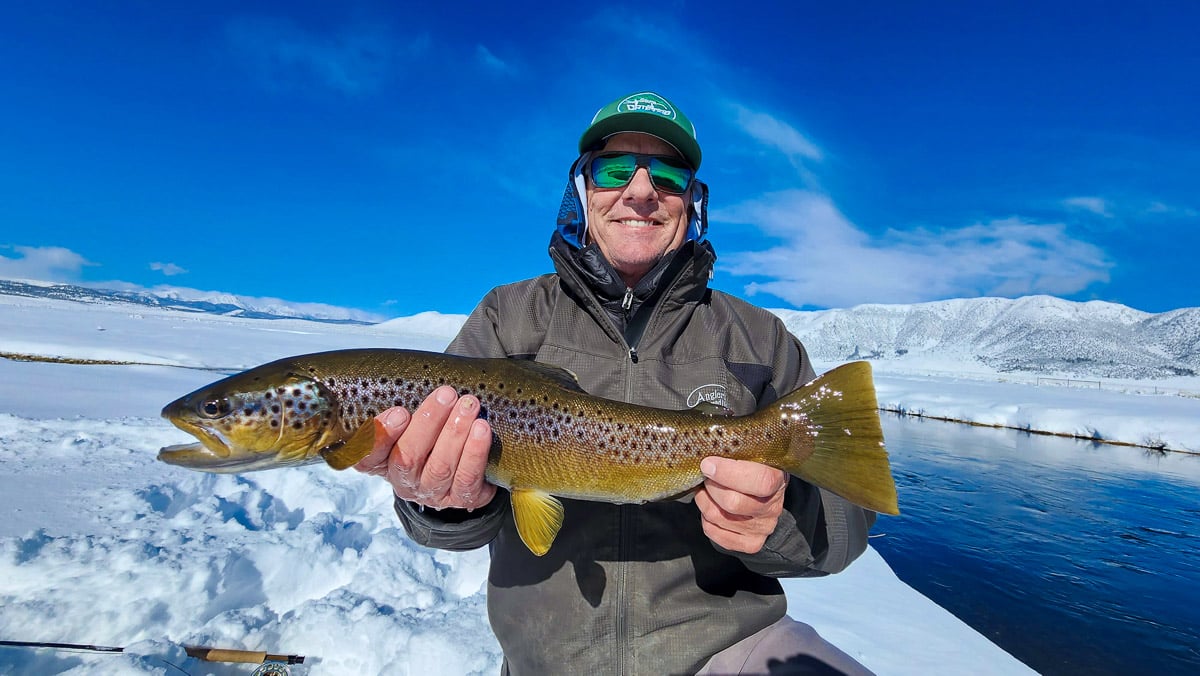 Jeff displays a colorful brown trout from the Upper Owens River while fishing with Doug R.
The snow was deep enough to ride in this morning.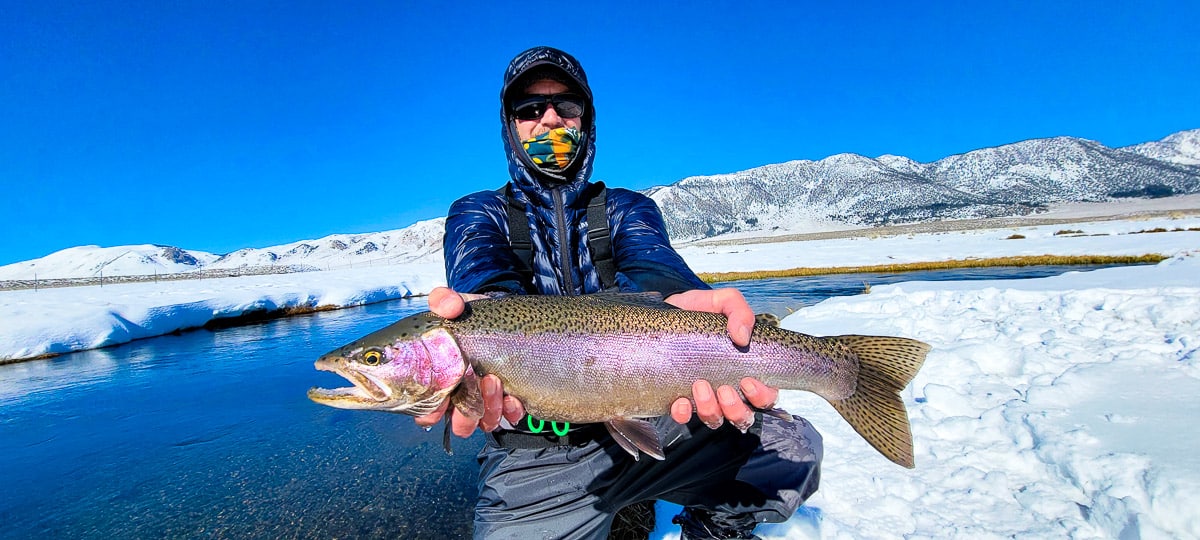 Shawn had a great day with Two Bug Doug and displays a beautiful rainbow trout.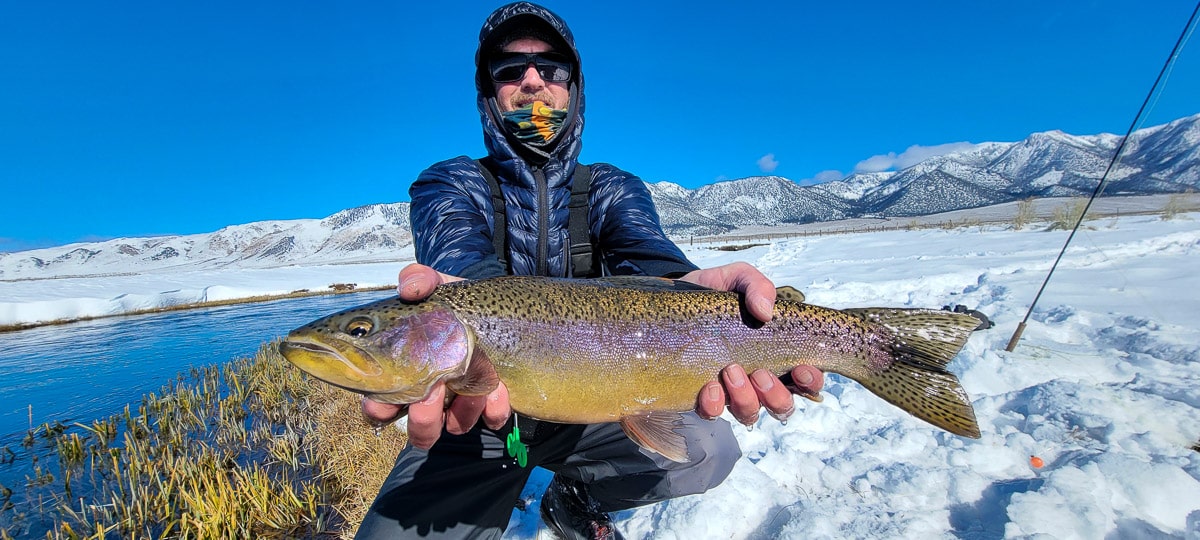 Check out the colors on this rainbow trout that Shawn is showing off.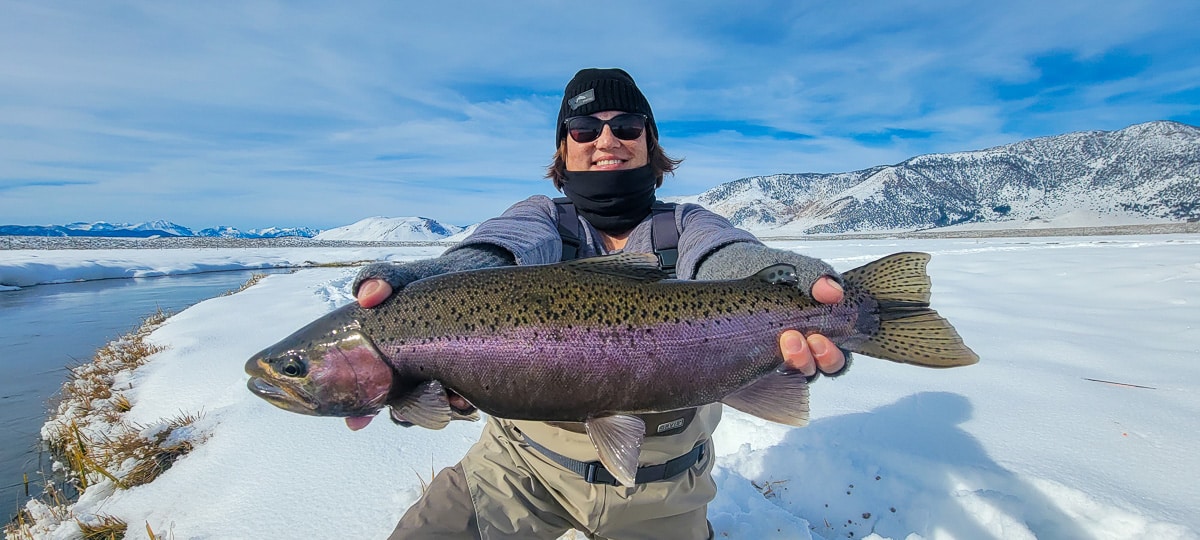 Carolynn fished with Two Bug Doug and got this healthy rainbow trout.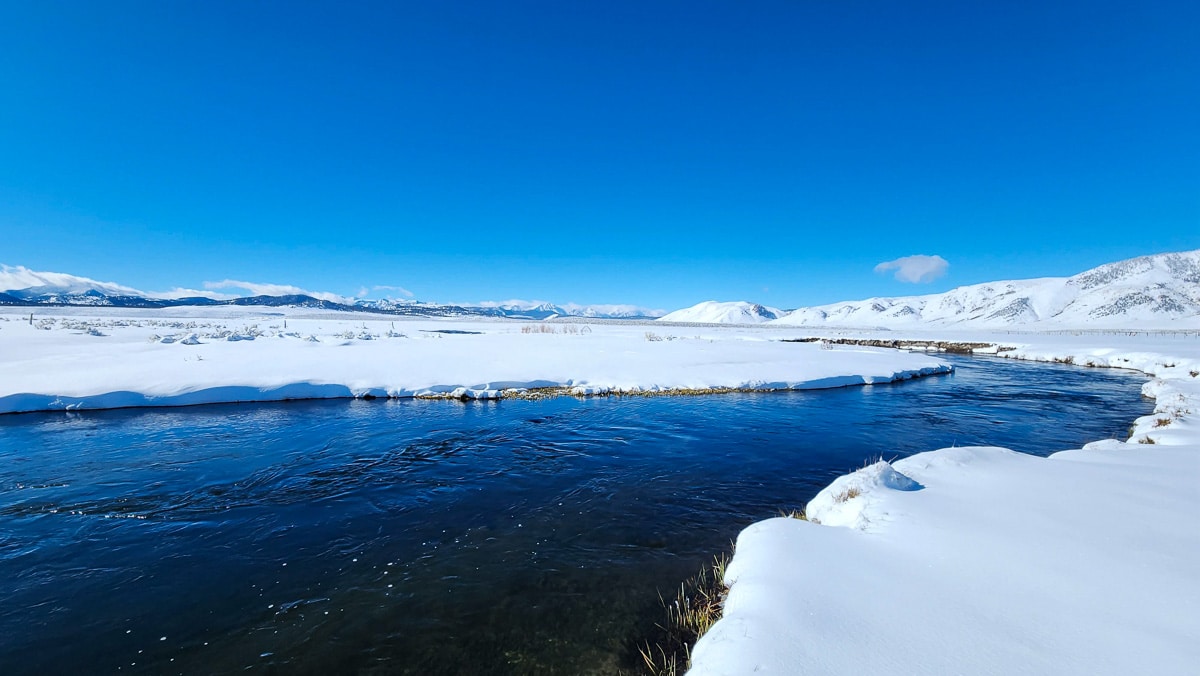 The river's condition after the big storm.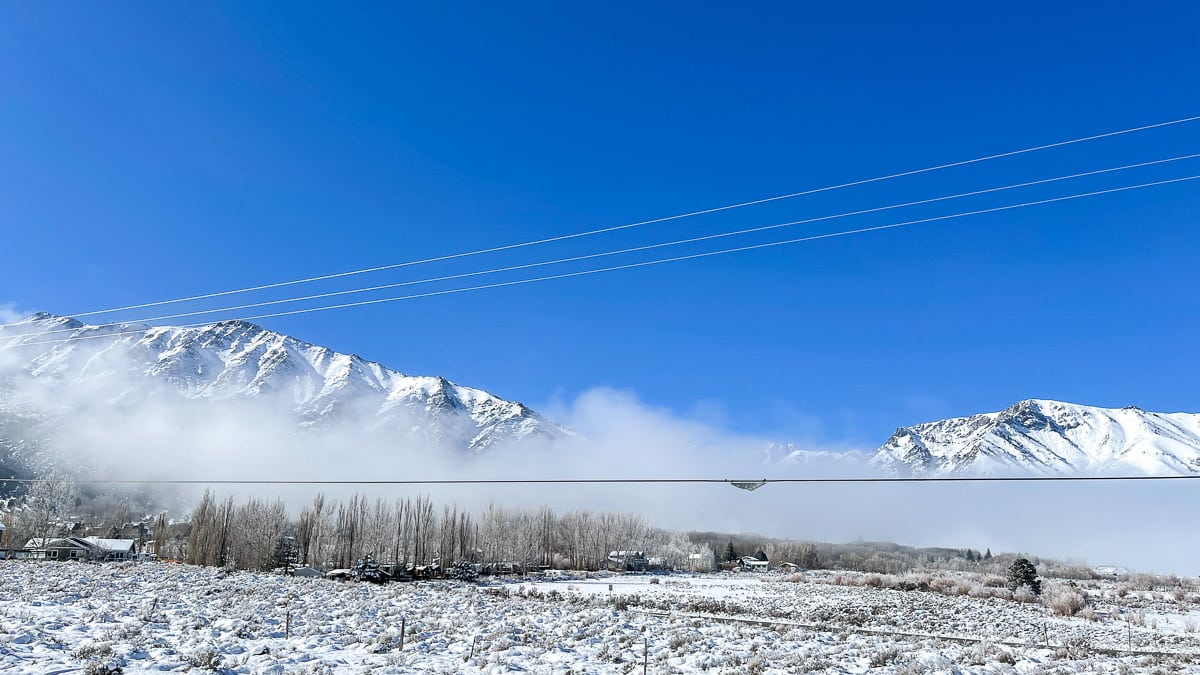 The leftover morning fog which has been coming in through the night.
Here are our flies which are working on the Upper Owens, Lower Owens River, East Walker River and Hot Creek in addition to the above patterns listed in our report:
SD Chironomidge
#16,
Para Midge
#20, 22,
Puff O' Smoke
#16,
Broken Back Copper Tiger Midge
#18, 20;
Assassin Light
#18;
Assassin Dark
#18;
Crystal Hi-Vis Parachute Blue Wing Olive
#18;
Crystal Tiger Midge Long
#18, 20;
Crystal Midge Pupa Copper
#18, 20;
Gillie Chironomid Pupa Dark and Light
#18, 20, 22,
Otter Eggs
in all colors,
Bead Head San Juan Worm Red And Brown
#14, 16;
Squirmy Worm Tungsten purple, pink, and red; Parallel Assassin Light #14-16, Parallel Assassin Dark #16; Loeberg Mallard Silver Badger; Spruce a Bu Dark and Light
Click HERE to purchase.
Click HERE to check out our great summer Sierra Drifters T-shirts and Hats.