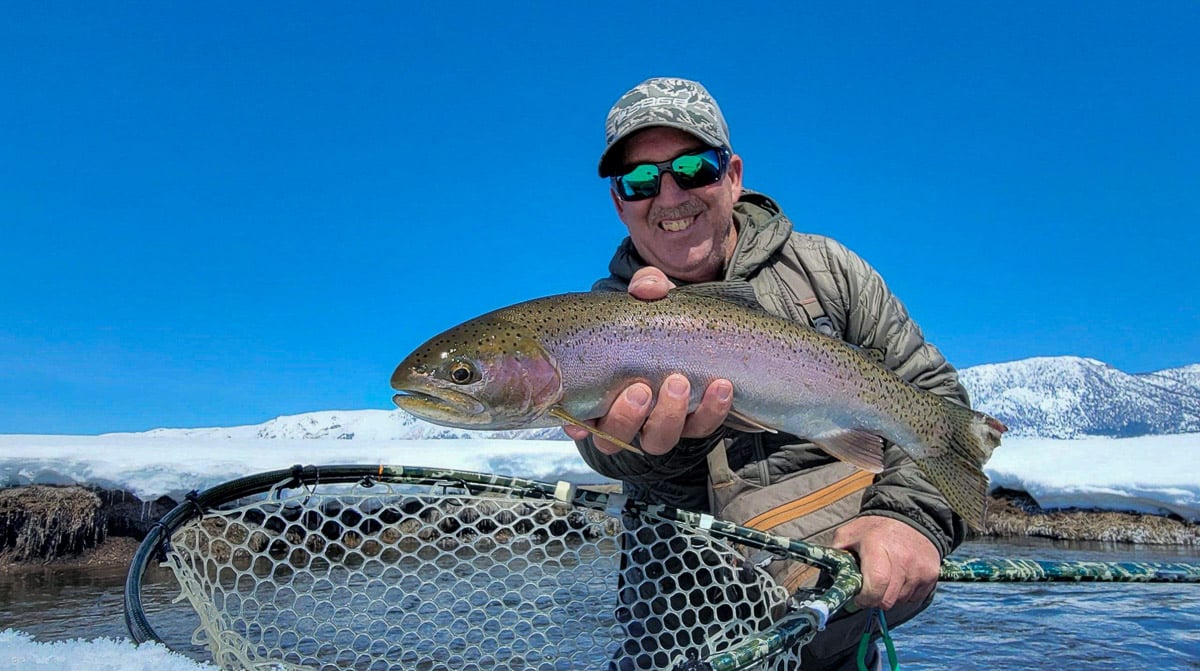 Here's your Eastern Sierra Fishing Report 4-7-23. The month of March has been anything but kind to anglers in the eastern sierra. We have not been doing any guiding until now due to road closures and high flows that had made fishing very tough. We are now fishing on Hot Creek and the Upper Owens River again with some nice fish still holding in the river. The cutthroat trout should be replacing the trophy rainbows any day now as we slide into April. There is still fence high snow on the Upper Owens and Hot Creek access is tough on foot. The BWO mayflies are here and providing the fish with some great afternoon sustenance. It's a great time to get that trophy rainbow on a dry fly when conditions are right. Crowley Lake is still ice covered over 85% of the lake, but the warmest weather of the winter is around the corner to help speed up the thaw. Prepare for flooding next week in fields and along creek and river banks.
Upper Owens River is still fishing decent and we have resumed trips here by snowmobile. Access is still walk in and no driving cars as hardly any snow has melted from the winter. The BWO mayflies are starting to show and this coming week will bring warm weather for some possible dry fly opportunities targeting trophy rainbow trout. The cutthroat run should be commencing anytime now as is typical for big and cold snow years. Flies that are best currently are #14 – 16 Level Crystal Leech, #14 – 16 Dark Assassin, #14 – 16 Hare's Ear Gray, Tungsten Squirmy Worm in all colors, SD Crawler Red, #14 San Juan Worm, # 14 Flashback Pheasant Tail, and Rubber Legs. Purchase these patterns.
Hot Creek BWO's and small nymphs like #18 – 20 PT's are good bets right now. Not a lot of pressure here for the majority of the winter, so the trout are eager to take flies presented properly. The BWO hatch is still the highlight of the day, so #18 – 22's will get the job done. You can purchase our line of High and Dry floatants here. We find this brand to be some of the best we have used. Flies to use: Egg patterns, SJ worms #14 – 16, #18 Blood Midge, #18 – 20 Tungsten Zebra, #20 Bead Prince Nymph Tungsten, Broken Black and Blue Midge, #18 -20 Crystal Caddis Larva Green Black, #18 – 20 Crystal Copper Zebra Midge, #18 Flashback Hare's Ear, #22 -24 Griffith's Gnat, #20 Serendipity Black.
Lower Owens River is blown out at 730cfs. We will not driftboat it at this flow now will we wade it. This flow will continue or even increase as the spring progresses. We are writing it off here until the fall.
Pyramid Lake has been fishing well this month. Most of the fish are being caught in 5 to 10′ of water. A combination of stripping streamers and indicator fishing has been the most productive. Smaller midges fished under the indicator in the #16 – 18 range have been best.
Eagle Lake has received a lot of snow and Pine Creek hasn't even begun to flow. Once it does, probably over this next week, the lake will rise. We will have 2 boats here this season, so give us a call to get on board for some outstanding trout fishing. Last season fished very well, and with more water this year we are expecting a great year. We are now taking bookings for May 31st – June 29th. Check out our Eagle Lake page for more information. For some moving picture action of Eagle Lake take a look at our videos.
Thanks for reading our Eastern Sierra Fishing Report 4-7-23.

Two Bug Doug did some recon and found some trophy rainbow trout that wanted to play on the Upper Owens River.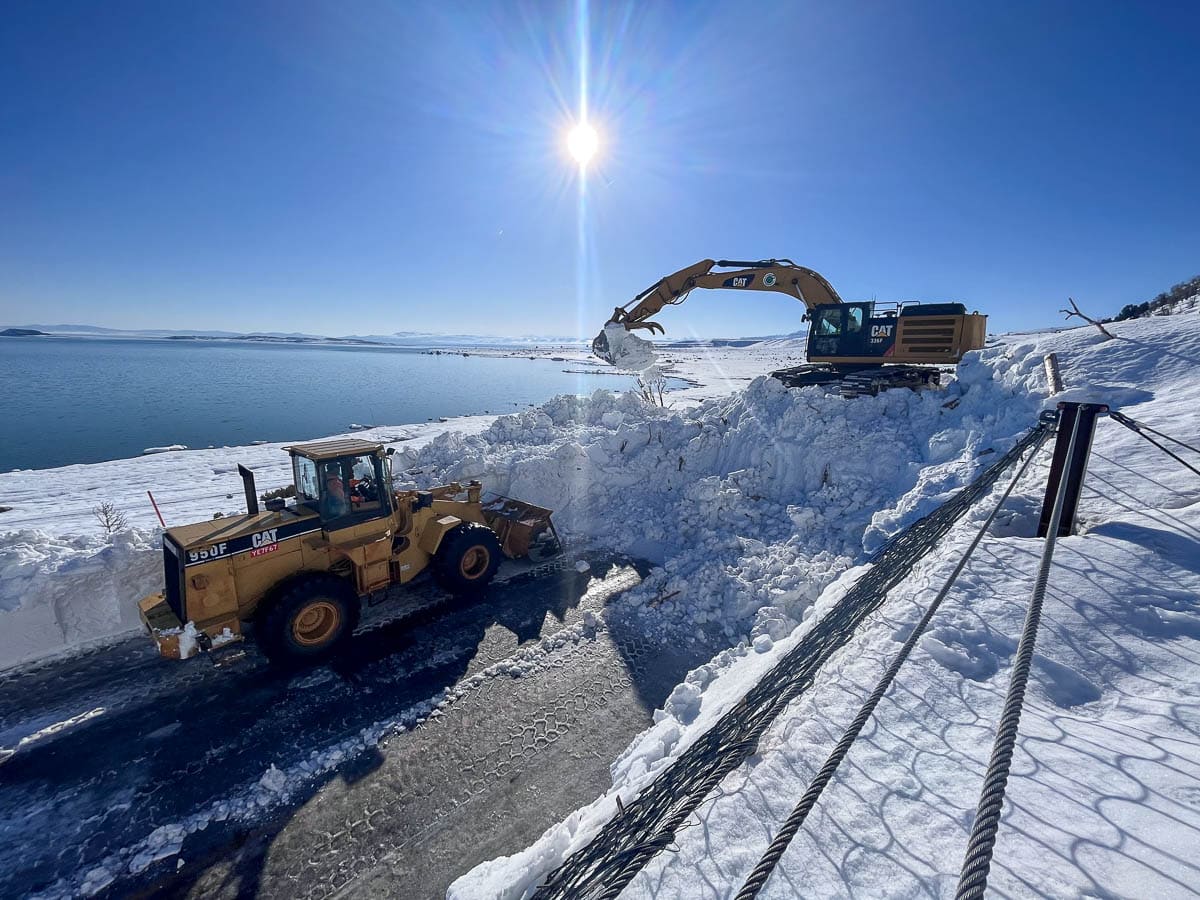 Caltrans crews have been busy this winter clearing avalanche debris from 395 near Lee Vining.
The road to Whitney Portal will need a lot of work in the coming weeks.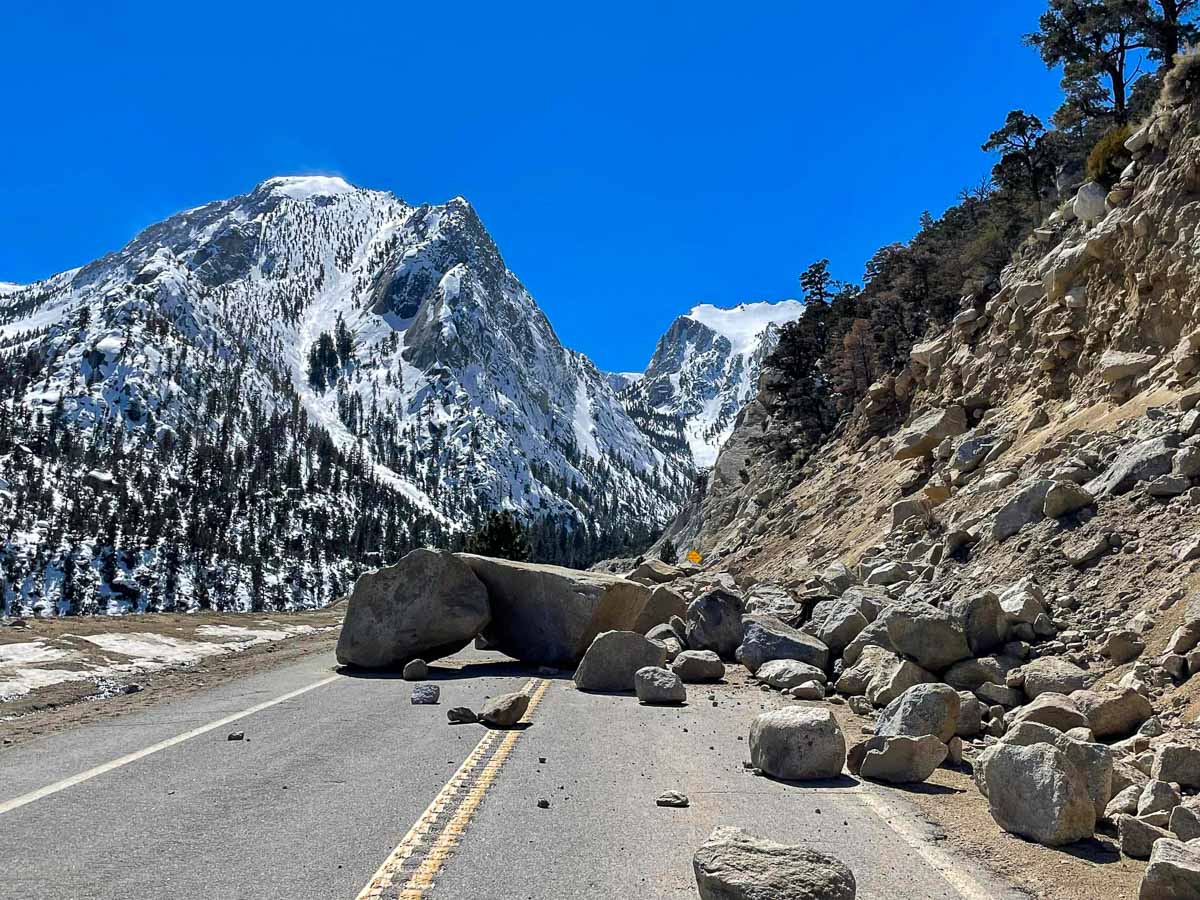 A rockslide on Whitney Portal Road in Lone Pine, CA.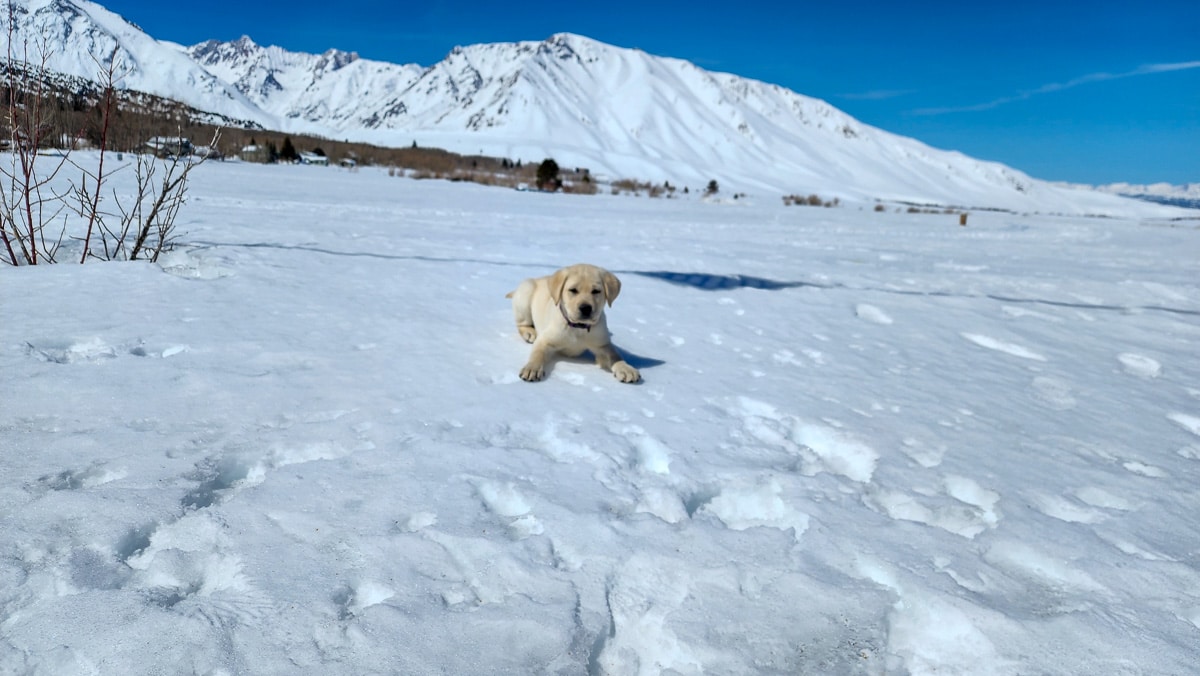 New guide dog Macee is showing off the 5 feet of snow that is still locked in at Crowley Lake.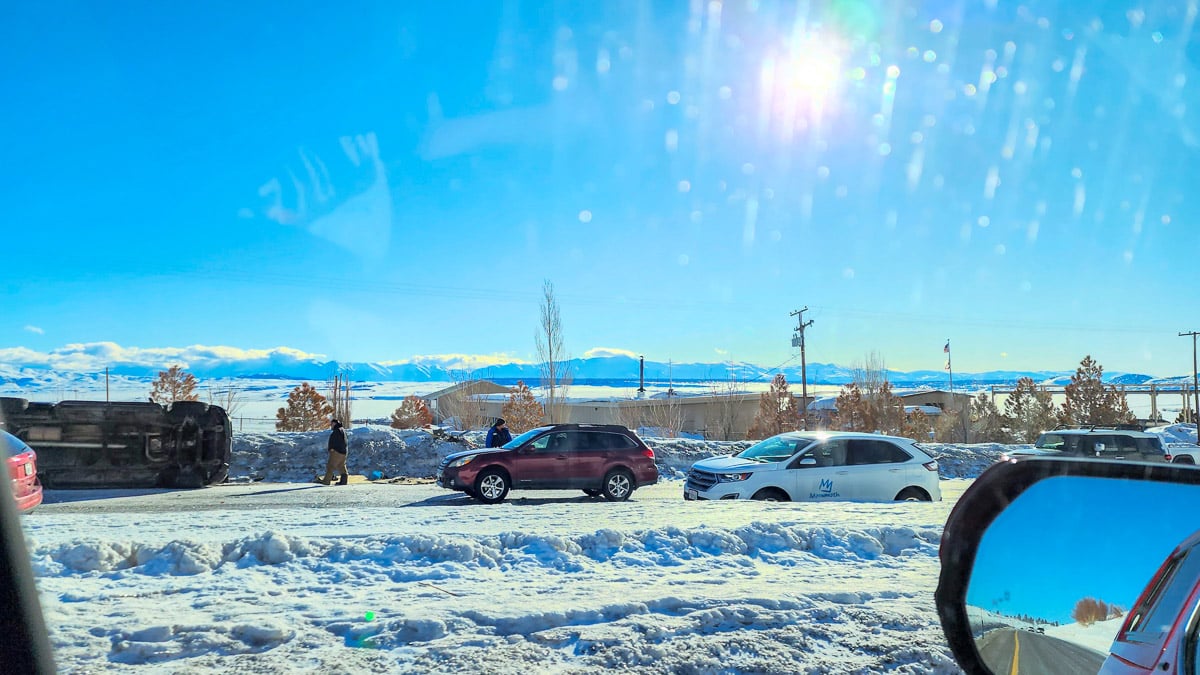 Just because it's sunny out doesn't mean the ice on the roads is gone. Don't let your vehicle get on its side like this one.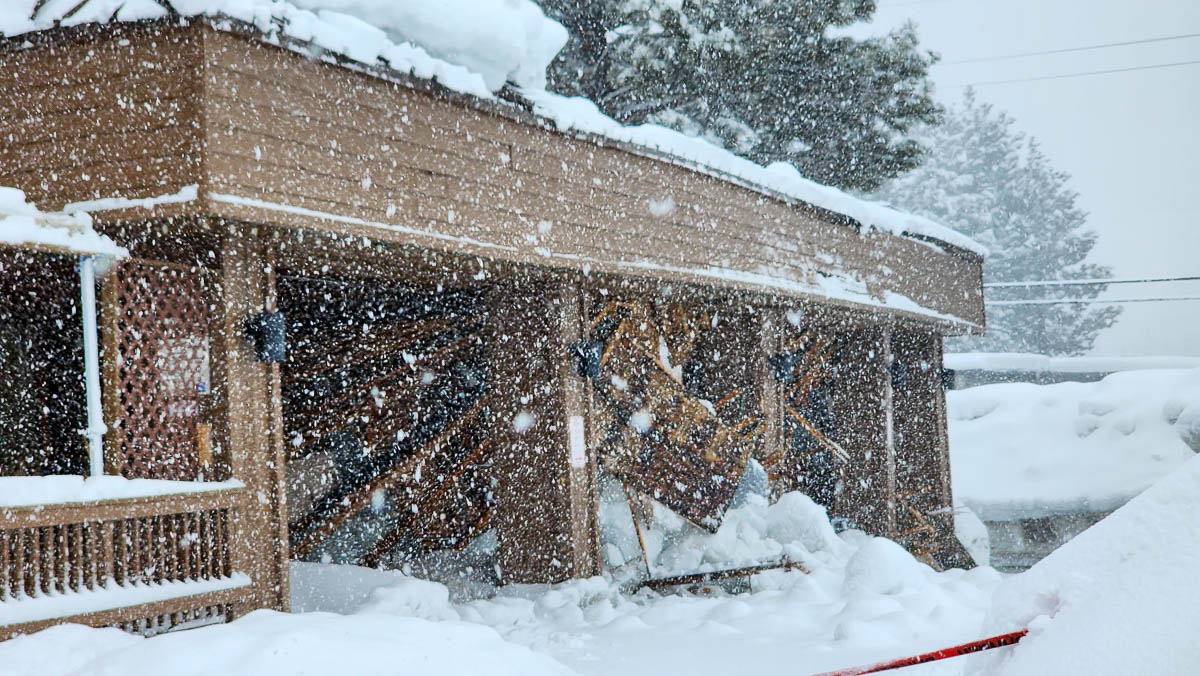 A collapsed roof at a covered parking lot in Mammoth.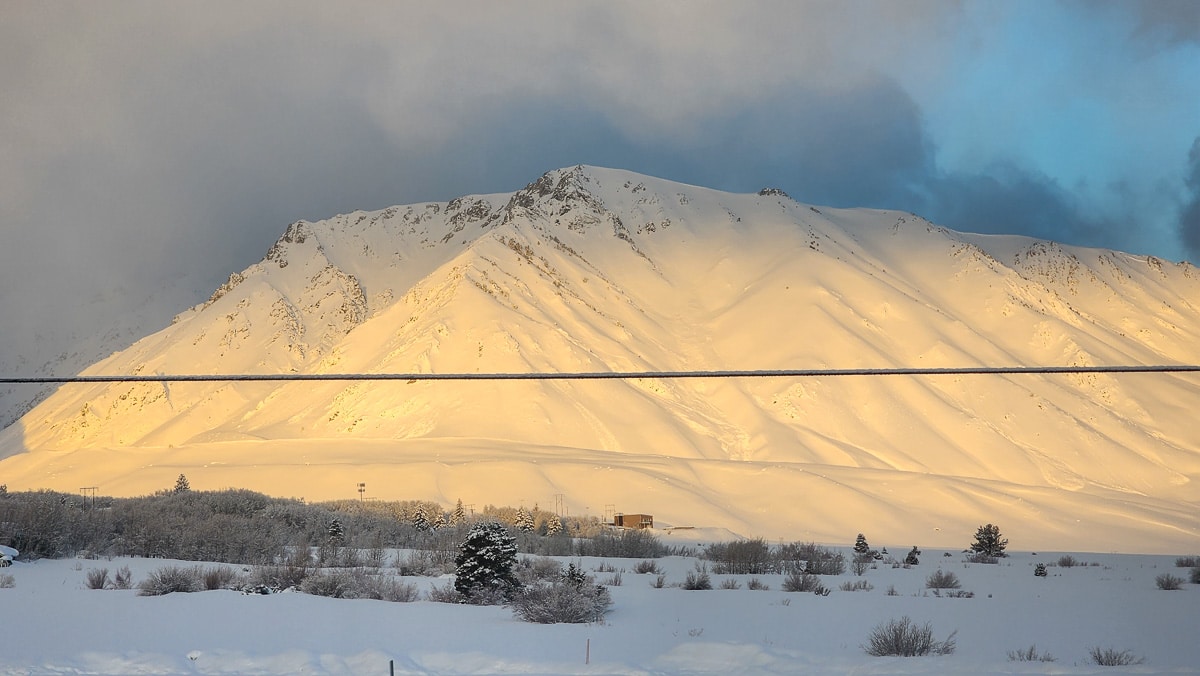 McGee Mountain in the eastern sierra during the winter of 2023.
Thanks for reading our Eastern Sierra Fishing Report 4-7-23.
Here are our flies which are working on the Upper Owens, Lower Owens River, East Walker River and Hot Creek in addition to the above patterns listed in our Eastern Sierra Fishing Report 4-7-23:
SD Chironomidge
#16,
Para Midge
#20, 22,
Puff O' Smoke
#16,
Broken Back Copper Tiger Midge
#18, 20;
Assassin Light
#18;
Assassin Dark
#18;
Crystal Hi-Vis Parachute Blue Wing Olive
#18;
Crystal Tiger Midge Long
#18, 20;
Crystal Midge Pupa Copper
#18, 20;
Gillie Chironomid Pupa Dark and Light
#18, 20, 22,
Otter Eggs
in all colors,
Bead Head San Juan Worm Red And Brown
#14, 16;
Squirmy Worm Tungsten purple, pink, and red; Parallel Assassin Light #14-16, Parallel Assassin Dark #16; Loeberg Mallard Silver Badger; Spruce a Bu Dark and Light