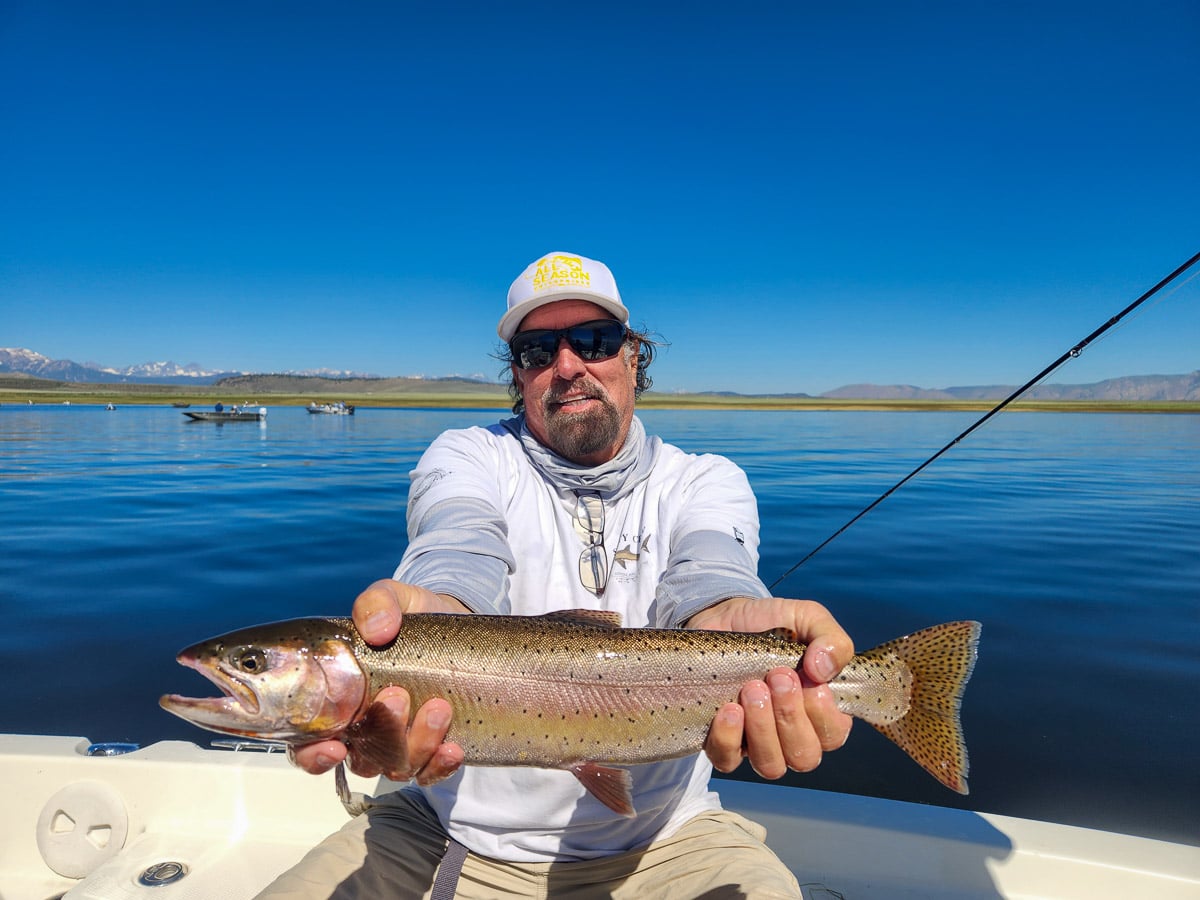 Here's your Eastern Sierra Fishing Report 8-16-23. Mcgee Bay has been the place to be for most fly fishers. Fish are moving into the shallows and taking advantage of the plethora of perch fry, callibaetis nymphs and damselfly nymphs. Midges have also been on the menu in the mud. It's a good mix currently of smaller browns combined with large rainbow, cutthroat and brown trout. The channels and weed lines have been producing. Bridgeport Reservoir has also turned on with many 14″ fish and the occasional lunker from the Desert Springs Trout Farm. Midges, Assassins, and Perch Fry have been getting the job done. The East Walker River is still on the high side at 540 cfs but if you know where to go you can get into some big fish currently. The San Joaquin River is now down to 169 cfs which is perfect for dry dropper and nymph fishing. Lower Owens is holding at 400 cfs. Hot Creek is now at 59 cfs, with clear water. Both the canyon and Interpretive sections have been giving up fish. Upper Owens is also coming into play with flows now at 84 cfs. Throwing hoppers along the banks has been fun. The lakes basin in Mammoth is now open.


Crowley Lake's bite has picked up some days and changes the next. Kind of been an on and off bite here, but we are getting fish daily. Some are real standout models up to 24″ in length and there is a mix of smaller browns showing in our catches as well. Target depths have been from 6 – 17′ and mixing up the flies has been the key. Some days, they want damselflies others it is perch or midges..
Upper Owens River Flows are settling some now and have dropped quite a bit since last report. Tossing hoppers and ants can help you locate trout here, while nymphing can get you into some better quality fish. It's still a bit swampy in some locations and be sure to have the mosquito repellant handy. The section below the bridge will change regulations to 2 fish over 18″ and artificials only starting August 1st..
Hot Creek has also come down in flows and the water is clear. Look for some dry fly action to start picking up in the afternoons and evenings. Nymphs fished deep will get takes. Flies to use: Loebergs, Black Wooly Buggers, Spruce-a-bu's, SJ worms #14 – 16, #18 Blood Midge, #18 – 20 Tungsten Zebra, #20 Bead Prince Nymph Tungsten, Broken Black and Blue Midge, #18 -20 Crystal Caddis Larva Green Black, #18 – 20 Crystal Copper Zebra Midge, #18 Flashback Hare's Ear, #22 -24 Griffith's Gnat, #20 Serendipity Black.
Lower Owens River is flowing at 400 cfs. Temperatures during the day are hanging in the 90's down here but a change for next week will have daytime temps in the 80's. The road into Pleasant Valley Campground remains closed. Early mornings and late evenings are best but it is best fished from a boat at these flows.
East Walker River flows are high at 540 cfs. Going to be a tough go if you fish here, but it can be done. Lots of weight to get those flies down is the key and be mindful of your safety. You'll have to locate some slow pocket water. Heavier flies like Crawdads and Rubber Legs are good choices.
San Joaquin River flows have settled in at 169 cfs and are now dropping faster. This is a great flow for fishing now and access to most areas is fairly easy and will become more accessible as the days go on. Dry dropper or straight dry flies are my favorite way to fish here with a 3 or 4 weight rod. These fish are eager and not picky when it comes to taking a fly. Most fish here are now wild but you may get into the occasional holdover hatchery fish.
Thanks for reading our Eastern Sierra Fishing Report 8-16-23.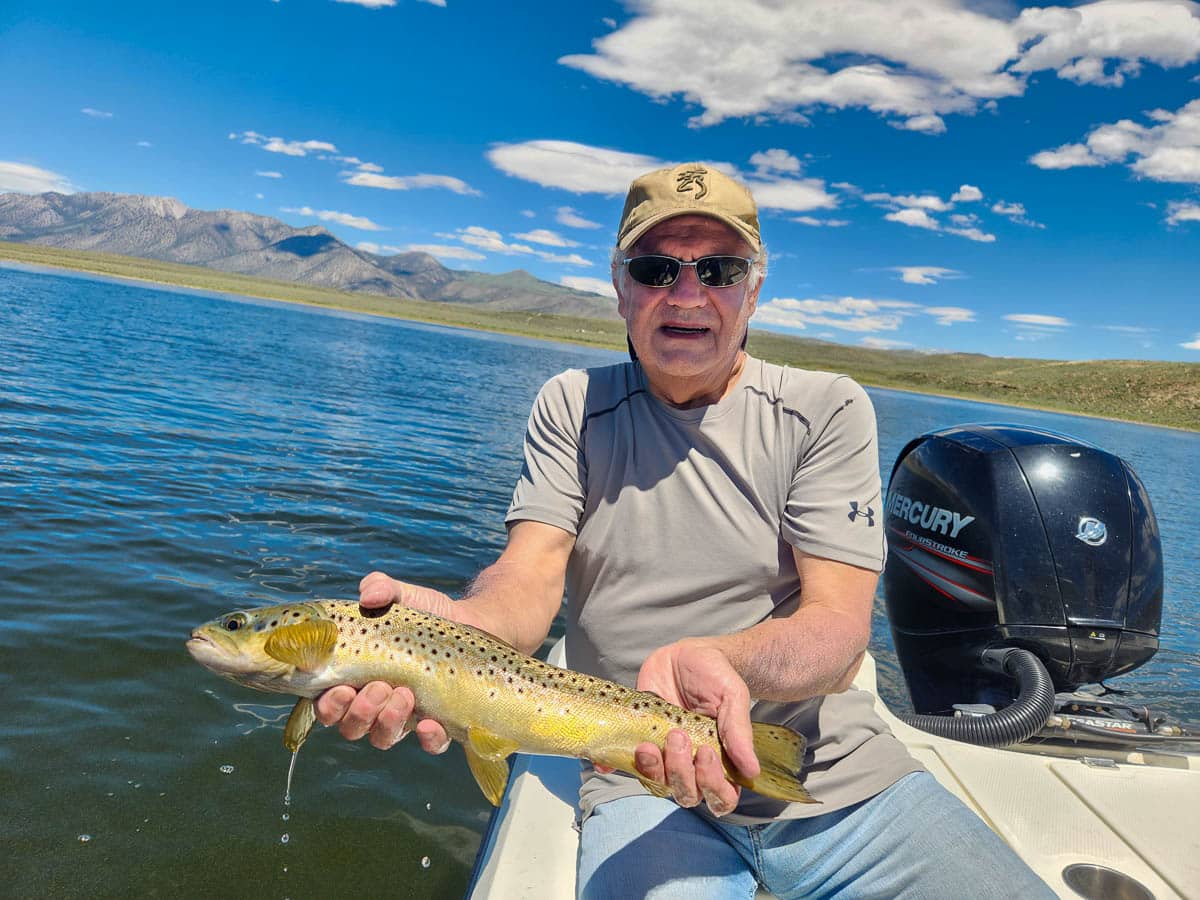 Sam fished with Seth and bagged this nice brown trout on Crowley Lake.
Two Bug Doug guided Robert to some real hefty cutthroat trout like this one.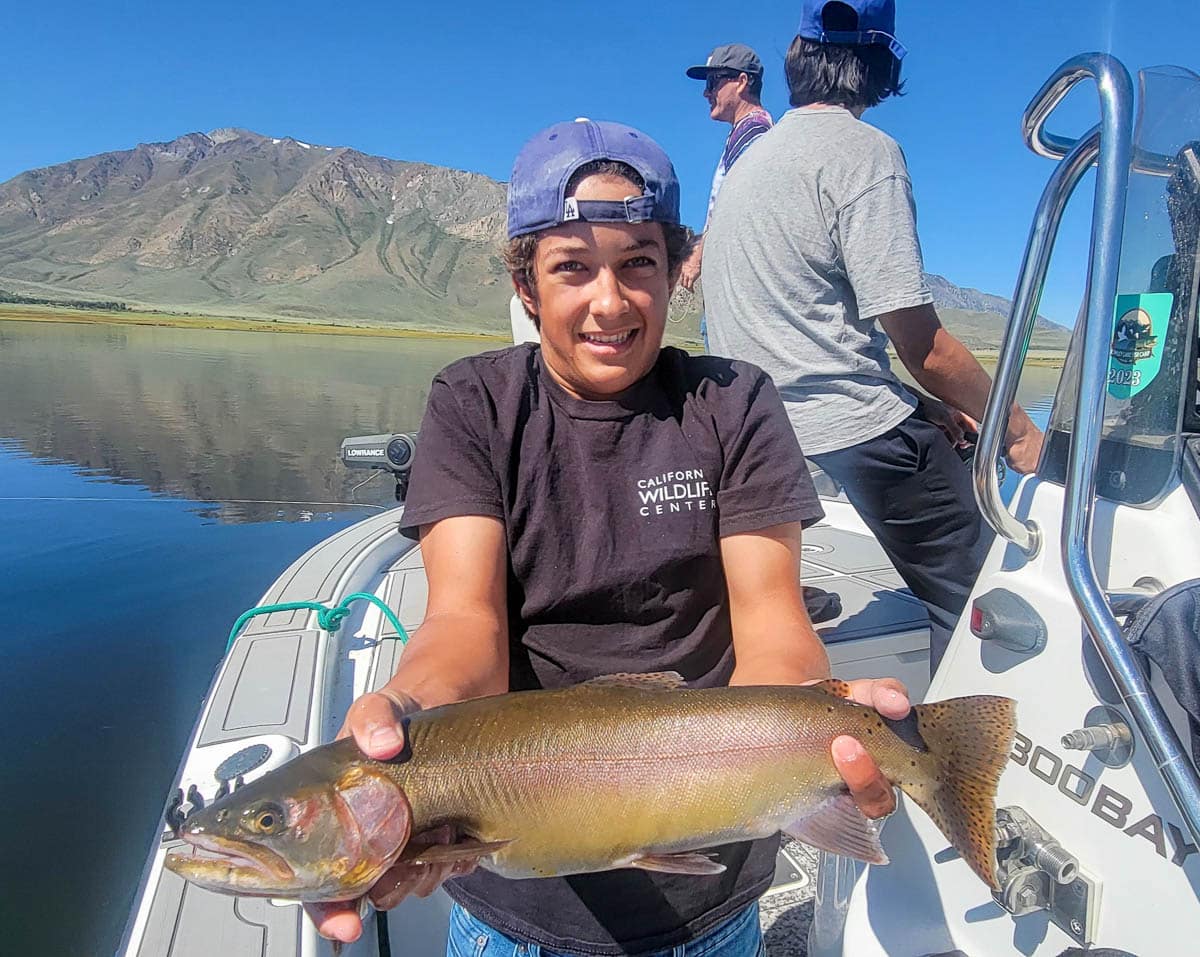 Two Bug Doug got Owen on a nice cutthroat trout from Crowley Lake.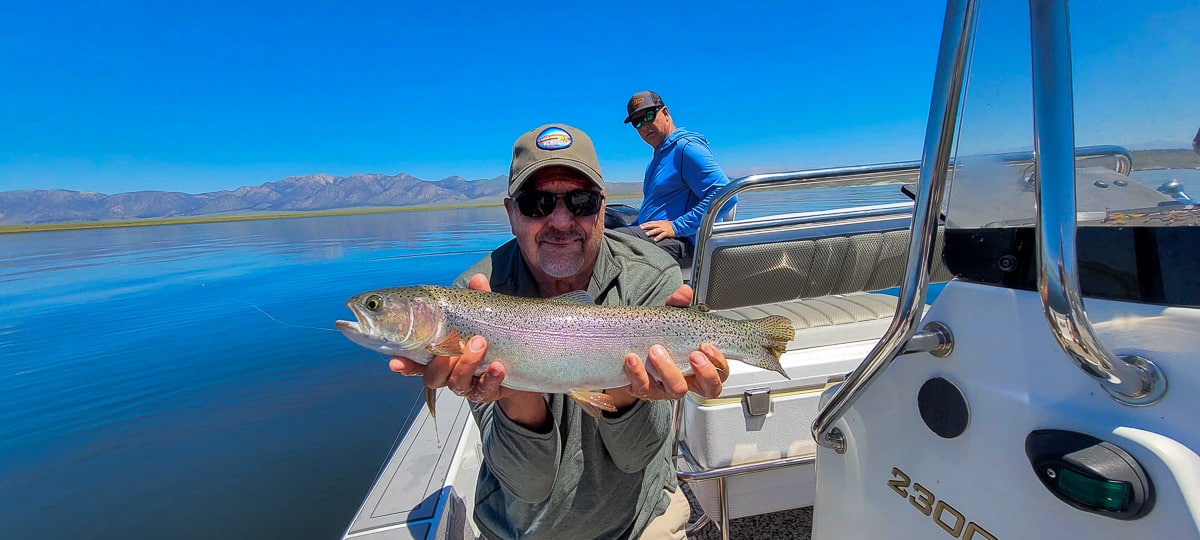 Robert fished with Two Bug and got this great rainbow trout.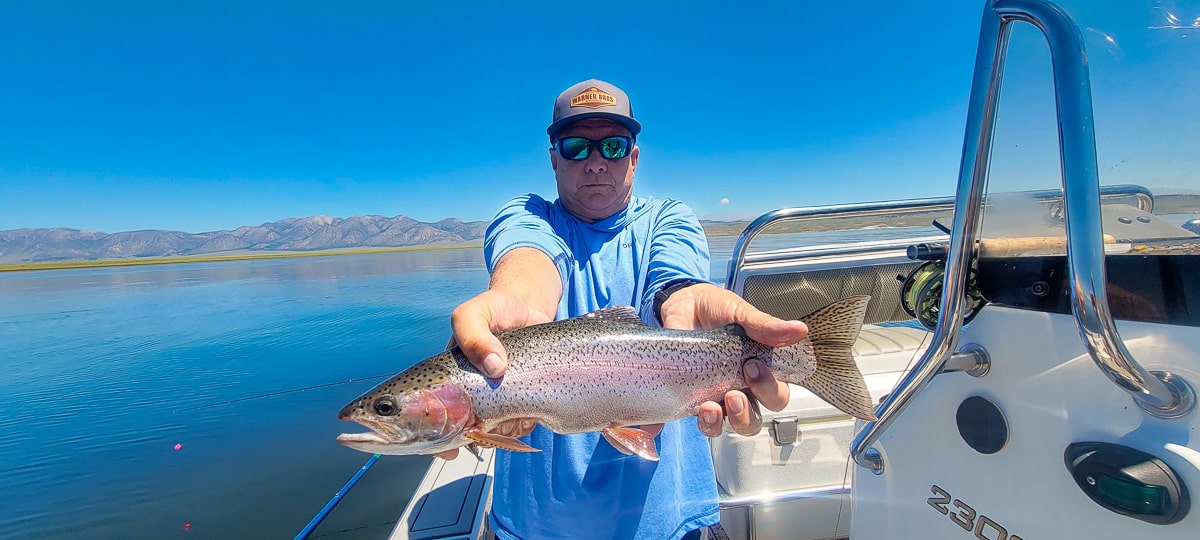 Ken got this nice rainbow trout while fishing with Two Bug Doug.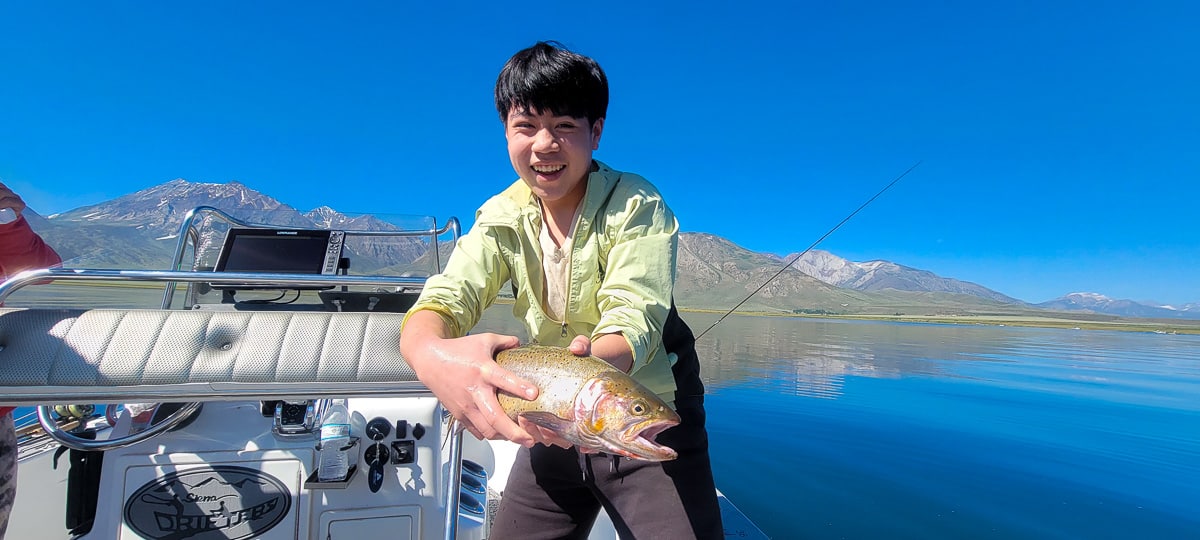 Trevor with a nice cutthroat trout from Crowley Lake while fishing with Doug Dolan.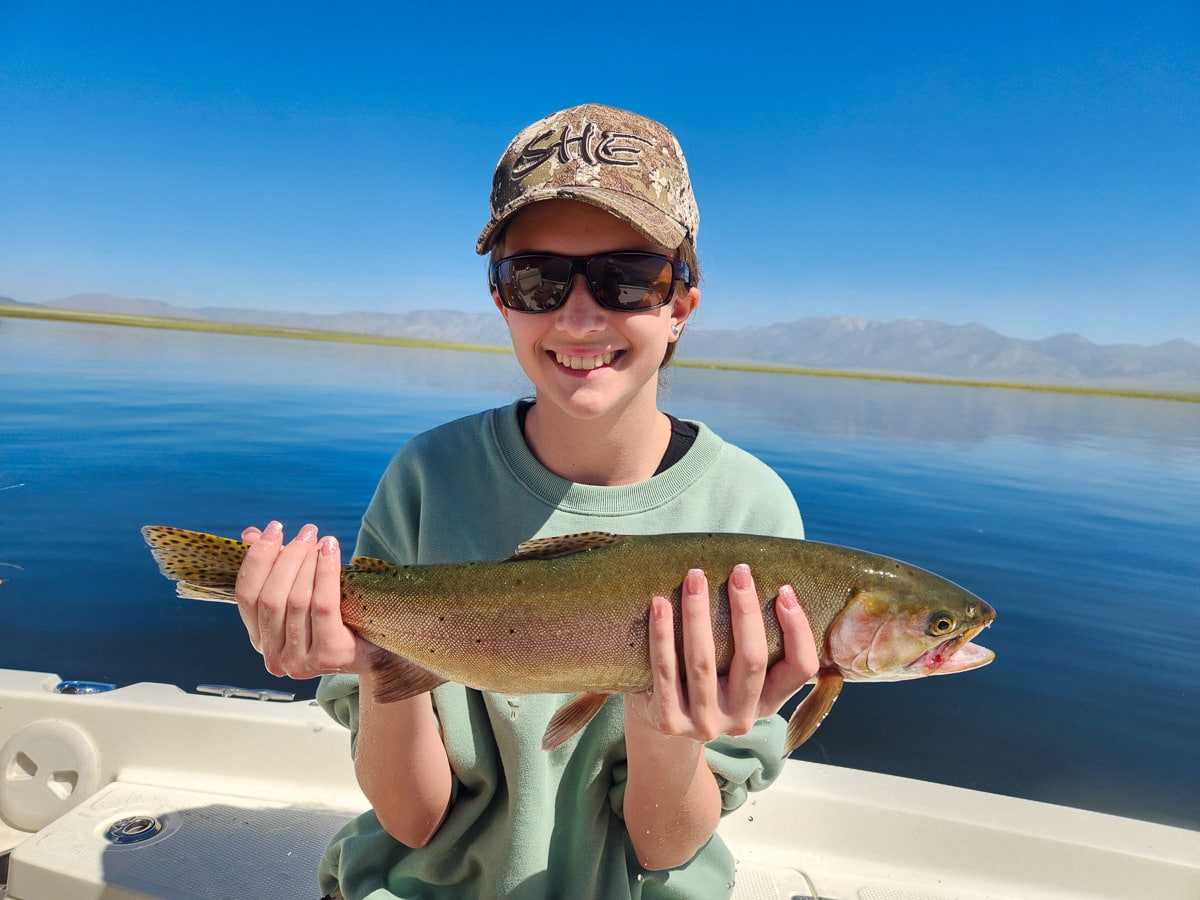 Brianna displays a quality Crowley lake cutthroat trout while fishing with Seth.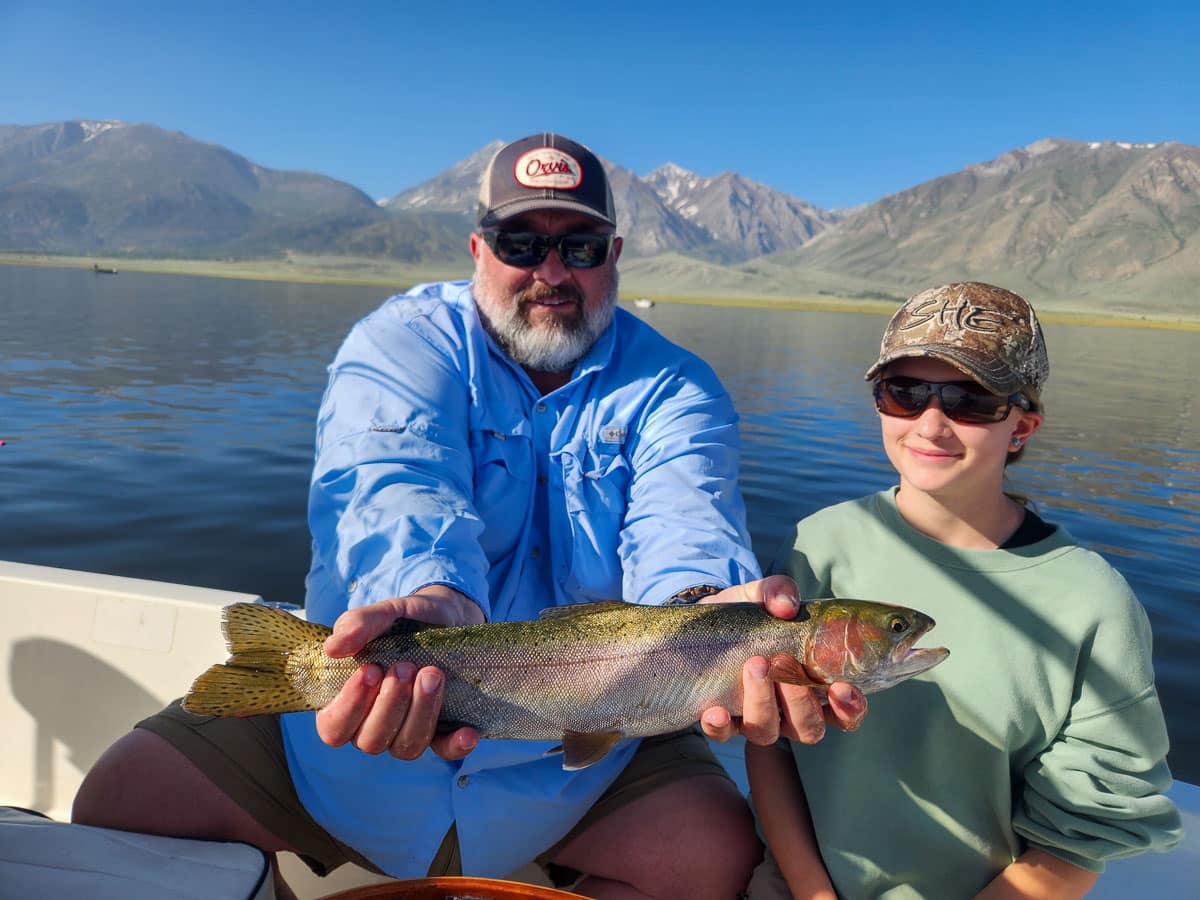 Mike fished with Seth for this awesome rainbow trout on Crowley Lake.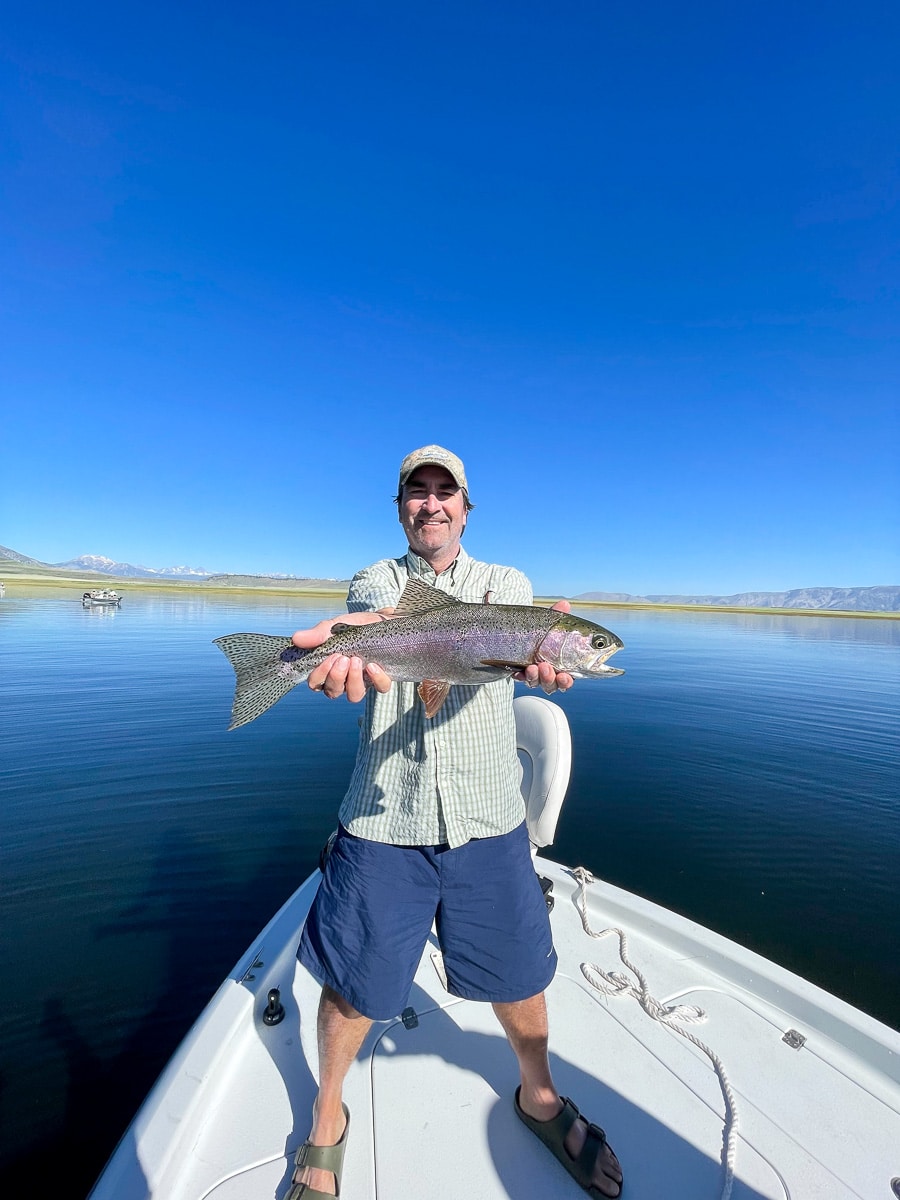 Jeff got some big rainbow trout with Devin like this one.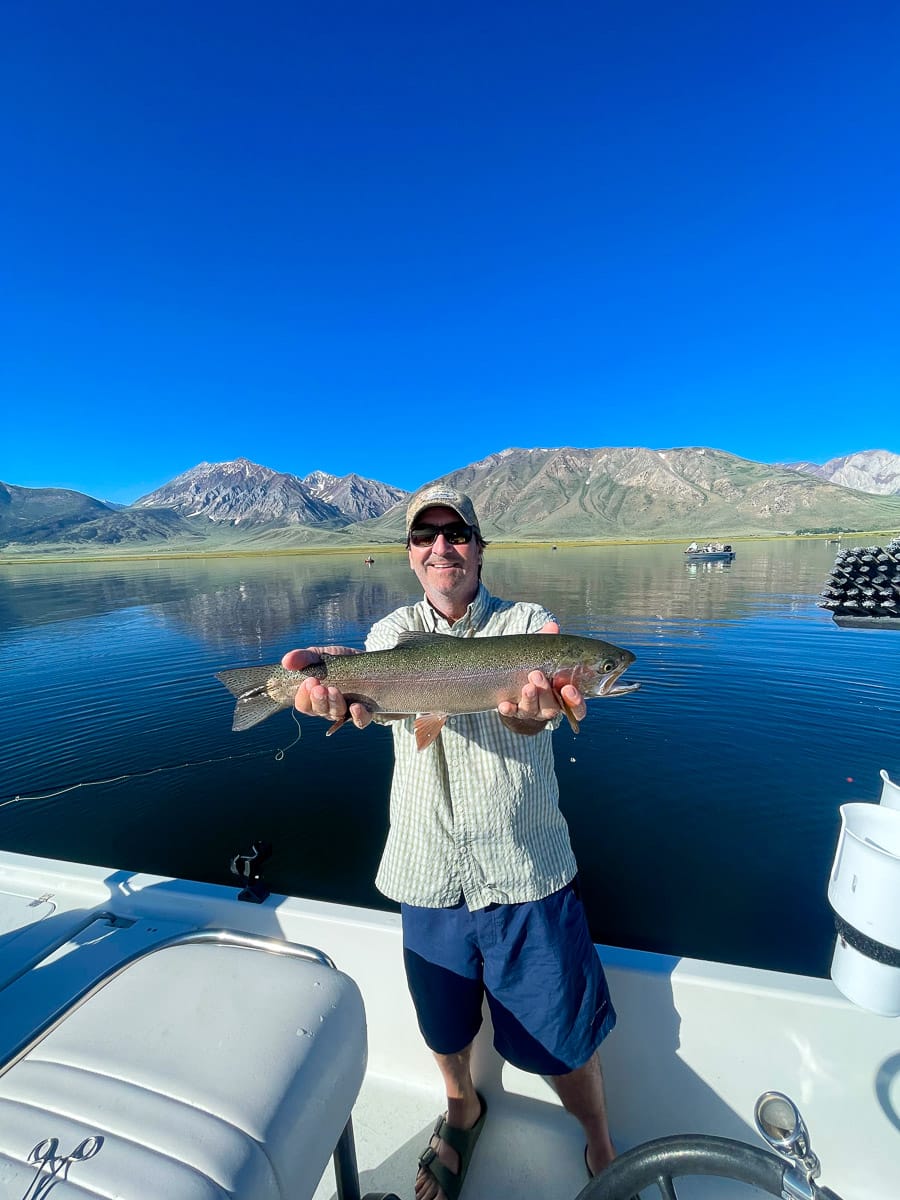 Jeff with another standout rainbow trout from Crowley Lake while fishing with Devin.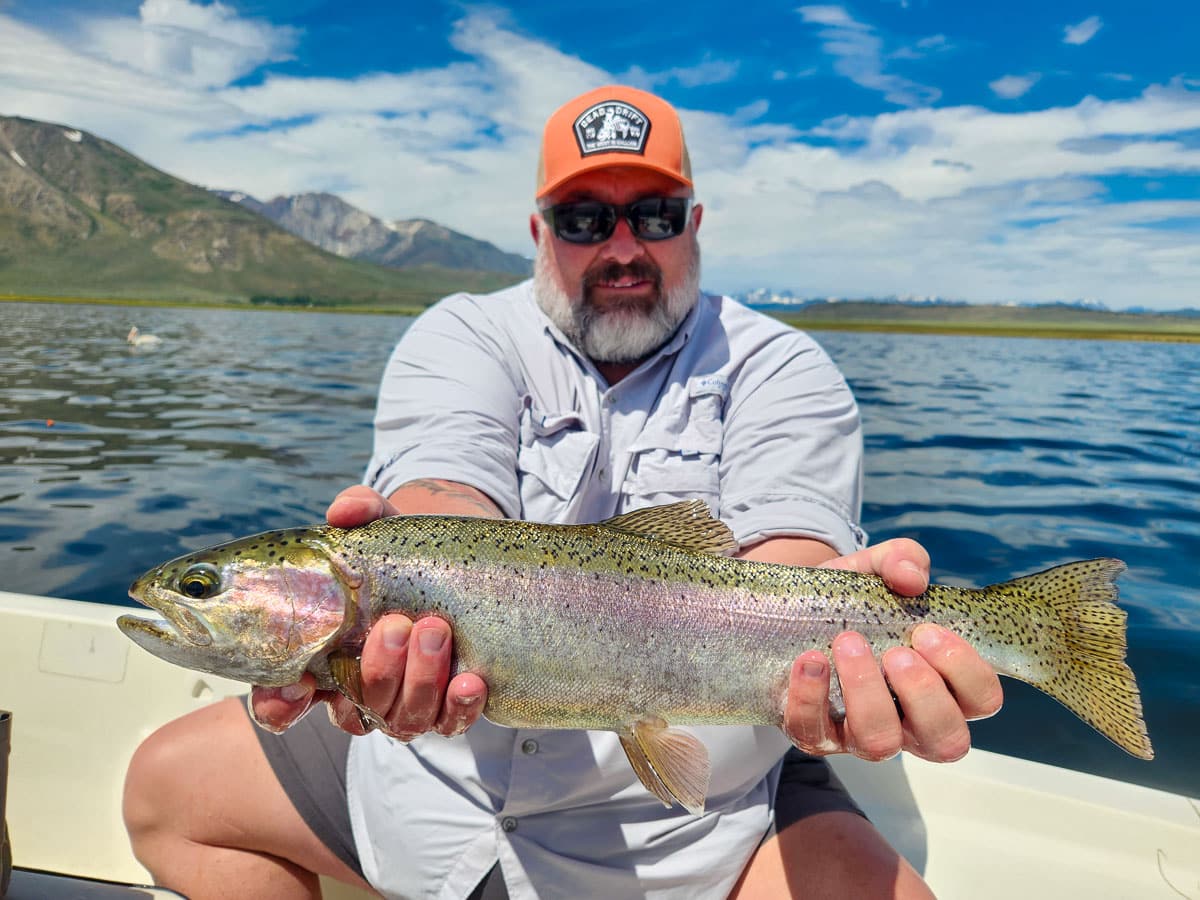 Mike with another quality rainbow trout.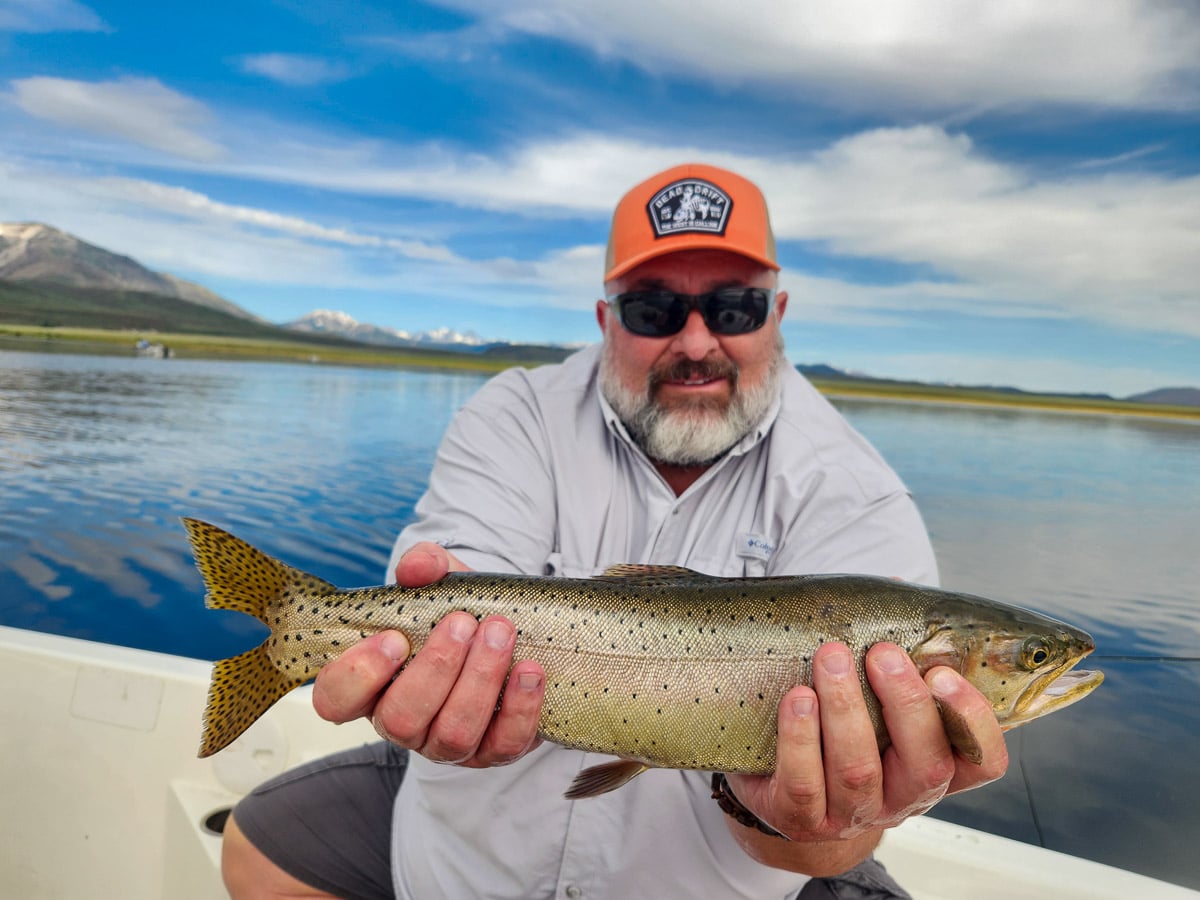 Mike with another big fish, this time a cutthroat trout.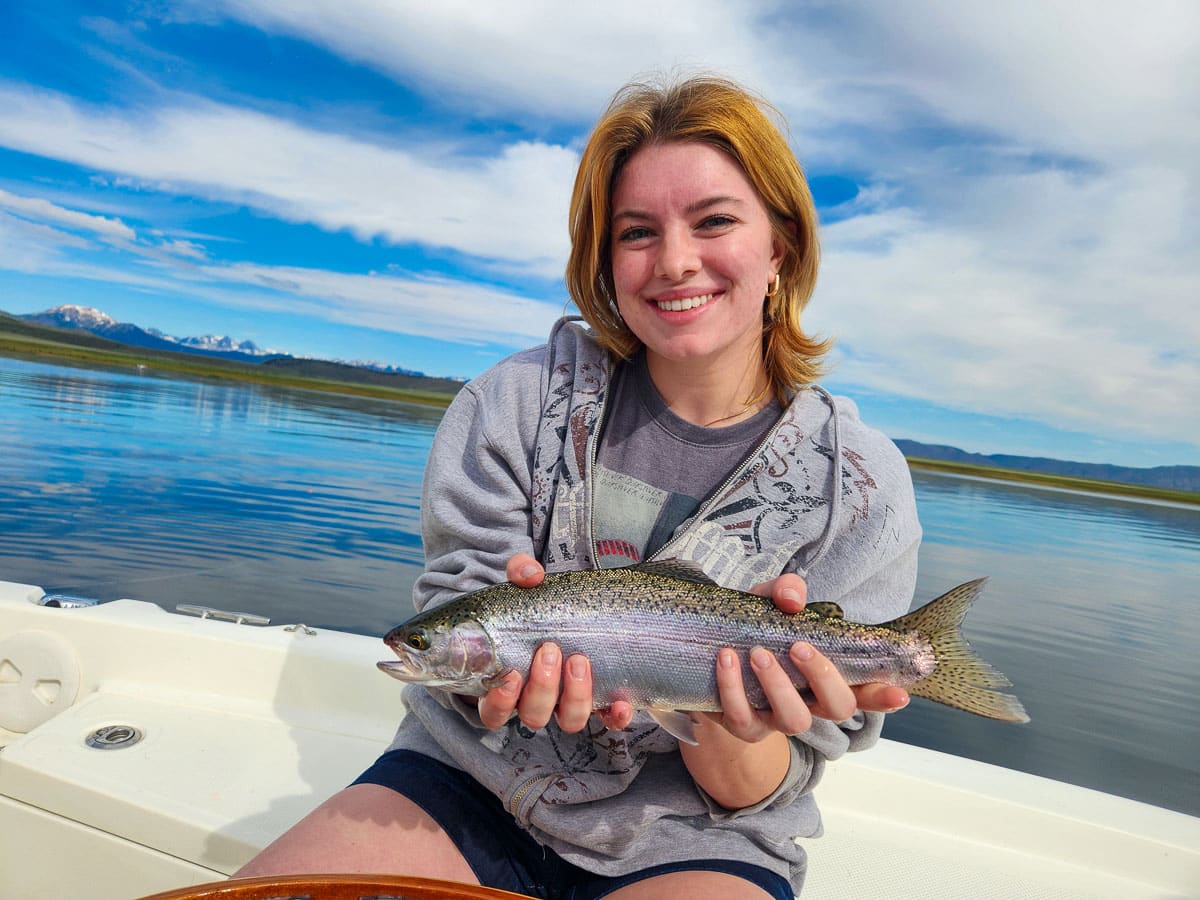 Kaylie fished with Seth and got some good fish like this rainbow trout.
Thanks for reading our Eastern Sierra Fishing Report 8-16-23.
Here are our flies which are working on the Upper Owens, Lower Owens River, East Walker River and Hot Creek in addition to the above patterns listed in our Eastern Sierra Fishing Report 2-6-23:
SD Chironomidge
#16,
Para Midge
#20, 22,
Puff O' Smoke
#16,
Broken Back Copper Tiger Midge
#18, 20;
Assassin Light
#18;
Assassin Dark
#18;
Crystal Hi-Vis Parachute Blue Wing Olive
#18;
Crystal Tiger Midge Long
#18, 20;
Crystal Midge Pupa Copper
#18, 20;
Gillie Chironomid Pupa Dark and Light
#18, 20, 22,
Otter Eggs
in all colors,
Bead Head San Juan Worm Red And Brown
#14, 16;
Squirmy Worm Tungsten purple, pink, and red; Parallel Assassin Light #14-16, Parallel Assassin Dark #16; Loeberg Mallard Silver Badger; Spruce a Bu Dark and Light