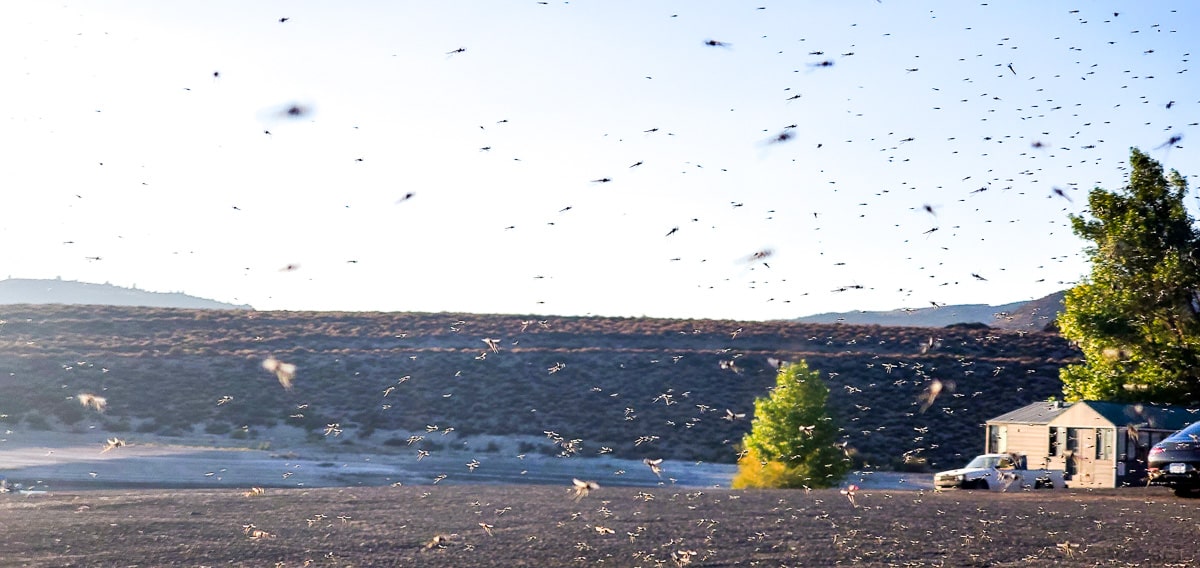 With the closure of the forest service, crowds have been reduced in the area, which makes for light angling pressure. The Labor Day weekend was pretty crazy at the lake with almost every single boat on Crowley trying to cram into the same area. It almost resembled a mini-opening day. Now, that the weekend has passed, we have returned to open water around the lake with excellent fishing for good quality fish. Midge hatches have remained very strong and you can see huge swarms on the shore in the mornings.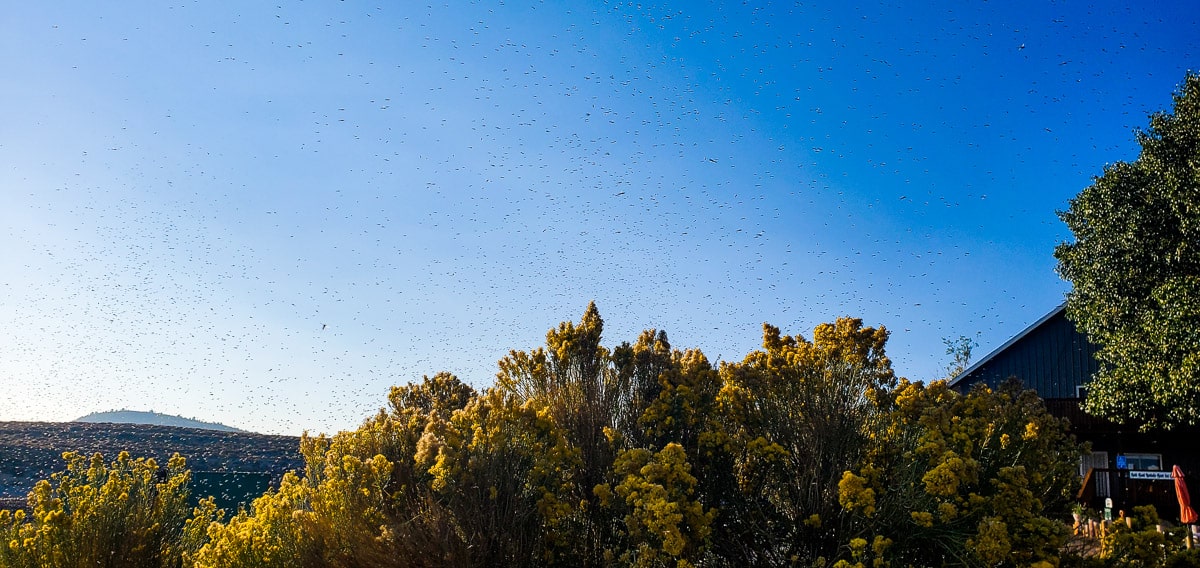 An early morning midge swarm.
Crowley Lake remains the best option in town now, for both numbers and size, and the chance at a trophy trout on any given day can become a reality. The Upper Owens River fishing has not been very productive, with mostly smaller fish hanging around, but if you are lucky, you may run into the occasional larger fish. Nighttime temperatures are dropping some now, so some mornings do have some frost on surfaces. Daytime temperatures are still warm though, and we are getting an extension of August temperatures on some days. This looks to be changing in the coming days with highs forecasted in the 70's.
Hot Creek will be closed to fishing and land use until September 17th.
The Upper Owens River is now flowing at 58 cfs. Some fish have been observed moving in from Crowley Lake already, but far and few between. Most of the fish here are smaller rainbows that are eager to hit dry flies and nymphs. Some of the larger pools are holding some decent numbers of trout. Caddis, hoppers, mayflies, and smaller stimulators are getting fish on top, while pheasant tails, midges, assassins, and sj worms are taking care of the fish that are feeding below the surface.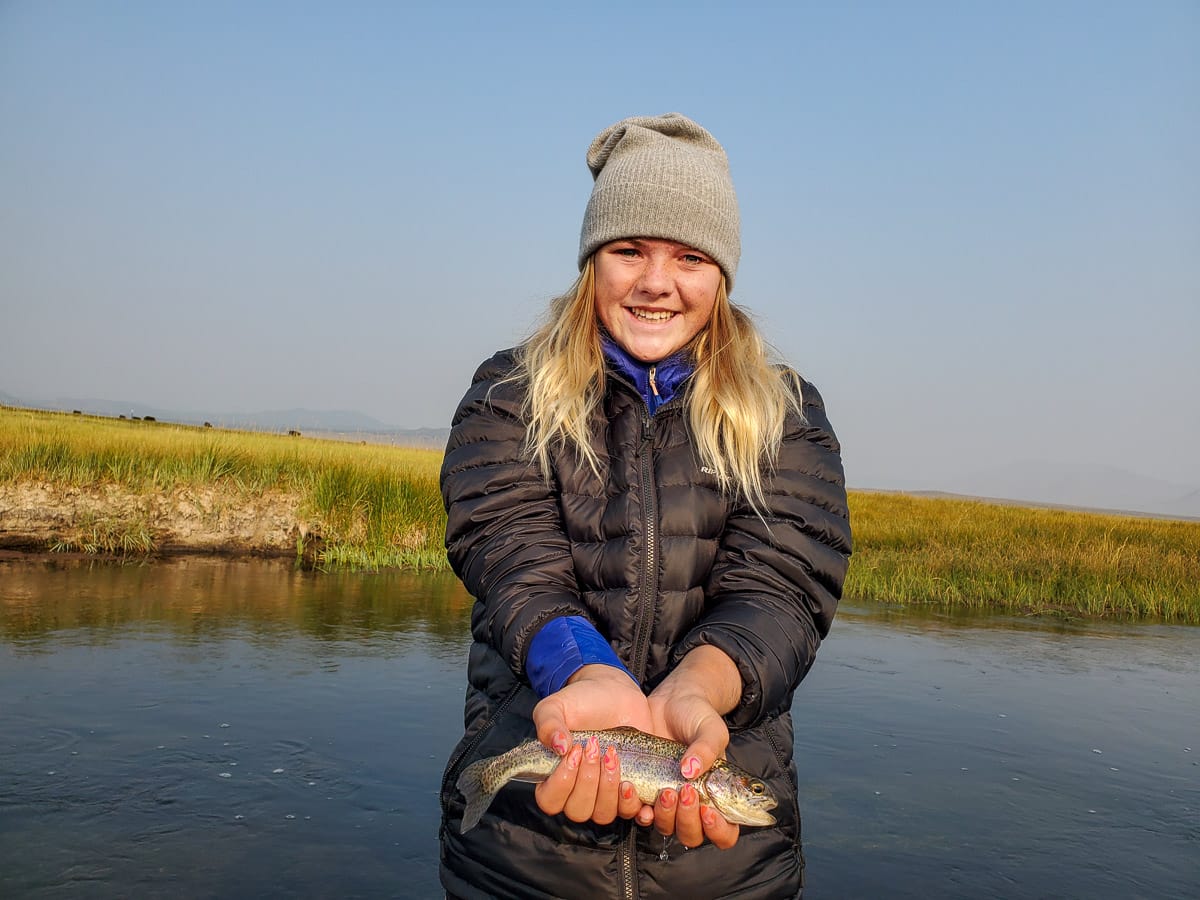 Seth guided young Lily to some fun rainbow trout on the Upper Owens River.
Crowley Lake is going very strong for quality fish. Large fish in the 18 – 23″ range for all species are on the feed in shallow water. The clean mud bottoms have been producing extremely well with various midge patterns and depths. McGee Bay and the North end of the lake have been the most popular spots, but there are fish in other areas that can produce some great days of catching and keep you away from the fleet of boats. Some days are producing solid numbers of trout and other days are producing less fish but outstanding quality. The majority is definitely more fish over the 18″ range over smaller fish currently. Our best flies as of late have been Dark and Light Assassins #14, 16 and Parallel Assassins Dark and Light #14, 16, Punk Perch Dark and Light #12, 14, 16 and Parallel Punk Perch in the same size and color. Click here for a look at some new flies, (terrestrials, nymphs, dry flies, stream side tools, split shot, leaders, etc) Best midege patterns to have on hand are #16 – #20 SD Chironomidge, #16 – 20 Tungsten Zebra, #16 Midge Larva, #12 -18 Blood Midge, #14 -18 Grey Water, #16 – 20 Red Butt Midge Dark Head and Glass Head, #16 -20 Red Rib Midge Glass Head, #18 Gillie Light and Dark, #16 – 20 Copper Tiger midge, #16 Broken Back Copper Tiger Midge, #14 – 16 Blood Midge, and #16 -18 Mud Candy.
Lower Owens River flows have now jumped up to 325cfs now as a flushing of the Gorge has begun. Not very good conditions for fishing until things stabilize here. Temps are still in the 100's down here, so fishing the mornings and evenings are best. Caddis patterns can be productive as nymphs and dry flies. Try streamers on sink tip lines in the deeper pools.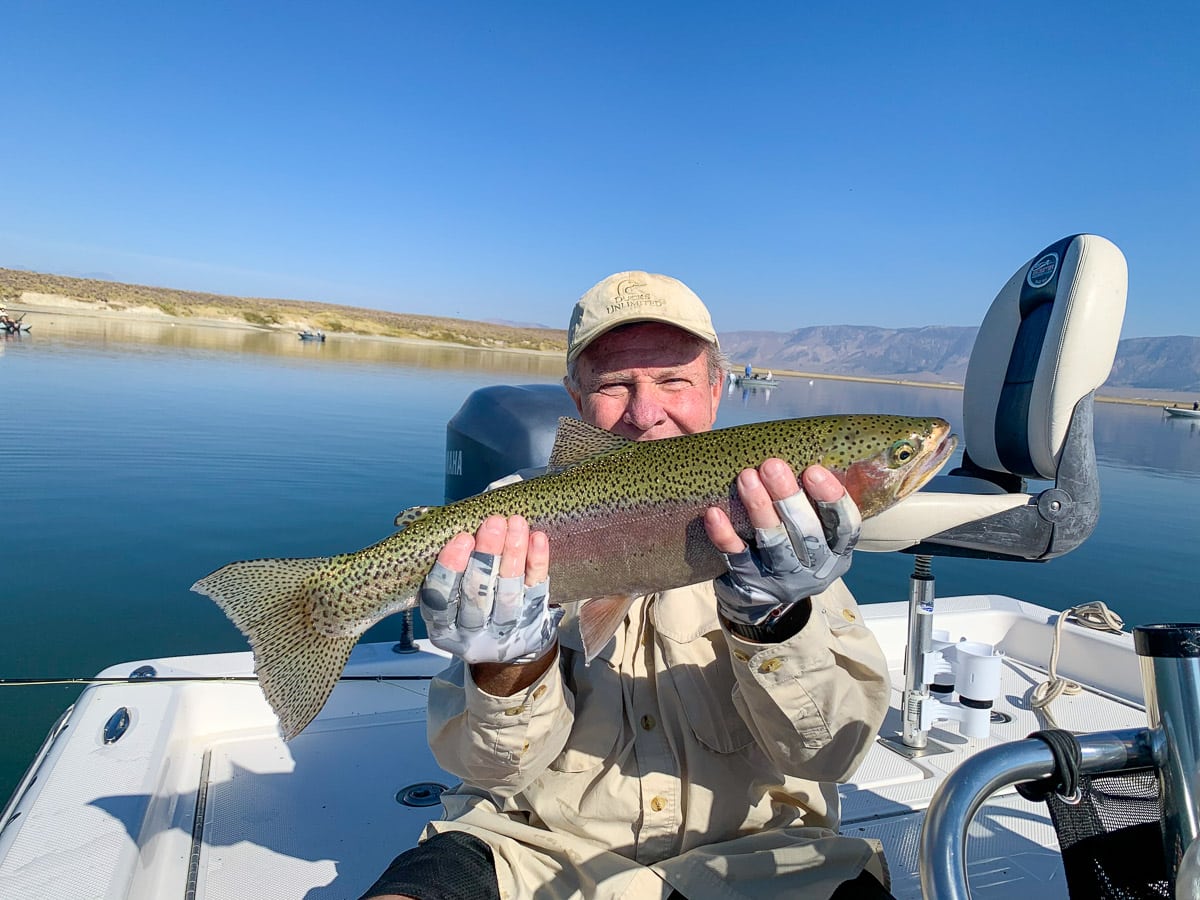 Ed can always be found on Jerry's boat and usually on the fish report with quality fish like this rainbow trout.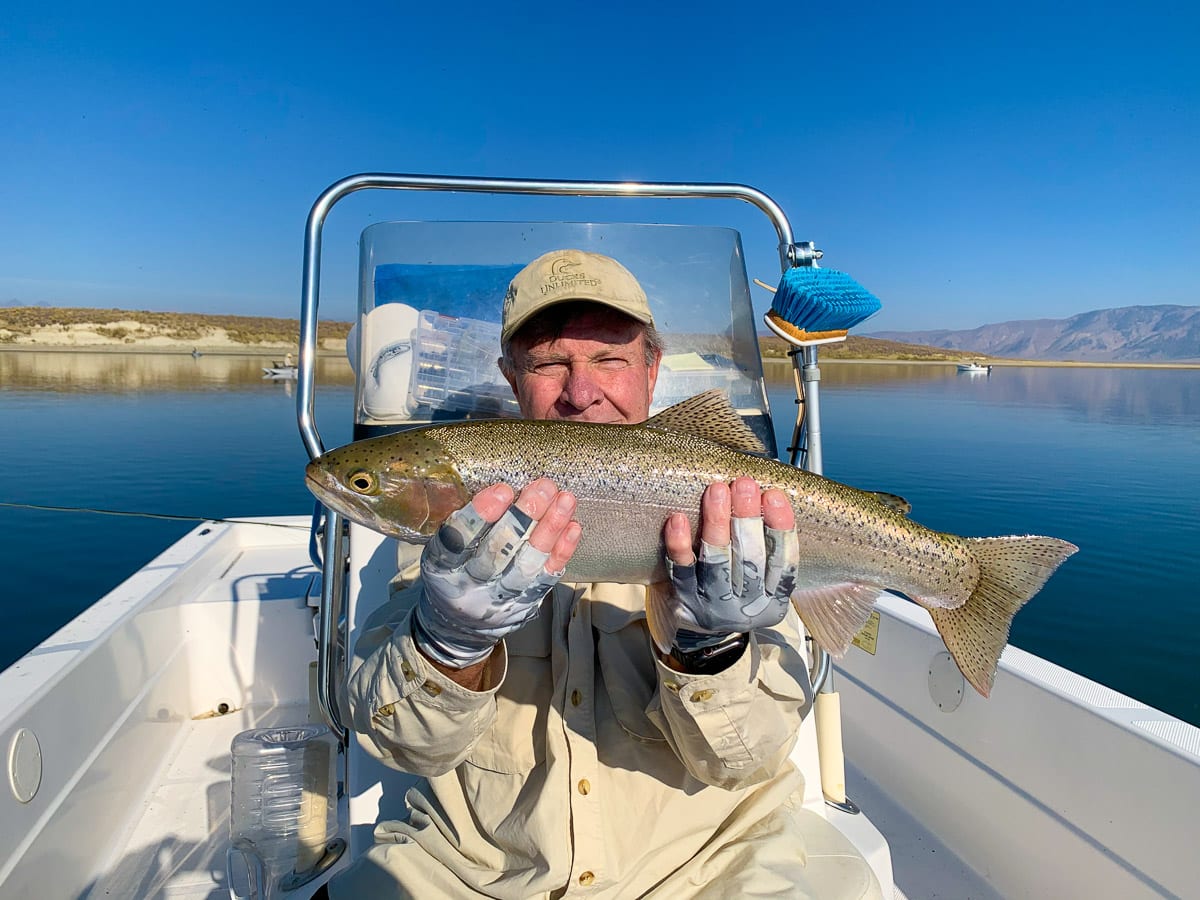 Ed with another standout rainbow trout.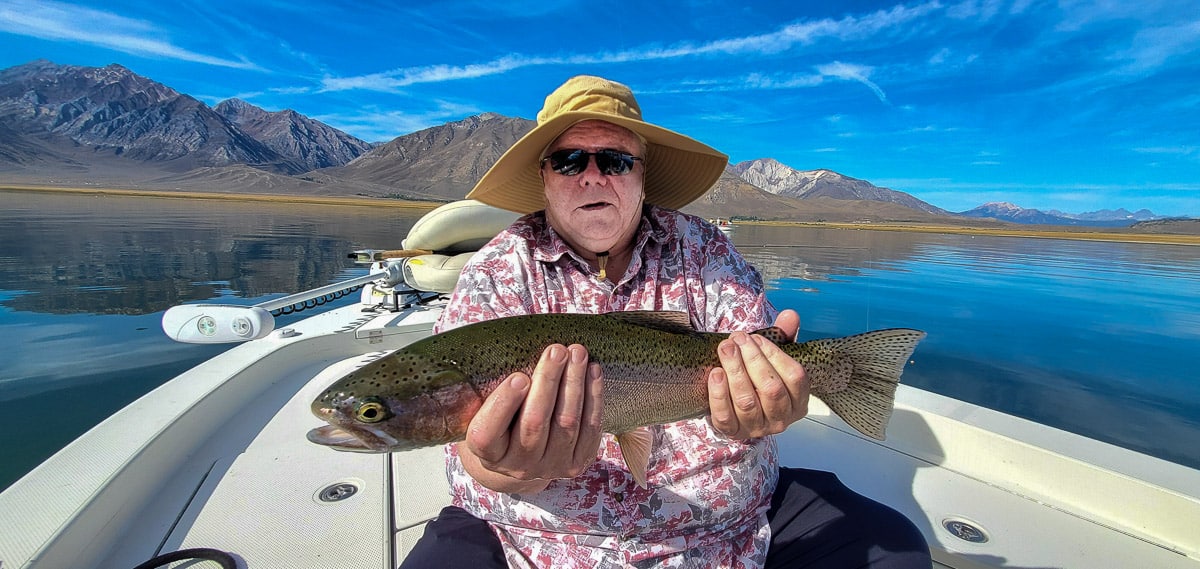 Doug R. guided Michael to some large ones like this quality rainbow trout.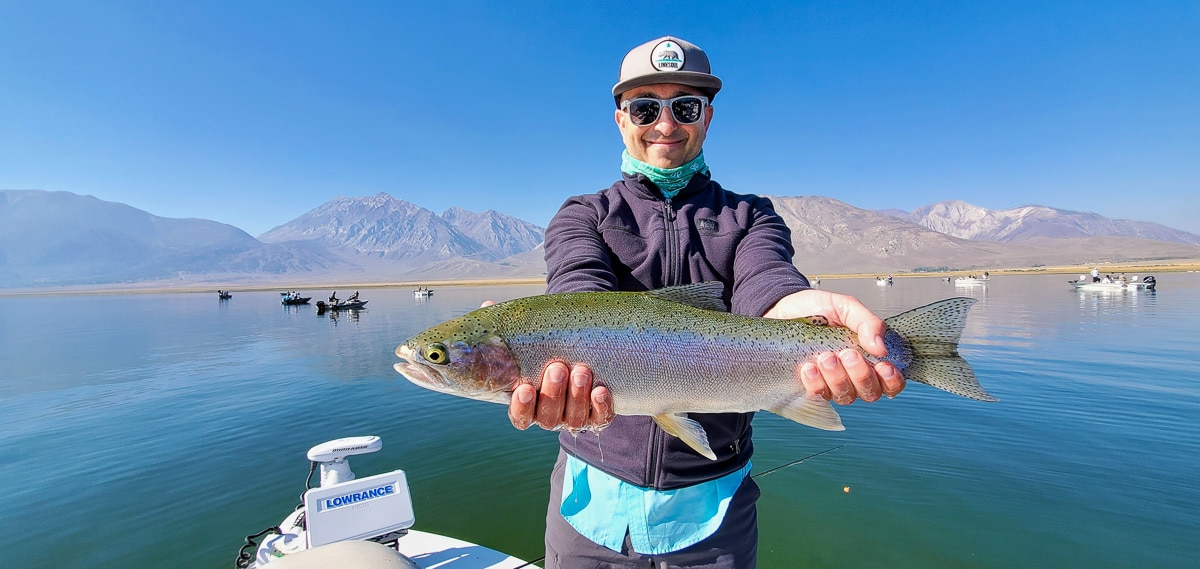 Vince hit some nice ones with Doug R. like this beautiful rainbow trout.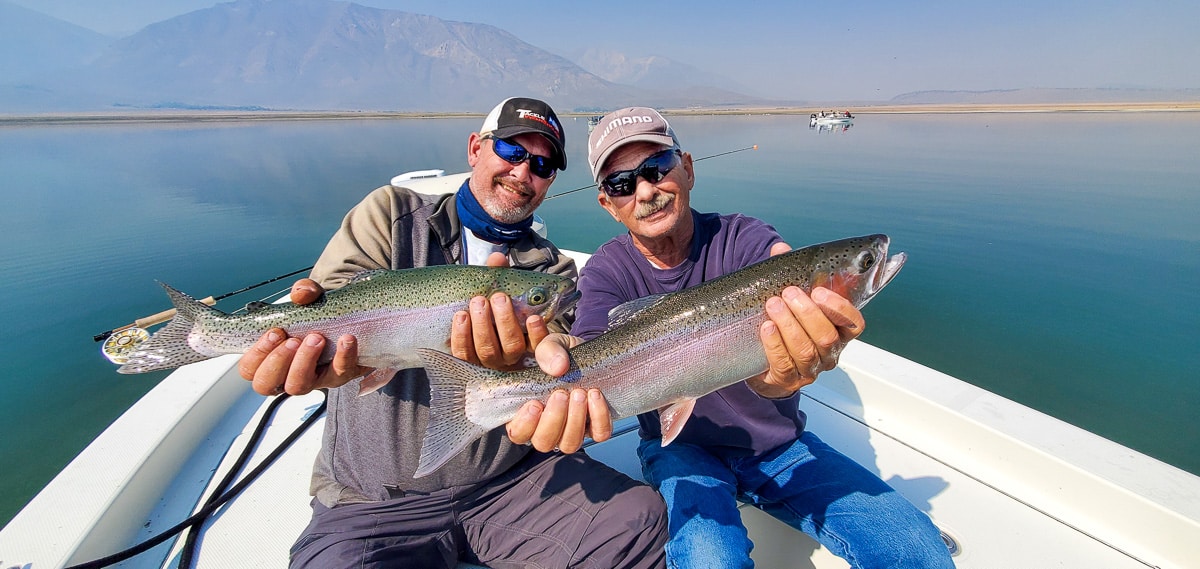 Doug and dad Mark got into great quality trout like these rainbows with Doug R.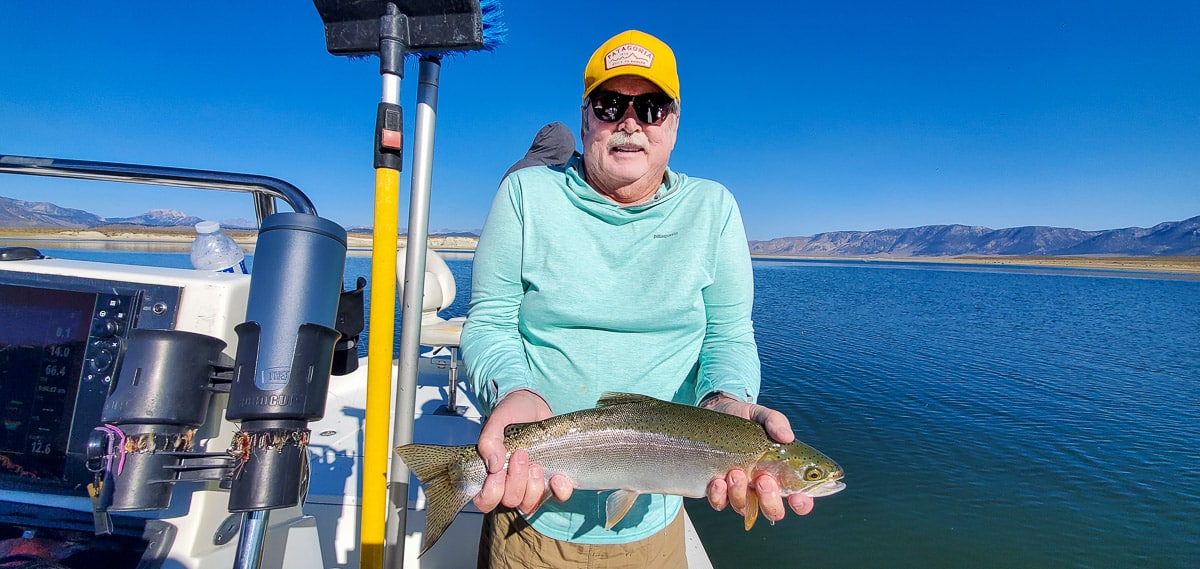 Doug R. guided Mike to some good fish during some serious midge hatches including this shiny rainbow trout.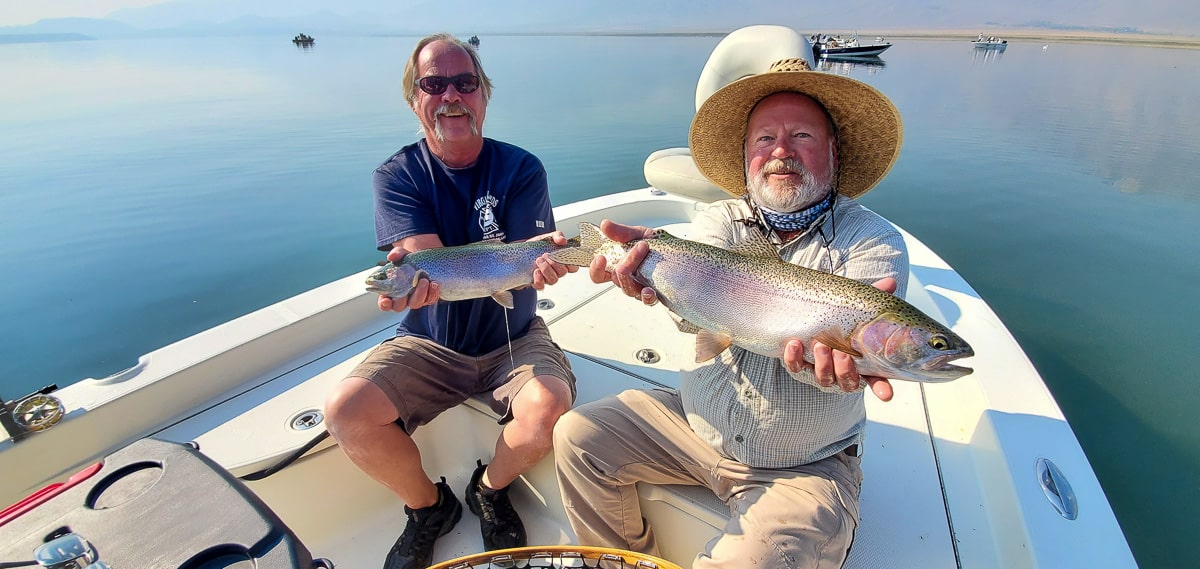 Doubles like this pair of rainbow trout are common on Crowley Lake.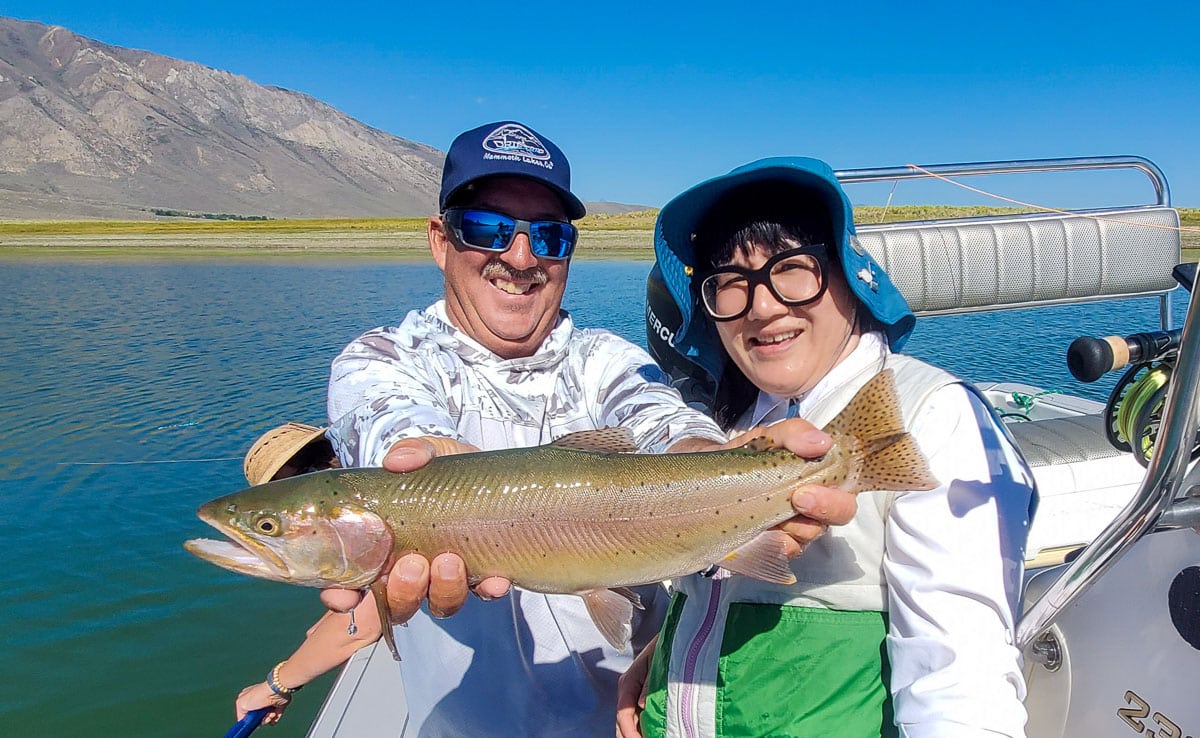 Two Bug Doug guided Mariko to this sweet cutthroat trout.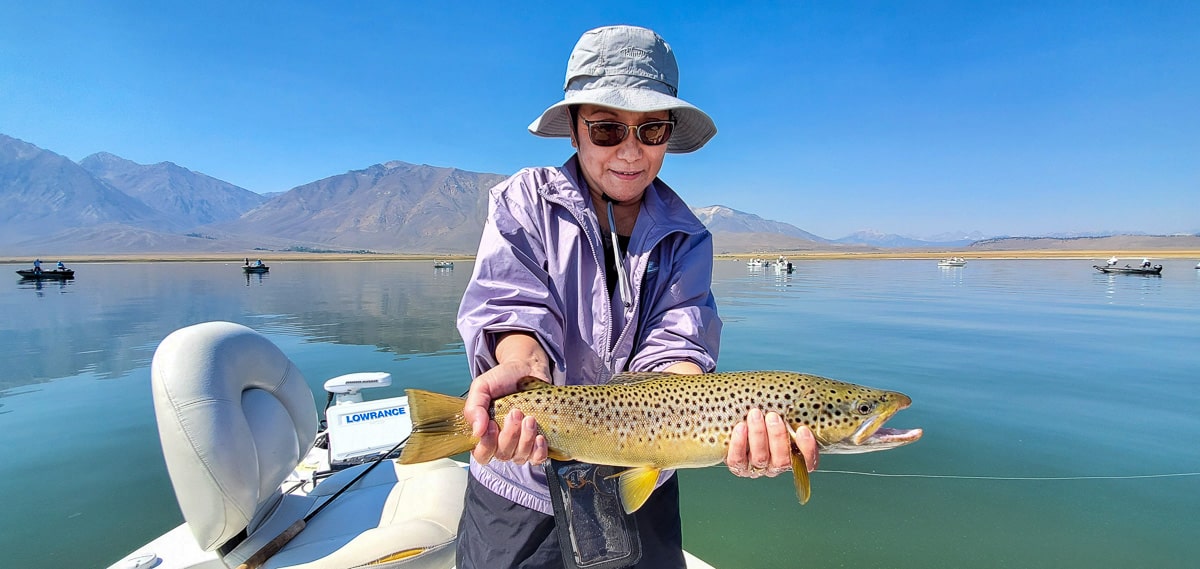 Doug R. guided Thea to some good ones like this brown trout.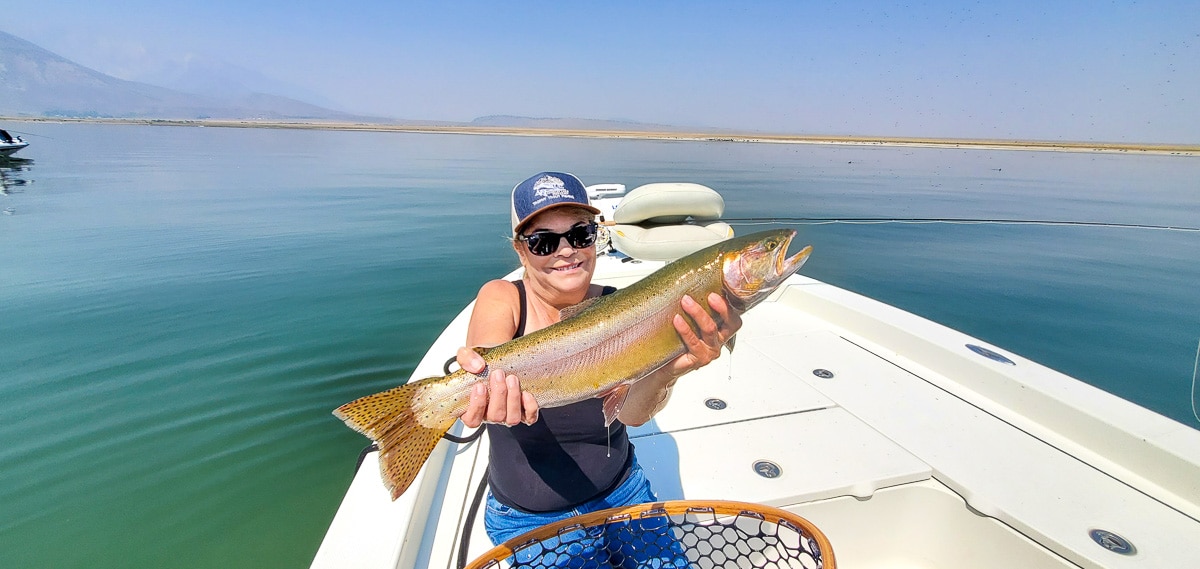 Doug R. got Terry on some nice ones like this lengthy cutthroat trout.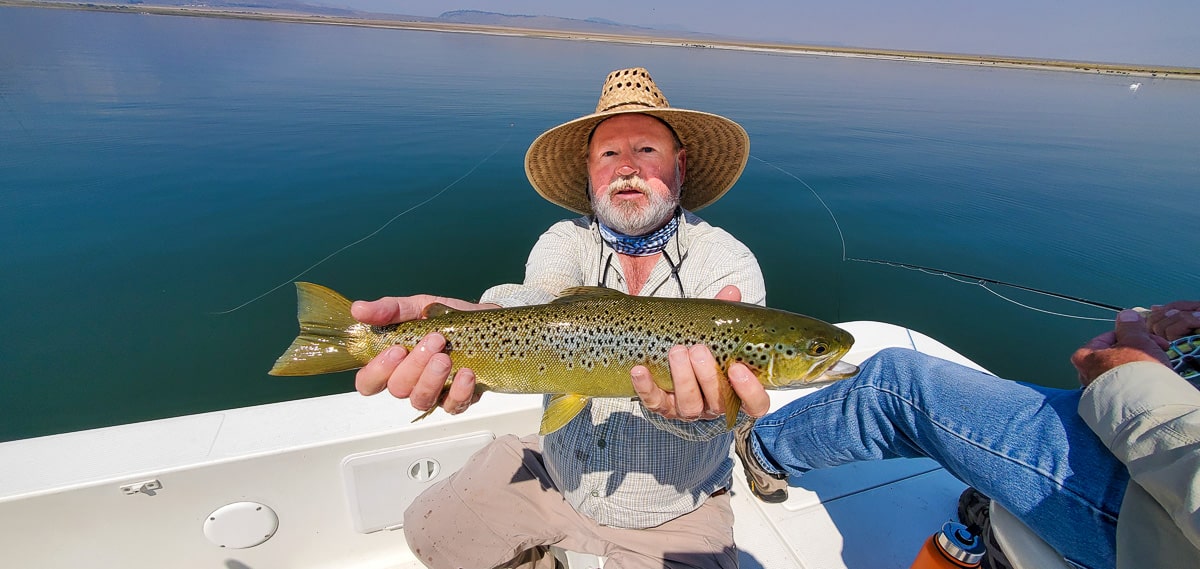 Stan whacked the big ones with Doug R. like this beautiful brown trout.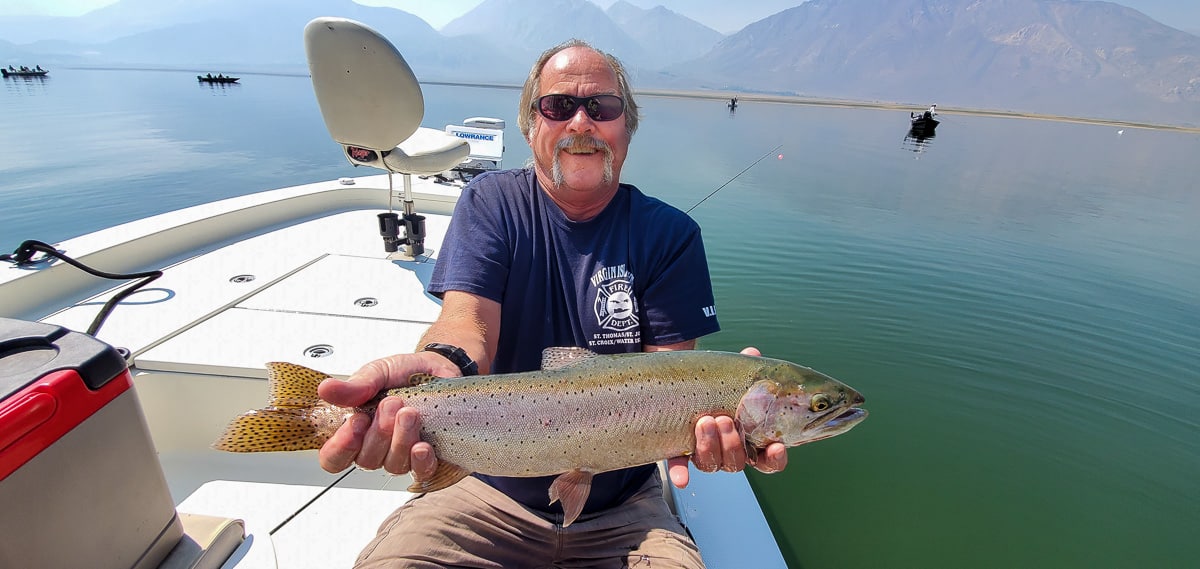 Rick also had an insane amount of hook ups including this nice cutthroat trout.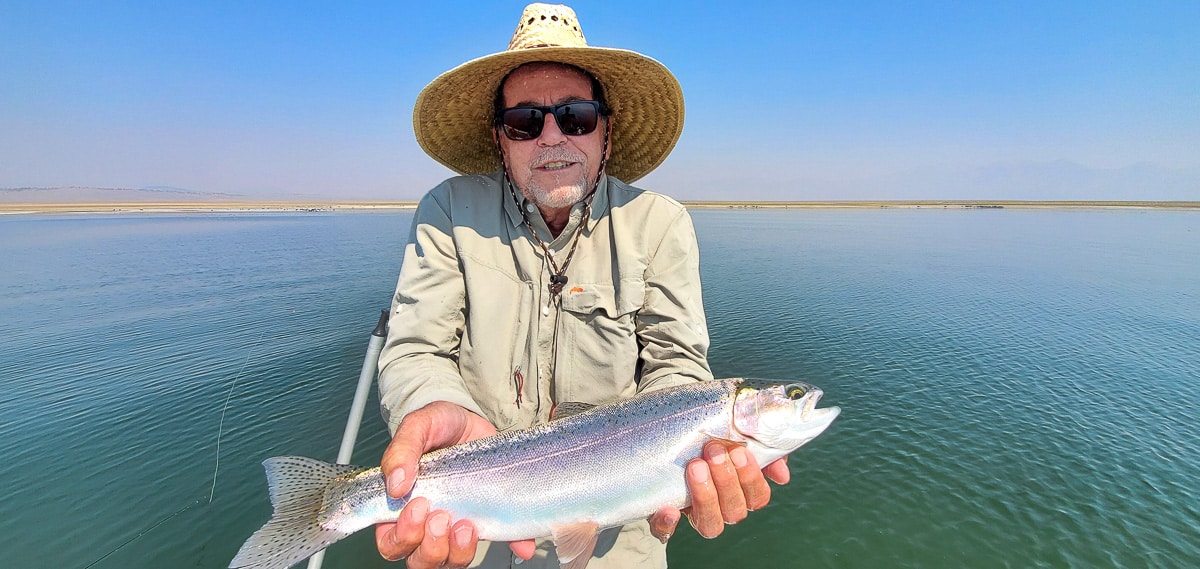 Tom got some large rainbow trout to jump and said "Hello" to many.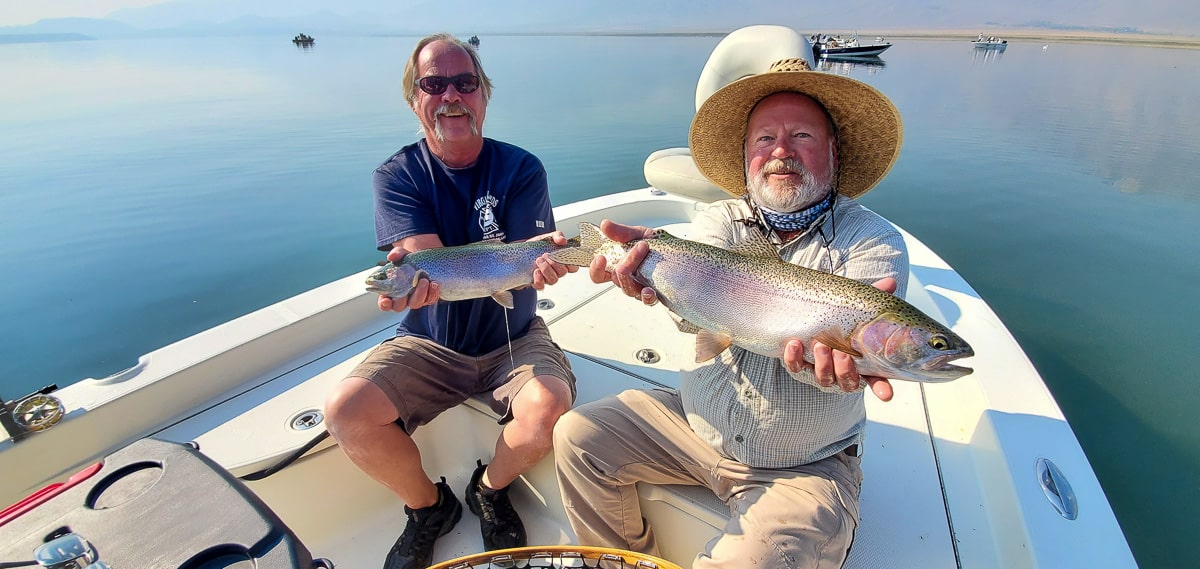 Doubles like this pair of rainbow trout are common on Crowley Lake.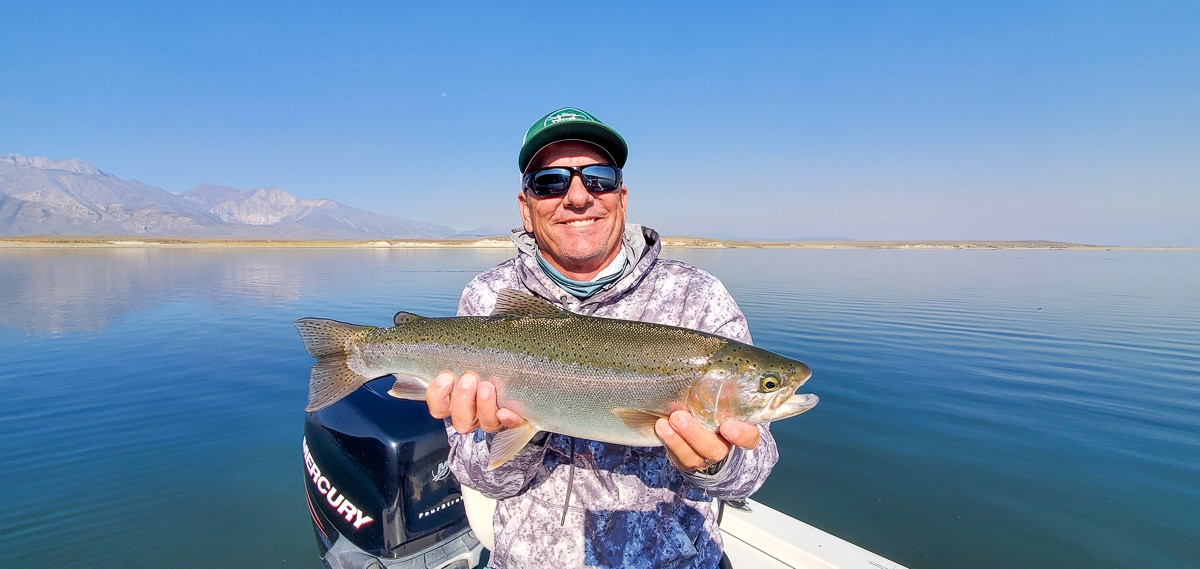 Jeff got out with Doug R. for some nice fish like this hefty rainbow trout.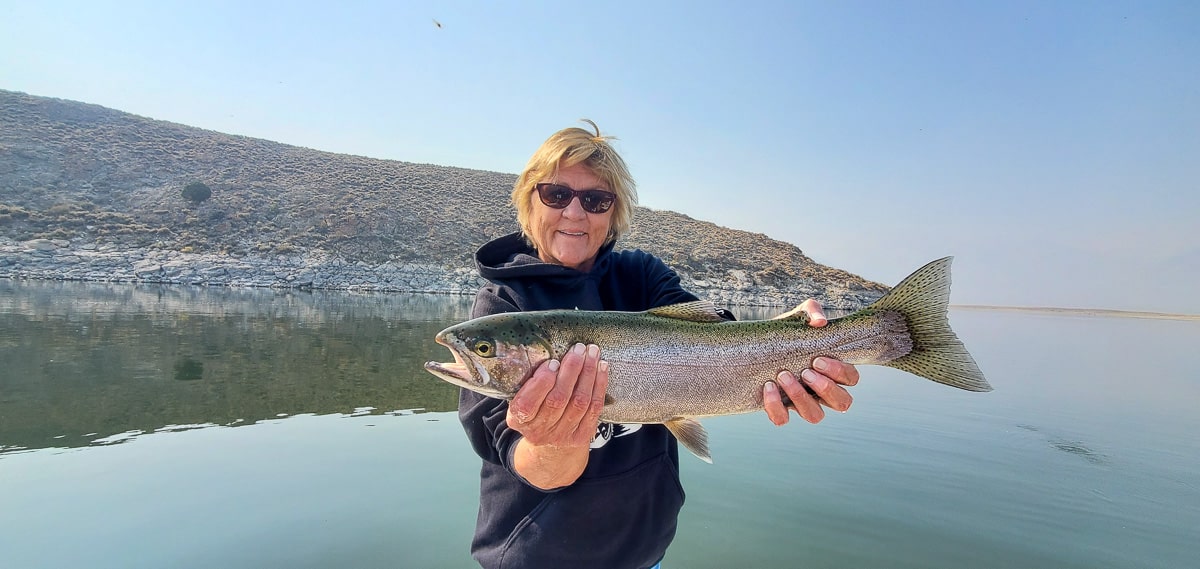 Bobbie and husband Rod (pictured at top of report) got out for a great day with Doug R.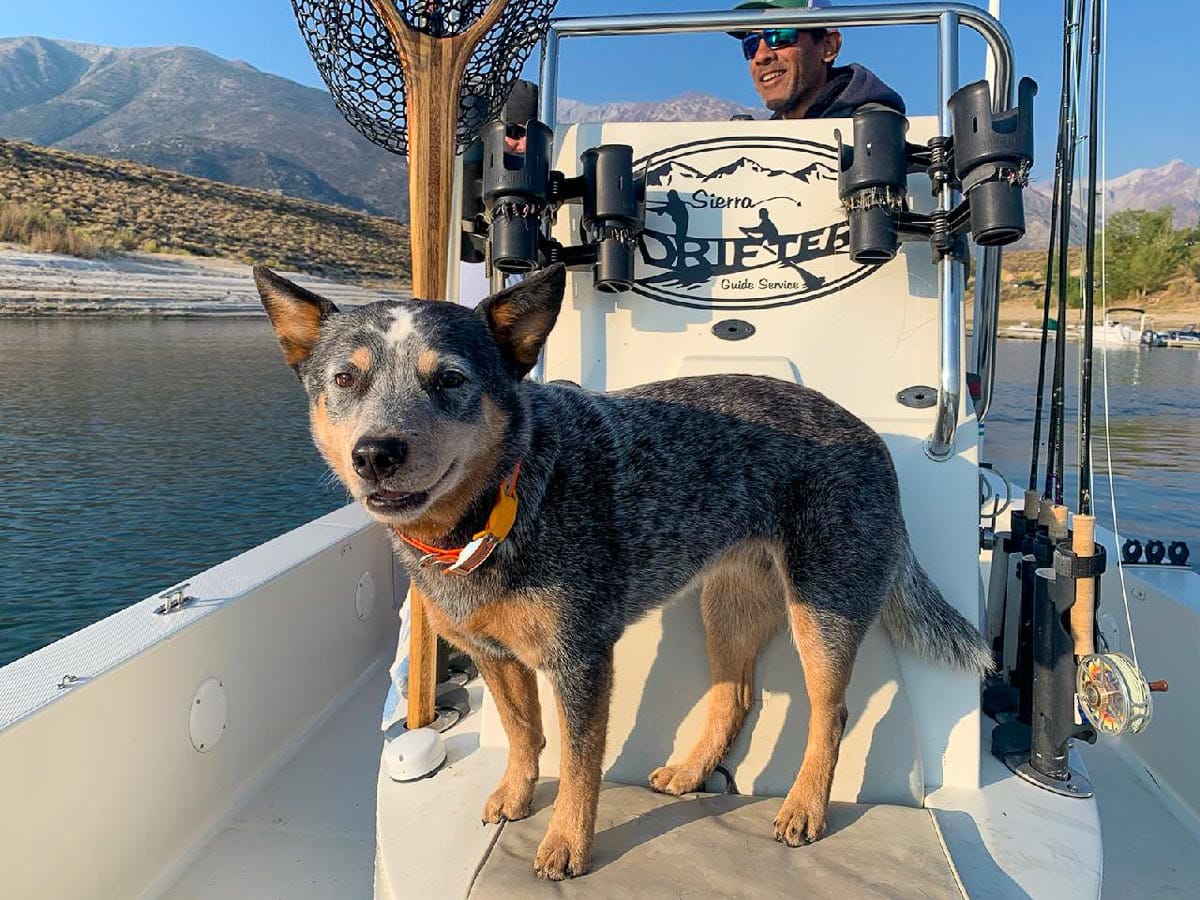 We are dog friendly if your dog is too. Dogs absolutely love center console bay boats.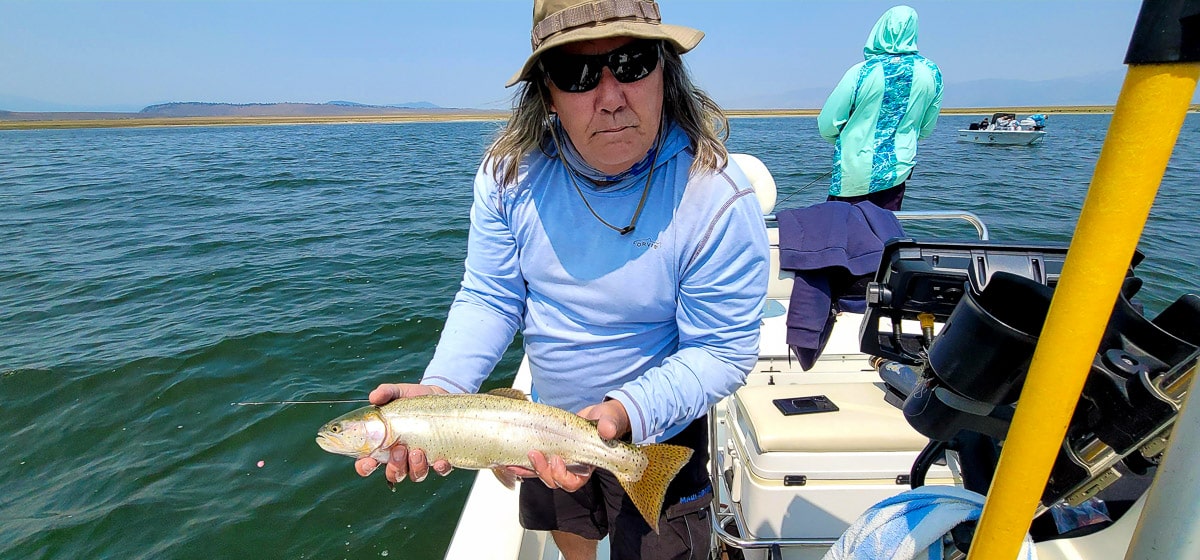 Donald is displaying a nice cutthroat trout while fishing with Doug R.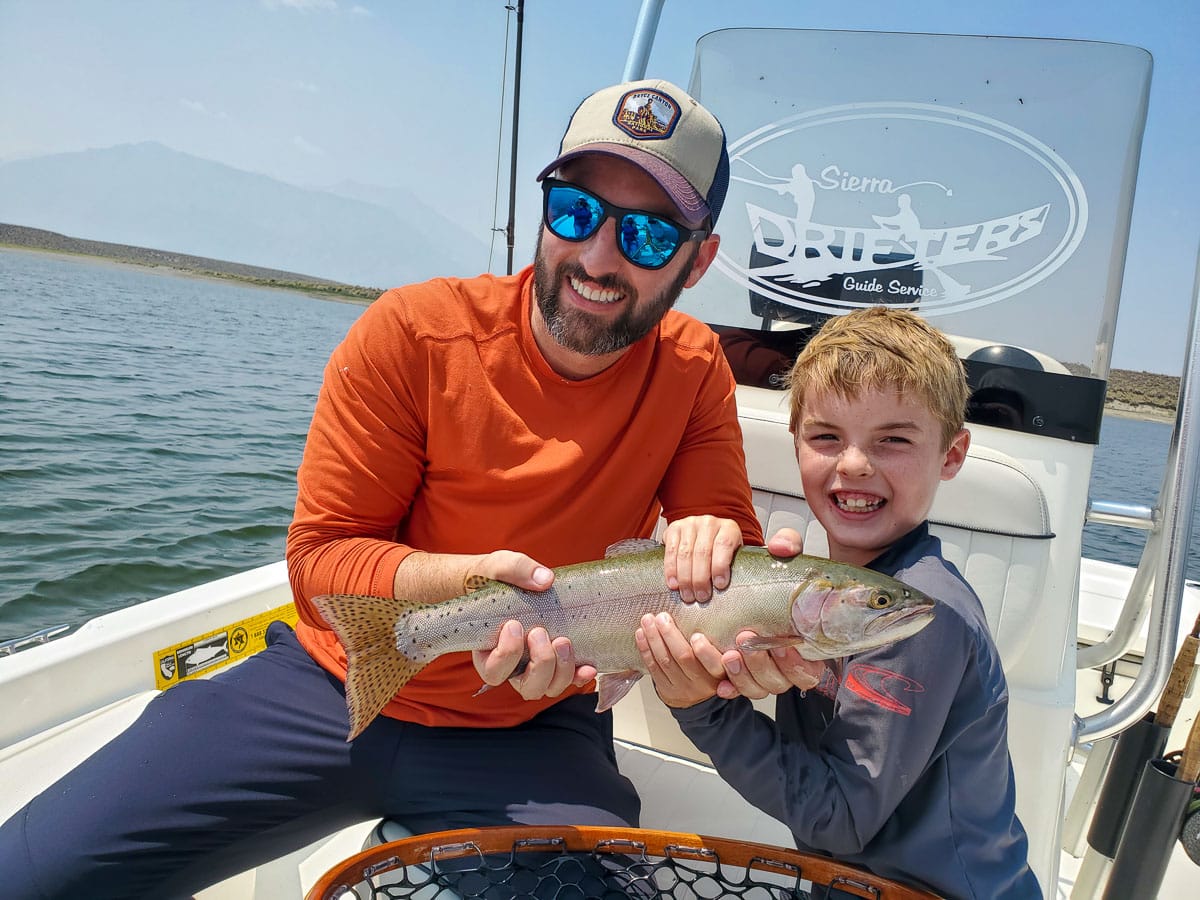 Scott and Bennett fished with Seth for one of many fish like this sweet cutthroat trout.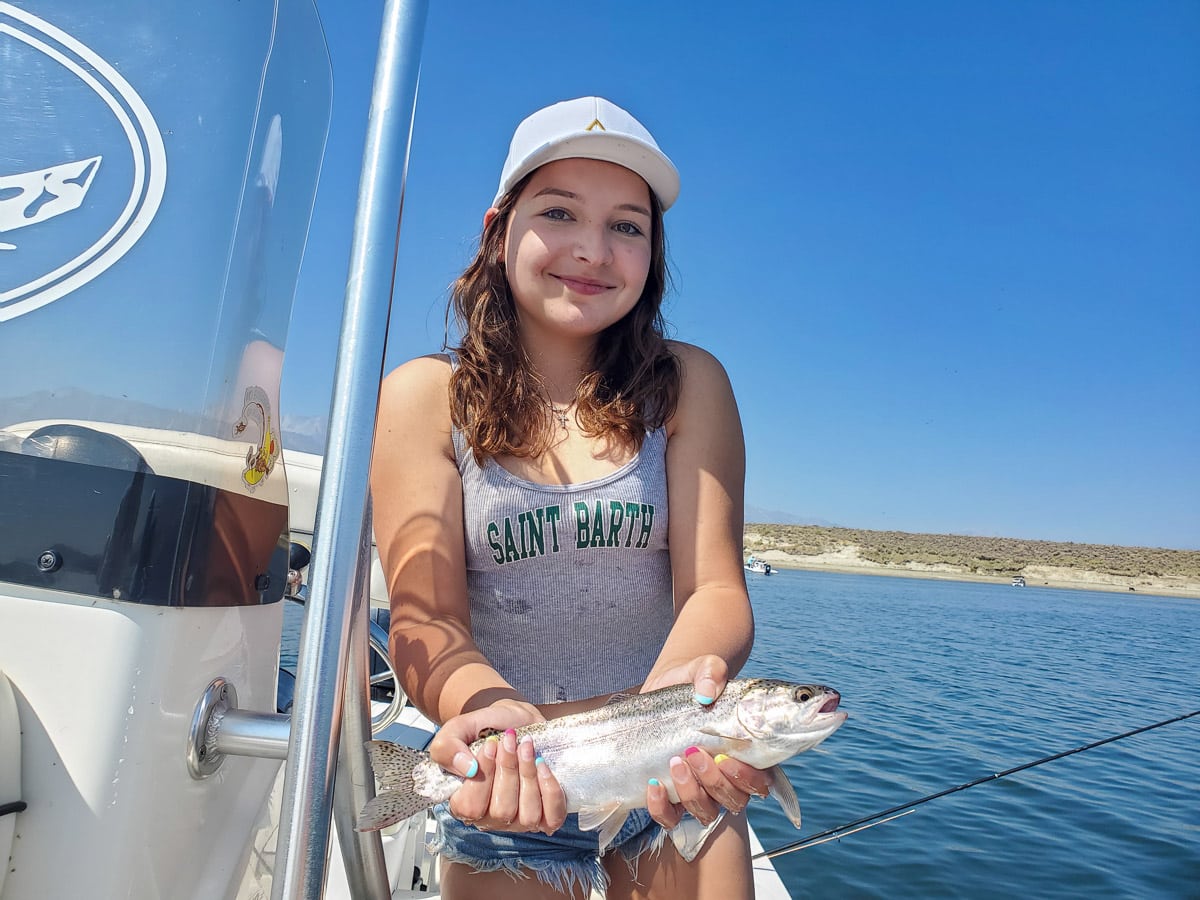 Sophia got into some nice ones like this rainbow trout while fishing with Seth.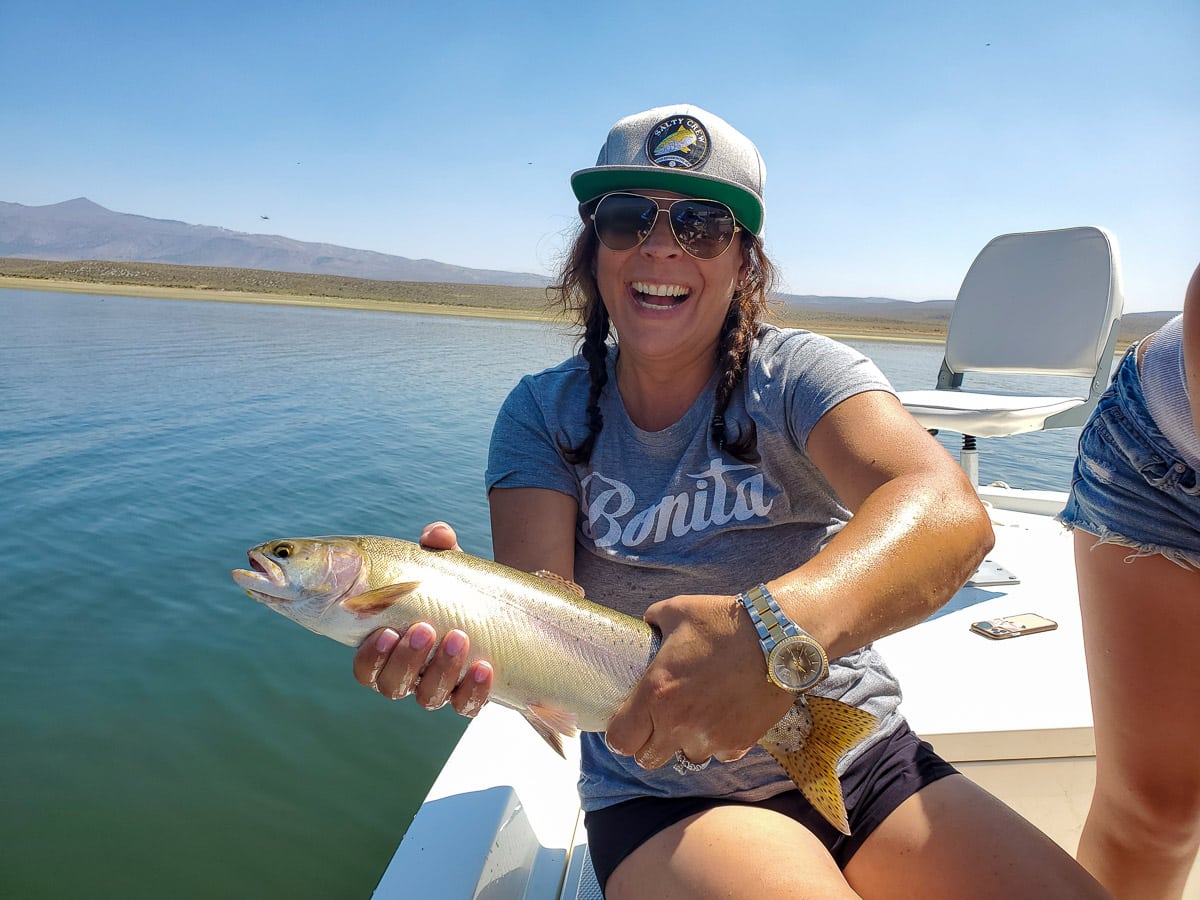 Melissa also fished with Seth and landed this cool cutthroat trout.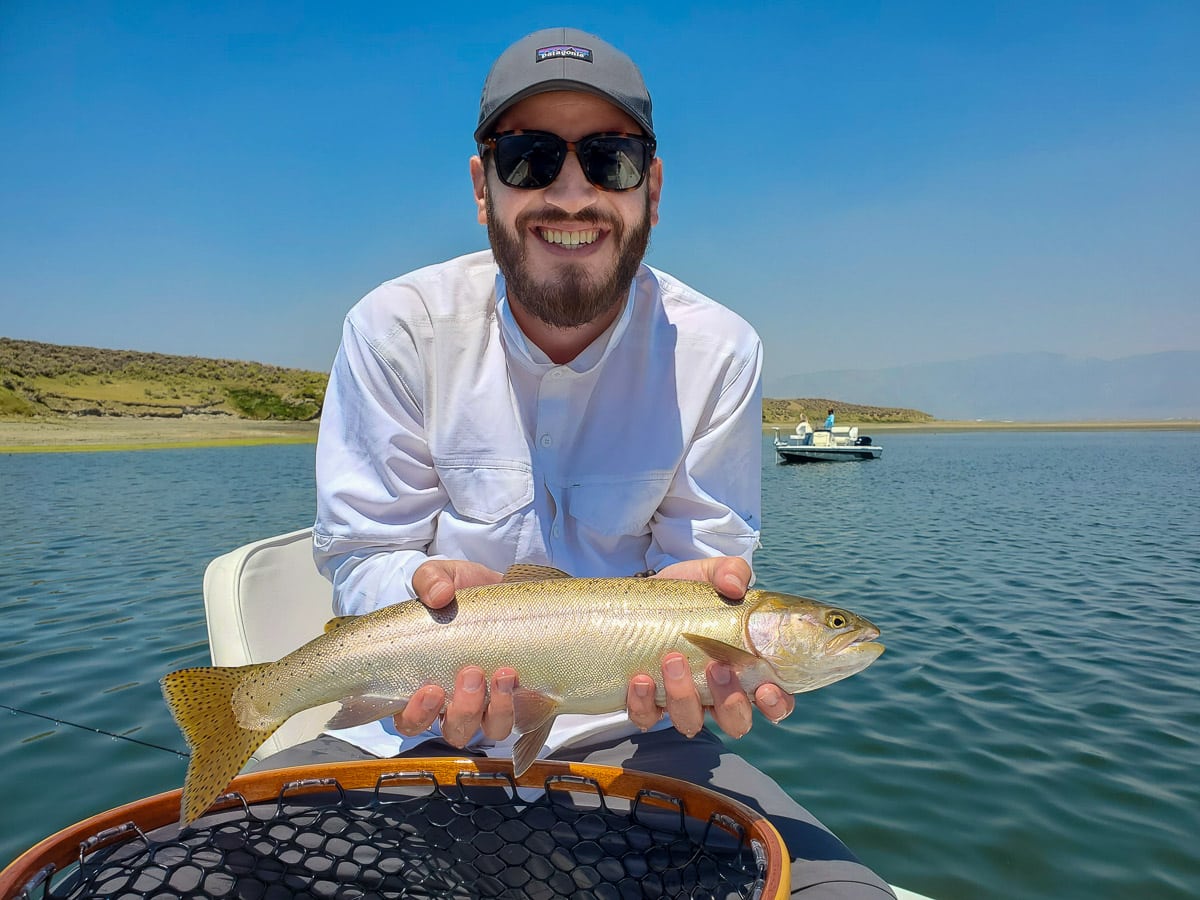 Arty got into some good ones with Seth including this fat cutthroat trout.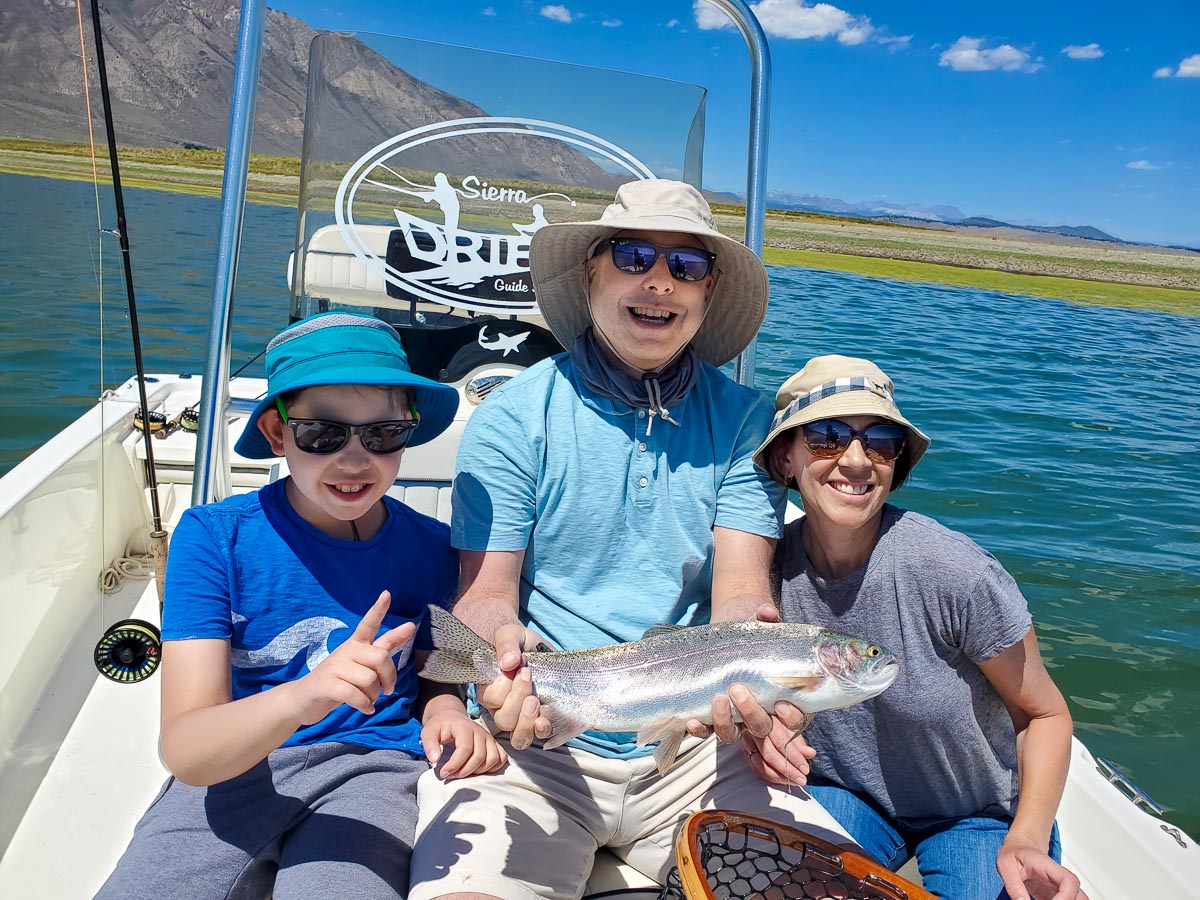 The Bourne family had a stellar day while fishing with Seth and caught fish like this nice rainbow trout.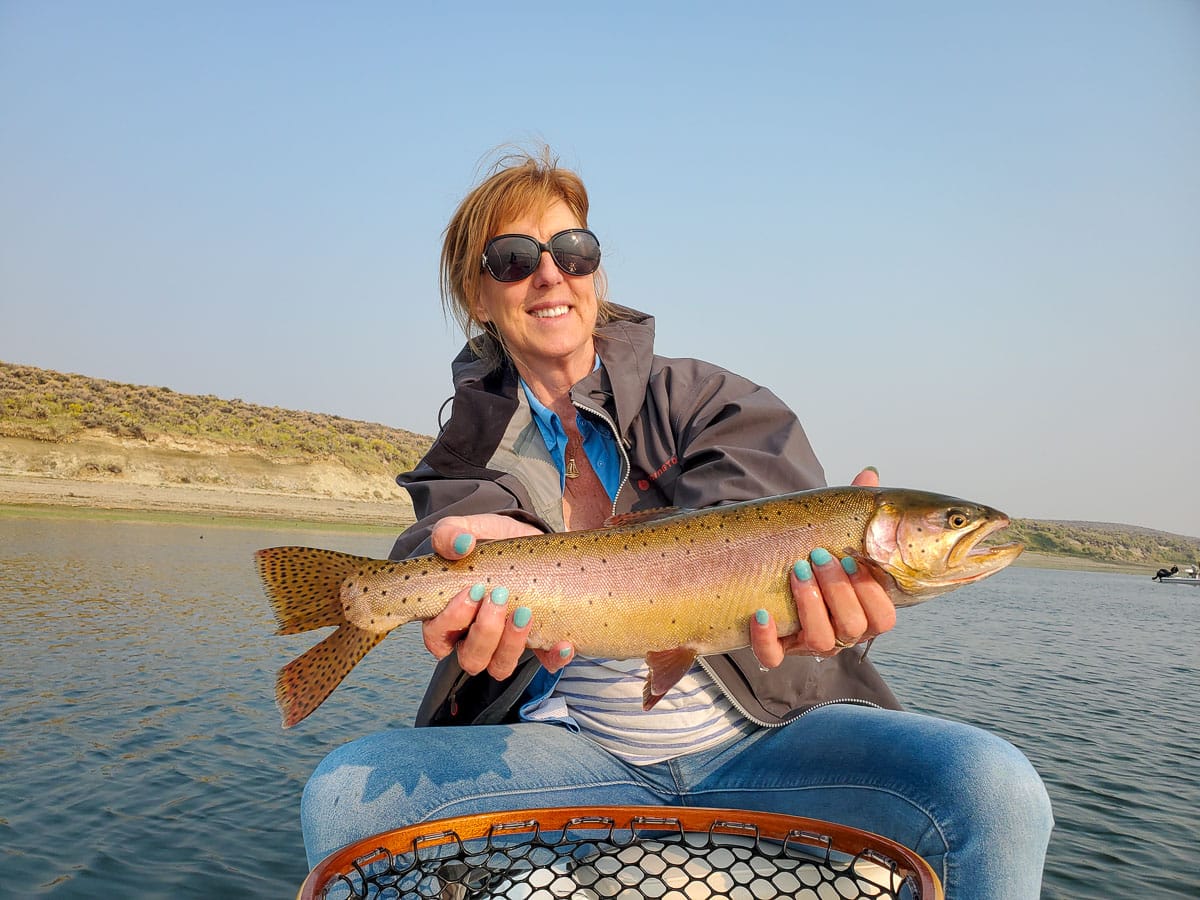 Seth guided Kathy to this solid cutthroat trout.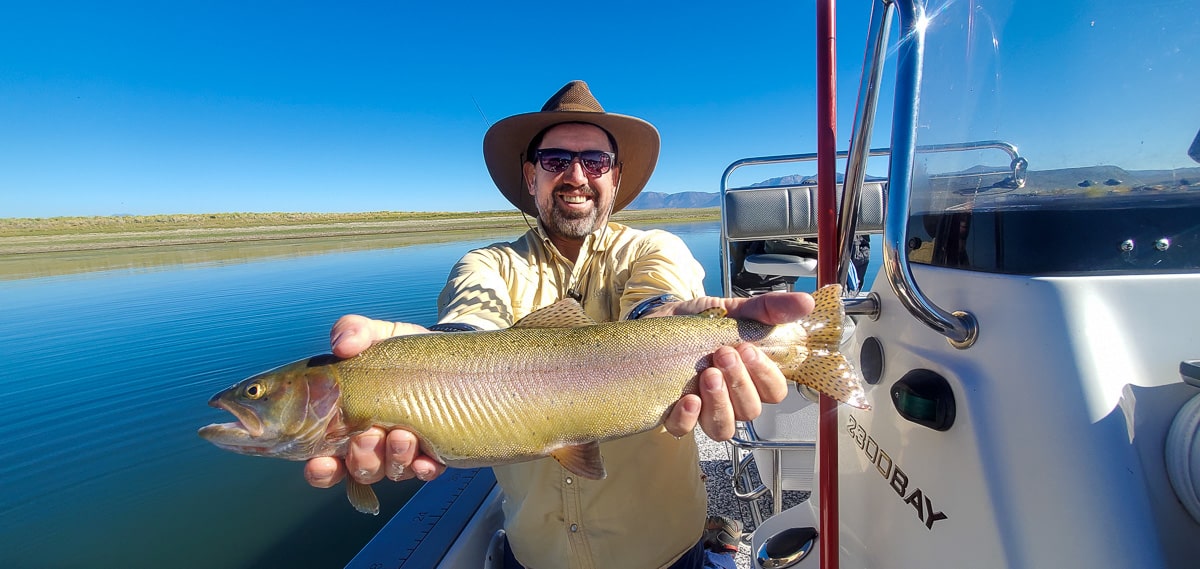 Two Bug Doug guided Brigham to some quality fish like this cutthroat trout.
Here are our flies which are working on the Upper and Lower Owens River, Crowley Lake, Hot Creek, and East Walker in addition to the above patterns listed in our report:
SD Chironomidge
#16,
Para Midge
#20, 22,
Puff O' Smoke
#16,
Broken Back Copper Tiger Midge
#18, 20;
Assassin Light
#18;
Assassin Dark
#18;
Crystal Hi-Vis Parachute Blue Wing Olive
#18;
Crystal Tiger Midge Long
#18, 20;
Crystal Midge Pupa Copper
#18, 20;
Gillie Chironomid Pupa Dark and Light
#18, 20, 22,
Otter Eggs
in all colors,
Bead Head San Juan Worm Red And Brown
#14, 16;
Squirmy Worm Tungsten purple, pink, and red; Parallel Assassin Light #14-16, Parallel Assassin Dark #16; Loeberg Mallard Silver Badger; Spuce a Bu Dark and Light
Click HERE to purchase.
Click HERE to check out our great summer Sierra Drifters T-shirts and Hats.