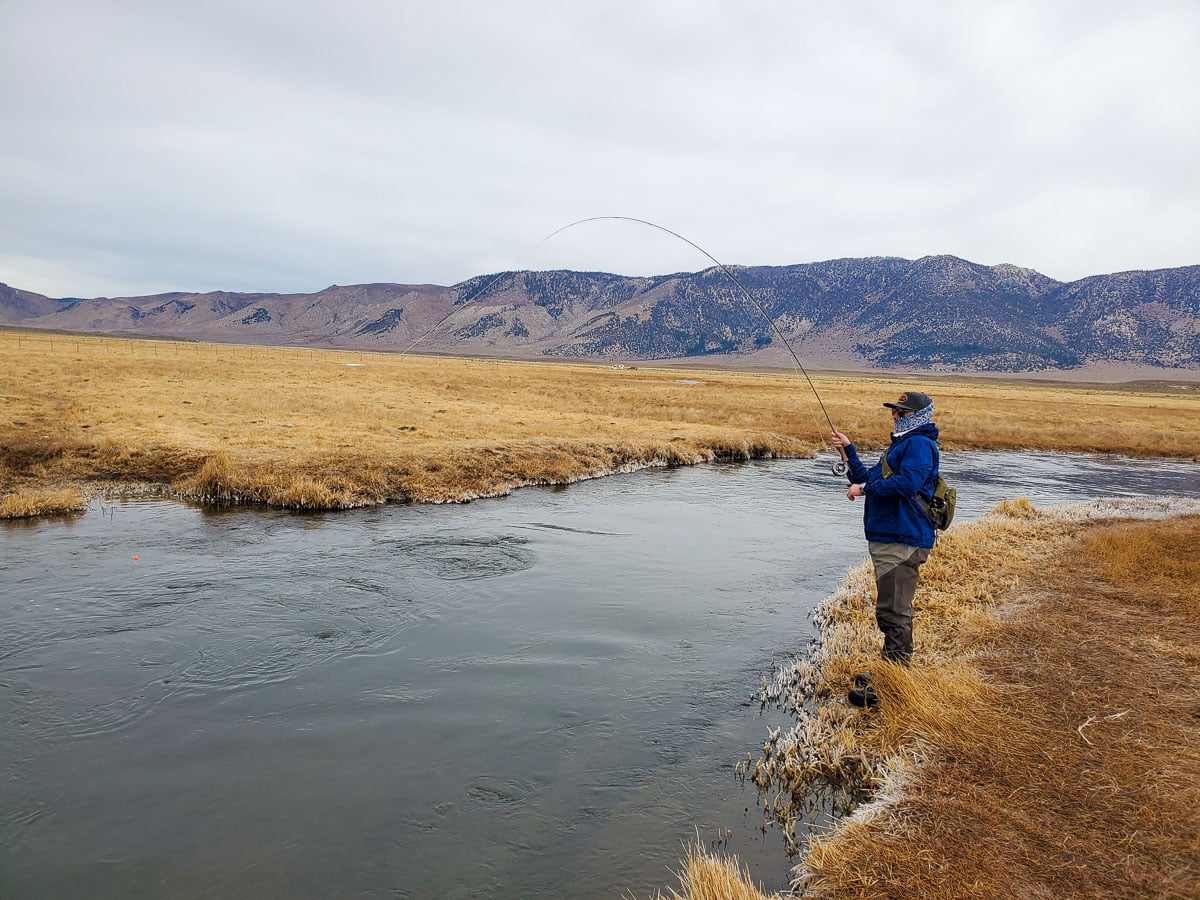 Still looking pretty dry out there with no precipitation this month. Lodging is still unavailable in both Inyo and Mono Counties, but if you have an RV, condo or home in town, or are just a die hard angler who can drive up the same day and fish and then drive back, you can make it happen with some big fish. Most locations have been fishing well and the lack of snow has allowed for good access to all open areas. Not only has there been a lack of winter storms, but the unseasonably warm weather has been spring-like. We saw 70 degrees in Bishop this week.
The Lower Owens River in Bishop is remaining steady with flows that have stabilized around 91 cfs. We have been getting a good mix of brown and rainbow trout on our drift trips. These fish are now holding in shallower water along the sand to gravel transitions as well as the deeper pools. There have been some solid BWO hatches in the afternoons and the bite window for dry fly fishing can last 30 mins some days and 1.5 hours the next. Smaller streamer patterns like our #16 Punk Perch Dark and Light have been great flies prior to and during this hatch. Around those times in the mornings and evenings an assortment of Loebergs, #14 Agent Orange, and Spruce-a-Bu Dark and Light have been doing the trick.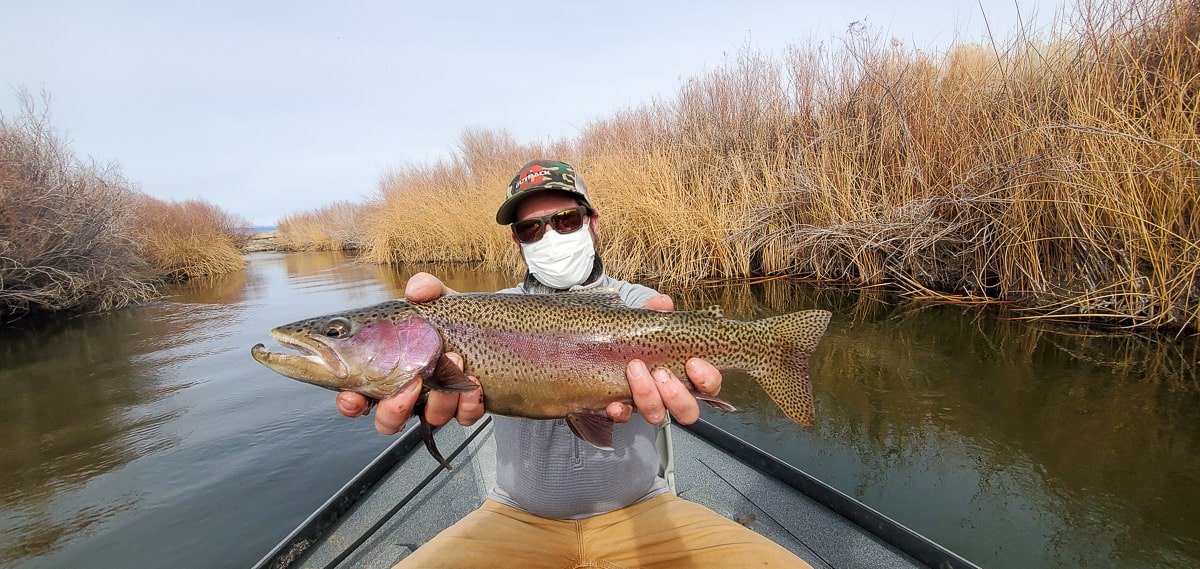 Ryan fished with Two Bug Doug and had a great day on the drift boat. He got this standout rainbow trout.

The Upper Owens River has been continuing to produce large rainbow and brown trout and the roads are completely dry. We are getting a decent mix of males and females all in the 19 – 24″ range and in the weight class of 3 – 6 lbs. These fish are strong and healthier than ever this year and are spread out around the river. We have large fish moving into the river out of Crowley Lake daily, and the cold nights are keeping them on the move. Egg patterns and #14-16 nymphs like Flashback Pheasant Tails and Dark Assassins are the ticket. More fish will begin to move into the river as the weather gets colder. If you would like to be guided to some of these awesome fish click here.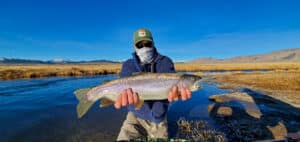 Jake went fishing with Two Bug Doug and got this large rainbow trout.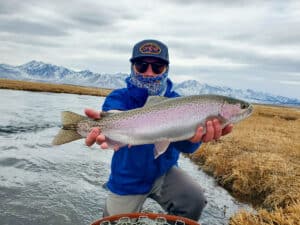 Seth Cline got Danny out and they got into some nice ones like this awesome female rainbow trout.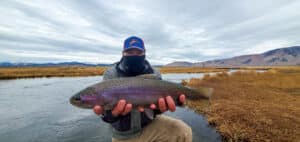 Two Bug Doug guided Kurt to this healthy and colored up rainbow trout.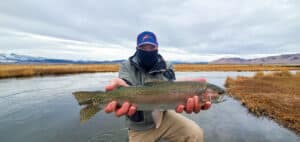 Kurt with another nice rainbow trout.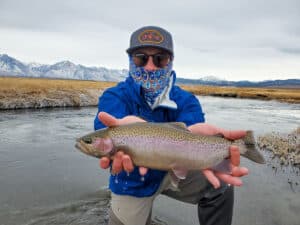 Danny with another strong rainbow trout.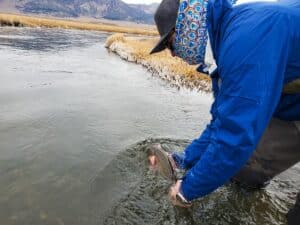 The best part of catching these fish is watching them swim away.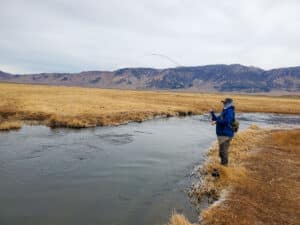 Danny hooked up to another rainbow trout while fishing with Seth.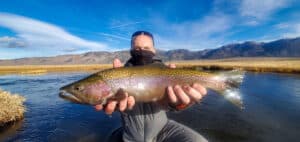 Mike Greene had a great day with Two Bug Doug and displays a beautiful rainbow trout from the early morning.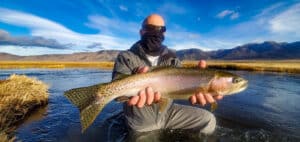 Mike with another excellent rainbow trout.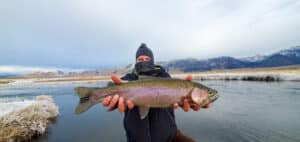 John and his son John Jr. fished with Two Bug Doug and got some nice rainbow trout like this one.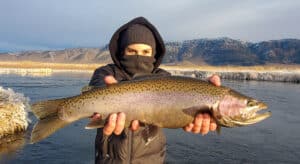 Here's 12 year old John Jr. with a wonderful rainbow trout. It was his first time fly fishing.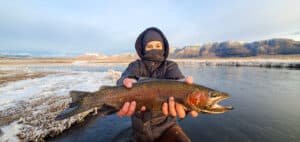 And another awesome rainbow for young John.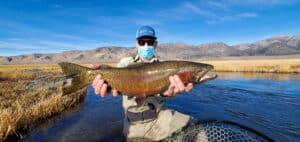 Scott Beyer fished with Two Bug Doug and managed this extra jumbo rainbow trout.
Hot Creek has continued to fish well and it is a fun challenge to find the right fly pattern that these fish want. Egg patterns are a good change up from the aquatic insects they are used to daily. There have been some BWO mayflies starting to hatch late morning and early afternoon with the trout responding well to them. Have a 3 to 4 weight rod rigged with a #18 mayfly pattern so you are ready for the feeding transition. The midges these fish are feeding on all day long are "micro". They are difficult to imitate, but patterns like our #22 Parachute Midge will fool them provided you keep the drag off your line.
The East Walker River is running at extremely low flows at 20 cfs. At this level it is best to fish elsewhere. Flows should rise slightly later on in the winter months, but for now it is too low for any sustained and decent fishing.
Don't forget to sign up for our newsletter which goes out every two weeks for more in depth information, techniques, stories, and more.
Here are our flies which are working on the Upper, Lower Owens River and Hot Creek in addition to the above patterns listed in our report:
SD Chironomidge
#16,
Para Midge
#20, 22,
Puff O' Smoke
#16,
Broken Back Copper Tiger Midge
#18, 20;
Assassin Light
#18;
Assassin Dark
#18;
Crystal Hi-Vis Parachute Blue Wing Olive
#18;
Crystal Tiger Midge Long
#18, 20;
Crystal Midge Pupa Copper
#18, 20;
Gillie Chironomid Pupa Dark and Light
#18, 20, 22,
Otter Eggs
(Flamingo, Tangerine Opaque, Dead Egg, Kiwi Silver Flash, Tangerine Silver Flash),
Bead Head San Juan Worm Red And Brown
#14, 16;
Parallel Assassin Light
#16,
Parallel Assassin Dark
#16;
Loeberg Mallard Silver Badger;
Spuce a Bu Dark and Light
Click HERE to purchase.